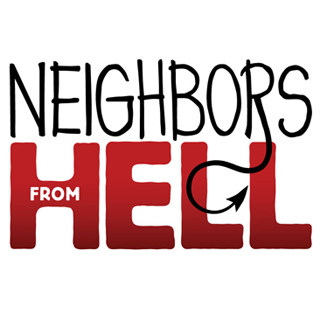 Season 1
Monday, June 7th, 2010

s1e1: Sorfindesdrillsalgoho

The Hellman family is sent to Earth's surface to save hell from human beings.

Monday, June 14th, 2010

s1e2: Country Club Hell

Balthazor joins his boss on a golf outing, while the family struggles to fit in with the humans.

Monday, June 21st, 2010

s1e3: Gay Vampire Mexican

Mandy starts to date Killbride's son and Balthazor uses this opportunity to get closer to Killbride.

Monday, June 28th, 2010

s1e4: Screw the EPA

Tina and Balthazor try to celebrate their wedding anniversary but are finding it difficult to find time to do so. Meanwhile, Killbride is trying to get a new business plan passed by the EPA and when he learns that the female EPA executive is enamored with Balthazor, Killbride uses him to his advantage.

Monday, July 5th, 2010

s1e5: Family from Hell

Tina's parents from Hell make a visit to Earth, Balthazor makes an extra effort to impress Tina's father. Concerned that their daughter and grandkids will assimilate too well into human culture, the in-laws arrive with a plan to bring the family back to Hell.

Monday, July 12th, 2010

s1e6: Guns for Mutts

Killbride has a new initiative to collect dogs in exchange for guns.

Monday, July 12th, 2010

s1e7: Robert the Insult Weight Loss Robot

After Killbride's company creates a new weight loss robot, he uses it as the new leader of the neighborhood watch.

Monday, July 19th, 2010

s1e8: Wolf Power

Tina shows the town to the wife of a Japanese businessman; switched personalities threaten Hellman's mission.

Monday, July 19th, 2010

s1e9: Attila the Rascal

Tina tries to spend time with Mandy; Killbride entertains a Japanese executive.

Monday, July 26th, 2010

s1e10: Fantastic 15

Mandy's 15th birthday; Balthazor is recruited by a mysterious man to destroy the drill.