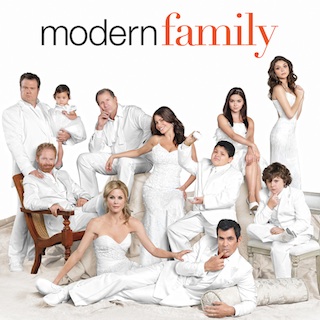 Season 1
Wednesday, September 23rd, 2009

s1e1: Pilot

Jay is having trouble keeping up with his new young Colombian wife and her son. Claire is having trouble with her husband Phil, who thinks he can be hip with their kids. Mitchell and his partner Cameron adopt a Vietnamese baby.

Wednesday, September 30th, 2009

s1e2: The Bicycle Thief

As Phil helps his son show Claire he can be trusted, Phil turns out to be the irresponsible one at the sight of a hot neighbor. Mitchell and Cameron take Lily to their Mommy & Me class. Manny and Jay uncomfortably spend time together.

Wednesday, October 7th, 2009

s1e3: Come Fly with Me

Phil pushes Jay to go out with him and fly his new model plane. While Manny takes time out to play with Luke, Gloria accompanies Alex in shopping for a dress. Manny has a heart-to-heart talk with his sister Claire.

Wednesday, October 14th, 2009

s1e4: The Incident

Claire and Mitchell's mother makes a surprise visit to make amends for what has been termed "the incident" at Jay and Gloria's wedding. Everything comes to a head when the whole family shows up to dinner at Claire's house.

Wednesday, October 21st, 2009

s1e5: Coal Digger

A family barbecue gets uncomfortable for Gloria and Claire after an incident at school involving Manny and Luke.

Wednesday, October 28th, 2009

s1e6: Run for Your Wife

Phil is happy to have the house to himself on the first day of school, but Claire does not share his enthusiasm.

Wednesday, November 4th, 2009

s1e7: En Garde

The whole family comes out to support Manny's newfound interest - fencing. It turns out he's quite masterful in the sport, but Jay's proud enthusiasm triggers an old childhood wound for Mitchell. Meanwhile Phil is determined to find where Luke's hidden talents lie.

Wednesday, November 18th, 2009

s1e8: Great Expectations

With a history of giving bad gifts, Claire is determined to surprise Phil with an amazing anniversary present: a private performance by one of their favorite musicians, Izzy LaFontaine (Edward Norton). However, it turns out to be unexpected in more ways than one. Meanwhile, Mitchell and Cameron call up their "party-girl bestie", Sal (Elizabeth Banks), for a long overdue night out on the town.

Wednesday, November 25th, 2009

s1e9: Fizbo

Nothing is too big when Phil and Claire decide to throw Luke the biggest and best birthday party a boy could ever want, but when Cameron shows up as Fizbo the Clown, it sets off a chain of events that ends with someone in the hospital.

Wednesday, December 9th, 2009

s1e10: Undeck the Halls

The Dunphy kids are in trouble again, but this time Claire and Phil are threatening to take Christmas away. Gloria and Manny want to incorporate some of their Colombian practices into Jay's holiday traditions, but he wants to keep it his way. Meanwhile Cameron and Mitchell take Lily to the mall for her first picture with Santa, however this Santa isn't very jolly.

Wednesday, January 6th, 2010

s1e11: Up All Night

Gloria does not like Jay's reaction to the arrival of Manny's father; Phil is rushed to the hospital; Mitchell and Cameron try to sleep train Lily.

Wednesday, January 13th, 2010

s1e12: Not in My House

When Claire finds a dirty picture on the computer and assumes it's Luke's doing, a guilty Phil doesn't necessarily correct her. Jay and Gloria disagree over his beloved life-sized dog butler statue, and Cameron gets sucked into their gardener's woes.

Wednesday, January 20th, 2010

s1e13: Fifteen Percent

Mitchell plants the seed in Jay's head that he thinks one of Jay's old buddies might be secretly gay. Jay doesn't believe it for a second... except for all the questionable signs he now keeps noticing. Meanwhile Gloria gives Manny's date a makeover and Claire faces off with Phil's universal remote.

Wednesday, February 3rd, 2010

s1e14: Moon Landing

Claire is upset to find that her friend Valerie is better than her. In the meantime Mitchell helps Gloria with legal issues and Jay had a hard time in the locker room.

Wednesday, February 10th, 2010

s1e15: My Funky Valentine

Phil and Claire break from their traditional Valentine's Day dinner date and plan a little "role play" excursion. Meanwhile, Jay and Gloria's ideas of romance clash when he takes her to a comedy show, and Mitchell and Cameron play cupid for Manny.

Wednesday, March 3rd, 2010

s1e16: Fears

Phil and Luke go into crawlspace under the house, Hayley takes her drivers test, Manny tries to get over his fear of roller coasters and Lily says "Mommy" which upsets Cameron and Mitchell.

Wednesday, March 10th, 2010

s1e17: Truth Be Told

Phil meets an old girlfriend on Facebook. Jay accidentally kills Manny's turtle. Mitchell tells his boss the truth.

Wednesday, March 24th, 2010

s1e18: Starry Night

Jay and Mitchell go on their traditional father-and-son outing to see the meteor showers, but Mitchell is upset when he finds out that Manny will be joining them. Cameron and Gloria spend some quality time together, with some minor incidents, while Phil and Claire both take on one of their child's school projects.

Wednesday, March 31st, 2010

s1e19: Game Changer

iPad release day falls on Phil's birthday, giving Claire an opportunity to finally score an ideal gift for her technophile husband. Manny and Gloria humor Jay—a sore loser at board games—by suppressing their superior chess skills. Mitchell questions his ability to protect his family, while crossed baby monitor signals compel Cameron to secretly intervene in the love life of a neighboring couple.

Wednesday, April 14th, 2010

s1e20: Benched

During an intense basketball game, Luke and Manny's coach quits, which leads to Jay and Phil stepping in to help out. Meanwhile, Mitchell helps Cameron find a prospective employer.

Wednesday, April 28th, 2010

s1e21: Travels with Scout

Claire is caught off guard when Phil's father shows up in an RV with a little four legged friend, and she becomes suspicious that he might be hiding a larger reason for the visit. Meanwhile, when Cameron hears Dylan is down a drummer in his band, he enthusiastically offers to fill in, and Jay and Gloria have to pay the consequences of accidentally taking Manny to see a traumatizing horror movie.

Wednesday, May 5th, 2010

s1e22: Airport 2010

For Jay's birthday, Gloria gives him the best surprise -- a romantic birthday getaway to Hawaii -- the only kicker is she invited the whole entire family to come along. Everyone arrives at the airport, and it's a maddening scene with forgotten I.D.'s, security breaches and flying phobias.

Wednesday, May 12th, 2010

s1e23: Hawaii

Jay's plans to do nothing but relax on vacation are interrupted by an unwelcome reality check. Meanwhile, Phil tries to make the trip romantic for Claire, Mitchell and Cameron disagree on whether they should go sight-seeing, and the kids get themselves into trouble.

Wednesday, May 19th, 2010

s1e24: Family Portrait

Claire makes an effort to take a new family portrait, but everybody is too busy to cooperate: Gloria and Manny go with Phil and Alex to a Lakers game and share an awkward moment on the jumbotron, Cameron gets a job as a wedding singer while Mitchell takes care of Lilly and a stray pigeon, and Luke interviews Jay for a school project.
Season 2
Wednesday, September 22nd, 2010

s2e1: The Old Wagon

Phil finally agrees to sell the old station wagon but only after a family trip down memory lane; Cameron asks Jay for help when Mitchell decides to build a life-size princess castle for Lily.

Wednesday, September 29th, 2010

s2e2: The Kiss

Gloria decides to honor her late grandmother by cooking more traditional Colombian meals; Claire finds out Alex is interested in a boy; Mitchell's aversion to public displays of affection causes an argument.

Wednesday, October 6th, 2010

s2e3: Earthquake

When an earthquake hits, Claire gets stuck in the bathroom with the plumber, Manny experiences an existential crisis while out with Jay, and Mitchell and Cameron use it as an excuse to get out of attending a party.

Wednesday, October 13th, 2010

s2e4: Strangers on a Treadmill

Claire tries to convince Phil that his realtors' banquet speech is unfunny. Mitchell tries to convince Cameron to change his wardrobe. Jay and Gloria go to a quinceañera hosted by one of his employees. Haley gives Alex advice on how to be cool.

Wednesday, October 20th, 2010

s2e5: Unplugged

In an attempt to reconnect the family, Phil and Claire challenge them to see who can abstain from using their electronic devices the longest. Mitchell and Cameron attempt to get Lilly into the best pre-school. Gloria deals with the neighbor's barking dog.

Wednesday, October 27th, 2010

s2e6: Halloween

Claire gives each family member a role to play in spookifying the Dunphy house for Halloween, but Cameron hates Halloween due to a traumatic childhood experience. Mitchell had a terrible day at work, and Gloria acts weird after Jay and Manny tease her about her accent.

Wednesday, November 3rd, 2010

s2e7: Chirp

Claire and Haley are stuck at home sick. Gloria and Manny's surprise visit at work causes a headaches for Jay. Cameron is swept up by all the lights and cameras when he goes behind Mitchell's back and takes Lily for a commercial.

Wednesday, November 17th, 2010

s2e8: Manny Get Your Gun

Manny is depressed about his birthday. Phil and Claire engage in a not-so-friendly car race on the way to the party, and Mitch and Cam get sidetracked when they stop at the mall to pick up a gift.

Wednesday, November 24th, 2010

s2e9: Mother Tucker

Mitchell tries to tell Cameron how he feels uncomfortable with his mom, Barb Tucker. Haley breaks up with Dylan to Phil's dismay and Claire's delight. Jay has a little stomach ache that gets exacerbated when he and Manny look it up on the Internet.

Wednesday, December 8th, 2010

s2e10: Dance Dance Revelation

At Luke and Manny's first school dance, Jay and Phil take them to the mall which turns disastrous, Claire's is jealous when Gloria joins the school dance committee. Cameron and Mitchell learn about Lily biting other kids at the playground.

Wednesday, January 5th, 2011

s2e11: Slow Down Your Neighbors

Claire becomes a vigilante to catch a car that speeds though their streets. Phil tries to land an important listing with a difficult client, Jay teaches Manny (and Gloria) how to ride a bike. Mitchell and Cameron meet a mysterious neighbor who is quite the charmer.

Wednesday, January 12th, 2011

s2e12: Our Children, Ourselves

Phil and Claire pressure Alex to ease back on her school work, but begin to worry about their own intellectual drives. Jay is upset when Gloria tries to befriend a new couple, and Mitchell runs into an old female flame.

Wednesday, January 19th, 2011

s2e13: Caught in the Act

The kids get a surprise of their own when they take breakfast in bed to Phil and Claire on their anniversary. Jay and Gloria's Vegas vacation plans are ruined by a brutally honest email accidentally sent to Claire,. Mitchell and Cam try to get into a new restaurant owned by a mom at Lily's preschool.

Wednesday, February 9th, 2011

s2e14: Bixby's Back

Claire and Phil decide to reprise their role-playing adventure from last year's Valentine's Day. Jay's surprise plans for Gloria keeps getting interrupted. A secret admirer comes between Cameron and Mitchell.

Wednesday, February 16th, 2011

s2e15: Princess Party

Claire and Cameron are dismayed by the guest list for Lily's princess-themed birthday party. Then DeDe attends with Claire's old high school boyfriend in tow. Jay and Gloria turn to their own unique methods of dealing with this gathering of misfits.

Wednesday, February 23rd, 2011

s2e16: Regrets Only

After Phil and Claire have a huge fight, Gloria steps in to counsel Phil while Jay counsels Claire. Jay has some regret in buying Gloria a karaoke machine. Cameron is in full prep mode for a huge fund-raising event and asks Mitchell and Luke for help.

Wednesday, March 2nd, 2011

s2e17: Two Monkeys and a Panda

Claire is run ragged trying to fix Haley and Alex's relationship. Gloria is horrified by Jay's plans to purchase themselves side-by-side crypts. Cameron decides he wants to write a book that celebrates the fact that Lily is adopted, but soon learns something new.

Wednesday, March 23rd, 2011

s2e18: Boys' Night

Phil and Claire are not pleased when Luke befriends a curmudgeonly old neighbor. To avoid an invite to the symphony with Gloria and Manny, Jay goes with Mitchell and Cameron on their "boys' night out" while Haley babysits Lily.

Wednesday, April 13th, 2011

s2e19: The Musical Man

Cameron is overzealous in his planning of the spring musical performance at Luke and Manny's school. Jay's brother visits while Phil convinces the family to be in his new ad.

Wednesday, April 20th, 2011

s2e20: Someone to Watch Over Lily

Mitchell and Cameron assess their family members in trying to decide who would best take care of Lily should anything happen to them.

Wednesday, May 4th, 2011

s2e21: Mother's Day

Claire and Gloria's Mother's Day excursion with the kids turns into the mother of all disasters. Meanwhile, Phil and Jay share an awkward moment when they stay home to prepare dinner for everyone. Cameron worries about gender roles in his relationship with Mitchell.

Wednesday, May 11th, 2011

s2e22: Good Cop, Bad Dog

Jay advises a dog trainer, while Phil and Claire switch parenting duties to the kids' chagrin. Mitchell has an extra Lady Gaga ticket when Cameron ends up sick.

Wednesday, May 18th, 2011

s2e23: See You Next Fall

With the whole family gathered at Jay's before going to Alex's middle school,graduation, Jay is hiding a botox mishap, Cameron is upset about Mitchell's habit of laughing at his expense, and Phil tries sympathiic and critical of Claire's worries over the kids growing up too fast. They might miss Alex's big moment.

Wednesday, May 25th, 2011

s2e24: The One That Got Away

Jay wants to go fishing on his birthday, but the family insists he have a big party, leading Claire and Mitchell to get trapped in their childhood yard, Phil encounters his college nemesis at the mall and Cameron to have trouble at the bakery.
Season 3
Wednesday, September 21st, 2011

s3e1: Dude Ranch

While vacationing on Lost Creek Ranch, the three families try their hands at a little cattle herding, skeet shooting and horseback riding. There are also some big firsts, a huge surprise and an actual face-off between Jay and a cowboy named Hank.

Wednesday, September 21st, 2011

s3e2: When Good Kids Go Bad

Lily has problems with Mitchell and Cameron's plans to adopt another child, Jay tries to get Manny to confess to stealing a locket at school, and Claire goes to extreme lengths to prove that she was right in an argument.

Wednesday, September 28th, 2011

s3e3: Phil on Wire

Jay's relationship with the dog irritates Gloria. Phil and Luke try to master the tightrope. Cameron starts a juice fast.

Wednesday, October 5th, 2011

s3e4: Door to Door

Jay helps Manny with a school fundraiser. Claire petitions for a stop sign at a busy intersection. Phil and Luke try to create a viral video. Gloria searches for Stella.

Wednesday, October 12th, 2011

s3e5: Hit and Run

Gloria tries to help Jay and Manny with their problems but both are unreceptive. Claire considers running against Councilman Duane Bailey. Cam and Mitch are the victims of a hit-and-run accident.

Wednesday, October 19th, 2011

s3e6: Go Bullfrogs!

Phil takes Haley to visit his alma mater. Claire goes out with Mitchell and Cameron. Gloria and Jay may have to broach a delicate subject with Manny.

Wednesday, November 2nd, 2011

s3e7: Treehouse

Gloria persuades Jay to commit to a night of salsa dancing after seeing how much his friend Shorty and his girlfriend do together. Cameron makes a bet that he can get a woman's phone number at the bar. Phil builds a tree house for Luke.

Wednesday, November 16th, 2011

s3e8: After the Fire

The Pritchetts rally for a good cause after a neighbor's house burns down, but there's a downside when Jay throws out his back, Cameron takes on a moving truck, and some donated toys fall into the wrong hands.

Wednesday, November 23rd, 2011

s3e9: Punkin Chunkin

An old neighborhood kid returning to town as a internet billionaire gets Phil thinking of what could have been. Jay feels Manny could use some constructive criticism, Cameron is offended when Mitchell questions the authenticity of his colorful childhood stories.

Wednesday, December 7th, 2011

s3e10: Express Christmas

The family puts together a quick Christmas celebration when they realize they won't be together on the actual day.

Wednesday, January 4th, 2012

s3e11: Lifetime Supply

Phil contemplates the worst after missing a call from the doctor. Javier, Manny's biological father, pays another visit to take his son to the horse races, Mitchell wins an environmental law award, creating a competition between Cam and himself on who has the better trophy. Gloria tutors Haley in Spanish.

Wednesday, January 11th, 2012

s3e12: Egg Drop

Jay and Claire take control of their kids' school projects from Manny and Luke, while Haley and Gloria help Phil with a real estate presentation. Cam and Mitchell meet with a potential birth mother.

Wednesday, January 18th, 2012

s3e13: Little Bo Bleep

Claire prepares for her debate with Duane Bailey. Mitch and Cam try to clean up Lily's language before her turn as a flower girl. Jay blames Stella's strange behavior on Gloria.
Season 0
Thursday, October 15th, 2009

s0e1: The Making of Modern Family

Behind the scenes look at making of the pilot. With commentary from the executive producers and cast of Modern Family. Exclusively available on iTunes for free.
Season 3
Wednesday, February 8th, 2012

s3e14: Me? Jealous?

Phil's preoccupation with a business opportunity blinds him to his new partner's inappropriate behavior around Claire. Jay and Gloria may regret letting Mitchell and Cameron be their temporary house guests when their home is being fumigated.

Wednesday, February 15th, 2012

s3e15: Aunt Mommy

Phil and Claire go overboard with drinks, and divulging personal information, on a night out to celebrate the sale of a house to Mitchell and Cameron's friends.

Wednesday, February 22nd, 2012

s3e16: Virgin Territory

It's a day of disturbing realizations when Mitchell manages to ruin one of Jay's proudest golf moments, Phil overhears something that may forever change how he sees his little girl, and Gloria stumbles upon Claire's dangerous little secret.

Wednesday, February 29th, 2012

s3e17: Leap Day

Mitchell feels pressured to make Cameron's birthday extra special. People start to question Jay's manliness, and the girls interfere with Phil's leap day plans.

Wednesday, March 14th, 2012

s3e18: Send Out the Clowns

Cameron is reunited with his estranged ex-clown partner, Lewis. Phil is serious about landing a very important listing, only to be trumped by a notorious bulldozer of an agent, Mitzi Roth. Manny has a cool new friend, which makes both Jay and Gloria suspicious.

Wednesday, April 11th, 2012

s3e19: Election Day

Claire's race for town council comes to a head on Election Day as the Dunphys make phone calls for votes and Mitchell and Cameron take to the streets to campaign, while the candidate endures technical problems during some last-minute interviews.

Wednesday, April 18th, 2012

s3e20: The Last Walt

A visit from Cameron's father features an awkward dinner for Jay and Gloria at Mitchell and Cameron's house. Claire helps Luke face the death of an older neighbor, Phil and Alex have a father-daughter bonding experience. Haley throws a party without permission.

Wednesday, May 2nd, 2012

s3e21: Planes, Trains and Cars

Phil buys a car without consulting Claire. Jay is on a mission to get to his high-school reunion with Gloria and Manny. Lily loses her favorite toy on a train.

Wednesday, May 9th, 2012

s3e22: Disneyland

When the family travels to Disneyland, Phil struggles to keep up with Luke, Claire is shocked when they run into Dylan, Jay and Gloria disagree about what are sensible shoes for the day, and Mitch and Cam must contain Lily's new affinity for running.

Wednesday, May 16th, 2012

s3e23: Tableau Vivant

Gloria and Jay bicker while trying to order lunch at a diner. Claire and Cam have different theories on how to discipline kids. Luke accepts an award under false pretenses. Phil has a hard time firing Mitchell from his temporary job at the real estate agency. The entire family participates in Alex's living art display of Norman Rockwell's Thanksgiving painting.

Wednesday, May 23rd, 2012

s3e24: Baby on Board

Gloria's bilingualism comes in handy on Mitchell and Cameron's quest to adopt another child. Meanwhile, Jay and Manny help Lily get ready for a dance recital. Alex goes to her first prom, and Haley announces her future plans, which come as a shock to her family.
Season 4
Wednesday, September 26th, 2012

s4e1: Bringing Up Baby

Phil takes Jay on an unconventional fishing trip; Gloria wonders how to break the news about her pregnancy; Dylan temporarily moves in with the Dunphys; Cam and Mitch think about adopting a cat.

Wednesday, October 24th, 2012

s4e5: Open House of Horrors

Claire must rein in her enthusiasm for Halloween and keep her celebration kid-friendly; Phil decides to hold an open house on Halloween; Mitch and Cam have a costume party; Gloria's hormones make her more quick-tempered than usual.

Wednesday, October 10th, 2012

s4e2: Schooled

Claire and Phil embarrass Haley when they drop her off at college; Manny makes Gloria and Jay take a class; Lily gets into a tussle on her first day of kindergarten.

Wednesday, November 7th, 2012

s4e7: Arrested

Cameron watches Alex and Luke while Phil, Claire and Mitchell deal with Haley's arrest; Jay tries to cut short a surprise visit from ex-wife Dede (Shelley Long), so she doesn't learn about Gloria's pregnancy.

Wednesday, November 14th, 2012

s4e8: Mistery Date

When Claire, Manny and Luke go to Alex's academic decathlon for the weekend, Phil throws a guys' night at home; Manny and Luke crash bar mitzvahs looking for a girl; Cam and Mitchell get Jay and Gloria a surprise baby gift.

Wednesday, November 28th, 2012

s4e9: When a Tree Falls

Mitch and Cam try to save an old tree in the park; Jay takes Manny to a kid's Olympics-themed birthday party; Gloria and Claire have an eventful shopping trip.

Wednesday, December 12th, 2012

s4e10: Diamond in the Rough

When Manny and Luke's Little League team makes it to the playoffs, Claire and Cameron search for a field to use; Gloria uses a microphone to sing to the baby.

Wednesday, January 9th, 2013

s4e11: New Year's Eve

Jay and the family plan to celebrate New Year's together at a hotel in Palm Springs, but the hotel doesn't meet their expectations; Alex and Haley are faced with challenges as they try to watch the kids back at home.

Wednesday, January 16th, 2013

s4e12: Party Crasher

Gloria and Jay try to make Manny's 14th birthday extra special by planning a surprise party; Haley starts hanging out with a much older guy.

Wednesday, October 10th, 2012

s4e3: Snip

Phil gets a vasectomy; Gloria and Jay can't agree on whether or not they should find out the sex of the baby; Mitchell tries to steer Cameron toward getting a part-time job.

Wednesday, October 17th, 2012

s4e4: The Butler's Escape

Phil can't accept that Luke wants to quit magic; Gloria's snoring keeps Jay and Manny awake; Mitch and Cam struggle to deal with their reversed role.

Wednesday, October 31st, 2012

s4e6: Yard Sale

Jay and Gloria host a yard sale to help with a school fundraiser; Mitch and Cam vet Alex's new friend; Manny finds a trunk full of secrets.

Wednesday, January 23rd, 2013

s4e13: Fulgencio

When Gloria's mother and sister visit, they bring traditions, baby names and family baggage; Phil helps the kids with their problems; Mitchell and Cameron try to correct Lily's bad habits.

Wednesday, February 6th, 2013

s4e14: A Slight at the Opera

When the lead in the school's production of "Phantom of the Opera" gets sick, Manny is willing to do anything to land the lead; Phil and Jay wind up in a golf-off with Mitch and Pepper; Gloria and Alex visit a psychic.

Wednesday, February 13th, 2013

s4e15: Heart Broken

Claire and Phil's Valentine's Day romp ends with Claire in the hospital; Jay and Gloria's attempts at romance are interrupted by the kids; after hosting a wild party, Cam and Mitch are left with hangovers and a new housemate.

Wednesday, February 27th, 2013

s4e17: Best Men

Mitch and Cam's friend Sal announces she's getting married the next day and they are in the wedding; Gloria doesn't trust her new nanny; Claire bonds with Haley; Phil helps Luke with a girl.

Wednesday, February 20th, 2013

s4e16: Bad Hair Day

Things get awkward when Phil shows up at Claire's college reunion; Jay is fixated on winning a big bowling tournament; a wig malfunction during an elaborate photo shoot with Joe leads to unfortunate results.

Wednesday, May 15th, 2013

s4e23: Games People Play

Phil gets a new RV for a fun family road trip. Jay and Gloria search for Manny's backpack. Lily's gymnastics meet brings out Cam and Mitch's competitive spirit.

Wednesday, May 22nd, 2013

s4e24: Goodnight, Gracie

Everyone flies down to Florida to be with Phil after his mom's passing. Claire helps Phil with Gracie's last wish for Frank, and the kids reflect on the gifts grandma left for them. Gloria has to contend with an outstanding arrest warrant in Florida, Cam finds himself fitting right into an elderly women's group at Frank's retirement community, and Jay runs into a pivotal person from his past.

Wednesday, March 27th, 2013

s4e18: The Wow Factor

Claire and Cam bring in a third party (Wendi McLendon-Covey) when they reach an impasse on a landscaping decision; Phil teaches basic fix-it skills to the kids; Mitch helps Lily with a bully.

Wednesday, April 10th, 2013

s4e20: Flip Flop

Phil gets desperate when Cam and Claire's flipped house is more difficult to sell than expected; Javier brings his new girlfriend along to visit Manny.

Wednesday, April 3rd, 2013

s4e19: The Future Dunphys

At the hospital Claire and Phil see the older version of their family; Mitchell and Cameron plan a day for Lily and Gloria; Manny and Jay go to a private school to look around.

Wednesday, May 1st, 2013

s4e21: Career Day

Phil is jazzed to share the wonders of residential real estate with Luke and Manny's classmates for career day. Gloria challenges Jay's claims of always wanting to become a novelist. Mitch and Cam make a costly mistake while executing tooth fairy duties.

Wednesday, May 8th, 2013

s4e22: My Hero

Mitch's ex-boyfriend, a personable and successful doctor, invites the whole family to a fundraising event at a roller rink; Phil teaches Gloria how to skate; Haley helps Alex talk to boys.
Season 5
Wednesday, September 25th, 2013

s5e1: Suddenly, Last Summer

Phil and Claire try to orchestrate a kid-free week during Luke, Haley and Alex's summer activities; Cam and Mitch try to have a memorable summer.

Wednesday, October 2nd, 2013

s5e3: Larry's Wife

Phil's job takes up a lot of his time; Luke has his friends over for a poker game; Gloria worries the baby is cursed; Cam hosts a funeral for the cat's imaginary wife.

Wednesday, September 25th, 2013

s5e2: First Days

Luke and Manny have their first day of high school; Claire returns to the workforce; Mitch juggles an important meeting and Lily's first day of grade one.

Wednesday, October 9th, 2013

s5e4: Farm Strong

When Cam's sister comes to visit, he tries to find a gentle way to break the news of his engagement; Phil and Claire decide to miss one of Luke's games; Gloria is in denial about needing glasses.

Wednesday, October 16th, 2013

s5e5: The Late Show

The adults struggle to make it to a hot new restaurant in time for the reservation Jay pulled a lot of strings to get.

Wednesday, October 23rd, 2013

s5e6: The Help

Jay and Manny oppose Gloria's decision to hire a male nanny; Phil and Jay try to cheer up Frank; Mitch and Cam ask Pepper to help plan their wedding.

Wednesday, November 13th, 2013

s5e7: A Fair to Remember

The family goes to the annual school fair; Phil and Claire each plan a separate surprise for their 20th wedding anniversary; Haley has an awkward encounter.

Wednesday, December 4th, 2013

s5e9: The Big Game

Cam is extremely focused -- and ruthless -- as a big football game approaches; Claire wants to prove herself at work; Phil tries to teach his children about optimism

Wednesday, December 11th, 2013

s5e10: The Old Man & the Tree

Jay and Manny set out to cut down their own Christmas tree; Gloria is on edge when her mother visits; Mitchell does last-minute shopping to find the perfect gift for Lily.

Wednesday, January 22nd, 2014

s5e13: Three Dinners

Haley turns the tables when Claire and Phil try to talk with her about her future; Jay receives news from his friend Shorty; Cam and Mitch go on a romantic date.

Wednesday, January 15th, 2014

s5e12: Under Pressure

Gloria has an encounter with a mean mom (Jane Krakowski) during the high school open house; Mitchell meets a judgmental neighbor (Jesse Eisenberg); Alex goes to a therapist.

Wednesday, November 20th, 2013

s5e8: ClosetCon '13

Claire encourages Jay to go to ClosetCon, where he is reunited with former colleagues; for the first time, Cam takes Lily and Mitch to the Tucker farm.

Wednesday, January 8th, 2014

s5e11: And One to Grow On

Phil ends up in jail after tricking Luke into taking a dance class; Jay and Gloria plan birthday parties for Manny and Joe; Mitch and Cam try to book a wedding venue.

Wednesday, February 5th, 2014

s5e14: iSpy

Claire and Phil spy on Luke and Manny; Jay misinterprets Gloria's anger over a dream she thinks he had for another offense he committed; Mitch tries to keep a secret from Cam; Haley tries to keep her photography exhibit from her family.

Wednesday, March 12th, 2014

s5e17: Other People's Children

Jay takes Luke to the garage for some male bonding; Gloria and Claire take Lily dress shopping; Mitch, Cam, Alex and Manny spend a day at the museum; Phil helps Andy make an anniversary gift for his girlfriend.

Wednesday, February 26th, 2014

s5e15: The Feud

Luke competes against the son of Phil's nemesis (Rob Riggle) in a wrestling match; Cam and Mitch ask Claire to pick up Lily from school without mentioning the recent lice incidence in her class; Gloria chaperones a field trip.

Wednesday, March 5th, 2014

s5e16: Spring-a-Ding-Fling

Cameron feels competitive when a popular teacher returns from sabbatical; Haley goes to a realtor's banquet with Phil; Mitch struggles to get his bearings at his new job; Jay and Gloria babysit Lily.

Wednesday, March 26th, 2014

s5e18: Las Vegas

Jay is determined to get the adults' hotel suite upgraded; Claire tries to win back some money; Phil auditions to be a magician.

Wednesday, April 2nd, 2014

s5e19: A Hard Jay's Night

Mitch struggles to hide his genuine feelings about an unflattering wedding topper Cam's father made; Phil tries to help Gloria sell the apartment she had before Jay but they get sidetracked at a salon; Jay wants to host a nice family evening.

Wednesday, April 23rd, 2014

s5e20: Australia

The family joins Phil as he travels to Australia to fulfill his mother's wish that he see the land where he was conceived.

Wednesday, April 30th, 2014

s5e21: Sleeper

Phil cannot handle the stress when he tells Claire an elaborate lie; Gloria is tasked with organizing this year's family portrait; Jay covertly enters Stella in a dog show.

Wednesday, May 7th, 2014

s5e22: Message Received

Jay, Gloria and Manny challenge one another to try something new; Mitch and Cam sell a couple of their prized possessions to fund the wedding; the kids play a joke on Phil and Claire.

Wednesday, May 14th, 2014

s5e23: The Wedding (1)

Mitch and Cam's big day is finally here and nothing can ruin it, until nothing turns into a whole lot of somethings and puts wedding planner extraordinaire Pepper Saltzman to the test. Jay and Gloria host the Tuckers, Phil squeezes in an eye procedure before the festivities and Claire embraces her role as 'best woman'.

Wednesday, May 21st, 2014

s5e24: The Wedding (2)

The wedding day chaos continues as the entire party shifts from one contingency plan to another. Guests start to get testy, Mitchell and Cameron are feeling discouraged, and poor Claire shows physical wear and tear.
Season 6
Wednesday, September 24th, 2014

s6e1: The Long Honeymoon

When Alex returns from a humanitarian trip, the family dynamic shifts; Cameron remains in a lovey-dovey mood even after the honeymoon ends; Gloria gives Jay a taste of his own medicine after noticing the lack of effort he puts into his appearance.

Wednesday, October 1st, 2014

s6e2: Do Not Push

Jay and Gloria can't agree on what kind of anniversary gifts they want to exchange; the Dunphys go with Alex to Caltech for her college tour; Mitch, Cam and Lily take a new family portrait.

Wednesday, October 8th, 2014

s6e3: The Cold

Phil must make creative edits in Cam and Mitch's wedding video when footage reveals that Phil is responsible for a terrible cold that has plagued the family; Gloria and Jay try to help Manny cope with stress in different ways.
Season 0
Wednesday, April 23rd, 2014

s0e2: An Aussie Adventure

An Australian special that aired on channel 10, be hosted by Angela Bishop with behind the scenes footage plus interviews with cast and executive producers. This special episode of the award-winning comedy series follows the Pritchett-Dunphy-Tucker clan on an Australian adventure after Phil Dunphy discovers he was conceived here. He takes them all on the trip of a lifetime to destinations including Sydney, the outback and the Great Barrier Reef.
Season 6
Wednesday, October 15th, 2014

s6e4: Marco Polo

The Dunphys stay in a cramped hotel room while the house is treated for mold; Gloria feels protective when Manny starts dating an older girl; Cameron wants to maintain his team's winning streak but fears Mitchell is a jinx.

Wednesday, November 12th, 2014

s6e7: Queer Eyes, Full Hearts

Phil and Claire don't know if they should be happy or concerned that Haley and Andy are spending a lot of time together, however, they soon find things are not what they appear. Gloria is pushing Manny to learn Spanish instead of French so she goes ahead and hires a Spanish tutor, Diego, who also happens to be very handsome, much to Manny and Jay's chagrin. Meanwhile, Mitch and Cam meet a popular news reporter at a school function and one of them piques her journalistic interest.

Wednesday, October 22nd, 2014

s6e5: Won't You Be Our Neighbor

Phil is selling the house next door and he and Claire are excited by the prospect of having wonderful new neighbors, but that quickly turns into panic when a loud and obnoxious couple come to look at the house. Jay forbids Manny to see his new girlfriend when he realizes she's the granddaughter of his biggest business rival. Mitch and Cam are determined to switch Lily out of Mrs. Plank's class since she is known to rule with an iron fist – and she also scares them.

Wednesday, October 29th, 2014

s6e6: Halloween 3: AwesomeLand

Claire allows Phil to take over Halloween this year, so he decides to turn the house into AwesomeLand. Cameron gets overwhelmed by the day's activities. Mitchell has closing arguments for a huge case, and it doesn't help that the stenographer is dressed like a spider.

Wednesday, November 19th, 2014

s6e8: Three Turkeys

Phil is cooking Thanksgiving dinner this year with Luke as his sous chef, and Claire has no confidence in them and prepares a secret turkey of her own as backup. Meanwhile, Jay and Gloria had plans to spend the holiday away but when the trip gets canceled last minute, they decide not to tell anyone which quickly becomes the worst idea ever since the family dinner gets suddenly moved to their house and it turns into a mad scramble to cover their tracks. Mitch is tired of always being the bad cop so when Lily refuses to wear a nice dress to dinner, he forces Cameron to deal with it who then comes up with a very unconventional approach.

Wednesday, December 3rd, 2014

s6e9: Strangers in the Night

When Alex tells Phil and Claire she has a boyfriend, they worry they've put too much pressure on her and has made up an imaginary boyfriend. Jay and Gloria both have parties that they are dragging the other to and Jay has a clever plan to get himself out of it, but Manny just might spoil everything. Mitch and Cam just got a beautiful white couch delivered but when Mitch is stuck helping out Brenda, a distressed co-worker, and allows her to stay - it is a mishap waiting to happen.

Wednesday, December 10th, 2014

s6e10: Haley's 21st Birthday

Haley is turning twenty-one and the whole family is taking her to a bar to celebrate! Claire really wants Haley to start seeing her as a friend rather than her uptight mom, Mitch and Cam make the sad realization that they may not be as cool as they thought, and Phil and Jay's quick pit stop to pick up Haley's gift, a new car, becomes a disaster. Back at home, Alex, Luke and Manny babysit Lily and she decides to drop the 'where do babies come from?' bomb.

Wednesday, January 7th, 2015

s6e11: The Day We Almost Died

While driving out to get breakfast, the Dunphys plus Manny have a near death experience causing everyone to reevaluate their lives. Claire resolves to be more fun and less uptight, Haley and Alex agree not to fight anymore, Manny refuses to ever ride in a car again, Luke wants to check off his bucket list, Phil decides to be a take action type of guy, and the rest of the family has to bear the brunt of all the new attitudes.

Wednesday, January 14th, 2015

s6e12: The Big Guns

Claire is furious about neighbors Ronnie and Amber's eye-sore of a boat on their front lawn and it soon becomes an all-out war when Phil calls in the "big guns" as back up -- his dad Frank and all his retired friends to give them a taste of their own medicine. Elsewhere, Jay is trying to potty train Joe but Gloria does not think he's ready yet, and Cam secretly takes Lily to clown school behind Mitchell's back.

Wednesday, February 4th, 2015

s6e13: Rash Decisions

Phil starts to feel the teenage cold shoulder from Luke and, with Andy hanging around a lot as his apprentice, he easily steps in as his new right hand man. Gloria and the doctors suspect that Joe might be allergic to Stella. Mitchell does some freelance legal work at Jay's closet company and working with Claire becomes a very enlightening experience for the both of them.

Wednesday, February 11th, 2015

s6e14: Valentine's Day 4: Twisted Sister

Valentine's Day means 'Juliana' and 'Clive' are back, but things get worrisome when Claire starts sensing Phil may be more into Juliana than her. Jay goes from feeling disappointed to scared when Gloria's visiting sister becomes a larger deterrence for a romantic evening with Gloria than he thought. Mitchell and Cameron get themselves in a precarious situation with a good friend.

Wednesday, March 4th, 2015

s6e17: Closet? You'll Love It!

Jay and Claire shoot a Pritchett Closets commercial. A drone is spying on Gloria. Lily prepares to perform in her school talent show. Haley's feelings for Andy become even more complicated.

Wednesday, March 25th, 2015

s6e18: Spring Break

Spring break has Claire doing some spring cleaning, while Phil struggles with not being a spring chicken when Luke starts outperforming him at seemingly everything. Haley takes Alex to a music festival to take her mind off of colleges, and Gloria and Jay challenge one another to give up Spanish soap operas and cigars respectively. However, when Gloria accompanies Cameron to his faculty talent show, she projects the soapy drama she craves onto Cam's rivalry with Senor Kaplan, and Jay tags along with Mitchell to pick up Lily from camp so he can sneak a smoke.

Wednesday, April 22nd, 2015

s6e20: Knock 'em Down

Jay agrees to sub in on Cam's bowling team, not knowing it's an all-gay league. Phil and Clair have an unexpectedly nice time with their neighbors. Gloria and Mitch agree to go out with Haley.

Wednesday, April 29th, 2015

s6e21: Integrity

Phil and Jay run an errand together to pick up Lily's hand me down princess castle for Joe, both though are in a mood because Phil is upset that Claire won't let him buy an arcade machine, and Jay thinks Gloria is letting Joe play with too many girlie items. Mitch and Cam babysit Joe and both get the itch for another baby -- that is until Joe presents to be quite the handful! Meanwhile, Gloria tries to help Haley stand up for herself at work, and Claire tries to bribe Luke's principal to give him one of the student awards this year.

Wednesday, May 13th, 2015

s6e23: Crying Out Loud

The family is determined to make Alex celebrate her senior ditch day and Phil, Luke and Haley forcefully take her out but end up at an unexpected detour. Claire is torn when she gets a job offer from a big hotel chain but feeling torn quickly gets replaced with feelings of confusion when she can't tell whether or not Jay really cares if she stays or goes. And with Manny groggy off of pain killers from his wisdom teeth procedure, Gloria seizes the moment to put a sabotage plan into effect to break Manny and his new girlfriend up.

Wednesday, May 6th, 2015

s6e22: Patriot Games

Alex's worst nightmare is realized when she gets news that she has to share the Valedictorian title with her number one competitor, Sanjay! Both sets of parents get equally caught up in the rivalry and convince Principal Brown to let them break the tie via a gym grade they both have not completed - a one mile run. Elsewhere, Gloria is studying for her upcoming U.S. citizenship test and a visit from Javier throws her off her game, and Mitch and Cam blindly agree to join a protest against a local restaurant that they are actually secretly excited about.
Season 7
Wednesday, September 23rd, 2015

s7e1: Summer Lovin'

Haley's attempt to stop Andy from proposing to Beth will end up with both Haley and Andy needing to cope with their emotions and both will have their own special ways of doing so, and Phil and Claire seem to only make matters worse. Jay and Gloria look at pre-schools for Joe and get a rude awakening after they realize the competitive wait list to get in. Meanwhile, Cam tries to remain supportive of Mitch's midlife career crisis, but money is getting a little tight, so Cam comes up with a scheme to get Mitch's old job back.
Season 6
Wednesday, May 20th, 2015

s6e24: American Skyper

The whole family is at Jay & Gloria's for Alex's graduation party, except for Phil, who ingeniously figured out a way to be there via skype and a robotic vessel after being unexpectedly detained in Seattle on a business trip. During the celebration, Jay frets about Gloria's cousin who has overstayed his welcome, Claire stresses out about giving Alex the perfect gift, Mitch hides news of being laid off from Cam and Andy's girlfriend, Beth, is in town stirring up a whole lot tension with Haley which finally leads to a realization that may have come too late

Wednesday, February 18th, 2015

s6e15: Fight or Flight

After a long reunion weekend with Phil's old cheer buddies, Claire jumps at the chance to snag the only first class seat left on the return flight home, leaving Phil in coach. Gloria forces Jay to teach Manny how to defend himself against a bully in his cooking class, but when things backfire it seems that the real bully might be someone else. Mitch, Cameron, Pepper and the whole gang throw Sal a belated baby shower.

Wednesday, February 25th, 2015

s6e16: Connection Lost

Claire's computer becomes the hub of all the family's activities when she gets stuck at the airport and is desperate to reach Haley after a big fight. After FaceTiming with Phil and the rest of the family to help track her down, Claire quickly turns to online snooping which inevitably becomes disturbing real quick and everyone gets sucked into the online drama.
Season 7
Wednesday, October 14th, 2015

s7e4: She Crazy

Phil is all in on project hatch-the-duck-eggs, even building a whole habitat for them -- no one else is as enthused about this project and Lily is the only one suckered into helping him. Claire, meanwhile, is nervous about pitching her new closet ideas to Jay and his creative team, and for good reason it seems. And, Gloria and Manny help each other out with their respective "crushes," while Cameron develops an unhealthy attachment to the frat guys renting their upstairs unit.
Season 6
Wednesday, April 1st, 2015

s6e19: Grill, Interrupted

Jay's birthday brings everyone together and Phil is beside himself over the super cool gift he got Jay, a high-tech outdoor grill. Claire and Mitch decide they will "offer" to pay back the money Jay loaned them ages ago as their gift not really thinking he will take them up on it, and Gloria teaches Manny and Luke a lesson about drinking, while Andy gets real awkward with Haley when she brings over her new doctor boyfriend.
Season 7
Wednesday, September 30th, 2015

s7e2: The Day Alex Left for College

Phil and Claire are feeling a little snubbed by their kids when Alex intentionally gives them the wrong college move in date to avoid making it a big deal, and Luke seems less than eager to spend the day with Phil at his open house and would rather go hang out with some guys from school. Elsewhere, the rest of the family concoct an elaborate story to get out of going to Lily's soccer game which only adds to the stress Mitch and Cam are feeling now that they've added landlords to their resume after deciding to rent out the top unit for temporary stays.

Wednesday, October 7th, 2015

s7e3: The Closet Case

Being the cool dad that he is, Phil helps Haley convince Claire to allow Dylan to move in temporarily, but after seeing how intimate living together means, Phil is having major second thoughts. Mitch takes on a much needed consulting job that just so happens to be for Jay's biggest rival – Closets, Closets, Closets, Closets! – which doesn't go over well with Jay, and elsewhere, Gloria and Cameron disagree on how to handle Manny's girl problem at school.

Wednesday, October 21st, 2015

s7e5: The Verdict

Claire is excited to give Haley and Alex a great experience for "Bring Your Daughter to Work Day" but the staff is not making it easy, and Phil takes Luke and Manny's class out for community service day, which becomes a teachable moment in more ways than one. Elsewhere, Gloria is thrilled to be on jury duty leaving Jay to help out at Joe's pre-school and he is not happy about it at all. Cam and Mitch disagree over which of their friends to invite to their party, so could Gloria help mediate?

Wednesday, November 11th, 2015

s7e6: The More You Ignore Me

Claire and Phil have their hands full when Luke gets arrested for driving without a license, then they catch Alex sneaking out of a liquor store, but that's on top of Phil dealing with some personal insecurities. Elsewhere, Cam tries to convince Gloria to recreate and sell her family's hot sauce while Mitch helps Jay shoot a video to accompany his Titans of Industry award. And Haley and Dylan have an awkward encounter with Andy and Beth at the movies.

Wednesday, November 18th, 2015

s7e7: Phil's Sexy, Sexy House

Everyone is at Jay & Gloria's for post-Thanksgiving leftovers brunch and after a conversation about the sexy and sleek house that Phil is helping Mitch and Cam's friend sell, everyone gets the same bright idea to sneak in there and have a little "fun." Unbeknownst to one another they all choose the same day to go, and then it quickly escalates into a game of hide and hopefully don't get found. Meanwhile, back at Jay and Gloria's, Gloria has successfully stolen copies of everyone's drivers licenses during the brunch so Jay and her can buy them all a surprise family trip to Miami, but in actuality Jay has a surprise in store for Gloria, only to then get trumped by her surprise.

Wednesday, December 2nd, 2015

s7e8: Clean Out Your Junk Drawer

Gloria won a bid at the school auction for a family seminar with famed doctor and author Debra Radcliffe, whose self-help book 'Clean Out Your Junk Drawer' encourages people get out all their emotional junk to become healthier people and in turn better partners and spouses. Jay is resistant to the whole experience and can't get away fast enough, Mitch and Cam decide to keep it very surface level so they can come off as super stable, and Phil and Claire also make it competitive and strive to be the best and strongest couple of the group. Things quickly escalate though, as junk starts flying. Elsewhere, Haley and Alex meet up and counsel each other on their boy problems.

Wednesday, December 9th, 2015

s7e9: White Christmas

In an effort to have the picture-perfect white Christmas she's always dreamed of, Gloria rents a cabin in the mountains for the whole family to celebrate the holiday. Unfortunately, when they arrive, there are some unexpected factors like the weather and an eccentric random guest, who is already staying in the cabin. Meanwhile, the family are also preoccupied with their own agendas. Mitch and Cam are determined to make up for their bad caroling performance from last year. Haley and Andy can't keep their hands off each other, and Jay has a huge announcement to make that catches Claire off guard.

Wednesday, January 6th, 2016

s7e10: Playdates

Haley, Alex and Luke scramble to fulfill their promise of a special day for Mitch; Gloria arranges a playdate with a couple at Joe's school.

not specified

s7e11: Spread Your Wings

Wednesday, February 24th, 2016

s7e14: The Storm

A powerful storm hits Los Angeles and causes widespread power outages, so the entire Pritchett clan hunkers down at Jay and Gloria's house to use their generator. Meanwhile, Phil tries to make amends for an embarrassing moment, Mitchell and Cameron desperately try to save Lily's birthday party, and Haley turns on her charm for Andy.

Wednesday, March 16th, 2016

s7e16: The Cover-Up

Phil has a new client whom he tries to hide from his wife because she's attractive, while Claire would rather keep her hot yoga instructor a secret. Jay becomes preoccupied making a Web show, but is tormented by an Internet troll. Lily is nervous about learning to ride a bicycle, and her parents aren't exactly the best teachers.

Wednesday, February 10th, 2016

s7e12: Clean for a Day

Claire decides to get rid of all of the clutter out of the house before taking over Jay's business. Jay's new hobby causes concern for Cameron.

Wednesday, February 17th, 2016

s7e13: Thunk in the Trunk

Phil feels unappreciated as Claire is busy running the closet business. A life-size standee of Gloria for her hot sauce display receives some unsavory attention. Cam and Mitch feel suspicious of their new renters.

Wednesday, March 2nd, 2016

s7e15: I Don't Know How She Does It

Jay and Gloria are suffering with a lack of sleep after Joe goes through a fussy phase. Claire's balance of life and work is so flawless and easy that her family is getting suspicious. Mitchell and Cameron are poorly treated at their friends' wedding and wonder what they did to deserve it.

Wednesday, March 23rd, 2016

s7e17: Express Yourself

Phil has the crazy idea of going on a spontaneous trip to Paris with Claire, the only problem is that they are both so ridiculously tired but try to push through it. Jay has taken over their bathroom remodel, which proves to be pretty hazardous for Gloria, Manny and Joe. Cameron's sister Pam is staying at the house after her husband has left her, but her emotional outbursts are driving Mitchell crazy. Haley and Andy go on a wild night bender.

Wednesday, April 6th, 2016

s7e18: The Party

Manny and Luke babysit Lily so the adults in the family can have some fun, which includes Phil and Mitchell seeing a movie, Claire and Gloria going to a spa, and Jay and Cameron hitting a sports bar to watch a big fight, but Claire suspects the boys are going to throw a party.

Wednesday, April 13th, 2016

s7e19: Man Shouldn't Lie

Claire brings home a stray dog and gets the kids to help her hide it from Phil while she tries to find its owner. Unfortunately, her evasive behavior only makes Phil try even harder to shower her with more attention. Elsewhere, Gloria invites a new couple over even after Jay has made it clear he doesn't want to make any new friends, but when the husband turns out to be a real guy's guy, Jay might be eating crow. And Cameron rents out their upstairs apartment to a Christian rock band.
Season 8
not specified

s8e10:

Wednesday, December 14th, 2016

s8e9: Snow Ball

Wednesday, March 8th, 2017

s8e16: Basketball

After choking at last year's charity basketball game, Phil has been training all year to redeem himself. However, when NBA stars Charles Barkley and DeAndre Jordan attend the game and start making bets, Phil tries to not buckle under the pressure. Gloria has to step-up at Manny's school when her nemesis, Donna Duncan, tries to shame her for her lack of support at the school. Claire does whatever it takes to keep a work mistake secret from Jay, while Jay's concerned that Joe doesn't have a healthy fear of him at all.

Wednesday, March 15th, 2017

s8e17: Pig Moon Rising

Mitchell knocks over an urn filled with the ashes of Cameron's beloved pet pig Lilly while exercising in the garage, but Cameron suspects his cover-up is a load of hogwash.

Wednesday, March 29th, 2017

s8e18: Five Minutes

Mitch and Cam have five minutes to catch a new flight while fighting the effects of sleeping pills they took prematurely. Then at Rainer's birthday dinner, Haley and Rainer are forced to reevaluate their entire relationship in the five minutes before the birthday cake arrives. Meanwhile, Phil and Claire pay a surprise visit to Alex and are given a five-minute surprise introduction to her new boyfriend. Finally, with only five minutes to catch a movie, Manny has to find the perfect parking space and endure Jay and Gloria's backseat argument.

not specified

s8e19: Frank's Wedding

Wednesday, May 3rd, 2017

s8e20: All Things Being Equal

Gloria, Claire, Haley, Alex, Lily, Luke and Manny are equally committed to showing their support for gender equality and the women's movement in very different ways. Meanwhile, Jay and Phil are at odds on how their parking lot attendant, Joan, should be running their lot, and jealousy ensues when Pam prefers Mitchell's help over Cam's with her baby.

not specified

s8e21: Alone Time

not specified

s8e22: The Graduates

Wednesday, February 8th, 2017

s8e12: Do You Believe in Magic?

Fearful that the romance between him and Claire is fizzling, Phil calls upon his alter ego, Clive Bixby, get Valentines day back on track. Jay shows a bit of child favoritism when he and Gloria must deal with Joe's inappropriate Valentine gift-giving and Manny's dating indecisiveness. When Cam and Mitch try to empower Lily, Haley and Sal to stand up to the men in their lives, things don't turn out as planned and go overboard. Alex discovers she has a secret admirer who may be a little too involved with family.
Season 9
Wednesday, November 15th, 2017

s9e7: Winner Winner Turkey Dinner

During Jay's Thanksgiving toast, he honors the entire family on their recent successes, even though everyone knows that isn't quite true. As everyone desperately tries to hide the facts about their perceived triumphs, Phil works hard to master a classic magic trick and prove he's not the family failure,