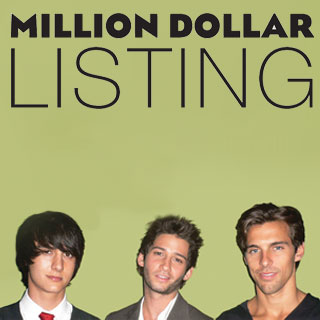 Season 1
Tuesday, August 29th, 2006

s1e1: Episode 1

Newbie Madison Hildebrand tries to sell his first big-money listing, a grand fixer-upper in Malibu. In Hollywood, agent Shannon McLeod attempts to market her ex-fiancé's luxurious home---without destroying their relationship.

Tuesday, September 5th, 2006

s1e2: Episode 2

While preparing for her wedding, ace condominium seller Lydia Simon attempts to market a high-priced beachfront condo in Malibu. Meanwhile, married agents Dia and Ray try to sell a divorcée's Hollywood Hills abode.

Tuesday, September 12th, 2006

s1e3: Episode 3

Married agents Dia and Ray wheel and deal in an effort to sell the Hollywood abode of a homeowner who plans to leave the country. In Malibu, slick Scotty Brown tries to market a Southern socialite's mountaintop house.

Tuesday, September 19th, 2006

s1e4: Episode 4

Malibu-based agent Chris Cortazzo works to sell a beachfront bungalow. Meanwhile, in Hollywood, Michael Wegmann tries to hit all the right notes when marketing a former record producer's modern home.

Tuesday, September 26th, 2006

s1e5: Episode 5

Newbie agent Chase Campen's real-estate savvy is tested by a buyer and a seller, who are equally unyielding. Elsewhere, agent Scotty Brown markets a renovated Malibu home---to the chagrin of the seller's wife.

Tuesday, October 3rd, 2006

s1e6: Episode 6

Dia and Ray try to sell a Hollywood home to a woman who is ready to move in. In Malibu, Carol Bird attempts the sale of a horse estate to a famous violinist.
Season 2
Tuesday, August 5th, 2008

s2e1: Sellers from Hell

In the premiere episode of the second season of Million Dollar Listing, Josh tries to persuade his pal, Dr. Sam, to buy a fixer-upper with huge profit potential, but it puts a strain on their friendship. Chad is dealing with a temperamental client who wants to sell his million-dollar condo in a not-so-million-dollar neighborhood. Meanwhile, Chad's girlfriend, Victoria, springs some surprising news on him. Madison's assistant leaves him in a bind, just as he secures one of the biggest listings of his career.

Tuesday, August 12th, 2008

s2e2: Mondo Condo

Josh tries to make things right with Dr. Sam by finding him the perfect condo, but the listing belongs to his biggest rival, Chad. Chad is struggling with family issues while trying to sell a pair of condos for yet another demanding client. The pressure heats up for Madison, who is missing an assistant and is left in a tight situation on a high-end deal.

Tuesday, August 19th, 2008

s2e3: Business and Pleasure

Josh thinks he finally found the perfect house for his client - a high-strung doctor and his spoiled daughter - but this dream house might be too good to be true. The rich widow of a famous businessman impatiently demands that Chad find her a beach house in the most exclusive part of Malibu. Madison lists his own home on the market, and then goes on a mystery blind date.

Tuesday, August 26th, 2008

s2e4: Dire Buyers

Josh's business-savvy grandmother finds him an "obituary listing," but when he ends up representing both the buyer and the seller he has to find a way to delicately negotiate. Chad tries to score a listing with an NBA star for a rental property in Las Vegas, but finds himself clashing with the star's bossy manager. Madison finds himself confused by unrequited feelings for his ex-girlfriend while house inspections reveal unexpected issues for one of his buyers.

Tuesday, September 2nd, 2008

s2e5: Showdowns

While dealing with the erratic demands of an arrogant client, Josh questions whether real estate is really the right path for him. Just as Chad is about to strike a deal for his NBA star seller, an unexpected setback threatens the deal. A Texas tycoon expects Madison to find an ocean-view home for his college-age son at Texas prices.

Tuesday, September 9th, 2008

s2e6: Epiphanies

As Josh copes with suffering from a "quarter-life" crisis, he strives to find the perfect piece of land for a designer's multi-million dollar fantasy compound. Chad battles over negotiations with a seller while shepherding a longtime family friend through the process of buying her dream home. Madison reaches a career milestone with his first double-digit listing, and attempts to make a buyer - a picky client of Josh's - fall in love with the property. Meanwhile, conflict between Josh and Chad explodes.
Season 3
Monday, October 12th, 2009

s3e1: No One is Recession-Proof

In the worst market he's ever seen, Josh lists a rundown Beverly Hills mansion to sell it quickly, but his potential buyer continuously thwarts negotiations. Meanwhile, Chad puts his reputation on the line by listing a million-dollar home for a spa owner, and Madison eagerly takes on the Malibu estate of a flirtatious sex advice author.

Monday, October 19th, 2009

s3e2: Big Numbers, Small Deals

Josh's grandmother, Edith, gives him a tip about real estate in a down market, so he lists a plot of land in a golf course community, while simultaneously trying to ink a deal in Bel Air in under 24-hours. Chad lands a gem of a listing in LA's ?Golden Triangle,? but quickly finds the market's enthusiasm for the neighborhood has tarnished. Also, Madison discovers that no matter how strong his business relationships might be, the numbers don't always add up.

Monday, October 26th, 2009

s3e3: Dolphins, Rats and Next Door Neighbors

Chad and Madison are both invited to speak at a real estate conference in Arizona where the topic is the declining market for high-end homes. Chad also tries to broaden his territory by listing a tiny bungalow in an up-and-coming neighborhood. But to his dismay, the home is plagued with a problem that threatens to scare away buyers. Meanwhile, Josh expands his sales territory by listing a $10 million mansion in Orange County's Newport Coast.

Monday, November 2nd, 2009

s3e4: Jumping Through Hoops for a Signature

Josh wants a listing on 20 acres of ocean view land in Malibu, but the owner isn't signing until he drafts and presents a marketing plan to him at his home in Montana. Chad lists a Hollywood Hills pad that should be a slam-dunk with help of another agent, while Madison hunts for investment properties for one of his most demanding clients. Chad asks his girlfriend Victoria a question that will make or break their relationship.

Monday, November 9th, 2009

s3e5: Looking to Score in Malibu

Competition between the agents heats up in Malibu as Chad snatches one of Madison's former multi-million dollar listings. Meanwhile, Madison takes-on a familiar Malibu listing with an ocean view, but soon realizes that the market has bottomed out for top homes. And Josh makes a spur of the moment gamble while also dealing with a potential health issue.

Monday, November 16th, 2009

s3e6: Sweet Deals and Icing on the Cake

Josh thinks he can move a less than stellar Hollywood Hills home by focusing on its spectacular city views. Madison convinces a friend to lease their home instead of selling it, which ends up putting his friendship and his reputation at risk. Chad lists a $10-million gem in Orange County's exclusive waterfront Corona Del Mar neighborhood, but struggles to balance the sale of the house with his relationship with Victoria.

Monday, November 23rd, 2009

s3e7: Million Dollar Wild Swan Chase

Josh lists the house of his friend Dr. Sam only to realize a clever marketing scheme can quickly backfire. He also travels with Grandma Edith to the old country in an effort to sort out his memory issues. Chad wins a listing for a prime Hollywood condo project but runs into the hurdle of selling a property that exists only on paper. At Chad's birthday party Victoria gives him a surprising gift. Madison tries to find an ideal Malibu home for a retiree only to realize that one person's ideal is another's nightmare. Madison attends an event in Hollywood that much to his surprise, is hosted by Chad.

Monday, November 30th, 2009

s3e8: In Real Estate Everything's Personal

Josh agrees to a co-listing with another Beverly Hills agent, but realizes she might be putting the squeeze on his commission. Chad continues to struggle moving a high-end condo, he discovers Madison might be moving in on his territory. Meanwhile, Chad tries to make time for Victoria when a big-ticket client comes walking through his door. Madison puts a dream home on the market while his clients struggle with the nightmare of sliding market conditions. He also "strips down" for a good cause while wondering if he's revealed too much. An open house in Malibu attracts the attention of all three realtors, which results in drama.

Monday, December 7th, 2009

s3e9: Busted Dreams and Busted Homes

Josh tries to move a half-demolished home in Beverly Hills only to have a buyer's agent tear into him during negotiations. Josh puts pen to paper and writes Grandma Edith's inspiring story. Chad thinks he's listing a house for a friend, but finds out first-hand how the foreclosure problem is taking its toll. Meanwhile, he tries to win back Victoria by mixing business and pleasure. Madison picks up a dream client in a nightmare market ? a buyer with plenty of cash to spend. He re-thinks his sexuality when he sees his image in a different light. A broker invites Chad, Madison and Josh to help him with charity work, but egos clash as the agents try and work together.
Season 4
Thursday, February 3rd, 2011

s4e1: Bad Market for Mansions

Overbuilt mansion in a modest neighborhood; an angry seller is promised an easy sell.

Thursday, February 10th, 2011

s4e2: No Guarantees in the Real Estate Game

Josh Flagg must make a difficult decision; Josh Altman risks losing his commission on a favor to his mother; Madison must jump through hoops.

Thursday, February 17th, 2011

s4e3: Seeing Double

Madison's client threatens to fire him; Josh Altman questions Madison's pricing strategy; Josh Flagg hires an assistant.

Thursday, February 24th, 2011

s4e4: Sparks Fly

Madison hosts a champagne open house; Josh Flagg hosts a rock 'n' roll open house; sparks fly between Josh Altman and Heather.

Thursday, March 3rd, 2011

s4e5: Sleeping with the Enemy

Tempers flare when Madison learns about Josh Altman's date with his assistant Heather.

Tuesday, March 8th, 2011

s4e6: Billionaire Buyer

Josh Altman encourages Madison's assistant Heather to quit.

Tuesday, March 15th, 2011

s4e7: Going to the Dogs

Wednesday, March 23rd, 2011

s4e8: Betrayal in the Real Estate Biz

Tuesday, March 29th, 2011

s4e9: Good Buys and Goodbyes
Season 5
Wednesday, June 6th, 2012

s5e1: Episode 1

Wednesday, July 18th, 2012

s5e6: Sacked By the Money Man
Season 6
Wednesday, August 7th, 2013

s6e1: Unfinished Business

The real estate agents are back and the market is on fire. When Josh Altman takes on a sexy listing in the Hollywood Hills, he persuades one of his most important clients to take a huge risk. Meanwhile, Madison helps pro hockey player Sheldon Souray, sell his multi-million-dollar off-season party pad. Both Josh Altman and Madison converge at a brokers open for Josh Flagg's 14-million-dollar listing and its obvious there is unfinished business between the three of them.

Wednesday, August 14th, 2013

s6e2: Last Laugh

Josh Altman and Josh Flagg come head to head when Altman makes an insulting lowball offer on Flagg's listing. With his eyes on the prize, Flagg gets a much bigger offer and makes sure Altman knows who is boss. Over in Malibu, Madison has his hands full with two precocious twins after their mother reaches out to him after being burned by another realtor. To unload from work, Madison finds time to tend to his new love interest Marcos.
Season 7
Wednesday, September 17th, 2014

s7e5: Flagg vs. Serhant

Wednesday, October 8th, 2014

s7e8: All Business, No Pleasure
Season 8
Wednesday, September 2nd, 2015

s8e1: TBA

Wednesday, September 16th, 2015

s8e3: The Upside of Teardowns

Wednesday, October 7th, 2015

s8e6: Knock Knock, Who's There?

Wednesday, October 21st, 2015

s8e8: Major League Listings

not specified

s8e11: Episode 11

Wednesday, November 4th, 2015

s8e10: Bait and Switch