update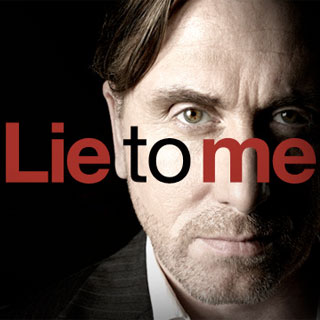 Season 0
1: The Truth About Lies

2: Lie Detection Tutorial

3: Eli Loker - An Honest Man

4: Fox Movie Channel Presents: In Character With Tim Roth
Season 1
Wednesday, January 21st, 2009

1: Pilot

Cal and Gillian recruit Ria Torres, a young woman with a natural ability to read people. The DA wants Cal and Gillian to interview a teen, charged with murdering his teacher, before deciding whether to try him as an adult. Meanwhile, Gillian and Ria investigate the Chairman of the House Ethics Committee following rumors that he is paying for sex.

Wednesday, January 28th, 2009

2: Moral Waiver

Cal and Ria interview a female soldier who reported her platoon leader for sexual assault. Meanwhile, Gillian and Eli are hired by the Athletic Association to determine if a high-profile basketball recruit accepted an incentive to play for his university.

Wednesday, February 4th, 2009

3: A Perfect Score

Cal and Ria are brought in to interview a federal judge whose daughter was murdered. Meanwhile, NASA hires Gillian and Eli to interview a pilot they believe may have intentionally crashed a billion-dollar aircraft. Also, Cal's daughter, Emily, gets into a little trouble.

Wednesday, February 18th, 2009

4: Love Always

The government hires the Lightman Group after receiving information about a plot to assassinate a controversial South Korean ambassador at his son's upcoming wedding. Working together, the team uncovers much more than just a would-be assassin.

Wednesday, March 4th, 2009

5: Unchained

Before pardoning a notorious gang leader, who has been nominated for a Nobel Prize for his anti-gang work while in prison, the Governor wants Cal and Ria to assess whether he has really changed. Meanwhile, Gillian and Eli investigate after an autopsy reveals a firefighter who supposedly died in a fire, was already dead.

Wednesday, March 11th, 2009

6: Do No Harm

The parents of an abducted girl receive dozens of tips after offering a hefty reward for information. Cal and Gillian help them identify which tips are legitimate. Meanwhile, a publisher hires Ria and Eli to determine if a renowned peace activist is really who she claims to be after rumors surface, challenging her story.

Wednesday, March 18th, 2009

7: The Best Policy

An old friend asks Cal to look into the theft of the formula for a new drug after a knockoff surfaces and causes three deaths. Meanwhile, Gillian and Eli help the U.S. government negotiate the release of two Americans facing execution in Yemen for possession of marijuana.

Wednesday, April 1st, 2009

8: Depraved Heart

Cal becomes obsessed when three young women from India commit suicide the same week. Meanwhile, Gillian and Eli help the SEC try to recover millions of dollars from a man accused of scamming his investors.

Wednesday, April 8th, 2009

9: Life is Priceless

Cal and Gillian assist FEMA in their investigation of a building collapse and uncover a massive cover-up. Meanwhile, a billionaire asks Ria and Eli to determine if his girlfriend loves him for the right reasons before he proposes.

Wednesday, April 22nd, 2009

10: Better Half

Zoe Landau, an attorney for the Department of Justice and Cal's ex-wife, asks for help on an arson investigation that resulted in death. Meanwhile, Gillian, Ria, and Eli help a detective get to the truth behind the murder of a member of a rapper's entourage.

Wednesday, April 29th, 2009

11: Undercover

Cal, Ria and Gillian are brought in to assess the truthfulness of two cops who shot a teenager. Meanwhile, the Lightman Group is being sued by the investors from the multimillion dollar scam Gillian and Eli worked on earlier.

Wednesday, May 6th, 2009

12: Blinded

A copycat rapist has just abducted another woman. FBI Special Agent Ben Reynolds sends Cal undercover to obtain any information he can from Andrew Jenkins, the serial rapist the copycat is emulating. The team races against the clock to uncover the copycat's identity and figure out where he's taken his victim.

Wednesday, May 13th, 2009

13: Sacrifice

Domestic terrorist bombings in Washington, DC sends everyone into a panic. The Lightman Group is brought in to help identify who is responsible.
Season 2
Monday, September 28th, 2009

1: The Core of It

Cal is approached by a young woman who claims she saw a murder in a vision, but the police won't believe her. Meanwhile, Ria interviews a Supreme Court nominee for the White House to determine if there are any skeletons in his closet.

Monday, October 5th, 2009

2: Truth or Consequences

Zoe enlists Cal and Ria to help prove that her client, a 22-year old college boy charged with statutory rape, had no idea the girl was only 16. Meanwhile, the IRS believes a group claiming to be a religion is a fraud and hires Gillian and Eli to investigate.

Monday, October 12th, 2009

3: Control Factor

A man from the American Embassy in Mexico asks Cal to "unofficially" investigate the disappearance of an American woman after local police refuse to look into it. Meanwhile, Cal's rival, Jack Rader, works with Gillian to identify the person responsible for tainting the blood bank supply when several patients become seriously ill, and one dies.

Monday, October 19th, 2009

4: Honey

Emotions run high when Eric Matheson, accused of murdering his wife, takes the Lightman Group hostage to force them to help him uncover the real murderer.

Monday, October 26th, 2009

5: Grievous Bodily Harm

When Cal's old pal, Terry Marsh, comes to town, he brings plenty of trouble with him. Meanwhile, the rest of the team meets with some students from a prep school to determine if any of them are responsible for a threatening tape that was sent to the headmaster.

Monday, November 9th, 2009

6: Lack of Candor

Ben gets into a bind when he refuses to testify against a Wall Street mobster from one of his undercover cases. Without Ben's testimony, the mobster will go free, unless Cal and Gillian can figure out what Ben is trying to hide. Meanwhile, Ria and Eli work on figuring out who leaked the whereabouts of the original witness and got him killed.

Monday, November 16th, 2009

7: Black Friday

Cal and Gillian help a teenager who believes he was abducted as a baby. Meanwhile, a store owner hires Eli and Ria to help determine if the store was negligent after a stampede of holiday shoppers leaves two people dead and several others injured, triggering a $20 million lawsuit.

Monday, November 23rd, 2009

8: Secret Santa

Just before Christmas, Cal is sent to Afghanistan to interrogate an American soldier-turned-traitor in hopes of learning the whereabouts of two American marines captured by the Taliban.

Monday, November 30th, 2009

9: Fold Equity

Despite being "banned-for-life," Cal heads to Vegas when he is summoned by a casino owner after the star contender in the World Series of Poker goes missing right before the tournament. Meanwhile, Ria analyzes the expressions of the woman Eli is dating to determine if she's "into him."

Monday, December 14th, 2009

10: Tractor Man

A farmer, angry about being foreclosed on, protests by parking his tractor, packed with explosives, right in front of the US Treasury building. Meanwhile, a group of third-graders are brought in by their teacher to find out who stole the class turtle.

Monday, June 7th, 2010

11: Beat the Devil

While giving a talk to some college students, Cal matches wits with a dangerous sociopath who always seems to be one step ahead of him. Meanwhile, Eli and Ria get the run-around from the government when they look into a UFO sighting.

Monday, June 14th, 2010

12: Sweet Sixteen

Years earlier, Cal worked on a botched CIA case that resulted in the death of the wife and young daughter of an Irish terrorist named Doyle. Now Doyle was back in town, seeking answers and revenge. This incident leads up to Cal and Gillian meeting for the first time.

Monday, June 21st, 2010

13: The Whole Truth

Cal is hired by the DA to be an expert witness at the trial of a beautiful, young woman charged with murdering her high-powered, and much older, billionaire husband... and Zoe is representing her. Meanwhile,Ria lets Eli in on a little secret.

Monday, June 28th, 2010

14: React to Contact

Cal uses virtual reality and other unconventional therapy to help a war veteran get to the root of the cause for the severe PTSD he's been plagued with since returning home from the Middle East.

Monday, July 12th, 2010

15: Teacher and Pupils

After being shot and left for dead, a police officer spends the last few hours of his life paralyzed, unable to move or speak, before finally succumbing to his injuries. Hoping to get some shred of information that may lead them to the people responsible, the FBI brings in Cal to see if there's any possible way to read a person who can't even move his eyes.

Monday, July 19th, 2010

16: Delinquent

Ria hasn't seen or heard from her little sister, Ava, since she was sent to a juvenile detention center, so when she receives a message from Ava, desperately pleading for help, Ria, Cal, and Gillian run to the rescue.

Monday, July 26th, 2010

17: Bullet Bump

At a ground-breaking ceremony for a new community center, an assassin's bullet misses the governor, killing a young female staffer instead. When the governor jumps nine points in the polls, Cal immediately suspects the governor, or someone close to him, for what he calls a "bullet bump."

Monday, August 2nd, 2010

18: Headlock

Cal involves his team in a cover-up when a fighter from an underground extreme boxing fight club for illegal aliens is murdered.

Monday, August 16th, 2010

19: Pied Piper

Cal and Zoe attend the execution of a man they helped put on death row. Moments before dying, the murderer claims to be innocent... and Cal believes him. Racked with guilt that he might have sent an innocent man to his death, Cal defies orders from the FBI to stay out of it and goes in search of answers.

Monday, August 23rd, 2010

20: Exposed

When Gillian's boyfriend, Dave Burns, gets abducted, Cal attempts to track him down with the help of Burns' mysterious ex-partner.

Monday, August 30th, 2010

21: Darkness and Light

A distraught father comes to Cal for help finding his 18 year old daughter who disappeared and then turned up in a porn movie. Meanwhile, Cal pits Eli and Ria against each other as they vie for the same promotion.

Monday, September 13th, 2010

22: Black and White

After Cal's journalist friend, Julie, is murdered over an investigative piece she was writing on political corruption in Baltimore, Cal decides his team should continue her work and finish the story.
Season 3
Monday, October 4th, 2010

1: In the Red

Cal tries to thwart a bank robbery from the inside by forcing his way into the gang, and tries to talk one of the robbers out of seeking revenge for the bank erroneously foreclosing on his home.

Monday, October 11th, 2010

2: The Royal We

Cal dives head first into the world of beauty pageant teens and their obsessive parents who won't stop pushing them. He strives to mend a broken relationship between a dysfunctional mother and daughter while at the same time, prove a man has been unjustly accused of assault.

Monday, October 18th, 2010

3: Dirty Loyal

Cal has a personal interest in an Internal Affairs investigation of a police officer, accused of murdering a gang banger.

Monday, October 25th, 2010

4: Double Blind

Ria blames herself when two museum security guards, that she vetted and approved, try to steal a valuable artifact. Both men are shot and killed by another guard, who is devastated that he killed the two men. Meanwhile, Cal becomes involved in a game of cat-and-mouse with a beautiful woman and the man who is stalking her.

Monday, November 8th, 2010

5: The Canary's Song

Cal puts his life on the line when he goes below to investigate an explosion that killed six coal miners. Gillian does a final favor for the FBI in exchange for getting both Cal and the Lightman Group out from under their thumb, once and for all.

Monday, November 15th, 2010

6: Beyond Belief

Cal goes head-to-head with a cult-like self-help guru, as he tries to free a wealthy woman from his control. As the investigation progresses, Cal starts playing hard-ball when veiled threats are made towards Emily.

Monday, November 22nd, 2010

7: Veronica

Cal goes out of his way to help a woman with early-onset Alzheimer's, who claims a man named Charlie killed her sister, Rose, and now he's after her.

Monday, November 29th, 2010

8: Smoked

Cal assists Det. Wallowski investigate the murder of the daughter of a terminally ill friend of hers. Meanwhile, Ria is mugged in a rough neighborhood and goes looking for the guy who did it.

Monday, January 10th, 2011

9: Funhouse

Emily seeks Cal's help for her friend who is worried about her dad, who has been in a psychiatric facility for 5 years. Cal is immediately suspicious of the facility and puts his own sanity on the line when he gets himself committed so that he can work the case from the inside.

Monday, January 10th, 2011

10: Rebound

A wealthy woman asks Cal to check out her new boyfriend when her son discovers a briefcase filled with cash and a notebook in code.

Monday, January 17th, 2011

11: Saved

Cal investigates a deadly traffic accident caused by three high school students on a joy ride, and stumbles onto something much bigger.

Monday, January 24th, 2011

12: Gone

After a baby goes missing, the investigation zigzags all over the place until Cal and his team open a massive can of worms, revealing a family completely crippled by their dysfunction.

Monday, January 31st, 2011

13: Killer App

Series finale Cal takes a wicked pleasure in wiping the arrogant smirk off the face of a computer entrepreneur who Cal believes murdered one of his partners and framed his other partner in order to gain full ownership of a successful social networking site the three created together.