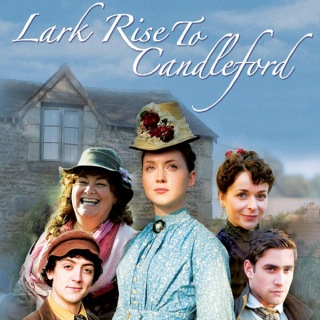 Season 0
s0e1: Lark Rise To Candleford At Christmas

Behind the scenes of the feature-length Xmas special.
Season 1
Sunday, January 13th, 2008

s1e1: Episode 1

Laura Timmons moves from her home in Lark Rise to Candleford, where not everyone is ready to welcome her in.

Sunday, January 20th, 2008

s1e2: Episode 2

Laura is getting settled when Mrs Macey's husband finds a way out of prison which becomes hot gossip in town. Caroline has to go to court and possibly debtor's prison, something Laura's father is trying to avoid.

Sunday, January 27th, 2008

s1e3: Episode 3

Widow Old Amos announces that he has decided to get married again to his maid Patty. His friends are worried that she is just marrying him for his money. Robert manages to upset his family and the residents of the village when he refuses to let his children sing a song in praise of the Tories at the local church concert.

Sunday, February 3rd, 2008

s1e4: Episode 4

Mr Ashlow arrives in Candleford looking for his estranged daughters, Ruby and Pearl Pratt. Can they forgive him for deserting them when they needed him most? Caroline hides from a bailiff.

Sunday, February 10th, 2008

s1e5: Episode 5

Dorcas looks after the inspector after he gets injured and he soon realises his evaluation of her may have been wrong. Elsewhere, Emma is annoyed with Robert's kindhearted gesture.

Sunday, February 17th, 2008

s1e6: Episode 6

After Robert does a charitable act taking in a family, he ends up caring for a young child. Zillah and Lady Adelaide end up wanting to become foster parents which makes life harder for Sir Timothy. Elsewhere, Thomas becomes unsettled when his devotion for Miss Ellison goes unanswered.

Sunday, February 24th, 2008

s1e7: Episode 7

Sam Braby is under the influence of alcohol and attacks his wife which makes Emma take it upon herself to help him quit. Elsewhere, the bond between Dorcas and Sir Timothy is starting to get on Lady Adelaide's nerves.

Sunday, March 2nd, 2008

s1e8: Episode 8

Candleford plays host to a new school headmaster who brings new opportunities for the residents, but also brings their old culture back to life. Sir Timothy is not pleased though as Dorcas has taken a liking to the new guy.

Sunday, March 9th, 2008

s1e9: Episode 9

Caroline is back to prove she's a changed woman after her stint in jail, Dorcas is stumped over a piece of embroidery, and Edmund is hurt whilst poaching. Has karma come back to get him?

Sunday, March 23rd, 2008

s1e10: Episode 10

Phil gets argumentative with Laura's family after Laura confronts him, Dorcas is thinking about leaving Candleford, and Caroline doesn't want to go through her baby's birth alone.
Season 2
Sunday, December 21st, 2008

s2e1: Episode 1

Lark Rise and Candleford are transformed as the inhabitants prepare for the Christmas festivities. However, loyalties are tested as the arrival of a ragged, bare-footed young women drives residents to speak difficult truths amid the gift giving and carol singing.

Sunday, January 4th, 2009

s2e2: Episode 2

James Dowland arrives in town, aiming to put Candleford on the map with his new hotel.

Sunday, January 11th, 2009

s2e3: Episode 3

Dorcas Lane sets out to defeat the dashing James Dowland in the parish council elections.

Sunday, January 18th, 2009

s2e4: Episode 4

As the death of Miss Ellison's father unites the communities of Lark Rise and Candleford, the bereaved daughter is confronted by her brother and a past she would rather forget. Overwhelmed with grief, Miss Ellison is oblivious to Thomas Brown's affections and his desire for her hand in marriage.

Sunday, January 25th, 2009

s2e5: Episode 5

The usually preternaturally serene Emma Timmins, Laura's mother, is feeling a bit sad, as if life has passed her by. So she offloads her baby on to cousin Dorcas and goes cartwheeling in the sunshine. Ah, wasn't life grand in those days? The arrival of a baby at the post office has a curious effect on Dorcas, (Julia Sawalha) who gets all gooey and simpers so much one fears she might combust and leave little more than a puddle of oestrogen. In fact, most of Candleford's women get broody, making them weepy, jealous and possessive. There is some diversion, though, as yet another stranger arrives in town - a handsome young clockmaker who's come to do a job for James Dowland, a man with enough smarm to butter a cottage loaf. Though James is getting nowhere with Dorcas and has to listen to some manly advice from Laura's salt-of-the-earth dad about how to handle a woman. It's all just lovely, and larded with enough bucolic whimsy to strip the paint from a barn door.

Sunday, February 1st, 2009

s2e6: Episode 6

Lark Rise and Candleford rally around to show support for Laura's new role in the post office when Dorcas Lane is taken ill, but Laura feels pressure mounting when anonymous letters begin to arrive. Minnie sees the delivery of one of the letters, and fears that her past is catching up with her.

Sunday, February 8th, 2009

s2e7: Episode 7

"Where there is sunlight, there must also be shadows," whispers Sarah Lancashire's narration. It's a Candleford-ism that sounds, you know, deep, yet it's really the kind of thing you see on calendars with inspirational sayings for every day of the week. The biggest shadow is cast over salt-of-the-earth Robert Timmins. Someone pinches his tools, which destroys both his faith in human nature and his ability to "provide" for his family. As this is the nearest to a crimewave Lark Rise or Candleford is ever likely to see, there is much discussion and Dorcas, with her bulletproof condescension, steps in to help. But there's more excitement: Thomas the postman and his beloved have an erotic frisson over a tea set, and - most gripping of all - a parcel goes missing!

Sunday, February 15th, 2009

s2e8: Episode 8

The hot summer brings a surprise visitor to Candleford in the form of Celestia Brice Coulson, who stays at the Golden Lion Hotel and becomes acquainted with Dorcas Lane. However, Dorcas has other things on her mind when she begins 'walking out' with James Dowland. And in Lark Rise, Emma's father, Old Edmund, arrives for his birthday. But problems arise when Emma asks him to live with them permanently.

Sunday, February 22nd, 2009

s2e9: Episode 9

A feud between Lark Rise and the neighbouring village of Fordlow has been simmering for three generations, but it takes young love to bring the two communities together and save the day. In Candleford the path of true love runs less smoothly for Thomas and Miss Ellison; will they ever set the date for the wedding?

Sunday, March 1st, 2009

s2e10: Episode 10

Every autumn, Constable Patterson is used to his wife taking to her bed with a mysterious illness. But this year it is different, as she gives him permission to seek a new wife. The constable has no intention of doing any such thing, until a Pratt sister in distress sets his heart soaring.

Sunday, March 8th, 2009

s2e11: Episode 11

A sudden storm reveals a secret romance, but also makes the address on a letter indecipherable. When Dorcas pursues the identity of the letter's recipient, she reveals another secret: a child, kept secret even from his own father.
Season 3
Sunday, January 10th, 2010

s3e1: Episode 1

Emma is set to inherit a fortune, enough to move the Timmins to a big house in Candleford.

Sunday, January 17th, 2010

s3e2: Episode 2

When a Lark Rise tree starts to 'bleed', the hamlet becomes rife with talk of witchcraft. Thomas is horrified - this could ruin the visit of the Bishop who is coming to consecrate the church font. The witch tree seems to cast a spell over the whole community - everyone is behaving strangely. Even Dorcas loses her composure and makes a blunder with terrible consequences for Pearl and Ruby.

Sunday, January 24th, 2010

s3e3: Episode 3

Alf throws a party to celebrate moving into a cottage of his own. He entertains his guests with a new song, and its haunting words have a profound effect on all of them Edmund rebels against his parents; Thomas and Margaret have their first marital tiff; and Dorcas's plans to prepare Minnie for marriage and motherhood backfire terribly. How will harmony be restored? And what are the contents of the odd parcel that arrives at the post office, which Minnie wants to keep a secret.

Sunday, January 31st, 2010

s3e4: Episode 4

It's harvest time - the most important time of the year in Lark Rise, when everyone helps to bring in the wheat that will feed them through winter. So when an epidemic hits it couldn't come at a worse time - with so many sick, how will they gather the wheat and prevent a winter of starvation? Help comes from an unlikely source, but just when it looks as though their problems are solved, they discover the worst is yet to come.

Sunday, February 7th, 2010

s3e5: Episode 5

Everyone is talking about the mysterious recluse, Mr Reppington, who's been hiding at the Golden Lion Hotel for months. Why is he here, and why is he handing out money to local widows? Dorcas is fascinated by his lonely existence, and is determined to entice him back into the world. But can she succeed, and will she discover his true identity and the dark secret which has brought him to Candleford?

Sunday, February 14th, 2010

s3e6: Episode 6

Daniel has opened a newspaper in Candleford and is on the look out for a big story. So when old Peg Leg, a Crimean war veteran, arrives for his annual visit to the Timmins', and Daniel learns he has received no war pension, he starts a newspaper campaign against this injustice.

Sunday, February 21st, 2010

s3e7: Episode 7

The locals are rehearsing for their annual production of St George and the Dragon when they hear rumours that Sir Timothy has returned. They are thrilled at the prospect of performing it for the squire himself, but with the play fast approaching and no sign of Sir Timothy, Dorcas decides to pay him a visit. She finds only Lady Adelaide. As the two women come face to face they are forced to confront their shared history, learning more about each other than they could have imagined.

Sunday, February 28th, 2010

s3e8: Episode 8

After receiving a dressmaking commission from Lady Whiteleaf which could save her ailing business, Pearl finds herself panicking. When Enid shows up looking for work it seems Pearl has the answer to her problems. Pearl and Enid soon become close friends. Dorcas is worried though that Pearl is too trusting of Enid. Enid's antics at a dinner party end up shocking Pearl and she throws her out. When Pearl discovers that Enid has left her husband she decides to tell him where she is but soon starts to have second thoughts.

Sunday, March 7th, 2010

s3e9: Episode 9

Emma steps in when the local school looses it's teacher. Margaret wants the position as well and there is soon a rivalry between the two. Dorcas and Thomas find themselves at odds. Minnie is determined to make Alf notice her.

Sunday, March 14th, 2010

s3e10: Episode 10

Mrs Mullins thinks that Daniel is the father when she finds out her daughter Emily is pregnant. Daniel's friends come to his defense against the accusations. Emily refuses to reveal who the father of her unborn child really is. Dorcas gives bonuses to the staff at the post office. When Dorcas sees Daniel giving money to Emily she begins to wonder if he is in fact the father of the baby. After a telegram arrives for Emily though she admits to Dorcas that Master Raymond is Emily finally ends up admitting the truth to her mother. Laura learns that her former love is intending on returning to the area.

Sunday, March 21st, 2010

s3e11: Episode 11

The residents of Lark Rise and Candleford play tricks on their neighbours after dark. Laura is not in the mood for pranks though as Fisher Bloom has returned to town and it has left her feeling confused about how she feels about Daniel.

Sunday, March 28th, 2010

s3e12: Episode 12

With the railway now in Inglestone news comes through that the post office there is to become the main sorting office for the area. Mr Blakestone, the postmaster there does not get on with Dorcas and she is worried about the future. Daniel learns from Fisher that he is going to try and win Laura back. Laura finds herself confused with the way she is feeling. Blackstone tries to blackmail Dorcas into selling her post office to him. When Thomas, Laura and Minnie what is going on they urge Dorcas not to give in. Laura realizes that Daniel is the man she wants to be with.
Season 4
Sunday, January 9th, 2011

s4e1: Episode 1

The series opens with the arrival of Gabriel Cochrane, played by Richard Harrington, and sees the return of Dawn French's character, Caroline Arless, later in the run. Gabriel is the handsome and once-wealthy owner of a large iron foundry. But after the bankruptcy of his business and the death of his new wife, Gabriel finds himself both penniless and homeless. Moved by his plight, Dorcas offers him a job as a blacksmith, and a room above the forge. But both she and Gabriel know that the solution is only temporary. Gabriel is determined to regain his wealth and position and bring down the banker, Steerforth, who he believes acted illegally and unethically in repossessing his home and business. Over in Lark Rise, Emma is thrilled to receive a postal order from Robert, who is away working in Oxford. The hard-earned money will settle her many unpaid bills. She sends Edmund to Candleford to cash the postal order, and although it is a breach of procedure, Dorcas agrees to allow him to collect the money in place of Emma. That night, on his way home to Lark Rise, Edmund is robbed and arrives home to deliver the devastating news that all the money is gone. How will Emma manage with five mouths to feed and no money coming in? And when she discovers the truth behind the robbery, she is faced with an agonising dilemma. Pearl Pratt, meanwhile, is delighted to have her beloved sister Ruby back home. Her romance with the Pontefract undertaker is apparently over ? Ruby dissolves into tears at the mere mention of his name, but will not say what has happened. While Ruby has been away, Daniel has settled in nicely at the Pratts, and Pearl is spoiling him rotten with steam puddings and starched collars. Ruby resents being usurped by Daniel, but Pearl is oblivious and lavishes all her attention on him.

Sunday, January 16th, 2011

s4e2: Episode 2

When Daniel announces that his newspaper is launching a poetry competition, it sends the inhabitants of Lark Rise and Candleford into a frenzy of creative excitement, as the series based on the novels by Flora Thompson, and adapted by Bill Gallagher, continues. Laura has high hopes of taking home the trophy and begins writing feverishly; Pearl indulges in plagiarism after her own efforts are found wanting; and even Margaret embarks upon an epic poem based on her husband's postal rounds. Laura buys some second-hand poetry books for inspiration and discovers that they once belonged to Gabriel's late wife. She is shocked to find a letter inside from Liza to her lover, expressing regret at having married Gabriel. When Laura shows Dorcas the letter, she is tormented about what to do with it. Meanwhile, Ruby, still put out by her sister's fawning over Daniel, begins a malicious rumour that he and Laura have fixed the outcome of the poetry competition between them. Laura is furious with Ruby for questioning her and Daniel's integrity, and even more annoyed that it has effectively ruled her out of winning the competition. Over in Lark Rise, Queenie is trying to come to terms with the march of progress. The beautiful lace that she has lovingly made and sold all her life is no longer in demand. And Twister, as usual, seems too preoccupied with his own gripes to notice Queenie's unhappiness. She at least finds some comfort in sharing her craft with Ruby who, in turn, finds solace in the time spent with Queenie. It makes her reflect on her mischief-making with Daniel, and she determines to put things right. Dorcas is still sitting on the explosive revelations from Liza's letter but when Gabriel tells her he has seen a mysterious man leaving flowers at her graveside, and is determined to find out who he is, Dorcas fears it will lead him into a violent confrontation. She decides that the kindest and safest way to proceed is to leave the letter for him to find, and discover the truth for himself? Later, the winner of the competition is announced and it takes everyone by surprise, even the winner?

Sunday, January 23rd, 2011

s4e3: Episode 3

Thomas is delighted to be put in charge of organising the church bazaar, but his enthusiasm is dampened when the vicar falls ill and Reverend Marley, a free-thinking curate, is sent to take his place. The postman soon becomes convinced the new arrival is evil - and as rumours start to spread about Marley's relationship with the Timmins family, Alf decides to investigate the cleric's murky past. Meanwhile, Dorcas and Laura worry about Gabriel's reaction to his dead wife's letter.

Sunday, January 30th, 2011

s4e4: Episode 4

The Fair has come to town, and the locals are celebrating - Alf has been crowned King of the Fair, while Queenie has won a whole pig! The Lark Risers start fattening up the pig in preparation for a sumptuous pig feast, but Twister cannot resist the temptation of selling off-cuts of the animal to the people of Candleford. At the post office, Gabriel is proving to be a less than perfect house guest; can Dorcas adapt to having a man under her roof? And will Twister survive the wrath of Queenie when she discovers he has sold her pig from under her? .

Sunday, February 6th, 2011

s4e5: Episode 5

Daniel plans a cricket match, but has trouble putting the team together.

Sunday, February 13th, 2011

s4e6: Episode 6

Caroline returns to Lark Rise and Gabriel finally completes his invention. .
Season 0
s0e2: Bill's Story

Bill Gallagher - Executive Writer/Producer

s0e3: The Importance of Family

Family is the main theme in Lark Rise

s0e4: Poverty & Change

Poverty, Change, and the slow pace of Life in Lark Rise to Candleford

s0e5: The Role of Independent Women

The Pratts, the role of women in Lark Rise to Candleford

s0e6: Love & Romance

The Love Story in Lark Rise to Candleford

s0e7: The Making of Lark Rise to Candleford

Overview regarding the production of Lark Rise to Candleford.

s0e8: Costumes & Corsets

Research and interviews regarding the costumes

s0e9: Sets, Props & the Elements
Season 2
Sunday, March 15th, 2009

s2e12: Episode 12

James Dowland is confined to his hospital bed when his son arrives in Candleford, and Dorcas welcomes the boy into the post office, doing everything she can to make him feel at home. But this causes a great deal of turmoil when James is released from hospital to be reunited with his son.