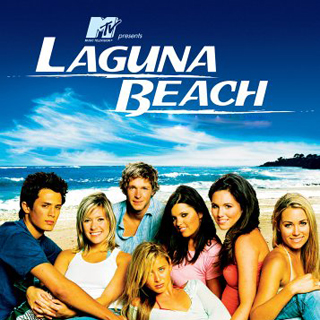 Season 0
Monday, November 14th, 2005

s0e1: Total Request Live

s0e2: Season 1 Deleted Scenes

s0e3: Season 1 Cast Interviews
Season 1
Tuesday, September 28th, 2004

s1e1: A Black & White Affair...

Their senior year is winding down and the kids from Laguna Beach are just getting started for their summer of fun...and drama. Lo, LC, Morgan and Christina are the most popular senior girls in school. At the black and white themed party, the fun starts together with the drama and rivalry. Especially Kirstin starts to go her own way, despite the negative response she gets from others.

Tuesday, October 5th, 2004

s1e2: The Bonfire

Stephen thinks he has to teach Kirstin how to surf, something she doesn't really like. Kirstin plans to cook with Jessica for Dieter and Stephen - a difficult project, when nobody knows how to cook! Stephen is getting jealous and he wants to talk with her at the bonfire - what will she say?

Tuesday, October 12th, 2004

s1e3: Fast Cars and Fast Women...

Kristin wants a new car and takes a look at new cars. Trey, Stephen and LC go to a fashion show up in L.A. There romantic trouble waits for all of them. In Laguna Beach Stephen and Kristin finally talk again.

Tuesday, October 19th, 2004

s1e4: 18 Candles...

Christina birthday comes up and everyone is invited, well everyone but LC and Lo. Christina gets a fabulous birthday present from her mother. Later on in New York, Morgan tries to be a good friend, but Christina is only annoyed.

Tuesday, October 26th, 2004

s1e5: What Happens in Cabo

Spring Break is up and everyone wants to go to Cabo San Lucas. The first night is hit by a major impact of drama involving Kristin in the middle of everything.

Tuesday, November 2nd, 2004

s1e6: The Best Part of Breaking up...

Spring Break is over and everyone has to deal with the past events. For distraction everyone has the Blink 182 concert in mind. The others organise their very own fashion show, while others plan a romantic dinner.

Tuesday, November 9th, 2004

s1e7: The Last Dance

The Senior Prom comes up and the boys have to ask the girls, who are constantly wondering who will ask them.

Tuesday, November 16th, 2004

s1e8: Grin & Bear It

The seniors charter a yacht to Catalina, but Lo skips out, leaving LC without a buddy to survive camping, kayaking, and Stephen and Kristin's incessant cuddling. Back in Laguna, Christina gives her first performance since the New York audition, from her father's renowned Crystal Cathedral.

Tuesday, November 30th, 2004

s1e9: Graduation Day

Graduation day is here and the seniors spend time with their families getting ready for the big event. Through a Senior Video Project, the seniors reveal their personal thoughts on graduation, senior year, and life after Laguna.

Tuesday, December 7th, 2004

s1e10: The First To Go

Free from school, the gang lives up their last summer together, but when they gather for a final barbeque at Trey's house, the reality of leaving Laguna and each other starts to sink in.

Tuesday, December 14th, 2004

s1e11: Dunzo

The year is over. The parties are over as well as the life with the parents. Lauren and Stephen go to San Francisco, but what will wait there for them? Kirstin and Stephen have to face the moment of truth, especially when the very last bonfire is over as well.
Season 2
Monday, July 25th, 2005

s2e1: Since You Been Gone

It's Christmas break and everyone returns home for a few days. Some people have a uncomfortable meetings. Some try to revive to good old past, especially with a big party.

Monday, August 1st, 2005

s2e2: You Can't Trust Him

LC is making breakfast for someone, but who is it? New dates are arranges and new rumors are started, but other couples hit it on the hard edge.

Monday, August 8th, 2005

s2e3: It's Hard to Say Goodbye

It's LC and Kristin's birthday and they want to party! While LC, Dieter, Stephen and Kaitlyn party in Mexico; while in Laguna Jessica and Alex H. are planning Kristin's birthday party, without Taylor. Of course the drama isn't far away.

Monday, August 15th, 2005

s2e4: More Than Friends

Morgan S., Taylor and Alex M. get revenge on the boys, especially on Jason's car. At dinner Jason is mad at Jessica. Kristin and Talan call it the truth over dinner. So the triangle Taylor, Kristin and Talan finally heats up.

Monday, August 22nd, 2005

s2e5: Winter Formal

The Winter Formal comes up, what means a lot of dates, trouble and drama for everyone. Especially for the couples already struggling the burden might be too high.

Monday, August 29th, 2005

s2e6: I Hate Valentine's Day

Valentine's Day is coming up and nobody wants to be alone. Some present a new loved one, while others have to face the truth. But not everyone spends the day as planned.

Monday, September 5th, 2005

s2e7: Get Over Him

Everyone tries to forget something, so a trip to the mountains shall help. So Kristin, Talan, Jessica, Alex H. and Jeff go to Mammoth. Meanwhile in Laguna Beach other people think that their time has come.

Monday, September 12th, 2005

s2e8: What Goes Around...

Jason is in trouble because his love life is suddenly of interest to anybody, since more and more people are getting involved. Things aren't easier with the upcoming Bonfire.

Monday, September 19th, 2005

s2e9: Cabo, Cabo, Cabo

It's Spring Break in Laguna Beach and everyone prepares to leave to Cabo, Mexico. Everyone? No there is one person, not willing to fallow the herd. In Mexico everyone hopes for a drama free time, but of course someone has to ruin that dream.

Monday, September 26th, 2005

s2e10: Lies and Goodbyes

After Cabo things are even crazier than before and Kirstin find herself in the uncomfortable situation of a love triangle.

Monday, October 3rd, 2005

s2e11: Don't Hate the Game

It's party time in Laguna Beach and once again Kirstin in the middle of everything. Also in San Francisco things start to heat up.

Monday, October 10th, 2005

s2e12: Our Last Prom

The senior's last prom comes up and everyone prepares for the big event. The boys try to find their dates and they have to find some creative ways to convince them. So how will the big event look like?

Monday, October 17th, 2005

s2e13: Boys Are Like Purses

LC hosts a party for all the Laguna girls. Someone gets a new car and new couples go out in the world.

Monday, October 24th, 2005

s2e14: The End of the Beginning

It's graduation day in Laguna Beach The High School seniors see the end and reveal their plans for college. Even such a day of celebration holds a lot of surprises for many personal relationships.

Monday, October 31st, 2005

s2e15: I Saw You Kiss Her

The Laguna Beach kids organize a benefit party, to help local victims of a landslide. But even there, the drama strikes hard, very hard.

Monday, November 7th, 2005

s2e16: Nothing More to Say

The end of summary is near, so everyone is sad, because they start to prepare to leave. One last big party is hosted, but not everyone is invited.

Monday, November 14th, 2005

s2e17: One Last Wave

Things come to an end! Everyone leaves, couples and friends say a final goodbye. Laguna Beach would be what it is, when there wouldn't be a big surprise to the end.
Season 3
Wednesday, August 16th, 2006

s3e1: The Thrill of the Hunt

Tessa is the new narrator of Laguna Beach, and her world consists of her best friend Raquel 'Rocky' & her best friend (possibly boyfriend) Chase. Kyndra invited former friend Tessa to her get-together party, but Tessa insisted on not going unless Raquel went with her. Kyndra, Cami & her clique were not so pleased to find an uninvited guest at their party. Meanwhile, Jessica, Alex H., Taylor & Alex M all meet up for an afternoon lunch, where Jessica reveals her likeness towards Cameron, who also would like to hook up with Kyndra.

Wednesday, August 23rd, 2006

s3e2: Who Want's to Date a Rockstar?

Raquel decides to throw a surprise party for Tessa, while Cami & Kyndra are interested in crashing it. Chase had told Tessa he wouldn't be able to make her birthday party, but Tessa was shocked to see him perform with his band as a surprise to her party. As romance stirs between the two, Chase is questioning his connection with Tessa because the band is getting famous. Meanwhile, Kyndra gets Cameron over dinner, to confess his number of hook-ups with Jessica.

Wednesday, August 30th, 2006

s3e3: We're Gonna Crash a Party

It's Christmas time and the two cliques rein on throwing their own X-mas extravaganzas. The drama revolves around Rocky's party and how Cami & Kyndra decide they're gonna crash her party to due her uninvited appearance at Kyndra's. Trouble stirs between the girls and eventually Cami, Kyndra & the gang leave. The next day is Kyndra's holiday party, although Cami obsesses over the drama stirred at Raquel's last night, the focus is around Kyndra & Cameron and how he leaves the party for Jessica because Kyndra assumed .

Wednesday, September 6th, 2006

s3e4: Old Friends, New Crushes

Breanna wants to clear up the clouds between Raquel and her over lunch. Chase & Kelan take Lexie & Tara out to dinner, but Kelan isn't ready to make a move on Lexie just yet. Raquel makes her way to Breanna's pool party but gets a cold shoulder that sends herself home to find her real best friend Tessa waiting up for her.

Wednesday, September 13th, 2006

s3e5: Kiss and Don't Tell

Tessa hasn't model for a while since she was sick. So when she is asked to model in San Diego she's a little bit nervous. She invites Raquel, Cameron, Nick W, and Stephen to support her modeling. When she was done they went back to hotel to get ready to go to the restaurant. When they go to the restaurant, Cameron starts to flirt with Tessa. When they go back to the hotel things heat up between Cameron and Tessa. But on there way back to, Laguna, Cameron feels bad about the hook up so he decides to make nothing of it.

Wednesday, September 20th, 2006

s3e6: Headed For Heartbreak

Kyndra has dinner with her ex-boyfriend Tyler and things escalate. Cameron celebrates his birthday and invites both "flames" Jessica and Tessa. Another episode of Laguna filled with drama!

Wednesday, September 27th, 2006

s3e7: Hookups & Cover Ups

While cooler temperatures head in, things are just beginning to heat up in Laguna Beach. It's time for the winter formal, the one dance where it's tradition for the girls ask the guys. But with so few solid relationships going on, it's all up in the air about who will ask whom--and who they'll end up with at the end of the night.

Wednesday, October 4th, 2006

s3e8: Spies, Lies and Alibis

It's Valentine's Day in Laguna Beach which means love--and drama--is in the air.

Wednesday, October 11th, 2006

s3e9: First Date, Last Date

Love comes and goes in Laguna Beach. Tessa is invited to a date with Derek, while Jessica and Cameron have to work out their differences.

Wednesday, October 18th, 2006

s3e10: It's, Like, Break-Up Season

The dream of love is destroyed for some couples in Laguna Beach. Some take it harder than others, some see it coming, some don't. And some even try to move on right away.

Wednesday, October 25th, 2006

s3e11: The Three Day Rule

More couples struggle with their relationships. Some try to move on in other directions and some people have to listen to the words "lets just be friends".

Wednesday, November 1st, 2006

s3e12: Only in Cabo

It's Spring Break and people try to hook up again. New couples get together and old ones try it again, but will they remember after Spring Break?

Wednesday, November 8th, 2006

s3e13: You Don't Just Get Me Back

Prom comes up and everyone has to find a date. Some couples try to go together and new ones are created. But not everyones dreams come true.

Wednesday, November 8th, 2006

s3e14: Show Them What You Got

Chase and his band Open Air Stereo are playing the show of their lifetime. Rocky and Tessa have to manage their love life and make difficult decisions.

Wednesday, November 15th, 2006

s3e15: See You In A Decade

It's graduation day in Laguna Beach. Some prepare to leave other have to stay. Enough for broken hearts and much more drama.
Season 4
Monday, August 13th, 2007

s4e1: Crush... Interrupted

Meet up with the new cast located at Newport. Love strikes Chrissy and Clay, but her father tries everything to prevent that.

Wednesday, August 22nd, 2007

s4e2: Pretty In Pink

Allie throws a Pretty In Pink theme party, and drama arises when Chase tries to get closer to Allie but Allie pushes him away. So he goes for her best friend, Samantha. Meanwhile Clay and Chrissy continue their flirting but once again Chrissy's dad gets in the way, but this time Clay has had enough and is moving on.

Wednesday, August 29th, 2007

s4e3: The Thrill Of The Chase

Rumors and dates bring the relationship triangle between Chase, Chrissy, and Clay into deep trouble. How will the poker party turn out?

Thursday, September 6th, 2007

s4e4: Sealed With A Kiss

Clay is the object of desire for Chrissy and Allie. While one is desperately in love, the other one just wants to have some fun.

Thursday, September 13th, 2007

s4e5: She's Out, I'm In?

Prom is up and everyone searches desperately for a date or hopes to be asked. However prom doesn't go well for some.

Thursday, September 20th, 2007

s4e6: The 'V' Word

In the prom night aftermath Allie wants to leave town and go to Europe. Clay plans to get his relationship with Chrissy to the next level.

Thursday, September 27th, 2007

s4e7: You Are Not Replaceable

It's graduation time and everyone has to decide what to do over the summer. With most decisions about college made, the question about their personal lives shall continue brings many couples into an awkward situation.

Thursday, October 4th, 2007

s4e8: Nothing's Going To Be The Same

The summer comes to an end and most leave for college leaving their friends behind. Will the start in a new life also destroy some deep relationships?
Season 0
s0e4: LC'S House Tour

s0e5: Season 1 Casting Tapes

s0e6: Lo's Guide To Laguna Beach

s0e7: Behind-The-Season One Finale With Kristin & Trey

s0e8: Laguna Beach Highlights - The Laguna Triangle

s0e9: Laguna Beach Highlights - Laguna Looks

s0e10: Season 2 Deleted Scenes

s0e11: Season 2 Cast Interviews

s0e12: Laguna Memories

s0e13: Laguna Beach Highlights - Girls Are Vicious

s0e14: Laguna Beach Highlights - The Two Triangles

s0e15: Laguna Guide To Love

s0e16: Fight The Slide 2005

s0e17: Behind-The-Season Two Finale With The Cast

s0e18: Seventeen Magazine Cover Shoot

s0e19: Cosmo Girl Magazine Cover Shoot

s0e20: Season 2 Casting Tapes
Season 1
Tuesday, December 14th, 2004

s1e12: Season One - Live After Party

Some of Laguna Beach's cast members gather in the MTV studio in New York to talk about their life with the filming crews around them.
Season 2
Monday, November 14th, 2005

s2e18: Season Two - Live After Party

Some cast members of the season two gather for a life event after the season finale in the in the MTV TRL studio. Hosted by the TRL hosts and part of the show went on in the daily TRL episode.
Season 3
Wednesday, November 15th, 2006

s3e16: Season Three - Live After Party

Special live episode hosted by Susie Castillo. Some of the Season 3 cast answer questions from the fans and talk about what's happened since the Season 3 finale.
Season 4
Wednesday, December 12th, 2007

s4e9: Are We or Aren't We? | Chrissy Visits from College

Chrissy and Clay are reunited for the first time since she went away to college, but things aren't exactly the same. When Chrissy gets a surprise visit from her new college crush, Billy, things get more complicated

Wednesday, December 19th, 2007

s4e10: Caught in the Act | The Surprise Visit

Clay and Grant decide they should just show up at Chrissy's school. Unfortunately for Clay, he is about to see something he didn't expect.

Wednesday, December 26th, 2007

s4e11: 'It's O-V-E But Not R' | Chrissy wonders if she's made the right decision

Chrissy finds her ex flirting with other girls and Chase tries to figure out his status with Kylie.

Thursday, January 3rd, 2008

s4e12: 'All I Want For Christmas...' | Chrissy comes clean with her emotions

Will Chrissy and Clay get back together just in time for the holidays? Watch the season finale of 'Newport Harbor' to find out!