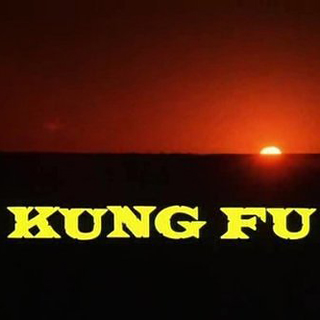 Season 0
Tuesday, February 22nd, 1972

s0e1: The Way of the Tiger, the Sign of the Dragon (Pilot)

Caine, the Shaolin priest, begins his journey in contention with a railroad boss. Flashbacks reveal his Shaolin beginnings.
Season 1
Saturday, October 14th, 1972

s1e1: King of the Mountain

Caine finds a young boy at a burned out cabin and tries to help him find his uncle. Along the way, bounty hunters find him.
Season 2
Thursday, September 27th, 1973

s2e1: The Well

After drinking bad water during a drought, Caine recovers at the farm of an ex-slave who has a working well, but one who is so angry he is not willing to share with his thirsty neighbors.

Thursday, October 4th, 1973

s2e2: The Assassin

Hatfields and McCoys, with an Asian spin on things. Two familes with a longtime fued keep two potential lovers apart. One of the families has hired a ninja assassin, and Caine witnesses his actions. Caine is accused of assisting the ninja, and heals a man dying from a poisoned shuriken strike.

Thursday, October 11th, 1973

s2e3: The Chalice

Caught between a Gatling Gun and a fort full of murderous killers, Caine must rescue a stolen chalice in order to make restitution for a dead Franciscan priest.

Thursday, October 25th, 1973

s2e4: The Brujo

While wandering in Mexico, Caine comes across an old woman and a young boy. The woman is trapped under a cart and asks Caine to take care of the boy. He takes him to a small Mexican village which believes it is under the spell of a warlock.

Thursday, November 1st, 1973

s2e5: The Squaw Man

Caine helps a farmer who is married to an Indian woman. The townpeople have no respect for the farmer until he kills an outlaw's son and then they treat him as a hero.

Thursday, November 8th, 1973

s2e6: The Spirit Helper

Caine helps a young Indian man who saw his father killed and wants to kill the men who did it and rescue his mother from them.

Thursday, November 15th, 1973

s2e7: The Tong

Caine help a young Chinese orphan boy gain his freedom from a brutal master. The master goes to the Tong for help against Caine.

Thursday, November 29th, 1973

s2e8: The Soldier

Caine is accused of taking part in a bandit ambush, and is taken prisoner by the U.S. Calvary. He meets a soldier that is a conscientious objector that helps him clear his name.

Thursday, December 6th, 1973

s2e9: The Salamander

Caine comes to a bankrupt mining town and meets a mentally handicapped boy, who is the target of a claim jumper.

Thursday, December 13th, 1973

s2e10: The Hoots

Caine meets a group of Hutterite settlers, who must reconsider their pacifist background when attacked by bigoted cattlemen, and teaches them how to defend themselves without compromising their principles.

Thursday, December 20th, 1973

s2e11: The Elixir

A beautiful medicine hawker, Theodora, is so concerned with herself that she totally ignores what her hunchback brother needs or wants.

Thursday, January 3rd, 1974

s2e12: The Gunman

A gunslinger defends Caine and the widow who owns the ranch where Caine is working. Meanwhile, Caine is still pursued by a detachment of volunteers and an overzealous bounty hunter.

Thursday, January 10th, 1974

s2e13: Empty Pages of a Dead Book

The son of a deceased Texas Ranger tries to honor his memory by going after criminals his father kept a journal on. He finds more trouble than he expected and Caine must defend him.

Thursday, January 17th, 1974

s2e14: A Dream Within a Dream

Caine, while walking through a dense fog, happens upon a man who is hanging and he himself is then shot. When he awakens, he finds himself in the company of a sculptor played by John Drew Barrymore (Drew's father). Caine is later accused of the murder of the hanging man and Barrymore's character comes to his defense. This is a really good episode and on the DVD David Carradine has an interesting commentary that accompanies this particular episode.

Thursday, January 24th, 1974

s2e15: The Way of Violence Has No Mind

Caine confronts a gang of Chinese immigrants that have taken to violence.
Season 3
Saturday, September 14th, 1974

s3e1: Blood of the Dragon (1)

Caine goes to meet with his grandfather again, only to find he has been murdered. He searches for the murderer, unaware that a group of assassins from China are after him.

Saturday, September 14th, 1974

s3e2: Blood of the Dragon (2)

Caine meets a woman that was his grandfather's lover, and is very hostile to his inquiries, while a group of Chinese assassins (believed to be able to summon forth demon fighters) closes in on him.

Saturday, September 21st, 1974

s3e3: A Small Beheading

Caine is offered a chance to return to China, after a sea captain delivers a pardon from the Emperor. The pardon, however, has one condition: Caine must lose a finger.

Saturday, September 28th, 1974

s3e4: This Valley of Terror

Caine helps a young woman who has visions of future events. They always come true and this terrifies her.

Saturday, October 5th, 1974

s3e5: The Predators

Caine is accused of murder and must seek out a witness who is a member of a gang of Indian scalphunters, who doesn't want to help him. He must also deal with an Apache warrior who wants to kill the witness for his crimes against the Apache.

Saturday, October 12th, 1974

s3e6: My Brother, My Executioner

Caine thinks he has found his brother, but he is really an imposter who is being pursued by a young gunfighter.

Saturday, October 19th, 1974

s3e7: Cry of the Night Beast

Caine hears the cry of a child begging to be saved, but there is no child to be found. Only a very young buffalo calf and his mother. Caine protects him from a hunter who is determined to kill him for the hide.

Friday, November 1st, 1974

s3e8: The Devil's Champion

We return to Caine's past in China. Caine witnesses a man defeat six others in the village. The man instructs Caine to deliver a challenge. He demands a fight to the death with Master Kan or he will kill a villager every day until he gets it.

Friday, November 8th, 1974

s3e9: The Garments of Rage

Caine goes to work for a railroad which is being sabotaged, and meets a Shaolin priest he knew before.

Friday, November 15th, 1974

s3e10: Besieged (1): Death on Cold Mountain

A reclusive hermit, Tamo, arrives at the Honan monastery to inform them that the Tukien monastery was attacked and destroyed by a warlord with his cannon, and that he has survivors seeking refuge there. One of the survivors is a woman who wants to become a Shaolin monk. She later reveals the warlord wanted her to be his wife, and she fled. Now the warlord is preparing to attack the monastery and having his cannon brought there.

Friday, November 22nd, 1974

s3e11: Besieged (2): Cannon at the Gates

Caine and the others try to defend the monastery, while the cannon the Warlord SIng wil attack them with is still enroute. In the meantime, he must contend with the fact that a woman who wants to become a Shaolin monk and rejected Sing's hand in marriage, has fallen in love with him.

Friday, December 13th, 1974

s3e12: The Demon God

After being stung by a scorpion, Caine remembers a time in China, where a member of the royal family poisoned him in order to discover what was on the journey to death, during which time Caine had visions of the American west.

Friday, December 20th, 1974

s3e13: The Vanishing Image

Caine seeks out a photographer who took a picture of his brother, Danny, in hopes that he will be able to help find him. He also encounters and befriends an Indian that attacks him and the photographer, and later wants to kill the photographer for taking a picture of him, for which he believes has stolen his soul.

Saturday, January 11th, 1975

s3e14: A Lamb to the Slaughter

Caine meets the son of a man who died defending his father from muggers, and wants to repay him for his debt of honor by working for him. However, the man doesn't want work as payment but to learn how to fight, against a gang of bandits terrorizing the village he lives in.

Saturday, January 18th, 1975

s3e15: The Forbidden Kingdom

This episode shows how Caine fled China, being pursued by a relentless Lieutenant in the Emperor's army, and how he faces possible betrayal by a woman who pledges to help him; but has secretly made an offer to turn him over to the Lieutenanf, in exchange for her brother's release from prison.

Saturday, January 25th, 1975

s3e16: One Step to Darkness

Caine tries helping the depressed wife of an Army sergeant, with a drug addiction, and winds up fighting an inner demon of his own creation.

Saturday, February 8th, 1975

s3e17: Battle Hymn

Caine meets two traveling musicians, who are looking for a supposedly magical cave, all unaware that there are silver hunters looking to strike it rich with the cave.

Saturday, February 15th, 1975

s3e18: Barbary House

Caine learns that Danny might be working at a gambling hall that features bare-knuckle boxing, and winds up protecting Danny's son, after Danny angers the hall's owner by hitting him and leaving his job, before Caine's arrival.

Saturday, February 22nd, 1975

s3e19: Flight to Orion

Caine goes searching for Danny, with Danny's son and a woman Danny Jr. has found out is his mother, with riders pursuing them, and is forced into an Indian death match along the way.

Saturday, March 1st, 1975

s3e20: The Brothers Caine

Caine finds where his brother is hiding, but is unaware that Danny has been told there is a Chinese bounty hunter who wants to kill him.

Saturday, March 8th, 1975

s3e21: Full Circle

(Series' Finale) The Caine family's dysfunctional relationships get resolved. Kwai Chang and Danny are questing to find General Cantrell who has custody of Zeke Caine. After typical adversities everyone is reunited and Kwai Chang reveals where his future lies.

Saturday, March 29th, 1975

s3e22: The Thief of Chendo

Young Caine and Master Po imagine what it will be like when Caine leaves the temple, and in their dreams Caine is sent to deliver a ring to a Grand Duke by Master Po. Upon arriving at the palace, he is informed that the Duke is dead, but an old man from the Duke's palace delivers him a message that he is still alive. He is being imprisoned by his own cousin, who has taken control of the palace. Caine also meets a thief who falls in love with the Duke's daughter, who is to be married off, and they work together to free both the Duke and his daughter.

Friday, April 4th, 1975

s3e23: Ambush

Serenity Johnson, the blind preacher last seen in The Nature Of Evil, asks Caine to help escort him with a shipment to San Fransisco. What neither one of them knows is that stolen silver bars are hidden in the shipment, and people involved in the robbery are after them.
Season 0
not specified

s0e2: From Grasshopper to Caine: Creating Kung Fu

Documentary of the making of the TV series "Kung Fu", included with the series' DVD release.

s0e3: Zen and Now: A Dinner with David Carradine and Friends

A DVD extra.

s0e4: The Tao of Caine: Production and Beyond

The Tao of Caine: Production and Beyond chronicles the making of this unique series with cast and creators.

s0e5: David Carradine's Shaolin Diary: Back to the Beginning

s0e6: Introduction by David Carradine
Season 1
Saturday, November 11th, 1972

s1e2: Dark Angel

Caine travels to Lordsville looking for his grandfather. On his way he helps a man attacked by indians and the man gives him a map to a goldmine. Caine gives the map to an old preacher who helped him.

Thursday, January 18th, 1973

s1e3: Blood Brother

While passing through the Arizona territory town of Kilgore, Caine learns of a Shaolin friend who lived there, and won't leave till he breaks the community's conspiracy surrounding his disappearance.

Thursday, January 25th, 1973

s1e4: An Eye for an Eye

A family seeks vengeance-not justice-against the soldier who raped their daughter. Setting in motion a cycle of violence that Caine may be powerless to stop.

Thursday, February 1st, 1973

s1e5: The Tide

A man with a price on his head can spark a lot of ambitions. A woman wants to capture Caine so she can use the $10,000 to free her imprisoned father, and a killer hiding behind a badge simply wants to get rich.

Thursday, February 8th, 1973

s1e6: The Soul Is The Warrior

Caine's quest to meet his half-brother Danny leads him to a ranch where his sibling once worked, and plunges the priest into a confrontation where he proves his mettle by walking trough a pit of rattlesnakes.

Thursday, February 15th, 1973

s1e7: Nine Lives

After the death of a mining camp's feline mascot, Caine and a miner embark on a trek to find a new cat -- a journey that ultimately has the pair trapped at the bottom of a rapidly filling well.

Thursday, February 22nd, 1973

s1e8: Sun and Cloud Shadow

Caine brokers a settlement between a landowner and Chinese miners, but the landowner adds an unacceptable condition to the deal. Meanwhile, a karate master intends to capture Caine.

Thursday, March 8th, 1973

s1e9: Chains

Caine is imprisoned at an army outpost, and escapes... chained to his hulking, mountain-man cellmate, and are persued by a relentless sergent. Who is determined to collect the reward offered for Caine's capture.

Thursday, March 15th, 1973

s1e10: Alethea

Caine befriends a young girl, whose mistaken eyewitness testimony leads to the priest being tried for murder... and sentenced to death by hanging.

Thursday, March 22nd, 1973

s1e11: The Praying Mantis Kills

Murderous thugs come looking for Caine after he identifies them as perpetrators of a bank robbery. A youth's ideas about how to be a man are challenged by Caine's quiet heroics.

Thursday, April 5th, 1973

s1e12: Superstition

Walls imprison the men unjustly sentenced to work as miners at a brutal labour camp. Yet an even greater barrier holds them captive; fear of the camp's ancient Indian curse. But Caine knows no such fear.

Thursday, April 12th, 1973

s1e13: The Stone

Caine encounters Isaac Montola, a freed slave from Brazil skilled in a fighting style he has never seen. When Caine intervenes in a fight to save Isaac's life, a precious stone is lost, setting off a chain of events involving a widow and her children, and the piano-playing groom-to-be,

Thursday, April 26th, 1973

s1e14: The Third Man

A gambler on a hot streak entrusts his winnings to Caine. But the money is stolen, the gambler is killed, and Caine seeks answers to the mysteries surrounding both events.

Thursday, May 3rd, 1973

s1e15: The Ancient Warrior

Ancient Warrior, an aged Indian accompanied by Caine, seeks burial in his sacred, ancestral land. But the burial site is located dead center in a violent, Indian-hating town called Purgatory.
Season 2
Thursday, February 7th, 1974

s2e16: In Uncertain Bondage

Caine recalls lessons learned as a youth when he and a Southern belle are trapped in a deep pit, held there by kidnappers.

Thursday, February 14th, 1974

s2e17: Night of the Owls, Day of the Doves

Caine must defend prostitutes that want to start a new life with land bequeathed to them, from cattlemen that want to seize it for themselves.

Thursday, February 21st, 1974

s2e18: Crossties

Caine is caught in the middle of a land-rights fight between farmers and railroad agents. He tries to convince the farmers to accept an offer of amnesty, and to keep the agents from using the offer as a fatal trap for the farmers.

Thursday, February 28th, 1974

s2e19: The Passion of Chen Yi

Caine tries to visit an unjustly jailed Shaolin student, but keeps being turned away. He then commits a crime so he can be put in jail with him, hoping to clear up an old misunderstanding and help free the student.

Thursday, March 14th, 1974

s2e20: Arrogant Dragon

Wu Chang has angered the Tong Sect, and is ordered to commit suicide or be executed by them. Caine tries to help him fake his death and escape from the Tongs.

Thursday, March 21st, 1974

s2e21: The Nature of Evil

Caine and Serenity Johnson, the blind preacher last seen in Dark Angel, look for a killer that is stalking Serenity's town of Nineveh.

Thursday, April 4th, 1974

s2e22: The Cenotaph (1)

Caine meets Logan McBurney, a Scotsman who has hijacked a gold-transporting stagecoach named Old Ironsides, to haul an enormous box that he claims is his dead Sioux wife's coffin. Along the way to the burial ground, which is on Sioux land, Caine remembers times in the monastery, unaware that several robbers are following closely, hoping to take Old Ironsides for themselves.

Thursday, April 11th, 1974

s2e23: The Cenotaph (2)

Caine and Logan arrive at the Sioux burial ground, to bury what Caine believes is Logan's wife in a huge crate, and are confronted by angry Sioux warriors who feel they are trespassing. They must also deal with two robbers as well as the US Calvary. Caine recalls his own love story, that like Logan's wife, ended tragically.
Season 3
s3e0: Introduction by David Carradine

New season introduction by David Carradine

Saturday, April 26th, 1975

s3e24: The Last Raid

Caine goes to visit Caleb Brown and his family, last seen in The Well. Caleb's son, Daniel, is fishing with the local doctor's son, when both are kidnapped, by a vengeful ex-Confederate Sergeant. The Sergeant hopes to use them to lure the doctor to him to get his revenge, and Caine must save them.
Season 0
not specified

s0e7: Zen and Now - A Dinner with David Carradine & Friends