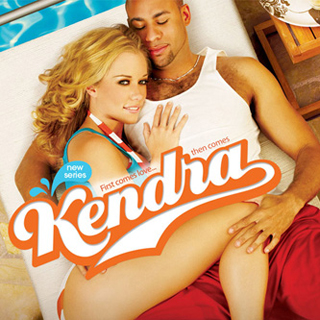 Season 0
s0e1: The E True Hollywood Story

Life wasn't always so good for Kendra Wilkinson-Baskett. In an emotional interview for E! True Hollywood Story, the reality star reveals the struggles she faced in what she calls her "devil years," when she battled drugs and depression, before finding happiness in her marriage to Hank and their son. "I ended up becoming suicidal, and I started cutting myself. I had so much pain that I just wanted to die. It wasn't that I was trying to die, it was just that my pain took away from my pain inside," she reveals in this exclusive clip. As well as her own admissions, family members speak out about Kendra's rebellious streak and the toll her actions took on them all. You don't want to miss this.

s0e2: Here Comes Baby

With newborn son in tow, Kendra Wilkinson and her football pro hubby Hank Baskett will appear on E!'s special Kendra: Here Comes the Baby tonight at 9 PM. The new family including Hank Baskett IV, will document the birth of their new addition and all that goes along with being a new mom.
Season 1
Sunday, June 7th, 2009

s1e1: Un-Rappin

Kendra has a housewarming party.

Sunday, June 7th, 2009

s1e2: The Ex Files

Kendra and friends prepare for her wedding; Kendra introduces Hank to Hef, who makes a surprising offer to the couple.

Sunday, June 14th, 2009

s1e3: Baskett Cases

Kendra shoots a sexy promotional poster for one of her favorite restaurants, Dave & Buster's; Kendra meets Hank's parents in his hometown.

Sunday, June 21st, 2009

s1e4: Lust in America

Kendra and Hank embark on a road trip back to Los Angeles after visiting his parents in New Mexico; Kendra and Hank stop in Roswell, N.M., to explore the supernatural mysteries surrounding the town.

Sunday, June 28th, 2009

s1e5: A Star Is Shorn

Friends and family help Kendra stage a yard sale to get rid of clutter; after Hank gets home, Kendra plans a night on the town with rapper Too Short.

Sunday, July 5th, 2009

s1e6: No Hanky, No Panky

Kendra heads to Las Vegas for a photo shoot and attends a wild party. Meanwhile, back at home Hank is left to clean up after Kendra's dogs.

Sunday, July 12th, 2009

s1e7: Bridal Sweets

Sunday, July 19th, 2009

s1e8: Between a Crock and a Hard Place

Kendra, with help from the chef of the Playboy mansion, is throwing a dinner party from some of Hank's football buddies and their wives.

Sunday, July 26th, 2009

s1e9: Preggers Can't Be Chooser

Kendra's bridal shower does not go as planned when Kendra announces to her mom that she is pregnant, and her mom can no longer condone the wedding.

Sunday, August 2nd, 2009

s1e10: Undress Rehearsal/Let Them Eat Wedding Cake

Season 1 concludes with Kendra and Hank's wedding ceremony at the Playboy mansion. But before the nuptials, Kendra is given a sexy bridal and celebrates with Hank at the rehearsal dinner.

Sunday, August 9th, 2009

s1e11: Straight From the Heart

Kendra and Hank reflect on the shows first season, and discuss their future and plans for being parents.
Season 2
Sunday, December 20th, 2009

s2e1: Here Comes Baby

After Kendra goes to the hospital, the labor process goes slowly and she is eventually taken to have a C-section. Kendra gives birth to a boy who weighs 9 pounds, 5 ounces.

Sunday, March 14th, 2010

s2e2: Date Night

Kendra is ready and willing to lose her baby weight; Hank and Kendra Host a dinner.

Sunday, March 21st, 2010

s2e3: Three Girls and a Baby

Kendra's Playmate friends visit her for the first time since her son was born.

Sunday, March 28th, 2010

s2e4: The Big Game

Kendra and Hank leave for Miami to attend the Super Bowl; Kendra must make a bikini photo shoot work despite her lingering baby fat.

Sunday, April 11th, 2010

s2e5: With a Little Help From My Friends

Kendra and Hank get help moving back to Los Angeles from Holly and Bridget after the football season is over.

Sunday, April 18th, 2010

s2e6: Are We There Yet?

Hank, Kendra and Little Hank make the cross-country move back to Los Angeles, reminisce about their Indianapolis adventures, and visit with friends along the way.

Sunday, April 25th, 2010

s2e7: Welcome Back, Kendra

Now that Kendra and Hank are back in Los Angeles, they meet with an interior decorator, furnish their new house, and even hire a security team.

Sunday, May 2nd, 2010

s2e8: Let Them Eat Cupcakes

As Kendra and Hank take Little Hank to the Mansion to meet Hef for the first time, Bridget plans a surprise welcome home party at her house.

Sunday, May 9th, 2010

s2e9: The Eagle Has Landed

Kendra juggles the demands of motherhood with the demands of her new trainer; Hank learns which NFL team he is going to play for in the 2010 season.

Sunday, May 16th, 2010

s2e10: GILF Trip

Kendra sets up her mother on a blind date

Sunday, May 23rd, 2010

s2e11: Here's Looking at You, Kendra

Kendra struggles with her appearance now that she's a mom, Hank is offered a modeling job.

Sunday, May 30th, 2010

s2e12: Chips Ahoy

Kendra makes a swimsuit appearance in Las Vegas and visits with Holly Madison

Sunday, June 6th, 2010

s2e13: True Confessions

Kendra works on her tell-all autobiography which Hank believes is too revealing.
Season 3
Sunday, November 7th, 2010

s3e1: Welcome to Philadelphia

Kendra and Hank come back to Philadelphia where Kendra learns that not everyone thinks she is still the sexy playmate from the mansion.

Sunday, November 14th, 2010

s3e2: Let the Games Begin

As Hank anxiously awaits news of whether he made the Philadelphia Eagles final roster or not, Kendra is determined to make Hank's birthday the best he's ever had.

Sunday, November 21st, 2010

s3e3: Fashion Weak

Kendra hits New York Fashion Week and quickly realizes that she and New York's fashion elite don't mix.

Sunday, November 28th, 2010

s3e4: The Unkindest Cut

Hank and Kendra learn the Eagles have cut him from their roster.

Sunday, December 5th, 2010

s3e5: Interception

Sunday, December 12th, 2010

s3e6: Bye-Bye, Bye Week

Sunday, December 19th, 2010

s3e7: Come Out As You Are

Sunday, December 26th, 2010

s3e8: It's All Relative

Sunday, January 2nd, 2011

s3e9: Out With It

Sunday, January 9th, 2011

s3e10: Reunion

Celebrating little Hank's first birthday; dealing with rumors about Kendra and Hanks relationship.
Season 4
Sunday, September 25th, 2011

s4e1: Here Comes the Neighborhood

Kendra & Hank find a house in LA but struggle to make it a home. Hank is nervous about the NFL lockout & Kendra clashes with a celebrity stylist who tries to change her image.

Sunday, October 2nd, 2011

s4e2: A Fine Bromance

Hank takes Kendra to Cancun for their anniversary & invites Jon & Julie Dorenbos. When the trip becomes more bromance than romance, Kendra is determined to bring the sexy back.

Sunday, October 9th, 2011

s4e3: Victoria's Secrets

Kendra tries to help a friend find a date after the woman leaves an unhappy marriage. Meanwhile, Hank visits New York to pursue opportunities beyond football.

Sunday, October 16th, 2011

s4e4: Meet Your Match

While Kendra helps Little Hank's nanny prepare for a blind date, Hank seeks out career opportunities in New York.

Sunday, October 23rd, 2011

s4e5: Family Matters

During a personal appearance trip to her hometown of San Diego, Kendra confronts her longstanding issues with her mother, Patti.

Sunday, October 30th, 2011

s4e6: Fathers and Sons

Hank waits to see if he'll be picked up by a team & Kendra feels pressure to work as much as she can. Everyone gets perspective when Hank Sr. opens up about his battle with cancer.

Sunday, November 6th, 2011

s4e7: Lovitz or Leave It

Jon Lovitz asks Kendra to audition for a TV show.

Sunday, November 13th, 2011

s4e8: Booking It

Kendra's book tour takes her through every city she and Hank have lived in since they got married. She catches up with old pals & faces the shock jock who compared her to Mrs. Brady.

Sunday, November 20th, 2011

s4e9: The Homecoming King

Kendra confronts Hank's past, including his ex-girlfriends, when they attend his high-school reunion.
Season 1
Sunday, June 7th, 2009

s1e0: Go, Kendra!

Kendra wakes up in her own house for the first time to instant chaos; Kendra takes her fiance, Hank, to the Playboy Mansion to meet Hef for the first time.
Season 4
Sunday, November 20th, 2011

s4e10: Homeward Bound

Kendra helps Hank deal with his fears of returning home without being part of a football team.