update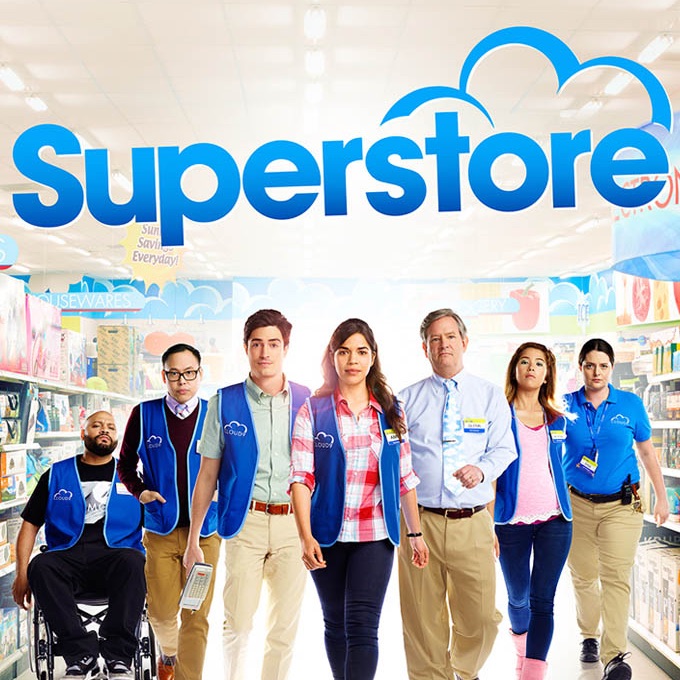 Season 0
Tuesday, August 16th, 2016

28: Olympics

Friday, August 19th, 2016

1: Olympics

Amy gets the opportunity to meet her childhood idol; Glenn struggles to balance his excessive patriotism; Jonah discovers a secret about Mateo's past; Dina works to create a memorable closing ceremony.

Friday, August 19th, 2016

27: Olympics

Amy gets the opportunity to meet her childhood idol; Glenn struggles to balance his excessive patriotism; Jonah discovers a secret about Mateo's past; Dina works to create a memorable closing ceremony.

Friday, August 26th, 2016

2: Glenn: A Message from the Manager

Attention Cloud 9 shoppers, Glenn has some important announcements.

Tuesday, August 30th, 2016

3: Announcing Garrett, Part 1

No one mans a mic quite like Garrett.

Thursday, September 1st, 2016

4: Announcing Garrett, Part 2

Listen up: Garrett has something to say.

Monday, September 5th, 2016

5: Dina Lays Down the Law

Shoplifters and Jordan Brickmeyer, beware: Dina's got her eye on you.

Thursday, November 17th, 2016

6: Bo's Rap Sizzle Reel

Ya like what ya heard? Bo "The Truth" Thompson is currently seeking representation in all areas.

Thursday, December 8th, 2016

7: The Best of Garrett's Cloud 9 Announcements

Attention, shoppers: Garrett has something to say.

Thursday, December 15th, 2016

8: 1.Training Video - Glenn Says Aloha

Glenn films a welcome video for Cloud 9 new hires, but with an exotic twist.

Thursday, December 15th, 2016

9: 2.Training Video - Glenn's Bad Idea

After Glenn shows the staff an outdated training video on the Cloud 9 dress code, Jonah floats the idea that the employees could make a better one.

Friday, December 16th, 2016

10: 3.Training Video - Cheyenne Explains the Register

Cheyenne's training video starts off strong, but quickly gets intense.

Saturday, December 17th, 2016

11: 4.Training Video - Amy's Etiquette Advice

Amy's workplace etiquette video has a simple message: Don't be annoying.

Sunday, December 18th, 2016

12: 5.Training Video - Jonah Teaches Taking Pride

Jonah is not prepared for everyone's reaction to his training video.

Monday, December 19th, 2016

13: 6.Training Video - Mateo Speaks to Cultural Diversity

Mateo demonstrates how to help customers of all different backgrounds.

Tuesday, December 20th, 2016

14: 7.Training Video - Dina on Workplace Efficiency

Dina shows the staff how bathroom breaks are hurting their efficiency.

Wednesday, December 21st, 2016

15: 8.Training Video - Garrett Uses VR

Garrett instructs the other employees how to properly close up shop with a VR training video.

Monday, February 13th, 2017

16: The Ladies of Cloud 9 Cut Loose

When Glenn's away, the ladies will play.

Tuesday, April 18th, 2017

17: Cloud 9 Staff Impressions

Watch Garrett, Dina, Sandra and more Cloud 9 employees mimic each other.

Tuesday, July 4th, 2017

18: Glenn and Mateo's Sing-Along

Thursday, July 13th, 2017

19: Amy and Jonah Get Meta

Thursday, July 20th, 2017

20: Mateo Makes a Disturbing Find

Thursday, July 27th, 2017

21: Jonah Takes Amy's Dare

Thursday, August 3rd, 2017

22: Bo Questions Glenn's Motives

Wednesday, March 6th, 2019

25: Cloud 9 Employees Explain Health Care

Your favorite Cloud 9 store tries to navigate the health care system (or lack thereof).

Monday, March 11th, 2019

26: 9 Reasons Why You Haven't Watched Superstore

The cast of Superstore proves there is no such thing as a valid reason to not watch Superstore.

Saturday, July 20th, 2019

23: Comic-Con Panel 2019

Tuesday, July 23rd, 2019

24: We Wear It Proud

Superstore raises a glass of boxed wine to everyone out there working hard in clothing they would never otherwise wear.
Season 1
Monday, November 30th, 2015

1: Pilot

Jonah begins his first day on the job at big-box store Cloud 9 and immediately starts a rocky relationship with floor supervisor Amy when he comes off as elitist and mistakenly marks appliances for only a quarter. He is also the romantic target of aggressive assistant manager Dina, whose bible is the employee code of conduct. Pregnant Cheyenne shares a memorable moment with her boyfriend, Bo.

Monday, November 30th, 2015

2: Magazine Profile

A reporter is supposed to be writing a piece on the store, but is more interested by Jonah. Meanwhile Garrett tries to avoid being photographed and Cheyenne asks her boyfriend to write a corporate jingle to pay for their upcoming baby's expenses.

Monday, December 28th, 2015

3: Shots and Salsa

Glenn asks Amy and Mateo to sample salsa which leads to a racial intervention video for all the employees. Meanwhile, Jonah helps out customers which leads him to giving out flu shots in the pharmacy.

Monday, January 4th, 2016

4: Mannequin

Jonah's coworkers discover a mannequin that looks exactly like him. While trying to prove that the teasing doesn't bother him, Jonah ends up doing the complete opposite. Meanwhile Cheyenne is thinking of putting her baby up for adoption.

Monday, January 11th, 2016

5: Shoplifter

Jonah supervises Amy's daughter, Emma, at the store, while Dina attempts to apprehend a shoplifter.

Monday, January 18th, 2016

6: Secret Shopper

A secret shopper is sent by corporate to test the employees as they try to work out who it is.

Monday, January 25th, 2016

7: Color Wars

Glenn makes the employees face off against each other in a contest to see who sells more stuff.

Monday, February 1st, 2016

8: Wedding Day Sale

Cheyenne takes advantage of Cloud 9's one-day wedding sale while Amy and Dina try to find her missing fiancé.

Monday, February 8th, 2016

9: All-Nighter

The employees have to spend the night in the store while they wait for a delivery and bond as they pass the time.

Monday, February 15th, 2016

10: Demotion

Jonah tries to find the words to tell Dina that he does not reciprocate her feelings, meanwhile a new assistant manager is appointed by Glenn.

Monday, February 22nd, 2016

11: Labor

Amy finds out that Cloud 9 does not offer maternity leave so the employees come together to help Cheyenne despite the talk of unions.
Season 2
Thursday, September 22nd, 2016

1: Strike

The staffers go on strike, but Amy and Jonah make things worse by negotiating with corporate. The ambitious Mateo regrets going on strike and sneaks back into the store. Garrett meets a sightly woman on the picket line.

Thursday, September 29th, 2016

2: Back to Work

Jeff, the district manager from corporate, tells the Cloud 9 employees he is going to be around for the day to see what can improve in the store. Amy tries to impress him with a perfect day, but a workplace accident threatens her plan. Meanwhile, Glenn tries to come off as a tough boss in front of Jeff, Jonah attempts to help an unyielding Dina win over the employees she betrayed in the strike and Mateo discovers something about Jeff in his pursuit to win him over.

Thursday, October 6th, 2016

3: Guns, Pills and Birds

Jonah is assigned to the gun section of Cloud 9, and refuses to sell to anyone he deems suspicious; Glenn tries to buy the store's entire stock of morning-after pills.

Thursday, October 13th, 2016

4: Spokesman Scandal

Glenn grows concerned that he doesn't know enough about his employees after Cloud 9's spokesman is accused of a crime. Dina exploits Glenn's concerns by implementing storewide drug testing. Meanwhile, Amy and Jonah have a flirty day avoiding work; Cheyenne annoys Garrett by talking about her baby; and Mateo tries to understand his ambiguous relationship with Jeff.

Thursday, October 20th, 2016

5: Dog Adoption Day

New parents Cheyenne and Bo fight, prompting Amy and Glenn to give them advice in very different forms; Mateo and Jonah oversee dog adoption at the store; Garrett taunts Dina when she refuses to adjust his time card.

Thursday, October 27th, 2016

6: Halloween Theft

Dina throws a wrench in everyone's Halloween plans when something goes missing from the store and declares that no employee can leave until someone confesses to stealing. Amy is determined to find out who is responsible because she doesn't want to miss trick-or-treating with her daughter and Mateo prepares for his secret date with Jeff. Meanwhile, Jonah and Cheyenne struggle to bond until they discover they have more in common than they thought. Garrett has a difficult time defending himself during the store-wide investigation.

Thursday, November 3rd, 2016

7: Election Day

When corporate sends out a voting guide that only benefits the company's interests, Amy and Jonah work together to put out a rival pamphlet until Jonah's personal life gets in the way. Dina and Glenn are stuck in an accidental cover up while Mateo goes to great lengths to hide his undocumented status.

Thursday, November 10th, 2016

8: Seasonal Help

Much to Amy's dismay, Glenn hires Amy's husband, Adam (guest star Ryan Gaul), for some extra help, exposing her in ways in which she is not prepared. Frustrated with the lazy, noncommittal temps, Jonah and Garrett start an employee draft to place bets on who will quit first while Glenn tries to find the perfect person to play Santa at the store for Christmas

Thursday, November 10th, 2016

9: Black Friday

Cloud 9 braces for the biggest shopping day of the year when the employees all suddenly get sick.

Thursday, January 5th, 2017

10: Lost and Found

At the beginning of every year, Cloud 9 employees hold a "lost and found bin cleanout" to get rid of all the unclaimed items. Amy unknowingly walks away with a huge wad of cash and Jonah is determined to help her find the best use for it. Meanwhile, Cheyenne proves she is never one to keep a secret and Dina pushes Garrett over the edge.

Thursday, January 12th, 2017

11: Rebranding

Jeff lets the employees know that Rex, a vice president from corporate, will be coming by the store to help with the rollout for Cloud 9's store-wide rebranding, and it turns out Rex is someone from Jonah's past. Amy and Garrett are delighted to hear Rex's stories about Jonah. Meanwhile, Mateo is stunned to learn of rumors that Jeff is in a relationship with an employee. Dina must retaliate against a snitch and Cheyenne tries to take advantage of the discounted "Halo" products.

Thursday, February 2nd, 2017

12: Ladies' Lunch

During the morning meeting, Glenn accidentally tells the employees the real reason Amy has been late to work lately. Meanwhile, Dina tries to cheer up Amy by kidnapping her for a "ladies' lunch." Jonah and Garrett invent a game to pass the time, tricking Glenn and Mateo in the process. Cheyenne helps Amy take a fearless step with a dramatic new look.

Thursday, February 9th, 2017

13: Valentine's Day

On Valentine's Day, Amy and Glenn learn what happens when you try to force love.

Thursday, February 16th, 2017

14: Super Hot Store

The storewide heater malfunction magnifies angry tensions between Amy, Jonah, and the back warehouse employees. Dina and Garrett find a way to pass the time. Cheyenne helps Glenn through an existential crisis.

Thursday, February 23rd, 2017

15: Wellness Fair

Amy sees Mateo out on a secret date with Jeff. Glenn resents Jonah for outshining him during Cloud 9's Wellness Fair. Dina tries to prove that Amy faked an illness.

Thursday, March 16th, 2017

16: Integrity Award

Jonah accompanies Amy on a trip to help her parents move out of her childhood home. Glenn is intent on winning a Cloud 9 Integrity Award. Dina tries to use Mateo's relationship with Jeff to fix various problems with the store.

Thursday, March 23rd, 2017

17: Mateo's Last Day

Mateo's store transfer gets derailed when his undocumented status comes into play. Glenn battles an online troll with Amy's help. Jonah and Cheyenne attempt to give legal counsel to Mateo.

Thursday, April 6th, 2017

18: Glenn's Kids

Glenn invites all of his kids to the store, causing disaray among the employees; Jonah falls for Glenn's 25-year-old daughter; Garrett, Dina and Cheyenne try to keep track of one of the toddlers; Mateo tricks the kids into working for him.

Thursday, April 20th, 2017

19: Spring Cleaning

A "spring cleaning" day is initiated by Glenn, and Amy and Garrett snoop into abandoned photos during the cleanup. Also, Jonah tries to gain Glenn's approval, and Cheyenne's fiancé begins working at the store to make fast cash for their wedding.

Thursday, April 27th, 2017

20: Cheyenne's Wedding

Cheyenne and Bo's wedding arrives, but not all goes according to plan. Also, Amy and Jonah dodge relationship rumors; Glenn sets out to change Jeff's mind after learning of looming layoffs; and Dina talks her way into the wedding party.

Thursday, May 4th, 2017

21: Tornado

In the Season 2 finale, Glenn tries to figure out which employees to lay off. Jonah copes with the fallout of an admission he made to Amy. Garrett and Dina spar. Mateo creates an alliance to keep his job. Also: a a tornado warning goes into effect and forces the staff into uncomfortable pairings.
Season 3
Thursday, September 28th, 2017

1: Grand Re-Opening

It's Cloud 9's "Grand Re-Opening." Amy and Jonah confront their awkward kiss. Glenn discovers something about himself. Garrett avoids Jonah. Mateo worries about a voicemail he left on Jeff's phone. Dina meets her match in Howie Mandel.

Thursday, October 5th, 2017

2: Brett's Dead

Amy worries that Dina may be struggling with anxiety. Jonah tries to find out more about Garrett's past. Mateo and Cheyenne avoid work by convincing Glenn that they were close with Brett.

Thursday, October 12th, 2017

3: Part-Time Hires

Amy turns to Jonah for advice on how to balance her parenting. Garrett and Dina argue over who broke up with whom. Cheyenne tries to convince Mateo that the cute construction worker might just be flirting with him for store perks.

Thursday, October 19th, 2017

4: Workplace Bullying

Tensions arise among the employees after an attempted robbery, pitting Dina against Jonah. Glenn has a tough time firing the store security guard. Amy discovers that her coworkers have been hanging out without her.

Thursday, October 26th, 2017

5: Sal's Dead

A dead body is found in the drywall, making for an extra-creepy Halloween at Cloud 9, and Amy creates an awkward situation when she messes with Jonah's online dating profile.

Thursday, November 2nd, 2017

6: Health Fund

Mateo turns to stranger and stranger home remedies for an ear infection. Amy and Jonah decide to offer an alternative to Cloud 9's terrible health insurance plan. Glenn enlists Dina to help him get medical attention for his own embarrassing condition.

Tuesday, December 5th, 2017

7: Christmas Eve

Trying to prove how wild she can be, Amy turns a boring Christmas Eve at Cloud 9 into a holiday adventure. Jonah and Garrett's roommate issues boil over. Glenn tries to prove to Mateo that Christmas is better than fine.

Thursday, January 4th, 2018

8: Viral Video

After a Cloud 9 employee posts a controversial video online, Dina enlists Cheyenne to help monitor the rest of the staff's social media accounts. Glenn suspects Mateo of rewards card fraud.

Thursday, January 11th, 2018

9: Golden Globes Party

Amy throws a party to prove how great she's doing post-divorce; Dina makes the ultimate sacrifice. Glenn and his wife are forced to conduct some personal business at Amy's home.

Thursday, January 18th, 2018

10: High Volume Store

Corporate announces that the store is getting an upgrade. Amy, Jonah, and Dina set out to discover the pros and cons. Cheyenne accidentally volunteers to be Glenn's surrogate.

Thursday, January 25th, 2018

11: Angels and Mermaids

Amy finds herself caught in the middle of a conflict between Cheyenne and her ex-convict mom. a personal agreement between Glenn and Dina gets heated when Glenn brings in a lawyer. Jonah finds out that Kelly believes in angels.

Thursday, February 1st, 2018

12: Groundhog Day

Still fresh from her divorce, Amy doesn't feel ready to start dating again. when Mateo tries to set her up with his loser cousin, she gets determined to show everyone she can do better. Dina takes advantage of a medical condition to scam Glenn.

Thursday, March 1st, 2018

13: Video Game Release

When gamers invade Cloud 9 for the release of a hot new video game, Jonah tries to help Amy secure herself a copy of the game. Mateo helps Garrett make a good impression on one of his heroes.

Thursday, March 8th, 2018

14: Safety Training

When Mateo gets injured, Jonah tries to help him keep his immigration status a secret. Amy attempts to convince everyone that she likes Kelly.

Thursday, March 15th, 2018

15: Amnesty

Glenn and Dina offer amnesty to the employees for any bad things they confess. Garrett and Cheyenne try to decide how to take advantage of it. Jonah and Amy try to defuse an awkward situation that has the whole store gossiping.

Thursday, March 22nd, 2018

16: Target

When Jeff leaves Cloud 9 to work at Target, Garrett leads Glenn to believe that he's poaching other employees to go with him. In return Glenn tries to poach employees from Target. Amy goes on a double date with Dina, and Kelly and Jonah discuss moving in together.

Thursday, March 29th, 2018

17: District Manager

The new district manager decides to make some cuts to save money. Mateo struggles to prove his skills on the cash register.

Thursday, April 5th, 2018

18: Local Vendors Day

Glenn tries to help his wife sell her needlepoint, despite Jonah's concerns that he's pressuring his employees. Amy doesn't feel Latina enough when a guy flirts with her in Spanish. Garrett tries to uncover the truth behind a beer vendor's product.

Thursday, April 12th, 2018

19: Lottery

As lottery mania sweeps the store, Dina encourages the employees to sell as many tickets as possible. Jonah helps Amy track down the new district manager to lobby for a raise.

Thursday, April 19th, 2018

20: Gender Reveal

The store hosts a gender reveal party for Glenn and his wife. Dina is freaking out at the realities of having to deliver a baby. Amy receives some unsettling news.

Thursday, April 26th, 2018

21: Aftermath

Amy and Jonah deal with the consequences of their recent interactions. Glenn and Dina enlist Garrett's help to win the store a visit from Cloud 9's CEO.

Thursday, May 3rd, 2018

22: Town Hall

As the store prepares to host a company-wide Town Hall meeting, Amy and Jonah are forced to put their conflicts aside and rally their co-workers to confront the CEO. Meanwhile Glenn struggles with the pressure of speaking to a global audience.
Season 4
Thursday, October 4th, 2018

1: Back to School

On their first day back from suspension, Amy and Jonah steel themselves for a barrage of jokes and snide comments about their sex video, while Jeff goes to extreme lengths to win back Mateo.

Thursday, October 11th, 2018

2: Baby Shower

Jonah helps Amy get creative to stock up on supplies for her new baby. Glenn & Jerusha take maternity pictures that inspire Dina to have her own photo shoot – art-directed by Mateo.

Thursday, October 18th, 2018

3: Toxic Work Environment

Amy and Jonah get combative to keep their new relationship hidden from their co-workers. Glenn spirals when he learns Kelly wants to transfer to a new store. Cheyenne struggles to organize a Cloud 9 carpool.

Thursday, October 25th, 2018

4: Costume Competition

When an employee costume competition is announced, Amy and Mateo aren't afraid to play dirty to win first prize – a paid day off. Glenn is preoccupied by Cloud 9's new automatic cart collector. Garrett is tormented by an annoying Halloween novelty song.

Thursday, November 1st, 2018

5: Delivery Day

Amy and Dina are both in labor! But while Glenn's manager status gets Dina the royal treatment at the fancy hospital, Amy and Jonah have a far different experience at a nearby (and cheaper) clinic. At Cloud 9, Garrett struggles to express his best wishes for the new parents.

Thursday, November 8th, 2018

6: Maternity Leave

Amy faces a nightmare day at work when she learns she doesn't have maternity leave – made worse by Cheyenne and Mateo's campaign to change her baby's name. Jonah and Garrett take on hiring the new seasonal help.

Thursday, November 15th, 2018

7: New Initiative

When a new Cloud 9 initiative forces employees to be friendlier to their customers, Amy ends up getting to know Jonah's parents – and learns he hasn't been completely truthful with them. The new policy also inspires Garrett and Dina to find out who can hold a smile longer.

Thursday, December 6th, 2018

8: Managers' Conference

Amy and Jonah get a taste of how the other half lives when they attend a managers' conference. Mateo unwittingly reveals a secret about himself. Garrett and Dina face the trials and tribulations of the gift-wrapping station.

Thursday, December 13th, 2018

9: Shadowing Glenn

Glenn drives Amy crazy with a new, over-the-top training system. Cheyenne and Mateo brainstorm a new business. Dina recruits Jonah to help her when she starts second guessing her own future.

Thursday, March 7th, 2019

10: Cloud 9 Academy

Amy and Cheyenne attend Cloud 9 Academy to advance their careers. Dina and Garrett get roped into baby-sitting Glenn's daughter while he childproofs his office. Jonah and Mateo become political activists.

Thursday, March 14th, 2019

11: Steps Challenge

Corporate introduces a friendly step-tracking challenge between Cloud 9 branches, and Amy, Jonah, and Dina create a fake rivalry to inspire Store 1217's laziest employees. The healthy competition gets chaotic when the fake rivalry becomes real.

Thursday, March 21st, 2019

12: Blizzard

With a massive snowstorm beating down on St. Louis and an unsympathetic home office, the Cloud 9 employees and customers get snowed in, leading to escalating tensions and infighting.

Thursday, March 28th, 2019

13: Lovebirds

Jonah and Amy's first Valentine's Day together gets derailed when Dina brings her birds to work, which also causes trouble for Garrett. Cheyenne gives Marcus a tattoo. Glenn makes videos for his daughter to watch while he's at work.

Thursday, April 4th, 2019

14: Minor Crimes

Amy jumps at an amazing career opportunity, only to run up against an exec with a major grudge against her. Jonah and Mateo help Glenn with a financial problem, while Garrett and Cheyenne struggle to spend a day without cell phones.

Thursday, April 11th, 2019

15: Salary

Amy finds herself at odds with her co-workers when some salary numbers get leaked. Dina worries that Jonah is coming between her and Amy. Mateo tries to give himself a promotion. Garrett attempts to sabotage Glenn's positive attitude.

Thursday, April 18th, 2019

16: Easter

Suspicious that people are making fun of her, Amy and Jonah spy on Cloud 9 employees through the security system. Dina tries to track down an unsanctioned Easter Bunny in the store. Glenn preps for his church's play.

Thursday, April 25th, 2019

17: Quinceañera

Jonah struggles to find his place at Amy's daughter Emma's quinceañera. Dina proves very popular with some teenage boys. Cheyenne and Mateo are obsessed with seeing Amy cry.

Thursday, May 2nd, 2019

18: Cloud Green

Despite Dina's protests, Amy lets Glenn's pastor host an Earth Day booth at the store, but things quickly unravel when Glenn won't recognize Amy's authority. Jonah spearheads Cloud 9's green initiative, but is met with apathy from his co-workers.

Thursday, May 9th, 2019

19: Scanners

Dina agrees to play the bad guy when corporate forces Amy to cut everyone's hours. Jonah and the other employees play an elaborate game of laser tag with the store's new scanners. Mateo makes a startling discovery about Marcus.

Thursday, May 9th, 2019

20: #Cloud9Fail

When a photo of a mess at the store goes viral, Amy and Jonah try to use it to their advantage. Dina hunts for the anonymous tweeter. Mateo, Cheyenne, Garrett, and Glenn sell their personal items in the store when money gets tight.

Thursday, May 16th, 2019

21: Sandra's Fight

Amy and Dina visit Cloud 9 corporate to fix problems caused by Sandra's misguided activism. Jonah tries to sabotage an employee meeting. Garrett tries to prove to his co-workers that he's a good person.

Thursday, May 16th, 2019

22: Employee Appreciation Day

Amy and Jonah find themselves on opposing sides as corporate tries to win over employees by showering them with treats. When the company's tactics grow more extreme, everyone must band together to save one of their own.
Season 5
Thursday, September 26th, 2019

1: Cloud 9.0

Amy tries to help her employees cope with Mateo's ICE detention – and with the introduction of a new robot co-worker that makes them fear they could be replaced.

Thursday, October 3rd, 2019

2: Testimonials

Amy attempts to gather glowing character testimony for Mateo's immigration lawyer but comes up short. Jonah plans an engagement party for Sandra, infuriating Dina, while Glenn and Marcus compete for Mateo's old locker.

Thursday, October 10th, 2019

3: Forced Hire

When Amy hires Dina's nemesis Colleen, Dina blackmails Garrett into making Colleen's life a living hell. Jonah is forced to befriend Marcus in order to unionize the warehouse guys.

Thursday, October 17th, 2019

4: Mall Closing

The local mall has closed, and while Amy and Dina are excited about the influx of new customers, they quickly realize they're not all there to shop. Cheyenne learns she's not as cool as she thinks she is.

Thursday, October 24th, 2019

5: Self-Care

After Glenn has a health scare, Dina takes control of his nutrition and fitness. Jonah and Cheyenne try to get Amy to take a break from working too hard. Mateo interviews for a new position in the store.

Thursday, October 31st, 2019

6: Trick-or-Treat

Amy amps up the store's Halloween spirit to impress the new district manager, even setting up a haunted house that terrifies Glenn. Jonah collects the last of the union cards. Cheyenne and Mateo wonder if any Cloud 9 employees are capable of murder.

Thursday, November 7th, 2019

7: Shoplifter Rehab

Amy, Jonah and Glenn hatch a plan to make Amy look like a tough boss after she loses face in front of the district manager. Dina recruits Mateo to help her run Cloud 9's shoplifter rehabilitation program – with a few of Dina's personal tweaks.

Thursday, November 7th, 2019

7: Shoplifter Rehab

Amy, Jonah and Glenn hatch a plan to make Amy look like a tough boss after she loses face in front of the district manager. Dina recruits Mateo to help her run Cloud 9's shoplifter rehabilitation program – with a few of Dina's personal tweaks.

Thursday, November 7th, 2019

7: Shoplifter Rehab

Amy, Jonah and Glenn hatch a plan to make Amy look like a tough boss after she loses face in front of the district manager. Dina recruits Mateo to help her run Cloud 9's shoplifter rehabilitation program -- with a few of Dina's personal tweaks.

Thursday, November 7th, 2019

7: Shoplifter Rehab

Amy, Jonah and Glenn hatch a plan to make Amy look like a tough boss after she loses face in front of the district manager. Dina recruits Mateo to help her run Cloud 9's shoplifter rehabilitation program -- with a few of Dina's personal tweaks.

Thursday, November 7th, 2019

7: Shoplifter Rehab

Amy, Jonah and Glenn hatch a plan to make Amy look like a tough boss after she loses face in front of the district manager. Dina recruits Mateo to help her run Cloud 9's shoplifter rehabilitation program – with a few of Dina's personal tweaks.

Thursday, November 7th, 2019

7: Shoplifter Rehab

Amy, Jonah and Glenn hatch a plan to make Amy look like a tough boss after she loses face in front of the district manager. Dina recruits Mateo to help her run Cloud 9's shoplifter rehabilitation program – with a few of Dina's personal tweaks.

Thursday, November 7th, 2019

7: Shoplifter Rehab

Amy, Jonah and Glenn hatch a plan to make Amy look like a tough boss after she loses face in front of the district manager. Dina recruits Mateo to help her run Cloud 9's shoplifter rehabilitation program – with a few of Dina's personal tweaks.

Thursday, November 7th, 2019

7: Shoplifter Rehab

Amy, Jonah and Glenn hatch a plan to make Amy look like a tough boss after she loses face in front of the district manager. Dina recruits Mateo to help her run Cloud 9's shoplifter rehabilitation program – with a few of Dina's personal tweaks.

Thursday, November 7th, 2019

7: Shoplifter Rehab

Amy, Jonah and Glenn hatch a plan to make Amy look like a tough boss after she loses face in front of the district manager. Dina recruits Mateo to help her run Cloud 9's shoplifter rehabilitation program – with a few of Dina's personal tweaks.

Thursday, November 7th, 2019

7: Shoplifter Rehab

Amy, Jonah and Glenn hatch a plan to make Amy look like a tough boss after she loses face in front of the district manager. Dina recruits Mateo to help her run Cloud 9's shoplifter rehabilitation program – with a few of Dina's personal tweaks.

Thursday, November 7th, 2019

7: Shoplifter Rehab

Amy, Jonah and Glenn hatch a plan to make Amy look like a tough boss after she loses face in front of the district manager. Dina recruits Mateo to help her run Cloud 9's shoplifter rehabilitation program – with a few of Dina's personal tweaks.

Thursday, November 14th, 2019

8: Toy Drive

Amy and Jonah help Mateo run a toy drive to make him look good for his immigration hearing, but they clash with a competing charity rep. Sandra and Jerry ask Glenn to officiate their wedding despite Dina's protests. Cheyenne gets real with Garrett.

Thursday, November 21st, 2019

9: Curbside Pickup

As part of a new corporate initiative Dina is spearheading, the employees have to rush items directly to shoppers' cars. Amy's brother, Eric, visits and Amy thinks she sees a spark with Mateo. Garrett is impressed by a customer's high-tech purchase.

Thursday, December 12th, 2019

10: Negotiations

Jonah and Sandra represent the Cloud 9 employees at union contract negotiations with corporate. Worried about the union's fate, Amy, Dina and Cheyenne distract themselves by looking for the perfect Christmas tree. Mateo, Garrett and Glenn compete to see who can sell an unsellable item.

Thursday, January 9th, 2020

11: Lady Boss

After Cloud 9's acquisition, Amy struggles to contact the store's new parent company. Sandra enlists Garrett and Dina's help to stand up to Carol. Glenn wrestles with a big career decision. Jonah takes up the cause of gender equality.

Thursday, January 16th, 2020

12: Myrtle

The employees wrestle with the loss of beloved co-worker Myrtle – and the fact that she left a large sum of money to Jonah. Cheyenne recruits Mateo in a possible pyramid scheme. Dina reconnects with a surprise visitor in the store: her father.

Thursday, January 23rd, 2020

13: Favoritism

Amy tries to make Mateo her new assistant, leading to accusations of favoritism and a group competition in the store. Sandra gets caught in a power struggle between Glenn and Dina. Jonah attempts to show Garrett that he's still one of the guys.

Thursday, January 30th, 2020

14: Sandra's Wedding

Sandra and Jerry are getting married; when Jonah's attempt to help the caterers and Dina's obsession with security threaten to derail it all, it falls on Amy to make sure Sandra's big day isn't ruined; Garrett struggles with his best-man toast.

Thursday, February 13th, 2020

15: Cereal Bar

After Cloud 9 receives a new cereal bar, Amy and Jonah speculate on Zephra's ulterior motives. Dina enlists Cheyenne's help in dealing with a scammer. Garrett tries to con Glenn into giving him paid time off.

Thursday, February 20th, 2020

16: Employee App

Cloud 9 employees experience unforeseen problems with the new Zephra app. Dina's texts lead to animosity. Glenn struggles to deal with a teen craze. Jonah attempts to prank Garrett to teach him a lesson.

Thursday, February 27th, 2020

17: Zephra Cares

Amy organizes a community service event, but it's jeopardized by Jeff's return and Glenn's desire to help his co-workers. Sandra confronts Jonah about his strategy for soliciting donations. Garrett tries to prove his intelligence to Dina.

Thursday, March 19th, 2020

18: Playdate

When Amy has to bring her baby to the store, she grows frustrated with people's criticisms of her parenting and Glenn enlists Jerusha to help. Garrett helps Dina plan her first date with her boyfriend. Sandra and Cheyenne hatch a conspiracy theory.

Thursday, March 26th, 2020

19: Carol's Back

When Carol returns to the store post-suspension, Amy struggles with employees who refuse to work with her. Garrett and Mateo take advantage of the gig economy. Jonah tries to convince Raise the Wage protesters that he's one of them.

Thursday, April 2nd, 2020

20: Customer Safari

Amy joins Jonah for lunch with his parents and brother, but she's caught off guard by their dynamic. Dina worries about spontaneous when her new boyfriend surprises her at work. Garrett and the others create a game around the store's customers.

Thursday, April 9th, 2020

21: California (1)

After Mateo and Cheyenne disagree on the best way to celebrate her 21st birthday, Cheyenne enlists Bo's help. Much to Garrett's chagrin, Glenn plays matchmaker to help Jerry and Sandra complete their family, and Dina attempts to help Amy keep a big secret from Jonah.

Thursday, April 16th, 2020

22: California (2)