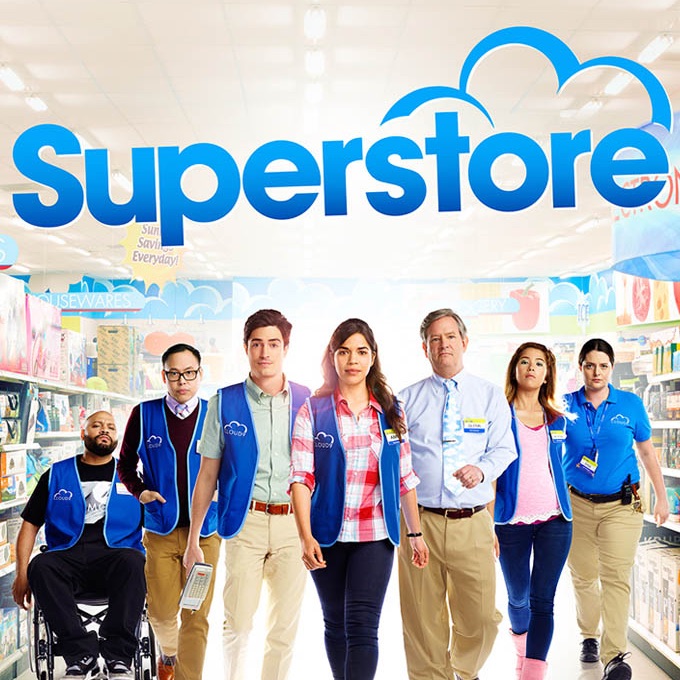 Season 0
Friday, August 19th, 2016

s0e1: Olympics

A Cloud 9 Olympics promotion gives Amy the chance to meet her childhood hero, gold medal-winning gymnast Missy Jones. Meanwhile, storewide "Olympic fever" causes Glenn to have some difficulty balancing his extreme patriotism, Jonah to learn a secret about Mateo's past and Dina strives to create a "closing ceremony" her colleagues will never forget.
Season 1
Monday, November 30th, 2015

s1e1: Pilot

Jonah begins his first day on the job at big-box store Cloud 9 and immediately starts a rocky relationship with floor supervisor Amy when he comes off as elitist and mistakenly marks appliances for only a quarter. He is also the romantic target of aggressive assistant manager Dina, whose bible is the employee code of conduct. Pregnant Cheyenne shares a memorable moment with her boyfriend, Bo.

Monday, November 30th, 2015

s1e2: Magazine Profile

A reporter is supposed to be writing a piece on the store, but is more interested by Jonah. Meanwhile Garrett tries to avoid being photographed and Cheyenne asks her boyfriend to write a corporate jingle to pay for their upcoming baby's expenses.

Monday, December 28th, 2015

s1e3: Shots and Salsa

Glenn asks Amy and Mateo to sample salsa which leads to a racial intervention video for all the employees. Meanwhile, Jonah helps out customers which leads him to giving out flu shots in the pharmacy.

Monday, January 4th, 2016

s1e4: Mannequin

Jonah's coworkers discover a mannequin that looks exactly like him. While trying to prove that the teasing doesn't bother him, Jonah ends up doing the complete opposite. Meanwhile Cheyenne is thinking of putting her baby up for adoption.

Monday, January 11th, 2016

s1e5: Shoplifter

Jonah supervises Amy's daughter, Emma, at the store, while Dina attempts to apprehend a shoplifter.

Monday, January 18th, 2016

s1e6: Secret Shopper

A secret shopper is sent by corporate to test the employees as they try to work out who it is.

Monday, January 25th, 2016

s1e7: Color Wars

Glenn makes the employees face off against each other in a contest to see who sells more stuff.

Monday, February 1st, 2016

s1e8: Wedding Day Sale

Cheyenne takes advantage of Cloud 9's one-day wedding sale while Amy and Dina try to find her missing fiancé.

Monday, February 8th, 2016

s1e9: All-Nighter

The employees have to spend the night in the store while they wait for a delivery and bond as they pass the time.

Monday, February 15th, 2016

s1e10: Demotion

Jonah tries to find the words to tell Dina that he does not reciprocate her feelings, meanwhile a new assistant manager is appointed by Glenn.

Monday, February 22nd, 2016

s1e11: Labor

Amy finds out that Cloud 9 does not offer maternity leave so the employees come together to help Cheyenne despite the talk of unions.
Season 2
Thursday, September 22nd, 2016

s2e1: Strike

A full-fledged strike ensues when a group of Cloud 9 employees walk off the job to protest the firing of Glenn; Jonah tries to help Amy negotiate with corporate; Garrett meets a gorgeous woman on the picket line.

Thursday, September 29th, 2016

s2e2: Back to Work

Jeff, the district manager from corporate, tells the Cloud 9 employees he is going to be around for the day to see what can improve in the store. Amy tries to impress him with a perfect day, but a workplace accident threatens her plan. Meanwhile, Glenn tries to come off as a tough boss in front of Jeff, Jonah attempts to help an unyielding Dina win over the employees she betrayed in the strike and Mateo discovers something about Jeff in his pursuit to win him over.

Thursday, October 6th, 2016

s2e3: Guns, Pills and Birds

Jonah is assigned to the gun section of Cloud 9, and refuses to sell to anyone he deems suspicious; Glen tries to buy the store's entire stock of morning-after pills.

Thursday, October 13th, 2016

s2e4: Spokesman Scandal

Glenn grows concerned that he doesn't know enough about his employees after Cloud 9's spokesman is accused of a crime. Dina exploits Glenn's concerns by implementing storewide drug testing. Meanwhile, Amy and Jonah have a flirty day avoiding work; Cheyenne annoys Garrett by talking about her baby; and Mateo tries to understand his ambiguous relationship with Jeff.

Thursday, October 20th, 2016

s2e5: Dog Adoption Day

New parents Cheyenne and Bo fight, prompting Amy and Glenn to give them advice in very different forms; Mateo and Jonah oversee dog adoption at the store; Garrett taunts Dina when she refuses to adjust his time card.

Thursday, October 27th, 2016

s2e6: Halloween Theft

Dina throws a wrench in everyone's Halloween plans when something goes missing from the store and declares that no employee can leave until someone confesses to stealing. Amy is determined to find out who is responsible because she doesn't want to miss trick-or-treating with her daughter and Mateo prepares for his secret date with Jeff. Meanwhile, Jonah and Cheyenne struggle to bond until they discover they have more in common than they thought. Garrett has a difficult time defending himself during the store-wide investigation.

Thursday, November 3rd, 2016

s2e7: Election Day

When corporate sends out a voting guide that only benefits the company's interests, Amy and Jonah work together to put out a rival pamphlet until Jonah's personal life gets in the way. Dina and Glenn are stuck in an accidental cover up while Mateo goes to great lengths to hide his undocumented status.

Thursday, November 10th, 2016

s2e8: Seasonal Help

Much to Amy's dismay, Glenn hires Amy's husband, Adam (guest star Ryan Gaul), for some extra help, exposing her in ways in which she is not prepared. Frustrated with the lazy, noncommittal temps, Jonah and Garrett start an employee draft to place bets on who will quit first while Glenn tries to find the perfect person to play Santa at the store for Christmas

Thursday, November 10th, 2016

s2e9: Black Friday

Cloud 9 braces for the biggest shopping day of the year when the employees all suddenly get sick.

Thursday, January 5th, 2017

s2e10: Lost and Found

At the beginning of every year, Cloud 9 employees hold a "lost and found bin cleanout" to get rid of all the unclaimed items. Amy unknowingly walks away with a huge wad of cash and Jonah is determined to help her find the best use for it. Meanwhile, Cheyenne proves she is never one to keep a secret and Dina pushes Garrett over the edge.

Thursday, January 12th, 2017

s2e11: Rebranding

Jeff lets the employees know that Rex, a vice president from corporate, will be coming by the store to help with the rollout for Cloud 9's store-wide rebranding, and it turns out Rex is someone from Jonah's past. Amy and Garrett are delighted to hear Rex's stories about Jonah. Meanwhile, Mateo is stunned to learn of rumors that Jeff is in a relationship with an employee. Dina must retaliate against a snitch and Cheyenne tries to take advantage of the discounted "Halo" products.

Thursday, February 2nd, 2017

s2e12: Ladies' Lunch

During the morning meeting, Glenn accidentally tells the employees the real reason Amy has been late to work lately. Meanwhile, Dina tries to cheer up Amy by kidnapping her for a "ladies' lunch." Jonah and Garrett invent a game to pass the time, tricking Glenn and Mateo in the process. Cheyenne helps Amy take a fearless step with a dramatic new look.

Thursday, February 9th, 2017

s2e13: Valentine's Day

On Valentine's Day, Amy and Glenn learn what happens when you try to force love.

Thursday, February 16th, 2017

s2e14: Super Hot Store

The storewide heater malfunction magnifies angry tensions between Amy, Jonah, and the back warehouse employees. Dina and Garrett find a way to pass the time. Cheyenne helps Glenn through an existential crisis.

Thursday, February 23rd, 2017

s2e15: Wellness Fair

Amy sees Mateo out on a secret date with Jeff. Glenn resents Jonah for outshining him during Cloud 9's Wellness Fair. Dina tries to prove that Amy faked an illness.

Thursday, March 16th, 2017

s2e16: Integrity Award

Jonah accompanies Amy on a trip to help her parents move out of her childhood home. Glenn is intent on winning a Cloud 9 Integrity Award. Dina tries to use Mateo's relationship with Jeff to fix various problems with the store.

Thursday, March 23rd, 2017

s2e17: Mateo's Last Day

Mateo's store transfer gets derailed when his undocumented status comes into play. Glenn battles an online troll with Amy's help. Jonah and Cheyenne attempt to give legal counsel to Mateo.

Thursday, April 6th, 2017

s2e18: Glenn's Kids