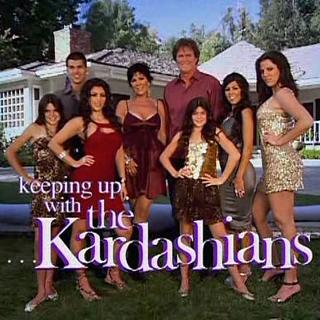 Season 1
Sunday, October 14th, 2007

s1e1: I'm Watching You

Bruce Jenner and Kris Jenner celebrate their anniversary. Kim Kardashian appears on The Tyra Banks Show.

Sunday, October 21st, 2007

s1e2: Managing Mom

Kim "fires" Kris from being her manager after using racy pictures of her which she really didn't want to be used. Meanwhile, Kris hires a nanny named Bree, who isn't as appropriate and decent of a nanny as she thought she would be. Kim later takes Kris back as her manager, after forgiving her for her mistake.

Sunday, October 28th, 2007

s1e3: Brody In The House

Kourtney, Kim and Khloé go to Mexico for a Girls Gone Wild photo shoot without telling Bruce, as they are afraid that he will disapprove. He finds out and leaves his son Brody Jenner to babysit Kylie and Kendall while he goes to Mexico to confront them.

Sunday, November 4th, 2007

s1e4: Birthday Suit

Playboy magazine contacts Kris, asking her to tell Kim that they want her to be on the cover of their December 2007 issue. Kim is at first hesitant, but at Kris' urge, Kim poses for Playboy. Kris thinks that Kim is complaining over the photoshoot too much and Kim thinks that Kris doesn't know how hard it is to pose nude, so Kim "plays" manager for a day by setting her mom up for a nude photoshoot, which Kris surprisingly handles well.

Sunday, November 11th, 2007

s1e5: Remembering Dad

The family remembers Robert Kardashian on his death anniversary. Khloé doesn't deal with his anniversary well and gets drunk. She is then arrested for a DUI.

Sunday, November 18th, 2007

s1e6: You Are So Pregnant Dude

Kourtney, Kim and Khloé are about to leave to Las Vegas when Kourtney has a pregnancy scare. Meanwhile, Kendall & Kylie ask their dad for a puppy, and he says no, but Kris goes behind his back and buys them a puppy anyway, which makes him upset, as he feels like Kris never lets him make decisions.

Sunday, November 25th, 2007

s1e7: Helping Hand

Khloé and Kourtney find out that a homeless man called Shorty is living behind their store D-A-S-H, and they decide to help him out by cleaning his appearance up.

Sunday, December 2nd, 2007

s1e8: The Price Of Fame

Scandalous photos of Kourtney and Kim resurface, which makes Kim both scared and humiliated, as she already feels like she really screwed up with her sex tape.
Season 2
Sunday, March 9th, 2008

s2e1: Kim Becomes A Diva

Fame goes to Kim's head; Kourtney confronts Scott about cheating on her.

Sunday, March 16th, 2008

s2e2: Khloe Wants To Act

Khloe pursues an acting career, much to Kim's dismay; Bruce receives a fashion makeover.

Sunday, March 23rd, 2008

s2e3: Rob's New Girlfriend

Rob falls for a pop singer; Kris buys some chickens for the house.

Sunday, March 30th, 2008

s2e4: Kris the Cheerleader

Kris attends tryouts to be a cheerleader; Kendall's sisters teach her about puberty.

Sunday, April 6th, 2008

s2e5: Khloe's Blind Dates

Khloe is set up on blind dates by her sisters; Kendall hires a handyman to help with chores.

Sunday, April 13th, 2008

s2e6: Learning Self Defense

The ladies learn the art of self-defense after a break-in at the shop; Rob drops out of college to become a model.

Sunday, April 27th, 2008

s2e7: Kardashian Civil War

Kim, Khloe and Kourtney get into a fight that threatens to damage their relationships; Bruce feels he is out of touch with the modern generation.

Sunday, May 4th, 2008

s2e8: Kardashian Family Vacation

Kris insists the family take a vacation in Colorado in hopes of putting an end to some bickering, but the trip doesn't go exactly as planned.

Sunday, May 11th, 2008

s2e9: Kim's Calendar for Reggie

Kim explodes when she learns a sexy calendar she made for her boyfriend, Reggie Bush, is being made available to the general public; Bruce tries to inspire Khloe and Kourtney.

Sunday, May 18th, 2008

s2e10: A New Perspective in New Orleans

The sisters travel to New Orleans to attend a pool tournament sponsored by Reggie Bush and to visit devastated parts of the city hit by Hurricane Katrina.

Sunday, May 25th, 2008

s2e11: Junk in the Trunk

The family members view previously unaired footage and share some of their favorite moments from the series.
Season 3
Sunday, March 8th, 2009

s3e1: Free Khloe

Khloe goes to jail for violating her parole. Kris visits Robert Kardashian's grave.

Sunday, March 15th, 2009

s3e2: Kourt's First Cover

Kourtney hires Kris as her manager. Rob & Adrienne encounter some problems when they move in together.

Sunday, March 22nd, 2009

s3e3: I'd Rather Go Naked... Or Shopping

Khloe feels pressure from Bruce and the media to lose weight after joining the "I'd Rather Go Naked" PETA campaign, and Kim's family worries about her constant shopping habit and get an interventionist.

Sunday, March 29th, 2009

s3e4: Pussycat Vision

Kim undergoes eye surgery before performing with The Pussycat Dolls. Meanwhile, Bruce is due to receive a colonoscopy.

Sunday, April 5th, 2009

s3e5: All For One And One For Kim

Kris tries to get closer with Bruce. Kim gets a perfume line and Khloe and Kourtney aren't happy. they get into a big fight.

Sunday, April 19th, 2009

s3e6: Cinderella Story

Khloe wants to get a DNA test to see if Kris is really her mom. Rob gets a new tattoo that Kris isn't happy about.

Sunday, April 26th, 2009

s3e7: The Two Year Itch

Kourtney accuses Scott of cheating. Khloe has a biopsy to check for skin cancer.

Sunday, May 3rd, 2009

s3e8: Distance Makes the Heart Grow Fonder

Khloe wants to move to New York, much to the dismay of Kris. Kim faces a difficult decision in choosing between her boyfriend and her career.

Sunday, May 10th, 2009

s3e9: Leaving the Nest

Khloe goes apartment hunting in New York. The girls buy Kris a monkey.

Sunday, May 17th, 2009

s3e10: Meet the Kardashians

Bruce undergoes plastic surgery; the Kardashians meet Adrienne Bailon's family for the first time when they all go camping together.

Sunday, May 24th, 2009

s3e11: What's Yours is Mine

Kourtney and Kim's relationships are threatened when Kourtney continues to test Kim's boundaries when she keeps taking her stuff without asking.

Sunday, May 31st, 2009

s3e12: Double Trouble

Kourtney and Khloe deal with the heart breaking reality that both their relationships have come to an end.
Season 4
Sunday, November 8th, 2009

s4e1: The Wedding

Khloe marries NBA star Lamar Odom.

Sunday, December 13th, 2009

s4e2: Scott On The Rocks

Kourtney and Scott find themselves pitted against her family because disapprove of him. Scott invites the family to see the sex of the baby.

Sunday, December 20th, 2009

s4e3: Hot Cup Of Love

Khloé is forced to get professional help for her anger issues towards Scott after hitting him. Rob ends up in the hospital when he accidentally takes a male enhancement drug meant for Bruce. Kris tries to be in the mood with Bruce.

Sunday, December 27th, 2009

s4e4: Baby Blues

Khloé gets excited when she thinks she's pregnant. Kim's tendency to tell 'little white lies' gets her into big trouble.

Sunday, January 3rd, 2010

s4e5: Shape Up or Ship Out

Kourtney confronts Scott when he fails to take her pregnancy seriously; Kris takes away Bruce's ATM card, which leads him to demand financial independence.

Sunday, January 10th, 2010

s4e6: Must Love Dogs

Kim takes in a stray Chihuahua and is devastated when she must give it up; Bruce pressures Rob to move out of the house.

Sunday, January 24th, 2010

s4e7: Body Blows

Bruce volunteers the family to help out at a charity boxing event; Kourtney babysits for some friends and learns a valuable lesson in child care.

Sunday, January 31st, 2010

s4e8: Weekend from Hell

Kourtney, Kim and Khloe take an ill-fated weekend trip to Santa Barbara. Back at home, Kylie becomes jealous of Kendall.

Sunday, February 14th, 2010

s4e9: I Want Your Sex

Khloé makes a 'love tape' for her husband Lamar Odom of the Los Angeles Lakers. Meanwhile, Kourt learns to enjoy sex again while pregnant.

Monday, February 15th, 2010

s4e10: Blame It On the Alcohol

Kourtney ends her relationship with Scott after he gets violently drunk on Kim's birthday in Las Vegas. On top of the world, Kim takes on more work than she should.
Season 5
Sunday, August 22nd, 2010

s5e1: Kim's House Party

Kim throws a housewarming party and Kourtney contemplates moving out of Khloe's house because Scott is not invited there.

Sunday, August 29th, 2010

s5e2: Blind Date

Kim goes on a blind date with someone that Kris set her up with; Lamar is in the play-offs and Khloe deals with the pressure.

Sunday, September 5th, 2010

s5e3: The Missing Ring

Khloé is stuck between a rock and a hard place when she loses her seven-carat engagement ring and is afraid to tell Lamar.

Monday, September 6th, 2010

s5e4: My Bodyguard

Kim develops a serious crush on her hot Australian bodyguard and Khloé helps Lamar to finally learn how to swim.

Sunday, September 12th, 2010

s5e5: Botox and Cigarettes

Fearful of aging, Kim gets botox and has a bad physical reaction. Meanwhile, the family discovers that Kris is a closet smoker and Kourt is determined to get her to quit.

Sunday, September 19th, 2010

s5e6: Kourt Goes A.W.O.L

While Kourtney looks for a place to live in New York, her family does what they can to get her to stay in Los Angeles. Bruce looks into getting his dog neutered.

Sunday, September 26th, 2010

s5e7: Match Made in Hell

Rob begins to date his sister Khloe's best friend. Kris contemplates managing another client.

Sunday, October 3rd, 2010

s5e8: No Boys Allowed

Kourtney and Scott struggle to have another baby; Bruce has difficulty accepting that 12 year-old Kylie has male friends.

Sunday, October 10th, 2010

s5e9: Kris 'The Cougar' Jenner

Kris flirts with her handsome personal trainer and things get out of hand; Kim's competitive nature gets her into trouble with Kourtney.

Sunday, October 17th, 2010

s5e10: Dash No More

Kim meets football star Miles Austin; Kourtney thinks about expanding D-A-S-H by moving to New York but her sisters are against the idea. Meanwhile, Scott and Bruce spend some bonding time together.

Sunday, October 24th, 2010

s5e11: The Kardashians Take NYC

The episode ends with a sneak peak at the second spin-off, Kourtney and Kim Take New York.
Season 6
Sunday, June 12th, 2011

s6e1: Family vs. Money

Khloe contemplates being friendly towards Kim's new man and Kourtney plans a get together for the family and it gets out of hand.

Sunday, June 19th, 2011

s6e2: Kim Becomes a Stage Mom

Kendall's modeling career takes her to New York and she enlists Kim to help her. Scott and Kris are at odds with each other over a key to Kourtney and Scott's house.

Sunday, June 26th, 2011

s6e3: The Former Mrs. Jenner

Kris decides to change her name back to Kardashian, much to Bruce's displeasure. Kim is tired of people asking if her butt is real & gets an x-ray to set the world straight.

Sunday, July 10th, 2011

s6e4: Out of Wedlock

Kourtney contemplates having another child out of wedlock.

Sunday, July 17th, 2011

s6e5: Thicker Than Water

Kris thinks Bruce is losing his hearing; Rob admits to Kourtney why they don't hang out anymore.

Sunday, July 24th, 2011

s6e6: Kendall Goes on Birth Control

Bruce finds out Kendall is taking birth control & decides it's time to talk about the birds & bees. Kim discovers a serious rash on her legs & fears her career may be over.

Sunday, July 31st, 2011

s6e7: The Have and the Have Nots

Bruce tries to get his daughters to see how blessed they are.

Sunday, August 7th, 2011

s6e8: What Happens in Vegas, Stays in Vegas

Scott goes to Vegas, and Kourtney is afraid that he will return to his old ways. Kylie and Kendall think their mother Kris is meddling in their lives.

Sunday, August 14th, 2011

s6e9: Talk to My Agent

Kris gets mad at Scott when he tries to become Kylie and Kendall's manager, and Kim doesn't know how to dance so she gets embarrassed.

Sunday, August 21st, 2011

s6e10: The Family Vacation

Kris and Bruce take a vacation to Bora Bora to renew vows and also as a family vacation.

Sunday, August 28th, 2011

s6e11: Getting to Know You

Kris has self-image issues that threaten the anniversary celebration in Bora Bora; and Kourtney tries to get Scott and Rob to reconcile.

Sunday, September 4th, 2011

s6e12: Trouble in Paradise

Rob feels insecure about not having a career and it causes him to lash out at Kim while they are in Bora Bora. And Kourtney gives Scott an ultimatum.

Monday, September 5th, 2011

s6e13: The Proposal

Kris Humphries plans to ask Kim to marry him, but an argument between the two makes him wonder if he is proceeding too quickly.

Sunday, October 9th, 2011

s6e14: Kim's Fairytale Wedding: A Kardashian Event Part I

This is going to be a special 2-hour Wedding, Kim Kardashian will host the night with her husband Kris Humphries.
Season 7
Sunday, May 20th, 2012

s7e1: Who's Your Daddy

Kris decides to pursue a DNA test to prove Khloe's paternity. Kourtney angers Kim when she takes over relocating DASH & Bruce goes to extremes to get the family's attention.
Season 4
Sunday, February 21st, 2010

s4e11: Delivering Baby Mason

After fainting from exhaustion, Kim learns to manage her professional life. Kourt takes Scott back and gives birth to their baby son, Mason!
Season 5
Monday, December 20th, 2010

s5e12: Junk In The Trunk 2
Season 6
Monday, October 10th, 2011

s6e15: Kim's Fairytale Wedding: A Kardashian Event Part II

The wedding of Kim and Kris is shown. Guest includes Eva Longoria, Avril Lavigne, Goerge Lopez, Mario Lopez and Demi Lovato.

Monday, December 19th, 2011

s6e16: Kendall's Sweet 16

The Kardashians celebrate Kendall's sweet 16.
Season 7
Sunday, May 27th, 2012

s7e2: Momager Dearest

Kourtney's resentment towards her mom rises to the surface again after Kris releases a memoir detailing the affair that destroyed her first marriage. Unable to keep her attitude (and pregnancy hormones) in check, Kourt's nasty digs and comments toward Kris reach a whole new level, forcing her sisters, and even Scott, to confront her behavior. Will she get to the root of her anger and forgive her mom? Meanwhile, Kendall and Kylie start their gig at "Seventeen" magazine, but the job causes a rift between the usually close sisters.

Monday, May 28th, 2012

s7e3: Everybody's Wigging Out

Kim starts wearing wigs; Rob hurts Bruce's feelings when he says he never had a male role model growing up; Kris gives in to road rage.

Sunday, June 10th, 2012

s7e4: The Family That Plays Together

Kris gets pestered by Bruce to sign his son, Brandon, to her new music management company. Meanwhile, Kourtney doesn't appreciate Scott's romantic gestures and Kris tries to get the whole family to play tennis again with disastrous results.

Sunday, June 24th, 2012

s7e6: The Dominican Republic, Part One

The family's Dominican Republic vacation gets off to a rocky start when Kourtney causes herself, Kim, and Scott to miss their flight. Meanwhile, Bruce and Scott can't resolve their differences

Sunday, July 1st, 2012

s7e7: The Dominican Republic, Part Two

The family vacation continues as Scott starts to feel like an outcast.Kris wakes up with a mysterious medical condition & Kourt must decide what to do about an ultimatum from Scott

Sunday, July 8th, 2012

s7e8: Sometimes You Need to Adjust

In part one of this two part story, Khloe returns to LA to face increasing demands on her time from the family. Scott has to be on his best behavior at a sweet 16 appearance in NYC

Monday, July 9th, 2012

s7e9: Sometimes You Need to Adjust: Part Two

Khloe continues to feel pressure from the family and must decide if she will go to NY for Scott's restaurant opening. The family wonders about Kim's relationship with an old friend.

Sunday, July 15th, 2012

s7e10: The Royal Treatment

Kris wants Khloe to see Bruce's dark side. Scott hits London with Kim & Rob and gets a royal title and a big head. Kim's busy schedule leaves no time for hanging out with Jonathan

Sunday, July 22nd, 2012

s7e11: Affairs of the Everhart

While Bruce finds a golf buddy in supermodel Angie Everhart Kris wonders if she should call up an old 'buddy' of her own.Rob fights with Khloe when he moves back in with her & Lamar

Sunday, July 29th, 2012

s7e12: Parent Trapped

When Kris can't prove her innocence to Bruce the kids force the couple to work out their issues. Kim makes Lamar go the dentist and Rob fears he's losing his hair

Sunday, August 5th, 2012

s7e13: Mothers & Daughters

The girls urge Kris to take a trip to San Diego to see her sick mother. Kourt looks into water birth and Bruce checks into a sleep clinic to get his nighttime ticks worked out.

Sunday, August 19th, 2012

s7e14: Tales From the Kardashian Krypt

Kim and Khloe buy Mason a fish and Kris tells the family that she wants to plan her funeral.

Sunday, August 26th, 2012

s7e15: Kardashian Therapy - Part One

Oprah comes to the house to interview the family. Kim's desire to explore life as an individual threatens her sisters. Rob breaks down during a family therapy session

Sunday, September 2nd, 2012

s7e16: Kardashian Therapy - Part Two

A tempest of siblings, business and fame engulf Olympic decathlete Bruce Jenner and paparazzi fave Kim Kardashian as their huge Hollywood families collide.

Sunday, September 9th, 2012

s7e17: Cuts Both Ways

Tired of Kourt making all the decisions, Scott considers a vasectomy.Kris goes in for surgery to replace her breast implants and Kim asks Khloe to go with her to a fertility clinic

Sunday, September 16th, 2012

s7e18: Baby, Baby, Baby

As the family prepares to welcome Kourt's new baby into the world, Khloe looks into why she can't conceive and Kim starts the process to freeze her eggs

Sunday, June 17th, 2012

s7e5: The Man in the Memoir

Kris runs into the man she had an affair with over twenty years ago and wonders if she should arrange another meeting with him. Meanwhile, Kourtney doesn't approve of Kim and Scott hanging out together and Kendall and Kylie ruin Kris's carpet.

Sunday, October 28th, 2012

s7e19: Dishing It Out

The Kardashians show never before seen footage and share some of their favorite moments from the series.
Season 8
Sunday, June 9th, 2013

s8e2: Enough Is Enough

Kim and Khloe defend their mom against allegations made by tabloid magazines; at the same time, Bruce has a heart-to-heart chat with Brody about problems they've had in the past; and Kim offers to help Rob lose some weight.

Sunday, August 4th, 2013

s8e10: Opa!

Scott shows up to Greece with only one day left; Kendall feels like she's being left out; a putting green at the Jenner home.

Sunday, August 11th, 2013

s8e11: Life's a Beach (House)

Kris disagrees with Kendall's plan to find a beach house for the summer; Brandon and Brody start work on a putting green; Khloe worries about a sexy photoshoot.

Sunday, August 25th, 2013

s8e13: The Kardashian Chainsaw Massacre

Rob shocks everyone when he takes up chainsaw art in Khloe's backyard. Meanwhile, Kim plans to get back at her judgmental family by secretly feeding them placenta, and Bruce takes some of Jimmy Fallon's jokes a little too personally.

Sunday, September 1st, 2013

s8e14: Backdoor Bruiser

Kris is confused when Kendall starts spending more time with the Jenner side of the family; The kids attempt to embarrass Bruce by recreating his and Kris's lost sex tape; Khloe tries to figure out her memory issues.

Sunday, October 13th, 2013

s8e17: Paparazzi & Papas

Growing tired of the constant presence of the paparazzi, Kim creates a plan to throw them off her trail once she goes into labor. Kourtney and Khloe attempt to set-up a blind date for their grandma.
Season 0
not specified

s0e0: Khloe & Lamar - The Wedding Special

Khloe and Lamar - Wedding Special

Sunday, November 8th, 2009

s0e1: Khloe & Lamar - The Wedding Special

Khloe and Lamar - Wedding Special
Season 8
Sunday, June 2nd, 2013

s8e1: We're Having a Baby!

Season 8 begins with Kim's family overjoyed about her pregnancy, however, Kim seems a little less excited. At the same time, Bruce considers getting a space he can call his own; and Kourtney is encouraged by Scott to make a backdoor deal.

Sunday, June 16th, 2013

s8e3: Agree to Disagree

While working out the details of her divorce, Kim is rushed to the hospital with a health issue. Bruce and Kris disagree regarding having guns in the home.

Sunday, June 23rd, 2013

s8e4: Papa, Can You Hear Me?

Bruce deals with his hearing loss; Scott learns of a woman with cancer who wants to meet him; Khloe introduces a new puppy to the family; and Kris is concerned that she might have a stalker.

Sunday, June 30th, 2013

s8e5: I Will Fix You

Kris notices the difference in Rob and works to fix things. Khloe continues to improve her bond with Kylie and Kendall. Scott faces his fears in order to advance his racing career.

Sunday, July 7th, 2013

s8e6: Some Moms Just Wanna Have Fun

Khloe feels left out when Kourtney and Kim bond over babies; Leah has trouble finishing her and Brandon's new music release; Kris becomes bladder shy.

Sunday, July 14th, 2013

s8e7: Home Is Where Your Mom Is

Kim is in need of a place to stay after learning her new home won't be ready in time for the baby's arrival; and Kourtney finds it curious that Scott is spending so much time with her pregnant sis. Elsewhere, a Ping-Pong tournament gets Bruce and Brandon's competitive juices flowing.

Sunday, July 21st, 2013

s8e8: Greece Is the Word

Tensions between Kris and Brody threaten to spoil a family vacation to Greece. At the same time, Kim receives news about her divorce, while Khloe and Scott plan a surprise for Kourtney.

Sunday, July 28th, 2013

s8e9: Greece Him Up

Kris gets overly friendly with Brody; Khloe and Kourtney decide to make this vacation one to remember.

Sunday, August 18th, 2013

s8e12: Kris's Mother-In-Law

After visiting Bruce's mother, Kris begins to worry. Kim helps Kylie start her fashion blog. The family collaborates on a surprise for Kris.

Sunday, September 29th, 2013

s8e15: Baby Shower Blues

Kourtney and Khloe can't believe that Kim doesn't want a baby shower; Kris and Kylie plot to get rid of Bruce's gun; Khloe gets self-conscious about her body.

Sunday, October 6th, 2013

s8e16: More to the Story

After Khloe's numerous attempts to conceive a child, Kim discusses the possibility of adoption with her. Kris thinks that Scott sold a scooter that she gave to him as a gift. Bruce trains Khloe's dog without her knowledge.

Sunday, October 27th, 2013

s8e18: All Signs Point to North

Kim learns that she will be giving birth sooner than she thought. Kris continues to prepare for the baby. Bruce receives some wise words from Brody and Khloe attempts to restore peace within the family.

Sunday, November 3rd, 2013

s8e19: Close Encounters of the Kardashian Kind

Bruce takes the family out for a camping trip, and Khloe uses the trip to hunt for aliens. Kris is preparing to launch her talk show and asks for everyone's support.

Sunday, November 10th, 2013

s8e20: Kylie's Sweet 16

Kris is tasked with babysitting a pig. Kylie starts planning her sweet 16 celebration. Rob and Khloe talk about their current living situation.
Season 0
Sunday, April 21st, 2013

s0e2: Ryan Seacrest with the Kardashians

Ryan Seacrest interviews members of the Kardashian-Jenner family over dinner, during which they discuss their success as reality-TV stars.
Season 9
Sunday, January 19th, 2014

s9e1: Loving and Letting Go

Bruce and Kris discuss their future. Meanwhile, Khloe and Lamar's relationship continues to decline.

Monday, January 20th, 2014

s9e2: How To Deal

Scott starts taking karate lessons. Khloe is displeased with an interview that took her words out of context. Kris tries to get Jonathan away from Kim.

Sunday, January 26th, 2014

s9e3: And All That Jazzzzzzz

Rob tells Khloe that she has the option of moving in with him. Kris thinks about going on broadway. Kourtney discovers that Scott has been lying again.

Sunday, February 9th, 2014

s9e4: A Surprise Engagement - Part 1

Kanye flies the family to San Francisco in order to propose to Kim at AT&T Park. Kris is freaking out when she gets word that Kim's house won't be ready. Kourtney and Khloe get some revenge.

Sunday, February 16th, 2014

s9e5: A Surprise Engagement - Part 2

The family flies to San Francisco, where Kanye has set-up a birthday surprise for Kim at AT&T Park. Everyone is shocked once Kanye proposes to Kim.

Sunday, February 23rd, 2014

s9e6: 2 Birthdays and a Yard Sale

Kourtney wants to have a Kardashian yard sale. Kendall starts planning for her 18th birthday celebration. Bruce feels that his upcoming birthday doesn't need to be acknowledged.

Sunday, March 9th, 2014

s9e7: The Courage to Change

Khloe decides that she has to choose where she wants her relationship with Lamar to go. After having to deal with the news of his mother, Kourtney plans a vacation for her and Scott. Rob gets himself checked out from the doctor.

Sunday, July 6th, 2014

s9e12: Playing Dirty

Scott wants a helicopter in his backyard. Kim and Khloe get down and dirty at a mud wrestling match.

Sunday, August 3rd, 2014

s9e16: A Thailand Vacation - Part 3

Sunday, August 17th, 2014

s9e18: Secrets of a Double Life

When Khloe's attitude changes because of her newfound friendship with French Montana, Kim and Kourtney hope to dig deeper into her new life. Kris meddles in Kim's wedding planning.
Season 0
Friday, April 24th, 2015

s0e4: Bruce Jenner: The Interview (A Diane Sawyer Special)

ABC News' Diane Sawyer sits down with former Olympic gold medalist Bruce Jenner, who discusses his love for his family, the decisions he's made, the journey he has taken to get to this point in his life and what he has planned for the future.
Season 10
Sunday, June 7th, 2015

s10e12: A Transcending Life

Sunday, May 10th, 2015

s10e9: Lip Service

Kylie continuously gets bashed by the media due to her beauty skills, she relases her hair extension line. Scott's new job, flipping houses, requires Kourtney's interior design skills, she makes Scott decorate their house together. Kim does another naked photo shoot and she decides to go to the doctors with Khloe.
Season 0
Sunday, December 1st, 2013

s0e3: A Very Merry Christmas

This special Christmas episode features the debut of this years Kardashian Christmas card, as well as the family opening presents and watching back old home footage of past Christmases.

not specified

s0e5: Christmas 2014

Friday, April 24th, 2015

s0e6: Bruce Jenner: The Interview (A Diane Sawyer Special)

ABC News' Diane Sawyer sits down with former Olympic gold medalist Bruce Jenner, who discusses his love for his family, the decisions he's made, the journey he has taken to get to this point in his life and what he has planned for the future.
Season 10
Sunday, May 3rd, 2015

s10e8: Buggy Boo

Kris has had it with Scott when he brokers a Vegas nightclub appearance for her birthday, then shows up to it wasted and belligerent. Kim resorts to spy tactics to solve a theft problem at Dash New York, and Kourtney prepares to give birth by baring all for a nude pregnant photoshoot.

Sunday, May 31st, 2015

s10e13: In The Blink Of An Eye...

The siblings come home from Montana to wish their dad well as Bruce prepares to transition; Kris travels with Kendall to Paris; Kim seeks one last hope of getting pregnant.
Season 12
Sunday, August 28th, 2016

s12e15: Blood, Sweat, and Fears

Kris urges Rob to reconnect with his sister and best friend in hopes of helping Khloe move in a more positive direction. Also: The Kardashian matriarch pushes herself too far to keep up with her daughters' intense workouts; and Kourtney worries about giving Scott mixed messages by joining him in Vegas for his birthday.

Sunday, October 23rd, 2016

s12e17: Khloe's New Breast Friends

In the mid-season premiere, Kim ends up upsetting her mom by helping Cait get ready for the ESPY Awards. Meanwhile, Khloe gets a taste of what her life would be like with bigger breasts; and Scott tries to find a healthy way to pass the time.

Sunday, October 30th, 2016

s12e18: Lord Disick Returns

The family celebrate MJ's birthday in San Diego, but can't escape the drama when Rob doesn't show up for the party and can't be found after a fight with Chyna. Meanwhile, Scott resurrects "Lord Disick" after much prodding from the Kardashians; and Kim finds doing North's hair a struggle.

Sunday, May 22nd, 2016

s12e3: All About Meme

Jokes made by Rob on social media aren't taken lightly by the women in his family, which does little to help ease their concerns about his new relationship. Meanwhile, living together puts a major strain on Kris and Kim's relationship; and Kendall feels left out.

Sunday, May 15th, 2016

s12e2: Significant Others and Significant Brothers

Khloé is upset when she is the last to learn that Rob is moving into a house of his own; Kim speculates about Kourtney and Corey's budding friendship; and landing on the cover of Architectural Digest brings out a new side of Kourtney.

Sunday, May 8th, 2016

s12e4: A New York Family Affair

Kanye invites the entire family to NYC for his fashion show, but Khloé is torn over whether Lamar can handle such a big first appearance since his accident. Meanwhile, Kim tries to keep Scott busy in hopes that he'll stay out of trouble; and Lamar meets Caitlyn for the first time.
Season 13
Sunday, March 19th, 2017

s13e2: Paris

Kourtney is eager to experience Paris Fashion Week with Kim and see Kendall walk the runway for the first time, but their trip to the city of love takes a dark turn when Kim is robbed at gunpoint.

Sunday, April 23rd, 2017

s13e7: The Ex Files

After a fight between Rob and Chyna, the sisters feel a duty to protect their brother; Kris tries to rebuild her relationship with Cait; Kim tries to convince Khloe to hold onto her old mementos by making an ex-box