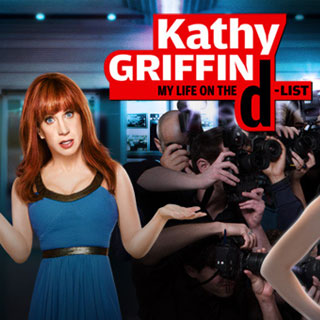 Season 0
Friday, October 18th, 1996

s0e1: HBO Comedy Half-Hour

Friday, August 14th, 1998

s0e2: Hot Cup of Talk

Wednesday, March 24th, 2004

s0e3: The D-List

not specified

s0e4: Allegedly

Wednesday, August 3rd, 2005

s0e5: Is... Not Nicole Kidman

Tuesday, May 9th, 2006

s0e6: Strong Black Woman

Tuesday, June 5th, 2007

s0e7: Everybody Can Suck It

Thursday, November 29th, 2007

s0e8: Straight to Hell

Wednesday, April 15th, 2009

s0e9: She'll Cut a Bitch

Tuesday, November 3rd, 2009

s0e10: Balls of Steel

Tuesday, June 8th, 2010

s0e11: Does the Bible Belt

Tuesday, November 2nd, 2010

s0e12: Whores on Crutches

Thursday, March 17th, 2011

s0e13: 50 and Not Pregnant

Topics include attending parties at the 53rd Grammy Awards, the Oprah Winfrey Network, attending a roast of Quentin Tarantino, Justin Bieber, Miley Cyrus, Steven Seagal: Lawman, Maggie Griffin, Sarah Palin, and performing in Knoxville for her previous special Kathy Griffin Does the Bible Belt.

Wednesday, June 22nd, 2011

s0e14: Gurrl Down

Before a live, sold-old out crowd at The Wilbur Theatre in Boston, the two-time Emmy Award-winner takes comedic aim at everyone from Bill O'Reilly to the Palin family and Kirstie Alley to Michelle Bachman. No one is safe and neither Charlie Sheen, nor The Real Housewives of Atlanta can escape Griffin's laser-focused wit as she takes on any celebrity who stands in her way.

Tuesday, September 20th, 2011

s0e15: Pants Off

Bravo's Kathy Griffin storms the stage in her latest one-hour special, "Kathy Griffin: Pants Off." Before a live, sold-out crowd at the Sergerstrom Center for the Arts in Costa Mesa, CA, the two-time Emmy(R) Award-winner unleashes her uncompromising wit on everyone including reality stars the Kardashian family and the Real Housewives franchise, as well as newsmakers Michele Bachman and Casey Anthony. Griffin also shares details of her provocative evening at Anderson Cooper's country home.

not specified

s0e16: Tired Hooker

not specified

s0e17: Seaman 1st Class

Kathy Griffin renders a stand-up set at the Terrace Theater in Long Beach, Cal. Victims of Griffin's celeb-bashing wit include Miley Cyrus, Bristol Palin, Anderson Cooper, Oprah Winfrey and the Orange County housewives. Also: antics at the Grammy Awards; an encounter with Cher; and a letter from prison.