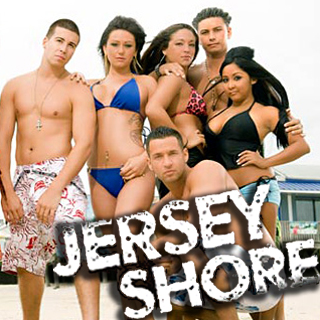 Season 0
Saturday, January 16th, 2010

s0e1: Spoof'D

The gang gets together to check out some of the best 'Jersey Shore' spoofs from SNL, Jimmy Kimmel and, of course, Bobby Bottleservice.

Tuesday, January 27th, 2009

s0e2: Before the Shore

In this special episode watch never-before-seen footage of the cast before they leave for the Jersey Shore house.

Tuesday, December 29th, 2009

s0e3: Tips from The Situation & Snooki

Mike and Nicole stop by MTV.com to talk about New Years resolutions, hook-up tips, The Situation's abs and the art of Snooki's poof.

Monday, January 11th, 2010

s0e4: Jersey Shore Makeover with Michael Cera

Michael Cera sits down with the cast of 'Jersey Shore' and reveals that they have something in common.

Tuesday, February 23rd, 2010

s0e5: Season 1 Deleted Scenes

Season 1 DVD Special Feature. A compilation of 11 Deleted Scenes from Season 1.

s0e6: Blow-out at the 2010 MTV Movie Awards

Jersey Shore Blow-Out At The MTV Movie Awards is an awards pre-show with the entire cast of ?Jersey Shore? appearing live on the red carpet. Snooki, Pauly, Jenni, Mike, Angelina, Sammi, Ronnie and Vinny will be on hand to present the world with the first 10 minutes of the highly anticipated ?Jersey Shore? Season 2. Viewers will see never-before-seen footage of the cast as they leave behind the northeast cold and prepare for a drama-filled road trip to Miami, Florida.

Thursday, December 10th, 2009

s0e7: After Hours I

Things get heated when Angelina, Mike and Sammi stop by to discuss all the happenings in this week's episode.

Thursday, January 7th, 2010

s0e8: After Hours II

Snooki, Ronnie and The Situation discuss the happenings in this week's episode.

Thursday, September 2nd, 2010

s0e9: After Hours III

Ronnie, Sammi, Snooki, and JWOWW talk about the drama that went down on Episode 6 of Season 2.

Thursday, September 30th, 2010

s0e10: After Hours IV

Angelina may have left Miami, but that doesn't mean she's off the hook. Watch her former housemates confront her on 'Jersey shore After Hours'.
Season 1
Thursday, December 3rd, 2009

s1e1: A New Family

Summer at the Jersey Shore kicks off when eight soon-to-be roommates move into their summer share. Romance heats up between Sammy and Mike, but all might be lost when the guys invite three random girls to join them in the hot tub. Meanwhile, Snookie comes on way too strong, and finds herself the outcast. She can only hope that first impressions won't be lasting impressions.

Thursday, December 3rd, 2009

s1e2: The Tanned Triangle

Still feeling like the outcast, Snookie tells the others that she's leaving the Shore. And the roommates' first night out at the club gets flirty, proving that the boyfriends back home might, in fact, have something to worry about. And what started with Mike and Sammy turns into a love triangle that threatens to divide the house.

Thursday, December 10th, 2009

s1e3: Good Riddance

Mike has trouble accepting the fact that Sammi chose Ronnie over him. Angelina decides she's too good to work at the Shore Store and Danny fires her, which means she's no longer allowed at the house and has to leave the show. And Jenni's boyfriend comes for a visit but she waits before telling him about kissing Pauly.

Thursday, December 17th, 2009

s1e4: Fade To Black

After a night at the clubs, and "beating the beat", Pauly and Mike have to juggle multiple groups of girls. Pauly takes a grenade for The Situation. Snooki's mother comes in for a visit, and an emotional Snooki shows her "true colors" And later that night mayhem breaks out when a fight erupts at a bar, and one of the housemates goes down.

Friday, January 1st, 2010

s1e5: Just Another Day at the Shore

With the support from most of her housemates, Snooki recovers from the punch. Ronnie's family comes for a visit and Sammi does her best to make a good first impression. J-WOWW gets tired of all the haters at the club and gets in a fight. Mike, Pauly and Vinny continue their schemes to hook-up with as many girls as possible, but Vinny may have crossed a line when he takes the boss' girl home

Thursday, January 7th, 2010

s1e6: Boardwalk Blowups

When Mike invites girls back to the house, the situation gets out of control, and Snooki gets into her second fight of the summer. Meanwhile Ronnie gets into a brawl of his own, leaving Sammi questioning their relationship

Thursday, January 14th, 2010

s1e7: What Happens In AC

The roommates head to Atlantic City where fun turn to fury when Mike manages to antagonize both Snooki and J-WOWW. And one roommate reveals that she used to have an eating disorder.

Thursday, January 14th, 2010

s1e8: One Shot

The summer's winding down but the drama doesn't stop. Pauly's got a stalker and a fight lands another roommate in jail.

Thursday, January 21st, 2010

s1e9: That's How The Shore Goes

The roommates say good-bye to the Jersey Shore as Season 1 comes to a close.
Season 2
Thursday, July 29th, 2010

s2e1: Goin' South

The cast heads to Miami in the season 2 opener, and the drama quickly heats up when Angelina crashes the party. Meanwhile, Ronnie and Sammi, find themselves in an awkward situation after their recent break-up.

Thursday, August 5th, 2010

s2e2: The Hangover

Sammi tries to figure out what Ronnie really did at the club the night before, but no one is saying. And when Angelina interrupts Pauly's game, we see a whole new side of the usually calm Pauly D.

Thursday, August 12th, 2010

s2e3: Creepin'

Angelina swallows her pride and apologizes to the girls. Back at the house, The Situation, Vinny and Pauly D have a close encounter with grenades in the hot tub, while Ronnie continues to creep behind Sammi's back.

Thursday, August 19th, 2010

s2e4: Breaking Up

The ladies feel guilty about keeping Sammi in the dark about Ronnie's bad behavior, so they decide to write an "anonymous" letter to her, revealing the entire truth.

Thursday, August 26th, 2010

s2e5: The Letter

Sammi finds the "anonymous" letter from the girls and once again decides she's done with Ronnie. Meanwhile, Mike, Vinny and Pauly try to juggle four girls in one night.

Thursday, September 2nd, 2010

s2e6: Not So Shore

The anonymous note causes tension between the girls, culminating in a full-blown cat fight. After spending another night in bed with Vinny, Snooki reveals a not-so-little known fact about her pinkeye-prone cuddle buddy.

Thursday, September 9th, 2010

s2e7: Sleeping With the Enemy

The roommates deal with fallout from the girls' fight; Angelina starts dating Jose, a guy from the club; and Jenni and Snooki don homemade HazMat suits to clean up the Smush Room in preparation for Snooki's hook-up.

Sunday, September 12th, 2010

s2e8: All in the Family

Word gets out that Vinny and Angelina hooked up, and Mike threatens to let Angelina's new beau in on the secret. Meanwhile, Vinny's family comes to visit, and later, Pauly and Vinny fall for the same girl

Thursday, September 23rd, 2010

s2e9: Dirty Pad

Things go south for Angelina when the house learns she slept with Jose after smushing Vinny. Then she gets too close to a guy Snooki hooked up with. But it's the last straw when The Situation discovers more unpleasantness in the bathroom.

Thursday, September 30th, 2010

s2e10: Gone, Baby, Gone

The Situation reunites with his Canadian hottie, providing entertainment for the whole house. And Angelina tells her roommates how she really feels about them, sending Snooki into a frenzy and finally pushing things over the edge.

Thursday, October 7th, 2010

s2e11: Girls Like That

Snooki and J-Woww decide to make amends with Sam; Vinny pursues two groups of girls; Mike's antics annoy Snooki.

Thursday, October 14th, 2010

s2e12: Deja Vu All Over Again

Mike gets on everyone's last nerve after his obnoxious antics get them all kicked out of a club. Even Pauly is frustrated after Mike proves twice that he's a failure as a wingman.

Thursday, October 21st, 2010

s2e13: Back Into the Fold

The roommates say goodbye to Miami and head home in the Season 2 finale.
Season 3
Thursday, January 6th, 2011

s3e1: Back to the Shore

New roommate Deena moves into the house and is confronted with hostile reactions from some of the roommates. The house gets off to an interesting start when Snooki confronts Vinny about him and her best friend Ryder and Deena "accidentally" gets naked in front of Mike. Leftover tension from Miami spills over to Seaside Heights when unresolved issues among the girls explode on the first night.

Thursday, January 13th, 2011

s3e2: It's Gonna Be An Interesting Summer

The fight between Sammi and JWoww causes additional tension in the house. Ronnie and Sammi continue to isolate themselves, missing the first family dinner, to the surprise and disappointment of all the roommates. Mike lets Ronnie know about the general feeling at the house. Ronnie decides to hang out and have fun with the rest of the house, leaving Sammi feeling all alone and reminiscent of Miami.

Monday, January 17th, 2011

s3e3: Where's the Beach?

Sammi sets out to make amends with Snooki and Deena. A night in the club turns romantic for Jenni when she runs into a old flame named Roger, who may or may not have a girlfriend. Deena gets kicked out within the first five minutes for being too drunk. Mike meets one of the girls he hooked up with last year named Paula and Pauly's stalker returns and throws a drink at him. The next day Snooki is extremely hung over and has to go to work. After sneaking a couple of drinks she runs off drinking more and more. After a huge crowd appears to watch her creating a scene Snooki is arrested.

Thursday, January 20th, 2011

s3e4: Free Snooki

Snooki is released from jail but faces her father's voice on the phone which isn't happy. Jenni continues to meet with Roger and quickly grows feelings for him. Tom continues to call the house and cause problems with Jenni escalating into a heated arguement on the phone and a destroyed relationship. Snooki is lifted from her depressed state after she meets Nick who she hooks up with. Deena meets a Ronnie look-alike only to find out that he has a girlfriend. Later, Jenni has to return to her home because Tom left leaving her dogs to die. She and Snooki leave the Shore and reach home within 9 hours to find her dogs fortunately safe but her most important items including a hardrive stolen.

Thursday, January 27th, 2011

s3e5: Drunk Punch Love

Snooki's friend Ryder stops by for a visit and lucky enough its her birthday. Snooki and Jenni return to Jersey with Jenni's dogs who are welcomed at the house by everyone. Sammi and Ronnie's relationship continues to strain and after a heated argument after the club, Ronnie throws all her stuff around the room and tells her to leave. Ronnie starts to second guess himself. Jenni comforts him and they bury the hatchet from Miami. Mike brings home a girl, but her friend is wandering down the house so Vinny pulls out the Grenade Whistle to warn Mike. Vinnys girl's family comes to pick her up which make Vinny uncomfortable. Jenni gives Ronnie a hug which is caught by Sammi. Sammi loses it and thinks she is all alone in the shore house. As a response to the newfound friendship between Ronnie and Jenni, she punches Ronnie in the face. She quickly plans to leave but with the help of everyone she apoligizes to Ronnie and stays. Jenni and Roger continue to date and also Deena and Dean, but Mike finds out a dirty secret which ends their relationship. Also Snooki and Vinny buy a stripper pole for the house and Sammi and Jenni make up and become friends again.

Thursday, February 3rd, 2011

s3e6: Should We Just Break Up?

Snooki meets a guy, but he may or may not be engaged. Pauly D. makes peace with an old enemy; and Ronnie's hard partying takes a toll on his relationship.

Thursday, February 10th, 2011

s3e7: Cabs Are Here!

Ronnie and Sam end their tumultuous relationship with a nasty breakup that prompts Ronnie to destroy all of Sam's belongings. Later, she considers leaving the shore for good.

Thursday, February 17th, 2011

s3e8: The Great Depression

After Sammi leaves the house, Ronnie is an emotional wreck. With the girls taking Sammi's side and the guys not knowing how to cheer him up, Ronnie feels like he has no friends left in the house. Meanwhile, The Situation tries to hook up with Pauly D's ex-girlfriend.

Thursday, February 24th, 2011

s3e9: Kissing Cousins

Snooki's hook-ups haunt her; Mike pranks Deena and Snooki; the guys ditch Mike.

Thursday, March 3rd, 2011

s3e10: A Cheesy Situation

Sammi returns to the house; Snooki's feelings for Vinny deepen; Mike believes a hook-up smells like cheese.

Thursday, March 10th, 2011

s3e11: GTF - Gym, Tan, Find Out Who Sammi Is Texting

Vinny and Pauly D take a road trip to Staten Island. Roger becomes more than just a rebound for JWOWW. The Situation reveals Sammi's shady ways, causing Ronnie to question his love for her.

Thursday, March 17th, 2011

s3e12: A House Divided

The Situation continues to instigate drama between Ronnie and Sammi, and Snooki has a falling out with Vinny.

Thursday, March 24th, 2011

s3e13: At The End Of The Day

The roommates say goodbye to another summer at the Jersey Shore. While one couple reaches a crossroads in their relationship, another couple makes it official.
Season 4
Thursday, August 4th, 2011

s4e1: Going To Italia

The housemates pack up their hair extensions and Shore Store T-shirts and jet off to Italy for a European adventure. But, the culture shock that awaits them is nothing compared to their shocking adventure.

Thursday, August 11th, 2011

s4e2: Like More Than a Friend

Ron and Sammi try to work on their friendship, but prove that old habits die hard. Also, Mike tries taking his friendship with Snooki to the next level, while Pauly and Deena consider doing the same.

Thursday, August 18th, 2011

s4e3: Twinning

With twins in the mix, it's double trouble as bi-curious Deena pulls the robbery on both The Situation AND Vinny. Plus, The Situation's "secret hook-up" with Snooki is revealed. Is Snooki a cheater or is The Situation just trying to start drama?

Thursday, August 25th, 2011

s4e4: Crime and Punishment

The boys harass Deena for stealing a girl from Vinny's bed, leading her to anxiety and self-doubt about her relationship with the roommates. Ronnie and Sammi are back to their old ways, but this time The Situation is involved in their drama.

Sunday, August 28th, 2011

s4e5: And The Wall Won...

The Situation gets knocked out during a fight and Ronnie and Sammi wonder if their relationship is beyond repair.

Thursday, September 8th, 2011

s4e6: Fist Pump, Pushups, Chapstick

Pauly and Vinny put on a "guido-theme" comedy show; Snooki becomes so distraught over her relationship woes that the girls decide to intervene; Ron and Sam try to patch things up once again.

Thursday, September 15th, 2011

s4e7: Meatball Mashup

Snooki and Deena party too hard; Team Meatballs have a run-in with the Italian police.

Thursday, September 22nd, 2011

s4e8: Where Is My Boyfriend?

Snooki and Deena are released from the police station after their accident. Later, Snooki's boyfriend Jionni visits, but their romantic reunion comes to an abrupt halt, and a sobbing Snooki ends the night alone on the streets of Florence.

Thursday, September 29th, 2011

s4e9: Three Men and a Snooki

Snooki is devastated over her big fight with Jionni, and decides to take a break from the relationship. Mike thinks it's finally his chance to win her over, but it's someone else who ends up comforting her. Meanwhile, Deena has a pregnancy scare.

Thursday, October 6th, 2011

s4e10: Damage Is Done

The boys visit Vinny's family in Sicily, while the girls head to Tuscany for a wine tour. Later, Snooki learns the truth about her and Vinny's hookup, and she decides to come clean to Jionni.

Thursday, October 13th, 2011

s4e11: Situation Problems

Deena once again is on the prowl for Pauly D. The Situation continues to instigate drama in the house and everyone turns on him and later in a club Team Meatballs are not treated well again and end up getting into another brawl.

Thursday, October 20th, 2011

s4e12: Ciao, Italia

The roommates leave Italy and return to New Jersey.
Season 0
Thursday, January 21st, 2010

s0e11: Season 1 Reunion

Questions are answered when Snooki, The Situation, J-WOWW, DJ Pauly D, Angelina, Ronnie, Sammi and Vinny return for more fights and insight into what truly happened down at the Jersey Shore.

Thursday, October 28th, 2010

s0e12: Season 2 Reunion

The cast of 'Jersey Shore' is back together to dish the dirt on Miami. From bromances and romances to the infamous note and the fights that followed, the cast tells all.

s0e13: Cast Interviews - Season 2

s0e14: GTL Miami - Season 2

s0e15: Angelina's Goodbye - Season 2 Extended Scene

s0e16: The Note - Season 2 Extended Scene

s0e17: Season 3 Sneak Peek

Thursday, January 20th, 2011

s0e18: After Hours V

Thursday, February 10th, 2011

s0e19: After Hours VI

Ronnie is joined by JWOWW, Mike, Vinny, and Pauly discuss Sammi's departure, grenades and Pauly D's stalker.

Thursday, March 3rd, 2011

s0e20: After Hours VII

Snooki, Mike 'The Situation', Vinny and Deena discuss the toilet situation, Snooki and Vinny's "relationship", Mike pranking Deena and Snooki in Episode 9 and Snooki, Sam, and Ronnie pranking Mike in Episode 10.

Thursday, March 31st, 2011

s0e21: Season 3 Reunion

The housemates reunite to talk about the hook-ups, break-ups and drama that filled their summer in Seaside.

s0e22: Silent Library: Celebrity Edition (Jersey Shore)

Friday, July 29th, 2011

s0e23: From the First Fist Pump

An entertaining look back at the first three seasons of 'Jersey Shore' - complete with all the comedy, drama, mischievous antics, and water cooler moments that keep people talking.

Thursday, September 1st, 2011

s0e24: After Hours VIII

Ronnie and The Situation rehash the brawl that ended with a wall, and Deena gives the lowdown on her wild hook-ups.

Thursday, September 15th, 2011

s0e25: After Hours IX

Things get a little heated when Snooki, JWOWW, Deena and The Situation come together to finally discuss alleged hook-ups and what went down between the sheets with Team Meatball.

Thursday, September 29th, 2011

s0e26: After Hours X

Snooki, JWOWW, Pauly D and Vinny discuss the surprising aftermath of Jionni's all-night fight with Snooki.

Thursday, October 20th, 2011

s0e27: Season 4 Reunion

The cast of roommates are reunited with one another in order to reveal some of the details surrounding the arguments, fights, romances and more that occurred in the house and the clubs during their stay in Florence, Italy.

Thursday, January 12th, 2012

s0e28: After Hours XI

A behind the scenes look with the cast of the Jersey shore.

Friday, January 27th, 2012

s0e29: After Hours XII

Vinny, Pauly and Deena discuss what's going on behind the scenes at the Jersey Shore.

Thursday, February 16th, 2012

s0e30: After Hours XIII

Deena and J-Wow spill the latest Jersey Shore gossip.

Thursday, March 15th, 2012

s0e31: Special Finale Event

Thursday, March 22nd, 2012

s0e32: Season 5 Reunion

The cast of 'Jersey Shore' is back together to dish about all the drama in Seaside Heights. The cast tell all, plus they will have a special announcement.Announcing Nicole 'Snooki' Polizzi's pregnancy.
Season 5
Thursday, January 5th, 2012

s5e1: Hurricane Situation

The roommates return from Italy and couldn't be more excited to get back to the Jersey Shore. But a drama storm is brewing as The Situation threatens to destroy Snooki's relationship with Jionni.

Thursday, January 12th, 2012

s5e2: One Man Down

Vinny considers leaving the Shore; Snookie fights with Jionni.

Thursday, January 19th, 2012

s5e3: Dropping Like Flies

The roommates try to adjust to life without Vinny; Mike confronts his demons; Pauly celebrates his birthday.

Thursday, January 26th, 2012

s5e4: Free Vinny

Mike returns and learns about Danny's threat to find new tenants; the girls hire X-rated entertainment for Pauly and Mike's birthday party; the gang heads to Staten Island in hopes of persuading Vinny to come back to the shore.

Thursday, February 2nd, 2012

s5e5: Nothing but Nice

Vinny returns and everyone celebrates. The Situation tries hard to be nice but ends up annoying the boys. Snooki struggles with an uncomfortable condition.

Thursday, February 9th, 2012

s5e6: The Follow Game

The Situation secretly gathers information to bring down one of his roommates -- and for once it isn't Snooki. JWOWW freaks out when Roger disappears and doesn't return her calls.

Thursday, February 16th, 2012

s5e7: Love at the Jersey Shore

All of the roommates are focused on courting their current flames, but there is never peace in the house. One of the roommates causes drama with Snooki and Deena, while JWOWW's skimpy outfit creates a problem for Roger.

Thursday, February 23rd, 2012

s5e8: Sharp Objects

J-Woww confronts Pauly's stalker; Snooki's boyfriend denies her affections, prompting her to pursue Vinny; the roommates go fishing despite their fears of a shark attack.

Thursday, March 1st, 2012

s5e9: The Truth Will Set You Free

Mike decides to reveal the truth; Pauly, Vinny and Deena struggle to be single roommates.

Thursday, March 8th, 2012

s5e10: One Meatball Stands Alone

A huge fight breaks out after Mike tells Jionni he hooked up with Snooki; Deena faces a difficult truth about Joey; some of the roommates go camping while Pauly and Vinny pull off a big prank.

Thursday, March 15th, 2012

s5e11: We Are Family

Another summer in Seaside Heights comes to a close as Hurricane Irene batters the East Coast in the Season 5 finale. As the gang prepares to leave, Mike continues to cause trouble by starting a rumor about Deena's sister, while Pauly and Vinny pull one more prank on the roommates.
Season 6
Thursday, October 4th, 2012

s6e1: tba

Thursday, October 25th, 2012

s6e6: Let's Make It Official

Jenni fears that her relationship with Roger is in jeopardy; Mike has second thoughts about his relationship with Paula.
Season 0
Saturday, November 3rd, 2012

s0e35: Blooper Special: Breakdowns, Boobs and Bronzer

not specified

s0e34: Deleted Scene - Fill It Up