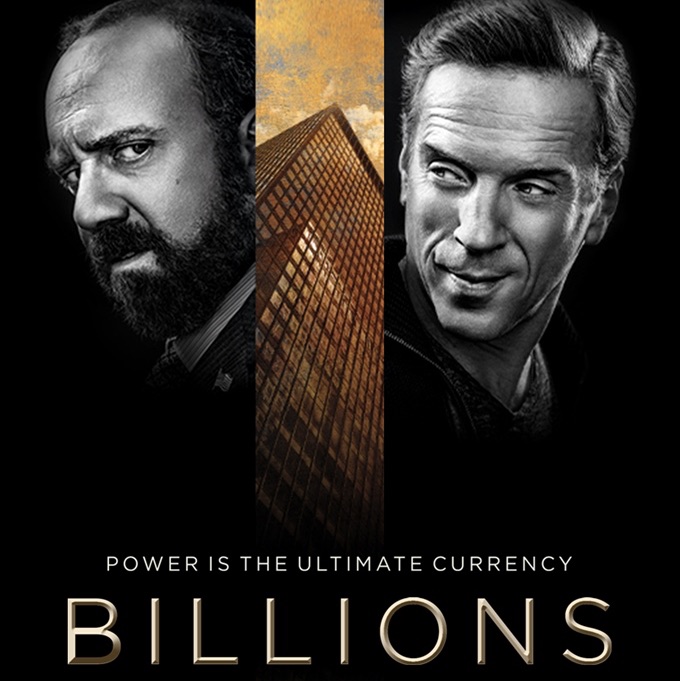 Season 1
Sunday, January 17th, 2016

s1e1: Pilot

Chuck Rhoades, the powerful U.S. Attorney for the Southern District of New York, is tipped to a case of insider trading with links to Axe Capital and the billionaire hedge fund king Bobby "Axe" Axelrod. This sets Chuck on a collision course with one of the most powerful men on Wall Street. While it could be a career-defining case for Chuck, he must tread carefully, because his wife, Wendy Rhoades, is the in-house performance coach at Axe Capital and Axe's key confidante. But a costly purchase by Axe gives Chuck the opening he needs, setting off a cat and mouse game where the stakes are high and intensely personal.

Sunday, January 24th, 2016

s1e2: Naming Rights

Axe installs rigorous compliance measures to gird the company against the investigation by Chuck and the US Attorney's office. When Wendy questions Axe's methods, he compels her to prove her loyalty to the firm. Chuck's investigation is temporarily derailed when he has to divert resources to a case against an Axe rival, billionaire Steven Birch. Axe's black bag man and fixer, Hall, develops a mole inside the US Attorney's office, while Axe makes an aggressive move under the guise of a charitable contribution to the symphony in order to settle an old score.

Sunday, January 31st, 2016

s1e3: YumTime

Chuck discovers that while he pursued Steven Birch, the rival Eastern District has made inroads in the Axe case and that he needs to get it back. Chuck horse-trades to regain control of a key witness, Pete Decker, a hedge fund manager with ties to Axelrod. At the same time, Axe makes an activist play for YumTime, a family owned bakery corporation. This move reverberates back to Chuck by way of a very personal connection between his father and YumTime. Wendy is thrown into a moral dilemma when she discovers via a confidential session that one of the few female Portfolio Managers at Axe Capital is going to have her career sabotaged. And Lara Axelrod tries to protect Axe's reputation from a potentially damaging "tell all" book.

Sunday, February 7th, 2016

s1e4: Short Squeeze

Axe takes a spontaneous trip to see Metallica with his childhood friends and meets a woman who makes him face the limits of his own freedom. He also must fend off a short squeeze - an attack on one of his important holdings - led by Chuck's father. Back in New York, Chuck learns about the inner workings of Axe Capital, but he must also take action against his father for stock manipulation. Plus, Axe reckons with a betrayal and upon his return makes a momentous decision about the direction of his firm.

Sunday, February 14th, 2016

s1e5: The Good Life

Axe orders his traders to unload their positions, and he unceremoniously disappears from Axe Capital, plunging the firm into chaos. As Axe questions his life choices and plans a trip on his new yacht, Wags and Wendy struggle to maintain order and morale. In response to Axe's disappearance, Chuck intensifies his investigation, which leads him to a farm in Iowa, where he discovers a key witness to a questionable trade. Armed with the damning evidence, Chuck sends the FBI into Axe Capital to make a surprising arrest.

Sunday, February 21st, 2016

s1e6: The Deal

Axe plans a scorched-earth defense against the public attack on his company - threatening his relationship with Wendy in the process. Chuck's interrogation of Dollar Bill does not go as planned, and political pressure mounts for him to recuse himself in the face of a protracted legal battle. Wendy, caught in the middle, engages in deft shuttle diplomacy to facilitate a deal in the best interests of both men. But everything hinges on a face-to-face meeting between Chuck and Axe to finalize the agreement.

Sunday, March 6th, 2016

s1e7: The Punch

The pressure from the US Attorney starts to affect Axe, who gets into a physical altercation with an acquaintance over an incident involving his kids. Chuck continues to conceal his involvement with the case while using the past to get the upper hand. Wendy meets with an attractive headhunter to consider a career change - and more than just job opportunities arise. And the case against Axe Capital gains a powerful weapon when Connerty turns a member of Axe's inner circle into an informant.

Sunday, March 13th, 2016

s1e8: Boasts and Rails

Axe receives a tip about a mole inside his company, throwing the US Attorney's case into jeopardy. Connerty faces a moral dilemma in how to respond, leading to conflict with Chuck, who finds himself reconsidering his position as both he and Wendy look toward a future without Axe Capital looming between them. As the investigation begins to encroach on Lara's private life, a secret from Axe's past surfaces, threatening everything he has built.

Sunday, March 20th, 2016

s1e9: Where the F*ck Is Donnie?

The repercussions of the revelations come home to roost with public demonstrations, inside insurrection, and fleeing investors. A sudden and mysterious disappearance sends both Axe and Chuck spinning. Connerty, Chuck and the FBI go into manhunt mode. Meanwhile, Lara has to contend with the brotherhood of firefighters who are furious about Axe's behavior - and in an effort to circle the wagons, makes a painful sacrifice.

Sunday, March 27th, 2016

s1e10: Quality of Life

The death of a member of the Axe Capital family forces both Axe and Wendy to do some soul searching, while creating a devastating setback for Chuck. Much to the dismay of the Southern District, they take another loss when an insider trading case is dismissed by a corrupt judge. In a brilliant counter move, Chuck enlists Lonnie Watley to expose the judge, while greasing the rails for a future move. Axe takes his revenge on some of his defecting employees.

Sunday, April 3rd, 2016

s1e11: Magical Thinking

Axe loses hundreds of millions of dollars on a bad trade and turns to Wendy for help. Chuck sets out on an odyssey to secure powerful allies in the fight against Axe. Lu balks at Lara's suggestion she become the new chef at Axe Capital -- and takes her sister back to the old neighborhood to remind her of their roots. Meanwhile, Sacker and Connerty close down the Axe Capital investigation just as Chuck finds evidence -- right in his own home -- that could salvage the case.

Sunday, April 10th, 2016

s1e12: The Conversation

Axe learns that Chuck has new evidence against him that could land him in prison. As Lara makes plans for the Axelrod family to flee the country, Axe accuses Wendy of leaking the info to Chuck. A defiant Wendy realizes how far Chuck has gone in his pursuit of Axe and threatens to expose him. Having sacrificed so much to this case - including possibly his marriage - Chuck finds Axe for an explosive confrontation.
Season 2
Sunday, February 19th, 2017

s2e1: Episode 1

Sunday, March 5th, 2017

s2e3: Optimal Play

Axe considers buying an NFL franchise, and finds a new ally. Chuck begins a last ditch case against a banking titan by developing a low-level informant. Meanwhile, Wendy makes a controversial appearance at the Alpha Cup Charity Poker Tournament by accompanying Axe's competitor as his performance coach. Lara launches her new business.

Sunday, April 23rd, 2017

s2e10: With or Without You

Axe deals with a major family disturbance involving Lara and the kids. Chuck considers the potential pitfalls of his personal life while being vetted for political advancement. Wendy tries to right a wrong she committed against Axe. At an impromptu dinner Chuck and Wendy open up to each other.

Sunday, May 7th, 2017

s2e12: Ball in Hand

Season Finale. Axe receives unexpected news; Chuck finalizes his long game.

Sunday, April 30th, 2017

s2e11: Golden Frog Time

Chuck finds he has much at stake in Ice Juice; Axe takes out a huge short.