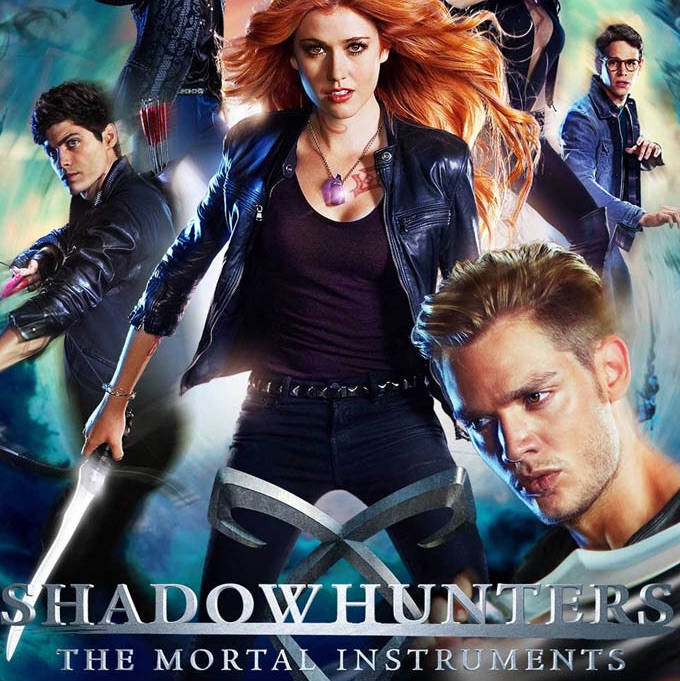 Season 0
Sunday, December 6th, 2015

s0e1: Beyond the Shadows: The Making of Shadowhunters

"Beyond the Shadows: The Making of Shadowhunters" will give fans of The Mortal Instruments book series a behind-the-scenes glimpse of the making of the television show, which will include the cast talking about how they landed their roles and a glimpse into how the cast got into fighting shape. And for viewers who are new to the Shadow World, the cast explains what "Shadowhunters" is all about. "Beyond the Shadows: The Making of Shadowhunters" will include interviews with "Shadowhunters" cast members Katherine McNamara, Dominic Sherwood, Harry Shum, Jr., Alberto Rosende, Matthew Daddario, Emeraude Toubia and Isaiah Mustafa, as well as showrunner Ed Decter and executive producer McG.
Season 1
Tuesday, January 12th, 2016

s1e1: The Mortal Cup

One young woman realizes how dark the city can really be when she learns the truth about her past. Based on the bestselling young adult fantasy book series The Mortal Instruments by Cassandra Clare, "Shadowhunters" follows Clary Fray, who finds out on her birthday that she is not who she thinks she is but rather comes from a long line of Shadowhunters - human-angel hybrids who hunt down demons. Now thrown into the world of demon hunting after her mother is kidnapped, Clary must rely on the mysterious Jace and his fellow Shadowhunters Isabelle and Alec to navigate this new dark world. With her best friend Simon in tow, Clary must now live among faeries, warlocks, vampires and werewolves to find answers that could help her find her mother. Nothing is as it seems, including her close family friend Luke who knows more than he is letting on, as well as the enigmatic warlock Magnus Bane who could hold the key to unlocking Clary's past.

Tuesday, January 19th, 2016

s1e2: The Descent Into Hell Isn't Easy

With the knowledge that Valentine is alive and on the hunt for The Mortal Cup, the Institute is on high alert. Not wasting any time, Jace jumps into action and figures Clary's memories are the key to finding Jocelyn and The Mortal Cup. Unfortunately, Clary's memories were wiped leaving her without any recollection of this other life that could help her and the team. With only one other option remaining, Jace, Isabelle and a very reluctant Alec take Clary to the City of Bones to face the powerful Silent Brothers. Meanwhile, Luke continues his search for Clary, and Simon tries to come to terms with his best friend's new life.

Tuesday, January 26th, 2016

s1e3: Dead Man's Party

With Simon being held captive at The Hotel DuMort, Clary pleads with Jace, Alec and Isabelle to help her rescue her best friend. As the team readies for the mission, Jace helps Clary learn more about her Shadowhunter powers, Isabelle turns to her favorite Seelie for Intel, and Alec begins to question Jace's motives and his place in their partnership. Meanwhile, a very scared Simon gets very up close and personal with Camille, the leader of the vampire clan.

Tuesday, February 2nd, 2016

s1e4: Raising Hell

After getting a clue about who may have wiped Clary's memories, the crew hunts down the High Warlock of Brooklyn, Magnus Bane. With all of the warlocks in hiding from Valentine, the team must lure Magnus out with something he can't refuse - a killer party and something very valuable. But with emotions running high, more may come out of their meeting with Magnus than just the retrieval of Clary's memories. Meanwhile, Simon doesn't seem to be himself after his recent Downworlder encounter.

Tuesday, February 9th, 2016

s1e5: Moo Shu to Go

Tensions escalate between Alec and Clary as they don't see eye to eye on the best way to hunt down Valentine. But when Jace and Isabelle are sent on an intel mission to the Seelies by Maryse Lightwood, Alec is put in charge of keeping Clary safe, much to both of their chagrin. With his hard-as-nails mother back in town and Clary's rule-breaking tendencies, Alec finds himself struggling to stick to the Claves rules while keeping his promise to Jace. Meanwhile, the New York City Werewolf pack begins their hunt for Clary and The Mortal Cup.

Tuesday, February 16th, 2016

s1e6: Of Men and Angels

With Luke in dire need of help, Jace, Clary and Simon take him to Magnus' lair in hopes of saving his life. Once there, the story of how Valentine came to be evil, and Jocelyn and Luke's past is revealed to Clary in hopes of triggering her memory of what happened to The Mortal Cup. Meanwhile, Isabelle and Alec are tasked to restore their family name in the eyes of The Clave.

Tuesday, February 23rd, 2016

s1e7: Major Arcana

After piecing together the clues as to where her mother hid the Mortal Cup, Clary, Jace, Alec and Isabelle are on the clock to find its hiding place before anyone else. But with demons and Downworlders lurking everywhere, obtaining the Cup may not be as easy as they had hoped. Meanwhile, as Simon's symptoms become increasingly worse, he fears he is turning into a vampire.

Tuesday, March 1st, 2016

s1e8: Bad Blood

With word of Alec, Jace and Isabelle's "extracurricular activities" with Clary reaching The Clave, a convoy is sent to observe the Lightwoods running the New York Institute. Once The Clave representative arrives, it is very clear how much trouble the Lightwoods are in. Meanwhile, Clary is faced with a devastating decision.

Tuesday, March 8th, 2016

s1e9: Rise Up

After the attack, the Institute and The Clave are on high alert and taking no prisoners to get answers. When Lydia makes a harsh call on the Seelies, Jace, Clary and Isabelle fear that this decision could be disastrous and the wrong way to defeat Valentine. Left with no other choice, the trio takes drastic actions to stop what is about to take place. Meanwhile, Simon struggles to deal with his new situation, and Alec is emotionally torn with what is happening at the Institute.

Tuesday, March 15th, 2016

s1e10: This World Inverted

Tuesday, March 22nd, 2016

s1e11: Blood Calls To Blood

Tuesday, March 29th, 2016

s1e12: Malec

Tuesday, April 5th, 2016

s1e13: Morning Star

Jace, who is still reeling from everything that has happened, makes hunting down Valentine his number one priority even though he continues to wrestle with his conflicted feelings. In hopes of finding a way to stop Valentine before it is too late, Clary and Simon must find the key to unlocking Jocelyn's coma. But that key to unlocking Jocelyn's spell may just undo the Downworlder peace treaty, Simon's relationship with Raphael, and the Vampire clan in the process. Meanwhile, Alec must deal with the aftermath of his decision and what his choice means for his future.
Season 2
Monday, January 9th, 2017

s2e2: A Door Into the Dark

The hunt is on for Jace Wayland, and Alec and Isabelle hope to reach him before the rest of the Shadowhunters do. With orders from the Clave of "shoot to kill," the Lightwood siblings must act fast. Also on his own search, Simon turns to Magnus for help when he finds himself at odds with both Raphael and Aldertree. Meanwhile, Clary struggles to find where she belongs since she doesn't seem to fit into the Shadowhunter world, yet can't go back to her mundane life.

Monday, January 2nd, 2017

s2e1: This Guilty Blood

Only hours have passed since Jace left with Valentine and all hell has broken loose at The Institute. Alec, Isabelle and Clary are desperate to find Jace, but are quickly stopped in their tracks with the arrival of Victor Aldertree, who means business about getting the Institute back on track. But getting the New York Shadowhunters in-line with The Clave may be counterintuitive to Alec, Isabelle and Clary's plan to rescue Jace. Meanwhile, Jocelyn has a lot to catch up on now that she is awake.

Monday, January 16th, 2017

s2e3: Parabatai Lost

Already cut off from the Institute and his friends, Jace finds his situation worsen when he becomes a target for the New York wolf pack who believe Jace to be a killer. And don't forget about Aldertree and the Shadowhunters who continue their own hunt for Jace! With Jace becoming the most wanted man in New York, can his friends get to him before everyone else? Meanwhile, Simon is on a search of his own as Raphael puts pressure on him to find Camille.

Monday, January 23rd, 2017

s2e4: Day of Wrath

Clary continues to struggle with the new Shadowhunter order as Jace is being held in The City of Bones with an unknown fate, and all suspicion in the Shadowhunter world continues to rest on Valentine's daughter. When duty calls, Clary gets a little reprieve from the family drama as she helps Alec and Isabelle hunt down a powerful demon. But what starts out as a routine mission quickly puts the Institute on high alert, and what happens next will change everything for the Shadowhunters and their Downworlder friends. Meanwhile, Jocelyn has a proposition for Clary as Raphael and Simon ramp up their hunt for Camille.

Monday, January 30th, 2017

s2e5: Dust and Shadows

Monday, February 6th, 2017

s2e6: Iron Sisters

Monday, February 13th, 2017

s2e7: How Are Thous Fallen

Monday, February 20th, 2017

s2e8: Love is the Devil

Monday, February 27th, 2017

s2e9: Bound by Blood

Monday, March 6th, 2017

s2e10: By the Light of Dawn

The New York Institute is under attack as Valentine's plan for The Soul Sword is getting dangerously close to coming to fruition. The Shadowhunters must act fast to save their loved ones and the rest of the Downworld. Meanwhile, some of the Downworlders have their own plan to stop Valentine and their target is Clary.