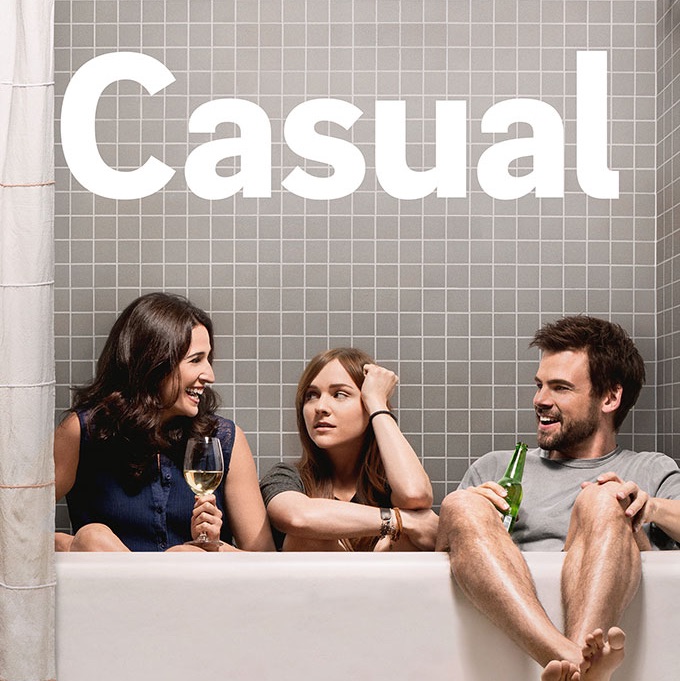 Season 1
Wednesday, October 7th, 2015

s1e1: Pilot

Newly-divorced Valerie and her teenage daughter, Laura, move in with Valerie's younger brother, Alex. A committed bachelor and casual dater, Alex sets Valerie up via his popular dating website.

Wednesday, October 7th, 2015

s1e2: Friends

Alex hangs out with Valerie's new friend, Leon. Valerie parties with a group of 20-somethings. Laura gets in over her head at a house party.

Wednesday, October 14th, 2015

s1e3: Animals

Valerie decides to make a major move, but financial realities get in the way. Alex adopts a new friend. Laura fantasizes about an older man.

Wednesday, October 21st, 2015

s1e4: ...

Valerie breaks Alex's rules on casual sex. Alex is interviewed about his dating website. Laura takes things up a notch with an older man.

Wednesday, October 28th, 2015

s1e5: Mom

Valerie and Alex's mother shows up unannounced. Valerie receives sound advice from an unlikely source. Laura and Michael share a moment.

Wednesday, November 4th, 2015

s1e6: Biden

Alex's secret leads to a pleasant surprise. Laura bonds with Michael after things spin out of control at school. Valerie opens up with her ex-husband.

Wednesday, November 11th, 2015

s1e7: Home

Alex, Emmy, and Leon get adventurous. Laura is devastated by news involving her mother, Valerie.

Wednesday, November 18th, 2015

s1e8: Bottles

Laura invites several unwelcome guests to Alex's house for Thanksgiving dinner they'll all never forget.

Wednesday, November 25th, 2015

s1e9: Mars

Tensions run high at Dawn and Charles' rehearsal dinner. Laura attends an art exhibition. A discovery shocks Alex to his core.

Wednesday, December 2nd, 2015

s1e10: Dave

Alex leans on Leon for emotional support. Laura contemplates a new life. Valerie, Alex, and Emmy reach an impasse.
Season 2
Tuesday, July 12th, 2016

s2e7: Threesomes

Valerie must choose between two very different men; Alex's relationship with a young co-worker draws attention; Laura and Aubrey present an irresistible offer to Spencer.

Tuesday, July 19th, 2016

s2e8: The Magpie

After Sarah and Jordan's engagement party, Alex's personal and professional lives collide; Valerie reconsiders her decision; Laura's interest in Spencer results in complications.

Tuesday, July 26th, 2016

s2e9: The Lake

Alex and Jordan battle over the future of Snooger; drama at home overshadows Valerie's trip with Jack; Laura wants to visit Spencer in the hospital, but encounters a problem.

Tuesday, August 2nd, 2016

s2e10: Reunion

Valerie and Jack indulge their fantasies at a hotel. Alex adjusts to his new life with Sarah. Laura and Spencer screen a series of teen romance films.

Tuesday, June 21st, 2016

s2e4: Big Green Egg

Alex hosts a dinner for his new business partner Jordan, only to be confronted with someone from his past. Valerie joins Jennifer for Game Night with her friends. Laura gets to know one of the girls from her home school group.

Tuesday, August 9th, 2016

s2e11: Death and Taxes

Valerie must spend time with Drew and their accountant; Alex turns to therapy; Laura helps Spencer with tough decisions.

Tuesday, June 28th, 2016

s2e5: Bicycle Thieves

Valerie considers her fertility options after a visit with her doctor. Alex reexamines a relationship with an ex-girlfriend. Laura and Aubrey bond over a secret.

Tuesday, July 5th, 2016

s2e6: 100 Cows

Valerie is set up with Jennifer's friend, but her mind is on another person; Alex hopes to impress Sarah with an engagement present; Laura's friendship with Aubrey gets personal.

Tuesday, June 7th, 2016

s2e1: Phase 3

Alex's troubling new obsession leads Valerie to take matters into her own hands. Laura investigates switching high schools.

Tuesday, June 7th, 2016

s2e2: Trivial Pursuit

Alex embraces his new role as Laura's teacher but his methods are questionable. Valerie reaches out to old friends and makes an unsettling discovery.

Tuesday, June 14th, 2016

s2e3: Such Good Friends

Valerie tries to take her friendship with fellow therapist Jennifer to the next level. Alex considers an offer from a venture capitalist to keep Snooger from going under. Laura considers joining a homeschool study group.

Tuesday, August 16th, 2016

s2e12: 40

Alex makes plans for Valerie's 40th birthday; Drew and Valerie revisit a place that is special to them; Laura makes a decision regarding Spencer.

Tuesday, August 23rd, 2016

s2e13: The Great Unknown

A family crisis brings Valerie, Alex and Laura together.