update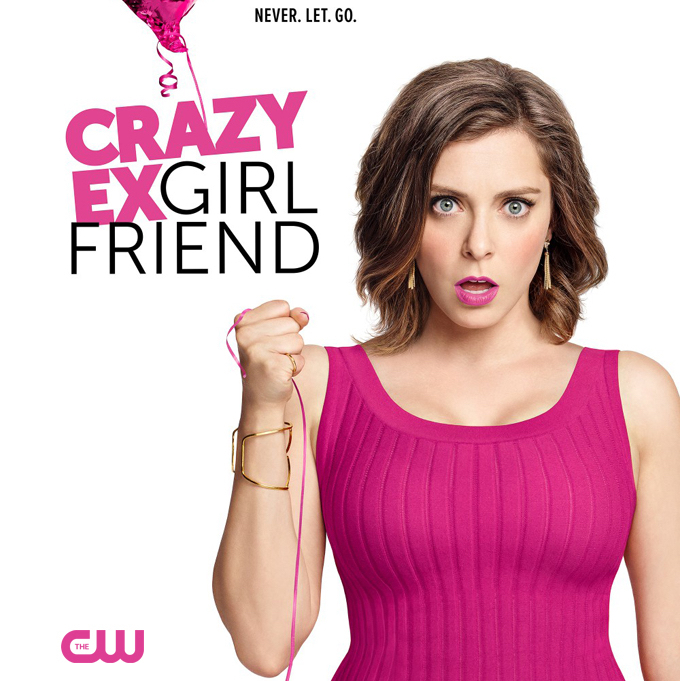 Season 0
not specified

1: Season 1 Gag Reels

not specified

2: Behind the Scenes
Season 1
Monday, October 12th, 2015

1: Josh Just Happens to Live Here!

Rebecca Bunch is a successful, driven, and possibly crazy young woman who impulsively gives up everything – her partnership at a prestigious law firm and her upscale apartment in Manhattan – in a desperate attempt to find love and happiness in that exotic hotbed of romance and adventure: suburban West Covina, Calif. (it's only two hours from the beach! Four in traffic).

Monday, October 19th, 2015

2: Josh's Girlfriend is Really Cool!

When Rebecca learns that Josh has a gorgeous yoga instructor girlfriend named Valencia, she is determined to learn everything about her. Rebecca attempts (unsuccessfully) to learn yoga, tries (unsuccessfully) to get into the local nightclub Josh and Valencia go to, and finds herself becoming a little too obsessed with Valencia.

Monday, October 26th, 2015

3: I Hope Josh Comes to My Party!

In an attempt to get closer to Josh, Rebecca throws a housewarming party despite her lack of social connections in West Covina and a childhood fear of hosting parties. When Paula finally convinces her, the party turns out to be nothing like they anticipated.

Monday, November 2nd, 2015

4: I'm Going on a Date with Josh's Friend!

When Rebecca learns that Josh and Valencia seem as happy as ever, she goes into a spiral and vows to make healthier choices. As a result, when nice guy Greg asks her out on a date, she wonders if that is the path towards a happier life.

Monday, November 9th, 2015

5: Josh and I Are Good People!

After Rebecca and Greg's disastrous date, Greg accuses her of being a terrible person in front of Josh. Rebecca takes drastic measures to prove she is a good person, which includes helping Darryl with his messy divorce. Meanwhile, Paula takes over the office as the boss for the day.

Monday, November 16th, 2015

6: My First Thanksgiving with Josh!

Rebecca scores an invite to the Chan family Thanksgiving festivities, where Josh's parents fall in love with her much to Valencia's dismay. Meanwhile, Greg struggles with taking care of his dad and wanting to pursue his dreams.

Monday, November 23rd, 2015

7: I'm So Happy That Josh is So Happy!

Rebecca has a tough week after learning some news about Josh and someone surprising shows up to help her - Dr. Phil. Paula is pursued by an important new client Calvin and not just professionally.

Monday, November 30th, 2015

8: My Mom, Greg's Mom and Josh's Sweet Dance Moves!

It is the holidays and Rebecca's mom decides to come visit her in West Covina. Old habits die hard and Rebecca, eager to please her mom, embellishes some facts about her life, which all comes crashing down at a local holiday event. Meanwhile, Greg spends Christmas Eve with his mother and discovers he actually might be the problem relative.

Monday, January 25th, 2016

9: Going to the Beach with Josh and His Friends!

Rebecca rents a party bus to take Josh's friend group to the beach in order to impress them. On the trip, she learns more about her new friends than she expected and makes a surprising revelation herself.

Monday, February 1st, 2016

10: I'm Back at Camp with Josh!

When Rebecca finds out Josh is a volunteer at a camp for at-risk teens, she realizes it is the perfect opportunity to remind Josh about the amazing times they had together at camp. Meanwhile, Darryl tries to re-capture his youth by throwing a party, where Greg encounters someone from his past.

Monday, February 8th, 2016

11: That Text Was Not Meant for Josh!

Rebecca mistakenly sends Josh a text meant for Paula and takes drastic measures to ensure he never sees it. Meanwhile, Paula and her husband attempt to rekindle their relationship, only to be thwarted by Rebecca.

Monday, February 22nd, 2016

12: Josh and I Work on a Case!

After the texting debacle, Rebecca attempts to recover by pursuing a case she thinks will bring her closer to Josh. Darryl tries to reconcile his feelings for White Josh, while Greg is obsessed with trying to uncover Rebecca's real motives for taking on the case.

Monday, February 29th, 2016

13: Josh and I Go to Los Angeles!

Rebecca and Josh head to Los Angeles to present their case, which also forces them to confront their long buried feelings. Greg grapples with his feelings for Rebecca, while Darryl and White Josh continue to explore their newfound feelings for one another.

Monday, March 7th, 2016

14: Josh is Going to Hawaii!

Rebecca learns that Josh has conflicted feelings for her and Darryl wants to let everyone know about his newfound bisexuality. Meanwhile, Greg must figure out how to work alongside Heather post break-up.

Monday, March 21st, 2016

15: Josh Has No Idea Where I Am!

Rebecca gets stuck on a plane with her therapist, who takes her on a surprising journey. Meanwhile, in West Covina, Josh, Paula, Darryl and even a reluctant Greg come together to find Rebecca.

Monday, March 28th, 2016

16: Josh's Sister is Getting Married!

Rebecca is determined to get her life on track so when Josh's sister asks her to be a bridesmaid, Rebecca decides to use her role to make things right with Valencia. Paula cannot accept Rebecca's new mindset while Greg, when helping someone else with their love dilemma, makes a realization of his own.

Monday, April 11th, 2016

17: Why is Josh in a Bad Mood?

Rebecca is hiding a big secret from Paula, which begins to affect their friendship. Josh and Greg switch roles when Josh makes a discovery that angers him, while Greg is happier than he has been in a long time

Monday, April 18th, 2016

18: Paula Needs to Get Over Josh!

Rebecca's relationships are tested as she tries to navigate her friendship with Paula, her history with Josh and her connection with Greg. While at Josh's sister Jayma's wedding, Rebecca's world is turned upside down.
Season 2
Friday, October 21st, 2016

1: Where Is Josh's Friend?

Season 2 begins with Rebecca being convinced that Josh is in love with her, and Greg is nowhere to be found. Meanwhile, Paula comes to terms with what drove her obsession with Rebecca's love life; and Darryl and White Josh try to navigate their new relationship.

Friday, October 28th, 2016

2: When Will Josh See How Cool I Am?

Rebecca desperately wants Josh to think she's cool so she tries to impress him with her sporty skills. Meanwhile, Greg navigates his way through his new path and is sorely tested by someone close to him.

Friday, November 4th, 2016

3: All Signs Point to Josh… or Is It Josh's Friend?

Rebecca becomes torn between two men and doesn't know whether she is meant to be with Josh or Greg. Meanwhile, Paula struggles to make a big decision.

Friday, November 11th, 2016

4: When Will Josh and His Friend Leave Me Alone?

Heather comes to Rebecca's rescue after a major mishap and Rebecca attempts to reinvent herself. Paula is left to pick up the pieces at work and finds herself at a crossroads.

Friday, November 18th, 2016

5: Why Is Josh's Ex-Girlfriend Eating Carbs?

When Rebecca forces Valencia to attend a festival with her, she finds she has more in common with Valencia than just Josh. Paula finds a new friend in Sunil, while Darryl learns something surprising about White Josh and ultimately, himself.

Friday, December 2nd, 2016

6: Who Needs Josh When You Have a Girl Group?

Rebecca tries to host a girls' night with Paula, Heather and Valencia, but things don't go as planned. Meanwhile, Darryl bonds with co-worker Maya and discovers they have more in common than he realized.

Friday, December 9th, 2016

7: Who's the Cool Girl Josh Is Dating?

Rebecca and Valencia investigate the new girl Josh has been dating and discover way more than they bargained for. Meanwhile, Paula gets pulled in different directions and feels disconnected from her husband Scott.

Friday, January 6th, 2017

8: Who Is Josh's Soup Fairy?

Rebecca jumps at the chance to repair her relationship with Paula, which includes babysitting Tommy. Meanwhile, Josh has a revelation that forces him to re-evaluate things.

Friday, January 6th, 2017

9: When Do I Get to Spend Time with Josh?

When Darryl sells the law firm, new boss Nathaniel threatens layoffs, which causes everyone to go into panic mode. Rebecca, however, goes to extreme measures in an attempt to save everyone's jobs.

Friday, January 13th, 2017

10: Will Scarsdale Like Josh's Shayna Punim?

When Rebecca attends a family Bar Mitzvah and sees her Rabbi, she realizes she still has far to go on her search for happiness.

Friday, January 20th, 2017

11: Josh is the Man of My Dreams, Right?

When the Santa Ana winds blow into town, they cause everyone in West Covina to act a little strangely and question their relationships and priorities. Rebecca and Nathaniel get to know each other better while Paula and Darryl confront an ongoing dilemma in their friendship.

Friday, January 27th, 2017

12: Is Josh Free in Two Weeks?

Rebecca realizes she must rely on her friends, which includes her local delivery man Patrick, when she gets overwhelmed by a stressful situation. Rebecca also discovers she has a lot in common with Nathaniel when his father comes to town.

Friday, February 3rd, 2017

13: Can Josh Take a Leap of Faith?

Rebecca's father makes a surprise appearance, which gets Rebecca's hopes up for her future, while Josh takes a hard look at himself. White Josh and Darryl find themselves at an unexpected crossroads.
Season 3
Friday, October 13th, 2017

1: Josh's Ex-Girlfriend Wants Revenge

Rebecca, abandoned at the altar by her obsession, Josh, works to plot her revenge with the help of Paula, Heather and Valencia. It might be a bit tough to figure out, since he ran off the day of the wedding to become a priest. Meanwhile, White Josh and Darryl have some problems to work on and Paula and Scott confront some unusual issues in their marriage.

Friday, October 20th, 2017

2: To Josh, With Love

Rebecca, unsatisfied with Paula's ideas to build a case against Josh, turns to Nathaniel for help crafting a truly evil plan. Meanwhile, Josh finds becoming a priest is harder than he thought.

Friday, October 27th, 2017

3: Josh Is a Liar

After encountering a major setback in her plan to get even with Josh, a panicked Rebecca starts a smear campaign to discredit Josh before he can turn everyone against her.

Friday, November 3rd, 2017

4: Josh's Ex-Girlfriend is Crazy

Rebecca takes her quest for revenge to the next level as her friends unite to try and help her.

Friday, November 10th, 2017

5: I Never Want to See Josh Again

Rebecca goes home to Westchester where she draws closer to her mother (Tovah Feldshuh) and tries to find a way forward. The friends and co-workers she left behind, including Paula and Nathaniel, struggle with their emotions regarding her departure.

Friday, November 17th, 2017

6: Josh Is Irrelevant

Rebecca tries to come to grips with her new life and some new information about herself.

Friday, December 8th, 2017

7: Getting Over Jeff

Rebecca continues her road to wellness while Paula comes to terms with her roots.

Friday, January 5th, 2018

8: Nathaniel Needs My Help!

Rebecca wonders if history is repeating itself as Darryl embraces a newfound superpower and Paula schemes again, this time for good.

Friday, January 12th, 2018

9: Nathaniel Gets the Message!

Rebecca discovers the powers and limitations of altruism as a new, unexpected bromance forms between two other characters.

Friday, January 26th, 2018

10: Oh Nathaniel, It's On!

Rebecca navigates major changes in her professional life and Heather gets a new opportunity.

Friday, February 2nd, 2018

11: Nathaniel and I Are Just Friends!

Rebecca faces some fears in therapy while Paula brings a new friend to work.

Friday, February 9th, 2018

12: Trent?!

Just as Rebecca tries to be more realistic and practical, Trent throws a wrench into her plans; Josh and Valencia reckon with their shared history.

Friday, February 16th, 2018

13: Nathaniel Is Irrelevant

When Rebecca decides to make amends for her past, she finds some unexpected challenges. At the same time, West Covina awaits an important new arrival.