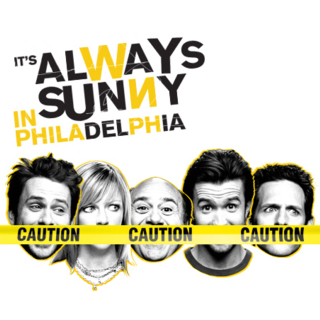 Season 1
Thursday, August 4th, 2005

s1e1: The Gang Gets Racist

The guys hire Dee's friend, Terrell to promote the bar. Meanwhile, Charlie tries to prove that he is not a racist.

Thursday, August 11th, 2005

s1e2: Charlie Wants an Abortion

A girl from Charlie's past reveals they have a child together. Mac sees the benefits in being a pro-life advocate, while Dennis uses an abortion rally to meet women.

Thursday, August 18th, 2005

s1e3: Underage Drinking: A National Concern

After reminiscing about high school, the guys conclude that it would be a public service if they allowed teens to drink in the bar, thus providing a safe and controlled environment for teens to party. Feeling that she missed out on a lot as a teenager due to having to wear a brace for her scoliosis, Dee begins dating a high school jock.

Tuesday, August 23rd, 2005

s1e4: Charlie Has Cancer

After discovering that he might have cancer, Mac and Dennis attempt to find a woman who will sleep with Charlie. In the midst of their search, Mac falls in love with a transsexual he meets at the bar named Carmen. Overwhelmed by the extra workload that she had to take on since Charlie has taken a leave of absence, Dee tries to get Dennis to hire a recently out of work actress friend to help out.

Tuesday, August 30th, 2005

s1e5: Gun Fever

The guys buy a gun after the bar's safe is stolen.

Thursday, September 8th, 2005

s1e6: The Gang Finds a Dead Guy

Mac and Dennis befriend a patron found dead at their bar in order to win the affection of his granddaughter.

Thursday, September 15th, 2005

s1e7: Charlie Got Molested

Charlie and Mac's old high school gym teacher is accused of molestation.
Season 2
Thursday, June 29th, 2006

s2e1: Charlie Gets Crippled

An accident that puts Charlie in a wheelchair opens up a window of possibilities for the gang. Meanwhile, Dennis and Dee's estranged father reenters their life in hopes of starting anew with his children and soon discovers that he enjoys the lifestyle of their friends.

Thursday, June 29th, 2006

s2e2: The Gang Goes Jihad

When the gang learns that they are in danger of losing their bar due to a zoning mishap, they resort to some outlandish and extreme methods to prevent that from happening. Meanwhile, Frank isn't too happy when his wife returns to town.

Thursday, July 6th, 2006

s2e3: Dennis and Dee Go on Welfare

After quitting their job due to Frank's continuing interference, Dennis and Dee decide to seek alternative income by going on welfare. Meanwhile, Mac and Charlie must now bear the consequences of their friends? departures from the business.

Thursday, July 6th, 2006

s2e4: Mac Bangs Dennis' Mom

Barbara hooks up with Mac to make Frank jealous, which leads to retaliation from Dennis.

Thursday, July 13th, 2006

s2e5: Hundred Dollar Baby

Frank runs into an old adversary at the gym when he begins teaching Dee to box after she was robbed. Hoping to make some extra money on the side, Mac and Dennis make preparations for Charlie to compete in an underground street fighting match.

Thursday, July 20th, 2006

s2e6: The Gang Gives Back

After being arrested for arson the gang is sentenced to do community service. Frank makes an effort to connect more with Dennis. Meanwhile, Charlie is also ordered to attend AA where he makes a startling discovery that might be beneficial in his ongoing quest to hook up with the Waitress.

Thursday, July 27th, 2006

s2e7: The Gang Exploits a Miracle

Mac and Dee become uncomfortable when the rest of the guys decide to make some extra money by exploiting the similarities between a water stain and the Virgin Mary. A reunion with someone from the past, stirs up forbidden feelings within Dee.

Thursday, August 3rd, 2006

s2e8: The Gang Runs for Office

Driven by Frank's insight into the world of politics, Dennis pursues a political career by running for office.

Thursday, August 10th, 2006

s2e9: Charlie Goes America All Over Everybody's Ass

Dennis and Mac make a decision to take away all rules concerning moral and behavioral etiquette at Paddy's after an argument about the Constitution. Frank uses the decision and it's following consequences to his own gain. Meanwhile, Charlie tries to convey his love for America by protesting while Dee attempts to reaffirm her goal of being an actress.

Thursday, August 17th, 2006

s2e10: Dennis and Dee Get a New Dad

Dee receives e-mails from a stranger claiming to be her and Dennis' real father. Meanwhile, Mac decides to visit his father who is in prison.
Season 3
Thursday, September 13th, 2007

s3e1: The Gang Finds a Dumpster Baby

The gang finds a baby in a dumpster, and Dee and Mac decide to raise him. Meanwhile, Dennis wants to join a group of environmental activists and Charlie attempts to learn the truth about his paternity.

Thursday, September 13th, 2007

s3e2: The Gang Gets Invincible

Mac, Dennis and Dee try out for the Philadelphia Eagles. Also interested in becoming an Eagle is Liam and Ryan McPoyle's brother, Doyle.

Thursday, September 20th, 2007

s3e3: Dennis and Dee's Mom is Dead

After Barbara's death, Dee and Frank are unhappy to learn that she left them both out of the will, while Dennis inherits the mansion which he plans to turn into a party pad.

Thursday, September 20th, 2007

s3e4: The Gang Gets Held Hostage

The McPoyles hold the entire gang hostage at Paddys while Frank is busy searching for his will in the air ducts.

Thursday, September 27th, 2007

s3e5: The Aluminum Monster vs. Fatty Magoo

Dee is shocked to learn that an overweight social outcast from her High School has become a rich and skinny fashion designer.

Thursday, September 27th, 2007

s3e6: The Gang Solves the North Korea Situation

A Korean restaurant owner threatens to get Paddy's kicked off the route for the city's annual pub crawl. The gang's response: War.

Thursday, October 4th, 2007

s3e7: The Gang Sells Out

The gang agrees to sell Paddys when they get an offer that is too good to refuse, but it forces the bar's non-partners, Dee and Charlie to find new jobs.

Thursday, October 4th, 2007

s3e8: Frank Sets Sweet Dee On Fire

Mac teams up with Frank and Charlie to create a public access newscast after he misses his chance at fame in the news. Meanwhile, Dennis and Dee try to make it big in the club scene.

Thursday, October 11th, 2007

s3e9: Sweet Dee's Dating a Retarded Person

Dee gets involved with a famous local rapper who might be mentally challenged, and whose success inspires the rest of the gang to start a band.

Thursday, October 18th, 2007

s3e10: Mac is a Serial Killer

After Mac arrives to the bar with scratches on his neck and exhibiting strange behavior, Frank comes to the conclusion that he is the serial killer terrorizing young women in Philadelphia. Frank sets out with his trusty chainsaw and a doubtful Charlie to find evidence to implicate Mac in the murders. In search of another suspect, Dennis and Dee do a little role-playing in order to help themselves better understand who they might be dealing with.

Thursday, October 25th, 2007

s3e11: Dennis Looks Like a Registered Sex Offender

When Dennis is mistaken for a recently released child molester, he is more bothered by the fact that the guy is overweight rather than him being a sex offender. Meanwhile, Mac tries once again to bond with his ex-con father, who shows an interest in Dee.

Thursday, November 1st, 2007

s3e12: The Gang Gets Whacked (1)

After stumbling upon a kilo of cocaine, the gang is forced to pay off a $25,000 debt to the mob. Mac becomes a mob informant, while Frank pimps out Dennis as an escort at the local country club. Charlie stumbles upon an opportunity to sell illegal narcotics.

Thursday, November 1st, 2007

s3e13: The Gang Gets Whacked (2)

While paying off their debt to the mob, Charlie and Dee try to find a way to make fake cocaine in order to fool them, while Dennis ranks in thousands of dollars being pimped out at the local country club. Mac realizes his position as a mob informant isn't being utilized to its full potential.

Thursday, November 8th, 2007

s3e14: Bums: Making a Mess All Over the City

Mac and Dee become vigilantes in order to remove the homeless from their neighborhood, while Frank and Dennis impersonate police officers.

Thursday, November 15th, 2007

s3e15: The Gang Dances Their Asses Off

In the season finale, Charlie accidentally puts Paddy's up as a prize for a dance marathon, which prompts the gang to enter the competition in order to save their bar.
Season 4
Thursday, September 18th, 2008

s4e1: Mac and Dennis: Manhunters

Charlie and Dee have been stealing Frank's delicious meats, so Frank leaves out human meat to get back at them. Driven by their cannibalistic needs, Charlie and Dee go in search of human flesh. Mac and Dennis harass Frank for hunting defenseless animals and think it would be much more badass to hunt something that could fight back ... like a human.

Thursday, September 18th, 2008

s4e2: The Gang Solves the Gas Crisis

Charlie, Mac, and Dennis formulate a plan to take advantage of the rising gas prices. By purchasing excess amounts now, they can sell it in the future and profit. As usual, things don't go as planned. Dee is also out to make money when she learns that Bruce is going to give the family fortune to a Muslim cultural center. She and Frank try to stop him and get the cash for themselves.

Thursday, September 25th, 2008

s4e3: America's Next Top Paddy's Billboard Model Contest

Due to the gang's latest "business expenses," Paddy's is in dire need of money. Frank buys a billboard to advertise the bar, but Dee decides to create a viral video to post on YouTube for promotion. Charlie quickly joins her, leaving Frank and Mac to hold a contest for some hot models to feature on the billboard. Naturally, Dennis joins the competition to prove his worth.

Thursday, September 25th, 2008

s4e4: Mac's Banging the Waitress

Charlie finds out that the waitress has been seeing someone. He calls on Mac, his so-called best friend, to find out more information about the guy and to beat him up. However, it turns out that Mac is the guy the waitress has supposedly been seeing. Dennis, heartbroken that he's not Charlie's best friend, tries to win him over.

Thursday, October 2nd, 2008

s4e5: Mac & Charlie Die (1)

Part 1 of 2. Mac and Charlie fake their deaths to avoid the wrath of Mac's father who was released from prison and is out for vengeance.

Thursday, October 2nd, 2008

s4e6: Mac & Charlie Die (2)

Part 2 of 2. Dennis, Frank, and Dee find unique ways of coping with the apparent loss of their friends.

Thursday, October 9th, 2008

s4e7: Who Pooped the Bed?

Charlie and Frank awake to find poop in their bed. Neither will confess to being the owner, so they, Mac, and Dennis try to scientifically deduce who dropped the deuce. Dee wants to do something a bit more sophisticated, so she invites the waitress and Artemis to a girls' night out.

Thursday, October 16th, 2008

s4e8: Paddy's Pub: The Worst Bar in Philadelphia

A newspaper critic is kidnapped by the gang after he calls Paddy's pub the worst bar in Philadelphia.

Thursday, October 23rd, 2008

s4e9: Dennis Reynolds: An Erotic Life

After discovering Dennis' erotic memoir, Mac and Frank attempt to make some money off of it. Meanwhile, Dee and Charlie decide to spend a day in each other's shoes.

Thursday, October 30th, 2008

s4e10: Sweet Dee Has a Heart Attack

After Dee suffers a heart attack, she and Dennis try to live a healthier lifestyle. Meanwhile, Charlie and Mac take corporate jobs to get health insurance.

Thursday, November 6th, 2008

s4e11: The Gang Cracks the Liberty Bell

The gang fudge history by claiming that Paddy's Pub was responsible for cracking the Liberty Bell in an attempt to turn their dive into a Philadelphia landmark.

Thursday, November 13th, 2008

s4e12: The Gang Gets Extreme: Home Makeover Edition

Hoping to make their own dreams come true, the gang sets out to give an unexpected family an extreme home makeover.

Thursday, November 20th, 2008

s4e13: The Nightman Cometh

In the season finale, Charlie gets the gang to help him put together a rock opera based on his song "Nightman."
Season 5
Thursday, September 17th, 2009

s5e1: The Gang Exploits the Mortgage Crisis

Dennis, Mac, and Frank go into real estate, while Dee sets out to be a surrogate for a wealthy couple. Charlie gets into it with an attorney over the law.

Thursday, September 24th, 2009

s5e2: The Gang Hits the Road

The gang tries to expand their horizons by going on a road trip to the Grand Canyon.

Thursday, October 1st, 2009

s5e3: The Great Recession

With a shantytown taking shape outside, Mac and Dennis try to keep Paddy's going in tough times. Meanwhile, Frank and Dee start a family business.

Thursday, October 8th, 2009

s5e4: The Gang Gives Frank an Intervention

Frank's behavior is more bizarre than usual---so bizarre that even the gang notice---so they decide to stage an intervention.

Thursday, October 15th, 2009

s5e5: The Waitress Is Getting Married

The waitress is getting married, Dee is jealous that she's beating her to the altar, so she tries to derail the wedding.

Thursday, October 22nd, 2009

s5e6: The World Series Defense

The gang describes the trials and tribulations they went through, during game five of the World Series, in hopes the judge will clear them of all the citations they received.

Thursday, October 29th, 2009

s5e7: The Gang Wrestles for the Troops

The gang puts together a wrestling show for returning troops. Meanwhile, Dee finally meets the soldier that she has been communicating with over the internet.

Thursday, November 5th, 2009

s5e8: Paddy's Pub: Home of the Original Kitten Mittens

The gang decides to expand their business by developing a number of products that they could sell at Paddy's pub.

Thursday, November 12th, 2009

s5e9: Mac and Dennis Break Up

Mac and Dennis decide that they need to spend some time away from each other. Meanwhile, Charlie helps Dee search for her cat.

Thursday, November 19th, 2009

s5e10: The D.E.N.N.I.S. System

Dennis reveals his foolproof system for seducing any woman to the rest of the gang, but they don't grasp the concept.

Thursday, December 3rd, 2009

s5e11: Mac and Charlie Write a Movie

When Dee gets a part in the new M. Night Shyamalan film, Mac and Charlie seize a chance to pitch their movie script.

Thursday, December 10th, 2009

s5e12: The Gang Reignites the Rivalry

After being banned for 10 years from a local drinking competition appropriately named "Flipadelphia," the gang tries to reignite their old rivalry with another local bar. Finding that they are in need of some serious practice, the guys head to Dennis' old fraternity house at the University of Pennsylvania to get their game up to speed while Dee hones her skills on her own. Frank wears skinny pants.
Season 6
Thursday, September 16th, 2010

s6e1: Mac Fights Gay Marriage

Mac defends traditional marriage, while the rest of the gang reaps the rewards of wedded bliss.

Thursday, September 23rd, 2010

s6e2: Dennis Gets Divorced

Marital bliss turns into business, as the gang experiences the emotional and economic hardships of divorce.

Thursday, September 30th, 2010

s6e3: The Gang Buys a Boat

The gang attempts to find adventure on the sea after they purchase their 'new' boat.

Thursday, October 7th, 2010

s6e4: Mac's Big Break

Mac finally gets his big break after correctly answering a trivia question on the radio. While Frank, Dennis, and Dee take their bar-banter to the internet with their own podcast.

Thursday, October 14th, 2010

s6e5: Mac and Charlie: White Trash

Rejected from a pool club, Mac and Charlie set out fix an abandoned pool to help cope with the Philly heat wave. Meanwhile, Dennis and Dee go about dealing with the heat in a different way.

Thursday, October 21st, 2010

s6e6: Mac's Mom Burns Her House Down

Mac's mother is left homeless after she burns down her house, which leaves Charlie and Mac with no choice but to make new living arrangements; when Dee feels under the weather, Frank tries to muster his paternal instincts to care for her.

Thursday, October 28th, 2010

s6e7: Who Got Dee Pregnant?

The gang gets a real scare after Dee reveals she's pregnant, forcing the guys to recall their last hazy Halloween party to determine who the father is.

Thursday, November 4th, 2010

s6e8: The Gang Gets a New Member

A blast from the past prompts the guys to expand membership, and Dee to re-consider her future.

Thursday, November 11th, 2010

s6e9: Dee Reynolds: Shaping America's Youth

Motivated by the drama teacher who inspired her, Dee takes a job as a substitute teacher, and exposes her students to the culture of Paddy's with a field trip to see the Gang's take on the Lethal Weapon series: Lethal Weapon 5.

Thursday, November 18th, 2010

s6e10: Charlie Kelly: King of the Rats

Keeping the basement rodent-free drives Charlie to the brink. The gang throws Charlie a surprise party.

Thursday, December 2nd, 2010

s6e11: The Gang Gets Stranded in the Woods

En route to Atlantic City for a charity event, Mac, Frank and Dee get lost. Meanwhile, Dennis and Charlie hitch a ride to town.

Thursday, December 9th, 2010

s6e12: Dee Gives Birth

Dee's blessed event is fast approaching but the father's identity remains a mystery---to the gang, at least. So they throw a party and invite all of Dee's former flings.

Thursday, December 16th, 2010

s6e13: A Very Sunny Christmas

After years of being mistreated by Frank during the holiday season, Dennis and Dee decide to teach him a lesson. Meanwhile, Mac and Charlie reflect on their childhood Christmases, and realize that they were not as joyous and wonderful as they remembered.
Season 7
Thursday, September 15th, 2011

s7e1: Frank's Pretty Woman

With Frank intent on marrying a prostitute, The Gang tries to make the best of it by attempting an image makeover to uncover the heart of gold that exists deep inside Frank's ?pretty woman.?

Thursday, September 22nd, 2011

s7e2: The Gang Goes to the Jersey Shore

Dee and Dennis take the gang to their favorite childhood vacation spot where things aren't quite how they remember. While Dee and Dennis see the seedy side of the Jersey Shore, Mac, Frank and Charlie have the nights of their lives.

Thursday, September 29th, 2011

s7e3: Frank Reynolds' Little Beauties

Frank finds himself in the child beauty-pageant business and fears that people might think that he's in it for the wrong reasons. Meanwhile, Dee wages war on stage moms, and Mac, Dennis and Charlie think they have found a contestant to back.

Thursday, October 6th, 2011

s7e4: Sweet Dee Gets Audited

Dee faces an IRS audit over her claim that the baby she carried as a surrogate is her dependent, while the guys decide to run the bar in an unemotional, democratic manner rather than their typical method of shouting and personal attacks.

Thursday, October 13th, 2011

s7e5: Frank's Brother

When Frank's long lost brother Gino shows up at the bar, the two of them tell the gang about the jazz club they ran in the 1960s and 70s, and how they fell out over Shadynasty, a singer who was the love of both of their lives.

Thursday, October 20th, 2011

s7e6: The Storm of the Century

As a hurricane threatens Philadelphia, Mac, Dennis and Charlie go to a mall to buy supplies and check out the large breasted TV reporter broadcasting from there, while Frank and Dee prepare Paddy's, and its basement bunker, for the storm.

Thursday, October 27th, 2011

s7e7: Chardee MacDennis: The Game of Games

The gang plays the most twisted board game ever. Dee and Dennis face Mac, Charlie and Frank.

Thursday, November 3rd, 2011

s7e8: The ANTI-Social Network

The gang uses the Internet to cyber-stalk their prey. Frank tries to drum up business for Paddy's with a viral video.

Thursday, November 10th, 2011

s7e9: The Gang Gets Trapped

The Gang's plan to "extract" an "artifact" from a residence is jeopardized when the owners turn out to be home. Having not been noticed on the way in, they must make a plan to get the same result for the way out.

Thursday, November 17th, 2011

s7e10: How Mac Got Fat

Step inside the confession booth with Mac as he tells a befuddled priest why his fatness is the fault of the other members of The Gang.

Thursday, December 1st, 2011

s7e11: Thunder Gun Express

Traffic problems as a result of the President's visit to Philadelphia makes it difficult for the gang to see the summer's biggest film, "Thunder Gun Express".

Thursday, December 8th, 2011

s7e12: The High School Reunion (1)

The gang have much to prove when they attend their high-school reunion. They meet old friends and make new foes as they stroll down memory lane.

Thursday, December 15th, 2011

s7e13: The High School Reunion Part 2: The Gang's Revenge (2)

The gang come up with a new plan to buff their tarnished high-school reputations at their reunion.
Season 8
Thursday, October 11th, 2012

s8e1: Pop?Pop: The Final Solution

Thursday, October 18th, 2012

s8e2: The Gang Recycles Their Trash

With the garbage men of Philadelphia on strike, Frank concocts a plan to undercut the union and get the contract to collect the city's trash.

Thursday, October 25th, 2012

s8e3: The Maureen Ponderosa Wedding Massacre

The gang make a disturbing discovery after crashing Maureen's wedding.

Thursday, November 1st, 2012

s8e4: Charlie and Dee Find Love

Charlie and Dee become romantically involved with two members of a wealthy family, which arouses jealousy in Mac, Dennis and Frank.

Thursday, November 8th, 2012

s8e5: The Gang Gets Analyzed

The Gang gets Freudian as they step into the therapist's office to work through their mountain of issues. But when Dennis thinks he has everyone figured out, the shrink turns the tables on him and exposes the insanity in his unique brand of pop psychology. Dennis' psychology is exposed as abnormal indeed.

Thursday, November 15th, 2012

s8e6: Charlie's Mom Has Cancer

Mac, Charlie and Dee struggle with their faith as Charlie's mom fights cancer. Meanwhile, Frank loses his memory amidst a search for buried treasure.

Thursday, November 22nd, 2012

s8e7: Frank's Back in Business

Thursday, December 13th, 2012

s8e9: The Gang Dines Out

Every member of The Gang has something to celebrate at Guigino's, Philly's finest eatery, but when Mac and Dennis' private dinner is interrupted by an unexpected sighting of Frank and Charlie, the in-fighting begins. Dee also turns up at a table for one, and over the course of the night, the "one-ups-manship" soars to new heights.

Thursday, December 20th, 2012

s8e10: Reynolds vs. Reynolds: The Cereal Defense

Court is in session at Paddy's Pub as Frank and Dennis present their cases to the rest of the gang, resulting in a verdict that will change their lives FOREVER...but not really.
Season 9
Wednesday, September 4th, 2013

s9e1: The Gang Broke Dee

Dee starts to embrace the desperate, self-loathing qualities the guys have beaten into her over the years, sending her stand-up comedy career to unexpected places.

Wednesday, October 16th, 2013

s9e7: The Gang Squash Their Beefs

Wednesday, September 18th, 2013

s9e3: The Gang Tries Desperately to Win an Award

Tired of failing to be recognized for their years of service in the bar industry, the gang changes their ways to give the patrons what they think they want.

Wednesday, October 2nd, 2013

s9e5: Mac Day

Wednesday, September 11th, 2013

s9e2: Gun Fever Too: Still Hot

After Frank appears on Local Television advocating gun ownership, the rest of the gang takes a look at the ownership process and alternatives to find a common ground on this still heated issue.

Wednesday, October 23rd, 2013

s9e8: The Gang Makes Lethal Weapon 6

Wednesday, October 9th, 2013

s9e6: The Gang Saves the Day

Wednesday, September 25th, 2013

s9e4: Mac and Dennis Buy a Timeshare

The gang does their best to recoup their investments in questionable schemes by dumping their losses on Ben the soldier while trying to avoid being duped again by whatever mastermind is pulling their strings.
Season 8
Thursday, December 6th, 2012

s8e8: Charlie Rules the World

After slipping into an unhealthy obsession with computer games, The Gang wrestles to define the difference between the real and the virtual worlds.
Season 10
Thursday, January 1st, 2015

s10e1: TBA

Wednesday, February 11th, 2015

s10e5: The Gang Spies Like U.S.

Mac, Dennis and Dee spy on the fish factory. Frank and Charlie become suspicious.

Wednesday, February 25th, 2015

s10e7: Mac Kills His Dad

News surfaces about Mac's Dad, Luther, being a murder suspect. Mac goes into full "P.I." mode to clear his father of any wrong doing.

Wednesday, February 18th, 2015

s10e6: The Gang Misses the Boat

After another failed venture, the Gang wonders if their group dynamic is bringing them down as individuals, causing them to separate from one another and find out who they really are.

Wednesday, February 4th, 2015

s10e4: Charlie Work

Charlie directs The Gang in balancing a scheme involving live chickens, steaks and airline miles with a health inspection, in a fast hectic manner.

Wednesday, March 4th, 2015

s10e8: The Gang Goes on Family Fight

When the gang appears on a nationally broadcasted game show, Dennis does his best to keep the gang's weirdness under wraps.

Wednesday, March 11th, 2015

s10e9: Frank Retires

After Frank decides he's worked long enough, the rest of the gang strategizes amongst and against each other for control over "Paddy's."
Season 1
Season 10
Wednesday, January 21st, 2015

s10e2: The Gang Group Dates

The gang gets into the online dating scene to expand their matchmaking potential.
Season 11
Wednesday, February 3rd, 2016

s11e5: Mac & Dennis Move to the Suburbs

Mac and Dennis move to the suburbs for cheaper rent but find it hard to adjust.

Wednesday, February 17th, 2016

s11e7: McPoyle vs. Ponderosa: The Trial of the Century

Old grievances surface when the Lawyers sues Bill Ponderosa on behalf of Liam McPoyle and his lost eye.

Wednesday, January 13th, 2016

s11e2: Frank Falls Out the Window

After falling out of the window, Frank thinks that it's 2006. The other three see this as a chance to fix their past mistakes.

Wednesday, January 20th, 2016

s11e3: The Gang Hits the Slopes

Dennis and Frank battle Dee and Mac for control of the mountain, and Charlie learns the rules of the slopes.

Wednesday, January 27th, 2016

s11e4: Dee Made a Smut Film

Dennis makes a movie spotlighting his erotic memoirs while Frank and Mac try to pass off Charlie as a gifted artist to make money.

Wednesday, March 2nd, 2016

s11e9: The Gang Goes to Hell

The gang tries to take a vacation from their usual dynamic by going on a cruise, but old habits die hard.