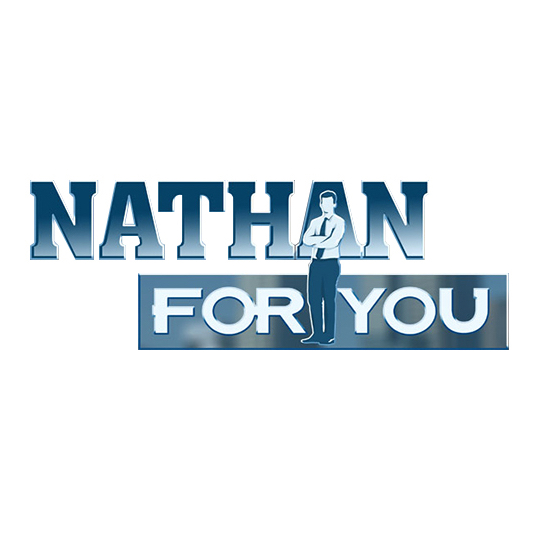 Season 1
Thursday, February 28th, 2013

s1e1: Yogurt Shop / Pizzeria

Comedian Nathan Fielder gives marketing advice to small businesses in this series, which begins with a campaign for a frozen yoghurt shop to offer an unconventional flavour; and a plan for speedier pizza delivery.

Thursday, March 7th, 2013

s1e2: Santa / Petting Zoo

Nathan helps a department-store Santa who's harboring a dark secret and develops a marketing plan for a petting zoo. Also, a teen is nabbed doing graffiti.

Thursday, March 14th, 2013

s1e3: Clothing Store / Restaurant

Nathan tries to help promote a clothing store by allowing "attractive" customers to shoplift from it, and attempts to help a diner by publicizing its bathrooms.

Thursday, March 21st, 2013

s1e4: Gas Station / Caricature Artist

Nathan helps an independent gas station by devising the world's greatest rebate. He also attempts to make a fledgling caricature artist famous.

Thursday, March 28th, 2013

s1e5: Haunted House / The Hunk

Nathan helps a haunted house by making it scarier. Later, he attempts to overcome his awkwardness around women by dating several of them at once.

Thursday, April 4th, 2013

s1e6: Funeral Home / Burger Joint / Skydiving

Nathan helps a struggling funeral home. A burger joint is forced to stand by its claim that it has the best burger in Los Angeles, and Nathan goes skydiving.

Thursday, April 11th, 2013

s1e7: The Claw of Shame

In this special episode, Nathan performs a daring escape in which he risks a fate that is truly worse than death, and failed business ideas from the season are showcased.

Thursday, April 18th, 2013

s1e8: Private Investigator / Taxi Company

Nathan puts a private investigator to the test by allowing himself to be spied on for a day, a taxi company is brought a solution for shy customers, and Nathan is forced to include product placement in his show.
Season 2
Tuesday, July 1st, 2014

s2e1: Mechanic / Realtor

Nathan convinces a mechanic to verify his estimates with a polygraph test and rebrands Sue Stanford as the Ghost Realtor.

Tuesday, July 8th, 2014

s2e2: Souvenir Shop / ELAIFF

Nathan sets up a fake film shoot in an effort to boost sales at a Hollywood souvenir shop, but his plan gets complicated when he discovers that he may have committed fraud.

Tuesday, July 15th, 2014

s2e3: Pet Store / Maid Service

Nathan places a controversial ad in a pet cemetery and takes tips from a focus group.

Tuesday, July 22nd, 2014

s2e4: Liquor Store / Exterminator / Car Wash

Nathan helps a liquor store sell to underage customers; an exterminator works very discreetly.

Tuesday, July 29th, 2014

s2e5: Dumb Starbucks

Nathan uses parody law to help a struggling coffee shop.

Tuesday, August 5th, 2014

s2e6: Daddy's Watching / Party Planner

Nathan helps a dating website attract female users; a party planner; self-motivation.

Tuesday, August 12th, 2014

s2e7: Taxi Service / Hot Dog Stand

Nathan tries to get press for a taxi company; defending a hot dog stand's reputation.

Tuesday, August 19th, 2014

s2e8: Toy Company / Movie Theatre

Nathan shows a toy company how to market to children; a movie theater instates a no-sharing policy.
Season 3
Thursday, October 15th, 2015

s3e1: Electronics Store

Nathan tries to help a struggling electronics store, and faces off against a large corporation.

Thursday, October 22nd, 2015

s3e2: Horseback Riding / Man Zone

Nathan comes up with a way for a ranch to accommodate overweight riders; a women's boutique attempts to appease male customers; Nathan may have committed a hate crime.

Thursday, October 29th, 2015

s3e3: The Movement

Nathan devises a way to provide a moving company with free labor.

Thursday, November 5th, 2015

s3e4: Sporting Goods Store / Antique Shop

An endorsement deal is sought for a sporting-goods store; an antique shop amends a policy regarding accidents.

Thursday, November 12th, 2015

s3e5: Smokers Allowed

Nathan helps a dive bar skirt anti-smoking laws.

Thursday, November 19th, 2015

s3e6: Hotel / Travel Agent

A hotel markets itself to parents who are sexually active; a travel agent concentrates on older clients. Also, Nathan shares his solution for tardiness.

Thursday, December 3rd, 2015

s3e7: Nail Salon / Fun

A plan to protect nail polish from chipping doesn't go as scripted. Also: Nathan works on his worst personality flaw.

Thursday, December 10th, 2015

s3e8: The Hero

In the Season 3 finale, Nathan searches for a hero that he says is inside of everyone.