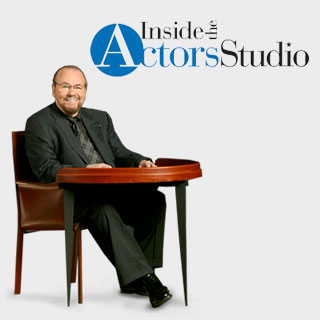 Season 0
Monday, September 22nd, 2008

s0e1: Brooke Shields

Veteran actress Brooke Shields shares her story of growing up in the spotlight with host James Lipton, from her breakout in 1978's "Pretty Baby" to her latest role as the dynamic film executive Wendy Healy in "Lipstick Jungle."

Monday, October 14th, 2002

s0e2: The 100th Episode - A Celebration

Will the real James Lipton please stand up? For the first time on television James Lipton appears on stage with his comedic nemesis Will Ferrell, who regularly delivers a devilishly, dead-on parody of Lipton on the venerable late night comedy series "Saturday Night Live." Lipton marks a milestone of his own celebrating his 100th guest, Gene Hackman. While Ferrell's faux Actors Studio guests have included Charles Nelson Reilly, and "Saved by the Bell's" "Screech," Lipton has interviewed 100 of our greatest actors including Robert DeNiro, Meryl Streep, Kevin Spacey, Paul Newman, Julia Roberts, Susan Sarandon, Jack Lemmon, Anthony Hopkins and many others. All are featured in the special retrospective hour -- with a few surprises thrown in -- followed by a one-hour interview with Gene Hackman.

Sunday, December 7th, 1997

s0e3: Inside the Actors Studio: A 50 Year Celebration

The Actors Studio, founded in 1947, gained attention as Brando, James Dean, Tennessee Williams and other early members practiced their new "method" and emerged with a naturalistic style of acting previously unseen in movies.
Season 1
Sunday, August 14th, 1994

s1e1: Paul Newman

Sunday, June 12th, 1994

s1e2: Alec Baldwin

Sunday, September 11th, 1994

s1e3: Stephen Sondheim

Sunday, October 16th, 1994

s1e4: Sidney Lumet

Sunday, November 13th, 1994

s1e5: Shelley Winters

s1e6: Sally Field

s1e7: Dennis Hopper

s1e8: Arthur Miller

s1e9: Arthur Penn

s1e10: Estelle Parsons

s1e11: Neil Simon

s1e12: Sydney Pollack

s1e13: Mary Stuart Masterson
Season 2
s2e1: Lee Grant

s2e2: Faye Dunaway

s2e3: Matthew Broderick

s2e4: Glenn Close

s2e5: Holly Hunter

s2e6: Ellen Burstyn

s2e7: Jessica Lange

s2e8: Carol Burnett

s2e9: Christopher Walken

s2e10: Gene Wilder
Season 3
s3e1: Mark Rydell

s3e2: Christopher Reeve

s3e3: Nathan Lane

s3e4: Angelica Huston

s3e5: Norman Jewison

s3e6: Matt Dillon

s3e7: Tommy Lee Jones

s3e8: Mike Nichols

s3e9: Julia Roberts

s3e10: Meg Ryan

s3e11: Anthony Quinn

s3e12: Willem Dafoe

Tuesday, January 30th, 1996

s3e13: Billy Crystal
Season 4
s4e1: Harvey Keitel

s4e2: Shirley MacLaine

s4e3: Eli Wallach

s4e4: Anne Jackson

s4e5: Lauren Bacall

s4e6: Martin Short

s4e7: Sir Anthony Hopkins

Sunday, October 11th, 1998

s4e8: Danny Glover

The popular and influential African-American actor speaks candidly about his style, his potrayal of famous figures, his charity work and his San Francisco heritage.

Sunday, October 18th, 1998

s4e9: Whoopi Goldberg

s4e10: Jack Lemmon
Season 5
Sunday, November 22nd, 1998

s5e1: Meryl Streep

s5e2: John Hurt

s5e3: Laurence Fishburne

s5e4: Donald Sutherland

Sunday, January 3rd, 1999

s5e5: Ron Howard

Actor-director Ron Howard talks about growing up on television as Opie Taylor on "The Andy Griffith Show" and Richie Cunningham on "Happy Days." Also: his approach as a director on films like "Splash," "Night Shift," "Parenthood" and "Apollo 13."

Sunday, January 10th, 1999

s5e6: Sharon Stone

Sunday, January 17th, 1999

s5e7: Sean Penn

Actor Sean Penn is profiled and interviewed about his career.

Sunday, January 31st, 1999

s5e8: Robert De Niro

In this no-holds-barred meeting, the veteran Hollywood actor talks in depth about his career which spans blockbluster films across several decades.

Sunday, February 14th, 1999

s5e9: Steven Spielberg

s5e10: Tim Robbins

Sunday, July 11th, 1999

s5e11: Jennifer Jason Leigh

s5e12: Kim Basinger

s5e13: Ellen Barkin

Sunday, August 8th, 1999

s5e14: Peter Falk

s5e15: Jerry Lewis

Sunday, December 12th, 1999

s5e19: Tom Hanks
Season 6
Sunday, November 14th, 1999

s6e1: Billy Joel

s6e2: Mary Tyler Moore

Sunday, December 5th, 1999

s6e3: Sylvester Stallone

Actor/Director Sylvester Stallone is interviewed on his career.

Sunday, December 12th, 1999

s6e4: Tom Hanks

Sunday, January 9th, 2000

s6e5: Sir Michael Caine

The world-renouned British actor talks in length about his roots and his subsequent illustrious career.

Sunday, April 9th, 2000

s6e6: Geena Davis

Sunday, April 30th, 2000

s6e7: James Woods

Sunday, May 7th, 2000

s6e8: Andy Garcia

Sunday, July 2nd, 2000

s6e9: Kevin Spacey

The well-established actor discusses his rise from underdog to premiere Hollywood and stage star.

Sunday, June 4th, 2000

s6e10: Philip Seymour Hoffman

Sunday, August 6th, 2000

s6e11: Alan Alda

Sunday, August 20th, 2000

s6e12: Harrison Ford

The versatile leading man fills the host and the studio audience in on his unusual entrance to acting and the details of his illustrious film career.

Sunday, October 29th, 2000

s6e13: Sigourney Weaver
Season 7
Sunday, November 12th, 2000

s7e1: Bernadette Peters

s7e2: Val Kilmer

Sunday, November 19th, 2000

s7e3: James Caan

Sunday, December 3rd, 2000

s7e4: Richard Dreyfuss

Sunday, December 10th, 2000

s7e5: Gabriel Byrne

Sunday, December 17th, 2000

s7e6: Spike Lee

s7e7: Ed Harris

Sunday, January 14th, 2001

s7e8: Ben Affleck

The charismatic character actor discusses his on-screen personas, his writing career, his relationship with fellow actor Matt Damon and all points in-between.

s7e9: Ned Beatty

Monday, November 6th, 2000

s7e10: Mike Myers

Interview with Mike Myers, who shot to fame with Wayne's World in 1992 before going on to create the Austin Powers movies and provide the voice of animated ogre Shrek

Sunday, February 18th, 2001

s7e11: Michael Douglas

Sunday, March 11th, 2001

s7e12: Gwyneth Paltrow

Sunday, April 15th, 2001

s7e13: Helen Hunt

The gifted female lead actress talks about her well-steeped dramatic heritage and steady rise to success.

Sunday, May 6th, 2001

s7e14: Francis Ford Coppola

One of the all-time great directors takes the stage to compare notes on his signature directing style, his relationship with his actors and the support of his family and the importance of all these factors on his work.

Sunday, June 10th, 2001

s7e15: Robin Williams

The enduringly popular, quick-witted comic turned actor takes the chair in this hilarious episode.

Sunday, July 15th, 2001

s7e16: Melanie Griffith

s7e17: Antonio Banderas

s7e18: Burt Reynolds
Season 8
Sunday, September 30th, 2001

s8e1: Ben Stiller

The world-renouned comedic actor looks back on a life lived constantly in showbusiness, his appearances on various television shows and his breakthrough into the world of movies.

Sunday, October 14th, 2001

s8e2: Gene Hackman

Sunday, October 21st, 2001

s8e3: Kevin Kline

Sunday, October 28th, 2001

s8e4: Bruce Willis

Sunday, November 25th, 2001

s8e5: Kevin Costner

Sunday, January 13th, 2002

s8e6: Will Smith

The good-natured family-friendly actor and all-round entertainer shows the audience why he is one of the most well-liked people in Hollywood.

Sunday, January 27th, 2002

s8e7: Stockard Channing

Sunday, February 17th, 2002

s8e8: Debra Winger

Sunday, March 3rd, 2002

s8e9: Sarah Jessica Parker

Sex And The City star Sarah Jessica Parker discusses her career and ambitions, charting a life of performing from stage school to movie success. Presented by James Lipton

Sunday, March 17th, 2002

s8e10: Sir Ben Kingsley

Sunday, April 7th, 2002

s8e11: Dennis Quaid

Sunday, April 21st, 2002

s8e12: Ethan Hawke

Sunday, May 5th, 2002

s8e13: Richard Gere

Sunday, May 12th, 2002

s8e14: Hugh Grant

Sunday, June 2nd, 2002

s8e15: Samuel L. Jackson

In opposition to the forecefully assertive and violent on-screen personas he often portrays, this laid-back actor calmly reveals the situations of his early life, his choice to become a performer and his hobbies and interests.

Sunday, June 30th, 2002

s8e16: Benicio del Toro

Sunday, August 4th, 2002

s8e17: Vanessa Redgrave
Season 9
Sunday, October 6th, 2002

s9e1: Sissy Spacek

Sunday, October 27th, 2002

s9e2: Juliette Binoche

s9e3: Jeanne Moreau

Sunday, November 17th, 2002

s9e4: Pierce Brosnan

Sunday, December 8th, 2002

s9e5: Sir Ian McKellen

The legendary Shakesperian thespian talks frankly about his upbringing, mutitude of roles and the difficulties caused by his homosexuality.

Sunday, December 15th, 2002

s9e6: Martin Scorsese

Vaunted director Martin Scorsese looks back at the highlights of his well-loved works, discusses his choice to become a filmmaker and his continued passion for celluloid.

Sunday, December 22nd, 2002

s9e7: Julianne Moore

Sunday, January 12th, 2003

s9e8: Edward Norton

Sunday, February 9th, 2003

s9e9: The Cast of The Simpsons

This will be Julie Kavner's first interview with the other Simpsons cast.

Sunday, February 16th, 2003

s9e10: Nicolas Cage

Sunday, March 2nd, 2003

s9e11: Drew Barrymore

The charming actress discusses the challenges of being a child actor, her teenage struggle with drugs and her transformation into a venerable leading lady.

Sunday, March 9th, 2003

s9e12: Renee Zellweger

In her short but illustrious career this actress has demonstrated remarkable skill and committment to her film roles and picked up numerous awards, which she discusses at length.

Sunday, April 13th, 2003

s9e13: John Travolta

Actor John Travolta is interviewed on his career.

Sunday, May 4th, 2003

s9e14: Jeremy Irons

Sunday, May 11th, 2003

s9e15: Joanne Woodward

Sunday, May 18th, 2003

s9e16: Martin Sheen

Sunday, July 20th, 2003

s9e17: Jeff Bridges
Season 10
Sunday, September 14th, 2003

s10e1: John Goodman

The good-humoured and accomplised actor of both hit movies and television shows, dramatic and comedic, takes to the stage to compare notes on his auspicious vocation.

Sunday, October 5th, 2003

s10e2: Clint Eastwood

The writer, director and long-running acclaimed actor draws on over five decades of professional experience in a thrilling dissertation of his successes.

Sunday, November 16th, 2003

s10e3: The Cast of Will & Grace

Sunday, December 14th, 2003

s10e4: Cate Blanchett

Sunday, December 21st, 2003

s10e5: Jude Law

Sunday, December 28th, 2003

s10e6: Naomi Watts

Sunday, January 4th, 2004

s10e7: Russell Crowe

The hugely popular Australian actor discusses his sudden rise to A-list status, his unusual upbringing and his often tempestuous, misunderstood relationship with the press.

Sunday, January 11th, 2004

s10e8: Tom Cruise

The constantly popular actor enthusiastically responds to James Liptons questions, including those dealing with his various relationships over the years and his choice to become a Scientologist.

Sunday, January 18th, 2004

s10e9: Charlize Theron

Sunday, February 8th, 2004

s10e10: Diane Lane

Sunday, February 15th, 2004

s10e11: Jay Leno

Sunday, March 7th, 2004

s10e12: Hugh Jackman

The talented Australian takes to the chair to chronicle his fast rise to fame in a variety of different films, as well as touching on his unusual upbringing.

Sunday, March 14th, 2004

s10e13: Kate Winslet

The beautifully vivacious, multi-award winning yet down-to-earth English actress, recently a mother at the time of broadcast, visits the studio.

Sunday, March 21st, 2004

s10e14: Barbra Streisand

Sunday, June 6th, 2004

s10e15: Bette Midler
Season 11
Sunday, October 10th, 2004

s11e1: Jennifer Lopez

Sunday, October 17th, 2004

s11e2: James Gandolfini

James Lipton chats to The Sopranos star James Gandolfini, who talks about his rise to fame and his roots on the Broadway stage

Sunday, October 24th, 2004

s11e3: William H. Macy

The prolific award-winning character actor discusses his unique approach to his roles, the variety of them and the implications of his portrayals now his has a family.

Sunday, October 31st, 2004

s11e4: George Carlin

New York comedian George Carlin fields questions about his long-running standup career, his many dislikes and the nature of life in this frank and revealing interview session.

Sunday, November 7th, 2004

s11e5: Jennifer Connelly

The former child actor turned A-list actress discusses her many awards for both her roles and her looks, and her beginnings in New York state.

Sunday, November 14th, 2004

s11e6: Mark Wahlberg

Sunday, November 21st, 2004

s11e7: Natalie Portman

The former Harvard graduate and runaway success story takes the chair and discusses her mixed roots, her response to being cast in so many successful films and her plans for the future.

Sunday, November 28th, 2004

s11e8: Jamie Foxx

James Lipton interviews Jamie Foxx.

Sunday, December 5th, 2004

s11e9: Salma Hayek

The beautiful and talented actress enlightens the audience about her struggles to become a leading lady and how much she intends to make the most of her accomplishments.

Sunday, January 2nd, 2005

s11e10: Morgan Freeman

The versatile, highly-skilled, softly spoken veteran takes the time to describe his life, his surprise at his success and his intentions to keep acting for as long as posslble.

Sunday, January 9th, 2005

s11e11: Cameron Diaz

The beautiful and talented actress mentions her Californian upbringing, Cuba heritage and incredible success as the leading lady in many blockbuster films, plus her love of rock music.

Sunday, January 23rd, 2005

s11e12: Kiefer Sutherland

Son of esteemed actor Donald Sutherland, Keifer discusses how his life is steeped in acting tradition and his own recognition came as both a television and film star.

Sunday, January 30th, 2005

s11e13: Robert Redford

Sunday, April 10th, 2005

s11e14: David Duchovny

James Lipton interviews David Duchovny about his acting career.

Sunday, April 24th, 2005

s11e15: Jane Fonda

Sunday, May 8th, 2005

s11e16: Angelina Jolie

The hugely successful actress takes the chair and answers the questions about her career, love and life with candour and charm.

Sunday, June 19th, 2005

s11e17: The Cast of Everybody Loves Raymond

Sunday, October 30th, 2005

s11e18: Michael J. Fox
Season 12
Sunday, September 25th, 2005

s12e1: Jodie Foster

James Lipton interviews the quietly successful lead actress in many different films. Taped after the making of, but before the release of, "Flightplan."

Sunday, October 16th, 2005

s12e2: Elton John

s12e3: Rosie O'Donnell

Sunday, October 30th, 2005

s12e4: Michael J. Fox

The Emmy winner for his work in the TV series "Family Ties" and "Spin City, and star of the "Back to the Future" films talks about his craft and his handling of the disease that ended his career.

Sunday, December 11th, 2005

s12e5: The Cast of the Producers

The making of the Broadway smash "The Producers" into a film is discussed by actors Matthew Broderick and Nathan Lane and director Susan Stroman.

Sunday, December 18th, 2005

s12e6: Barbara Walters

Sunday, January 8th, 2006

s12e7: Queen Latifah

Sunday, January 15th, 2006

s12e8: Ralph Fiennes

Sunday, January 22nd, 2006

s12e9: Martin Lawrence

Sunday, February 5th, 2006

s12e10: Liza Minnelli

Sunday, February 12th, 2006

s12e11: Dave Chappelle

Comedian Dave Chappelle discusses his TV and film work, including "Chappelle's Show," "Blue Streak" and "Undercover Brother."

Sunday, May 7th, 2006

s12e12: The Casts of Law & Order

Sunday, May 14th, 2006

s12e13: Tom Hanks (II)

Tom Hanks returns to the Actors Studio for a second time.

Sunday, May 21st, 2006

s12e14: Don Cheadle

Tuesday, June 6th, 2006

s12e15: Tim Allen

Sunday, June 25th, 2006

s12e16: Dustin Hoffman

A star-studded audience attends to see the beloved, talented leading man who gives a rare in-depth interview with humor and honesty.
Season 13
Monday, December 11th, 2006

s13e1: Forest Whitaker

Forest Whitaker is profiled and interviewed about his career.

Monday, December 18th, 2006

s13e2: Eddie Murphy

The comedic actor discusses his huge successes, his big break and his ever-aspirational outlook on life.

Monday, January 8th, 2007

s13e3: Matt Damon

The writer/actor and all-around nice guy discusses how he slowly but surely rose to fame with persistance and support from friends and family, becoming one of the best-paid and most admired performers in the business.

Monday, February 19th, 2007

s13e4: Diana Ross

Singer and actress Diana Ross is interviewed about her career.

Monday, March 12th, 2007

s13e5: Chris Rock

Robert Lipton interviews comedian/actor Chris Rock about his career and background.

Monday, March 19th, 2007

s13e6: Mark Ruffalo

Host Robert Linton talks to Mark Ruffalo about his various roles.

Monday, June 4th, 2007

s13e7: Julia Louis-Dreyfus

James Lipton interviews Julia-Louis Dreyfus about her various acting roles.

Monday, June 11th, 2007

s13e8: Kyra Sedgwick

Actress Kyra Sedgwick is interviewed about her career and movie & TV roles.

Monday, August 6th, 2007

s13e9: Michelle Pfeiffer

James Lipton looks back at Pfeiffer's career. She returns to the screen after a 5 year absence with a role in the remake of Hairspray, and delves into the execution of her other well-loved characters.

Monday, September 17th, 2007

s13e10: Charlie Sheen

James Lipton talks to Charlie Sheen about his various film and TV roles.

Monday, October 8th, 2007

s13e11: Billy Crystal (II)

Actor/comedian Billy Crystal makes a second visit to the show to talk with James Lipton about his work in films.

Monday, October 15th, 2007

s13e12: Sir Anthony Hopkins (II)

Acclaimed actor and proud owner of a knighthood, Sir Anthony Hopkins returns to talk to James Lipton about his continually successful career on screen and stage.

Monday, October 22nd, 2007

s13e13: Alec Baldwin (II)

James Lipton talks to Alec Baldwin about his career since his original 1994 appearance on the show, and his recent foray into television.

Monday, October 29th, 2007

s13e14: Halle Berry

This actress, often voted high on "most beautiful people" lists, discusses her difficult upbringing and her perserverance to get into showbizness despite opposition.

Monday, December 3rd, 2007

s13e15: John Cusack

The coolly charismatic actor recounts events from his interesting 25-year career, including his penchant for delivering soulful monologues in the rain.
Season 14
Monday, May 19th, 2008

s14e1: Sarah Jessica Parker

Monday, June 16th, 2008

s14e2: Mike Myers
Season 15
Wednesday, September 10th, 2008

s15e1: Dave Chappelle

Comedian Dave Chappelle discusses his comedic TV and film work

Monday, October 13th, 2008

s15e2: Christian Slater

Christian Slater, star of TV's "My Own Worst Enemy," reflects on his life and career in the 15th-season opener.

Wednesday, October 22nd, 2008

s15e3: Brooke Shields

Monday, November 10th, 2008

s15e4: The 200th Episode

In the 200th episode, comedian Dave Chappelle interviews host James Lipton. Also, highlights and favorite guests from classic interviews.

Monday, December 1st, 2008

s15e5: Daniel Radcliffe

Daniel Radcliffe, star of the "Harry Potter" film franchise, charts his career journey in a chat with host James Lipton.

Monday, January 5th, 2009

s15e6: Josh Brolin

The career journey of Josh Brolin, star of "W." (2008), "No Country for Old Men" (2007) and "The Goonies" (1985), is chronicled.

Monday, January 12th, 2009

s15e7: Laura Linney

Laura Linney---three-time Emmy winner and three-time Oscar nominee (for 2007's "The Savages," 2004's "Kinsey" and 2000's "You Can Count on Me")---shares perspective on her life and career in a discourse with host James Lipton.

Monday, January 19th, 2009

s15e8: Ricky Gervais

English comic actor Ricky Gervais, star of the U.K. version of "The Office" and cable TV's "Extras," recaps his life and career journey in a chat with host James Lipton.

Monday, January 26th, 2009

s15e9: Conan O'Brien

James Lipton interviews late-night talk-show host Conan O'Brien. The onetime writer for "Saturday Night Live" and "The Simpsons" gives humorous expression to his life experiences and career journey.

Monday, February 2nd, 2009

s15e10: Anthony LaPaglia

Monday, May 4th, 2009

s15e11: Denis Leary

James Lipton interviews Irish-American comedian Denis Leary, who first became known for his acerbic stand-up routines before carving out an acting career

Monday, May 11th, 2009

s15e12: Danny DeVito

James Lipton interviews Danny DeVito, who became one of cinema's most popular comic actors with roles in films including Romancing the Stone, Twins and Ruthless People

Monday, July 27th, 2009

s15e13: Judd Apatow

Monday, August 31st, 2009

s15e14: Mickey Rourke

Monday, September 7th, 2009

s15e15: Jason Bateman

James Lipton interviews Jason Bateman, star of critically acclaimed sitcom Arrested Development, about his life and career, including his time as a child star

Monday, September 14th, 2009

s15e16: The Cast of Family Guy

Seth MacFarlane and company discuss the tempestuous tenure of one of the most loved risque animated shows on television, as well as recounting how they came to work together in the first place.

Monday, September 21st, 2009

s15e17: Amy Poehler
Season 16
Monday, November 9th, 2009

s16e1: Hilary Swank

Actress Hilary Swank becomes the third youngest woman ever to win two Oscars for 'Best Performance by an Actress in a Leading Role.'

Monday, November 16th, 2009

s16e2: Bon Jovi

James Lipton interviews the band, Bon Jovi. Among other things, they talk about other band names that were discussed.

Monday, December 21st, 2009

s16e3: Kate Hudson

Monday, March 1st, 2010

s16e4: James Cameron

Tuesday, May 25th, 2010

s16e5: Sean Combs

James Lipton interviews hip-hop mogul Sean Combs, who discusses his turbulent upbringing, exuberant public persona and the death of rapper and close friend Notorious BIG

Tuesday, September 28th, 2010

s16e6: Betty White
Season 17
Monday, March 14th, 2011

s17e1: Bradley Cooper

Bradley Cooper, star of The Hangover, Limitless and the big-screen adaptation of The A-Team, discusses his life and career. Presented by James Lipton

Tuesday, December 7th, 2010

s17e2: James Franco

James Lipton chats to actor James Franco, who won a Golden Globe for his performance in the title role of the biopic James Dean, before finding success in the Spider-Man films and Danny Boyle's 127 Hours

Monday, February 7th, 2011

s17e3: Colin Firth

Monday, March 14th, 2011

s17e4: Bradley Cooper

Bradley Cooper, star of The Hangover, Limitless and the big-screen adaptation of The A-Team, discusses his life and career. Presented by James Lipton

Tuesday, June 7th, 2011

s17e5: Cast of Modern Family

James Lipton set aside a special hour-long broadcast of 'Inside the Actors Studio for the adult castmembers from 'Modern Family.' To keep things interesting -- and a little confusing if you were trying to watch this while multitasking -- Lipton decided to interview both the actors and the characters they play on television.

Wednesday, July 6th, 2011

s17e6: Jennifer Aniston
Season 2
s2e11: Stanley Donen

s2e12: Martin Landau
Season 4
s4e11: Gary Sinise

s4e12: Kathy Bates

s4e13: Susan Sarandon
Season 7
Season 8
Sunday, August 18th, 2002

s8e18: Billy Bob Thornton

Sunday, September 8th, 2002

s8e19: Johnny Depp

The versatile but often misunderstood lead man takes the stage and demystifies himself in style.
Season 10
Sunday, June 20th, 2004

s10e16: 10th Anniversary Special

Inside the Actor's Studio, 10th Anniversary
Season 12
Sunday, July 9th, 2006

s12e17: Robert Downey Jr.

It hasn't been the smoothest of careers for the multi-talented entertainer, but here he recounts tales of his best and worst moments with panache.

Monday, July 31st, 2006

s12e18: Hugh Laurie

Actor Hugh Laurie is interviewed about his career and his transition from classic British comedy to American drama.

Monday, September 18th, 2006

s12e19: Teri Hatcher

The popular leading lady mentions highlights from her long career and chronicles her start as a ballerina and singer before moving onto theatre productions.

Monday, October 2nd, 2006

s12e20: Al Pacino

One of the most respected veteran actors in all of showbusiness takes the chair to go through the moments in life which defined him as both person and performer.
Season 14
Monday, November 3rd, 2008

s14e3: Goldie Hawn

A conversation with Oscar-winning actress Goldie Hawn, who retraces her career journey and discusses her books, her tattoo and her mother's death. Highlighted films include "The Sugarland Express" (1974) and "The First Wives Club" (1996).
Season 17
Tuesday, January 31st, 2012

s17e7: George Clooney

Friday, February 10th, 2012

s17e8: Brad Pitt

Brad Pitt casts light on his life and career in an interview with James Lipton.
Season 18
Tuesday, January 31st, 2012

s18e1: George Clooney

James Lipton interviews George Clooney, who found fame on TV medical drama ER before embarking on a highly successful film career and winning an Oscar for his role in Syriana

Friday, February 10th, 2012

s18e2: Brad Pitt

James Lipton interviews Hollywood star Brad Pitt, who has received Oscar nominations for his roles in Moneyball, Twelve Monkeys and The Curious Case of Benjamin Button

Monday, April 9th, 2012

s18e3: Cast of Glee

It is time for fans to unleash their inner gleek as Bravo Media welcomes the cast and creator of the hit television series, "Glee," to the "Inside the Actors Studio" stage, premiering on Monday, April 9th at 8pm et/pt. Currently in its 18th season, host James Lipton is joined by cast members Lea Michele, Matthew Morrison, Jane Lynch, Chris Colfer, Cory Monteith and co-creator Ryan Murphy. From Chris Colfer's never-before-seen audition tape to Lea Michele's first big break on Broadway to Cory Monteith's troubled past, no stone is left unturned as they give viewers an inside look into their fascinating careers and reveal behind-the-scene stories from the set of the hit series.
Season 0
Sunday, November 29th, 1998

s0e4: Robert De Niro - Deleted Scenes #1

Sunday, November 29th, 1998

s0e5: Robert De Niro - Deleted Scenes #2

Sunday, November 29th, 1998

s0e6: Robert De Niro - Deleted Scenes #3

Sunday, November 29th, 1998

s0e7: Robert De Niro - Deleted Scenes #4
Season 18
Monday, May 14th, 2012

s18e4: Cast of Mad Men

James Lipton interviews Mad Men stars Jon Hamm, Christina Hendricks, John Slattery, January Jones, Vincent Kartheiser and Jared Harris, as well as the show's creator Matthew Weiner

not specified

s18e5: Hugh Jackman 2nd Visit
Season 19
Tuesday, March 19th, 2013

s19e1: Tina Fey

Comic and actress Tina Fey discusses her comedy roots in Chicago, being a writer for 'Saturday Night Live,' hosting the Golden Globe Awards, and impersonating Sarah Palin.

Wednesday, May 29th, 2013

s19e2: 250th Special

Bravo Media's Emmy-nominated series Inside the Actors Studio, hosted by James Lipton, reaches a milestone of 250 episodes with a two-hour event on Wednesday, May 29 at 7 pm. Lipton sits down for new interviews with former guests including Actors Studio alumnus Bradley Cooper, Robert DeNiro, Jennifer Lopez, Christopher Walken, Barbara Walters, Dave Chappelle, Jay Leno, Conan O'Brien, Ellen Burstyn, and Spike Lee. Notable fans of the show including Katie Couric, Donald Trump and Sugar Ray Leonard share their favorite guests and moments from the past 19 seasons.