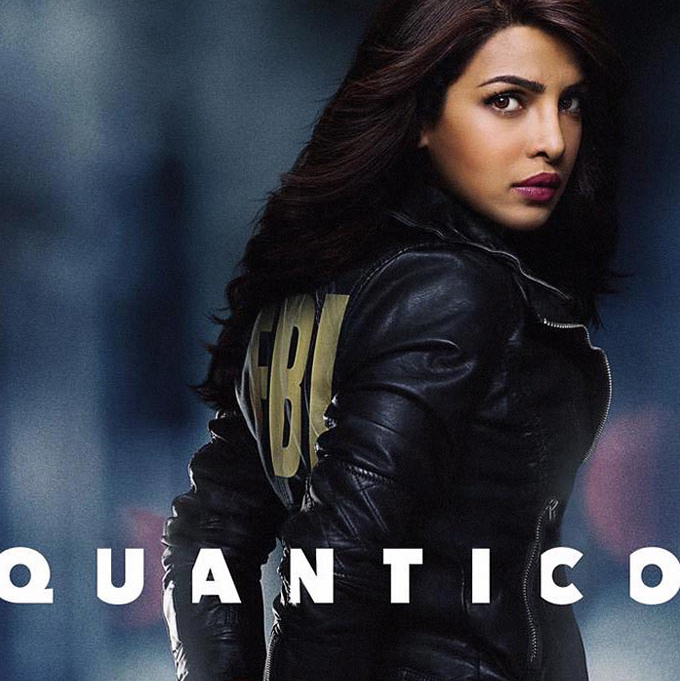 Season 0
Sunday, August 30th, 2015

s0e1: Inside Look

New recruits for the FBI are suspected of masterminding a terrorist attack. Take a look at some inside moments from the show.
Season 1
Sunday, September 27th, 2015

s1e1: Run

A diverse group of recruits has arrived at the FBI Quantico Base for training. They are the best, the brightest and the most vetted, so it seems impossible that one of them is suspected of masterminding the biggest attack on New York City since 9/11.

Sunday, October 4th, 2015

s1e2: America

Alex is on the run and must outsmart Liam and his team to get into her apartment for anything that could help clear her name. Meanwhile, in a flashback to Quantico training, the NATS are tasked with finding a needle in a haystack while looking for potential threats to national security.

Sunday, October 11th, 2015

s1e3: Cover

At Quantico, Alex finally receives information about her father and his FBI past, but in the future it's her mother, Sita, who plays a key role when Liam convinces her to participate in a press conference on national television begging Alex to turn herself in. Also at "Quantico," the NATS learn the art of profiling and focus on their classmates' strengths and weaknesses, ultimately challenging their confidence and comradery.

Sunday, October 18th, 2015

s1e4: Kill

At Quantico, the recruits are tasked with performing a hostage rescue training exercise that shakes Alex, making her question her ability and whether she should quit Quantico. While in the future, Alex continues to search for clues, finding one that questions the innocence of one of her closest classmates. But is her clue really what she thinks? No one is who they seem.

Sunday, October 25th, 2015

s1e5: Found

The trainees leave campus for the first time while undergoing their first undercover assignment. With an evening full of unpredictable events, Alex and Ryan find themselves getting close while the recruits' skills are tested. In the future, Alex decides to tell her side of the story and sits down for her first public interview leaving everyone watching to wonder who is really telling the truth.

Sunday, November 1st, 2015

s1e6: God

The NATs learn surveillance by putting it into practice with Miranda and her troubled son, Charlie. Shelby tries to keep Caleb at a distance, but Raina opens the door to a closer relationship with Simon. In the future, Alex is helped when she tries to hack into an FBI computer.

Sunday, November 8th, 2015

s1e7: Go

It's midterm exam time at Quantico where the NATS are given an explosive assignment which results in some people going home for good. In the future, Alex continues to try and clear her name, finding Nimah and Raina who provide more questions than answers leaving Alex and the world to wonder, "who can you really trust?

Sunday, November 15th, 2015

s1e8: Over

In the future, the FBI computer system is hacked and confidential files go public leading Alex to the conclusion that a second bomb is in play somewhere in NYC. Back at Quantico, the recruits are given individual assignments only to realize they are all connected as part of a lesson to look at the bigger picture.

Sunday, November 29th, 2015

s1e9: Guilty

At Quantico, the NATS attend a class with guest speaker Dr. Susan Langdon. Dr. Langdon is a former agent and profiler who tasks the trainees with looking at serial killer cases to find the one victim that doesn't fit the case, but when Simon becomes too good at finding things that don't belong, it's his life that becomes endangered. In the future, Alex is interrogated by a highly sophisticated FBI team while Ryan's life hangs in the balance.

Sunday, December 6th, 2015

s1e10: Quantico

At Quantico, an emergency disciplinary hearing causes deep secrets to be spilled, while in the future Alex works covertly with her team to find the real bomber before her time runs out.

Sunday, December 13th, 2015

s1e11: Inside

The terrorists responsible for the bombing of Grand Central Station finally reveal themselves, but instead of answers, more questions remain. While back at Quantico, the recruits receive a well-deserved few days off for the holidays, but not everyone is oh so merry when secrets are revealed and lines and blurred.

Sunday, March 6th, 2016

s1e12: Alex

Alex finds herself in the middle of a congressional hearing to testify about the terrorist bombings. Convinced Elias didn't act alone, she is determined to find answers and the truth. While back at Quantico, a new group of NATS join Alex and her classmates, causing tension and competition between the groups of trainees.

Sunday, March 13th, 2016

s1e13: Clear

This week the NATS learn how to source information from confidential informants, but when they test their skills in the real world, they soon realize being an agent is not as easy as it seems. Meanwhile, in the future, Alex and a fellow agent find themselves in a life or death situation when they are forced to provide classified information that could result in deadly consequences.

Sunday, March 20th, 2016

s1e14: Answer

At Quantico, the NATS team up for defensive driving lessons while tensions between Liam and Drew explode, resulting in shocking admissions and consequences. In the future, Simon grapples with his new reality in the aftermath of what's transpired. Even though his friends try and help him, it's uncertain he will ever be the same again.

Sunday, March 27th, 2016

s1e15: Turn

A terror cell tries to infiltrate Quantico, forcing Miranda and Liam to pay a deadly price. While in the future, Alex continues to get instructions from the terrorist – only this time, it's Claire Haas' life that hangs in the balance.

Sunday, April 3rd, 2016

s1e16: Clue

A training exercise is too close to home for Shelby; in the future, Hannah becomes an Ally to Alex and tries to stop the terrorists from making another strike.

Sunday, April 10th, 2016

s1e17: Care

At Quantico, the NATS' current assignment is to learn about human trafficking when Liam and Miranda challenge them to cross the U.S. / Canadian border without passports. Meanwhile, in the future, Simon continues to help Alex try to find the terrorist, but doing so puts his own life in great risk.

Sunday, April 17th, 2016

s1e18: Soon

At Quantico, the NATs look into each other's background to determine who gets high- level security clearance, and in the process Alex, Shelby and Iris learn some surprising truths about Drew, Will and Caleb. Meanwhile, in the future, Alex contacts Claire Haas in order to find her missing friends and is shocked when she discovers what happened to Caleb.
Season 2
Sunday, October 2nd, 2016

s2e2:

Sunday, October 16th, 2016

s2e3: Stescalade

The new CIA recruits continue training at The Farm; in the future, Alex infiltrates the terrorist group holding everyone hostage, and is shocked to learn not everyone is a stranger.

Sunday, October 23rd, 2016

s2e4: Kubark

Sunday, October 30th, 2016

s2e5: KMFORGET

At the Farm, Harry is still suspicious of Alex and Ryan, and he's determined to learn more about their plan, while Leon is recruited for a special assignment by Owen. Meanwhile, in the future, Alex continues to run from the terrorists but faces her toughest challenge yet when the terrorists corner her.
Season 1
Sunday, April 24th, 2016

s1e19: Fast

It's career day at Quantico as the NATS meet representatives from various FBI branches to help them decide their future paths. In the future, Alex continues to search for the terrorist, and in the process, discovers some familiar faces – including one who knows the terrorist's endgame.

Sunday, May 1st, 2016

s1e20: Drive

With only a few weeks until graduation, the NATS are dispatched to various field offices where Alex and Ryan find themselves working a case together. Meanwhile, in the future, Shelby and Caleb's relationship takes a turn, and Alex doesn't know who to trust when she discovers new information about the man she loves.

Sunday, May 8th, 2016

s1e21: Right

The NATS are excited that graduation is near as they prepare to leave Quantico and head out into the real world for their new assignments. In the future, Alex learns someone she cared about at Quantico is not who they seemed to be, as she finds herself at the heart of another possible attack.

Sunday, May 15th, 2016

s1e22: Yes

It's graduation day for the NATS of Quantico, while, in the future, Alex and her team find themselves head-to-head with the terrorist.
Season 2
Sunday, November 27th, 2016

s2e8: ODENVY

At the Farm, Lydia and Owen teach the group about the necessity of lying and cutting off relationships. Perfect timing for Alex, since she is feeling disconnected from Ryan personally and professionally. In the future, Alex and company attempt to destroy the biological weapon.

Sunday, September 25th, 2016

s2e1: Kudove

While investigating the dark world of espionage at a mysterious CIA training facility, Alex becomes caught at the center of a conspiracy that threatens lives across the globe.

Monday, May 8th, 2017

s2e21: RAINBOW

After an impossible choice is made, a flood of new proposals shine a light on the final stages of the Collaborators' plan. Fractured but not defeated, the task force, with the help of some old friends, work to put the pieces together before the Collaborators can enact an unthinkable terrorist attack.