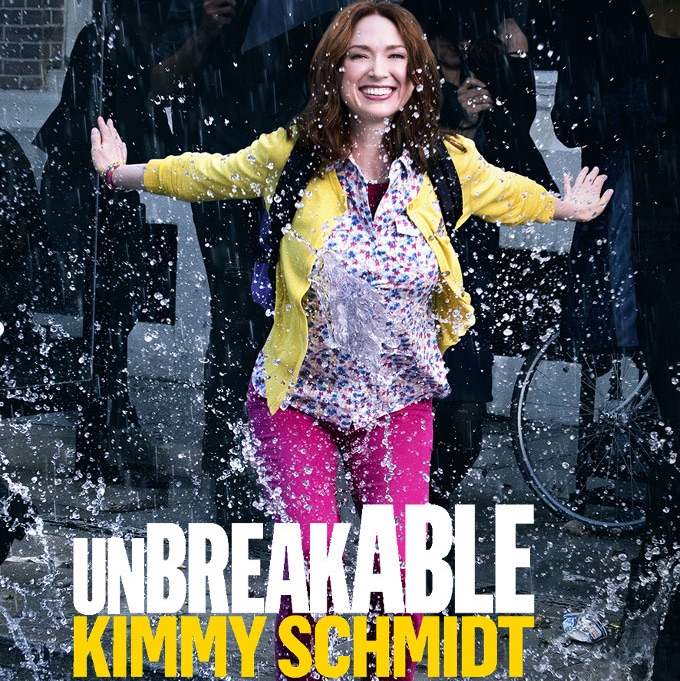 Season 1
Friday, March 6th, 2015

s1e1: Kimmy Goes Outside!

Imprisoned by a cult leader as a teenager, Midwesterner Kimmy is freed after 15 years. The first thing she decides to do is move to New York.

Friday, March 6th, 2015

s1e2: Kimmy Gets a Job!

Kimmy has to throw an acceptable kids' birthday party to keep her new job with the filthy rich Voorhees family.

Friday, March 6th, 2015

s1e3: Kimmy Goes on a Date!

Kimmy and Jaqueline try to hide their pasts, while Titus lies to Lillian about money so he can spend it on headshots for his future.

Friday, March 6th, 2015

s1e4: Kimmy Goes to the Doctor!

Kimmy has an eye-opening experience when Jaqueline introduces her to her plastic surgeon. Titus auditions for a Spider-Man musical.

Friday, March 6th, 2015

s1e5: Kimmy Kisses a Boy!

Kimmy's bunker-mate Cyndee visits New York with her new boyfriend, Brandon, whom Titus promptly outs. Charles makes his move with Kimmy.

Friday, March 6th, 2015

s1e6: Kimmy Goes to School!

Kimmy's GED class isn't as educational as she'd hoped. Lillian helps Titus shoot a music video in Jaqueline's house.

Friday, March 6th, 2015

s1e7: Kimmy Goes to a Party!

Jaqueline asks Kimmy to help her plan a dinner party where Jaqueline can confirm if her husband, Julian, is cheating on her.

Friday, March 6th, 2015

s1e8: Kimmy is Bad at Math!

Kimmy studies for her math GED exam with her classmate Dong, while Jaqueline changes her mind about getting divorced.

Friday, March 6th, 2015

s1e9: Kimmy Has a Birthday!

Kimmy's 30th birthday party isn't quite the fun celebration of adulthood she wants it to be.

Friday, March 6th, 2015

s1e10: Kimmy's in a Love Triangle!

Kimmy is torn between two guys and trying not to act like a fool. Titus finds a different kind of acting coach.

Friday, March 6th, 2015

s1e11: Kimmy Rides a Bike!

Titus can't stop watching the trial of Kimmy's charismatic kidnapper on the Internet, while Kimmy turns to exercise to avoid testifying.

Friday, March 6th, 2015

s1e12: Kimmy Goes to Court!

Kimmy and Titus go back to Durnsville, Indiana so Kimmy can testify against the Reverend Wayne, but the trip doesn't go very well.

Friday, March 6th, 2015

s1e13: Kimmy Makes Waffles!

Kimmy is stuck in Durnsville. Jaqueline gets back in touch with her roots when she and Lillian drive to Indiana to find Kimmy.
Season 2
not specified

s2e11:

not specified

s2e12:

not specified

s2e13:

not specified

s2e1: TBA

Friday, April 15th, 2016

s2e10: Kimmy Goes to Her Happy Place!

Kimmy has her first therapy session with Andrea, but it's Lillian who helps her get in touch with her anger. Mikey comes out to his family.