update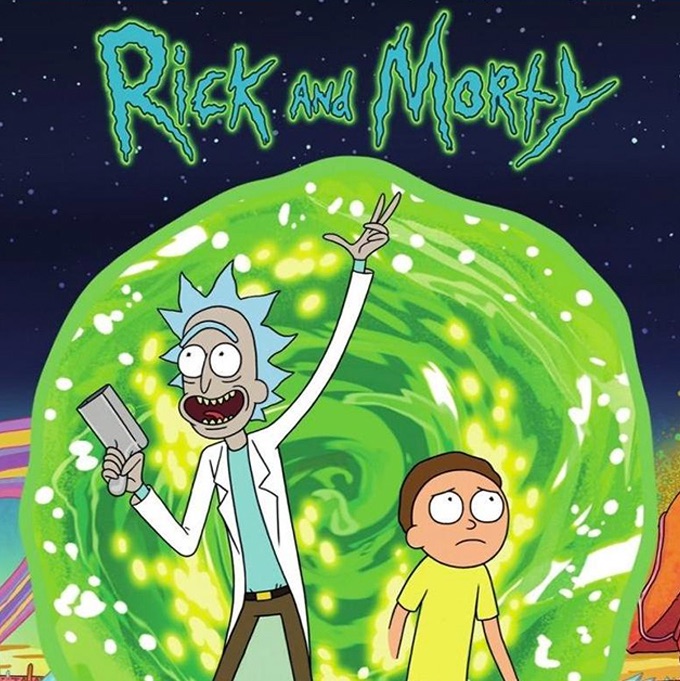 Season 0
not specified

2: Gatorade Commercial #4

For the Channel 101 2007 Channy Awards, sponsored by Gatorade, a Gatorade commercial made by Justin Roiland (House of Cosbys, Mr. Sprinkles) featuring DOC and MHARTI! Animation by Kelsy Abbott

not specified

3: SCUD VLOG #12

A delightful VLOG made for the deserved promotion of the the issues of SCUD: The Disposable Assassin. By Justin Roiland and Kelsy Abbott

not specified

4: The Freedom of Channel 101

One of the few appearances of who would seven years later become Rick and Morty, as they present the benefits of R&M co-creator Dan Harmon's Channel 101, a short film festival in which you can have more freedom to express yourself than you can on television or even YouTube for that matter. You'll have to look up the original version for yourself if you want to see what I censored (it's not Doc's balls, YouTube haven't done anything about that in years)

not specified

6: Season 1 Blu-Ray Promo w/R&M Puppets

Rick and Morty Summon Mr. Meeseeks for a Very Important Task.

Sunday, October 1st, 2006

1: The Real Animated Adventures of Doc and Mharti

Justin actually made this as a way to poke fun at the idea of getting cease and desist letters. At the time (October 2006) he had nothing to lose and his original intention was to call this "back to the future: the new official universal studios cartoon featuring the new Doc Brown and Marty McFly" and then just sit back and wait for a letter from their lawyers to arrive. That's actually why it's so filthy. He was just looking to "troll" a big studio. 7 years later, hit new animated TV show on adult swim.

Monday, July 29th, 2013

5: Rick and Morty Panel SDCC 2013

Six months before the show premieres Dan Harmon, Justin Roiland, Chris Parnell, Spencer Grammer, Kari Wahlgren, and Ryan Ridley try to explain what Rick and Morty is all about to a bunch of confused strangers at San Diego Comic-Con 2013.

Thursday, July 31st, 2014

9: Rick and Morty Panel SDCC 2014

Showrunners, Birdperson, Gazorpazorpfield, Chip Chompers and Pizza McLizza sit down at Sand Diego Comic-Con 2014 to tell us more about the upcoming second season.

Tuesday, September 23rd, 2014

10: Rick and Morty Summon Mr. Meeseeks for a Very Important Task

Rick and Morty enlist the help of Mr Meeseeks to shill the first season of their hit series on DVD.

Tuesday, October 7th, 2014

7: Behind the Scenes

Behind the Scenes of Season 1

Wednesday, October 15th, 2014

11: Rick and Morty Panel NYCC 2014

The shows creators Justin Roiland and Dan Harmon are joined by Sarah Chalke, Chris Parnell and moderator Steve Brandano to discuss the world of Rick and Morty at New York Comic-Con 2014.

Thursday, May 14th, 2015

12: Simpsons Couch Gag

Two great animated worlds collide and it doesn't go well.

Monday, July 13th, 2015

13: Rick and Morty Panel SDCC 2015

Co-creators Dan Harmon and Justin Roiland are joined by Ryan Ridley and moderator Brian Quinn to discuss all things Rick and Morty at San Diego Comic-Con 2015.

Wednesday, November 11th, 2015

14: The Misadventures of Rick and Morty

A stop motion short film featuring Rick and Morty getting into trouble.

Monday, November 30th, 2015

15: Carl's Jr and Hardee's Commercial

Rick informs Morty that they are in a commercial for Carl's Jr and Hardee's and introduces him to a range of over-excited burgers.

Thursday, August 4th, 2016

8: State of Georgia Vs. Denver Fenton Allen

Judge Morty presides over this real life case as a court transcript is recreated word-for-word.

Sunday, August 7th, 2016

22: Rick and Morty Panel SDCC 2016

Brian Quinn attempts to moderate a panel made up of Dan Harmon, Justin Roiland, Ryan Ridley, Spencer Grammer, Sarah Chalke, and Chris Parnell as they answer questions and question answers at San Diego Comic-Con 2016.

Wednesday, October 26th, 2016

16: Rick and Morty: The Non-Canonical Adventures #1 - The Thing

A claymation recreation of a classic scene from 'The Thing'.

Wednesday, October 26th, 2016

17: Rick and Morty: The Non-Canonical Adventures #2 - The Fly

A claymation recreation of a classic scene from 'The Fly'.

Wednesday, October 26th, 2016

18: Rick and Morty: The Non-Canonical Adventures #3 - Honey I Shrunk The Kids

A claymation recreation of a classic scene from 'Honey, I Shrunk the Kids'.

Thursday, October 27th, 2016

19: Rick and Morty: The Non-Canonical Adventures #4 - Ex Machina

A claymation recreation of a classic scene from 'Ex Machina'.

Thursday, November 3rd, 2016

20: Rick and Morty: The Non-Canonical Adventures #5 - Halloween

A claymation recreation of a classic scene from 'Halloween'.

Wednesday, January 11th, 2017

21: Rick and Morty 8-Bit Intro

The show intro for interdimensional duo Rick and Morty is given a retro twist.

Sunday, April 1st, 2018

23: Bushworld Adventures
Season 1
Monday, December 2nd, 2013

1: Pilot

Rick moves in with his daughter's family and establishes himself as a bad influence on his grandson, Morty.

Monday, December 9th, 2013

2: Lawnmower Dog

Rick and Morty try to incept Morty's math teacher into giving Morty an 'A'. Meanwhile, Rick gives Jerry a device to train their dog, Snuffles.

Monday, December 16th, 2013

3: Anatomy Park

Christmas day, Rick's friend, Reuben, comes over for his annual medical checkup. Meanwhile Jerry learns his parents have a new friend.

Monday, January 13th, 2014

4: M. Night Shaym-Aliens!

Rick and Morty try to get to the bottom of a mystery in this M. Night Shyamalan style twistaroony of an episode!

Monday, January 20th, 2014

5: Meeseeks and Destroy

When Morty thinks Rick's adventures are too dangerous, he challenges Rick to let him lead one instead.

Monday, January 27th, 2014

6: Rick Potion #9

Rick provides Morty with a love potion to get his dream girl, only for the serum to backfire and create a living Cronenberg nightmare.

Monday, March 10th, 2014

7: Raising Gazorpazorp

Morty convinces Rick to buy him a sexy robot. Later Rick and Summer spend some quality time together.

Monday, March 17th, 2014

8: Rixty Minutes

Rick hacks the cable box, but the family are distracted by another one of his inventions.

Monday, March 24th, 2014

9: Something Ricked This Way Comes

Rick battles the devil and upsets Summer. Meanwhile, Jerry and Morty hang out.

Monday, April 7th, 2014

10: Close Rick-Counters of the Rick Kind

Rick and Morty have a falling out when Rick is approached by some familiar associates.

Monday, April 14th, 2014

11: Ricksy Business

Beth and Jerry go away on a trip, so Rick decides to throw a party.
Season 2
Sunday, July 26th, 2015

1: A Rickle in Time

Rick, Morty, and Summer get into trouble when time is fractured by a feedback loop of uncertainty that split reality into more than one equally possible impossibilities. Meanwhile, Beth and Jerry go to extreme lengths to save a deer struck by their vehicle.

Sunday, August 2nd, 2015

2: Mortynight Run

Rick teaches Morty to drive while leaving Jerry at a popular day care made just for him. Morty's conscience has him hunt down an assassin rather than spending the day at an alien arcade.

Sunday, August 9th, 2015

3: Auto Erotic Assimilation

Rick gets emotionally invested when meeting an old friend, while Beth and Jerry have a falling out after making a discovery under the garage.

Sunday, August 16th, 2015

4: Total Rickall

Trapped inside the house with an ever-increasing number of parasitic alien shape-shifters capable of altering memories, an uncertain Rick and the Smiths search for a way to determine which of them are real.

Sunday, August 23rd, 2015

5: Get Schwifty

When a massive head descends into Earth's atmosphere, Rick and Morty must save the planet by coming up with a new hit song. Meanwhile, Jerry, Beth, and Summer become part of a new religion.

Sunday, August 30th, 2015

6: The Ricks Must Be Crazy

Rick and Morty travel inside the car's battery, where Morty discovers Rick has created a universe containing sentient life solely to produce power for him. Meanwhile, Summer must deal with being locked in the car with Rick's overzealous security system.

Sunday, September 13th, 2015

7: Big Trouble in Little Sanchez

Rick undergoes a transformation to combat a local vampire situation. Meanwhile, Beth and Jerry attempt to sort out their relationship through marriage counseling.

Sunday, September 20th, 2015

8: Interdimensional Cable 2: Tempting Fate

As Jerry decides between keeping his manhood or saving an alien leader from imminent death, the rest of the family take a look at what interdimensional television has to offer.

Sunday, September 27th, 2015

9: Look Who's Purging Now

Rick and Morty find themselves on a planet where the sentient inhabitants practice a "purge for peace" way of life. Jerry and Summer work on their father-daughter relationship.

Sunday, October 4th, 2015

10: The Wedding Squanchers

The whole family goes to the planet Squanch to attend the wedding of Rick's close friend, Bird Person.
Season 3
Saturday, April 1st, 2017

1: The Rickshank Rickdemption

The Smith family tries to cope without Rick, which is painful enough on its own without taking into consideration the stifling rules put into place by the Federation. Meanwhile Rick's past is finally revealed as he attempts to get out of his prison.

Sunday, July 30th, 2017

2: Rickmancing the Stone

Rick, Morty and Summer travel to a post-apocalyptic dimension and meet some dangerous enemies, all the while avoiding a recent family development.

Sunday, August 6th, 2017

3: Pickle Rick

Rick turns himself into a pickle, on the same day that Beth takes the kids to family therapy.

Sunday, August 13th, 2017

4: Vindicators 3: The Return of Worldender

Rick and Morty reunite with a team of intergalactic heroes known as the Vindicators to defeat their arch enemy, Worldender.

Sunday, August 20th, 2017

5: The Whirly Dirly Conspiracy

Rick and Jerry go on an adventure, while Beth fails as a mother and Summer has body issues.

Sunday, August 27th, 2017

6: Rest and Ricklaxation

Rick and Morty need a break, so they head to a spa planet for some much needed rest and relaxation.

Sunday, September 10th, 2017

7: The Ricklantis Mixup

Rick and Morty head to Atlantis. Meanwhile, the Citadel of Ricks is electing a new leader.

Sunday, September 17th, 2017

8: Morty's Mind Blowers

Morty experiences some memories that he couldn't handle from past adventures.

Sunday, September 24th, 2017

9: The ABC's of Beth

Jerry is lucky with a lady and Beth recalls her childhood.

Sunday, October 1st, 2017

10: The Rickchurian Mortydate

Rick goes on a confrontation with the President.