update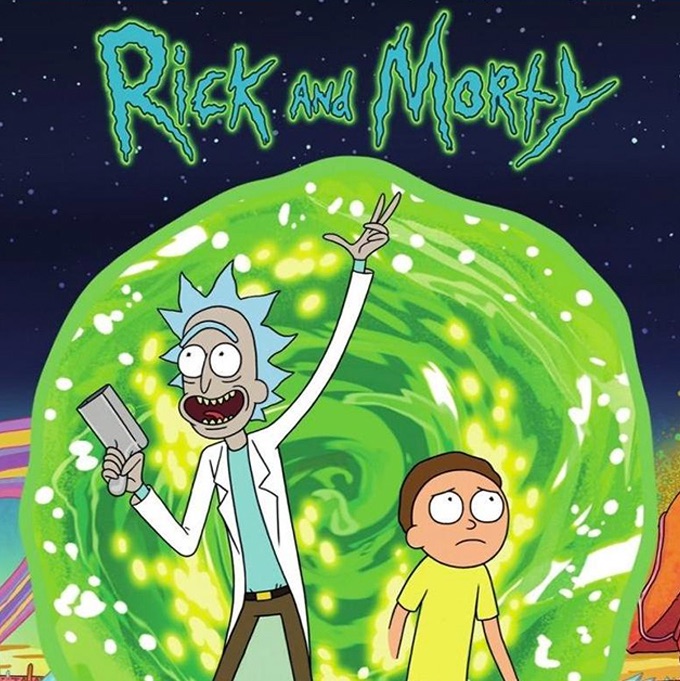 Season 0
not specified

136: Total Rickall (Animatics)

not specified

137: Animatic Sketches (Season 2)

not specified

78: Inside 'Tales from the Citadel'

not specified

79: Inside 'Vindicators 3: The Return of Worldender'

not specified

80: Inside the Recording Booth

not specified

81: Rick and Morty Season Two Premiere Party Featuring Chaos Chaos

not specified

77: Making of Season 1

Learn how the first season of Rick and Morty was made in this special, hosted by Vatche Panos.

not specified

147: Morty's Mind Blowers (Animatic)

not specified

148: Pickle Rick (Animatic)

not specified

149: Rest and Ricklaxation (Animatic)

not specified

150: Rickmancing the Stone (Animatic)

not specified

151: The ABC's of Beth (Animatic)

not specified

152: The Rickchurian Mortydate (Animatic)

not specified

153: The Rickshank Rickdemption (Animatic)

not specified

154: The Ricklantis Mixup (Animatic)

not specified

155: The Whirly Dirly Conspiracy (Animatic)

not specified

156: Vindicators 3 The Return of Worldender (Animatic)

not specified

1: The Real Animated Adventures of Doc and Mharti

Justin actually made this as a way to poke fun at the idea of getting cease and desist letters. At the time (October 2006) he had nothing to lose and his original intention was to call this "back to the future: the new official universal studios cartoon featuring the new Doc Brown and Marty McFly" and then just sit back and wait for a letter from their lawyers to arrive. That's actually why it's so filthy. He was just looking to "troll" a big studio. 7 years later, hit new animated TV show on adult swim.

not specified

2: Gatorade Commercial #4

For the Channel 101 2007 Channy Awards, sponsored by Gatorade, a Gatorade commercial made by Justin Roiland (House of Cosbys, Mr. Sprinkles) featuring DOC and MHARTI! Animation by Kelsy Abbott

not specified

3: SCUD VLOG #12

A delightful VLOG made for the deserved promotion of the the issues of SCUD: The Disposable Assassin. By Justin Roiland and Kelsy Abbott

not specified

4: The Freedom of Channel 101

One of the few appearances of who would seven years later become Rick and Morty, as they present the benefits of R&M co-creator Dan Harmon's Channel 101, a short film festival in which you can have more freedom to express yourself than you can on television or even YouTube for that matter. You'll have to look up the original version for yourself if you want to see what I censored (it's not Doc's balls, YouTube haven't done anything about that in years)

not specified

6: Season 1 Blu-Ray Promo w/R&M Puppets

Rick and Morty Summon Mr. Meeseeks for a Very Important Task.

not specified

105: Lawnmower Dog (Animatic)

not specified

106: Anatomy Park (Animatic)

not specified

107: M. Night Shaym-Aliens! (Animatic)

not specified

82: Extras: Doc Maharti Episode 1

not specified

108: Meeseeks and Destroy (Animatic)

not specified

83: Extras: Doc Maharti Episode 2

not specified

109: Rick Potion #9 (Animatic)

not specified

84: Extras: Doc Maharti Episode 3

not specified

110: Raising Gazorpazorp (Animatic)

not specified

85: Extras: Dr Maharti Episode 4

not specified

111: Rixty Minutes (Animatic)

not specified

86: Extras: Prototypes 1 Paloni Pitch Perfect

not specified

112: Something Ricked This Way Comes (Animatic)

not specified

87: Extras: Prototypes 2 Relitive Insanity

not specified

113: Close Rick Counters of the Rick Kind (Animatic)

not specified

88: Extras: Prototypes 3

not specified

114: Ricksy Business (Animatic)

not specified

89: Flu Hatin' Rap

not specified

115: Exquisite Corpse

not specified

90: Simpsons Intro Gag

not specified

116: Deleted Scenes: Anatomy Park

not specified

91: Workshopped Scene

not specified

117: Deleted Scenes: M. Night Shaym-Aliens

not specified

92: Extras: Deleted Scenes Season 2

not specified

118: Deleted Scenes: Meeseeks and Destroy - Scene 1

not specified

94: Deleted Scenes: Broken TV

not specified

119: Deleted Scenes: Meeseeks and Destroy - Scene 2

not specified

99: Deleted Scenes: Morty's Nonsense Rap

not specified

120: Deleted Scenes: Pilot

not specified

100: Deleted Scenes: Police Research

not specified

121: Deleted Scenes: Rick Potion 9

not specified

101: Deleted Scenes: Rocky Mountains

not specified

122: Deleted Scenes: Ricksy Business

not specified

102: Deleted Scenes: The Young And The Restful

not specified

123: Deleted Scenes: Rixty Minutes - Scene 1

not specified

103: Deleted Scenes: You Made A Dinosaur

not specified

124: Deleted Scenes: Rixty Minutes - Scene 2

not specified

104: Pilot (Animatic)

not specified

125: Deleted Scenes: Rixty Minutes - Scene 3

not specified

93: More Behind the Scenes

not specified

126: A Rickle in Time Attempt 1 (Animatics)

not specified

95: Deleted Scenes: Alternative

not specified

127: A Rickle in Time Attempt 2 (Animatics)

not specified

96: Deleted Scenes: Alternative 2

not specified

128: Auto Erotic Assimilation (Animatics)

not specified

97: Deleted Scenes: Giant Jury

not specified

129: Big Trouble in Little Sanchez (Animatics)

not specified

98: Deleted Scenes: Infinite Realities

not specified

130: Get Schwifty (Animatics)

not specified

131: Interdimensional Cable 2: Tempting Fate (Animatics)

not specified

132: Look Who's Purging Now (Animatics)

not specified

133: Mortynight Run (Animatics)

not specified

134: The Ricks Must Be Crazy (Animatics)

not specified

135: The Wedding Squanchers (Animatics)

Monday, July 29th, 2013

5: Rick and Morty Panel SDCC 2013

Six months before the show premieres Dan Harmon, Justin Roiland, Chris Parnell, Spencer Grammer, Kari Wahlgren, and Ryan Ridley try to explain what Rick and Morty is all about to a bunch of confused strangers at San Diego Comic-Con 2013.

Thursday, July 31st, 2014

9: Rick and Morty Panel SDCC 2014

Showrunners, Birdperson, Gazorpazorpfield, Chip Chompers and Pizza McLizza sit down at Sand Diego Comic-Con 2014 to tell us more about the upcoming second season.

Tuesday, September 23rd, 2014

10: Rick and Morty Summon Mr. Meeseeks for a Very Important Task

Rick and Morty enlist the help of Mr Meeseeks to shill the first season of their hit series on DVD.

Tuesday, October 7th, 2014

7: Behind the Scenes

Behind the Scenes of Season 1

Wednesday, October 15th, 2014

11: Rick and Morty Panel NYCC 2014

The shows creators Justin Roiland and Dan Harmon are joined by Sarah Chalke, Chris Parnell and moderator Steve Brandano to discuss the world of Rick and Morty at New York Comic-Con 2014.

Thursday, December 11th, 2014

24: Rick and Morty Presents Jerry's Game from Adult Swim Games

From Adult Swim's Rick and Morty comes Jerry's Game, the pinnacle of mobile gaming! Step into the shoes of Morty's Dad, Jerry Smith, and invest your free time in our balloon-popping simulator for accomplished, respected individuals. Need encouragement for performing infant-level motor functions? Do you wish bubble wrap came with achievements? Jerry's Game has all of this and more! Download it and get poppin'!

Thursday, May 14th, 2015

12:

After crashing into their living room, Rick sends Morty off to make clones of the now-deceased Simpsons. This episode's "couch gag" was the longest in the history of The Simpsons. In addition to Rick and Morty's cameos, there are Futurama easter eggs to look for!

Monday, July 13th, 2015

13: Rick and Morty Panel SDCC 2015

Co-creators Dan Harmon and Justin Roiland are joined by Ryan Ridley and moderator Brian Quinn to discuss all things Rick and Morty at San Diego Comic-Con 2015.

Friday, August 7th, 2015

139: Moonmen Music Video (Complete) feat. Fart and Morty

Goodbye Moonmen Music Video (Complete) feat. Fart and Morty

Saturday, August 29th, 2015

146: Get Schwifty Music Video

Wednesday, November 11th, 2015

14: The Misadventures of Rick and Morty

A stop motion short film featuring Rick and Morty getting into trouble.

Monday, November 30th, 2015

15: Carl's Jr and Hardee's Commercial

Rick informs Morty that they are in a commercial for Carl's Jr and Hardee's and introduces him to a range of over-excited burgers.

Thursday, August 4th, 2016

8: State of Georgia Vs. Denver Fenton Allen

Judge Morty presides over this real life case as a court transcript is recreated word-for-word.

Sunday, August 7th, 2016

22: Rick and Morty Panel SDCC 2016

Brian Quinn attempts to moderate a panel made up of Dan Harmon, Justin Roiland, Ryan Ridley, Spencer Grammer, Sarah Chalke, and Chris Parnell as they answer questions and question answers at San Diego Comic-Con 2016.

Wednesday, September 14th, 2016

143: A Rick and Morty Opera: The Terrible Cobs

An opera based upon an answer given by Rick and Morty's Justin Roiland, Ryan Ridley, Dan Harmon, and Spencer Grammer at San Diego Comic-Con 2016.

Wednesday, October 5th, 2016

75: Judge Morty: State of Georgia Vs. Rick Allen

Full color animated version of State of Georgia Vs. Rick Allen. Fan animated by tiarawhy.

Wednesday, October 26th, 2016

16: Rick and Morty: The Non-Canonical Adventures #1 - The Thing

A claymation recreation of a classic scene from 'The Thing'.

Wednesday, October 26th, 2016

17: Rick and Morty: The Non-Canonical Adventures #2 - The Fly

A claymation recreation of a classic scene from 'The Fly'.

Wednesday, October 26th, 2016

18: Rick and Morty: The Non-Canonical Adventures #3 - Honey, I Shrunk The Kids

A claymation recreation of a classic scene from 'Honey, I Shrunk the Kids'.

Thursday, October 27th, 2016

19: Rick and Morty: The Non-Canonical Adventures #4 - Ex Machina

A claymation recreation of a classic scene from 'Ex Machina'.

Thursday, November 3rd, 2016

20: Rick and Morty: The Non-Canonical Adventures #5 - Halloween

A claymation recreation of a classic scene from 'Halloween'.

Wednesday, January 11th, 2017

21: Rick and Morty 8-Bit Intro

The show intro for interdimensional duo Rick and Morty is given a retro twist.

Sunday, January 29th, 2017

26: Jerry & Beth's 8-Bit Virtual Vision

Perception is reality. Created by Paul Robertson.

Sunday, March 5th, 2017

25: GlorpDieBlorp plays "Ten Tuesdays at Tinkles"

GET YOUR BLORBS OUT! GlorpDieBlorp streams the interdimensional smash hit "Ten Tuesdays at Tinkles" EXCLUSIVELY on Blurtfeed. Watch more at http://galacticfederation.com

Saturday, April 1st, 2017

27: Rick TV

Created by Paul Robertson for Adult Swim.

Saturday, April 1st, 2017

28: Meeseeks Battle

Existence is pain, indeed. Created by Paul Robertson for Adult Swim.

Saturday, April 1st, 2017

30: Beth in the Garage

Every family shares a secret. Created by Cat Solen / Artery for Adult swim promo.

Saturday, April 1st, 2017

31: Buttworld

Created by Cat Solen / Artery for Adult Swim promo.

Saturday, April 1st, 2017

32: Poopy the Gymnast

Almost nothing is impossible. Created by Cat Solen / Artery for Adult Swim.

Saturday, April 1st, 2017

33: Summer in the Bathroom

Created by Cat Solen / Artery fro Adult Swim promo.

Saturday, April 1st, 2017

34: Unity Connections

Fake dating app commercial promo from Rick and Morty.

Monday, May 1st, 2017

29: Gear Head

Created by Production IG/DEEN for Adult Swim promo.

Saturday, May 13th, 2017

76: Alien: Covenant Rick and Morty

Rick and Morty receive a distress signal. Rick wants to ignore it but Morty persuades him to help those people. They board the ship that sent the signal.

Friday, June 2nd, 2017

35: Drunk Rick Method Acting

Justin Roiland offers a rare glimpse of his craft and boozing skills.

Friday, June 23rd, 2017

36: The Search For Meaning

Dan Harmon muses the philosophy guiding Rick and Morty's multiverse.

Thursday, July 6th, 2017

37: Eyehole Man

Eyeholes. Get 'em today. All-new episodes begin July 30th at 11:30p ET.

Saturday, July 8th, 2017

38: Rick and Morty: The Non-Canonical Adventures #6 - 2001: A Space Odyssey

In space no one can hear you whine.

Sunday, July 9th, 2017

39: Gearagra

Seek immediate medical help for a gearection lasting more than four hours.

Tuesday, July 11th, 2017

40: Rick and Morty: The Non-Canonical Adventures #7 - Blade Runner

Stop-motion created by Lee Hardcastle for Adult Swim promo.

Tuesday, July 11th, 2017

41: Rick and Morty: The Non-Canonical Adventures #8 - Poltergeist

Stop-motion created by Lee Hardcastle for Adult Swim promo.

Tuesday, July 11th, 2017

42: Rick and Morty: The Non-Canonical Adventures #9 - Re-Animator

Stop-motion created by Lee Hardcastle for Adult Swim promo.

Tuesday, July 11th, 2017

43: Rick and Morty: The Non-Canonical Adventures #10 - Aliens

Stop-motion created by Lee Hardcastle for Adult Swim promo.

Tuesday, July 11th, 2017

45: Rick and Morty: The Non-Canonical Adventures #11 - E.T. the Extra-Terrestrial

Stop-motion created by Lee Hardcastle for Adult Swim promo.

Tuesday, July 11th, 2017

47: Rick and Morty: The Non-Canonical Adventures #12 - Gremlins

Stop-motion created by Lee Hardcastle for Adult Swim promo.

Saturday, July 22nd, 2017

44: Rick and Morty Design Sneak Peek: Wasteland

Sponsored content by Snickers. Learn more about the apocalyptic design and kinky fashions of "Rickmancing the Stone" S03E02.

Monday, July 24th, 2017

46: Inside 'The Rickshank Redemption'

Why do we not know Rick's backstory? The answer might surprise you.

Thursday, July 27th, 2017

48: Rick and Morty: The Non-Canonical Adventures #13 - A Clockwork Orange

Stop-motion created by Lee Hardcastle for Adult Swim promo.

Thursday, July 27th, 2017

49: Rick and Morty: The Non-Canonical Adventures #14 - Invasion of the Body Snatchers

Stop-motion created by Lee Hardcastle for Adult Swim promo.

Friday, July 28th, 2017

50: The Art of 'Alts'

Justin Roiland shares alternate lines that didn't quite make the cut.

Friday, July 28th, 2017

51: Rick and Morty: The Non-Canonical Adventures #15 - The Matrix

Stop-motion created by Lee Hardcastle for Adult Swim promo.

Sunday, July 30th, 2017

52: Rick and Morty: The Non-Canonical Adventures #16 - Ghostbusters

Stop-motion created by Lee Hardcastle for Adult Swim promo.

Sunday, July 30th, 2017

53: Justin Roiland's RC Interview Stunt Rally Extravaganza Show!

Get ready for INTENSE action plus an EXTREME interview with Rick and Morty storyboard artist, Erica Hayes!

Friday, August 4th, 2017

54: Inside 'Rickmancing the Stone'

Big changes lead to different coping mechanisms for Morty and Summer.

Saturday, August 5th, 2017

55: Design Sneak Peek: Pickle Rick

How much thought goes into designing pickles and rats? More than you'd think. "Pickle Rick"

Tuesday, August 8th, 2017

56: Inside 'Pickle Rick'

It's family therapy time in this one broh. Classic stuff. Pickle Rick too.

Friday, August 11th, 2017

57: Rick and Morty Origins Part One

Justin Roiland and Dan Harmon explain how their creative impulses led to collaborating for Channel 101.

Sunday, August 13th, 2017

58: Who Are 'The Vindicators'?

Meet the greatest superheroes and most fearsome villain of the Rick and Morty multiverse.

Monday, August 21st, 2017

59: Inside 'The Whirly Dirly Conspiracy'

Rick and Jerry, together... for once.

Monday, August 28th, 2017

140: Ricking Morty S3E4 "Vindicators 3: The Return of Worldender"

The Rick and Morty aftershow

Thursday, August 31st, 2017

60: Inside 'Rest and Ricklaxation'

Would Rick and Morty be better off without their worst selves? The answer shouldn't surprise you.

Monday, September 4th, 2017

138: Justin Roiland RC Video Game Car Grindapalooza Stunt Rally Interview Show!

The THRILLS don't stop as Justin faces an IMPOSSIBLE trick yet also finds time to interview Rick and Morty writer, Mike McMahan!

Monday, September 4th, 2017

61: Justin Roiland RC Video Game Car Grindapalooza Stunt Rally Interview Show!

The THRILLS don't stop as Justin faces an IMPOSSIBLE trick yet also finds time to interview Rick and Morty writer, Mike McMahan!

Thursday, September 14th, 2017

63: Inside 'Morty's Mind Blowers'

Here's why you didn't get another installment of 'Interdimensional Cable'.

Sunday, September 17th, 2017

62: Inside 'The Ricklantis Mixup'

Noticed more politics than usual in this episode? There's some good reasons why.

Monday, September 25th, 2017

64: Fathers and Daughters (Full Length Song)

For all the fathers and daughters by Dan Harmon and Ryan Elder featuring Chaos Chaos

Thursday, September 28th, 2017

65: Rick and Morty Origins Part Two

Can you imagine anyone else voicing Morty? You'll be surprised how close that came to happening.

Sunday, October 1st, 2017

66: Inside 'The ABC's of Beth'

Find out how Rick's questionable parenting made Beth the woman she is today.

Thursday, October 5th, 2017

67: Inside 'The Rickchurian Mortydate'

Discover the logic behind the season finale's surprising shift in power.

Tuesday, October 24th, 2017

74: Old Spice Commercial

Wednesday, November 22nd, 2017

68: The Poop In My Pants

Enjoy these warm and squishy moments as we explore all that Mr. Poopybutthole has to be thankful for.

Friday, March 9th, 2018

69: Vindicators promo

Remember them as they were. Created by Paul Robertson for Adult swim promo.

Friday, March 16th, 2018

70: Rick and Morty x Run The Jewels: Oh Mama

Adult Swim Festival featuring Run The Jewels is coming to Downtown LA on October 6-7.

Monday, March 26th, 2018

71: Rick and Morty Snickers Promo

Snickers promo for Rick and Morty.

Sunday, April 1st, 2018

23: Bushworld Adventures

Thursday, May 10th, 2018

72: Inside the Recording Booth with Spencer Grammer

Behind the scenes with Spencer Grammer doing voice work as Summer.

Monday, September 17th, 2018

73: Rick and Morty Present at the Emmy Awards

During the 70th Primetime Emmy Awards, the animated iterations of Rick and Morty were featured in a brief segment, where they awarded a trophy to RuPaul's Drag Race.

Monday, October 15th, 2018

141: Get Schwifty feat. Open Mike Eagle & Father

ICYMI Open Mike Eagle and Father perform "Get Schwifty" at the Adult Swim Festival's "Rick and Morty Musical Ricksperience."

Tuesday, October 16th, 2018

142: Goodbye Moonmen (Live From Adult Swim Festival)

Enjoy this live rendition featuring Johnathan Rice, from the Rick and Morty Ricksperience at Adult Swim Festival '18.

Wednesday, November 21st, 2018

145: Drunk Rick Method Acting: Vol. 2

Justin Roiland offers another glimpse of his craft and boozing skills.

Thursday, December 27th, 2018

144: Blood Dome

Friday, July 19th, 2019

157: Rick and Morty San Diego Comic-Con 2019 Panel

Friday, July 19th, 2019

158: Rick and Morty React to Their Own Memes - Comic Con 2019

It's time to get schwiftyyyyy. Rick and Morty do what they do best and that is reacting to Rick and Morty memes. We talk about their next 70 episodes and if Harry Potter's own Daniel Radcliffe is going to finally make his way to the tiny Rick and Morty screen. We hope he does, we really do.

Friday, July 19th, 2019

159: Rick and Morty Season 4: Glootie

*Ominous beeping noise* FIRST LOOK AT RICK AND MORTY SEASON 4 *Ominous beeping noise*

Friday, July 19th, 2019

160: Dan Harmon's Summer Impression - SDCC 2019

Friday, July 19th, 2019

161: 'Rick and Morty' Cast Joins Us LIVE | SDCC 2019

'Rick and Morty' stars Dan Harmon, Justin Roiland, Sarah Chalke, and Spencer Grammer join us LIVE from San Diego Comic Con 2019. Watch More SDCC 2019 Interviews ►► http://bit.ly/SDCC2019EW

Saturday, July 20th, 2019

162: Creators Preview Season 4 Guests, Including Taika Waititi

#TaikaWaititi will voice an alien named Glootie in the upcoming season of #RickAndMorty. See what other stars co-creators #JustinRoiland and #DanHarmon confirmed as they talk with #KevinSmith at San Diego #Comic-Con 2019, plus the series that made Harmon want to quit the business.

Monday, October 14th, 2019

165: Season 4 Sneak Peek

Check out this disappointing sneak peek for Rick and Morty, Season 4

Thursday, October 31st, 2019

164: Rick and Morty: The Non-Canonical Halloween Adventures

Created by Lee Hardcastle. This followup to the original run of the Non-Canonical Adventures brings new movie parodies featuring Rick and Morty. The movies featured are: Beetlejuice; The Blair Witch Project; Evil Dead 2; Hellraiser; Home Alone; Jaws; Predator; Reservoir Dogs; Terminator 2; and Videodrome.

Thursday, October 31st, 2019

166: Extended Season 4 Sneak Peek

The creators give an extended look at what is destined to be the craziest season of Rick and Morty.

Friday, November 1st, 2019

163: #DeathStranding

Dire times call for dire measures

Sunday, November 10th, 2019

167: Inside: "Edge of Tomorty: Rick Die Rickpeat"

Get a special behind-the-scenes look at the episode "Edge of Tomorty: Rick Die Rickpeat

Sunday, November 17th, 2019

168: Inside: "The Old Man And The Seat"

Get a special behind-the-scenes look at the episode "The Old Man And The Seat"

Sunday, November 24th, 2019

169: Inside: "One Crew Over the Crewcoo's Morty"

Get a special behind-the-scenes look at the episode "One Crew Over The Crewcoo's Morty"

Wednesday, December 4th, 2019

170: Rick And Morty Pinball Teaser

Coming Christmas of 2019, from Adult Swim and Spooky Pinball LLC!

Sunday, December 8th, 2019

171: Inside: "Claw and Hoarder: Special Ricktim's Morty"

Get a special behind-the-scenes look at the episode "Claw and Hoarder: Special Ricktim's Morty."

Sunday, December 15th, 2019

172: Inside: "Rattlestar Ricklactica"

Get a special behind-the-scenes look at the episode "Rattlestar Ricklactica"

Tuesday, January 28th, 2020

174: Rick and Morty x Pringles - 2020 Big Game Commercial

Stack Pringles. Make endless new flavors. Stack Pringles. Make endless new flavors. Stack Pringles. Make endless new flavors. This is not an ad.

Sunday, March 29th, 2020

173: Samurai & Shogun

Drunken life, dreamy death. #RickandMortyAnime
Season 1
Monday, December 2nd, 2013

1: Pilot

Rick moves in with his daughter's family and establishes himself as a bad influence on his grandson, Morty.

Monday, December 9th, 2013

2: Lawnmower Dog

Rick and Morty try to incept Morty's math teacher into giving Morty an 'A'. Meanwhile, Rick gives Jerry a device to train their dog, Snuffles.

Monday, December 16th, 2013

3: Anatomy Park

Christmas day, Rick's friend, Reuben, comes over for his annual medical checkup. Meanwhile Jerry learns his parents have a new friend.

Monday, January 13th, 2014

4: M. Night Shaym-Aliens!

Rick and Morty try to get to the bottom of a mystery in this M. Night Shyamalan style twistaroony of an episode!

Monday, January 20th, 2014

5: Meeseeks and Destroy

When Morty thinks Rick's adventures are too dangerous, he challenges Rick to let him lead one instead. Before heading out on Morty's quest, Rick caves to pleas from the rest of the Smith family to help them solve mundane tasks and leaves with them the Meeseeks Box, a gadget that will instantaneously summon helpers named Mr. Meeseeks.

Monday, January 27th, 2014

6: Rick Potion #9

Rick provides Morty with a love potion to get his dream girl, only for the serum to backfire and create a living Cronenberg nightmare.

Monday, March 10th, 2014

7: Raising Gazorpazorp

Morty convinces Rick to buy him a sexy robot. Later Rick and Summer spend some quality time together.

Monday, March 17th, 2014

8: Rixty Minutes

Rick hacks the cable box, but the family are distracted by another one of his inventions.

Monday, March 24th, 2014

9: Something Ricked This Way Comes

Rick battles the devil and upsets Summer. Meanwhile, Jerry and Morty hang out.

Monday, April 7th, 2014

10: Close Rick-Counters of the Rick Kind

Rick and Morty have a falling out when Rick is approached by some familiar associates.

Monday, April 14th, 2014

11: Ricksy Business

Beth and Jerry go away on a trip, so Rick decides to throw a party.
Season 2
Sunday, July 26th, 2015

1: A Rickle in Time

Rick, Morty, and Summer get into trouble when time is fractured by a feedback loop of uncertainty that split reality into more than one equally possible impossibilities. Meanwhile, Beth and Jerry go to extreme lengths to save a deer struck by their vehicle.

Sunday, August 2nd, 2015

2: Mortynight Run

Rick teaches Morty to drive while leaving Jerry at a popular day care made just for him. Morty's conscience has him hunt down an assassin rather than spending the day at an alien arcade.

Sunday, August 9th, 2015

3: Auto Erotic Assimilation

Rick gets emotionally invested when meeting an old friend, while Beth and Jerry have a falling out after making a discovery under the garage.

Sunday, August 16th, 2015

4: Total Rickall

Trapped inside the house with an ever-increasing number of parasitic alien shape-shifters capable of altering memories, an uncertain Rick and the Smiths search for a way to determine which of them are real.

Sunday, August 23rd, 2015

5: Get Schwifty

When a massive head descends into Earth's atmosphere, Rick and Morty must save the planet by coming up with a new hit song. Meanwhile, Jerry, Beth, and Summer become part of a new religion.

Sunday, August 30th, 2015

6: The Ricks Must Be Crazy

Rick and Morty travel inside the car's battery, where Morty discovers Rick has created a universe containing sentient life solely to produce power for him. Meanwhile, Summer must deal with being locked in the car with Rick's overzealous security system.

Sunday, September 13th, 2015

7: Big Trouble in Little Sanchez

Rick undergoes a transformation to combat a local vampire situation. Meanwhile, Beth and Jerry attempt to sort out their relationship through marriage counseling.

Sunday, September 20th, 2015

8: Interdimensional Cable 2: Tempting Fate

As Jerry decides between keeping his manhood or saving an alien leader from imminent death, the rest of the family take a look at what interdimensional television has to offer.

Sunday, September 27th, 2015

9: Look Who's Purging Now

Rick and Morty find themselves on a planet where the sentient inhabitants practice a "purge for peace" way of life. Jerry and Summer work on their father-daughter relationship.

Sunday, October 4th, 2015

10: The Wedding Squanchers

The whole family goes to the planet Squanch to attend the wedding of Rick's close friend, Bird Person.
Season 3
Saturday, April 1st, 2017

1: The Rickshank Rickdemption

The Smith family tries to cope without Rick, which is painful enough on its own without taking into consideration the stifling rules put into place by the Federation. Meanwhile Rick's past is finally revealed as he attempts to get out of his prison.

Sunday, July 30th, 2017

2: Rickmancing the Stone

Rick, Morty and Summer travel to a post-apocalyptic dimension and meet some dangerous enemies, all the while avoiding a recent family development.

Sunday, August 6th, 2017

3: Pickle Rick

Rick turns himself into a pickle, on the same day that Beth takes the kids to family therapy.

Sunday, August 13th, 2017

4: Vindicators 3: The Return of Worldender

Rick and Morty reunite with a team of intergalactic heroes known as the Vindicators to defeat their arch enemy, Worldender.

Sunday, August 20th, 2017

5: The Whirly Dirly Conspiracy

Rick and Jerry go on an adventure, while Beth fails as a mother and Summer has body issues.

Sunday, August 27th, 2017

6: Rest and Ricklaxation

Rick and Morty need a break, so they head to a spa planet for some much needed rest and relaxation.

Sunday, September 10th, 2017

7: The Ricklantis Mixup

Rick and Morty head to Atlantis. Meanwhile, the Citadel of Ricks is electing a new leader.

Sunday, September 17th, 2017

8: Morty's Mind Blowers

Morty experiences some memories that he couldn't handle from past adventures.

Sunday, September 24th, 2017

9: The ABC's of Beth

Jerry is lucky with a lady and Beth recalls her childhood.

Sunday, October 1st, 2017

10: The Rickchurian Mortydate

It's Rick vs. POTUS in a fight to the finish!
Season 4
Sunday, November 10th, 2019

1: Edge of Tomorty: Rick Die Rickpeat

Rick brings Morty to a planet containing crystals that show whoever is touching them all the ways they may die depending on their choices.

Sunday, November 17th, 2019

2: The Old Man and the Seat

Rick discovers that someone has been using his private "rest stop" and sets out to find them. Meanwhile, despite being warned not to, Jerry develops an app with Rick's alien intern, and chaos ensues.

Sunday, November 24th, 2019

3: One Crew Over the Crewcoo's Morty

At the end of a treasure-hunting expedition, Rick discovers that the loot he and Morty sought had already been nabbed by the heist artist Miles Knightly. Furious at being upstaged, Rick recruits a crew required to gain entrance into Heist-Con as "professionals" so he can confront Miles.

Sunday, December 8th, 2019

4: Claw and Hoarder: Special Ricktim's Morty

Rick promises Morty he can get a new companion: a flying, fire-breathing dragon. Jerry meets a mysterious talking cat.

Sunday, December 15th, 2019

5: Rattlestar Ricklactica

During one of their adventures in outer space, Rick and Morty's ship suffers a flat tire. While they carry out repairs, Morty suffers a potentially lethal snake bite that leads to a complicated, time-travelling encounter with a snake civilization.

Sunday, May 3rd, 2020

6: Never Ricking Morty

An anthology episode that follows Rick and Morty on a train with people who don't like Rick. They have to find their way out but they bump into unexpected situations along the way.

Sunday, May 10th, 2020

7: Promortyus

Rick and Morty find themselves in a fight against face-hugging aliens who just happen to have an M&Ms store.

Sunday, May 17th, 2020

8: The Vat of Acid Episode

It's a Rick, Morty and a vat of acid kind of adventure. But will it be worth Morty missing his English class for?

Sunday, May 24th, 2020

9: Childrick of Mort

Rick, Morty, Beth, Summer and Jerry share a galactic adventure.

Sunday, May 31st, 2020

10: Star Mort: Rickturn of the Jerri

An adventure with an invisibility belt, but a family that disappears together, must stay together.