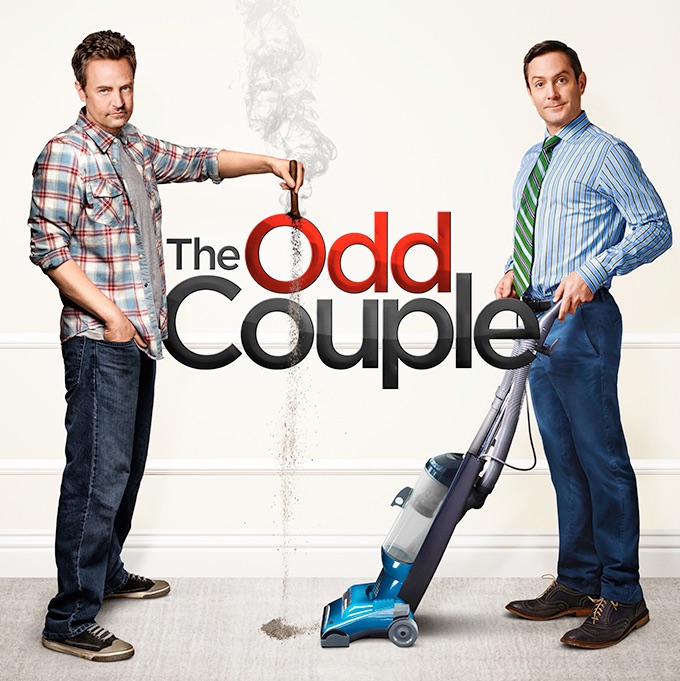 Season 1
Thursday, February 19th, 2015

s1e1: Pilot

Oscar Madison reluctantly agrees to let Felix Unger, his uptight former college roommate, move in with him after both of their marriages fail.

Thursday, February 26th, 2015

s1e2: The Ghostwriter

When Oscar is hired to ghostwrite the autobiography of a retired baseball player, Felix offers his "help" by advising Murph to go in a different direction, making Oscar's job more difficult.

Thursday, March 5th, 2015

s1e3: The Birthday Party

When Oscar realizes he's forgotten Felix's birthday, he pulls together a last-minute surprise party in his honor in an attempt to impress Casey.

Thursday, March 12th, 2015

s1e4: The Blind Leading The Blind Date

When Dani reveals she's depressed that she'll be the only single one at her high school reunion, Oscar and Felix each put their distinctive dating strategies to work to help her find a boyfriend.

Thursday, April 2nd, 2015

s1e5: The Wedding Deception

When Oscar and Felix attend the wedding of an old college friend, Oscar aims to reconnect with an old flame while Felix is determined to show his ex-wife that he's a changed man.

Thursday, April 9th, 2015

s1e6: Heal Thyself

Felix's hypochondria kicks into overdrive when Oscar starts dating the most important person in Felix's life – his doctor.

Thursday, April 30th, 2015

s1e9: Sleeping Dogs Lie

Thursday, May 7th, 2015

s1e10: Enlightening Strikes

When Felix substitute teaches a yoga class, his teaching style rubs everyone, including Emily, the wrong way. Also, Oscar and Dani get trapped on a subway car, adding to their frustration about living in the city, and Murph asks Teddy to be his agent when he's approached to be the spokesperson for a Norwegian health supplement.

Thursday, April 16th, 2015

s1e7: Secret Agent Man

Felix convinces Oscar to appear on a sports television show against Teddy's advice to stick with radio.

Thursday, May 7th, 2015

s1e11: Jealous Island

Oscar becomes obsessed with living up to Murph's standards when he finds out the girl he is seeing used to date the handsome ex-baseball player. Also, when Emily volunteers to be a part of a historical reenactment on Ellis Island in order to spend more time with Felix, he is too busy preparing for his role to pay any attention to her.

Thursday, May 14th, 2015

s1e12: The Audit Couple

When the IRS decides to audit Oscar and his ex-wife Gaby, Felix offers to mediate between the contentious exes when he realizes that he might be the reason Oscar was audited in the first place.

Thursday, April 23rd, 2015

s1e8: The Unger Games

When Oscar feels threatened by Felix's surprising performance on the softball field and basketball court, they agree to a decathlon to determine which one of them is the better athlete.
Season 2
Thursday, April 7th, 2016

s2e1: All About Eavesdropping

After Oscar and Felix become obsessed with eavesdropping on their bickering neighbors, they try to subtly intervene and help them save their marriage. Also, Emily and Dani's friendship is tested when they train together to race to the top of the Empire State Building.

Thursday, April 21st, 2016

s2e3: From Here To Maturity

Oscar faces a personal dilemma when he dates a young nanny, Allyson, who works for his neighbor, Charlotte. Also, Emily forces Felix to participate in an activity she's interested in, for a change.

Thursday, April 28th, 2016

s2e4: Madison & Son

Oscar's dream comes true when he is asked to throw out the first pitch at a New York Mets game. Also, Felix surprises Oscar and invites his father to be there for the big day.
Season 3
Monday, December 12th, 2016

s3e8: My Best Friend's Girl

To avoid a night of boredom, Oscar suggests that Charlotte take Felix out on their artsy cultural dates in his place. Also, Emily enlists Dani, Teddy and Murph's help when she has to produce 100 necklaces for an event.

Monday, January 2nd, 2017

s3e9: My Best Friends Girl

To avoid a night of boredom, Oscar suggests that Charlotte take Felix out on their artsy cultural dates in his place. Also, Emily enlists Dani, Teddy and Murph's help when she has to produce 100 necklaces for an event.

Monday, November 28th, 2016

s3e7: The Odd Couples

Oscar and Felix seek the advice of a counselor in their apartment building to help overcome their issues. Also, Oscar's opinions on relationships, combined with Felix's meddling, complicates matters for all of their friends.

Monday, January 9th, 2017

s3e10: Should She Stay Or Should She Go

Felix meets a fun-loving woman, Natasha, in a bar and takes her home for what is meant to be a one-night stand, and Oscar takes things to the next level with Charlotte.

Monday, January 16th, 2017

s3e11: Batman vs. the Penguin

Murph gets Oscar to agree to participate in a regular TV segment where he competes with a penguin at the zoo to predict the winners of hockey games. Also, Emily and Felix take their first steps to becoming 'just friends.'

Monday, January 30th, 2017

s3e12: The God Couple

Oscar grumbles when Felix helps Dani prepare for a choir solo and encourages the group to attend church to support her.