update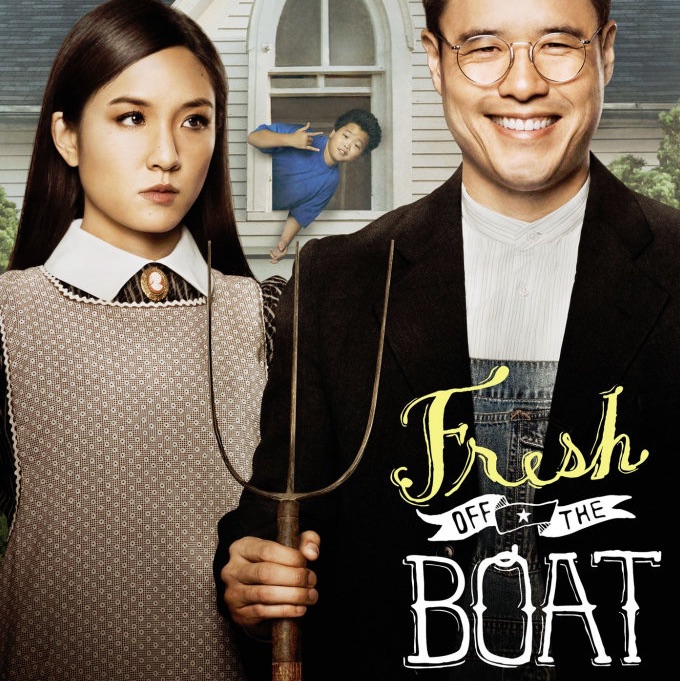 Season 1
Wednesday, February 4th, 2015

1: Pilot

It's 1995 and 11-year-old hip-hop loving Eddie Huang has just moved with his family from Chinatown in Washington D.C. to suburban Orlando. They quickly discover things are very different there. Orlando doesn't even have a Chinatown -- unless you count the Huang house.

Wednesday, February 4th, 2015

2: Home Sweet Home-School

Louis and Jessica clash over how to raise the kids and how to run the restaurant. When the boys get straight A's in school, Jessica decides that their school must be too easy and takes it upon herself to give them more homework and tutor them after class. She takes the same strict approach at the restaurant (no extra croutons for anyone!), so it's up to Louis to get her to lighten up on everyone.

Tuesday, February 10th, 2015

3: The Shunning

When the cul-de-sac plans a block party to celebrate NASCAR, Louis urges the family to use the event to make new friends (and promote Cattleman's Ranch Steakhouse). But Jessica has problems fitting in, especially after she befriends a beautiful trophy wife the roller blade moms don't like. Meanwhile, Eddie schemes to win the respect of the neighborhood kids.

Tuesday, February 10th, 2015

4: Success Perm

Family rivalry spirals out of control when Jessica's sister, Connie, and her far more affluent husband come to visit. The Huangs try to convince everyone they're doing great financially, when nothing could be further from the truth. Meanwhile, Eddie is excited to be reunited with his cousin Justin, who introduced him to hip hop, until he learns the kid has moved on to grunge.

Tuesday, February 17th, 2015

5: Persistent Romeo

Louis has to hire a professional instructor to give the restaurant staff a sexual harassment seminar after Jessica's attempts fall flat. Meanwhile, Eddie tries to pass off the seminar's instructional tape as a "dirty movie" to his friends in an attempt to impress them and get them to come to his house for a sleep over.

Tuesday, February 24th, 2015

6: Fajita Man

Eddie is so desperate for a new video game named after his idol, Shaq, he goes to work at the restaurant. He expects special treatment since he's the boss's son, but is in for a surprise when Louis is determined to make him work hard for the money. Meanwhile, Jessica decides to look for a job of her own.

Tuesday, March 3rd, 2015

7: Showdown At The Golden Saddle

Things are looking up for the Huangs when Louis gets the restaurant a billboard in a prime spot in Orlando. They even get an invite to the country club. But when someone repeatedly vandalizes the billboard, they're left wondering why. Eddie works hard to get the attention of the girl he's crushing on, but it doesn't help matters when his mom hires her to babysit him.

Tuesday, March 10th, 2015

8: Phillip Goldstein

Eddie tries to befriend the only other Chinese kid in school, but he's in for a letdown after he finds out that they have nothing in common; Louis feels betrayed when Mitch accepts a job at the rival Golden Saddle.

Tuesday, March 24th, 2015

9: License To Sell

Jessica puts off taking the exam for her real estate license because she fears she isn't good enough to compete with Orlando's top realtor. Eddie looks to Louis for advice on how to win over older girl Nicole, but puts his own spin on his dad's suggestions.

Tuesday, March 31st, 2015

10: Blind Spot

Jessica's college boyfriend, Oscar Chow, comes to visit. She's a bit miffed that Louis isn't a little more jealous....but she's got a blind spot and is completely oblivious to the fact that Oscar is gay. Meanwhile, Eddie goes to great lengths to get out of the school science fair.

Tuesday, April 7th, 2015

11: Very Superstitious

Jessica's superstitions get the best of her when she sells a house with the address 44 West 44th Street - the number 4 being bad luck in Chinese culture. At the urging of the new school counselor, Eddie decides to run for school president, but Jessica's bad luck gets the best of him too when a white lie spirals out of control.

Tuesday, April 14th, 2015

12: Dribbling Tiger, Bounce Pass Dragon

Louis and Jessica get pressured into volunteering at the kids' schools because of budget cuts. Eddie sees a whole other side of his dad when Louis - a former semi-pro basketball player back in Taiwan -- coaches the basketball team, while Emery and Evan see a side of Jessica they wish they hadn't when she grudgingly takes on producing their school play, and puts her own spin on it.

Tuesday, April 21st, 2015

13: So Chineez

Jessica fears her family has assimilated so much to life in Orlando that they've lost their Chinese identity. So she drives everyone nuts making them reconnect with their culture, from Louis, who she insists decline an invite to join the country club, to Eddie, who she makes do a report on China for his World Day project.
Season 2
Tuesday, September 22nd, 2015

1: Family Business Trip

When Louis is forced to bring his family on a business trip to Gator World, Jessica learns the art of relaxation and Eddie takes on the "Death Roll." Meanwhile, Evan loses his last baby tooth but isn't ready to join the big kid club.

Tuesday, September 29th, 2015

2: Boy II Man

Nicole convinces Eddie to ditch piccolo and become her tutor, then ends up ditching him when she meets a new boy. Crushed, Eddie stops eating and listens to Boyz II Men's "End of the Road" on repeat. Jessica is confused by his behavior and seeks parenting advice from Honey.

Tuesday, October 6th, 2015

3: Shaquille O'Neal Motors

It's Louis and Jessica's wedding anniversary and Louis plans a romantic evening out - to the car dealership. Meanwhile, Evan and his "friends" help Eddie buy The Hot Dogger, a hot dog-shaped water slide.

Tuesday, October 13th, 2015

4: The Fall Ball

As Eddie's first school dance approaches, Louis is determined to make the night as perfect as a John Hughes film. Meanwhile, Jessica spends the day with Grandma Huang in hopes of getting on her good side so she will invest in her new business venture.

Tuesday, October 27th, 2015

5: Miracle on Dead Street

It's the Huangs' first Halloween in the suburbs and Louis is determined to turn their "dead" street into a prime destination for trick-or-treaters. And as Louis, Eddie, Emery, Evan and even Grandma Huang show off their elaborate costumes, Jessica has bigger plans - to protect her investment property from teenage pranksters.

Tuesday, November 3rd, 2015

6: Good Morning Orlando

Louis goes on a local morning talk show to promote Cattleman's Ranch and fears he humiliated himself and poorly represented his culture. Meanwhile, Eddie and his friends are confused about who their girlfriends are and attempt to sort it out during a group date at the skating rink.

Tuesday, November 10th, 2015

7: The Big 1-2

It's Eddie's 12th birthday and instead of celebrating with his family, he plans his own birthday party with his friends at the mall. When confronted about his secret party, Eddie confesses that the Huang family rules are stifling his true persona.

Tuesday, November 17th, 2015

8: Huangsgiving

The Huangs are hosting Thanksgiving this year, and Jessica is determined to out-do her sister who has hosted in years past.

Tuesday, December 1st, 2015

9: We Done Son

Jessica and Honey's friendship hits a rough patch after an argument about the investment property. Louis's old friend Barry overstays his welcome. And Eddie starts a part-time job working for DMX.

Tuesday, December 8th, 2015

10: The Real Santa

Jessica and Louis convince Evan that Santa is a scientist with multiple post-graduate degrees who's also a good friend of his mother's and Eddie and Emery search for the perfect Christmas gift for their mother.

Tuesday, February 2nd, 2016

11: Year of the Rat

A plane ticket snafu causes the Huangs to spend the Chinese New Year in Orlando, rather than in Washington with the rest of the family.

Tuesday, February 9th, 2016

12: Love and Loopholes

Honey and Marvin look after the boys so Jessica and Louis can enjoy Valentine's Day together. Eddie wants to take Alison to a Janet Jackson concert.

Tuesday, February 16th, 2016

13: Phil's Phaves

The Cattleman's Ranch receives a bad review, which doesn't sit well with Louis and Jessica and Eddie makes a romantic mix tape for Alison, but it falls into the wrong hands.

Tuesday, February 23rd, 2016

14: Michael Chang Fever

Louis and Jessica decide to pay tennis legend Billie Jean King to train Emery after finding out that he has great potential. Eddie helps Evan deal with a gambling debt.

Tuesday, March 8th, 2016

15: Keep 'Em Separated

Jessica attempts to encourage Louis to make some friends. Louis' new buddy at the pool hall turns out to be an attractive woman and Jessica feels jealous.

Tuesday, March 15th, 2016

16: Tight Two

Louis discovers the demands of being a stay-at-home parent after an accident sidelines him from work. Jessica, meanwhile, struggles with managing the Cattleman's Ranch.

Tuesday, March 22nd, 2016

17: Doing It Right

After Jessica clashes with another mother, she is concerned that she is the cause of Evan being uninvited to a birthday party.

Tuesday, March 29th, 2016

18: Week In Review

After the family become infected with lice, Louis leaves Jessica to deal with it. Eddie attempts to back out of a bet he has made.

Tuesday, April 5th, 2016

19: Jessica Place

Jessica and Honey find out a juicy secret about Deidre. Louis and Eddie come up with a way to deal with some negative emotions.

Tuesday, April 26th, 2016

20: Hi, My Name Is...

Evan is excited to open his first bank account, but is unsure if he should use his American name or his Chinese name on the account. As a result, Louis and Jessica reveal how they acquired their American names and recall the first time they met.

Tuesday, May 3rd, 2016

21: Rent Day

Jessica is able to convince Honey and grandma to rent out the renovated house but not everything goes to plan.

Tuesday, May 10th, 2016

22: Gotta Be Me

Louis attempts to help Emery be cool at school. Jessica proves she can be a fun mother by chaperoning Eddie's field trip to Colonial Floridatowne.

Tuesday, May 17th, 2016

23: The Manchurian Dinner Date

Eddie's girlfriend is determined to try and impress Jessica. Emery asks Louis for help with his graduation speech.

Tuesday, May 24th, 2016

24: Bring the Pain

Louis' brother pays a visit with some big news. Eddie attempts to find a way to watch Chris Rock's latest comedy special.
Season 3
Tuesday, October 11th, 2016

1: Coming from America

Louis takes the entire family to Taiwan to patch things up with Gene; Louis wonders if life in Orlando is as good as it could be in Taiwan; Jessica takes Eddie, Emery and Evan to her childhood locales.

Tuesday, October 18th, 2016

2: Breaking Chains

While showing Emery the ropes on his first day of middle school, Eddie reveals how he convinced the staff into believing fake Chinese customs that provide special privileges; Louis hires a housekeeper to help lighten Jessica's load at home.

Tuesday, October 25th, 2016

3: Louisween

Louis tries to get Jessica into the Halloween spirit.

Tuesday, November 1st, 2016

4: Citizen Jessica

Jessica suspects an employee is an undocumented alien.

Tuesday, November 15th, 2016

5: No Thanks-giving

Cattleman's Ranch hosts a Thanksgiving feast.

Tuesday, November 29th, 2016

6: WWJD: What Would Jessica Do?

Jessica is flummoxed when Evan attends church instead of accompanying her to Costco; Marvin treats Louis to a free teeth-whitening session; and Eddie and Emery become creative when getting rid of healthy cereal.

Tuesday, December 6th, 2016

7: The Taming of the Dads

To celebrate their one-year anniversary, Eddie reluctantly agrees to take Alison to the see a modern remake of Romeo and Juliet. But when Louis and Alison's dad bond over their love of Shakespeare and crash their date, Alison wonders if she and Eddie's relationship has lost its spark. Meanwhile, Jessica gets called for jury duty and campaigns to be the "Jury Boss," and Emery and Evan struggle with the responsibilities of raising a Tamagotchi digital pet.

Tuesday, December 13th, 2016

8: Where are the Giggles?

While the Huangs are out at the movies, Evan is accidentally left home alone, and Jessica vows to make it up to him. Meanwhile, Marvin takes a spill and is visited by Ghosts of Christmas Past, Christmas Present, and Christmas Future.

Tuesday, January 3rd, 2017

9: How to Be an American

During Jessica's U.S. citizenship interview, she reveals shocking details about her past that even Louis was not aware of. Meanwhile, Eddie, Emery and Evan have a day off from school and attempt to take the family minivan out for a joyride.

Tuesday, January 17th, 2017

10: The Best of Orlando

Louis forgets to thank Jessica in his acceptance speech when he's named Small Businessman of the Year; and Eddie, Emery and Grandma start their own clothing line.

Wednesday, January 18th, 2017

11: Clean Slate

On the eve of Chinese New Year, Jessica pushes the entire family to settle all debts, disputes, and grudges to ensure good fortune for the coming year. Meanwhile, Louis and Evan go on a wild goose chase to hunt down some hate mail.

Tuesday, February 7th, 2017

12: Sisters Without Subtext

Jessica is thrilled her sister Connie is taking the opportunity to go to college. But when she discovers that she wants to pursue an art degree, Jessica disagrees with Connie's passion for art and does not see how it would add any value to her or her family. Meanwhile, Marvin and Honey take Eddie, Emery, and Evan with them to visit a retirement home.

Tuesday, February 14th, 2017

13: Neighbors With Attitude

Jessica is disappointed to learn she is excluded from the Neighborhood Watch. But when Ann's son goes missing, Jessica proves that her independent security measures work. Meanwhile, Eddie sets the stage for the perfect first kiss with Alison.

Tuesday, February 21st, 2017

14: The Gloves Are Off

Jessica accidentally befriends Marvin's ex-wife, Sarah, and tries to help her and Honey settle their longstanding rift. Meanwhile, Louis and the boys are on a mission to determine Grandma's true age in hopes of surprising her with a new motorized wheelchair.

Tuesday, February 28th, 2017

15: Living While Eddie

After her precious morning papaya goes missing and the dishwasher was used for its actual purpose rather than just a drying rack, Jessica automatically accuses Eddie as the culprit. Yet when a record store manager accuses him of stealing a CD, she realizes he has other motives for his actions. Meanwhile, Louis and Emery are bursting with excitement when a TV crew comes to shoot an infomercial at Cattleman's Ranch.

Tuesday, March 7th, 2017

16: Gabby Goose

The Huangs host couples game night, and Louis works up the courage to confront Jessica about being a sore loser. Meanwhile, Emery and Evan help Eddie grieve the unexpected, sudden death of rapper Notorious B.I.G.

Tuesday, March 14th, 2017

17: The Flush

Louis plans a guys' weekend for he and Eddie, but is disappointed when he invites his buddies over for a sleepover instead. Unbeknownst to Louis, Eddie and his friends hide out in his room, trying beer for the first time. Meanwhile, Jessica, Emery, Evan, and Honey go on a road trip to Georgia to save a few dollars on a piece of furniture.

Tuesday, April 4th, 2017

18: Time to Get Ill

When Jessica tries to sleep off a bad flu, Louis and the boys splurge on a pricey pay-per-view wrestling match that she would never allow. As they watch the match in silence, taking every precaution to ensure Jessica's recovery is not disturbed, they are shocked to learn that she was secretly having some fun of her own.

Tuesday, April 11th, 2017

19: Driving Miss Jenny

Louis worries Grandma's new motorized wheelchair gives her too much freedom, and makes it a point to keep a close eye on her. Meanwhile, Jessica fears that Emery's sentimental ways have turned him into a hoarder, and Eddie tries to hustle his way into Evan's already-successful side business.

Tuesday, April 18th, 2017

20: The Masters

Upon learning that Tiger Woods is half Thai, Louis and Jessica get inspired to groom Eddie and Evan into becoming the next great Asian golf prodigies. Meanwhile, Emery is determined to publicize the fact that Tiger Woods is half Asian.

Tuesday, May 2nd, 2017

21: Pie vs. Cake

Jessica is thrilled to hear Evan is interested in joining the debate team. Yet, when her protégé becomes so good that he beats her at her own game, she second guesses her worth. Meanwhile, Eddie and Emery team up to enter a comic book contest.

Tuesday, May 9th, 2017

22: This Is Us

Eddie looks forward to starting high school with his friends; Jessica considers moving the family to a new neighborhood; Louis gets the opportunity to expand Cattleman's Ranch with his new silent partner, Michael Bolton.

Tuesday, May 16th, 2017

23: This Isn't Us

When Louis and Jessica make changes to provide their family with a better life, they learn the changes come with their own set of challenges.
Season 4
Tuesday, October 3rd, 2017

1: B as in Best Friends

Still homeless, the Huangs move in with Honey and Marvin. Jessica's dreams come true when she gets a chance to compete on "Wheel of Fortune" during Best Friends Week with Honey. Eddie starts high school and is still on the outs with his pals but finds unexpected sympathy from Nicole. Michael Bolton offers to step in at the restaurant to give Louis more time with his family, but does he have an ulterior motive?

Tuesday, October 10th, 2017

2: First Day

It's the first day of high school and Eddie wants to join the football team to impress girlfriend Alison, despite Jessica forbidding him to try out. Emery finds out that Evan has been moved up a grade and is in middle school with him. Louis battles with Kenny Roger's right-hand man over changes at the steakhouse

Tuesday, October 17th, 2017

3: Kids

With the realization that Eddie is finally mature enough to be left on his own, Louis and Jessica see the light at the end of their parenting tunnel and make plans to spend more time with friends Honey and Marvin. Until their neighbors announce a plan of their own: Marvin is getting his vasectomy reversed so the couple can conceive a baby. The Huangs do their best to dissuade them.

Tuesday, October 24th, 2017

4: It's a Plastic Pumpkin, Louis Huang

On Halloween, Louis is disappointed that Evan doesn't take his childish delight in the holiday; Eddie and the gang plot to crash a cool older girl's party; Jessica and Emery are spooked when they hear a strange man's voice emanating from Grandma's room, and things get even creepier when a mysterious group of costumed strangers whisk Grandma away, making them suspect the supernatural worst

Tuesday, October 31st, 2017

5: Four Funerals and a Wedding

When Jessica's aunt passes away, the Huang family packs their bags for Houston where the boys see Jessica's father for the first time. While observing the distant relationship, Louis makes it his mission to push Jessica and her father closer together. Meanwhile, Evan decides to make Eddie the executor of his will, prompting Emery and Eddie to fight over who is the better older brother.

Tuesday, November 7th, 2017

6: A League of Her Own

After coming out of the closet to Honey and Jessica, Nicole struggles with telling Marvin, fearful that her father will be disappointed in her. Meanwhile, Louis wants to manage the Cattleman's Ranch softball team on his own, so Jessica decides to coach the rival team from The Denim Turtle to prove that she is the superior manager. Chaos is sure to ensue when everyone gathers for the big game at the Greater Orlando Bar and Restaurant tournament.

Tuesday, November 14th, 2017

7: The Day After Thanksgiving

The Huangs' idea to skip Thanksgiving this year doesn't last long when Louis plays matchmaker and invites Grandma's ESL teacher, Bernard, to dinner after he notices their flirtation in class. To Jessica's amazement, Grandma Huang offers to cook the entire meal to show her appreciation. Meanwhile, to prove his maturity, Evan lets Eddie and Emery sneak him into his first R-rated movie.

Tuesday, November 21st, 2017

8: The Vouch

Louis gets himself into a sticky situation when he lies to Jessica and tells her that he loves her newly finished horror novel. With news that Kenny Rogers is paying a visit to Cattleman's Ranch, Jessica insists that Louis give him a copy of her book for his agent, making him extremely uncomfortable. Eddie and his friends purchase a 300-disc CD carousel to play all of their music, but Eddie thinks he's the only one in charge and becomes a tyrant.

Tuesday, December 5th, 2017

9: Slide Effect

Eddie begins to think he needs to find cooler friends to make his mark in high school; Jessica decides to pocket the money she is given to have her photograph professionally taken for her book.

Tuesday, December 12th, 2017

10: Do You Hear What I Hear?

As head of the HOA Christmas committee, Jessica threatens to cut the neighborhood caroling this year due to last year's rocky performance. However, Deirdre says that her friend Holly (Paula Abdul), who teaches "Performance and Movement," will help get everyone into tip-top, melodic shape. Meanwhile, Marvin becomes suspicious of Honey when she goes to see "Titanic" at the movies without him; Nicole develops her first girl crush and struggles with how to get her attention.

Tuesday, January 2nd, 2018

11: Big Baby

Honey is excited to attend a parenting class that encourages moms to listen to their babies taught by self-proclaimed child sage, Wilhelmina Page, but when her mother, Anne, ridicules the idea, it exposes communication issues of their own. When Honey turns to Jessica for support, she is disappointed to find that even her best friend doesn't have her back. Meanwhile, Louis and Marvin are thrilled when they get to go on the free cruise their wives won on "Wheel of Fortune," but their boys' trip quickly turns into a gambling getaway gone south. Back in Orlando, Eddie's friends are wary of his new crush at school.

Tuesday, January 9th, 2018

12: Liar Liar

Eddie gets annoyed when he catches Nicole changing her opinions in order to impress her new crush, Jackie. Louis is eager to expand his social circle with Matthew Chestnut's friends, but Jessica fears her sometimes-too-generous husband is overextending himself. When Emery and Evan take Honey shopping to find her a new, easy style to help her when the baby comes, their idea of a "mom" wardrobe is met with some resistance.

Tuesday, January 16th, 2018

13: The Car Wash

With Jessica's career as an author taking off, Louis worries that she is losing interest in him and attempts to rekindle the flame under Marvin's guidance. Evan skips his way into Emery's seventh grade English class with a particularly hard-to-please teacher, Ms. Doris. When neither can win her over, they seek advice from an unusual source.

Tuesday, January 30th, 2018

14: A Man to Share the Night With

When Michelle Kwan comes in second place at the Olympics, Jessica tries to keep it from Emery and Evan; Louis changes Eddie's bedtime, hoping to spend more quality time together watching Letterman.

Tuesday, January 30th, 2018

15: We Need to Talk About Evan

Jessica pushes Evan to win Student of the Month so that she can rub it in her new frenemy's face; Louis feels like he is in Kenny Rogers' shadow; Eddie and Emery decide it's time they learn how to unhook a bra.

Tuesday, February 6th, 2018

16: Ride The Tiger

For Chinese New Year, the Huangs play a game where they can only speak in Mandarin, which quickly turns into a tense competition between Jessica and Evan, putting Jessica's first televised interview for her novel in jeopardy. Emery is excited to end his year of bad luck and finally ask his crush to the spring fling, but when he is still having trouble, Louis decides to take matters into his own hands. Meanwhile, Eddie doesn't receive a red envelope from Big Auntie and enlists Grandma Huang's help to figure out why she's angry with him.

Tuesday, February 27th, 2018

17: Let Me Go, Bro

The Huangs are pleasantly surprised to find that Eddie has been awarded a spot in the Honor Society, but Evan is particularly bothered by the news. Meanwhile, Jessica receives a note from her book editor to improve her cop dialogue and signs up for a ride-along to better her writing. Then, on St. Patrick's Day, Matthew Chestnut doesn't have the luck of the Irish on his side when Louis receives orders from Kenny Rogers to fire him.

Tuesday, March 13th, 2018

18: Measure Twice, Cut Once

After Louis buys Kenny Rogers' stake in Cattleman's Ranch back, he starts to doubt his instincts as sole owner. Frustrated by his cautiousness, Jessica flies in Madam Xing to ease Louis' anxiety, but that only stresses him out more – to the point of breaking a tooth. Marvin's laughing gas finally helps Louis relax, but side effects of strange visions accompany his relief. Meanwhile, Evan gives up watching Regis and Kathie Lee for Lent, leading his older brothers to mess with his head.

Tuesday, March 20th, 2018

19: King in the North

Honey plans a relaxing vacation before the baby comes, but Jessica turns the trip into a crazy quest to get Stephen King's endorsement for her novel. When Grandma Huang decides to move out, Louis panics and does everything he can to make sure she knows how welcome she is. Meanwhile, Eddie, Nicole and their friends plan to wear matching suits to the school dance until a dress code demands that the girls must wear dresses, leading Eddie and Nicole to rebel.