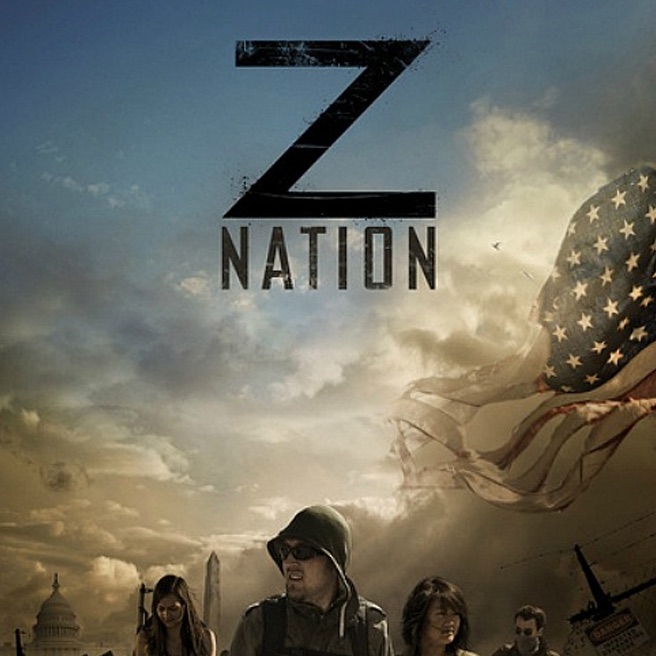 Season 0
Saturday, September 6th, 2014

s0e1: Sneak Peek
Season 1
Friday, September 12th, 2014

s1e1: Puppies and Kittens

Three years into the zombie apocalypse, a ragtag team of everyday heroes comes together to transport the only known survivor of the zombie virus from Upstate New York to a lab in California, in hopes of using his blood for a vaccine. A zombie baby proves to be an early obstacle, and what they don't know is that their last, best hope for a vaccine is hiding a dark secret that threatens them all.

Friday, September 19th, 2014

s1e2: Fracking Zombies

In New Jersey, the survivors run out of fuel and embark on a dangerous mission to replenish their supply. Meanwhile, Cassandra's past comes back to haunt her.

Friday, September 26th, 2014

s1e3: Philly Feast

The survivors make their way through the mean streets of Philadelphia, where they cross paths with a group of psychotic outlaws with ties to one of their own.

Friday, October 3rd, 2014

s1e4: Full Metal Zombie

What's worse than a zombie? An army of zombies (as in, literally a zombie army). Plus, 10K's mysterious past revealed.

Friday, October 10th, 2014

s1e5: Home Sweet Zombie

The survivors visit Warren's home town in Central Illinois, but will they find her long missing husband? Oh, yeah - there's also a zombie tornado that leaves everyone in danger.

Friday, October 17th, 2014

s1e6: Resurrection Z

An encounter with a seeming Utopian enclave and a religious cult results in a game changer when the survivors travel near Branson, Mo.

Friday, October 24th, 2014

s1e7: Welcome to the Fu-Bar

The survivors struggle to recover from a shocking death; and in Kansas they happen upon a gun show that makes the zombie apocalypse look calm.

Friday, October 31st, 2014

s1e8: Zunami

As they travel across Nebraska, the group finds themselves trapped in a morgue as a literal zombie tsunami engulfs them; at the same time, Citizen Z gets a visitor who might not be who he seems to be.

Friday, November 7th, 2014

s1e9: Die, Zombie, Die... Again

Mack attempts to go on a real date with Addy, but ends up stuck in some Groundhog Day-like nightmare.

Friday, November 14th, 2014

s1e10: Going Nuclear

The survivors square off against radioactive zombies when they arrive in a South Dakota town that's on the brink of nuclear disaster.

Friday, November 21st, 2014

s1e11: Sisters of Mercy

The two groups of survivors reunite in Utah, where they come upon an all-female commune that seems like paradise—that is, until someone ends up dead.

Friday, November 28th, 2014

s1e12: Murphy's Law

Murphy is kidnapped by a group of outlaws trying to crack the "Fort Knox of Oxycontin." As the survivors battle drug-enhanced zombies, a startling discovery is made about Murphy's abilities.

Friday, December 5th, 2014

s1e13: Doctor of the Dead

The team is rerouted to a Colorado lab where they hope to find Dr. Merch.
Season 2
Friday, September 11th, 2015

s2e1: The Murphy

Everyone tries to escape the impending nuclear blast; Citizen Z battles thawed zombies and issues an air bounty for Murphy.

Friday, September 18th, 2015

s2e2: White Light

The heroes are reunited, but soon find themselves navigating an unexpected tragedy as they engage in fierce fighting with both zombies and bounty hunters who are eager to capture Murphy, dead or alive. Meanwhile, Vasquez makes a strategic decision.

Friday, September 25th, 2015

s2e3: Zombie Road

Murphy is finally tracked down; the Zs are attacked by superfast zombies known as Blasters; and they are introduced to an ultrapotent strain of marijuana called Z-Weed.

Friday, October 2nd, 2015

s2e4: Batch 47

The survivors search for a "natural" cure for the virus at a greenhouse that's being guarded by zombie-plant hybrids.

Friday, October 9th, 2015

s2e5: Zombaby!

A pregnant Serena tracks down Murphy; the survivors stumble across a hidden Mennonite farm with new dangers.

Friday, October 16th, 2015

s2e6: Zombie Baby Daddy

While Murphy is falling for his baby girl, the rest of the team is suspicious of her; Vasquez sneaks away for a meeting; 10K makes a difficult decision.

Friday, October 23rd, 2015

s2e7: Down the Mississippi

While crossing the Mississippi, the team splits up after a boating accident; 10K is drawn into a scam; Escorpion sentences 10K, Sketchy and Skeezy to death.

Friday, October 30th, 2015

s2e8: The Collector

Murphy is captured by an unbalanced zombie fan, who is eager to add him to a zombie museum, so he must match wits to escape.

Friday, November 6th, 2015

s2e9: RoZwell

The team finds an abandoned Air Force base and discovers what looks like alien technology.

Friday, November 13th, 2015

s2e10: We Were Nowhere Near the Grand Canyon

The team splits up because of a massive zombie horde, and encounters a Native American tribe fighting against itself.

Friday, November 20th, 2015

s2e11: Corporate Retreat

The team gets embroiled in corporate politics after finding a group of white collar survivors hiding out in a hotel.

Friday, November 27th, 2015

s2e12: Party With the Zeros

The team meets La Reina, Queen of the Zeros, after being captured; Dr. Kurian is ready for human trials on his Z-vaccine at the Zero compound.

Friday, December 4th, 2015

s2e13: Adiós, Muchachos

It's discovered that the Z-vaccine doesn't work; Vasquez gets caught trying to kill Escorpion; Murphy uses mental manipulation to help Roberta.

Friday, December 11th, 2015

s2e14: Day One

The team reaches California and thinks back to the beginning of the zombie apocalypse.

Friday, December 18th, 2015

s2e15: All Good Things Must Come to an End

The team reaches the mobile lab, which turns out to be a submarine; Murphy says goodbye.
Season 3
Friday, December 16th, 2016

s3e14: Everybody Dies in the End

The gang reunites and faces the biggest battle yet.