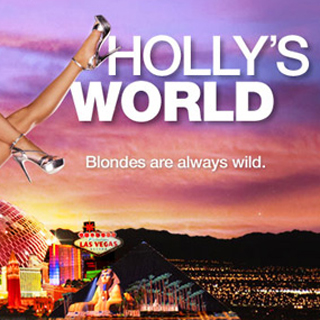 Season 1
Sunday, June 13th, 2010

s1e1: Opening a Cancun of Worms

Sunday, June 13th, 2010

s1e2: Opening a Cancun of Worms

Sunday, June 20th, 2010

s1e3: Better Date Then Never

Sunday, June 27th, 2010

s1e4: A Housewarming Divided

Monday, July 5th, 2010

s1e5: It Takes Balls

Sunday, July 11th, 2010

s1e6: Road Trippin

Sunday, July 18th, 2010

s1e7: Breast Intentions

Sunday, July 25th, 2010

s1e8: Operation Angel

Sunday, August 1st, 2010

s1e9: Careful What You Wish For
Season 2
Sunday, January 23rd, 2011

s2e1: Diva Las Vegas

Holly's "frenemy" Jayde moves to town threatening to steal her friends. Just when she thought things couldn't get worse, Holly gets shocking news that turns her world upside down.

Sunday, January 30th, 2011

s2e2: The Way We Weren't

After learning of ex-boyfriend Hugh Hefner's engagement to Crystal Harris, Holly decides to go to the mansion and discuss the news in person.

Sunday, February 13th, 2011

s2e3: On A Claire Day

Holly welcomes Vegas newcomer Claire Sinclair into her tight-knit group of friends, and gives the aspiring performer advice on how to handle the pressure of headlining in Vegas.

Sunday, February 20th, 2011

s2e4: The Trouble With Angel

Monday, February 21st, 2011

s2e5: A Hard Day's Night

Josh works on new music with Holly and Laura works on Jayde's photo shoot.

Sunday, March 6th, 2011

s2e6: Whatever Happened To Baby Jayde

Holly helps get Angel a modeling gig that Jayde also happens to be a part of. But when Jayde crosses the line with Angel - drinks begin to fly.

Sunday, March 13th, 2011

s2e7: Seperate Piece

Angel deals with her fight with Jayde; Nicole threatens Holly's reputation.

Sunday, March 20th, 2011

s2e8: The Parent Trip

Holly & Laura give internet sensation Nichole337 a makeover. Josh & Angel head to South Carolina to get more information about Josh's birth parents.

Sunday, March 27th, 2011

s2e9: Mothers and Other Strangers

While Holly shows off her slimmer physique at a magazine shoot, Josh is reunited with his birth mother.

Sunday, April 3rd, 2011

s2e10: Absinthe of Malice

Holly & the gang get together to celebrate the premiere of Josh's new song. The party is interrupted when Angel comes face to face with Jayde for the first time since their fight.