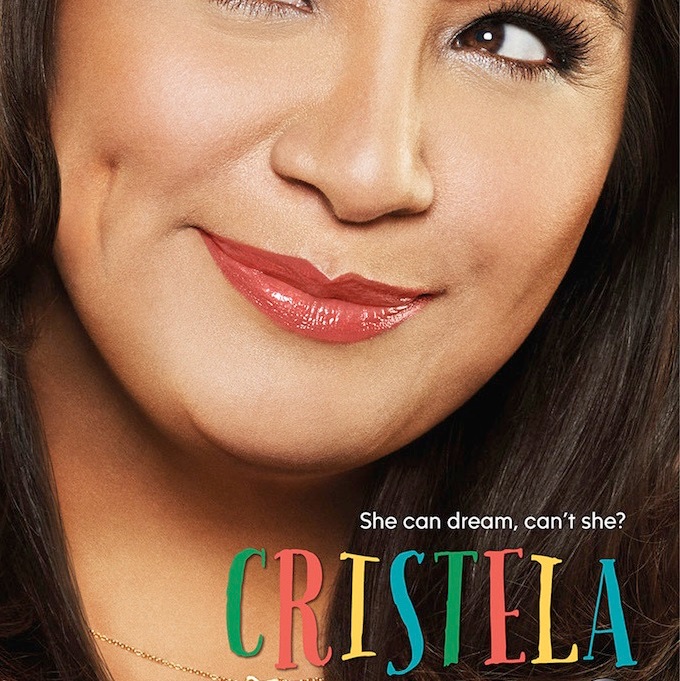 Season 1
Friday, October 10th, 2014

s1e1: Pilot

Cristela's family feels she is wasting her time trying to be a lawyer and should get a real job. Determined to make it, she attempts to stand out from the other intern candidates, and tries to impress the attorney with humor, which continually digs her into a deeper hole. Back at the house, Daniela encourages her to stop trying to achieve something she'll never accomplish and come work with her at the call center. Cristela concedes, then goes into the shower to drown her frustration. She's totally surprised when the attorney's office staff calls her with the news that she's among the chosen. She knows this will be the stepping stone she needs for her career, and yet another stumbling block between her and her family.

Friday, October 17th, 2014

s1e2: Soul Mates

Daniela thinks Cristela needs a man in her life, so enrolls her on an online dating service. One of the matches catches Cristela's interest with his witty and charming text messages. But when they meet for drinks, she's caught off guard by who shows up.

Friday, October 24th, 2014

s1e3: Mr. Felix & Ms. Daniela

After Daniela's friend mistakes Cristela for the nanny, tensions flare between the two sisters and surprisingly it is Felix who brings them back together. Meanwhile, Alberto tries to get closer to Cristela in an unexpected way.

Friday, October 31st, 2014

s1e4: Hall-Oates-Ween

Trent throws a mandatory staff Halloween Party and Cristela and Josh take on the challenge of making it a great one. It results in the office staff bringing out their inner selves with their costumes. Meanwhile Natalia builds an altar for the Day of the Dead, frustrated that her family chose Halloween instead. When they return from Trick or Treating, they're surprised to find Natalia with an audience of wide-eyed neighborhood children, enthralled with her stories.

Friday, November 7th, 2014

s1e5: Super Fan

Looking to enhance his chance for a promotion, Josh wants to get closer to Trent by learning more about sports. So when Mark Cuban (guest starring as a client of Trent's) comes to the office, Josh drops the ball in thinking he's there to fix the fridge. So Josh asks Cristela for help in teaching him the basics about sports, especially in Dallas where it goes God, family and the Cowboys...but not in that order in the 4th Quarter.

Friday, November 14th, 2014

s1e6: Equal Pay

Trent gives Cristela an equal pay sex discrimination case, a topic that gets a typical response from macho Felix and an unexpected secretive reaction from Daniela. At Cristina's unrelenting probing, Daniela confides that she's been hiding the fact that she earns more money than Felix. Cristina accidentally lets it slip, sending Felix into the expected funk. Cristela and Daniela use their combined creativity to try and set things back to status quo.

Friday, November 21st, 2014

s1e7: Enter Singing

Cristela, wanting to expose the kids to more cultural opportunities, tries to convince Felix to let Henry see "West Side Story." But in doing that, Felix worries that his son's interests will be changing and they won't have as much in common as he gets older.

Friday, December 5th, 2014

s1e8: Floor Favor

Trent wants the floor of his office redone and assumes Cristela knows someone in the flooring business, so she puts Felix & Alberto on the job. Even though the guys do a great job and bond with Trent, they treat Cristela like their put-upon little sister…like they do at home, so Cristela wants to find a way to get rid of them…fast. Meanwhile, Daniela teaches Natalia how to use the internet.

Friday, December 12th, 2014

s1e9: It's Not About the Tamales

It's Christmas time and Cristela is looking forward to the tradition of making tamales with her mom and sister, while the men pretend to do housework. Among those men this year is Cristela's brother Eddie, returning from a job out of state. But when Josh mistakes a joke for an earnest invitation, he ends up crashing the family tamale party. Meanwhile, Trent and Maddie get some much needed father-daughter time at home, where they bond over their shared inability to prepare even the most basic of Christmas feasts.

Friday, January 9th, 2015

s1e10: Veronica

Trent and his wife (guest star Roseanne Barr as "Veronica") are going through some martial problems and look to soon be separating. Veronica takes an immediate liking to Cristela and offers her a job at her law firm, which specializes in cases that entice Cristela, but will she be able to abandon her loyalties to Trent? Meanwhile, Henry and Isabella have opposing views on how best to sell chocolate bars for a school fundraiser and seek help from Felix, Daniela & Alberto.

Friday, January 16th, 2015

s1e11: Dead Arm

It's a case of the blame game when Isabella finds herself in a bit of trouble at school after being called out for being a bully. Cristela tries to figure out which family member taught Izzy this learned behavior as Daniela, Natalia, Felix and Alberto all have traits that might have influenced Izzy. It's not until Cristela and Josh have a squabble at work over misinterpreting one another's text messages that Maddie points out that even Cristela might have a few bully-like qualities of her own.

Friday, January 30th, 2015

s1e12: Hypertension

Daniela is worried that Cristela is not paying attention to her health due to her busy schedule, and suggests she should lose a few pounds, making her as an example. But when Cristela says she doesn't want to become like Daniela, Daniela tricks Cristela to get a free blood pressure test and finds out its her that should be worried. Meanwhile, Maddie tries to teach Josh a lesson when he tries to impress Trent by learning CPR.

Friday, February 6th, 2015

s1e13: Mexican Mona Lisa

Cristela is thrilled to be filling in as Trent's assistant for the week since it comes along with pay. But Josh points out the road to a successful lawyer might not be best met by taking the secretary route. Meanwhile back at home, Daniela and CRISTELA learn of a missed call from Natalia's doctor and immediately fear the worst -- which prompts them to come up with a "Bucket List" for Natalia - they feel bad that she hasn't been able to experience much of what life has to offer

Friday, February 20th, 2015

s1e14: Marriage, Counselor

Trent and Veronica (Roseanne Barr returns) are headed for a divorce, but it's revealed a prenup was never signed and the thought of giving Veronica half of his fortune makes Trent wince with pain. Knowing Cristela and Veronica have grown close, Trent asks for Cristela's help in trying to get Veronica to sign a prenup. Veronica says she doesn't want the divorce. When Cristela takes this back to Trent, he says the same thing -- thus Cristela begins playing marriage counselor. Meanwhile, Daniela becomes upset with Felix after she finds out the story he told her about dumping his ex-girlfriend for her was a lie.

Friday, February 27th, 2015

s1e15: Gifted & Talented

Cristela tries to help Isabella get into a school program for the gifted and talented.

Friday, March 13th, 2015

s1e16: Confirmation

Cristela's loyalties to both home and work are tested when she promises to be Henry's sponsor for his confirmation ceremony and Trent asks her to be by his side at a fundraising event. Then, after Maddie posts a video online and Trent is seen in the background making what are perceived as racist comments, he holds a press conference in an attempt to clear his name. Cristela has to make a difficult decision.

Friday, March 20th, 2015

s1e17: Fifteen-Something

When Juanita Canales invites the family to her granddaughter's quinceañera, Natalia wants to show off and use different aspects of the family to impress everybody. This culminates in her pushing Cristela to bring Josh from work as her date, and Cristela has the first dance she never had when she turned fifteen.

Friday, March 27th, 2015

s1e18: Fifteen-Something

not specified

s1e19: Border in the Court

Friday, April 17th, 2015

s1e22: Movin' On Up

Cristela, Maddie and Josh eagerly await the results of the bar exam. Much to everyone's surprise, Maddie passes while Josh does not. Cristela also passes the exam and Trent offers her an attorney position at his law firm that comes along with an added perk of hiring an assistant. Faced with moving back in with his parents, Josh eagerly accepts the assistant gig. An ecstatic Cristela returns home to celebrate, but is lovingly confronted by Daniela who wants Cristela to move out and start living the life of a single girl, the life she deserves.