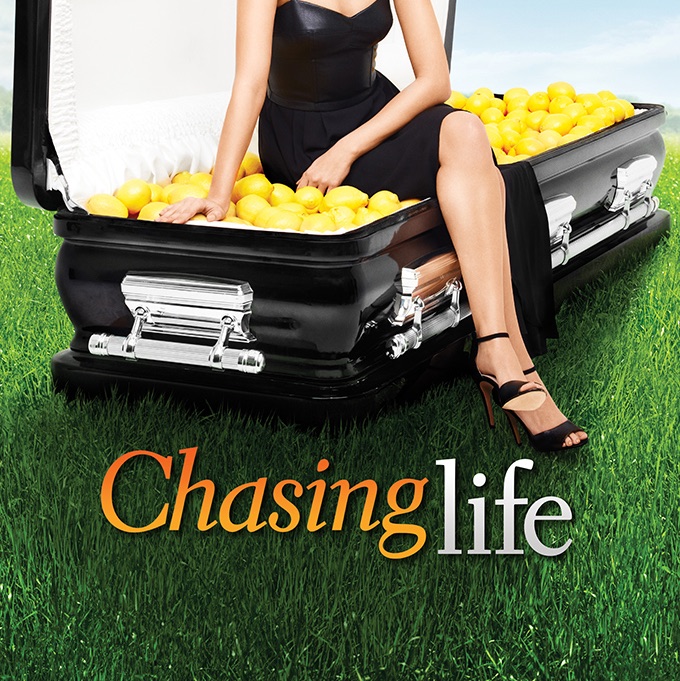 Season 1
Tuesday, June 10th, 2014

s1e1: Pilot

In the series premiere of this drama about an ambitious reporter who won't give up on her dreams, April gets a chance to impress her boss and her office romance begins to prosper, and then she receives unexpected news: She's been diagnosed with cancer.

Tuesday, June 17th, 2014

s1e2: Help Wanted

As April learns more about her cancer and prospective treatment, she is determined not to let it affect her progress at work. A new assignment to profile gubernatorial candidate Bruce Hendrie leads to an unexpected run-in with his son, Leo. April also makes a startling discovery about her family. Meanwhile, Sara makes progress with her online dating but struggles with solo parenting when she learns Brenna lied about her "extra-curricular" activities.

Tuesday, June 24th, 2014

s1e3: Blood Cancer Sex Carrots

As things begin to heat up with Dominic, April second-guesses the status of their relationship when she learns he has a reputation as the office playboy. To help take her mind off of Dominic and to start facing the reality of her symptoms, she volunteers for an assignment at work about a supposed cancer-curing miracle juice and finds a confidant and support in the juice maker, Gerald. Meanwhile, Sara makes a surprise connection with one of her therapy patients and hosts an awkward dinner for her new boyfriend, Ben, to meet the family.

Tuesday, July 1st, 2014

s1e4: I'll Sleep When I'm Dead

April finds it harder to juggle the increasing severity of her symptoms with her obligations at work and her attempts to be a supportive daughter and sister. After missing an important appointment, George urges April to get her priorities straight. April also learns more about Leo Hendrie, but Leo jumps to conclusions about April's motives. Meanwhile, much to her own surprise, Brenna bonds with Greer, a popular girl at school.

Tuesday, July 8th, 2014

s1e5: The Family That Lies Together

Dominic takes April to see a psychic for fun, but the results disturb both of them, leading Dominic to come clean to April about a family secret. When her own family secrets become too much for her to bear alone, April enlists Dominic's help in learning more about her "sister," Natalie. Meanwhile, April receives an official diagnosis from George and Sara's mounting concern for April's health leads to a confrontation.

Tuesday, July 15th, 2014

s1e6: Clear Minds, Full Lives, Can't Eat!

April goes on a joyride with Leo prior to beginning her treatment, and she gains insight into Leo's recklessness and the severity of his illness. Elsewhere, Brenna has doubts about her romance with Kiernan, especially when it affects her friendship with Greer.

Tuesday, July 22nd, 2014

s1e7: Unplanned Parenthood

April sees a fertility doctor to learn about her options prior to starting chemotherapy and looks to her cancer support group for advice on how to tell Dominic about her leukemia. She gets Leo's blessing to write a piece that paints Bruce Hendrie in an unflattering light and wins some hard-earned recognition at work. Meanwhile, George makes an effort to help Sara cope with her emotions and the pressure of caring for April, and Dominic gets a surprising offer which could change everything.

Tuesday, July 29th, 2014

s1e8: Death Becomes Her

When a friend and fellow member of her support group faces a worsening prognosis, April begins to think more about death and her own mortality. She blows off a nightmare assignment to play hooky from work with Beth and other members of the support group and learns something surprisingly endearing about Leo. Meanwhile, Brenna travels to Miami on a school trip and uses the opportunity to meet Natalie with Greer's help.

Tuesday, August 5th, 2014

s1e9: What To Expect When You're Expecting Chemo

With only a few days left before April has to check herself into the hospital for aggressive chemotherapy, April is determined to live as normal a life as ever. But as she has to deal with Leo drama, Beth falling apart, and trying to live under the hovering eye of Sarah, April quickly learns that nothing will ever be "normal" for her. Meanwhile, Brenna tries to juggle time with Kieran and Greer.

Tuesday, August 12th, 2014

s1e10: Finding Chemo

April begins her battle and month-long hospital stay with mixed emotions. Her resolve to fight starts to wane as her treatments take a toll. Not sure she can be cooped up in the hospital for much longer, April begins to panic. With her family by her side, April makes a surprising outreach to someone who may be the only person who can help her. Meanwhile, Dominic returns to a much different April than when he left.

Tuesday, December 9th, 2014

s1e11: Locks of Love

April's grandparents stir up trouble when they pay a visit, and the Carvers celebrate an early family Christmas. The full contents of Leo's cryptic voicemail are revealed, leading April and Leo to rethink their last goodbye. In an attempt to help her friend cope with the effects of chemo, Beth helps April with a makeover, or two.

Monday, January 19th, 2015

s1e12: Next April

After leaving Leo flat-lining at the end of the Christmas episode, April must deal with the outcome of the surgery. Facing her new reality, she must also face her first day back at work after being gone for four months. In remission and determined to move on with her life, her return reveals a new, young and ambitious boss at the paper who is ready to shake things up. But April's attempt to make a good impression may fall short when she botches her first assignment. Meanwhile with an ideal marrow donor still to be found, Sara realizes it's time to reach out to the "other woman," Natalie's mother. Brenna eagerly anticipates Greer's return to school, but will she get the happy reunion she's been waiting for?

Monday, January 26th, 2015

s1e13: Guess Who's Coming to Donate

Natalie finds out she is a half-match for April; but upon learning what the donation entails, she reconsiders going through with the procedure. Sara's attempts to change her mind only to bring up bitterness over the past. April has to re-earn her boss's trust after screwing up her last interview and reluctantly accepts a soft news assignment to help regain the paper's female readership. Meanwhile, Brenna spends a surprising night out with Natalie, and Beth's relationship with Graham puts her in an awkward position with Dominic.

Monday, February 2nd, 2015

s1e14: Cancer Friends With Benefits

While April and Leo try chart new relationship waters, April and Dominic spend an incredibly awkward night together covering the same event for the newspaper, and it's clear that the pain of their breakup is still very fresh. With Dominic's heart on his sleeve and not knowing where she stands with Leo, will April be more confused than ever on what to do about either guy? Meanwhile, Natalie and George have some unexpected news for the Carvers.

Monday, February 9th, 2015

s1e15: April Just Wants to Have Fun

April starts to regret becoming such a homebody, especially when she learns Beth has been partying without her. When Beth hosts a house party, April lets loose - a little too loose - which leads to a major blowout with her friend. The new school year finds Brenna feeling alone and bullied, but an old friend proposes a truce to take down a common enemy. Meanwhile, Leo gets some valuable advice from Sara and ends up getting a job, but he finds the new experience more challenging than he expected. Dominic has an awkward encounter with Natalie.

Monday, February 16th, 2015

s1e16: The Big Leagues

April gets some welcome news from Dr. Hamburg that bodes well for both her and Leo. At work, she gets wind of a possible story opportunity with baseball player Richie Miranda, but when she gets a bigger scoop than she bargained for, she is faced with a tough moral choice. Meanwhile, Leo grows increasingly uncomfortable living in the shadow of his family and their wealth and looks to Sara for guidance. Sara feels a need to make more of a positive impact with her therapy work after a clash with her office neighbor, an immigration lawyer. And Greer makes a bold change in her behavior at school that intrigues Brenna.
Season 2
Monday, July 20th, 2015

s2e3: Life of Brenna

Being a teenager is never easy, but for Brenna it is even harder living in the shadows of perfect April. Brenna feels trapped, complaining about anything – especially having to leave her school in the face of all that April is dealing with. How can she complain about her life when her sister is fighting for her own? The only person she feels she can turn to is Natalie, which may push April and Brenna further apart. Meanwhile, Dominic tries to start over with his mother and April shops for the perfect wedding dress.

Monday, July 27th, 2015

s2e4: Truly Madly Deeply

April and Leo are in the throes of wedding planning and coming at crossroads when Sara suggests they take a newlywed quiz to help them learn more about each other. But instead of bringing the two closer together, the quiz proves that the two aren't truly being honest. This is a hard blow for April as she is also dealing with the realization that her father might not have been the guy she thought he was. Meanwhile, Sara and Beth try to take a night off from dating drama as Brenna finds herself in a big mess with Margo's crazy ex (Leisha Hailey).

Monday, August 17th, 2015

s2e7: As Long As We Both Shall Live

The honeymoon may be over for April and Leo as they try to settle into a normal married life. April's "cleaning system" versus Leo's mess is not the only issues they have to work on. Leo is in full swing at his new job and is making lots of plans for the future - not just in his job but for his life with his new wife. April is trying to live life to the fullest in the moment, as Leo taught her, so Leo's "new" future planning is throwing her off. Meanwhile, Brenna doesn't feel as welcome or supported at her new school's LGBQT club.

Monday, August 3rd, 2015

s2e5: The Domino Effect

As the wedding date draws near, April is forced to face a list of "lasts," such as her last week of living at home and her last time being a single girl. While her natural instincts are to have a classy and low-key bachelorette party, Vanessa (Krysta Rodriguez) helps April realize that this might be her last time to live it up. Another possible "last" opportunity presents itself for April when Dominic sets up a meeting for April with his book agent. With her health still in question, this opportunity may be April's first (and last) chance to get a book published. Meanwhile, Leo tries to play nice with Dominic and Brenna reaches out to Finn.

Monday, August 24th, 2015

s2e8: The Ghost In You

April shuts out the world following an unexpected loss, prompting Leo to come up with an inventive way to help her overcome her grief; Finn gives Brenna good advice.

Monday, August 31st, 2015

s2e9: Wild Thing

April uses her new financial security to do anything and everything she can do feel good again.