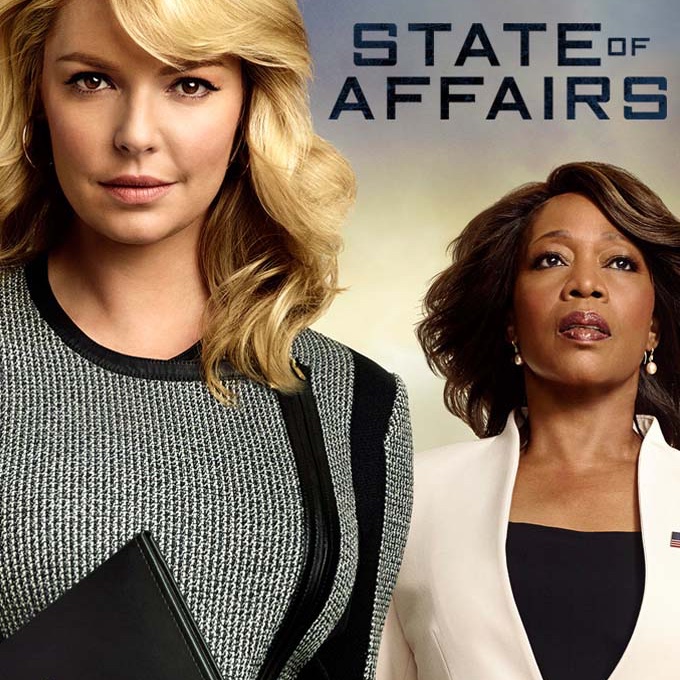 Season 1
Monday, November 17th, 2014

s1e1: Pilot

Charlie Tucker and President Payton attempt to come up with a plan to avenge the death of Payton's son, who was killed in Kabul after a diplomatic convoy was attacked.

Monday, November 24th, 2014

s1e2: Secrets & Lies

The team scrambles against the Russians over a stranded submarine that houses U.S. secrets. Elsewhere, President Payton appoints a formidable new CIA director.

Monday, December 1st, 2014

s1e3: Half the Sky

Charlie has flashbacks of Midnight City, where she first met Nick. In other developments, Charlie springs into action when militants kidnap 21 Nigerian girls, and President Payton has trade talks with the Chinese president.

Monday, December 8th, 2014

s1e4: Bang, Bang

Charlie and Nick both receive a threatening text that sends Nick on an investigation to find the source once and for all. Meanwhile, President Payton's rival Senator Green reveals just enough about the upcoming senatorial convoy attack report to cause her to question Charlie's faithfulness.

Monday, December 15th, 2014

s1e5: Ar Rissalah

With part of the convoy attack report having been leaked, President Payton has a lot of questions for Nick Vera to answer. Unfortunately though he seems to be missing in action.

Monday, December 22nd, 2014

s1e6: Masquerade

Charlie and Maureen accompany President Payton to Qatar on a diplomatic trip. What begins as a standard mission of diplomacy becomes a disaster when a Qatar national infiltrates the American embassy claiming to be CIA.

Monday, January 5th, 2015

s1e7: Bellerophon

Numerous photos of national landmarks featuring an Arabic symbol surface. Meanwhile, Charlie is in Yemen to make contact with her asset, Nick's masked captor leads him to his next mission, Lucas oversees an interrogation at Langley, and President Payton must make a difficult decision.

Monday, January 12th, 2015

s1e8: Ghosts

After FARC (The Revolutionary Forces of Colombia) kidnap Jack Dawkins from a Panamanian prison and hold him for ransom, the team has to pinpoint his location and extract him before time runs out. Charlie comes back to Langley to coordinate the Bellerophon op, while Maureen struggles to fill her shoes as President Payton's briefer.

Monday, January 19th, 2015

s1e9: Cry Havoc

Charlie and the PDB team race to prove that sorority girl Stacy Dover is, in fact, an active member of Ar Rissalah's American terrorist cell. Charlie is forced to confront the fact that one of her closest allies may have betrayed her. Meanwhile, Operation Bellerophon is in full swing as Nick gets one step closer to contact with Omar Fattah.

Monday, January 26th, 2015

s1e10: The War at Home

Charlie and the PDB team race to find the Ar Rissalah 7's missing bombs before other members of the terrorist cell rise up and attack the homeland. In their hunt, Charlie must enlist the help of a former adversary, Professor Ahmad Ahmadi. As domestic fear and suspicion builds, President Payton is under fire for her close ties to the CIA and faces a new political threat from Senator Burke. Meanwhile, Operation Bellerophon is jeopardized when Nick Vera and Omar Fatah pick up a tail in the Philippines.

Monday, February 2nd, 2015

s1e11: The Faithful

Charlie and Lucas join the FBI manhunt for an Ar Rissalah terrorist who escaped custody in the woods of West Virginia. Meanwhile, President Payton makes a deal with the news media that protects CIA's top secret Operation Bellerophon--at the cost of exposing her own secrets on national television. On the other side of the world, Nick and Fatah wait in a terrorist stronghold as they anticipate the arrival of the most dangerous man on the planet, Sheikh Hakam.

not specified

s1e12: Here and Now

Nick (guest star Chris L. McKenna) finally has Sheikh Hakam (guest star Yousuf Azami) in his sights, and Charlie (Katherine Heigl) and President Payton (Alfre Woodard) must decide what sacrifices to make and how far to go in order to bring down the most wanted terrorist in the world. Charlie and the briefing team work with Nick on a plan to kill Fatah (guest star Farshad Farahat) and Hakam. But when an unexpected obstacle is put in their path, Charlie finds herself at odds with the President over what steps to take next. Meanwhile, President Payton struggles to balance the top secret mission with the annual Correspondent's Dinner at the White House, but Senator Burke (guest star Rex Linn) has other plans as he releases top secret intel that could endanger the entire mission. And as Charlie liaises with Nick in the present, we learn more about their romantic past together. Meanwhile, Kurt (Cliff Chamberlain) finds he may have gotten in a little too deep with Victor Gantry (guest star Adam Arkin) and the Krieg Group.

not specified

s1e13: Deadcheck

Charlie quits the CIA to track down Omar Fatah; the seventh floor team vows to help Charlie.