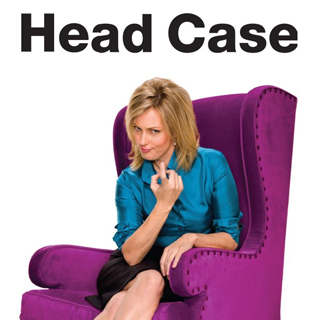 Season 1
Wednesday, April 18th, 2007

s1e1: Goode Morning

Hollywood's "it" therapist to the stars is judgmental and unorthodox - but everybody who's anybody must get in to see her.

Wednesday, April 25th, 2007

s1e2: Celebrity Ambassadress

Ione Skye analyzes her sexuality and dreams; and one of the doctor's has a promiscuous sister.

Wednesday, May 2nd, 2007

s1e3: Dick in Review

Dr. Goode helps Andy Dick get ready for an audition that he's nervous about; and Shelby Lynne has a case of pre-show stage fright.

Wednesday, May 9th, 2007

s1e4: Tom Sizemore and Tracy Lords

Dr. Goode takes on the Herculean task of analyzing a sketchy Tom Sizemore; and Tracy Lords heats things up with Dr. Finkelstein.

Wednesday, May 16th, 2007

s1e5: Ralph Macchio and Liz Phair

Dr. Good helps Ralph Macchio unleash is inner child; and Liz Phair opens up about her love life.

Wednesday, May 23rd, 2007

s1e6: Only the Lonely

After experiencing several bad dates from an online dating service, Dr. Goode takes her frustrations out on her patients; and Tom Sizemore come back for more treatment.

Wednesday, May 30th, 2007

s1e7: Ladies Night

Dr. Goode and her assistant go out on the town following a session with Rick Fox; Sean Hayes finds himself at the bar and hits Dr. Goode up for some advice.

Wednesday, June 6th, 2007

s1e8: It's All Good(e)

Dr. Finkelstein takes an ad out in the yellow pages; Dr. Goode finally meets a man she likes from the dating service; and Willie Garson finds himself all alone.

Wednesday, June 13th, 2007

s1e9: Pair of Hearts

Dr. Goode's new boyfriend begins showing his feelings; Fred Willard is confused; and while Willie Garson waits, he thinks of a way to make some quick cash.

Wednesday, June 20th, 2007

s1e10: Baked Goodes

Alanis Morissette turns her session around with Dr. Goode to help her with her problems.
Season 2
Wednesday, January 23rd, 2008

s2e1: Live and Let Diet

Still smarting from the indiscretions of "the whipped cream incident," Dr. Goode avoids the apologetic advances of her ex, Jeremy. In session Ione Skye and new patient Jeff Goldblum find the doctor in a "fix it fast" mode. Myron misses a staff meeting, again.

Wednesday, January 30th, 2008

s2e2: El Finks

Dr. Goode has combative sessions with Richard Kind and a particularly needy Lea Thompson. After receiving a panicked phone call from Desperate Housewives creator Marc Cherry, Dr Goode cancels her day and heads out to Wisteria Lane. With some spare time on their hands, Lola helps Myron market himself to the Latino community.

Wednesday, February 6th, 2008

s2e3: A Tard for All Seasons

Andy Dick struggles with his time management and the bottle, while Pamela Adlon takes matters into her own hands when her session is compromised. After receiving some advice from Lola, Jeremy Berger cooks up an ingenious scheme to get back in the Doctor's good books

Wednesday, February 13th, 2008

s2e4: Goode Vibes

Dr. Goode tries to convince Joel Madden that there is more to life than music; Dr. Finkelstein is shocked by a surprise visitor from his past.

Wednesday, February 20th, 2008

s2e5: Parental Guidance Required

Dr. Goode's unexpected visit, from her parents, makes her day even more hectic; Greg Grunberg explains that he's been having erotic dreams; and Ahmet Zappa brings an odd gift to his session.

Wednesday, February 27th, 2008

s2e6: Come Together

Dr. Goode's father comes and visits the practice; David Alan Grier lets something slip, concerning Pamela Adlon; and Monica Potter has a case of mistaken identity.

Wednesday, March 5th, 2008

s2e7: Best Laid Plans

Dr. Goode gets an emergency call from Trudie Styler; Jason Lewis has his manhood questioned; and Christopher Lloyd disappears in the middle of his session.

Wednesday, March 12th, 2008

s2e8: Dreading Bells

Myron and Lola are uncomfortable, until a package shows up; both Jonathan Silverman and Jennifer Finnigan try to fire Dr. Goode; and Bry, the guy from Fatburger, has a confession to make.
Season 3
Friday, March 20th, 2009

s3e1: The Wedding Ringer

Friday, March 27th, 2009

s3e2: Talk to the List

Friday, April 3rd, 2009

s3e3: Tying the ... Not

Friday, April 10th, 2009

s3e4: Elizabeth Hughes

Friday, April 17th, 2009

s3e5: Back in the Game

Friday, April 24th, 2009

s3e6: Short On Love

Friday, May 1st, 2009

s3e7: That's Produce

Friday, May 8th, 2009

s3e8: Twinkle, Twinkle ...

Friday, May 15th, 2009

s3e9: All About Steve

Friday, May 22nd, 2009

s3e10: The Big Book