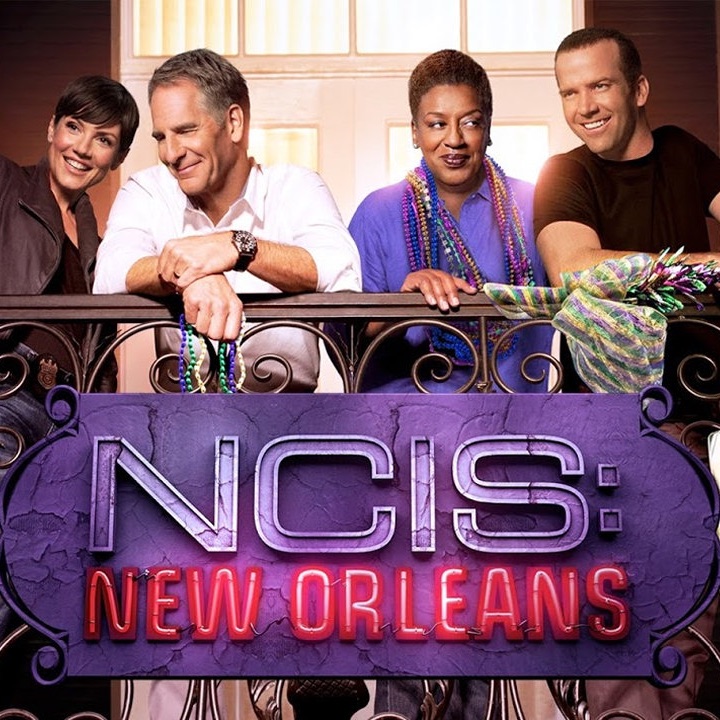 Season 1
Tuesday, September 23rd, 2014

s1e1: Musician Heal Thyself

A case involving the murder of a petty officer, who is a former gang member and later mentored by agent Pride, is investigated. Meanwhile, agent Brody is still trying to get acquainted with New Orleans and doctor Donald "Ducky" Mallard also offers some insight.

Tuesday, September 30th, 2014

s1e2: Carrier

NCIS Special Agent Tony DiNozzo assists the New Orleans team when a Navy lieutenant on liberty dies of the bubonic plague. The team races to locate all additional sailors on liberty, control a potential outbreak and determine the source of the highly infectious disease. NCIS stars Michael Weatherly, Rocky Carroll and Pauley Perrette guest star.

Tuesday, October 7th, 2014

s1e3: Breaking Brig

The NCIS team investigates the crash of an armored transport bus carrying Naval brig detainees after four prisoners escape, including a black market broker who is one of the country's biggest national security threats. Meanwhile, Pride turns to Gibbs for assistance when a case file needed for the investigation is full of redactions. NCIS stars Mark Harmon and Rocky Carroll guest star.

Tuesday, October 14th, 2014

s1e4: The Recruits

After a Navy SEAL is found murdered in a sorority house, the NCIS team must determine if the motive pertained to one of his classified missions or collegiate foul play. Meanwhile, Pride's daughter, Laurel, pays the NCIS office a visit. Shanley Caswell stars as Pride's daughter, Laurel.

Tuesday, October 21st, 2014

s1e5: It Happened Last Night

The NCIS team is given a 22-hour deadline after the murder investigation of a Chief Warrant Officer who specialized in counterintelligence reveals his wife had been kidnapped and is being held for ransom. Meanwhile, Senior FBI Agent Fornell travels to the Big Easy to assist with the case. NCIS stars, Rocky Carroll and Joe Spano, guest star.

Tuesday, October 28th, 2014

s1e6: Master of Horror

With New Orleans decorated for Halloween, the NCIS team investigates the murder of a Naval Staff Judge Advocate found in a cemetery dressed in a Victorian costume with vampiric puncture wounds on her neck. Meanwhile, the team debates what Halloween night activity and costumes would be best. Paige Turco and Steven Weber guest star.

Tuesday, November 11th, 2014

s1e7: Watch Over Me

The NCIS team investigates the murder of a Navy Officer with the highest level top secret clearance who was recently assigned as a tech liaison with a private developer. Also, Pride transforms the carport into an auto shop as he works on the first car he ever gave his wife.

Tuesday, November 18th, 2014

s1e8: Love Hurts

The NCIS team investigates the murder of a Petty Officer found in a Mardi Gras float storage facility with an engagement ring and proposal plan in hand. However, the case takes a mysterious turn when the team is unable to locate his supposed long-term girlfriend.

Tuesday, November 25th, 2014

s1e9: Chasing Ghosts

After a stolen Navy-issued gun is found to belong to a Chief Petty Officer who died 40 years ago, the NCIS team reopens the cold case, one that Wade has personally tracked and investigated for years. Also, the team prepares for their annual Thanksgiving dinner together. Steven Weber and Dean Stockwell guest star.

Tuesday, December 16th, 2014

s1e10: Stolen Valor

The NCIS team investigates the murder of a retired SEAL who tracked down individuals impersonating military personnel. But the case takes a mysterious turn when the lead suspect is found with the Navy-issued jacket of an officer believed to have been killed in the line of duty in Afghanistan. Also, Brody discovers the normally holiday-obsessed Lasalle is inexplicably unenthusiastic about Christmas.

Tuesday, January 6th, 2015

s1e11: Baitfish

The NCIS team investigates a deadly explosion at the Navy-Marine Corps Relief Gala, and discover Pride (Scott Bakula) was the intended target of the bomb.

Tuesday, January 13th, 2015

s1e12: The Abyss

When a Navy Admiral's daughter is the prime suspect in a double murder case aboard a research boat, the NCIS team partners with the Coast Guard Investigative Service (CGIS) to work the case. Meanwhile, Lasalle tracks down his estranged brother.

Tuesday, February 3rd, 2015

s1e13: The Walking Dead

A Navy Lieutenant Commander in impeccable shape turns to Pride and the NCIS team to solve his imminent murder after discovering he has been poisoned with a lethal dose of radiation.

Tuesday, February 10th, 2015

s1e14: Careful What You Wish For

After an NCIS agent is killed during a security detail for the Vice Chief of Naval Operations, the team must determine if this was an assassination attempt or if someone is targeting one of their own. Meanwhile, Agent Brody is placed under investigation and her mysterious past is reevaluated.

Tuesday, February 17th, 2015

s1e15: Le Carnival de la Mort

After a Petty Officer is found murdered in the midst of Mardi Gras events, the NCIS team investigates what parades and parties led to his untimely death. Also, Pride must decide what aspects of his strained relationship with his father he is willing to share with his daughter.

Tuesday, February 24th, 2015

s1e16: My Brother's Keeper

After a Navy recruiter is the target of a lethal hit and run, the NCIS team investigates whether the murder was tied to her career or her role as a foster mother to two brothers. Also, Lasalle grows increasingly concerned for his brother's welfare after welcoming him into his home.

Tuesday, March 10th, 2015

s1e17: More Now

Pride is adamant the elusive "Baitfish" has returned and, in attempt to locate his nemesis, he has the team investigate crime scenes and chase leads from New Orleans to Charleston, SC.

Tuesday, March 24th, 2015

s1e18: The List

After a sailor is murdered in the champagne room of a strip club, the NCIS team links the murder weapon to two additional unsolved cases and discovers that the names of all three victims appear on a mural in a dilapidated part of town. Also, Brody's ex-fiancé pays her a surprise visit.

Tuesday, April 7th, 2015

s1e19: The Insider

While conducting an autopsy on a Petty Officer who is believed to have died from natural causes, an armed man enters the morgue and holds Wade, Sebastian and Danny hostage.

Tuesday, April 14th, 2015

s1e20: Rock-A-Bye-Baby

When a Navy Commander's car is stolen with his baby inside, the NCIS team must determine if this was a random carjacking or a targeted abduction.
Season 2
Tuesday, September 22nd, 2015

s2e1: Sic Semper Tyrannis

A military convoy is attacked in order to steal a missile that is part of a Naval exercise. Pride and the team, believing that it is perpetrated by a group of anti-American militants, make plans for a dangerous undercover operation with potentially deadly consequences.
Season 1
Tuesday, April 28th, 2015

s1e21: You'll Do

With no memory of the night before, Lasalle's brother, Cade, turns to NCIS for help when he finds his girlfriend's body in the trunk of his car. Despite a mountain of evidence that implicates Cade, and the case being under Captain Jim Messier and Jefferson Parish jurisdiction, Lasalle is determined to prove his brother's innocence.

Tuesday, May 5th, 2015

s1e22: How Much Pain Can You Take?

To send a message to Pride, Baitfish murders someone close to the NCIS team, prompting a citywide manhunt for the elusive criminal.

Tuesday, May 12th, 2015

s1e23: My City

Pride suspects a mole among the ranks as NCIS and local law enforcement continue to track the Broussard Syndicate after new intelligence suggests a breach at the ports.
Season 2
Tuesday, September 29th, 2015

s2e2: Shadow Unit

The NCIS team investigates the murder of a blogger dedicated to exposing government corruption and cover-ups and discovers a Navy Seal and CIA humanitarian mission with a dark secret.

Tuesday, October 27th, 2015

s2e6: Insane in the Membrane

The team's participation in the annual Red Dress Run is cut short when a Petty Officer is found dead in the French Quarter from a drug overdose.

Tuesday, February 23rd, 2016

s2e16: Second Chances

After tracking stolen Navy TNT to a cocaine warehouse, Special Agent Pride and the NCIS team uncovers a domestic drug ring that is producing their own cocaine and headed by Sonja's childhood friend, Marion Watkins.

Tuesday, November 17th, 2015

s2e9: Darkest Hour

The fiancé of Pride's daughter's friend goes missing during a blackout; and the team locates the man's dead body, which holds clues to the cause of the blackout.

Tuesday, October 13th, 2015

s2e4: I Do

The NCIS team must determine why a murdered Navy drone pilot was using a black market drone to obtain military surveillance, and whether the drone's footage is linked to his death.

Tuesday, October 20th, 2015

s2e5: Foreign Affairs

Special Agent Pride is sent a partner from the Australian Defence Force Investigation Service, Special Agent Naomi Parsons, after a Royal Australian Navy Lieutenant, who was key to international negotiations on nuclear weapons, is murdered in New Orleans.

Tuesday, November 3rd, 2015

s2e7: Broken Hearted

The life of a genius Navy coder employed by Brody's mother, Olivia Brody, hangs in the balance after the heart intended for his transplant is stolen. Olivia joins the NCIS team as they race to locate the missing organ.

Tuesday, November 10th, 2015

s2e8: Confluence

Pride and Sonja are ambushed after traveling to Texas to escort a key witness for the trial of an infamous arms dealer who Pride apprehended.

Tuesday, May 10th, 2016

s2e23: The Third Man

The team partners with Homeland Security for the investigation of a Navy master diver's murder after learning the death could be linked to a foreign attack on the city.

Tuesday, May 17th, 2016

s2e24: Sleeping with the Enemy

The NCIS team uncovers a mole in the ranks while working with the Department of Homeland Security to locate 900 missing pounds of explosives that pose an imminent threat to New Orleans.

Tuesday, March 15th, 2016

s2e18: If It Bleeds, It Leads

Brody believes that a sailor hit by a party bus in the French Quarter is connected to her sister's death after the NCIS team discovers similarities between the two. The team prepares for St. Patrick's Day festivities in New Orleans.

Tuesday, March 22nd, 2016

s2e19: Means to an End

The NCIS team discovers a surveillance van filled with photos documenting Special Agent Pride's every move after his daughter Laurel is attacked on campus and placed in protective custody.

Tuesday, April 5th, 2016

s2e20: Second Line

The NCIS team investigates the murder of a Navy Lieutenant during a French Quarter second line funeral procession, a New Orleans tradition that celebrates the recently deceased with a musical street parade.

Tuesday, April 19th, 2016

s2e21: Collateral Damage

After a Navy lieutenant dies during a clandestine visit to a general's hotel room, Special Agent Pride and the NCIS team are asked to break standard protocol for the murder investigation.

Tuesday, May 3rd, 2016

s2e22: Help Wanted

A Navy culinary specialist is the target of an explosion while visiting her family's 100-year-old restaurant in the French Quarter. Also, Brody is in D.C. tracking a lead in the General leak case.

Tuesday, October 6th, 2015

s2e3: Touched by the Sun

When a female combat pilot and Navy hero dies in an air-show plane crash, the NCIS team must investigate if it's the fault of the pilot or the new jet that was just approved to deploy to bases globally.

Tuesday, November 24th, 2015

s2e10: Billy and the Kid

The murder of a Marine provides new clues in the first case Pride and Lasalle ever worked together, just before Hurricane Katrina struck the city and washed away any evidence. Also, the team celebrates Thanksgiving together in Pride's bar.

Tuesday, December 15th, 2015

s2e11: Blue Christmas

A string of Christmas burglaries turns deadly and the evidence leads the NCIS team to Wade's adopted son, Danny. Also, Lasalle and Brody tease Sonja about the high stakes of drawing Pride in the team's Secret Santa holiday exchange.

Tuesday, January 5th, 2016

s2e12: Sister City (2)

While Special Agent Pride and the New Orleans team investigate a Russian sleeper agent who was involved with Abby's brother, Luca, Sebastian flies to D.C. to partner with Abby on the forensics in the case. Also, Bishop drives through the night to deliver a package and work the case with the New Orleans team. (Sister City (1) aired on NCIS, season 13, episode 12.)

Tuesday, January 19th, 2016

s2e13: Undocumented

The team investigates the murder of an immigrant petty officer that was staged as a suicide. Also, the agents secretly create an online dating profile for Pride.

Tuesday, February 9th, 2016

s2e14: Father's Day

Special Agent Pride opens his bar to the public with a Fat Tuesday party, but the celebration is cut short when he and Mayor Douglas Hamilton (Steven Weber) are both kidnapped from their respective Mardi Gras events and held hostage by an unknown assailant.

Tuesday, February 16th, 2016

s2e15: No Man's Land

When a mystery man saves the life of a Lieutenant and then disappears from the scene, the NCIS team unravels a new case when forensic evidence suggests he is a soldier who was captured in Afghanistan years ago and never found.

Tuesday, March 1st, 2016

s2e17: Radio Silence

The NCIS team protects a local DJ from a threatening perpetrator and investigates the murder of a Navy Captain who was attacked while on-air with the radio show. Also, Pride's daughter, Laurel, returns home to discuss her future plans.
Season 3
Tuesday, September 20th, 2016

s3e1: Aftershocks

The NCIS team partners with several federal agencies to track a sniper who is targeting crowded events in the city. Also, FBI Special Agent Tammy Gregorio arrives to investigate Pride and his team.

Tuesday, September 27th, 2016

s3e2: Suspicious Minds

Pride faces further backlash from the FBI when he helps former Navy Intelligence Analyst Elvis Bertrand, who is the lead suspect in a multiple homicide case.

Tuesday, October 11th, 2016

s3e3: Man on Fire

After a decorated petty officer is found dead inside a sports arena, evidence leads Pride and the NCIS team to a kidnapping case of a petty officer who was last seen in Mexico.

Tuesday, October 18th, 2016

s3e4: Escape Plan

The NCIS team must rescue one of their own after Sebastian is kidnapped while at a restaurant with his mother, Sylvia Lund, and forced to use his gaming skills in a prison break.

Tuesday, October 25th, 2016

s3e5: Course Correction

The team join forces with the FBI to investigate a plane crash in the bayou that left three sailors dead. Meanwhile, Sonja and Lasalle interview candidates for the open agent position.

Tuesday, November 15th, 2016

s3e6: One Good Man

The NCIS team reviews unorthodox training exercises after a Navy Seal candidate is found murdered weeks before his graduation. Also, a concerned Wade turns to Pride after her adopted son, Danny, announces his plan to enter the Navy.

Tuesday, November 22nd, 2016

s3e7: Outlaws

The NCIS team investigates the murder of a sailor during a rowdy motorcycle rally in the city. Also, Lasalle turns to Gregorio for advice on his personal life.

Tuesday, December 6th, 2016

s3e8: Music to My Ears

After a petty officer and member of the prestigious United States Navy Band is murdered in her home, Pride takes temporary custody of the victim's nephew who is the sole witness to the crime,

Tuesday, December 13th, 2016

s3e9: Overdrive

The team suspect foul play when a Marine corporal and amateur race-car driver is involved in a fatal crash. Elsewhere, the U.S. Attorney's office gathers evidence for a Grand Jury indictment appeal in the Garcia case that would extricate the cartel from the city.

Tuesday, January 3rd, 2017

s3e10: Follow the Money

Pride must protect a beloved family friend who is engaged to the number one suspect in the ongoing NCIS and FBI cartel case.

Tuesday, January 17th, 2017

s3e11: Let it Ride

Sebastian is sent undercover and Patton exercises his former gambling skills, as Pride and the team attempt a dangerous operation to trap Garcia.

Tuesday, January 24th, 2017

s3e12: Hell on the High Water

Tuesday, February 21st, 2017

s3e15: End of the Line

A gruesome copycat murder on a street car reopens a former case for Wade, evoking painful memories from her past.

Tuesday, March 14th, 2017

s3e17: Swift, Silent, Deadly

A highly credentialed and skilled special ops marine sends Pride and the NCIS team on a city-wide manhunt after he assaults six men in a bar.

Tuesday, March 14th, 2017

s3e18: Slay the Dragon

Tammy is reunited with her ex-husband, Ethan McKinley, who disappeared after embezzling $80 million in Katrina relief funds, after he is linked to the murder of a crime boss' son.

Tuesday, April 4th, 2017

s3e20: NOLA Confidential

After the NCIS team uncovers a link between an international drug ring and the New Orleans Police Department, Lasalle must investigate his former partner in the Vice unit. Also, Pride worries about Rita's safety as she looks into a connection between the Mayor and illegal activity in Clearwater.