update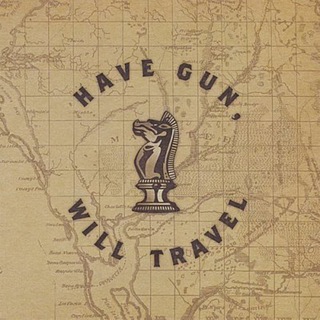 Season 1
Saturday, September 14th, 1957

1: Three Bells to Perdido

New Mexico rancher Jesse Reade hires Paladin for $1,000 to bring back outlaw Dave Enderly, who has run off to Perdido, Mexico with Reade's daughter Nancy.

Saturday, September 21st, 1957

2: The Outlaw

Manfred Holt breaks out of jail, killing two deputies. Is he on his way to kill the banker who testified against him, or to see his family for the last time? The banker hires Paladin.

Saturday, September 28th, 1957

3: The Great Mojave Chase

A sportsman sponsors a contest, betting that no one can elude his posse in the Mojave Desert. When Paladin shows up riding a camel, the man decides that the only way he can still win is to get rid of Paladin.

Saturday, October 5th, 1957

4: Winchester Quarantine

At a stagecoach stop, Paladin sees a peaceful Cherokee rancher being beaten by white men who think his cattle are spreading a sickness. Paladin offers his help.

Saturday, October 12th, 1957

5: A Matter of Ethics

An accused murderer who fears that he will be lynched before he can be returned to Bender, Wyoming, for trial, hires Paladin to make sure he gets there alive.

Saturday, October 19th, 1957

6: The Bride

When a mail-order bride from Philadelphia gets off the stagecoach in the middle of nowhere, Paladin decides to stay with her to make sure that she is safe.

Saturday, October 26th, 1957

7: Strange Vendetta

Paladin's new friend, stabbed by an assassin, makes a dying request to have his body taken back home to his hacienda in Mexico.

Saturday, November 2nd, 1957

8: High Wire

A hobo who was once a circus performer bets a gambler that he can walk across the saloon on a tightrope. When Paladin sees that the gambler intends to cheat, he decides to help even the odds.

Saturday, November 9th, 1957

9: Show of Force

After winning a batch of old rifles in a poker game, Paladin finds himself involved in a range war.

Saturday, November 16th, 1957

10: The Long Night

A wealthy cattleman holds Paladin and two other men hostage. They will all die at dawn unless one of them admits to the murder of the rancher's wife.

Saturday, November 23rd, 1957

11: The Colonel and the Lady

A retired colonel sends Paladin to a Nevada mining town to find out what happened to a former saloon girl.

Saturday, November 30th, 1957

12: No Visitors

When Paladin finds a woman and her apparently typhoid-afflicted child abandoned by a wagonmaster, he enlists the aid of a female doctor from a nearby town, but a religious fanatic then tries to bar them from entry.

Saturday, December 7th, 1957

13: The Englishman

Paladin escorts an Englishman to his female cousin's ranch they have inherited in Montana, but finds that an embittered trader is plotting against them.

Saturday, December 14th, 1957

14: The Yuma Treasure

Accompanying a cavalry major on a mission to prevent a war by negotiating a treaty with an elusive Apache chief, Paladin must deal with soldiers who have caught gold fever.

Saturday, December 21st, 1957

15: The Hanging Cross

On Christmas Eve, an embittered rancher wants revenge on Pawnee Indians who he thinks kidnapped his son several years before.

Saturday, December 28th, 1957

16: Helen of Abajinian

An Armenian winemaker hires Paladin to find his runaway daughter and break up her ill-considered romance with a cowhand.

Saturday, January 4th, 1958

17: Ella West

The promoter of a wild west show asks Paladin for help taming down a very wild and famous female sharpshooter and show her how to act like a lady.

Saturday, January 11th, 1958

18: The Reasonable Man

A rancher having a dispute with his foster son hires Paladin to keep one of them from killing the other in a duel.

Saturday, January 18th, 1958

19: The High-Graders

When his tailor is killed in an accident at a supposedly worthless gold mine, Paladin discovers that the man was murdered and his heirs are being swindled.

Saturday, January 25th, 1958

20: The Last Laugh

A rancher blames Paladin when a practical joke goes awry and his wife is crippled in a riding accident.

Sunday, February 2nd, 1958

21: The Bostonian

Paladin protects a new landowner from Boston, who is having an escalating feud with an established cattle rancher.

Saturday, February 8th, 1958

22: The Singer

A cowboy seeks help for his former girlfriend, a dancehall singer, who he says was forced into marriage and is now being held prisoner.

Saturday, February 15th, 1958

23: Bitter Wine

Paladin is hired to stop a vineyard from being ruined by seepage from an adjacent oil well.

Saturday, February 22nd, 1958

24: Girl from Piccadilly

Learning of his son's death, a rich man hires Paladin to locate the daughter-in-law he's never met, but Paladin finds two women both claiming to be her.

Saturday, March 1st, 1958

25: The O'Hare Story

Hired to prevent the construction of a dam that would imperil a town's water supply, Paladin finds that he sympathizes more with the Irish engineer who's trying to build it.

Saturday, March 8th, 1958

26: Birds of a Feather

Paladin must contend with other gunfighters as he tries to settle a right-of-way dispute between two railroads in a Colorado town that will die if they go elsewhere.

Saturday, March 15th, 1958

27: The Teacher

Paladin defends a schoolmistress who's being theatened for teaching about war crimes that took place during the Civil War.

Saturday, March 22nd, 1958

28: Killer's Widow

After having killed a bank robber, Paladin is accused of having taken the stolen money. He visits the dead man's widow and tries to make amends.

Saturday, March 29th, 1958

29: Gun Shy

Trying to locate the thieves who stole a jade chess set, Paladin ends up in a small Montana town where he becomes involved in a romance with a landlady's daughter.

Saturday, April 5th, 1958

30: The Prizefight Story

When Paladin goes to a mining town to promote a prizefight, his boxer is arrested and he ends up having to take the man's place in the ring -- against the Welsh champion.

Saturday, April 12th, 1958

31: Hey Boy's Revenge

When Hey Boy's brother is killed for protesting the working conditions on a Chinese railroad gang in Utah, Paladin must get the boy out of jail and bring the killer to justice.

Saturday, April 26th, 1958

32: The Five Books of Owen Deaver

Paladin comes to the aid of a young sheriff from the East whose attempts to keep law and order are particularly unsuitable for a cowboy town in Wyoming.

Saturday, May 3rd, 1958

33: The Silver Queen

Lonely Leadhead Kane dies and leaves his half of a mine to an actress. Kane's partner wants to challenge the will. Someone wants to make sure Paladin never gets the woman to the courtroom.

Saturday, May 10th, 1958

34: Three Sons

Newlyweds with no place to stay end up in Paladin's suite. He learns that the groom's half-brothers are threatening to kill their father. Paladin goes to warn the father.

Saturday, May 17th, 1958

35: The Return of Dr. Thackeray

Dr. Phyllis Thackeray diagnoses the cook at the Barton Ranch with smallpox. All the cowhands may be infected and need to be vaccinated. Dr. Thackeray sends for the one man she thinks can help.

Saturday, May 24th, 1958

36: 24 Hours at North Fork

When a blight kills all the crops except for one farmer's, Paladin must protect him from a greedy storekeeper who wants his farm and his hired gun who has a personal grudge against Paladin.

Saturday, May 31st, 1958

37: Silver Convoy

Paladin is hired to find James Becker. He trails him to Monterey and discovers he has been arrested and is sentenced to work in a silver mine. Paladin finds that Becker has died in a cave-in or so he is told. The owner of the mine hires Paladin to guard a silver convoy, but first Paladin wants to find out a little more about the mine.

Saturday, June 7th, 1958

38: Deliver the Body

Paladin is hired to bring in the killer of the sheriff in a Nevada town. He brings him in but has some doubts about his guilt and decides to hang around for the trial.

Saturday, June 14th, 1958

39: The Statue of San Sebastian

Paladin agrees to capture an outlaw in return for a statue belonging to the local mission.
Season 2
Saturday, September 13th, 1958

1: The Manhunter

Paladin is forced to kill Jimmy Dawes, wanted for murder. When he takes him back to his home town, the townspeople, the sheriff and the boy's brothers give him a hostile welcome.

Saturday, September 20th, 1958

2: In an Evil Time

Pappy French and his gang have robbed the bank in Mercede of $50,000. Pappy ran off with the cash and left his gang to shoot it out with the law. Paladin is hired to bring Pappy and the money back.

Saturday, September 27th, 1958

3: The Man Who Wouldn't Talk

Chris Sorenson is shy around women and he asks Paladin to help him with his new neighbor, Senorita Maria de Castro, a lady rancher. Complicating the matter is cattle missing from the de Castro ranch.

Saturday, October 4th, 1958

4: The Hanging of Roy Carter

Roy Carter is scheduled to be hanged. Another man confesses to the murder just before the execution is to take place. Paladin is hired to try to convince the warden to delay the hanging until the Governor can be reached.

Saturday, October 11th, 1958

5: Duel at Florence

Paladin receives a letter with a bank draft for $82.17 from Ernie Teller asking for help with a matrimonial problem.

Saturday, October 18th, 1958

6: The Protege

Paladin answers an ad in the paper by Kurt Sprague: "Teach me to quick draw and shoot. Instruction desperately needed. Will pay one thousand dollars. Only experts need apply." Kurt needs to learn in order to go back home. Paladin does a very good job. Only one problem: Kurt enjoys showing off his new found skill a little too much.

Saturday, October 25th, 1958

7: The Road to Wickenburg

Paladin wakes up after being drugged, beaten and robbed in the town of Blue Bell by five men, one of whom is the town's sheriff. They took his money, gun, bullets, horse and saddle. All he has left is his two-shot derringer.

Saturday, November 1st, 1958

8: A Sense of Justice

The sheriff of a small town needs help to prevent the lynching of simple-minded Andy Dawes. The townspeople are sure he is a murderer. Paladin offers to help

Saturday, November 8th, 1958

9: Young Gun

An ex-gunfighter, Roy Calvert, blames the people of Benedict for his wife's death. The town is in the middle of a bad drought and Calvert and his son are blocking the only access to water in the area. Calvert has trained his son to be a gunfighter and Paladin has to face them both.

Saturday, November 15th, 1958

10: The Lady

A British woman, Diana Coulter, hires Paladin to guide her to her brother's ranch in Shiprock, Arizona, where the Comanches are on the warpath.

Saturday, November 22nd, 1958

11: A Snare for Murder

Two ornery old gold miners, who hate each other, have struck it rich. Problem is they talk too much, and now it appears someone is trying to kill them.

Saturday, December 6th, 1958

12: The Ballad of Oscar Wilde

Paladin is hired to protect Oscar Wilde. Another 3 men apply for the job, but after Paladin upstages them they kidnap Wilde for ransom. Paladin takes care of them, his way.

Saturday, December 13th, 1958

13: The Solid Gold Patrol

Paladin goes to inform a calvary corporal that he has won $600,000 in a lottery. But they may not live to cash in the ticket, they are trapped by several dozen hostile Indians.

Saturday, December 20th, 1958

14: Something to Live For

On his way to help a man and his daughter over a land dispute, Paladin encounters a wealthy, drunk and helpless man whose guide left him behind to die.

Saturday, December 27th, 1958

15: The Moor's Revenge

Shakespearean actors are going to perform in San Diego during their roundup. They are in for a rough reception. A lovesick gunfighter is among the audience. The show's promoter hires Paladin to keep the peace.

Saturday, January 3rd, 1959

16: The Wager

Sid Morgan hires Paladin to protect him from someone who is trying to kill him. After killing the gunfighter who was following them, Paladin finds out the real reason Morgan hired him. He then hands out his own brand of justice.

Saturday, January 10th, 1959

17: The Taffeta Mayor

John Kellaway, who is running for mayor of Colton, Wyoming, hires Paladin to protect him from his opposition. When he is killed before Paladin can get there, Paladin persuades John's widow to run for mayor.

Saturday, January 17th, 1959

18: Lady on the Stagecoach

Paladin is traveling on a stagecoach with four others, one of whom is Della White Cloud, the educated daughter of an Apache chief. The stage is also carrying a strongbox full of gold, which Ed Rance wants.

Saturday, January 24th, 1959

19: Treasure Trail

Paladin wins part of a treasure map in a poker game and goes in search of the treasure with three other men.

Saturday, January 31st, 1959

20: Juliet

Juliet Harper is being hunted by the grandsons of Colonel Jeremiah Pike. Paladin meets her on the stage and now the Colonel is after both of them, and Paladin is without a gun.

Saturday, February 7th, 1959

21: Hunt the Man Down

Paladin finds himself reluctantly drawn into a deadly dispute between two brothers who are also old aquaintances.

Saturday, February 14th, 1959

22: The Scorched Feather

Robert Ceilbleu hires Paladin to protect his father from a Comanche war chief who has sworn to kill him. After arriving at the remote cabin of William Ceilbleu, he learns the reason for the Indian's hatred.

Saturday, February 21st, 1959

23: The Return of the Lady

Diana Coulter (The Lady, Episode 49) wires Paladin and asks him to come to her wedding to "give the bride away".

Saturday, February 28th, 1959

24: The Monster of Moon Ridge

The townspeople of Moon Ridge, Colorado believe there are monsters in the mountains. Dan Bella's daughter is taken by something and he finds strange footprints outside his daughter's window. Paladin is hired to find out what is up on the ridge.

Saturday, March 7th, 1959

25: The Long Hunt

Thomas Orday, half Comanche, has killed two men and wounded Dundee, a former Indian fighter. He is now hiding in the mountains of New Mexico. Paladin is hired to help track him down.

Saturday, March 14th, 1959

26: Death of a Gunfighter

A ruthless gunfighter who has killed 9 men is wanted by the townspeople, who hire Paladin. The gunfighter's brother has been hanged and left out in the sreet to trap the gunfighter. On seeing this, Paladin quits the job. The gunfighter shows up and kills all the townspeople who were gunning for him. Then he and Paladin come to an agreement that if he hangs up his guns he can go back to his hometown to marry his sweetheart. But it turns out that she has fallen in love with someone else, and more trouble ensues.

Saturday, March 21st, 1959

27: Incident at Borrasca Bend

Arriving in a weird tent town to return money to a prospector, Paladin finds himself charged with the man's murder and tried by a kangaroo court.

Saturday, April 4th, 1959

28: Maggie O'Bannion

After being bushwhacked and having 'everything' taken, Paladin walks to the nearest ranch and manages to get hired on as a handyman.

Saturday, April 11th, 1959

29: The Chase

Paul Martin is a bank clerk accused of robbing the bank and killing a deputy. His wife hires Paladin to find her husband before the posse does.

Saturday, April 18th, 1959

30: Alaska

Paladin play chess by mail with Boris, who is living in Alaska. Paladin receives what he assumes is Boris' next move but instead is a request for help. Boris is being forced out of territory he has hunted and trapped on for years. Paladin heads for Alaska to help.

Saturday, April 25th, 1959

31: The Man Who Lost

Paladin goes after a man who murdered a man and attacked the man's wife. The victim's two brothers are also after him and don't intend to allow him to live long enough to stand trial.

Saturday, May 2nd, 1959

32: The Return of Roy Carter

Roy Carter returns to help Paladin search the snow-covered mountains for a missing chaplain and an escaped convict.

Saturday, May 9th, 1959

33: The Sons of Aaron Murdock

Paladin becomes a bounty hunter when a rancher hires him to bring in his son, who's become a sadistic, vicious killer.

Saturday, May 16th, 1959

34: Comanche

Corporal Henry Carver deserted from the Cavalry. Carver's mother hires Paladin to find him and get him to either return voluntarily or bring him back by force.

Saturday, May 23rd, 1959

35: Homecoming

Wrongly convicted Ed Stacy, whom Paladin helped to put in prison, is being released after being pardoned. Will Stanhope, who runs the local freight office, hires Paladin to protect him from Stacy. Paladin soon wonders who is really in danger.

Saturday, May 30th, 1959

36: The Fifth Man

Ben Talman, who has murdered 12 men, escaped from jail. He kills four men in Yucca Bend within one week. Paladin is hired to bring him in.

Saturday, June 6th, 1959

37: Heritage of Anger

Paladin is hired to protect the Avery family from Manuel Garcia. Garicia is a Mexican bandit who seems to have taken a special interest in their son.

Saturday, June 13th, 1959

38: The Haunted Trees

Ben Howard is disinherited in his father's will. When his father dies, Mrs. Sarah Howard takes over running the family's lumber company. She claims that Ben is sabotaging the work and scaring off the workers. Mrs. Howard hires Paladin to stop the problems and get rid of Ben.

Saturday, June 20th, 1959

39: Gold and Brimstone

Paladin finds a sick old man and his son trying to protect their mine from claim jumpers. The old man is delirious and thinks that Paladin is the devil and has only offered to help in exchange for their souls.
Season 3
Saturday, September 12th, 1959

1: First, Catch a Tiger

Two of the three men who brought in and helped to hang an outlaw have been killed by an assassin. The third man, Paladin, is staying at a hotel where one of the guests is the killer.

Saturday, September 19th, 1959

2: Episode in Laredo

Kovak is reserving the entire hotel in Laredo, Texas for Sam Tuttle, a famous unbeatable gunfighter. After Paladin is forced to kill Kovak, Tuttle must challenge Paladin in order to keep his reputation in tact.

Saturday, September 26th, 1959

3: Les Girls

Paladin is hired to deliver three mail-order brides to Bend-In-The-River.

Saturday, October 3rd, 1959

4: The Posse

Paladin stops to ask a stranger for directions and is invited to share his campsite. Later, when a posse arrives, the man announces that Paladin is the murderer they have been looking for.

Saturday, October 10th, 1959

5: Shot by Request

Ainslee is a well-dressed, middle-aged gentleman and a reluctant gunfighter. He hires Paladin for a very strange task.

Saturday, October 24th, 1959

6: Pancho

Mexican rancher Don Luis Ortega hires Paladin to escort his daughter across the border into the United States. However a peon from her father's ranch is determined to stop them and take her for himself.

Saturday, October 31st, 1959

7: Fragile

Paladin is hired by the owner of "The Frenchman's" restaurant to take a plate glass window to the town of Panamint, a wild gold-mining town.

Saturday, November 7th, 1959

8: The Unforgiven

Retired and wealthy General Crommer is dying. He asks Padadin, who holds an old grudge against him, to do him a favor. He asks him to take a message of forgiveness to another man who hates Crommer. A favor which might get Paladin killed.

Saturday, November 14th, 1959

9: The Black Handkerchief

A young man convicted of murder is scheduled for execution, and Paladin attempts to intervene before it's too late.

Saturday, November 21st, 1959

10: The Golden Toad

Paladin is drawn into a dispute between a male farmer and a female cattle rancher, with a fortune in buried treasure at stake.

Saturday, November 28th, 1959

11: Tiger

Ellsworth believes he has had an old tiger curse put on him and that a tiger is coming to kill him. He hires Paladin to protect him from the tiger.

Saturday, December 5th, 1959

12: Champagne Safari

An old friend of Paladin's requests his help after a family member is killed in an Indian raid.

Saturday, December 12th, 1959

13: Charley Red Dog

The town of Santa Maria, New Mexico is in need of a new town marshal, and one man, Charley Red Dog, is out to get the job. However, he may not survive unless Paladin lends a hand.

Saturday, December 19th, 1959

14: The Naked Gun

While in Oregon, Paladin makes a new friend, Monk, who he helps get out of a group of unruly herders.

Saturday, December 26th, 1959

15: One Came Back

When his five-year prison term for crimes committed during the Civil War is up, Ben Harvey is eager to return to his hometown of Gila. Harvey hires Paladin to keep him protected on the way to Gila.

Saturday, January 2nd, 1960

16: The Prophet

The Army asks Paladin to find an Army colonel who disappeared with his Apache wife. There are rumors of an Army officer working with the Apaches and inciting them to war. Paladin is asked to find and stop him at all costs.

Saturday, January 9th, 1960

17: The Day of the Badman

Cynthia Palmer hires Paladin to clean up the town of Cedar Wells and get a gang out. She also wants him to send her schoolteacher nephew named Laredo back east. Paladin decides he can restore Laredo's self-respect and get rid of the gang at the same time.

Saturday, January 16th, 1960

18: The Pledge

Ike Brennan hires Paladin to escort him through Indian country in order to exchange goods for his wife who is being held hostage by the Indians.

Saturday, January 23rd, 1960

19: Jenny

Jenny Lake goes to Paladin for help to ward off Wilson, a suitor who is pursuing her. But when Jenny disappears, Paladin must follow a trail to find her.

Saturday, January 30th, 1960

20: Return to Fort Benjamin

Paladin is hired to help an Indian chief whose son is awaiting execution by the U.S. Army. The chief wants Paladin to bring his body back following the execution to ensure he has a proper burial. However, once Paladin makes contact with the chief's son, he begins to wonder if he's actually guilty.

Saturday, February 6th, 1960

21: The Night the Town Died

Aaron Bell is on the warpath to bring his brother's lynchers to justice. Paladin is hired to protect a town from Bell.

Saturday, February 13th, 1960

22: The Ledge

Richard Boone as Paladin is on the road with 4 others when a man in the distance yells to them and then falls off a ledge in an 'impossible to get to space.' John Hoyt plays a doctor who begins to assume the man is dead, but really, everyone is unsure, and worried. The entire episode concerns the issue of mercy killing. Richard Rust plays a young man named Corey who is deathly afraid of heights but who tries to get down to the man to make certain. At one point, they even feel perhaps they should shoot the man just in case he's alive. This episode shows exactly why the show is called a psychological drama western. It is very intense and intellectual, with superb acting. The other two characters are a man who hides his fear by constantly laughing and a man who cannot stop saying he cannot take risks because he has a family.

Saturday, February 20th, 1960

23: The Lady on the Wall

Paladin is accused of stealing a painting in the small town of Bonanza.

Saturday, February 27th, 1960

24: The Misguided Father

An old friend of Paladin is shot and killed in Paladin's hotel room. After returning the body for burial, Paladin sets out to find the killer.

Saturday, March 5th, 1960

25: The Hatchet Man

San Francisco hires Paladin to protect a Chinese detective.

Saturday, March 12th, 1960

26: Fight at Adobe Wells

Paladin is hired to escort Jonathan Guilder through Indian country.

Saturday, March 19th, 1960

27: The Gladiators

Allison Windrom hires Paladin to stop her father and Graham Beckley from dueling.

Saturday, March 26th, 1960

28: Love of a Bad Woman

Tamsen Sommers is advertising for a husband, which presents a problem since she already has one. The husband hires Paladin to protect him from the men competing for the right to marry her.

Saturday, April 2nd, 1960

29: An International Affair

A Hawaiian prince is killed in Paladin's hotel room and Paladin must find out why the prince was targeted.

Saturday, April 9th, 1960

30: Lady with a Gun

After she attempts to shoot Rudy Rossback and fails, Eve McIntosh offers Paladin $1,000 to kill him. After Paladin turns her down she hires another gunman.

Saturday, April 16th, 1960

31: Never Help the Devil

Doggie Kramer wins a gunfight, as the whole town he had been bullying watches, but ends up wounded. He needs Paladin to help him get out of town before the townspeople take their revenge.

Saturday, April 23rd, 1960

32: Ambush

Paladin is taking Blandings back to stand trial and stops at a ferry crossing. They are captured and held along with three others. Someone is coming and they are being held until he arrives. Each thinks it's their worst enemy coming to kill them and all they can do is wait.

Saturday, April 30th, 1960

33: Black Sheep

Ben Huttner is a fugitive wanted for manslaughter. He is also the illegitimate son of a very wealthy man and stands to inherit his five million dollar estate, but he must first come back and stand trial. Paladin is hired to find him and either bring him back to stand trial or get him to sign a paper giving up his inheritance.

Saturday, May 14th, 1960

34: Full Circle

A man who left Paladin to die in his place writes to Paladin and asks for his help.

Saturday, May 21st, 1960

35: The Twins

Adam Mirakian is wanted for a murder he claims his twin brother Sam committed. He hires Paladin to find his brother and clear his name. The only person who can tell them apart is Adam's wife, Beth.

Saturday, May 28th, 1960

36: The Campaign of Billy Banjo

Billy Banjo, a friend of Paladin, asks Paladin to help with a fair election.

Saturday, June 4th, 1960

37: Ransom

Paladin is hired to find Colonel Celine in order to get him to sign an important document.

Saturday, June 11th, 1960

38: The Trial

Paladin is hired by Morgan Gibbs to bring in his son, who is wanted for murder. There is a $500 dead or alive bounty on him and Morgan offers to pay Paladin $5000 to bring him in alive. When Paladin brings him in draped over his horse, Paladin is put on trial for killing him.

Saturday, June 18th, 1960

39: The Search

Mrs. Kilmer is dying and asks Paladin to find her missing son, Martin Kilmer. Edwards, a detective, managed to trace Martin as far as Harper City, where Edwards was then killed. Fred Harper, a half crazy man who runs Harper City, doesn't want Paladin to succeed.
Season 4
Saturday, September 10th, 1960

1: The Fatalist

A Russian Jewish immigrant and his daughter are coerced by a local town boss not to testify in court about a murder. The daughter comes to San Francisco to enlist Paladin's help.

Saturday, September 17th, 1960

2: Love's Young Dream

Monk (The Naked Gun, Episode #92) arrives in San Francisco to collect his inheritance, a half-interest in a night club. He ends up at the Carlton Hotel to ask Paladin for help.

Saturday, September 24th, 1960

3: A Head of Hair

An Apache indian has his eye on scalping Paladin.

Saturday, October 1st, 1960

4: Out at the Old Ballpark

Paladin serves as umpire for a Wild West baseball game.

Saturday, October 8th, 1960

5: Saturday Night

After being arrested along with several others for fighting in a barroom brawl, Paladin wakes up in a cell and discovers that one of the other men has been murdered.

Saturday, October 15th, 1960

6: The Calf

When a calf is found dead, a rancher seeks revenge on another.

Saturday, October 22nd, 1960

7: The Tender Gun

During his travels, Paladin encounters a female sheriff.

Saturday, October 29th, 1960

8: The Shooting of Jesse May

When Jesse May is shot, Paladin begins to believe that a boy murdered him.

Saturday, November 12th, 1960

9: The Poker Fiend

A poker game takes a deadly turn and Paladin is caught in the middle.

Saturday, November 19th, 1960

10: Crowbait

A man risks his life to be able to protect his daughter's dowry.

Saturday, November 26th, 1960

11: Marshal's Boy

Paladin must track down a marshal's son accused of a shooting and persuade him to turn himself into the authorities.

Saturday, December 3rd, 1960

12: Foggbound

Paladin is hired to travel with adventurer Phileas Fogg during his 80 day trip around the world.

Saturday, December 10th, 1960

13: The Legacy

After a man dies, the reading of his will causes three additional murders.

Saturday, December 17th, 1960

14: The Prisoner

Paladin is hired by a man who has been wrongly accused of murder.

Saturday, December 24th, 1960

15: The Mountebank

A puppeteer gives Paladin a wagon ride to an Army fort commanded by a general with presidential aspirations.

Saturday, December 31st, 1960

16: The Sanctuary

Coming off the trail, Paladin pulls into a mission seeking a night's rest and ends up helping a man running from a lynch mob.

Saturday, January 7th, 1961

17: A Quiet Night in Town (1)

Paladin arrives in the Texas border town of Jody with a murder suspect named Joselito Kincaid. Their appearance creates tension: this is cow country, and Kincaid is a sheepherder. (Part 1 of 2)

Saturday, January 14th, 1961

18: A Quiet Night in Town (2)

When a group of men kill Paladin's prisoner, Paladin must bring the group of murders to justice. (Part 2 of 2)

Saturday, January 21st, 1961

19: The Princess and the Gunfighter

Paladin is hired to find the princess of a tiny kingdom who disappeared while making a United States tour.

Saturday, January 28th, 1961

20: Shadow of a Man

Paladin is hired by the wife of a weak man who's terrorized by his hometown. The Southerner is hated because of his role in the Lincoln assassination.

Saturday, February 4th, 1961

21: Long Way Home

The hunter becomes the hunted. When Paladin captures a former slave turned outlaw, a gang of rough bounty hunters fight to take his prisoner, dead or alive. When Paladin is bitten by a rattlesnake, the outlaw has to choose between saving him and saving himself.

Saturday, February 11th, 1961

22: The Tax Gatherer

Have gun - will collect taxes. Paladin teams up with a powerful rancher to collect taxes from some of the roughest cattle-rustlers in the West. But how will he get the money when the man he's riding with has vowed never to pay a cent?

Saturday, February 25th, 1961

23: The Fatal Flaw

Stranded in a mountain cabin during a snowstorm, a sinister, Satan-worshipping outlaw bets Paladin he can do the unthinkable: corrupt the soul of an honest lawman.

Saturday, March 4th, 1961

24: Fandango

As a favor to an old friend, Paladin captures two teenagers sentenced to hang. Then, he finds himself face-to-face with an old gunfighter who wants the pleasure of hanging the boys who killed his brother. In the end, Paladin wonders how young is too young to be responsible for your crime.

Saturday, March 11th, 1961

25: The Last Judgement

Arriving in a small Arkansas town Paladin finds Dr. Simeon Loving chained in the street. He is charged with murder and Paladin is pressured into serving as his defense attorney. Elroy Greenleaf, a self-appointed justice of the peace, has decided that Loving will hang unless Paladin can persuade the jury to oppose Greenleaf.

Saturday, March 18th, 1961

26: The Gold Bar

Paladin tries to help a timid bank clerk return the gold he stole from his employer before it's discovered missing.

Saturday, March 25th, 1961

27: Everyman

A fortune teller predicts trouble for Paladin in the extremely near future.

Saturday, April 1st, 1961

28: The Siege

A desert town hires Paladin to deal with three brothers who have been poisoning the municipal water supply.

Saturday, April 8th, 1961

29: The Long Weekend

Paladin is hired to protect a town from a mountain man who occasionally wreaks havoc there.

Saturday, April 15th, 1961

30: El Paso Stage

Paladin decides to end the reign of terror of a psychotic town marshal.

Saturday, April 22nd, 1961

31: Duke of Texas

Franz, a young Austrian Duke, hires Paladin to guide him to meet with a general who has promised to help reclaim Mexico for the Austrian empire. Franz believes the people of Mexico will welcome him, but Padadin thinks that Franz's advisor has other reasons for making the trip.

Saturday, April 29th, 1961

32: The Broken Image

Paladin and a local hero go in pursuit of a gang of bank robbers but the hero may not be what he seems.

Saturday, May 6th, 1961

33: Brother's Keeper

After being attacked by a puma in the wild, things go from bad to awful for Paladin when he's robbed and left for dead by two men.

Saturday, May 13th, 1961

34: Bearbait

Paladin becomes involved when a timid sheriff refuses to do anything about three young hooligans who are terrorizing a town.

Saturday, May 20th, 1961

35: The Cure

Paladin helps down on her luck Calamity Jane regain her mojo.

Saturday, May 27th, 1961

36: The Road

Paladin is robbed by scavengers and then forced to cross the mountain in winter without his horse, guns or coat.

Saturday, June 3rd, 1961

37: The Uneasy Grave

After encountering a woman burying her fiancee in an unmarked grave, Paladin is persuaded to go after the deceased's killer.

Saturday, June 10th, 1961

38: Soledad Crossing

A diptheria scare slows the return of Paladin's prisoner to justice.
Season 5
Saturday, September 16th, 1961

1: The Vigil

Saturday, September 23rd, 1961

2: The Education of Sara Jane

The Darrow and Tyler families have been feuding so long they don't remember who started it. It's up to Paladin to help them decide if the feud should continue.

Saturday, September 30th, 1961

3: The Revenger

Paladin takes a $500 stagecoach ride with an embezzler, a convicted cutthroat, an adulteress and a murderer to collect the other half of that bill. He runs into a Mexican bandit bent on knowing who among them is responsible for the death of the wife of one of his men. Good thing his name is Solomon.

Saturday, October 7th, 1961

4: Odds for Big Red

Paladin trails a killer and bank robber to a saloon but while trying to capture him, the saloon's owner, Big Red, is shot. With the doc away, her ex starts taking bets on whether she will last till morning. Odds against her, the ex must try to save her or face Paladin's gun.

Saturday, October 14th, 1961

5: A Proof of Love

Paladin urges a momma's boy farmer to win back his wayward mail-order bride, by besting party-animal neighbor Rud Saxon in a dance contest. The meek farm-boy hired Paladin to teach him to outdraw the usurper, but Paladin convinces him that he can win her Greek heart with his feet.

Saturday, October 21st, 1961

6: The Gospel Singer

Bugbear wants to change its image. When Paladin is hired, his idea of disarmament is working fine. Until a missionary rides to town with her own methods for doing the same thing.

Saturday, October 28th, 1961

7: The Race

Paladin is offered $1000 to win a horse race called a mule kalanta. When he arrives he finds out what the bet is, and he decides to make a change.

Saturday, November 4th, 1961

8: The Hanging of Aaron Gibbs

Paladin crosses paths with Sarah Gibbs on her way to see her husband's hanging for a crime he did commit. A proper burial is all she is seeking but she has a paper that says she can't even visit him. When one deputy wants to just drop the bodies in the mine, there is a tug of conscience between the relatives, Sarah and Paladin.

Saturday, November 11th, 1961

9: The Piano

European pianist Franz Lister comes to the United States to give a concert for Mona Lansing, a former saloon hostess. When Lister's piano is stolen, Mona hires Paladin to get it back.

Saturday, November 18th, 1961

10: Ben Jalisco

Escaped killer, Ben Jalisco, is a ruthless hunter who has murdered more than 30 men. Now he is after his wife, Lucy, who informed on him and Paladin, who brought him in.

Saturday, November 25th, 1961

11: The Brothers

Edna Raleigh hires Paladin to return Bram Holden for the murder of her husband. When Paladin crosses paths with a deranged prospector in the desert, he must deal with the notion he has his long lost brother who stole his wife.

Saturday, December 2nd, 1961

12: A Drop of Blood

Paladin is invited to best man at Rivka Shotness' wedding. When he arrives he finds that Billy Buckstone, the man the bride's family helped to convict, has been freed from prison and is on his way back.

Saturday, December 9th, 1961

13: A Knight to Remember

Paladin is hired to find Don Esteban, who has disappeared. When he finds him he is dressed as a knight in armor and thinks he is Don Quixote.

Saturday, December 16th, 1961

14: Blind Circle

Two years ago the Cattleman's Association put a bounty of $500 on a rustler who was never caught. Now they don't want him pursued but a bounty hunter, who seems to only care about, doesn't know or maybe he doesn't care.

Saturday, December 23rd, 1961

15: The Kid

Paladin is sent a $100 bill and told there are 9 more like it. When he arrives in the town, the sender is dead, and Paladin finds himself in a high-stakes poker game for a "silver strike" with the man who killed him.

Saturday, December 30th, 1961

16: Squatter's Rights

Costigan is a land owner and cattleman. He was shot by Clemenceau, a squatter on his land. Paladin has offered to help him get rid of the squatter but doesn't approve of his methods.

Saturday, January 6th, 1962

17: Lazarus

After local boozing champ Big Fontana cheats Paladin in a drink-off, sickly Boise Peabody convinced he'll die by morning, challenges the sneaky fast draw to a shootout. Paladin helped Boise hide from fellow miners who are so lonely for female company they want Boise to dress up like a woman. The dying Boise realizes he's been afraid all his life, so decides he'll go out like a lion.

Saturday, January 13th, 1962

18: Justice in Hell

Paladin goes after a wagon-master who led the massacre of his own wagon train. Rusty Doggett hides out in a town entirely populated by wanted outlaws. Finding someone to betray Doggett in the Bide-a-Wee Saloon is no problem, but crossing the death-line with his prisoner is very tricky. How much justice can Paladin bargain for in Hell ?

Saturday, January 20th, 1962

19: Mark of Cain

Dr. Avatar hires Paladin to guide him to Jack Trueblood, a notorious western badman who has killed many men. Avatar wants to measure Trueblood's head to confirm his research on cranial measurements.

Saturday, January 27th, 1962

20: The Exiles

General Ortega hires Paladin to recover $16 million in French bonds. Where they are and who has them is already known. The aristocrats who have them will not give them to one they consider a tyrant and Paladin must intervene if he hopes to save their lives.

Saturday, February 3rd, 1962

21: The Hunt

Paladin is lured to Oregon under the pretense of a widow in distress. The real reason is to engage him in a deadly hunt with a bored prince. The winner takes all; including a large purse and his own life.

Saturday, February 10th, 1962

22: Dream Girl

Paladin rides upon Buddy Webster's mining camp, who needs a big favor. He has been prospecting for gold dust the last five years. He asks Paladin to help him get to Jackson City to find a girl he believes is waiting for him. With Paladin's help, this young miner quickly learns the ways of the world.

Saturday, February 17th, 1962

23: One, Two, Three

Samuel Keel hires Paladin to find Seth Carter. Keel gives him the names of three people who can help him find Seth. As Paladin finds them, each is murdered. Paladin is determined to find out why.

Saturday, February 24th, 1962

24: The Waiting Room

After a 4 state murder/rape spree, the Wilder Brothers head back to Texas for trial, under Paladin's gun. The slimy pair assure Paladin they have plenty of relatives stationed along the way from Dakota Territory, who'll be delighted to pick off the man in black, because he kills for money, Wilders just kill for fun.

Saturday, March 3rd, 1962

25: The Trap

A lawman for 23 years, Jim Buell has always done what he believed was right. Taking in Davy Walsh for shooting at his jail while drunk seemed just that. Paladin risks his life to make sure a reputation is not smeared and an innocent man is brought to justice.

Saturday, March 10th, 1962

26: Don't Shoot the Piano Player

With no help from local law enforcement, a writer hires Paladin to find her fiancé; in the roughest gutter on the Barbary coast. When they find him, the bet to win him back may be more than the writer can afford to lose or win.

Saturday, March 17th, 1962

27: Alice

A daughter hires Paladin to help her look for an old friend of his - her mother. She wants to know more about her past and especially her nickname but he won't discuss it until they arrive in Codyville, Arizona; where she was last seen.

Saturday, March 24th, 1962

28: The Man Who Struck Moonshine

Moses Kadish is an alcoholic. He moves to middle of nowhere to try to stop drinking and drills a well. The well produces whiskey instead of water.

Saturday, March 31st, 1962

29: Silent Death, Secret Death

Paladin is asked to look for a missing brother, no matter the cost. When he finds out he's been missing for seven years, he accepts this task even though it will take him into the hostile Indian territory of the Nez Perce.

Saturday, April 7th, 1962

30: Hobson's Choice

Alfred Nobel, staying at the Carlton, enlists the aid of resident Paladin to recover a mixed up shipment of mineral oil with his more potent nitroglycerin. He has little time as his stable mixture has been made unstable and highly explosive - and time is running out.

Saturday, April 14th, 1962

31: The Coming of the Tiger

Paladin must stop a Samurai Warrior and a Priest from Japan who are on a mission to "radicalize" Japanese Americans.

Saturday, April 21st, 1962

32: Darwin's Man

Tully Coombs wires Paladin. He wants his infamous father to give him 160 acres to start a family. The father only wants to give it all to the best man of his two sons - the way Darwin describes in his famous book.

Saturday, April 28th, 1962

33: The Invasion

Gavin O'Shea, revered in his homeland, appeals to any Irishman listening to help by providing money for his cause. When two brothers help him out by breaking the law Paladin must think fast to prevent one of them from swinging from a rope.

Saturday, May 5th, 1962

34: Cream of the Jest

Paladin travels to Santa Fe on a personal errand - to purchase one of the last authentic pieces of early Santa Clara pottery. On his return, he rides into a town that has a resident practical joker whose wife enlists/hires him to stop her husband from playing one too many jokes on a local gambler.

Saturday, May 12th, 1962

35: The Bandit

A girl bandit robs and kills a stagecoach driver for $50,000. When Paladin catches up to her he finds out she is no lady but with his help is willing to learn.

Saturday, May 19th, 1962

36: Pandora's Box

Protecting the current administration from low gossip and sensationalism, Paladin is asked to discreetly bring the Secretary's son to justice for murder. Some old friends try to prevent this but soon learn where Billy's loyalties truly lie.

Saturday, May 26th, 1962

37: Jonah and the Trout

$20,000 in gold bullion is stolen and dropped into a lake. Paladin decides to try to retrieve it but Jonah, a fisherman, has the spot staked out. He's after a huge trout and doesn't want anyone getting in his way. There's also the three thieves watching and waiting to ambush Paladin once he gets the gold.

Saturday, June 2nd, 1962

38: The Knight

Paladin is hired to find a killer. His usual fee is paid for instead with a ring. A ring that may tie his employer to his quarry with him in the middle.
Season 6
Saturday, September 15th, 1962

1: Genesis

After an unsuccessful attempt on his life by young Roderick Jefferson, Paladin is prompted into remembering a similar incident from his past. Once, as a youth, he agreed to pay off a gambling debt by shooting it out with a professional gunfighter.

Saturday, September 22nd, 1962

2: Taylor's Woman

A hen-pecked rancher, in San Francisco to marry his housekeeper, hires Paladin to help him get out of doing so.

Saturday, September 29th, 1962

3: The Fifth Bullet

After eight years, Paladin tries to repay a convict for the lie he was told when he arrested him. "I promise you a fair trial" is what he said.

Saturday, October 6th, 1962

4: A Place For Abel Hix

Hix sends for Paladin. When he arrives in town, he finds that Hix was killed in a gunfight even though he's the fastest man with gun who ever lived.

Saturday, October 13th, 1962

5: Beau Geste

After 15 years in office, Sheriff Dobbs is retiring and some old enemies are just waiting for the day he turns in his badge. Paladin received a newspaper clipping about the sheriff and $10 to save Dobbs' life.

Saturday, October 20th, 1962

6: The Bird of Time

Paladin rides upon a man named Stryker hanging from a tree. When he learns Paladin is after the same man but with a warrant, he says he has stronger reasons and hopes he won't get in his way. Later Paladin helps the man, now wounded and in his custody, get to what he remembers as a friendly place called Sky Blue.

Saturday, October 27th, 1962

7: Memories of Monica

Repaying a debt, Paladin rides to Valley Heart. Sheriff Reagan awaits the return of a native son who has been jailed for the past six years. The sheriff's wife was once this native son's girlfriend, and he has vowed to see Reagan dead for taking her from him.

Saturday, November 3rd, 1962

8: The Predators

Paladin is after a man suspected of killing a marshal. After finally capturing him in the desert he claims his innocence. But he finds he may have to enlist his aid as they are without a horse, almost out of water and a group of bandit marauders are nearby.

Saturday, November 10th, 1962

9: Shootout at Hogtooth

Hogtooth gets more ridicule than usual, when 3 gunmen take over the town, after cleaning it up. Each was hired in secret by a town council member, so the enforcers band together to suck Hogtooth dry. Hey Boy spots an article about the dilemma, and tells Mr. Paladin he's needed.

Saturday, November 17th, 1962

10: A Miracle for St. Francis

Paladin rides to the San Luis Rey church in search of a very old brandy. When he is asked by the Padre to retrieve a statue of worship, they strike a bargain where they both may get what they want.

Saturday, November 24th, 1962

11: The Marshal of Sweetwater

Sweetwater was a wild town before Thomas Carey, a retired Army scout and old friend of Paladin, became marshal. But Carey has taken over complete control and turned into a killer. Paladin has to stop him and Carey has always seemed the faster of the two.

Saturday, December 1st, 1962

12: Man in an Hourglass

A doctor who once saved Paladin's life calls upon him to find and safely bring back the son of a one-time sweetheart.The young man has "taken to the hills" to track down his father's killer.Paladin locates the headstrong youth and his prey but finds the return trip will not be easy-the wanted man has four trailing confederates.

Saturday, December 8th, 1962

13: Penelope

Paladin meets a drunken Col Lacey at the Carlton. He is there fearful of going home to his lovely wife after being away for some time seeking his fortune. Will she be as loving and faithful as he has been? Paladin decides to help him find out, regardless of the consequences.

Saturday, December 15th, 1962

14: Trial at Tablerock

Adams, the prosecutor, wants to hire Paladin to rid the town of someone he says is getting away with murder. When this person is tried for a killing Paladin witnesses, he offers his services as defense when no one else wants the job.

Saturday, December 22nd, 1962

15: Be Not Forgetful of Strangers

Paladin rides into a Texas town at Christmas time and encounters a saloon full of merrymakers. Soon afterward a cowboy brings in a pregnant girl who may not survive the impending birth. The town doctor is down for his annual drunken stupor. Paladin tries to enlist help but the the patrons would rather party.

Saturday, December 29th, 1962

16: The Treasure

Jess Harden, about to be released from prison for an $80K robbery he says he didn't commit, returns to the same town not knowing that it's a ghost town. He plans to meet his wife there. She wants Paladin there as well to ward off anyone who believes he does have the money after all.

Saturday, January 5th, 1963

17: Brotherhood

Abe and Jim Redrock are both well educated. The only problem they always run into is they are also Indians. Abe stays true to his heritage, causing trouble for the elected sheriff of Latigo, his brother Jim.

Saturday, January 12th, 1963

18: Bob Wire

Bob Wire hires Paladin, C.O.D., to escort him and his wagon load of barb wire to Anderson. What he doesn't say until they arrive is a range war is brewing and Paladin is now right in the middle of it.

Saturday, January 19th, 1963

19: The Debutante

Mrs Quincy longs to see her granddaughter who has been away since she was six. When her daughter and husband died in the mine fields, she was taken in. Now betrothed to be married, Paladin is hired to ensure she is this long lost relative.

Saturday, January 26th, 1963

20: Unforgiving Minute

Fleeing banditos, Paladin seeks shelter from a peasant and his beautiful, scheming wife, their marriage at the breaking point. After being driven from their rural home, the husband hopes to appease his high-maintenance wife by returning to a city. However she eyes the urbane Paladin as the means to her own ends.

Saturday, February 2nd, 1963

21: American Primitive

Paladin is joined by his friend Ernie Backwater, an aging sheriff who is out to capture Will Tybee, a wanted fugitive who has spent his life searching for the man who murdered his son. Unfortunately, he's killed five innocent men while doing so, and is more than willing to kill Paladin and the sheriff if they get in his way.

Saturday, February 9th, 1963

22: Burning Tree

Paladin is escorting a unique prisoner to a trial and certain conviction. A man who has been married seven times and murdered all of them. Stopping for a night of rest, Paladin finds the man is wanted by the townsfolk as a "sacrifice" to appease the local Indians. A spinsterish young girl has other plans for the "charmer".

Saturday, February 16th, 1963

23: Cage at McNaab

Paladin is asked by the wife of a man who is condemned to die to visit him in prison and see if new evidence can be found to clear her husband. Not sure if he wants the job, Paladin agrees to the visit and it leads to quite an unexpected result. Paladin literally finds he now walks in another man's footsteps.

Saturday, February 23rd, 1963

24: Caravan

Paladin is hired to escort a Rani and her party across 150 miles of desert to a safe haven.The Rani is from a country fighting a civil war and she is to be the new leader if her side is victorious.On the journey it is noticed that they are being followed and treachery from within may be the cause of more worry.

Saturday, March 2nd, 1963

25: The Walking Years

A letter from a friend brings Paladin to a bar where he's drugged. He wakes up chained and in the company of a man with a similar story and a woman who's path they've both crossed before.

Saturday, March 9th, 1963

26: Sweet Lady of the Moon

Carl Soddenberg committed a heinous, murderous act. When a doctor feels he should be freed because he was mentally imbalanced at the time and now is cured, Paladin is hired to get him to an asylum and keep the family's survivors at bay who are out for revenge.

Saturday, March 16th, 1963

27: The Savages

An art collector hires Paladin to guide him, and his strangely childlike daughter, to the camp of a reclusive sculptor. But the collector does not tell Paladin his real reason for wanting to find the artist.

Saturday, March 23rd, 1963

28: The Eve of St. Elmo

Colonel Draco invites Paladin to investigate an "insurrection" over water rights. Paladin discovers that Draco was crippled eight months previously and wants revenge. Paladin has no intention of being Draco's executioner.

Saturday, March 30th, 1963

29: Lady of the Fifth Moon

Paladin comes to pay his respects to the mother of a Chinese man who is killed. She asks Paladin to meet a ship bound for China and see that her granddaughter is brought safely aboard.

Saturday, April 6th, 1963

30: Two Plus One

Paladin is riding to meet a lovely French lady in Los Angelos. On the way he encounters an Indian maiden being attacked. The girl, Taymanee, after being rescued, informs Paladin that she now belongs to him. His tryst takes a bad turn when Taymanee's attackers return. Rate it now! Air Date April 6, 1963 Production Code 31177 Top Episodes Genesis The Fifth Bullet Sweet Lady of the Moon The Hanging of Aaron Gibbs A Quiet Night in Town - Part I El Paso Stage The Predators Marshal of Sweetwater American Primitive A Quiet Night in Town - Part II Episode Summary Add/Edit On his way to an assignation with a lovely French lady in Los Angelos, Paladin encounters a Yosemite Indian maiden being attacked by two saddle tramps. Having rescued her, Paladin is nonplussed when the girl, Taymanee, informs him that she now belongs to him. This puts a serious crimp in his plans for a romantic interlude with his French lady, especially when Taymanee's attackers return.

Saturday, April 13th, 1963

31: The Black Bull

After being tortured, Paladin, becomes a surrogate bull for a famous, but now insane bullfighter, Nino Ybarra..

Saturday, April 20th, 1963

32: Face of a Shadow

Paladin is hired by a man to deliver ten thousand dollars. When the man is found dead, with the money missing, Paladin has to sift through a numbr of suspects, including a band of gypsies and the men who found the body.