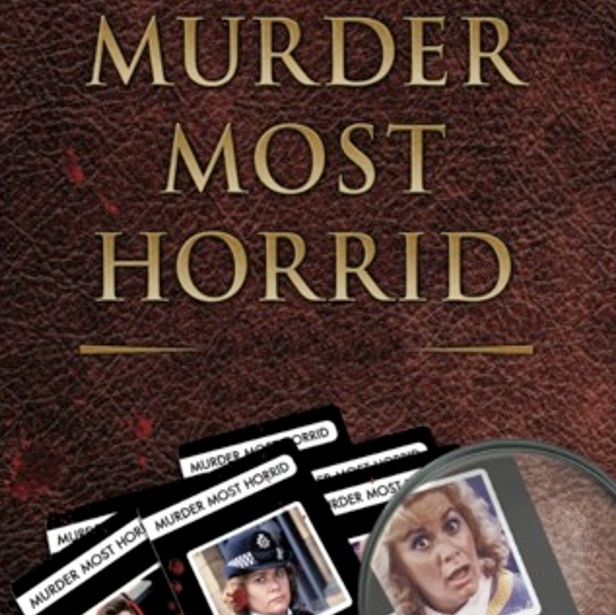 Season 1
Thursday, November 14th, 1991

s1e1: The Case of the Missing

A traffic WPC is suddenly put in charge of a seemingly straight forward murder case, which gradually becomes more complex and mysterious.

Thursday, November 21st, 1991

s1e2: The Girl from Ipanema

When housekeeper Maria arrives at the house of MP Howling and his wife Lydia, she doesn't quite find things the way she expected. But one day, Maria witnesses a violent attack on Lydia by her husband and things start to take a turn for the better.

Thursday, November 28th, 1991

s1e3: He Died a Death

Backstage at a London theatre, rivalry turns into suspicion, when one of the cast is murdered during a performance.

Thursday, December 5th, 1991

s1e4: Determined Woman

Scientist Rita Proops brings her equipment home to start working on the ultimate invention - the time machine. But this causes friction at home with disastrous results.

Thursday, December 12th, 1991

s1e5: Murder at Tea Time

Bunty is a successful children's television presenter, an expert in sticky-back plastic and a favourite with the young viewers of 'Write Away.' However, when her younger co-presenter is asked to pose for a wax modelling session at Madame Tussauds, jealousy arises off camera - and Bunty decides to put her young rival in his place!

Thursday, December 19th, 1991

s1e6: Mrs Hat and Mrs Red

Mrs Hat is shocked when she bumps into her doppelganger, and ends up following her home. She finds herself literally stepping into her shoes and taking over her luxurious lifestyle.
Season 2
Thursday, March 3rd, 1994

s2e1: Overkill

Tina Mellish is a failure on the point of suicide. Carmela Vezza is a hired assassin on a mission to kill. What use could they be to each other?

Thursday, March 10th, 1994

s2e2: Lady Luck

Hairdresser Denise Cunningham has just got through to her local radio station and won two free tickets to America, when she is taken hostage by a bank robber.

Thursday, March 17th, 1994

s2e3: A Severe Case of Death

Maude Jenkins's struggle to become a doctor in nineteenth-century England involves lust, intrigue, a sex change and cigars.

Thursday, March 24th, 1994

s2e4: We All Hate Granny

Tom has just lost his job, and Jocasta is finding the children a trial, but soon Granny will be dead, so everything will be fine.

Thursday, March 31st, 1994

s2e5: Mangez Merveillac

Travel & cookery writer Verity Hodge finds the one corner of France that nobody has written about or visited. But her best selling book Mangez Merveillac changes all that forever with fatal results.

Thursday, April 7th, 1994

s2e6: Smashing Bird

Getaway driver Ray and his nightclub singing fiancée Vicky are set to give up a life of crime when a fatal explosion forces Vicky to become a killer. He is killed after a job goes horribly wrong, and the rest of the gang give her a choice: she can help avenge Ray's death, or become their cook.
Season 3
Friday, May 10th, 1996

s3e1: Girl Friday

Sally Fairfax is a personal assistant to the smarmy philandering Harvey Stafford. Her devotion is severely tested when she returns to the office late one night and finds herself party to a murder.

Friday, May 17th, 1996

s3e2: A Life or Death Operation

Ms. Kate Marshall (Dawn French), a brilliant surgeon, tries to murder the wife of a former patient who died when the woman confronts her with accusations that she was negligent during surgery. Kate runs the woman over with her vehicle... several times. As luck would have it, the woman doesn't die and is brought to St. Theodore's as a victim. Kate also has a television show and the case becomes a prime topic on the show, much to Kate's dismay.

Friday, May 24th, 1996

s3e3: Dying Live

When Daisy Talwinning, an abattoir worker sacked because she can't bring herself to kill the cute animals, goes on holiday to Panador in South America, she gets caught up in a case of mistaken identity, just as a rebel leader is about to be executed - the officials think she is the executioner.

Friday, May 31st, 1996

s3e4: The Body Politic

Leader of the opposition Jerry Bryce and his wife Linda are getting ready to move to No 10, when they discover three rather grisly obstacles under the kitchen floor on the eve of the General Election.

Friday, June 7th, 1996

s3e5: Confess

When former gangland boss Frank Foster is brought in for questioning about the murder of a policeman, he's interrogated by Sgt Hodge and Sgt Cole, both intent on promotion.

Friday, June 14th, 1996

s3e6: Dead on Time

The Angel of Death, who is a not-very-Grim Reaper, is given a deadly ultimatum: deliver some souls or be sentenced to a life in Hell.
Season 4
Friday, February 19th, 1999

s4e1: Frozen

Faced with post-war rationing in the impoverished village of Skinton, sisters Lily and Iris share a secret supply of cakes stored in their freezer. But when the appliance breaks down, the arrival of a repairman leads to murder.

Friday, February 26th, 1999

s4e2: Going Solo

Tracy Phillips and Karen Sullivan seem an unlikely team to set sail together on a round-the-world yacht race, and they do indeed prove to be ill-matched. Then they capsize.

Friday, March 5th, 1999

s4e3: Whoopi Stone

WPC Barbara Greaves is a speed cop and bored housewife. A CDI officer offers her the challenge to bring three American drug barons to justice.

Friday, March 19th, 1999

s4e4: Confessions of a Murderer

TV crime show addict Harriet Snellgrove dreams of being arrested herself, and is a regular visitor to Nuttley police station to confess to almost every crime committed in the area, but she is never believed. But will the police's repeated rejections lead her to actually commit murder?

Friday, March 26th, 1999

s4e5: Elvis, Jesus and Jack

A TV producer fakes the death of a faded rock star in order to save her obituaries department.

Friday, April 2nd, 1999

s4e6: Dinner at Tiffany's

School mealtime supervisor Tiffany Drapes loves her job. This is in part because she is in love with Gloria, the alcoholic, gambling headmistress. But so is games teacher Evangeline....