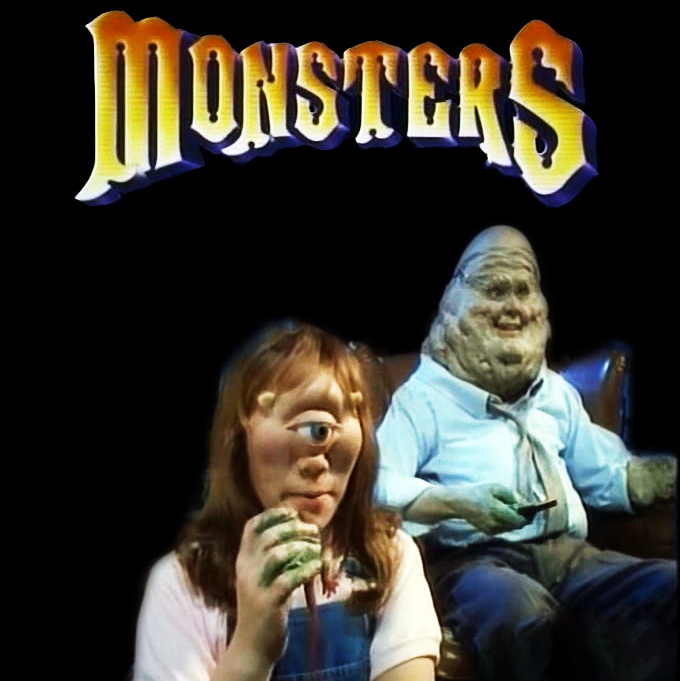 Season 1
Saturday, October 22nd, 1988

s1e1: The Feverman

An unsual healer is a man's last hope for his ailing daughter.

Saturday, October 29th, 1988

s1e2: Holly's House

A puppeteer for a favorite children's program starts seeing her puppet move and talk on its own...but is it all in her mind?

Saturday, November 5th, 1988

s1e3: New York Honey

A man falls for a beautiful seductress who turn out to be a giant bee.

Saturday, November 12th, 1988

s1e4: The Vampire Hunter

Saturday, November 19th, 1988

s1e5: My Zombie Lover

A young woman left at home by her zombie-hunting family gets a suprise visit from an old classmate.

Saturday, November 26th, 1988

s1e6: Where Is the Rest of Me?

A mad doctor develops a serum that keeps dead bodies from deteriorating.

Saturday, December 3rd, 1988

s1e7: The Legacy

Saturday, December 10th, 1988

s1e8: Sleeping Dragon

Scientists discover a time capsule, unaware of the dragon that sleeps inside...

Saturday, December 17th, 1988

s1e9: Pool Sharks

A pool hustler, Gabe finds himself involved in a high-stakes game (literally) with Natasha, a seductive vampire.

Saturday, December 24th, 1988

s1e10: Pillow Talk

A man feeds a monster that resides in his bedroom.

Saturday, December 31st, 1988

s1e11: Rouse Him Not

An artist draws inspiration from the house she has recently moved into. However, it has a dark history and the previous owner, a practitioner of witchcraft, has left something behind in the basement.

Saturday, January 21st, 1989

s1e12: Fools' Gold

A group of miners stumble upon a lost chamber with a horde of treasure - to get it, all they have to do is deal with the guardian troll.

Saturday, February 4th, 1989

s1e13: Glim-Glim

A mysterious disease has killed most of the people in town and Amy's father believes that the hideous alien holed up in the library is responsible. But as Amy soon learns, Glim-Glim may be their only hope for survival.

Saturday, February 11th, 1989

s1e14: Parents from Space

A girl dealing with her cruel foster parents, is blessed when aliens take over their bodies.

Saturday, February 18th, 1989

s1e15: The Mother Instinct

A slimy, good-for-nothing husband tries to get money from his mother-in-law, especially when he finds out that her fruit can produce a serum that can boost the human strength. He is prepared to do anything to get rich from it, but hasn't counted on just how protective a mother can be.

Saturday, February 25th, 1989

s1e16: Their Divided Self

Siamese twins seek help from a psychologist.

Saturday, March 4th, 1989

s1e17: Taps

Suzy murders her lover, a talented tap dancer. In this take on "The Telltale Heart," she cuts up the body to hide the parts...but one body part refuses to stay quiet.

Saturday, April 15th, 1989

s1e18: The Match Game

Four teenagers go into a haunted Victorian mansion and play a game where each tell part of a ghost story while a match burns, suddenly the story comes true.

Saturday, April 22nd, 1989

s1e19: Rain Dance

A greedy couple are stuck in a dried-up land so as to exploit the native people of their relics. The indigenous tribe offers one last item for them, a nasty-looking statue of Masow, the God of Death, who is said to promise rain at the expense of a sacrifice.

Saturday, April 29th, 1989

s1e20: Cocoon

A detective has his psychic girlfriend try to find the identity of a wealthy woman who has miraculously survived an accident unscratched, but with no memory of who she is and is disturbed about what she sees.

Saturday, May 6th, 1989

s1e21: All in a Day's Work

A witch tries to protect herself against a demon.

Saturday, May 13th, 1989

s1e22: Satan in the Suburbs

After winning a bet with Lucifer, a devil is promised a single and struggling housewife to write his memoirs and turn it into a bestseller.

Saturday, May 20th, 1989

s1e23: Mannequins of Horror

A nurse tries to help a patient who obsesses on perfecting his clay mannequins. But little does she know how much of a connection he actually has with them.

Saturday, May 27th, 1989

s1e24: La Strega

A man aims to take revenge against a shopkeeper whom he believes is a witch who killed his mother via a curse.
Season 2
Sunday, October 1st, 1989

s2e1: The Face

When two brothers break into an old woman's house to rob her, they wind up killing her, but not before she bites one of them, leaving him with a nasty scar to remember her by.

Sunday, October 8th, 1989

s2e2: Portrait of the Artist

The art being displayed in a local exhibit may not be what it appears to be as the haunting figures hanging in the gallery resemble those of recent missing persons.

Sunday, October 15th, 1989

s2e3: A Bond of Silk

A newlywed couple finds out you get what you pay for when they discover that their honeymoon suite is not quite what they expected.

Sunday, October 22nd, 1989

s2e4: Rerun

A student has somehow brought back a recently deceased TV star that pledges his undying love for her.

Sunday, October 29th, 1989

s2e5: Love Hurts

A DMV employee begins an affair with his wife and father-in-law being the only thing holding him back. However, the seductress taps into her learned dark magic to make him all hers.

Sunday, November 5th, 1989

s2e6: The Farmer's Daughter

A man takes shelter at a farm for the evening and he is surprised to be sharing a room with the farmer's pretty daughter.

Sunday, November 12th, 1989

s2e7: Jar

A private detective looking for a missing person discovers an innkeeper who sells mysterious jars.

Sunday, November 19th, 1989

s2e8: The Demons

An alien accidentally conjures an insurance agent who, in order to serve his master's wishes, must summon a demon of his own.

Sunday, November 26th, 1989

s2e9: Reaper

A patient at a nursing home makes a deal with the Grim Reaper.

Sunday, December 10th, 1989

s2e10: The Mandrake Root

While cleaning her grandmother's house, Angela finds a strange plant growing in the basement. It soon grows into what was once her grandmother's lover who soon seduces her, but has an increasing thirst for blood.

Sunday, December 17th, 1989

s2e11: Half as Old as Time

An old man finds a Fountain of Youth, but with a cost...

Sunday, January 7th, 1990

s2e12: Museum Hearts

A cheating man finds himself locked after-hours in a museum with three women: his girlfriend; the woman he's cheating on her with; and the reanimated body of a Druid priestess, who claims to be the spirit of woman.

Sunday, January 14th, 1990

s2e13: Habitat

A girl volunteers to become a test study for an alien aboard its ship, only to realize the loneliness is driving her insane.

Sunday, January 21st, 1990

s2e14: Bed and Boar

A traveling salesman spends the night in a hotel next door to a beautiful woman and her husband, who hides a dark secret.

Sunday, January 28th, 1990

s2e15: Mr. Swlabr

Roy Barton lives a life of misery. Since his dad left he has been made into a slave, serving his mother and sister hand and foot. Hope comes in the form of a creature who calls himself "Swlabr". With help from Swlabr, Roy is able to turn the tables on his pesky family.

Sunday, February 4th, 1990

s2e16: Perchance to Dream

A psychiatrist and a girl help a man who is having strange dreams that may well spell his demise.

Sunday, February 11th, 1990

s2e17: One Wolf's Family

A family of werewolves attempt to assimilate into modern American society.

Sunday, February 18th, 1990

s2e18: The Offering

After receiving a head injury in a car crash, a man recovering in the hospital finds that he can see a strange creature that he believes is the source of cancer.

Sunday, February 25th, 1990

s2e19: Far Below

A nosy city official stumbles into a secret operation beneath a New York Subway.

Sunday, March 4th, 1990

s2e20: Micro Minds

A couple of scientists make a dramatic breakthrough when an antenna finds a signal from intelligent life. However, the world of these beings turns out not to be swimming in a sea of stars, but in a mere tank.

Sunday, May 13th, 1990

s2e21: Refugee

An American secret agent finds himself being tasked with one more mission. He is to help a Soviet scientist, but finds that the forces he is to help her escape from are more dangerous than the Russians.

Sunday, May 20th, 1990

s2e22: The Gift

A young boy has been kidnapped and locked in the basement of a cabin where he meets and befriends a strange beast he discovers to be a man with many powers. He can help them escape their captors, but there are unfortunate limits to such abilities.

Sunday, May 27th, 1990

s2e23: The Bargain

A homely owner of a bookshop is very much in love with a frequent customer who barely seems to know she exists. When she calls a number in a very old magazine, she finds that they are in business and willing to sell her a mask that will guarantee her the beauty that will catch the man's attention.

Sunday, June 3rd, 1990

s2e24: The Family Man

A young boy tries to protect his family from an alien, whom he can only see using his dead father's glasses.
Season 3
Sunday, September 30th, 1990

s3e1: Stressed Environment

Mutant rats threaten pesticide wielding scientists in a laboratory.

Sunday, October 7th, 1990

s3e2: Murray's Monster

A psychiatrist with his own stress from his wife finds a solution when he discovers a sheepish patient has manifested his repressed anger in the form of a giant ape-like monster.

Sunday, October 14th, 1990

s3e3: Bug House

A man awakes to find himself in a home where the lady of the house has a non-chalant attitude towards the bugs in her home.

Sunday, October 21st, 1990

s3e4: Cellmates

A young man expecting to be freed from prison by his rich father discoveres he's been placed in the wrong cell.

Sunday, October 28th, 1990

s3e5: Outpost

A planetary station commander discovers the identity of a monster that operates a mining project on a hostile planet.

Sunday, November 4th, 1990

s3e6: The Hole

A group of men find their way into a bunker during the Vietnam War, only to find that this hole hides a secret buried in its walls.

Sunday, November 11th, 1990

s3e7: Small Blessings

A young family tries to cope with having a meat hungry deformed baby.

Sunday, November 18th, 1990

s3e8: A Shave and a Haircut, Two Bites

Two teenagers think the barber shop across the street may be a secret meeting place for town vampires.

Sunday, November 25th, 1990

s3e9: The Young and the Headless

The marriage of a couple of doctors become problematic when the woman's presumed-to-be-dead husband returns and she finds herself still allured to the hunk despite her better judgement. After finding success with animating a headless parrot, the two decide to use the numbskull of a third wheel to take their work to another level.

Sunday, December 9th, 1990

s3e10: The Waiting Game

After a nuclear blowout, only two factions remain. Humans inside of a small locked shelter, and nuclear holocaust vampires. With the two sides only separated by a small digital code on the outside of the shelter.

Sunday, December 9th, 1990

s3e11: Sin-Sop

A sort of faith healer has set up a kind of distillery for paying customers. What was once the most sinful man is now a living conduit to drain people of their sins. Is it a fraud or truly a work of God?

Sunday, December 16th, 1990

s3e12: A New Woman

As a rich, elderly man lays dying, his cold-hearted mistress threatens what maybe his last morale act on earth. For her soulless intents, the man's mysterious doctor promises her a haunting that very well may change her outlook.

Sunday, December 23rd, 1990

s3e13: Malcolm

A husband rediscovers a part of himself that he thought he lost long ago when he gave up his music career for his wife.

Sunday, December 30th, 1990

s3e14: Household Gods

When a recent mother tries to go back to work while maintaining some housework, she finds things going awry. To her disbelief she finds out that her lifestyle is defying the domestic gods.

Sunday, January 6th, 1991

s3e15: The Space Eaters

Two men encounter a victim who claims his brain was eaten. After confirming the story, they attempt to fight off the alien invader responsible.

Sunday, January 13th, 1991

s3e16: The Waiting Room

A father brings his son and his new wife to a hotel where he and his wife once stayed. It seems that there is a specific reason for this, one that has to do with a promise he broke to a woman he encountered in a room that exists only in the dark.

Monday, January 21st, 1991

s3e17: Leavings

Two police officers are disturbed by recent sightings of people who are missing body parts and others who appear to have been almost put together from other parts. However, the oddest thing is the blasé reaction of their supervisor upon hearing their stories.

Sunday, January 27th, 1991

s3e18: Desirable Alien

A caseworker for the United States Immigration Service wants to unlock the mystery of her subject's alluring power.

Sunday, February 3rd, 1991

s3e19: A Face for Radio

A smart-mouth host of a late-night radio show is beguiled by a female guest who claims she was abducted by aliens and that they gave her a creature to help rid the planet of evil.

Sunday, February 10th, 1991

s3e20: Werewolf of Hollywood

A screenwriter it tasked to pen a horror film with the unique premise of a werewolf in the position of an executive. But things starting getting a bit bloody when it seems that it hits a nerve with someone in the studio.

Sunday, February 17th, 1991

s3e21: Talk Nice to Me

A columnist and lady's man is harassed by a woman via the phone, but he can't figure out who she is, how she seems to know what's going on in his apartment all the time, or how she manages to get into his place without him seeing her.

Sunday, February 24th, 1991

s3e22: Hostile Takeover

A cut-throat CEO is making good business with the help of voodoo, but doesn't find out until it's too late that it comes with a very high price.

Thursday, April 18th, 1991

s3e23: The Maker

A bum encounters a man with the power to create anything he desires.

Friday, April 26th, 1991

s3e24: The Moving Finger

A man battles a large finger that that rises out of drain of his sink.