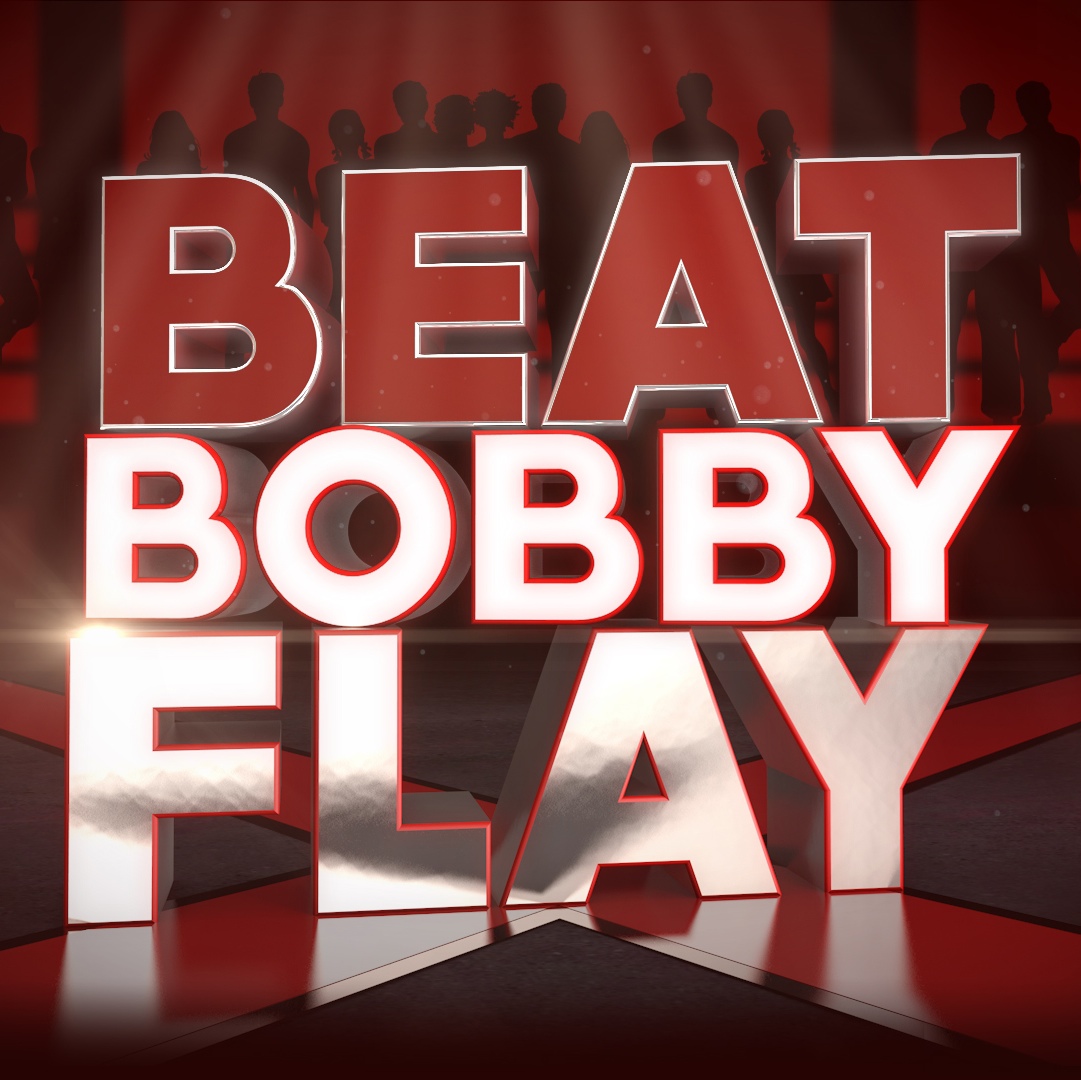 Season 1
Monday, March 3rd, 2014

s1e1: Welcome To New York!

Kentucky chef Anthony Lamas and Washington chef Jennifer Nguyen bring the battle to the Big Apple for a chance to Beat Bobby Flay.

Thursday, March 6th, 2014

s1e2: Farmer and the Belle

Georgia chef Matthew Raiford and Boston chef Karen Akunowicz compete for their chance to take on Bobby Flay.

Thursday, March 13th, 2014

s1e3: Old Dog, New Tricks

New Yorker Brian Tsao and Maryland's Adam Harvey duke it out for their chance to knock Bobby off his throne.

Thursday, March 20th, 2014

s1e4: Fighting Irish

Cancer survivor Steven McHugh goes head-to-head with 6'7 former rock star, Brian Young.

Thursday, March 27th, 2014

s1e5: Beauty and the Feast

Farm girl Rochelle Bilow takes on city boy Paul Denamiel for a chance to take on Bobby Flay.

Thursday, April 3rd, 2014

s1e6: Eat, Flay, Love

Catering queen Kimberly Van Kline and Christopher Lee, compete for a chance to take on Bobby Flay; Iron Chef Alex Guarnaschelli and down home chef Jack McDavid stop by to see how the competition measures up.

Thursday, April 10th, 2014

s1e7: Up in Smoke!

Chefs Kamal Rose and Shannon Bard compete for a chance to Beat Bobby Flay; Iron Chef Michael Symon and comedian Ali Wentworth will decide the winner.

Thursday, April 17th, 2014

s1e8: Old School; New School

Experienced chef Andrew Evans battles the up and coming chef Brooke Mallory; Scott Conant and food critic Katie Lee judge.
Season 2
Friday, August 1st, 2014

s2e1: They Must Be Giants

Crab Claw King, Andy Saintange, stands against tattooed butcher, Bruce Kalman, in the battle of the big men. Chopped judges Scott Conant and Geoffrey Zakarian will decide which chef gets the chance to take down Bobby in his own backyard.

Thursday, August 7th, 2014

s2e2: East vs. West

Food Network's Giada De Laurentiis and Iron Chef Michael Symon hold nothing back as they aim to get Bobby Flay beat! They bring in heavy ammo with a former Iron Chef America winner, L.A.'s chef Neal Fraser, and a Boston big shot with electric blue hair, Chef Jason Santos.

Thursday, August 14th, 2014

s2e3: Bring Home the Bacon

Food Network's Sunny Anderson and Cutthroat Kitchen judge Chef Jet Tila cause a ruckus as they conspire to Beat Bobby Flay! They bring in two chefs from New England; fusion chef, Matthew Britt and rebel, Tyler Anderson. Tune in to see if one of New England's finest can take down New York's sweetheart.

Thursday, August 21st, 2014

s2e4: Battle of Brooklyn

In the battle of Brooklyn's finest, young buck Jordan Andino and industry pro Jennifer Cole-Ruiz duke it out for the chance to get in the ring with Bobby Flay. Pulling no punches, Food Network vet Anne Burrell and Chopped judge Chris Santos are hell-bent on picking the best chef to knock Bobby to the mat.

Thursday, August 28th, 2014

s2e5: Out of the Pan and Into the Fire

The arena is on fire as Jersey's Carlos Serrano and L.A.'s Rina Younan battle it out in Bobby's house and things nearly go up in flames when the chefs start to improvise. Thankfully, Food Network's Alton Brown and TV personality Daphne Oz ring the alarm to find who they think is the best contender to try and smoke Bobby Flay in the competition.

Thursday, September 4th, 2014

s2e6: Ladies First

Thursday, September 11th, 2014

s2e7: Risky Buisiness

Thursday, September 18th, 2014

s2e8: Smile Now, Cry Later

Thursday, September 25th, 2014

s2e9: Ruling With an Iron First

Thursday, October 2nd, 2014

s2e10: Against All Odds

Thursday, October 9th, 2014

s2e11: Sun Up to Show Down

Sunny Anderson and Katie Lee determine whether a muscle man or an old-school Italian chef has what it takes to take on Bobby Flay.

Thursday, October 16th, 2014

s2e12: Only in New York

Iron Chefs Alex Guarnaschelli and Michael Symon oversee a tense battle between two prominent names in New York's culinary scene.

Thursday, October 23rd, 2014

s2e13: Orange Is the New Beat

Chefs Geoffrey Zakarian and Jeff Mauro are playing the tricks and culinary instructor James Gillespie and restaurateur Rob Maffucci are serving up the Halloween treats.
Season 3
Thursday, October 30th, 2014

s3e1: An International Affair

Chopped's Ted Allen and Amanda Freitag stop by the arena with one goal in mind: Beat Bobby Flay! Italian-born chef Patrick D'Andrea takes on Canadian chef Rob Feenie for the chance to stare down the master.

Thursday, November 6th, 2014

s3e2: Surf and Turf

Chefs Alex Guarnaschelli and Anne Burrell have their eyes on the prize: taking down Bobby Flay in his own arena. Surf Chef Raphael Lunetta and Cowboy Chef Jake Gandolfo bring the heat before the winner takes on Bobby.

Thursday, November 13th, 2014

s3e3: Gobbled Up

Iron Chef Geoffrey Zakarian and supermodel Chrissy Teigen are here to spot the turkey in this holiday battle. Will mole master chef Julieta Ballesteros or farm-raised chef Kat Ploszaj pull up to the table for the opportunity to take on Bobby Flay?

Thursday, November 20th, 2014

s3e4: Shaken, Not Stirred

Michael Symon and Giada De Laurentiis team up to bring in two talented chefs who won't back down: Italian chef Giulio Adriani and Texan chef Kristine Kittrell. Who will have what it takes to boot Bobby out of his own kitchen?

Thursday, December 4th, 2014

s3e5: By Land or By Sea

Brooke Burke-Charvet and Alton Brown storm the castle to dethrone Bobby. Chef Jeremy Hanlon brings his beach flare against self-made native New York chef Alex Diaz for the chance to take on the king.

Thursday, December 11th, 2014

s3e6: Bells Will Be Ringing

Anne Burrell and Scott Conant try to spoil Bobby Flay's Christmas with their choice for a competitor to take him on in the kitchen.

Thursday, December 18th, 2014

s3e7: Heat in the Street

Alex Guarnaschelli and Scott Conant determine who will challenge Bobby Flay in the kitchen when a Mexican-born chef squares off against an opponent with a background in fusion cuisine.

Thursday, December 25th, 2014

s3e8: Roll the Dice

Michael Voltaggio and Simon Majumdar decide between a former pastry chef turned savory chef and a rising star on the New Hampshire culinary scene.

Thursday, January 1st, 2015

s3e9: Pot Calling the Kettle Beat

Jonathan Waxman and Aaron Sanchez hope to beat Bobby Flay by pitting him against either a veteran chef with 30 years experience or a star on the New England culinary scene.

Thursday, January 8th, 2015

s3e10: New Kids on the Butcher Block

Jeff Mauro and Justin Warner, both former winners of "Food Network Star," have a say when it comes to who will compete against Bobby Flay.

Thursday, January 15th, 2015

s3e11: Clash of the Culinary Titans

Sunny Anderson and Ted Allen pick a grillmaster and a chef who thrives on competition to take down Bobby Flay.
Season 4
Thursday, April 16th, 2015

s4e7: Best Laid Plans

Southerner Keri Moser faces off against New Englander Clark Frasier for the chance to beat Bobby.

Thursday, April 23rd, 2015

s4e8: East Coast's Finest

Chefs Curtis Stone and Michael Symon team up to rattle Bobby; Rhode Island's Chef Antonio Franco goes head-to-head against New York Chef Luke Venner for the chance to take on Bobby Flay.
Season 5
Thursday, August 13th, 2015

s5e11: Sticking to Your Guns

The competition heats up, as Food Network's Curtis Stone and Sunny Anderson take no prisoners on their quest to beat Bobby Flay. They've brought farm to fork chef Clark Barlowe to go head to head with Italian chef Peter McAndrews, but who will claim victory? Read more at: http://www.foodnetwork.com/shows/beat-bobby-flay/episodes.html?oc=linkback

Thursday, August 20th, 2015

s5e12: Arrivals and Departures

Vying for a chance to compete against Bobby Flay is no small feat when Iron Chef Alex Guarnaschelli and Iron Chef judge Donatella Arpaia decide who gets the shot. They know how to take down Bobby, and Washington's Michael Walters and Seattle's Lisa Nakamura are ready for the challenge Read more at: http://www.foodnetwork.com/shows/beat-bobby-flay/episodes.html?oc=linkback
Season 6
Thursday, October 8th, 2015

s6e2: Settling the Score

Two former contestants, silent assassin Bruce Kalman and young hotshot Jordan Andino, return for a second chance. But first, they have to impress Sunny Anderson and Jeff Mauro.

Thursday, October 15th, 2015

s6e3: Frenemies

Thursday, October 22nd, 2015

s6e4: Back With a Vengeance