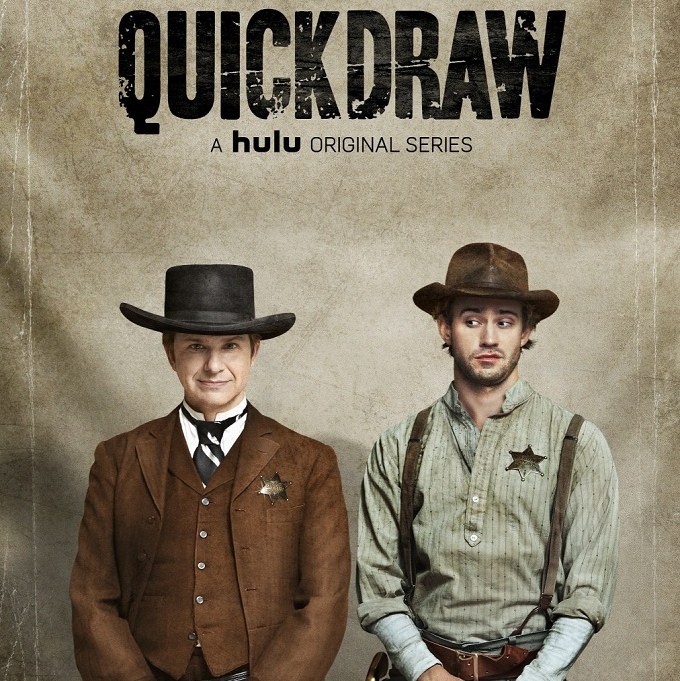 Season 0
Monday, August 5th, 2013

s0e1: Mixology 1: Whiskey Skin

Hoyle and Livinia demonstrate how to make a "Whiskey Skin."

Monday, August 5th, 2013

s0e2: Mixology 2: Gin & Pine

Hoyle and Livinia whip up a "Gin & Pine."

Monday, August 12th, 2013

s0e3: Mixology 3: A Splitting Headache

Hoyle and Livinia pour some "Splitting Headaches."

Monday, August 19th, 2013

s0e4: Mixology 4: Sleeper

Hoyle and Livinia shake up a "Sleeper."

Monday, August 26th, 2013

s0e5: Mixology 5: Black Stripe

Hoyle and Livinia concoct a "Black Stripe."

Tuesday, September 2nd, 2008

s0e6: Mixology 6: Santina's Pousse Cafe

Hoyle and Livinia put together a "Santina's Pousse Cafe."

Monday, September 9th, 2013

s0e7: Mixology 7: Badminton

Hoyle and Livinia stir a "Badminton."

Monday, September 16th, 2013

s0e8: Mixology 8: Whiskey Cobbler

Hoyle and Livinia close shop with a "Whiskey Cobbler."
Season 1
Monday, August 5th, 2013

s1e1: Murder at the Webb Ranch

When a rancher is murdered, John Henry Hoyle, the new Sheriff, uses all of his Harvard trained state-of-the-art criminology training to solve the crime.

Monday, August 5th, 2013

s1e2: The Legend of Belle Starr

When Frank James attempts to rob the Great Bend Bank, Hoyle and Eli save the day and jail the famous outlaw.

Monday, August 12th, 2013

s1e3: Mail-Order Bride

Much to Hoyle's chagrin, Eli purchases a mail order bride, but when the coach arrives with Eli's precious cargo, its contents send the duo into an unexpected tailspin.

Monday, August 19th, 2013

s1e4: Expert Witness

In the wake of a gruesome decapitation, Hoyle uses the latest in crime-fighting techniques to apprehend the killer, but when the evidence points in an unexpected direction, Hoyle must persuade the town to listen to science.

Monday, August 26th, 2013

s1e5: Temperance

The Temperance movement takes hold in Great Bend after a slew of alcohol-related deaths. However, when the saloon goes booze free, Honey resorts to selling "medicine" to keep the bar in business.

Monday, September 2nd, 2013

s1e6: Nicodemus

When the U.S. Marshalls unfairly suspect an ex-slave of murder, Sheriff Hoyle must clear his name by tracking the real killer to the all-black town of Nicodemus, led by Sheriff Nat Love.

Monday, September 9th, 2013

s1e7: Honey's Beau

When Honey's long-lost fiancé surfaces in Great Bend, he challenges Hoyle to a duel when he learns of their ongoing "relations." Meanwhile, things start to get more serious between Eli and Pearl.

Monday, September 16th, 2013

s1e8: Railroad Spur

After a group of local miscreants turns up dead, Hoyle, Eli, Honey and the gang track the killers to Cole Younger's hideout, giving Hoyle another shot at finally bringing Cole to justice.
Season 2
Thursday, August 7th, 2014

s2e1: Wedding Bells

Hoyle and the gang race to rescue one of their own after a kidnapping by the vengeful Cole Younger.

Thursday, August 7th, 2014

s2e2: Deacon Jim

Hoyle must quell the rampage of an angry town after a stray bullet claims the life of a beloved friend.

Thursday, August 14th, 2014

s2e3: Chinatown

Hoyle and Wanda follow the trail of an opium gang after a train happens to run over a rival dealer.

Thursday, August 21st, 2014

s2e4: The Grasshopper Plague

Eli finds farming more than it's cracked up to be when an infestation devastates his entire crop.

Thursday, August 28th, 2014

s2e5: The Tale of Edwin Starr

Pearl must face her past when a mysterious visitor threatens to derail the "straight and narrow" life she's built for herself.

Thursday, September 4th, 2014

s2e6: Nicodemus Reloaded

When a cattle drive doesn't go as expected, Hoyle enters Eli in a rodeo to win enough money to pay off the debts on his family's failed farm.

Thursday, September 11th, 2014

s2e7: Election Night

Great Bend's race for mayor heats up when a rival campaign manager ends up dead.

Thursday, September 18th, 2014

s2e8: Up Staged

Hoyle and Eli race to track down Cole Younger before he slips out of their grasp for good.

Thursday, September 25th, 2014

s2e9: Something About Myra

Honey comes to grips with her feelings for Hoyle when a romantic connection from his past jeopardizes their budding relationship.

Thursday, October 2nd, 2014

s2e10: Doomed!!

The fearsome Starr clan descends on Great Bend to wreak havoc and mayhem on anyone who stands in their way.