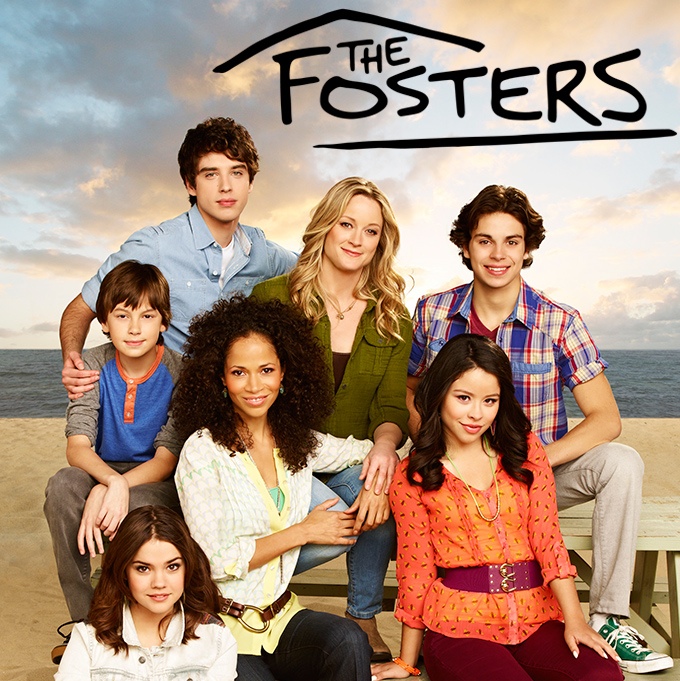 Season 0
not specified

s0e1: Girls United 01:Run Baby Run

not specified

s0e2: Girls United 02:Stab in the Back

not specified

s0e3: Girls United 03:Got Your Back

not specified

s0e4: Girls United 04:Scorpion Kings

not specified

s0e5: Girls United 05:United We Stand
Season 1
Monday, June 3rd, 2013

s1e1: Pilot

We follow a multi-ethnic family mix of foster and biological kids being raised by two moms. Stef Foster, a dedicated police officer, and her partner Lena Adams, a school Vice Principal, have built a close-knit, loving family with Stef's biological son from a previous marriage, Brandon, and their adopted twins Mariana and Jesus. Their lives are disrupted in unexpected ways when Lena meets Callie, a hardened teen with an abusive past who has spent her life in and out of foster homes. Lena and Stef warily welcome Callie into their home thinking it's just for a few weeks, until a more permanent placement can be found.

Monday, June 10th, 2013

s1e2: Consequently

Lena and Mike disagree about punishing Brandon. Jesus tries to cover for Mariana at risk to himself. Callie gets blamed for Mariana's transgression. Jesus and Lexi embark on a secret relationship.

Monday, June 17th, 2013

s1e3: Hostile Acts

The Fosters cope with a crowded house but when Mike suggests that Brandon come live with him, Stef argues that it's not Brandon's decision, resulting in a heated argument with her son. Meanwhile, Lexi and Jesus resolve to end their budding relationship but find that their attraction to one another may be too hard to resist. Callie openly disapproves of Mariana letting Jesus take the fall for stealing his pills but when Timothy, Callie's teacher, gives her an assignment to write about guilt in a journal, it drudges up her own dark secrets and a mysterious name from her past.

Monday, June 24th, 2013

s1e4: Quinceanera

Mariana's quinceanera is coming up and Lena wants it to be the best. However, when a secret is revealed, it could end the party before it even starts. Lena's mom comes for a visit and Stef gives Brandon a pep talk on the rules of dating when he sees Talya and Callie getting more friendly.

Monday, July 1st, 2013

s1e5: The Morning After

When things between Jesus and Lexi get hot and heavy, they are forced to face the possible consequences of their actions. Meanwhile, Callie gets closer to Wyatt but Brandon has serious reservations about Callie dating a "bad boy." Stef and Lena learn that two of their close friends, Kelly and Jenna, are having major relationship trouble and it causes them to look at the lack of romance in their own lives. Kelly and Jenna's hip and educated son, Garret, catches Mariana's eye and she becomes desperate to fit in with his cool, edgy crowd. Jude is bullied at school for being different.

Monday, July 8th, 2013

s1e6: Saturday

The Fosters invite Ernesto and Sofia Rivera to dinner, and Stef worries that they will subjugate Jesus to views that disapprove of his non-traditional family. To make matters worse, Stef's conservative father, Frank, shows up and the family dinner threatens to turn into an all-out moral debate. Meanwhile, Callie attends a group therapy session for foster children and meets someone with a connection to her past - a past that will come back to haunt her. Wyatt holds a destructive party at his childhood home, which is under foreclosure, and Callie realizes he's much more hurt than he lets on. Mike shows up late to take Brandon to an important audition with a renowned piano teacher.

Monday, July 15th, 2013

s1e7: The Fallout

Feeling betrayed and angry, Jesus and Mariana get into a major fight. When Lexi's parents take measures to keep her away from Jesus, Lexi makes a desperate decision, which could have serious and lasting consequences for her and her family. Meanwhile, Lena urges Callie to participate during her weekly group therapy sessions. Callie is conflicted but she opens up to Brandon, who supports her as she confronts a painful memory from her past. Jude hopes to impress his new friend Connor, who comes over to work on a school project.

Monday, July 22nd, 2013

s1e8: Clean

A visit from Lena's beautiful and sophisticated ex-girlfriend reveals a secret yearning Lena has hidden from Stef for the past ten years. Meanwhile, Brandon struggles to please his demanding new piano teacher and rebuffs an offer from Talya to reconnect. When an embarrassing video of Talya circulates around the school, Callie lends her support and urges Brandon cut her some slack. Mike's drinking and Stef's mounting concern do not go unnoticed at the precinct. Mariana and Jesus go to tell Ana to leave Mariana alone. The encounter with his birth mom and her desperate situation drive Jesus to take matters into his own hands, a move that could have dire consequences for the whole family.

Monday, July 29th, 2013

s1e9: Vigil

While Lena tries to process the extent of Mariana and Jesus' lies, Stef and Mike head to Ana's to try and find Jesus. What they encounter lands someone in the hospital and changes the Foster family forever. While the family waits anxiously for news, tensions rise over the secrets the kids kept from Stef and Lena and even Brandon realizes he's to blame for covering for the twins. Callie has a heart-to-heart with Brandon to help him understand the perspective of a foster child and Brandon learns how Callie's mother died. Wyatt calls Callie on her growing bond with Brandon but Callie is all too familiar with the damage that could result from this kind of relationship.

Monday, August 5th, 2013

s1e10: I Do

Stef and Lena try to maintain calm when their parents descend on the Foster house for a very special celebration. Lena's dad, Stewart, has agreed to officiate the ceremony while her mother Dana and Stef's colorful, talkative mom Sharon, attempt to keep things civil while disagreeing on floral arrangements. Sharon tries to strong-arm Frank into attending. Stef avoids telling Lena she plans to return to work as soon as she is cleared. Meanwhile, when Callie's case against Liam boils down to her word against his, she must decide whether or not to lie in order to get some justice out of the situation. Callie and Jude get some news they've been hoping for, but Callie makes an emotional slip that could destroy any chance they finally have at happiness.

Monday, January 13th, 2014

s1e11: The Honeymoon

The repercussions of Callie's decision to run away impact every member of the Foster family, including newlyweds Stef and Lena, who had offered to adopt the troubled teen. Both Jude and Brandon struggle with their own personal guilt about her running away. Mariana inadvertently discovers the whole story about Lexi's upcoming trip to Honduras.

Monday, January 20th, 2014

s1e12: House and Home

Callie meets Rita Hendricks, a woman who works in the foster care system, and it's clear it will take Callie some time to adjust to Rita's no-nonsense guidance. Brandon comes clean about the reason Callie ran away and, unbeknownst to Stef and Lena, he sets out to track her down. Meanwhile, Mariana volunteers to help with the school play in order to impress a cute boy, but when she gets paired up with an old "friend," it could spell trouble. Jesus' meds are having concerning side effects, and he's desperate to find an alternative to taking the pills. Mike suggests he participate in contact sports to help relieve his aggression, and Jesus tries out for the wrestling team.

Monday, January 27th, 2014

s1e13: Things Unsaid

When Callie's probation officer learns of Callie and Brandon's relationship, it poses serious consequences for both teens. Stef and Lena are forced to take more severe measures to keep them apart. Meanwhile, Stef returns to work, leaving Lena riddled with anxiety. Jesus bonds with his wrestling team but Lena's reaction to a hazing tradition threatens to shake the hard-earned respect of his teammates. Kelsey's jealousy over Mariana's growing attraction to Chase leads Kelsey to expose some nasty secrets from Mariana's past. Fearing Callie's actions will get them both sent away from the Fosters' home, Jude makes preparations.

Monday, February 3rd, 2014

s1e14: Family Day

There are possibilities of someone being pregnant. She speaks with her gynecologist to know if she's still qualified to become pregnant. The issue here is that she hasn't spoken with her partner about it. Jesus tries to drop weight for wrestling, and he and Emma flirt with each other. Meanwhile, Rita opens up to Callie about her past: she cheated on her ex-husband.The Fosters visit Callie and learn she may not return with them. Callie shares a secret with one of her housemates, but events are turned upside down. Stef and Lena discuss with Jude about the option of adopting him without Callie. Stef and Lena are caught off guard by something Stef's dad Frank does.

Monday, February 10th, 2014

s1e15: Padre

Recent events bring up painful memories for Callie and Jude and make Callie question what is most important to her. Stef is flustered by a discovery about Lena and Mike is troubled by new developments in the shooting investigation. Meanwhile, Jesus' long distance relationship with Lexi is complicated by his growing bond with his wrestling teammate, Emma.

Monday, February 17th, 2014

s1e16: Us Against The World

Callie makes a life-changing leap in order to better her future and earn back the trust of her loved ones. Brandon makes a move of his own, much to Callie's disappointment. Stef is called to testify in Mike's case and is faced with a decision that could mean losing her job. Meanwhile, Jude unravels a mysterious message, and Mariana makes a bold move to win Chase's attention.

Monday, February 24th, 2014

s1e17: Kids in the Hall

Callie finds a way to use her photography skills for a good cause, but it unintentionally leads to trouble for someone she cares about. In an effort to clear his own conscience, Brandon makes a deal with an unscrupulous classmate and finds himself in over his head. Mariana deals with the unwelcome consequences of her stunt to earn Chase's affection, and tension comes to a head between Jesus and Emma during a wrestling match. Meanwhile, Stef and Lena contemplate another big step for their family.

Monday, March 3rd, 2014

s1e18: Escapes and Reversals

Jesus feels the pressure to make a difficult choice and his inability to focus poses a challenge during an important wrestling match. Callie suspects Brandon has gotten himself into a bad situation and struggles with the decision to protect him at the cost of another friend's reputation. Stef and Lena reveal a caveat to Callie and Jude's adoption and the siblings must decide whether they want to face their past or move on with their new lives. Mariana gets an unsettling glimpse into her friend Zac's home life when his mom shows up.

Monday, March 10th, 2014

s1e19: Don't Let Go

An encounter with her father leaves Callie conflicted about her future and worried about the effect the reunion will have on Jude. Meanwhile, Jesus struggles to maintain his focus at school without his ADHD medication, and Mariana gets an unexpected invitation from Zac's mom. Lena and Stef come to a major decision with the help of a good friend.

Monday, March 17th, 2014

s1e20: Metropolis

As the high school's Winter Ball approaches, Mariana and Jesus fret about dates and a surprise nomination for Winter Queen raises suspicions. Zac's mom shows up at school to talk to Lena. An old friend pays a visit to Callie wanting to make amends, and Brandon feels threatened. But a past mistake could cause Brandon to lose Callie for good. Ana returns with unsettling news for Stef.

Monday, March 24th, 2014

s1e21: Adoption Day

Stef and Mike are faced with the repercussions of a shocking revelation, and the fallout could destroy lives and relationships. Callie contemplates her upcoming adoption and Brandon's frustration leads him to make another regrettable decision. Mariana supports a friend with a difficult decision, and Jesus resolves to make a change for the better as he manages his ADHD. Jude gets asked out on a date.
Season 2
Monday, June 16th, 2014

s2e1: Things Unknown

it's a big day for Callie as her future with the Fosters hinges on the revelation that Donald is not her birth father. What happens next could threaten to separate Callie and Jude once again. Brandon struggles to recover and come to terms with his guilt over sleeping with Dani, and big questions still remain about what Mike was up to the night Ana disappeared. Meanwhile, Jesus and Emma's relationship impacts Emma's standing with her teammates, which causes tension between them. Mariana has made a big change, much to Stef's dismay.

Monday, June 23rd, 2014

s2e2: Take Me Out

Brandon contemplates a big decision that could either restore or destroy his dream of playing piano, but Stef and Lena find themselves on opposite ends of the debate. The Foster siblings plot to cheer Brandon up by taking him out to see a band and he butts heads with the sexy lead singer Lou. Meanwhile, Stef confronts Mike about his whereabouts the night Ana disappeared. A mysterious stranger keeps tabs on Callie, and Callie is faced with a choice that could further complicate her life. An encounter with Connor's dad creates a rift in Jude and Connor's friendship. And Jesus begins to feel threatened by Emma's independent spirit.

Monday, June 30th, 2014

s2e3: Play

Stef and Lena go on a babymoon, leaving Brandon and Callie in charge of the house. Brandon's bandmates pressure him into having a few friends over to hear their new sound, but when Mariana and Jesus find out, the night turns into an all-out rager. Determined to follow Stef and Lena's rules, Callie tries to police the party but fails miserably. Jude finds himself in an awkward game of spin the bottle. Meanwhile, Lena tries to reconnect with Stef, who is finding it hard to relax on their weekend getaway.

Monday, July 7th, 2014

s2e4: Say Something

Callie makes an important decision to address the hold-up in her adoption face on, but Jude may be more affected by her choice than he lets show. Things heat up between Callie and Wyatt, but Callie realizes she may not be emotionally ready to take the next step. Lena vies for the Principal's job at Anchor Beach, which causes some friction in her already rocky relationship with Timothy. When the dance team holds auditions for a new member, Mariana questions why she was chosen to join the team, and she doesn't like the answer.

Monday, July 14th, 2014

s2e5: Truth Be Told

Callie frets about the anxiety her recent decisions have caused Jude. Emma second-guesses her breakup with Jesus, putting him in an awkward position with a new love interest and with Mariana, who becomes unwillingly involved in his dilemma. Stef struggles with her suspicions about Mike and debates moving forward with her investigation into Ana's disappearance. When Brandon's bandmates take him on a hike for some "special" inspiration, Brandon opens up to an unexpected confidant about his past transgressions. And Callie's emotions get the better of her when things get hot and heavy with Wyatt.

Monday, July 21st, 2014

s2e6: Mother

Tragedy strikes the Fosters and they must look to each other for strength. Stef confronts Mike about Ana, and he comes clean about why he was at the halfway house the night of Ana's disappearance. Meanwhile, Wyatt seeks relationship advice from a very uncomfortable Brandon, and Mariana is still furious with Jesus for putting her in the middle of his girl problems.

Monday, July 28th, 2014

s2e7: The Longest Day

Lena supports Brandon as he unloads a long-held secret that could tear his family apart. Callie brings Jude for a visit with the Quinn family in the hopes that Jude will no longer feel so threatened by this other side of Callie's life. Meanwhile, Jesus is torn between feelings of guilt over his failed relationship with Emma and pressure to prove his loyalty to Hayley. Mariana's dance team prepares for an upcoming competition, and her insecurities threaten to get the best of her.

Monday, August 4th, 2014

s2e8: Girls Reunited

Callie pays a visit to Girls United to pitch in for Community Day and is surprised by new developments at her former foster group home. Paranoid neighbors are putting pressure on the home's landlord to kick the girls out, and a new resident has secrets that could jeopardize the safety of the entire group. Meanwhile, Mariana and Hayley plan to cook a romantic double-date dinner for Mat and Jesus. And Stef receives a concerning letter from Ana.

Monday, August 11th, 2014

s2e9: Leaky Faucets

The Foster kids attend a Mexican street festival, but the fun day takes a turn when emotions flare up. With help from Wyatt, Callie works to overcome her recent bout of panic attacks by learning to trust her instincts, but an encounter with someone from the past threatens to violently derail her progress. Mat surprises Mariana with a date at the festival and is confused when Mariana seems offended. Jesus tries to impress Hayley but she wants him to prove he's with her for more than just sex. Meanwhile, Mike and Ana make plans to right past wrongs.

Monday, August 18th, 2014

s2e10: TBA

Monday, January 19th, 2015

s2e12: Over Under

As Callie tries to wrap her head around Robert's change-of-heart, an ambulance shows up at the Quinn's house. Stef and Lena find themselves on opposite sides of several issues, including Lena's sudden decision to quit her job. Brandon is offered an opportunity to attend a prestigious summer music program. Mariana struggles when her dance team leader changes the lineup the day before the competition. Meanwhile, Jesus secretly attends Ana's AA meeting and is shocked by what he hears.

Monday, March 16th, 2015

s2e20: Not That Kind of Girl

Monday, March 9th, 2015

s2e19: Justify The Means

Stef confides in Lena and Callie about a plan that will make it possible for the Adams Fosters to adopt Callie, but she's not being fully honest about some of the steps she's taken to put the plan in motion. In turn, Lena hasn't been completely truthful with Stef about her conflicting emotions over expanding their family. Meanwhile, Brandon has an opportunity to pursue his dream of being a classical musician, but it could come at a price. Jude breaks the rules in order to be with Connor and faces dire consequences.

Monday, February 23rd, 2015

s2e17: The Silence She Keeps

Stef and Lena try and understand Callie's decision while Callie struggles to keep a secret. Lena gets caught in the middle when Monte and Timothy disagree over the school curriculum. Mariana uses a different approach to attract a top dancer to join her dance team.

Monday, March 23rd, 2015

s2e21: The End of the Beginning

Callie meets her grandfather, which gives her a new perspective on Robert. Meanwhile, Mariana gets ready for a crucial dance-team showdown; and Jude stands up for a friend.
Season 3
Monday, June 15th, 2015

s3e2: Father's Day

As part of their annual tradition, Stef and Lena have Mike over for Father's Day brunch. Jude surprises everyone, especially Callie, by inviting his biological father, Donald to join them. Callie spends Father's Day with the Quinns and hears some surprising news. Frustrated by his situation at Idyllwild, Brandon let's off some steam with his classmates.

Monday, June 22nd, 2015

s3e3: Déjà Vu

When the family takes a vested interest in AJ (guest star Tom Williamson, "Switched at Birth"), Callie has doubts about whether she can trust him. Stef surprises Lena with some news about Monte. Meanwhile, Jude has trouble moving on from the trauma of the shooting incident.

Monday, August 17th, 2015

s3e10: Lucky

Amid tensions in their own relationship, Stef and Lena host a 40th anniversary party for Lena's parents. Callie faces the judge who will determine the consequences of her actions, all while holding a secret that could change everything. Meanwhile, Mariana decides that she must find a way to repair her relationship with Mat.

Monday, February 15th, 2016

s3e14: Under Water

After Callie and Jude discover Jack is being abused by other boys in his group foster home, they turn to foster care advocate Justina to get him help. Jesus attempts to get to know Gabe at work even as Nick urges him to tell Gabe the truth about who he is. Meanwhile, Mariana is surprised when Nick asks her out.
Season 4
Monday, August 22nd, 2016

s4e9: New York

Brandon travels to New York City for his Julliard audition and meets a girl who forces him to take a hard look at his life, including his relationship with Cortney. Meanwhile, Stef and Lena make an unexpected announcement that leaves the family in shock. And Callie's friendship with Aaron causes friction between her and AJ.

Monday, August 29th, 2016

s4e10: Collateral Damage