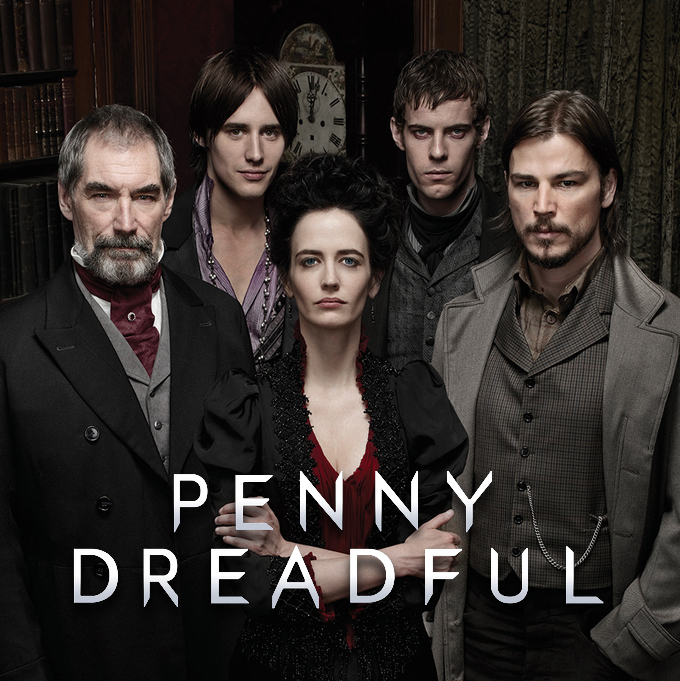 Season 0
Friday, April 4th, 2014

s0e1: Behind the Scenes

Behind the scenes preview from the official Youtube channel.

Friday, May 9th, 2014

s0e2: Inside

An inside look at "Penny Dreadful."
Season 1
Sunday, May 11th, 2014

s1e1: Night Work

London 1891. As the police investigate a series of gruesome murders, renowned explorer Sir Malcolm Murray and the strangely beautiful Vanessa Ives know there's something darker at play. In search of someone close to them who has been lost, they recruit American sharp-shooter Ethan Chandler and Dr. Victor Frankenstein to help them on their journey.

Sunday, May 18th, 2014

s1e2: Séance

In pursuit of answers, Vanessa and Sir Malcolm attend a party at Egyptologist Sir Ferdinand Lyle's home where they encounter the mysteriously beautiful Dorian Gray. The party takes a turn, however, when renowned medium Madame Kali hosts a séance. Meanwhile, Ethan befriends Ms. Brona Croft, a young Irish immigrant

Sunday, May 25th, 2014

s1e3: Resurrection

Dr. Frankenstein is confronted by the consequences of his past. Vanessa has a vision of Mina, which leads her, Sir Malcolm, Ethan and Sembene to a strange discovery at the London Zoo.

Sunday, June 1st, 2014

s1e4: Demimonde

Vanessa's infatuation with Dorian Gray continues to grow. Professor Abraham Van Helsing is hired to work with Dr. Frankenstein. And Fenton draws his master to Sir Malcolm's mansion.

Sunday, June 8th, 2014

s1e5: Closer Than Sisters

Vanessa recalls her past and the events that ultimately lead to Mina's disappearance.

Sunday, June 15th, 2014

s1e6: What Death Can Join Together

Vanessa's latest vision leads Sir Malcolm, Ethan and Sembene to explore a plague ship in search of Mina. Meanwhile, Van Helsing reveals to Dr. Frankenstein more details about the creature that has taken Mina. Later, Vanessa's night with Dorian unlocks something dark within her.

Sunday, June 22nd, 2014

s1e7: Possession

Sir Malcolm, Ethan and Sembene must deal with the aftermath of Vanessa's night of passion with Dorian, when she is possessed by the demon that haunts them... and who has ties to the Master who controls Mina.

Sunday, June 29th, 2014

s1e8: Grand Guignol

After a vision of the Grand Guignol, Vanessa, Sir Malcolm, Ethan, Dr. Frankenstein and Sembene explore an empty theater - only to be confronted by their worst nightmares.
Season 2
Sunday, May 3rd, 2015

s2e1: Fresh Hell

Vanessa Ives is barraged by an onslaught of disturbing occult images brought on by the mysterious Evelyn Poole. Because of the massacre he committed in the Mariner's Inn, Ethan Chandler decides to leave London. Under pressure from The Creature, Dr. Frankenstein works to bring Brona back to life. After Mina's funeral, Sir Malcolm returns to London to discover that a whole new evil is hunting Vanessa.

Sunday, May 31st, 2015

s2e5: Above the Vaulted Sky

Hecate returns to her mother with a gift; Evelyn works on a new totem; the mansion is attacked; the Creature grows impatient with Frankenstein; Rusk interrogates Ethan; Vanessa and the Creature's friendship deepens; Angelique is humiliated while out with Dorian.

Sunday, May 10th, 2015

s2e2: Verbis Diablo

Haunted by the witches, Vanessa seeks solace from Sir Malcolm. Scotland Yard Inspector Rusk searches for the sole survivor of the Mariner's Inn Massacre. Evelyn Poole enchants Sir Malcolm. Dr. Frankenstein gives the re-born Brona a new identity. The Creature gets a new job. Dorian Gray meets an intriguing woman with a secret. Ferdinand Lyle reveals the disturbing backstory of the Verbis Diablo. Evelyn's daughter, Hecate, hunts down a prize for her mother.

Sunday, June 7th, 2015

s2e6: Glorious Horrors

Vanessa and Ethan give Sir Malcolm tragic news; Lavinia Putney is disturbed by an encounter with the Creature; Roper hunts down Ethan; Dorian hosts a lavish ball in Angelique's honor; a glorious night turns to horror for Vanessa.

Sunday, June 14th, 2015

s2e7: Little Scorpion

Not feeling safe in London, Vanessa and Ethan flee to the Cut-Wife's cottage on the lonely moors. While there, Vanessa and Ethan settle into a domestic life as they draw closer together until a figure from her dark past resurfaces. Meanwhile back in London, Lyle and Frankenstein uncover even more disturbing information from the Verbis Diablo relics. We soon discover that Lily isn't what she appears to be.

not specified

s2e8:

Sunday, June 28th, 2015

s2e9: And Hell Itself My Only Foe

Back in London, Vanessa and Ethan learn that Sir Malcolm is in danger. Desperate to save him, Vanessa goes alone to battle Evelyn. Ethan heads out to Evelyn's mansion with Frankenstein, Sembene and Lyle. Lily reveals her true self to Dorian.

Sunday, July 5th, 2015

s2e10: And They Were Enemies

Vanessa has to use all of her strength to try and defeat the demon.

Sunday, May 17th, 2015

s2e3: The Nightcomers

In a flashback, Vanessa meets The Cut-Wife, who teaches her how to harness her powers. Isolated at her lonely cottage on the moors, The Cut-Wife quickly realizes the extent of Vanessa's powers and warns her of the danger that lies ahead and the evil that pursues her.

Sunday, May 24th, 2015

s2e4: Evil Spirits in Heavenly Places

Lyle reveals that the Verbis Diablo relics tell a very dark and disturbing story that affects Vanessa; Rusk interviews the survivor of the attack at the Mariner's Inn; Hecate tries to get closer to Ethan; Angelique and Dorian's romance grows. Back at Sir Malcolm's mansion, Vanessa, Ethan, Sir Malcolm, Sembene and Lyle carry on their evening as something evil lurks within, ready to strike.
Season 3
Sunday, May 1st, 2016

s3e1: The Day Tennyson Died

Feeling abandoned and alienated by her faith, a shattered and despondent Vanessa seeks the help of Dr. Seward, an American therapist who has an unconventional way of treatment. Meanwhile, now a prisoner under the watchful eye of Scotland Yard Inspector Rusk, Ethan Chandler is on a train speeding through the desert of the American West. Halfway around the world, in Zanzibar, Sir Malcolm is confronted by a mysterious Native American man named Kaetenay who shares a deep connection with Ethan. Back in London, Dr. Frankenstein seeks out his old friend Dr. Jekyll. With all of her friends scattered around the world facing their own demons, Vanessa is left alone to battle a new evil that has emerged from the shadows.

Sunday, May 8th, 2016

s3e2: Predators Far and Near

Lily and Dorian rescue a young woman. Sir Malcolm continues on his journey with the enigmatic Kaetenay. Meanwhile, Ethan gets some unexpected help from Hecate. Dr. Frankenstein and Dr. Jekyll hatch a plan. Vanessa's relationship with Dr. Sweet grows but, unbeknownst to her, evil forces are tracking her every move.

Sunday, May 22nd, 2016

s3e4: A Blade of Grass

Vanessa convinces Dr. Seward to use hypnosis to take her back in time, and discovers what really happened to her during her time at the Banning Institute.

Sunday, May 29th, 2016

s3e5: This World Is Our Hell

Hecate and Ethan travel across the desert, struggling to survive, while the marshals follow them and Malcolm and Kaetenay follow the marshals. In London, Victor and Henry continue their experiments to perfect Henry's serum.
Season 0
Tuesday, May 20th, 2014

s0e3: Behind Episode 2: The Séance
Season 3
Sunday, June 5th, 2016

s3e6: No Beast So Fierce

Vanessa turns to an old friend for help, who introduces her to a new ally. Jared has dinner with Ethan, Hecate, Malcolm, Rusk, and Oslow, and invites his son Ethan to do his worse. Meanwhile, Vanessa takes Seward's advice and forms a closer bond with Sweet, while Victor pays Lily and Dorian a visit.

Sunday, June 12th, 2016

s3e7: Ebb Tide

Kaetenay returns to London with Ethan and Malcolm to prevent the darkness that he has foreseen. Meanwhile, Vanessa realizes who Sweet really is, while Caliban is reunited with his family. Elsewhere, Dorian grows bored with Lily's revolution and makes his own plans.

Sunday, June 19th, 2016

s3e9: The Blessed Dark

Season finale. Ethan learns the shocking truth about Kaetenay. Dr. Seward uses hypnosis on Renfield. Meanwhile, The Creature must make a moral decision as Sir Malcolm, Ethan, Kaetenay, Dr. Seward and Catriona battle to save Vanessa.

Sunday, June 19th, 2016

s3e8: Perpetual Night

Ethan, Sir Malcolm and Kaetenay return to London. Dr. Seward discovers Renfield's secret. Meanwhile, Ethan heads out in search of Dr. Frankenstein. And Lily reveals a heartbreaking story from Brona Croft's past.