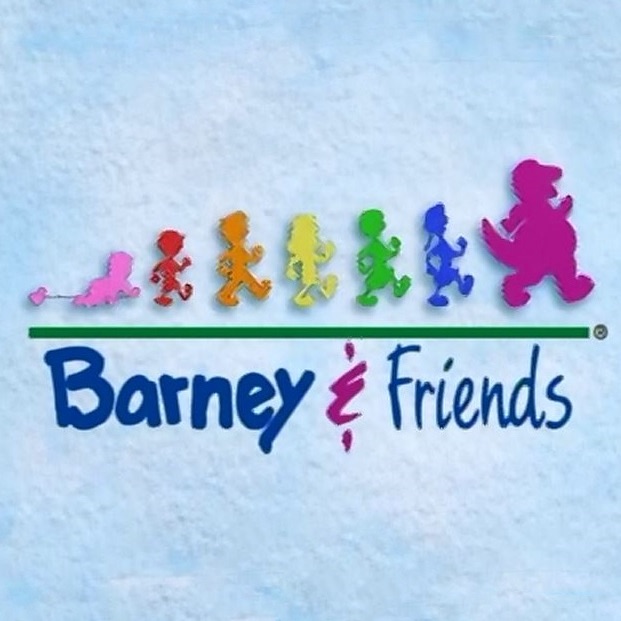 Season 0
Tuesday, September 14th, 2004

s0e1: Barney Colorful World Live

Barney™ has your ticket to adventure as he brings the magic of his colorful stage show to video. Join the purple dino-star and his co-stars, Baby Bop™ and BJ™, as they visit exciting places and make new friends, including a tap-dancing monkey, an ice-skating polar bear and a starfish who sings rock and roll! Imagine flying to a rain forest, dancing with penguins in the Arctic, and exploring the colorful world under the sea. Sing and dance along with Barney on a magical, musical trip around our colorful world! Approx. Run Time: 189 minutes (including bonus features)

Tuesday, July 13th, 2004

s0e2: Barney Now I Know My ABCs

Kids everywhere flock to Barney for fun, dancing, and learning, which makes him the perfect accompaniment for your child as he or she begins to learn to read and spell. Baby Bop is so excited to be able to write her name, and the kids are planning an art show of all the brightest hues, using their imaginations to learn about shapes and colors. Baby Bop is keeping everyone guessing as to what she will draw that's shaped like a rectangle: it's soft, yellow, and friendly for sure! songs included on the DVD are "Mister Sun," "Alphabet Soup," "Mix a Color," and of course, "I Love You!"

Tuesday, September 7th, 2004

s0e3: Barney Red Yellow and Blue

Barney and his friends from the Backyard Gang learn about colors in this episode from the popular series. Sarah, Mario, and Tony separate things into piles of red, yellow, and blue. When they realize they don't have enough yellow things, Miss Jo gives them the picture she painted of a yellow flower. Meanwhile, Sarah adds to the collection with some crepe paper flowers.

Tuesday, January 7th, 2003

s0e4: Barney Songs from the Park

Barneys new park is a great place to play! and its a great place to sing & dance. Barney & his friends can always find something to sing about - from picnics to playgrounds to parrades. So tune up & tune in for a musical tour of barneys park - its something to sing about!

not specified

s0e5: Barney's Dino Dancin' Tunes

not specified

s0e6: Barney's Musical Scrapbook

not specified

s0e7: Barney's Numbers! Numbers!

Tuesday, April 30th, 2002

s0e8: Barney's Beach Party

Barney and friends take a fun-filled and educational trip to Hawaii. Sail-boating, kite-flying, shell-hunting, learning to build sandcastles, and an underwater ride in a submarine are all a part of this exciting day on the beach. Children will also learn about marine life, health and safety tips, and they'll be taught how to hula dance. Of course, singing plays a big role in this day at the beach. Barney and friends sing 14 songs including, "Rain, Rain, Go Away," "Colors All Around," "If I Lived Under The Sea," "Barney's Hula Dance," and many more.

Sunday, May 1st, 2005

s0e9: Barney's Let's Go To The Farm

Come join Barney, Baby Bop and BJ as they take their friends on a fun-filled adventure to a farm. Everyone's favorite big purple dinosaur takes his little friends on an exciting trip to the farm. Barney, Baby Bop, and BJ go exploring to see what farm life is all about. They learn all about the fresh seasonal produce the farmers grow, and even get to play with baby animals! Homemade ice cream, summer sunshine, and a chance to explore the barn make this one spectacular day, and to top it off, Barney and friends sing no less than 17 fabulous songs that kids will love to sing along with.

Tuesday, August 30th, 2005

s0e10: Barney's Land of make believe

The imagination runs wild when Barney and his friends BJ and Baby Bop travel to the Land of Make Believe. There, they encounter a little storybook princess with a big problem: she can't find her way back to her kingdom! The friendly purple dinosaur and his pals undertake to help her, and along the way they meet a beautiful mermaid, swim with the dolphins, and get to know a magician. But as much fun as they are having, the poor Princess still has to make it home, and Barney and his friends must find their way back as well. Will all the new friends be able to make it to their respective destinations? The possibilities are limited only by the imagination!

Tuesday, September 22nd, 2009

s0e11: Barney's Fun on Wheels

Barney the big purple dinosaur and his new friend Pop Wheely have a blast teaching their fun-loving pals BJ and Baby Bop about bikes, buses, boats, and other things that "go" in this collection of transportation-themed episodes.

Tuesday, March 4th, 2008

s0e12: Barney's Animal ABCs

Barney and his animal pals team up to teach youngsters how fun learning the alphabet can be with this collection of sing-a-long, educational activities.

Tuesday, April 8th, 2003

s0e13: Barney's Read with me dance with me

Barney's friends are holding a book drive in the park, and every time they open a book, a new tale begins! Reading helps their imaginations grow and inspires the kids to build a make-believe rocket, put on a circus and create their own books. Happy Dancing' Feet: When the dinos' old friend Min dances onto the scene, Barney and the kids show off their talents, moving and grooving to jazz, hip-hop and country music. Bj's favorite is the dino-dance! And even though he thinks ballet is for girls, Bj finally agrees to dance with Baby Bop. They are 'tutu" cute, and Bj discovers that all kinds of dancing are fun.

Monday, March 1st, 2004

s0e14: Barney's Marvellous manners

Barney and chums learn all about minding their manners and how to be polite.

Tuesday, March 9th, 2004

s0e15: Barney's Movin' and Grovin'

Barney and his friends are movin' and groovin' to the beat of the music! As they learn about rhythm and create their own musical instruments, Barney leads the band with a rat-a-tat-tat and a rooty-toot-toot. And they discover there are lots of ways to get a move on as they do the Baby Bop Hop and the Dino Dance. Then, after wiggling through a game of Simon says, they're off to the races. Barney's friends discover the fun of movement while making beautiful music together!

Tuesday, March 9th, 2004

s0e16: Barney's Adventure Bus

Hop aboard and get ready for the ride of your life as bus driver Barney takes the whole gang to some of their favorite imaginary destinations. First stop, a castle just for Brett where he can rule in the land of make believe. Then, it's back on the bus and on to Barney's Purple Pepperoni Pizzeria. Then, after a rootin', tootin' ride into the Old West for Keesha, followed by a stop at the circus for Baby Bop, it's BJ's turn for adventure. And with a little help from Barney, he soon becomes a one-man, or rather one-dino band. So climb on board and grab a seat. It's mile after mile of fun on Barney's Adventure Bus.

not specified

s0e17: Come On Over to Barney's House

See Barney's House for the first time ever and share the fun with a houseful of his guests. At Barney's house, imagination can make anything happen at any time. That's why BJ, Baby Bop and some of their young friends are treated to surprising inventions, rock n roll singing birds, a web-surfing mouse, storybook visitors, and much more!

Monday, February 14th, 2000

s0e18: Be My Valentine, Love Barney

It's Valentine's Day and the kids are making valentine boxes. A mysterious card arrives in Barney's valentine box, which he explains is from the Queen of Hearts. With a little imagination, Barney and his friends head off to visit her castle. They meet the Queen of Hearts and explore the castle. From making cookies and watching butterflies to making silly rhymes, there's fun in every corner. There's even a surprise Valentine's Day party organized by the Queen of Hearts, where B.J. and Baby Bop meet up with the others. The group gets dressed up nicely and they have loads of fun. Barney and the kids give a card they made to the Queen of Hearts, which she enjoys. Back at the Treehouse, Barney gives the kids Valentines cards.

not specified

s0e19: We Love Our Family

All we need is love from our family and friends – and, of course, Barney! Discover the joys and laughter that moms, grandparents and cousins can bring in this collection full of unforgettable moments of warmth and togetherness the whole family will cherish!

not specified

s0e20: Easy as ABC

not specified

s0e21: Let's Make Music

not specified

s0e22: Lets Go To The Zoo

Tuesday, September 15th, 2009

s0e23: Jungle Friends

Grab your safari hat and get ready for a one-of-a-kind musical jungle adventure! Join your best friends, Barney, BJ™ , and Baby Bop™ as they laugh, dance, and sing through an enchanted rainforest and learn about all of the amazing plants, animals, and insects that call the rainforest their home. Watch and learn as kids play with monkeys, collect butterflies, and search for the legendary Higgledy Piggledy Pear Tree in this super-dee-duper™ tale of friendship and fun!

Tuesday, December 16th, 2003

s0e24: Happy Mad Silly Sad

Love makes Barney's world go 'round, and the huggable dinosaur encourages his friends to express and understand their emotions in healthy ways. From creating masks to decorating a "Friends & Family Tree" with hearts, Barney uses fun songs and games to help his friends get in touch with their feelings. And he reminds them than manners, sharing and taking turns are great ways to show you care about others. It's always a happy day of fun and learning when you spend it with Barney and his friends.

not specified

s0e25: Songs From the Park

not specified

s0e26: Super Singing Circus

not specified

s0e27: Round and Round We Go

not specified

s0e28: Come on over to Barney's house

not specified

s0e29: Barney's Night Before Christmas

Join Barney and his friends as they are greeted as special guests at Santa's toy workshop.

Tuesday, September 14th, 2010

s0e30: A Counting We Will Go

Two, four, six, eight, Barney wants to celebrate! While playing a game of Hide and Seek in the park, Baby Bop realizes that she can't be the one to count to ten because she doesn't know how - so Barney and the kids jump right in to help her.

not specified

s0e31: Shapes and Colors All Around

Tuesday, January 12th, 1999

s0e32: Sing and Dance with Barney

The kids get a mysterious invitation for a party and later find out it was from Barney. He plans a sing-along for all his friends.

not specified

s0e33: 123 Learn

not specified

s0e34: Barney's Best Fairy Tales

not specified

s0e35: I Can Do It

Tuesday, March 15th, 2011

s0e36: Barney's Mother Goose Collection

Come along with Barney™, Baby Bop™ and BJ™ on a magical and music-filled journey into the land of Mother Goose. Join the fun and sing along as classic nursery rhymes like Hickory Dickory Dock, Humpty Dumpty, London Bridge and more come to life!

not specified

s0e37: Barney's Big World Adventure: The Movie

Tuesday, December 13th, 2005

s0e39: Barney Can You Sing That Song

It's time to play Barney's Musical Game Show, with your host, Barney the purple dinosaur. Join Barney, Baby Bop, BJ, and a fixed audience, as they sing, dance, learn, and see if they can sing those songs!

not specified

s0e40: It's Time for Counting

not specified

s0e41: Barney In Outer Space

not specified

s0e78: Barney Hi I'm Riff

Tuesday, July 8th, 1997

s0e79: Camp WannaRunnaRound

After a forest ranger visits the school, Stephen decides he wants to become one too, but there's one big problem: Stephen has never visited a forest before. With a little imagination, Barney whisks Stephen and his friends, Hannah, Kim, and Chip, to Camp WannaRunnaRound for a hiking, camping, Super-Dee-Duper adventure!

Saturday, January 6th, 1990

s0e80: Waiting for Santa

Barney and the kids travel to the North Pole to assure new-friend Derek that his name is on Santa's good list. They frolic on ice, play in the snow, and learn that giving things to others is what Christmas is all about.

Tuesday, October 30th, 2001

s0e81: Pajama Party

Put on your PJs and brush your teeth, because it's time to go to a pajama party hosted by one of your best friends! So cuddle up close and get ready for a night full of musical memories courtesy of Barney the Dinosaur. There's pizza, popcorn and plent of your all-time favorite songs. You'll sing the night away as you enjoy moments from classic Barney videos. And some special friends might just drop by, too ... like Riders in the Sky and BJ and Baby Bop. So be sure to invite all your pals and don't forget to grab you teddy bear, Barney's Pajama Party is about to begin.

Tuesday, July 10th, 2012

s0e82: All About Opposites

There's non-stop fun as Barney and his friends learn all about opposites! Everyone helps Baby Bop understand concepts like up & down, in & out and high & low. Hey Diddle Diddle, the kids see that they can be big or little, but it's what's inside that counts! Then join in as Barney and his friends have a cool time on a hot day in a pretend winter-summer wonderland learning about hot and cold! There's always Tee-rrific teaching and fun when big dinos and small friends are around!

Tuesday, May 16th, 2000

s0e83: Barney's Super Singing Circus

Barney's Super-dee-duper Singing Circus has arrived! And it's got everything children want to see: a marching band, a carful of silly clowns, a flying squirrel on a trapeze, prancing ponies, a lion tamer, whistling wiener-dogs, a strongman that can lift Ringmaster Barney high over his head and more.

Tuesday, July 14th, 2009

s0e84: Barney Book Fair

Barney's friends are holding a book drive in the park, and every time they open a book, a new tale begins! Reading helps their imaginations grow and inspires them to build a make-believe rocket, put on a circus, and create their own books!

Sunday, March 2nd, 2014

s0e85: Let's Go to the Beach

Barney, BJ, and Baby Bop take a trip to the seaside. The dinosaur friends have fun on the sandy shores as they fly kites, windsurf, and take a ride in a sailboat.

Tuesday, May 19th, 2009

s0e86: Barney Lets Go on Vacation

Pack your bags with Barney for a vacation filled with musical adventure. The trip turns into a singing and dancing celebration of the differences and similarities between cultures.

not specified

s0e87: Good Day, Good Night

Tuesday, May 4th, 1999

s0e88: Walk Around The Block With Barney

It's another fun-filled day as Barney and the children make visits to some of the local businesses including Cannoli's Bakery, Bouffant's Barber Shop, Miss Marigold's Flower Shop, the PB&J Cafe, and Green's Grocery. They meet many different people and discover the places which make up a neighborhood. With Barney, children will learn that the people who live next door can be more than just neighbors, they can be friends. Meanwhile, BJ and Baby Bop wait for a surprise from Deborah the delivery lady.

Tuesday, March 9th, 1999

s0e89: What A World We Share

After Stella the Storyteller leaves her suitcase in the tree house, Barney and the kids travel to France, Canada, and Mexico to find her. Meanwhile, Baby Bop and BJ fight over who gets to use the box.

Tuesday, November 5th, 1996

s0e90: Barney's Once Upon A Time

While visiting the show, Stella the Storyteller's suitcase of props explodes, and Barney and the kids help repack it. But while giving assistance, they also use the props to tell classic stories: Rumpelstiltskin, Rapunzel, and more. This enjoyable installment in the Barney library may very likely be the place some child viewers will hear these stories for the first time.

Tuesday, March 13th, 2007

s0e91: Let's Go To The Fire House

The movie starts out with firefighters being summoned to help a woman whose foot is stuck. But when they get her inside the ambulance, Chief Arnett realizes that their mascot/rescue dog Scout has disappeared. A few days later, Barney and his friends honor the courage and caring of these everyday heroes. The adventure begins in the park, as Barney helps the children imagine what they'll be when they grow up. BJ finds a dog (who is really Scout, the missing rescue dog), and while Barney tries to explain that the dog may have a home, BJ doesn't want to listen to Barney's advice. A smoke alarm goes off in the caboose, and firefighters rush to the park. Fortunately, it's a false alarm, caused by one of Riff's inventions. Baby Bop wants to know, "What makes a hero?" and BJ is surprised to learn that "his" dog may be the firehouse mascot and a working rescue dog. After an action-packed visit to the firehouse, Baby Bop understands what being a hero means - and she's found one more hero to honor....her big brother, BJ.

Tuesday, July 27th, 1999

s0e92: Let's Play School

After hearing all sorts of fun the children have in school, Baby Bop wishes she could go to school too. So, with a little imagination, Barney creates a school just for Baby Bop and it is full of surprises!

not specified

s0e93: A Very Merry Christmas

Barney and the children are decorating the caboose for Christmas. Barney explains the concept of "Snowflake Buddies", in which one chooses a paper snowflake, and gives the person who's name is written on the snowflake a gift. Baby Bop then arrives with a long Christmas wish-list, so Barney and the children explain to her that Christmas is also about giving. Later, the group decides to write Christmas cards to their friends, as well as Santa Claus. After this, they play out the story of "The Nutcracker".

Tuesday, March 6th, 2001

s0e94: Barney's Musical Castle

A magical sign leads Barney and his friends to an enchanted forest. Along the way, they find a lost crown that belongs to the king. Following the sign to the castle, Barney and his friends return the crown to the king. Filming Location: Rosemont Theatre- Rosemont, Illinois

Tuesday, November 7th, 1995

s0e95: Barney Songs

Barney Songs is a Barney Clip Show released on November 7, 1995. It is a clip show of Season 3 episodes

Tuesday, May 19th, 1998

s0e96: Barney's Big Surprise

Barney's Big Surprise! was Barney's first national stage show tour and his third stage show overall (following Barney in Concert, and Barney Live! In New York City). It toured in the United States, Canada, Mexico, and the United Kingdom originally from 1996. It was also performed in Asia in 2004, in Argentina in 2006, and in Brazil in 2007. Filmed at Lawrence Joel Veterans Memorial Colisseum- Winston-Salem, North Carolina

Tuesday, August 18th, 1998

s0e97: Barney's Halloween Party

It's Halloween and Barney and the kids are decorating the gym for an exciting party at the school. From Indian corn to smiling jack-o-lanterns, the gym is aglow with the colors of fall. Meanwhile, BJ and Baby Bop are putting the final touches on their costumes as they get ready for a fun-filled night of trick-or-treating. Finally, evening arrives, the party begins, and the trick-or-treaters set out to search for goodies. Unfortunately, after a full night of trying, BJ comes up just a bit empty-handed. But when he and Baby Bop return to school, they soon find out that their friends have plenty of goodies and surprises waiting for them. Sometimes, the best treats at Halloween are good friends.

Tuesday, October 22nd, 2002

s0e98: Barney's Christmas Star

Barney and pals search for a missing Christmas tree's star

Tuesday, December 28th, 1999

s0e99: More Barney Songs

BJ and Baby Bop help Barney clean out his messy closet. While cleaning, they find lots of certain things that remind them of the fun times they shared with all their friends.

Sunday, April 24th, 1994

s0e100: Imagination Island

Barney and pals are stranded on Imagination Island after a storm ruins their ship

Tuesday, August 6th, 1996

s0e101: 1-2-3-4 Seasons

BJ experiences all four seasons in one day

Friday, September 11th, 2009

s0e102: Barney's Sharing Is Caring

Celebrate a day of giving with Barney! A toy drive inspires Barney and his friends to donate their old toys and learn the joy of sharing. Through magical storytelling and super-Dino surprises, Barney helps his gang discover that generosity brings a smile to everyone's face. Baby Bop™, BJ™, and the rest of your pals can't wait for you to take part in the warm-hearted fun. You'll have a ball as you learn that friendship and sharing go hand in hand!

Tuesday, July 27th, 2010

s0e103: Barney's Furry Friends

Join Barney and his friends for some tail-wagging adventures, as they have a purr-fectly wonderful time with pets! Learn how to care for your favorite furry friends, from helpful guide dogs to stunning show dogs and all different kinds of cats. You're sure to have a doggone good time with Baby Bop™, BJ™ and everyone's favorite fun-loving dinosaur, Barney!

Tuesday, March 10th, 2009

s0e104: Barney's Top 20 Countdown

Barney sings twenty of his favorite songs with an audience.

Saturday, January 4th, 2014

s0e105: Happy Birthday Barney

Every day with Barney is fun -- but today is stuuu-pendously special: it's Barney's birthday! His friends decide to throw a party and BJ and Baby Bop arrive with party supplies to help prepare for the festivities. Jackson is inspired by their assortment of handmade presents and hurries home in search of a very "special" gift for Barney. While waiting for his return, they play party games, sing songs and open presents

Saturday, January 12th, 2008

s0e106: Barney Christmas Time

Christmas With Barney

not specified

s0e107: Celebrating Around the World
Season 1
Monday, April 6th, 1992

s1e2: The Queen of Make-Believe

It looks like rain. But Min has decided to become the Queen Of Make-Believe. Suddenly, it looks like lots of fun! With Barney leading his Friends on a romp of games, songs and activities. They put on a pretend tea-party, build a robot with boxes, they even create some special "stretching exercises" for the imagination. Pretending, make-believing or imagining- children learn it's always called fun.

Tuesday, April 7th, 1992

s1e3: My Family's Just Right for Me

It's the eve of "Family Night" at school. A super time for Barney & Friends to celebrate all those wonderful folks (and even pets!) at home. With paintings, books, songs, and dances. There's just one glitch to the gala; Kathy's not sure her "small" family measures up. It's just her Mom, her grandmother and herself. But after Barney gets through with his fun and games, the children realize that a family is defined by love, not by size.

Wednesday, April 8th, 1992

s1e4: Playing It Safe

Barney and his friends learn some fun lessons about "playing it safe." The kids create cardboard-box cars to teach the rules about seatbelt use and crossing the street safely. To teach Baby Bop about strangers, a classroom version of Little Red Riding Hood is performed. Great music and special lyrics help reinforce the safety lessons. When Barney stumbles on a toy, the children learn that safety begins at home!

Thursday, April 9th, 1992

s1e5: Hop to It!

When Tina and Luci are playing basketball, Tina is disappointed when she can't play as well as her older sister or the other big kids. Barney stops by to show Tina all the great things she can do with exercise. Barney and the kids play games and sing songs about exercise and find out how fun it is to learn about their bodies. With new found energy and confidence, Tina ends up playing basketball as well as the others.

Friday, April 10th, 1992

s1e6: Eat, Drink and Be Healthy!

Barney and his friends discover they have plenty of "food for thought" as they learn about nutrition. Discovering the four food groups and the importance of eating healthy snacks allows Barney, Baby Bop and their friends to have fun together. An imaginative rhyming story tells about the perils of being a picky eater. A friend of Barney's sings a humorous song about meals that would "bug" most diners. Special songs and lyrics reinforce the lesson that eating healthy foods is the right thing to do.

Monday, April 13th, 1992

s1e7: Four Seasons Day

Talk about the weather! The kids do much more than that as Barney squeezes all four seasons into one rollicking make-believe holiday. You won't believe how much fun you can have celebrating the wind, rain, and the snow. There's a barrel-full of songs about Spring's showers, Summer's warmth, Fall's leaves, and Winter's chill.

Tuesday, April 14th, 1992

s1e8: The Treasure of Rainbow Bend

After the kids and Barney enjoy reading a scary pirate book, the book's character, Rainbow Beard, appears and gives them a treasure map of their own to solve. In order to find the treasure, the group must learn a variety of songs and games about colors and shapes. When they finally find the treasure the kids get a big surprise and learn a valuable lesson about sharing with others.

Wednesday, April 15th, 1992

s1e9: Going Places!

After Luci and Tina leave for a plane trip to their grandmother's house, the other kids wish they could travel too. Barney drops by and takes them for a trip on "Barney Airlines, Destination: Imagination City!" Once in "Imagination City," the group envisions a variety of sights to see and all the many fun ways of getting there: a car, a camel, a hot air balloon, and even just by walking.

Thursday, April 16th, 1992

s1e10: Caring Means Sharing

Barney is a very large dinosaur--but there may not be enough of him to go around when Min and Kathy quarrel over whose turn it is to play with their big purple pal. Coming from a big family, Min is tired of sharing--but joins her friends in an exploration of ways to share fun and work. Baby Bop learns a lesson about being greedy; a puppet show of "The Little Red Hen" teaches that rewards and responsibilities are linked. And Barney has a magic gift for Min to help change her mind about sharing!

Friday, April 17th, 1992

s1e11: Down on Barney's Farm

The kid's learn and draw pictures of farm animals, but Shawn is unhappy with his drawing when no one knows what it is. Barney pops in to cheer him up and show the children an imaginary farm firsthand. Barney's friend, Farmer Henderson, shows the kids all types of farm animals and Barney teaches Shawn that the beauty of classroom art is in the eye of the beholder!

Monday, April 20th, 1992

s1e12: What's That Shadow?

A sudden thunderstorm chases the kids into the classroom, where they are frightened by the rain, thunder and lightning. Barney arrives and tells them how to use positive thoughts to change their fears into fun. The kids make silly monster artwork, and then pretend they are funny, friendly monsters. Barney also helps Shawn overcome his fear of dogs when he meets Min's canine friend, Molly.

Tuesday, April 21st, 1992

s1e13: Happy Birthday, Barney!

It's Barney birthday and everyone is excited about throwing him the best party ever, using classroom materials and their imagination! Barney teaches his friends about birthday customs around the world and that receiving gifts is not the most important part of birthdays.

Wednesday, April 22nd, 1992

s1e14: Alphabet Soup!

When Barney arrives to play with his friends, Derek, plays "alphabet fun" by spelling a "mystery word" a letter at a time. The group plays games and sings songs related to each letter of the mystery word. Rhyming words, making alphabet soup, walking through the alphabet, and seeing how, many letters they can make with their bodies, gives the children many chances to play with letters and words. Children learn that having fun with letters and words and learning the alphabet are the first steps to reading.

Thursday, April 23rd, 1992

s1e15: Our Earth, Our Home

The school's "Earth Week" has Barney and his friends all abuzz about things they can do to protect the earth. Through fun-filled songs, the children learn the importance of recycling... how to make new things out of old...how to conserve water, air and land clean. The children form a "trashcan" band performing a silly symphony song and do a skit about Johny Appleseed. Sharing and caring for the earth become a "fun thing" to do.

Friday, April 24th, 1992

s1e16: Let's Help Mother Goose!

Mother Goose needs help! A bookworm has eaten the pages from her book of nursery rhymes, and Barney & Friends must help her remember the missing rhymes! Songs, dances, puzzles and puppets showcase more than 20 favorite rhymes...and Barney's friends learn how much fun a book can be!

Monday, April 27th, 1992

s1e17: Be a Friend

Barney finds Tosha, a new girl at school, lonely and without friends. He introduces her to Michael, Derek, and Kathy. Together, they learn why doing things with friends is much more fun than being alone. At the same time, Derek and Michael must learn the true meaning of friendship and sharing when they cannot agree on who should get possession of a picture they made together.

Tuesday, April 28th, 1992

s1e18: I Just Love Bugs!

Barney & Friends are really "going buggy" as they discover the world of bugs and insects around us. Tina gains confidence being a girl who likes bugs. Michael shares a story about ants and teaches his friends about good work habits. Stories and songs introduce other bugs and insects...and a surprising visitor "drops in" on Little Miss Muffet, to teach a lesson about accepting others who are different.

Wednesday, April 29th, 1992

s1e19: When I Grow Up…

Getting big is a big responsibility--and Shawn and the other kids are worried about doing a grown-up job. Barney guides his friends through the many careers there are to choose from, and shows how many jobs are linked to activities children are already familiar with. The children discover all jobs are important and begin to learn the concept of

Thursday, April 30th, 1992

s1e20: 1-2-3-4-5 Senses!

Luci introduces her new friend, Patty (who is visually impaired), to Barney, Michael, Tina and Kathy. Patty comments that a beautiful day can be experienced through more of one's senses than just sight. Michael's class is studying the five senses, which leads to fun songs and activities related to each of them. Perhaps most important, Patty shows the group that a child with blindness can do many things for him/herself and play right along with the others. Patty teaches the kids a rhyme and its corresponding hand movements...and she reads a story to Kathy, using braille.

Friday, May 1st, 1992

s1e21: Practice Makes Music

Michael is scheduled to play a cello solo at the school concert in a few days and he is nervous about playing in front of all those people. Barney invites his friend Greg Murray to teach the kids about music and help Michael learn that "practice makes perfect." Barney and his friends learn to identify musical instruments and their sounds and appreciate all the different varieties of music.

not specified

s1e22: Hi, Neighbor!

Barney & Friends are in the mood for an adventure--and they have one, when they all help Baby Bop learn more about neighborhoods! Imagination makes the journey magical with role-playing, an "invisible dog" chase, a scary visit to Dinosaur Days, and trips to make-believe versions of neighborhood points of interest! Even an ordinary neighborhood is filled with fun, songs, and surprises when it's explored "Barney-style."

not specified

s1e23: A Camping We Will Go!

Barney's friends wish to camp in the woods and Barney makes there wish come true. While there they meet woodland creatures like a raccoon and a kookaburra. Lucy also tells them a scary story wish isn't really scary but truly funny. They make smores. They finally go home.

not specified

s1e24: A Splash Party, Please

The kids have planned a picnic and Barney's invited. After enjoying some healthy fare, the kids have fun with bubbles. Baby Bop arrives and a "Splash Party" ensues, incorporating all sorts of water activities. The kids show they know their manners by being polite and curtious to one another.

not specified

s1e25: Carnival of Numbers

Someone (i don't remember who) needs to learn how to count. Barney makes a carnival of numbers on the playground. They play limbo, throw a football through the tire swing, bowl, and have a pretend ride. The ticket person is Lucy. They each get 5 tickets.(i think) At the end the person knows how to count.

not specified

s1e26: A World of Music

The kids wish they could travel to other countries to see them firsthand. Barney & Friends use their imagination to travel to Scotland, Israel, Africa, China and Mexico, where hosts expose them to different songs, costumes, and customs. The kids hear music played on interesting instruments and learn new dance steps. They also learn that several of their favorite songs have roots in other lands.

not specified

s1e27: Doctor Barney is Here!

An upcoming trip to the Doctor has Kathy feeling blue. Abig dose of purple is just what she needs. Barney and friends to the rescue. They get her laughing with some zany songs then lead her through make believe visit too the Doctor. The check up includes receiving a shot.This shows kids that it is not so bad when you know about them before hand. The kds sing and dance their way through Barneys famous " feel good rules" to keep those young bodies strong . Who says health has to be boring? Not Barney!

not specified

s1e28: Oh, What a Day!

Tina is having a dismal day. The greatest misfortune came when her kitten ran out the door. Barney helps turn things around by making rhythm instruments, dancing, amd drawing faces. But is Tina up against a wall of frustration?

not specified

s1e29: Home Sweet Homes

Barney lectures on animals' homes based on children's pictures. The children also draw pictures of different houses for people.

not specified

s1e30: ¡Hola, Mexico!

Luci tells everyone about her grandfather, whose birthday had been a few days back. Barney recommends that everyone hold a fiesta. Everyone gets in on the fiesta music, and they are surprised to see a folk dancer.

not specified

s1e31: Everyone is Special

Tina doesn't think she is special in anyway. Barney points out a special talent in all of his friends. He says he has a special surprise for everyone that will show them someone special, It is a mirror. Barney wasn't lying when he said it would show them someone special!
Season 2
not specified

s2e1: Falling for Autumn!

not specified

s2e2: Grandparents Are Grand!

not specified

s2e3: May I Help You?

not specified

s2e4: Red, Blue, and Circles, Too!

not specified

s2e5: Honk! Honk! A Goose on the Loose!

not specified

s2e6: Hoo's in the Forest?

not specified

s2e7: I Can Do That!

not specified

s2e8: Grown-Ups for a Day!

not specified

s2e9: Picture This!

not specified

s2e10: Look at Me, I'm Three!

not specified

s2e11: The Exercise Circus

Tina's ready to play in a big way after getting her cast removed, and the kids suggest staging a playground circus. Michael, the Ringmaster, introduces Barney, the Balancing Dinosaur; Derek, the Juggler and the Tightrope Twins, Terrific Tina and Magnificent Min. Special Guest Joe Scruggs sings the song that really sets off the silliness, but, in the end the kids learn that exercise is good for your body and can still be lots of fun. Barney also reminds us that hugging is an exercise that's good for the heart!

not specified

s2e12: My Favorite Things

not specified

s2e13: The Dentist Makes Me Smile

not specified

s2e14: Fun with Safety

not specified

s2e15: An Adventure in Make-Believe

not specified

s2e16: The Alphabet Zoo

not specified

s2e17: Having Tens of Fun!

The kids are in for "tens of fun" when Barney's friend, Mr. Tenagain, visits. His passion for all "things 10" leads to the reading of "Ten, Nine, Eight" and an account of Mr. Tenagain's trip to the moon. Snack time generates some antics in the kitchen, and a delightful picnic - visited by some rather unusual ants! Finally, Mr. Tenagain leaves surprise instructions on the "nicest way to count to 10."

not specified

s2e18: A Very Special Delivery
Season 3
not specified

s3e1: Shawn and the Beanstalk

not specified

s3e2: If the Shoe Fits…

not specified

s3e3: Room for Everyone

not specified

s3e4: I Can Be a Firefighter!

not specified

s3e5: Shopping for a Surprise!

not specified

s3e6: Anyway You Slice It

not specified

s3e7: Twice Is Nice!

not specified

s3e8: On the Move

not specified

s3e9: A Welcome Home

not specified

s3e10: Classical Cleanup

not specified

s3e11: Our Furry Feathered Fishy Friends

not specified

s3e12: Gone Fishing!

not specified

s3e13: At Home with Animals

not specified

s3e14: It's Raining, It's Pouring…

not specified

s3e15: Camera Safari

not specified

s3e16: Who's Who on the Choo-Choo?

not specified

s3e17: Are We There Yet?

not specified

s3e18: Ship Ahoy!

not specified

s3e19: Hats Off to B.J.!

not specified

s3e20: Up We Go!
Season 4
not specified

s4e1: First Day of School

not specified

s4e2: Is Everybody Happy?

not specified

s4e3: Pennies, Nickels, Dimes

not specified

s4e4: We've Got Rhythm!

not specified

s4e5: Tick Tock Clocks!

not specified

s4e6: Waiting for Mr. MacRooney

not specified

s4e7: Let's Build Together

not specified

s4e8: It's Tradition

not specified

s4e9: A Picture of Health

not specified

s4e10: Play Ball!

Barney introduces the kids to his Vend-O-Ball Machine. He tells them they can press any of the yellow buttons because they dispense various types of balls, but nobody is to press the red button on the bottom, because it has a problem. The kids take turns pressing the buttons and learn about different ball activities such as bowling and golf. Scooter, curious what will happen if one presses the bottom button, asks Baby Bop to do so, and it dispenses so many balls, all the kids come to clean up, and Scooter apologizes for causing the chaos.

not specified

s4e11: A Different Kind of Mystery

not specified

s4e12: Going on a Bear Hunt

not specified

s4e13: Let's Eat!

not specified

s4e14: Tree-Mendous Trees

not specified

s4e15: Good, Clean Fun!

not specified

s4e16: Easy, Breezy Day!

not specified

s4e17: All Mixed Up

not specified

s4e18: Oh, Brother! She's My Sister

not specified

s4e19: Once a Pond a Time

not specified

s4e21: E-I-E-I-O
Season 5
Monday, November 2nd, 1998

s5e1: Books Are Fun!

Tuesday, November 3rd, 1998

s5e2: Trading Places

Wednesday, November 4th, 1998

s5e3: Safety First!

Thursday, November 5th, 1998

s5e4: Circle of Friends

Friday, November 6th, 1998

s5e5: The One and Only You

Monday, November 9th, 1998

s5e6: Barney's Band

Tuesday, November 10th, 1998

s5e7: Try It, You'll Like It!

Wednesday, November 11th, 1998

s5e8: Colors All Around

Thursday, November 12th, 1998

s5e9: Howdy, Friends!

Friday, November 13th, 1998

s5e10: Seven Days a Week

not specified

s5e11: Hidden Treasures

not specified

s5e12: A Royal Welcome

not specified

s5e13: Sweet as Honey

not specified

s5e14: First Things First!

not specified

s5e15: Aunt Rachel Is Here!

not specified

s5e16: It's a Rainy Day!

not specified

s5e17: Easy Does It!

not specified

s5e18: What's in a Name?

not specified

s5e19: A Very Special Mouse

not specified

s5e20: A Package of Friendship
Season 6
not specified

s6e1: Stick with Imagination!

not specified

s6e2: Itty Bitty Bugs

not specified

s6e3: Grandparents Are Grand (2)

not specified

s6e4: Snack Time!

not specified

s6e5: A Sunny, Snowy Day

not specified

s6e6: You've Got To Have Art

not specified

s6e7: Five Kinds of Fun!

After learning about "Explorers" in school, the kids want to explore their own world. Barney shows them how to use their "five senses" to do the job.

not specified

s6e8: Count Me In!

not specified

s6e9: Who's Who at the Zoo

not specified

s6e10: Birthday Olé

In a premise similar to the episode called "Hola, Mexico!" back in Season 1, Barney's treehouse is the site for Robert's Mexican-themed birthday party. The piñata proves to be the highlight of the kids' fiesta.

Monday, April 3rd, 2000

s6e11: Exercise/Dance

Tuesday, April 4th, 2000

s6e12: Brushing Up on Teeth

Wednesday, April 5th, 2000

s6e13: A Little Mother Goose

Thursday, April 6th, 2000

s6e14: Good Job

Friday, April 7th, 2000

s6e15: It's Home to Me

Monday, April 10th, 2000

s6e16: How Does Your Garden Grow?

Tuesday, April 11th, 2000

s6e17: You Can Do It!

The kids find out that learning something new takes practice. Keesha, Stephen, and Jeff help Barney teach Baby Bop to jump rope.

Wednesday, April 12th, 2000

s6e18: Fire Safety

Thursday, April 13th, 2000

s6e19: Ready, Set, Go!

Friday, April 14th, 2000

s6e20: You Are Special!
Season 7
Monday, September 2nd, 2002

s7e1: All Aboard!

Tuesday, September 3rd, 2002

s7e2: Up, Down, and Around!

Wednesday, September 4th, 2002

s7e3: Tea-riffic Manners

Thursday, September 5th, 2002

s7e4: Puppy Love

Friday, September 6th, 2002

s7e5: Bunches of Boxes

Monday, September 9th, 2002

s7e6: Stop! Go!

Tuesday, September 10th, 2002

s7e7: Red, Yellow, and Blue!

Singing and dancing their way through a color-filled day of learning, Barney and friends search for red, yellow, and blue objects to complete their color collection.

Wednesday, September 11th, 2002

s7e8: Play for Exercise!

Thursday, September 12th, 2002

s7e9: Come Blow Your Horn!

Simon Willats plays trombone!

Friday, September 13th, 2002

s7e10: A New Friend

Friday, September 20th, 2002

s7e11: Numbers! Numbers!

Friday, September 27th, 2002

s7e12: This Way In! This Way Out!

Friday, October 4th, 2002

s7e13: Spring Into Fun!

Friday, October 11th, 2002

s7e14: Play It Safe!

Barney reminds Baby Bop that bandages are for real injuries; safety rules for playgrounds.

Friday, October 18th, 2002

s7e15: Three Lines, Three Corners

From a chalk hopscotch board made of triangles, the kids explore the shapes around them. The triangle gets the most exposure, from rooftops to paper hats.

Friday, October 25th, 2002

s7e16: A Parade of Bikes

Friday, November 1st, 2002

s7e17: It's a Happy Day!

Friday, November 8th, 2002

s7e18: My Family and Me

Friday, November 15th, 2002

s7e19: Splish! Splash!

Friday, November 22nd, 2002

s7e20: B.J.'s Really Cool House

Barney, Baby Bop and the kids discuss the different rooms in a house while B.J. makes a house of his own. In the process, everyone learns what parts of a house are important.
Season 8
Monday, September 15th, 2003

s8e1: A Fountain of Fun

Tuesday, September 16th, 2003

s8e2: On Again, Off Again

Barney, Baby Bop and the children learn about on and off.

Wednesday, September 17th, 2003

s8e3: Sharing Is Caring!

Thursday, September 18th, 2003

s8e4: Here Kitty, Kitty

Friday, September 19th, 2003

s8e5: Once Upon a Fairy Tale

not specified

s8e6: It's Hot! It's Cold!

not specified

s8e7: A Perfectly Purple Day

not specified

s8e8: Day and Night

not specified

s8e9: Play Piano with Me!

not specified

s8e10: A Picture of Friendship

not specified

s8e11: A-Counting We Will Go!

not specified

s8e12: A Big Little Day

not specified

s8e13: A World of Friends

not specified

s8e14: Who's Your Neighbor?

not specified

s8e15: Squares, Squares Everywhere

not specified

s8e16: Let's Go for a Ride

not specified

s8e17: That Makes Me Mad!

not specified

s8e18: It's Your Birthday, Barney!

not specified

s8e19: It's Showtime!

not specified

s8e20: At Home in the Park
Season 9
Monday, September 6th, 2004

s9e1: Everybody's Got Feelings

Little people have big feelings, as Barney relates. He gets his friends to make masks of faces. Barney helps B.J. and Baby Bop with their mad feelings. Shot on location is the song Colors Make Me Happy.

Tuesday, September 7th, 2004

s9e2: Caring Hearts

In their school project, the kids attach hearts with names of people they care about, on a bare tree. Barney helps the kids get a wide view of all the people who care about them. Their friends-and-family tree "blooms" considerably.

Wednesday, September 8th, 2004

s9e3: Let's Make Music!

Barney tells the kids how rhythm is instrumental to music. It inspires the kids to start a marching band.

Thursday, September 9th, 2004

s9e4: Movin' Along

Barney steps in as the Simon of a Simon Says game. It starts everyone dancing and moving about. Midway through, Barney narrates a dramatization of The Tortoise and the Hare.

Friday, September 10th, 2004

s9e5: Let Your Creativity Fly!

Laura, David, and Miguel find Barney's paper airplane–and set their imaginations on one goal: building a pretend airplane.

Monday, September 13th, 2004

s9e6: Imagine That!

Tuesday, September 14th, 2004

s9e7: All About Me

Wednesday, September 15th, 2004

s9e8: My Baby Brother

Thursday, September 16th, 2004

s9e9: Keep On Truckin'

Friday, September 17th, 2004

s9e10: I'm A Builder

Monday, May 2nd, 2005

s9e11: Coming On Strong

Jackson, Miguel, Rachel, and "Dr. Whitney" play check-up to see how they have grown. Barney shares with them ways to help their bodies grow stronger and healthier. One way is to exercise.

Tuesday, May 3rd, 2005

s9e12: Let's Play Games!

B.J. pulls out a huge pile of balls and other things for playing games. But he needs friends to help him decide what game to play.

Wednesday, May 4th, 2005

s9e13: You Can Count On Me

Kami, Rachel, and Nick go on Barney's number hunt. As Barney shows different number cards, the kids use their senses to find the real objects.

Thursday, May 5th, 2005

s9e14: A Wonderful World of Colors and Shapes

Friday, May 6th, 2005

s9e15: Easy as ABC

Monday, May 9th, 2005

s9e16: Look What I Can Do!

Tuesday, May 10th, 2005

s9e17: Making A Move!

Wednesday, May 11th, 2005

s9e18: Home, Safe Home

Thursday, May 12th, 2005

s9e19: On the Road Again!

Friday, May 13th, 2005

s9e20: My Friends, The Doctor and Dentist
Season 10
not specified

s10e1: Welcome, Cousin Riff: Special Skills

not specified

s10e2: Airplanes; Boats

not specified

s10e3: Butterflies; Bugs

not specified

s10e4: Shapes; Colors

not specified

s10e5: Seeing; Hearing

not specified

s10e6: Glad to Be Me; Arts

not specified

s10e7: Movement; BJ's Snack Attack

not specified

s10e8: Counting; Letters

not specified

s10e9: Pets; Vets

not specified

s10e10: Winter; Summer

Monday, October 2nd, 2006

s10e11: Caring and Rhythm

It's Barney's birthday and everyone gives him gifts. Baby Bop practices for the marching band.

not specified

s10e12: Playing Games; Fun with Reading

not specified

s10e13: Making Mistakes; Separation

not specified

s10e14: Days of the Week; Sharing

not specified

s10e15: Rabbits; Ducks and Fish

not specified

s10e16: Mother Goose; Fairy Tales

not specified

s10e17: Things I Can Do; Differences

Baby Bop isn't satisfied with the things she can do. Barney helps a wheel-chair bound child.

not specified

s10e18: Singing; Dancing

not specified

s10e19: Neighborhood; Careers

not specified

s10e20: China; Kenya
Season 11
not specified

s11e1: Pistachio / Full Team Ahead

not specified

s11e2: The Magic Words / Litterbot

not specified

s11e3: Bop 'til You Drop / The Sleepless Sleepover

not specified

s11e4: Little Red Rockin' Hood / The Whole Truth

not specified

s11e5: The Wind and the Sun / The Nature of Things

not specified

s11e6: The New Kid / Grandpa's Visit

not specified

s11e7: The Big Garden / Listen!

not specified

s11e8: Lost and Found / Pot Full of Sunshine

not specified

s11e9: Trail Boss Barney / Get Happy!

not specified

s11e10: For the Fun of It / Starlight, Star Bright

not specified

s11e11: Big As Barney / No, No, No!

not specified

s11e12: The Emperor's Contest / Beethoven's Hear!

not specified

s11e13: Guess Who? / Sweet Treats

not specified

s11e14: Best in Show / The Chase

not specified

s11e15: Dream Big / That's What a Mommy Is

not specified

s11e16: The Shrinking Blankey / The Awful Tooth

not specified

s11e17: The Blame Game / What's Your Name?

not specified

s11e18: The Magic Caboose / BJ the Great

not specified

s11e19: Gift of the Dinos / A Visit to Santa

not specified

s11e20: Riff's Musical Zoo / The Princess and the Frog
Season 12
Monday, September 15th, 2008

s12e1: Way to Go!: A Travel Adventure

Daniel explains to Barney, Baby Bop, BJ, and the kids how he and his family will use different modes of transportation on their cruise vacation. With a little imagination, Barney, Baby Bop, BJ, and the kids use boxes to build some cars, a plane, a bus, and a cruise ship.

Tuesday, September 16th, 2008

s12e2: The Misbegotten Moon, A Space Adventure

Baby Bop sees a half-moon & thinks the moon is broken. Barney takes her to see the Man in the Moon.

Wednesday, September 17th, 2008

s12e3: The Sword In The Sandbox, A Storybook Adventure

Daniel wants to jump rope with some older children but is afraid he is too little to do it right.

not specified

s12e4: Ready Set Play

not specified

s12e5: Songs from the Park

not specified

s12e6: To Catch A Thief, A Mystery Adventure

not specified

s12e7: The Magic Lamp a Travel Adventure

not specified

s12e8: The Amazing Captain Pickles, a Hero Adventure

Barney helps BJ learn the importance of honesty when BJ tells everyone he can leap over the moon.

Thursday, September 25th, 2008

s12e9: A Game for Everyone: A Sports Adventure

Barney sets up a sports day in the park. Baby Bop encourages a special needs child to join the fun.

not specified

s12e10: The Reluctant Dragon, a Fairy Tale Adventure
Season 13
Monday, September 7th, 2009

s13e1: Bienvenido, Barney: Mexico

Baby Bop's friend Monty the butterfly passes through the park with a flock of friends on their way to Mexico. When Monty gets left behind by his insect friends and family, Barney takes everyone on a visit to Mexico, where Baby Bop will say good-bye to her butterfly friend.

Tuesday, September 8th, 2009

s13e2: Big Brother Rusty: China

arney's excited to find out that Rusty's family is adopting a new baby girl from China; however, Rusty's not sure if he's going to be a good brother, and he doesn't know much about China. Barney shows Rusty and the others some info China on the computer and BJ and Baby Bop talk about siblings. Through Barney's Travel Book, Barney takes Rusty, BJ and Baby Bop on an adventure to China where he can learn more about his new sister's heritage. When they get there, the people are celebrating Chinese New Year. From lion dances and talented performers to tasty treats and puppet shows, the celebration never runs out of fun. By the time he returns to the park, Rusty excitedly meets his new baby sister, named Mei Ling, and realizes he will be the best big brother ever!

Wednesday, September 9th, 2009

s13e3: Ahora Mismo!: Spain

Ben is late to the park and is disappointed to realize he missed his chance at riding a real pony. He has waited his whole life for this, and now it looks as if he's missed his opportunity. Luckily, Barney takes him to Spain where they meet Regalo, a dancing horse with Riff and Baby Bop. Ben and Barney return to the park just in time for Ben to ride the pony after all! Ben is thrilled to ride a horse and learned an important lesson about patience and waiting.

Thursday, September 10th, 2009

s13e4: Venice, Anyone?: Italy

Emma is stuck with a school project and can't play soccer with Joshua. Having to interview her parents and get info about an interesting ancestor, she is frustrated with the assignment. Barney helps her discover that her ancestors were from Venice, Italy. Using his Travel Book, Barney takes Josh, Emma, and Riff to Venice. He gives his friends a gondola ride as well as telling them about famous explorer Marco Polo. Barney's friend Anna Maria tells Emma that she knew her great grandfather and takes her to his shop, where they try on masks and make some of their own. Emma learns that if she makes the mask in parts, she'll get it done. Barney reminds her of this lesson, so she will do the same for her school project.

Friday, September 11th, 2009

s13e5: Sweeter Than Candy: Greece

Barney, Baby Bop and BJ are helping the kids get ready for a school play. Barney tells everyone that putting on shows began in Greece. Of course, the little dinos and kids want to visit the country, so off they go! While there, they meet some Greek friends and decide to put on a play in an amphitheatre. Barney knows a great story that originated in Greece called "King Midas." By the end of the day, everyone has learned that wanting too much is not a good thing, especially BJ!

Monday, September 14th, 2009

s13e6: The Music Box: Switzerland

The kids are having a yard sale, getting rid of old toys, books and clothes. Kioko shows up holding a prized possession-a music box from Switzerland. By accident, Ben includes the music box in a cardboard box of yard sale items-and the music box is sold! Kioko is sad and Ben wants to make things right, so he and Barney travel to Switzerland in search of a replacement gift. While there, they sample Swiss food, customs and games-but no music box! Luckily when Ben returns the music box is returned!

Tuesday, September 15th, 2009

s13e7: The Good Egg: Kenya

When the kids find a mysterious, colorful egg in the park, Barney takes them on a trip to Kenya to try to find out what kind of animal could have laid the egg. While in Kenya, they meet Ayira who introduces them to many people, cultures and animals of Kenya!

Wednesday, September 16th, 2009

s13e8: A Bird of a Different Feather: Hawaii

What started out as a day of play, suddenly turns into a search for a "Bird of Paradise" that Tracy needs for her school project. Ben tells her that it's a rare bird, and they are only found in Hawaii. Barney then takes the kids to Hawaii, using his Travel Book. There they learn different words, how to make leis and even a hula dance. In the end everyone finds out that the "Bird of Paradise" is actually a flower, not a bird.

Thursday, September 17th, 2009

s13e9: Bonjour Barney!: France

Emma wants to paint an award-winning painting for the "Art In The Park Show," but she is just isn't satisfied with her artwork. Barney takes her to France to learn how to paint from his friend Pierre. While there, they learn about France and how to "paint by following your heart!"

Friday, September 18th, 2009

s13e10: Home Sweet Earth: The Rainforest

It's Earth Day, a great time for everyone to learn how to help take care of our world, but Ben is wasting paper while BJ isn't too concerned about cutting down a tree to make room for a new playground. After a trip to the rainforest and a meeting with Mother Nature, everyone learns the importance of taking care of our world. As Earth Day comes to an end, Barney reminds us all that taking good care of our Earth is the natural thing to do…for the people we love.
Season 14
Monday, October 4th, 2010

s14e1: Gift of the Dinos and Winter

Gift of the Dinos: At Christmastime, BJ dreams of getting a brand new baseball glove, while Riff hopes for brand new drumsticks. Barney reminds them both that Christmas is about more than just getting gifts. Winter: Baby Bop waits for the first snowfall of the year!

Tuesday, October 5th, 2010

s14e2: Riff's Musical Zoo and Boats

Riff's Musical Zoo: After Tracy's Mom can't take the kids to the zoo, Riff uses stuffed animals and musical instruments to mimic animals sounds to create a "musical zoo"! Boats BJ and Riff build a make-believe boat for Baby Bop to ride.

Wednesday, October 6th, 2010

s14e3: The Magic Caboose and Arts

The Magical Caboose: Barney and the kids board the caboose and use their imagination to go to different places. They visit Egypt, Tahiti, and India. Arts: Barney introduces his friends to many different kinds of art.

Thursday, October 7th, 2010

s14e4: Movement and Separation

Movement: Coach Baby Bop and BJ help Barney prepare for the sack race. Separation: Baby Bop misses BJ and Riff, when they go off on a camping trip.

Friday, October 8th, 2010

s14e5: Pistachio and BJ's Snack Attack

Pistachio: BJ, Baby Bop, and Riff think that Barney is eating too many pistachio but he can't stop eating them. BJ's Snack Attack: After BJ eats too many treats, he dreams a world of only sweet treats.

Monday, October 11th, 2010

s14e6: Bop 'til You Drop and Sharing

Bop 'til You Drop: Barney steps in when Baby Bop gets a little too pushy and bossy with her friends after losing her pink balloon. Sharing: After Riff breaks BJ's scooter, he sells his old stuff to buy a new one!

Tuesday, October 12th, 2010

s14e7: Little Red Rockin' Hood and Differences

Little Red Rockin' Hood: Barney, Baby Bop, BJ, Riff, and the kids tell the story of how a country singer and Rock-N-Roll wolf blended their music together and created Country Rock! Differences: When the kids leave a wheelchair kid out of the fun, Barney decides to let him know that sometimes he feels the same way too.

Wednesday, October 13th, 2010

s14e8: Butterflies and The Nature of Things

Butterflies: Barney, Baby Bop, and Riff help Baby Bop find her butterfly Monty. The Nature of Things: After Rachel litters in the park, she has a dream about how the litter affects animal homes.

Thursday, October 14th, 2010

s14e9: China and Welcome, Cousin Riff

China: BJ's Chinese Pen Pal visits the park! Welcome, Cousin Riff: Barney informs Baby Bop and BJ that their cousin Riff has moved into town!

Friday, October 15th, 2010

s14e10: Rabbits and Listen!

Rabbits: Detective BJ helps Baby Bop figure out which animal is eating her snacks Listen!: When the kids hear a mysterious noise in the park, Detective Riff is on the case!

Monday, October 18th, 2010

s14e11: The Big Garden and Get Happy!

The Big Garden: Barney and his friends harvest crops in their garden! Get Happy!: After Olivia is sad, Riff invents a device to make her happy again!

Tuesday, October 19th, 2010

s14e12: Big as Barney and The Chase

Big as Barney: After seeing how Barney helps many people, Ryan wishes he could be more like Barney. When he pretends to be more like Barney, Barney teaches him that he can help people by just being himself. The Chase: After the kids fight over wanting to do the same thing, Barney tells them a Native American story that teaches to be yourself and not follow the crowd.

Wednesday, October 20th, 2010

s14e13: Playing Games and No, No, No!

Playing Games: Barney teaches Baby Bop to follow the rules of the game. No, No, No!: After Baby Bop gets fustrated by hearing "No!" all the time, Barney tells Baby Bop the story of Cinderella

Thursday, October 21st, 2010

s14e14: The Emperor's Contest and The Whole Truth

The Emperor's Contest: After Ryan thinks of cheating during a fishing contest, Barney tells him a story about how a boy became emperor for being honest. The Whole Truth: BJ takes credit for Sarah's picture, thinking his friends would like him better if he was a great artist. Barney teaches him that his friends like him for who he is.

Friday, October 22nd, 2010

s14e15: Seeing and Beethoven's Hear!

Seeing: Baby Bop is playing hide-and-seek with an elephant! Beethoven's Hear: After Riff wonders if he would still like music if he was deaf, Barney introduces one of the best deaf musician of all time - Beethoven.

Monday, October 25th, 2010

s14e16: Best in Show and Ducks and Fish

Best in Show: Susan lets BJ enter her dog Pilgrim in a dog show! Ducks and Fish: Riff care for some duck eggs!

Tuesday, October 26th, 2010

s14e17: The Shrinking Blankey and Things I Can Do

The Shrinking Blankey: Baby Bop is worried that she is outgrowing her blankey. Things I Can Do: Barney and his friends show off things they can do!

Wednesday, October 27th, 2010

s14e18: Mother Goose and Fun with Reading

Mother Goose: Characters from The Land of Mother Goose come to the caboose in search for their lost things. Fun with Reading: After BJ gets an injury while playing Captain Pickles, Barney and the kids have fun with books. They even write their own story!

Monday, November 1st, 2010

s14e19: The Blame Game and Airplanes

The Blame Game: After Marcos accidently breaks Melanie's project, he's afraid that she would not be his friend anymore. Barney teaches him that good friends are always honest to each other! Airplanes: BJ has fun with his toy airplane. But when Riff's curiousity causes him to mess up BJ's toy, can BJ put it back together?

Tuesday, November 2nd, 2010

s14e20: The New Kid and The Princess and the Frog

The New Kid: After Riff makes friends with new kid Noah, BJ becomes jealous and thinks he is not Riff's friend anymore. Barney teaches him that you can always keep your old friendships and make new ones too. The Princess and the Frog: After Baby Bop promises Ryan to watch his pet frog, Barney tells her the story of "The Princess and the Frog" to remind her to always keep her promises.
Season 0
Tuesday, November 6th, 2012

s0e118: Let's Go To The Doctor

It's check-up time! Barney teaches that doctors and dentists are our friends and shows how pediatricians, dentists and veterinarians keep people and animals healthy and strong!