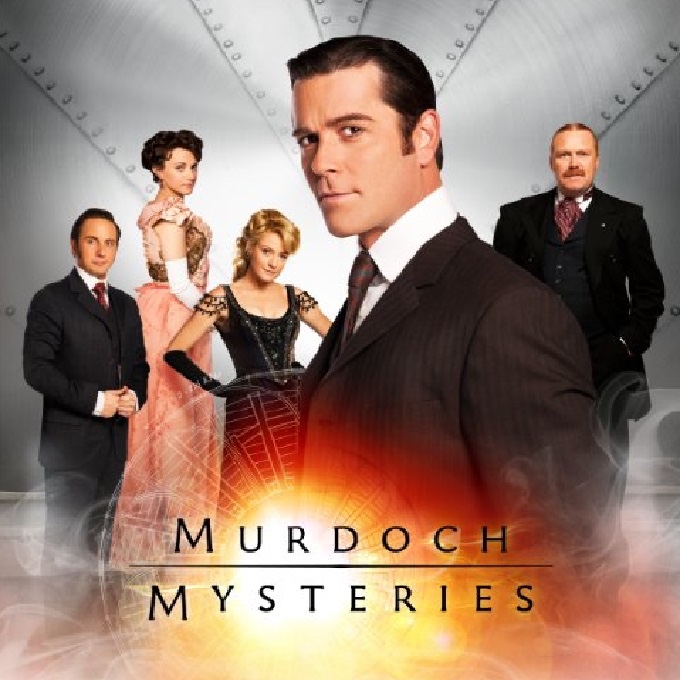 Season 0
Thursday, May 13th, 2004

s0e1: Except the Dying

Detective Murdoch investigates when a wealthy family's pregnant maid is found dead in an area frequented by prostitutes.

Sunday, September 12th, 2004

s0e2: Poor Tom Is Cold

Detective Murdoch refuses to believe the coroner's conclusion that his young friend and protégée, Constable Oliver Wicken, committed suicide. However, the only possible witness who could solve the mystery is locked away in a lunatic asylum.

Thursday, October 14th, 2004

s0e3: Under the Dragon's Tail

Detective Murdoch tries to solve the murder of an abortionist.

Tuesday, June 7th, 2011

s0e5: Curse of the Lost Pharoahs - Episode 1

Crabtree, Murdoch, Dr. Ogden and Inspector Brackenreid are forced to battle mummies who are attempting to kill Queen Victoria

Tuesday, June 14th, 2011

s0e6: Curse of the Lost Pharoahs - Episode 2

Crabtree, Murdoch, Dr. Ogden and Inspector Brackenreid are forced to battle mummies who are attempting to kill Queen Victoria

Tuesday, June 21st, 2011

s0e7: Curse of the Lost Pharoahs - Episode 3

Crabtree, Murdoch, Dr. Ogden and Inspector Brackenreid are forced to battle mummies who are attempting to kill Queen Victoria

Tuesday, June 28th, 2011

s0e8: Curse of the Lost Pharoahs - Episode 4

Crabtree, Murdoch, Dr. Ogden and Inspector Brackenreid are forced to battle mummies who are attempting to kill Queen Victoria

not specified

s0e9: Curse of the Lost Pharoahs - Episode 5

Crabtree, Murdoch, Dr. Ogden and Inspector Brackenreid are forced to battle mummies who are attempting to kill Queen Victoria

not specified

s0e10: Curse of the Lost Pharoahs - Episode 6

Crabtree, Murdoch, Dr. Ogden and Inspector Brackenreid are forced to battle mummies who are attempting to kill Queen Victoria

not specified

s0e11: Curse of the Lost Pharoahs - Episode 7

Crabtree, Murdoch, Dr. Ogden and Inspector Brackenreid are forced to battle mummies who are attempting to kill Queen Victoria

not specified

s0e12: Curse of the Lost Pharoahs - Episode 8

Crabtree, Murdoch, Dr. Ogden and Inspector Brackenreid are forced to battle mummies who are attempting to kill Queen Victoria

not specified

s0e13: Curse of the Lost Pharoahs - Episode 9

Crabtree, Murdoch, Dr. Ogden and Inspector Brackenreid are forced to battle mummies who are attempting to kill Queen Victoria

not specified

s0e14: Curse of the Lost Pharoahs - Episode 10

Crabtree, Murdoch, Dr. Ogden and Inspector Brackenreid are forced to battle mummies who are attempting to kill Queen Victoria

not specified

s0e15: Curse of the Lost Pharoahs - Episode 11

Crabtree, Murdoch, Dr. Ogden and Inspector Brackenreid are forced to battle mummies who are attempting to kill Queen Victoria

not specified

s0e16: Curse of the Lost Pharoahs - Episode 12

Crabtree, Murdoch, Dr. Ogden and Inspector Brackenreid are forced to battle mummies who are attempting to kill Queen Victoria

not specified

s0e17: Curse of the Lost Pharoahs - Episode 13

Crabtree, Murdoch, Dr. Ogden and Inspector Brackenreid are forced to battle mummies who are attempting to kill Queen Victoria

not specified

s0e18: The Murdoch Effect - Episode 1

William Murdoch suddenly finds himself transported to the 21st century, and has to solve a case with eerie parallels to one he is investigating in his own timeline

not specified

s0e19: The Murdoch Effect - Episode 2

William Murdoch suddenly finds himself transported to the 21st century, and has to solve a case with eerie parallels to one he is investigating in his own timeline

not specified

s0e20: The Murdoch Effect - Episode 3

William Murdoch suddenly finds himself transported to the 21st century, and has to solve a case with eerie parallels to one he is investigating in his own timeline

not specified

s0e21: The Murdoch Effect - Episode 4

William Murdoch suddenly finds himself transported to the 21st century, and has to solve a case with eerie parallels to one he is investigating in his own timeline

not specified

s0e22: The Murdoch Effect - Episode 5

William Murdoch suddenly finds himself transported to the 21st century, and has to solve a case with eerie parallels to one he is investigating in his own timeline

not specified

s0e23: The Murdoch Effect - Episode 6

William Murdoch suddenly finds himself transported to the 21st century, and has to solve a case with eerie parallels to one he is investigating in his own timeline

Monday, October 19th, 2015

s0e24: Election TV Spot

Crabtree, Higgins and Jackson discuss who they are voting for

not specified

s0e25: The Curse Of The Lost Pharaohs 13

Tuesday, January 17th, 2017

s0e26: Beyond Time: Episode 1

A new prisoner at Station House No.4 rants about about a potential assassination attempt - and that constable Higgins knows who he is.

Friday, January 20th, 2017

s0e27: Beyond Time: Episode 2

Jackson and Higgins hear tall tales from the professor about time travel. But could they be true?

Tuesday, January 24th, 2017

s0e28: Beyond Time: Episode 3

A skeptical Jackson and Higgins learn the ins and outs of the portals of time.

Friday, January 27th, 2017

s0e29: Beyond Time: Episode 4

Rebecca James insists Jackson and Higgins shouldn't laugh off the professors illusions, insisting professional help is a better solution.

Tuesday, January 31st, 2017

s0e30: Beyond Time: Episode 5

Rebecca James has vanished leaving Jackson and Higgins to figure out what happened. If only they had some help…

Friday, February 3rd, 2017

s0e31: Beyond Time: Episode 6

Jackson and Higgins fill Meyers in on the details of what has happened, but does he know more than he's letting on?

Tuesday, February 7th, 2017

s0e32: Beyond Time: Episode 7

Meyers believes that there may be a time bandit at work, causing everyone to scramble to try to figure out how to reopen the time portal.

Friday, February 10th, 2017

s0e33: Beyond Time: Episode 8

Meyers has some new troubling intel that throws a wrench in Jackson and Higgins latest discoveries.

Tuesday, February 14th, 2017

s0e34: Beyond Time: Episode 9

Meyers believes he's figured out the professors plan putting him at odds with Higgins.

Friday, February 17th, 2017

s0e35: Beyond Time: Episode 10

Fists fly as Jackson and Higgins face off agains Meyers as they try to help bring Rebecca James back.

Tuesday, February 21st, 2017

s0e36: Beyond Time: Episode 11

The professor tries to figure out how to get Rebecca back while Meyers gets a surprise.

Friday, February 24th, 2017

s0e37: Beyond Time: Episode 12

Meyers discovers a very disturbing revelation indicating that important events in time may have been tampered with.

Tuesday, February 28th, 2017

s0e38: Beyond Time: Episode 13

Nobody but Meyers seems to know who Wilfrid Laurier is, suggesting time has completely been rewritten.

Friday, March 3rd, 2017

s0e39: Beyond Time: Episode 14

Can Meyers be swayed by a diabolical plan that could perhaps make the future of Canada better?
Season 1
Thursday, January 24th, 2008

s1e1: Power

Daniel Pratt, owner of Toronto Electric & Light, has made his fortune by lighting the city streets with direct current (DC). But now council is considering a new form of electricity called alternating current (AC). So Pratt – and a team of high-powered supporters –decides to mount 'dog and pony' shows across the city to prove that AC is a killer. But when Miss Toronto Electric & Light, Alice Howard, is electrocuted in a demonstration gone wrong, it's determined that the switch handle she pulled had been purposely booby-trapped. In a case that's further complicated by bribery, scandal and dirty backroom dealings, Murdoch must find out who killed Alice – and why.

Thursday, January 31st, 2008

s1e2: Glass Ceiling

Lawyer Percy Pollack was last seen a week ago. According to his wife, Clara, Percy had gone to a meeting with his business partner, Dr. Gilbert Birkins, but based on the condition of his body, he died just 36-48 hours ago - which leaves five days unaccounted for. When Judge Henry Scott dies of a similar wound, Brackenreid suddenly recognizes the work of a murderer long thought dead -- and that he himself might be next on the killer's list. The case deeply divides Murdoch and Brackenreid, each pursuing their own line of investigation. But, a grisly new development in Pollack's murder tells Murdoch that he's been trying to solve this puzzle without all the pieces.

Thursday, February 7th, 2008

s1e3: The Knockdown

While the city celebrates the Queen's birthday with a display of fireworks, Murdoch investigates a messy case of fixed fights and shady backroom dealings in the dirty world of boxing. After his victory against Sully Sullivan, boxing underdog Amos Robinson is found dead in his hotel room. Amos' wife, Fannie – found standing over her husband's bloody body with a gun in her hand – stands out as the most viable suspect. But Murdoch's strong intuition tells him otherwise, and he must act fast or Fannie will hang for a crime she didn't commit.

Thursday, February 14th, 2008

s1e4: Elementary, My Dear Murdoch

Murdoch teams with his hero, Arthur Conan Doyle, to solve a murder that was revealed during a séance led by medium Sarah Pensall. It seems the victim, Ida Winston – a member of a paranormal watchdog group – had not been convinced of Sarah's abilities, which makes Murdoch wonder if Sarah killed Ida because she was about to be revealed as a fraud. Despite mounting evidence of the spirit world, Murdoch remains determined to use scientific means to solve the case. Sure enough, evidence starts to stack up against Sarah's little toady, Lisgar Gall. But when Murdoch accuses Gall of killing Ida in order to protect Sarah, he winds up in the middle of an unexpected lovers' triangle that further complicates the case.

Thursday, February 21st, 2008

s1e5: 'Til Death Do Us Part

Wendell Merrick is killed in the church on the day he was to marry Eunice McGinty. At first glance, the murder appears to be a robbery gone wrong. But Father Franks recalls hearing Wendell arguing with his best man, Lawrence Braxton, before the wedding. As suspicion turns to Braxton, the investigation takes an unexpected twist when the pathology report turns up evidence that Wendell was homosexual – which leads Brackenreid to conclude that it was Wendell's lover who wielded the weapon that killed him. But while fingers are being pointed at possible candidates, including Braxton, Murdoch starts to believe that the issue of Wendell's sexuality has thrown this investigation way off track.

Thursday, February 28th, 2008

s1e6: Let Loose The Dogs

John Delaney had been on his way home from a ratting match at the local pub and somehow ended up face down in the river. When Murdoch finds the drunken body of his estranged father, Harry, passed out near the crime scene, he's quick to convict the man he's long accused of killing his mother. It turns out that the matches were fixed - just like Harry said - and the detectives seem to be closing in on the case. But when evidence turns up that suggests Delaney may have had a rendezvous after leaving the pub that fateful night, the investigation takes a whole new turn.

Thursday, March 6th, 2008

s1e7: Body Double

A skeletal corpse that falls from the ceiling of the Grand theatre is identified as Virgil Smart. His widow, Stella, now runs the theatre with her new husband and a small troupe, including a pretty young actress and her fiancé – each of whom reports that Virgil had been found slumped over his desk, dead of heart failure. Stella insists her husband was buried at a proper funeral. But if this corpse is Virgil's, then whose body did she bury? It seems that honour went to an out-of-work actor named Eddie. As if things weren't complicated enough, Murdoch discovers a secret room off Virgil's office – obviously designed for seduction. Could these murders be the result of a lover's quarrel, a jealous husband, or a spurned lover? One thing is for certain: Each of these well-rehearsed actors knows what happened that night – and now Murdoch knows just how to trip them up.

Thursday, March 13th, 2008

s1e8: Still Waters

The body of Richard Hartley, the newest member of a prestigious men's rowing team, is found washed up on a beach after a night of drinking with his teammates. According to his fiancée, Minerva Fairchild, Hartley had just replaced the team's top rower Horace Briggs, who admits he'd been disappointed when he was bumped from the team – but not enough to kill. As the evidence mounts, it seems increasingly apparent that Hartley was killed in an initiation hazing gone wrong. Sure enough, the team's coach admits that Hartley would have cost them a spot at the Olympics, so he instructed the boys to put him out of action so they could bring Briggs back. When things got rough, Hartley panicked and ran into the lake – but he was a strong swimmer; they never dreamed he'd drown. Still no closer to the truth, Murdoch orders a test on the water in Hartley's lungs – and that's when the investigation finally blows wide open.

Thursday, March 20th, 2008

s1e9: Belly Speaker

Roddy Grimesby is found dead from a lethal ingestion of varnish. When the police show up at the crime scene, the victim's son Harcourt – a ventriloquist – is found hiding in the closet with his look-alike dummy Mycroft. Even more disturbing than the similarity, is the roiling bond between the two – much like hostile brothers. Although Harcourt confesses to the murder, Murdoch spots inconsistencies in the story that make no sense – unless there was a third party involved. Harcourt had been in the room when Roddy was killed. He would have seen the killer, but why is he protecting his identity? In a shocking turn, Murdoch learns that Harcourt has a twin brother named Mycroft. Maybe Mycroft killed Roddy; and Harcourt is protecting him. But just when it looks like the case is solved, Murdoch sees something in a Grimesby family photo that puts a whole new twist on things.

Thursday, March 27th, 2008

s1e10: Child's Play

Howard Rookwood, philanthropist and co-owner of a glue factory, is found dead after returning home from a fundraiser. Although the scene suggests he was trampled by horses on their way to the rendering vats, the blow to the back of Rookwood's head was not caused by a horse's hoof. When a short-handled shovel wielded by someone child-sized is finally determined to be the murder weapon, suspicion turns to the boys who work at the glue factory – and one young boy in particular, Charlie, who turns out to be the long-lost brother of Rookwood's adopted daughter, Eva. As evidence starts to stack up against Charlie, Murdoch learns that Rookwood's disgruntled ex-valet had long been receiving hush money from his former boss for keeping a secret – one so repugnant that it would drive anyone to murder.

Thursday, April 3rd, 2008

s1e11: Bad Medicine

Dr. Grout, a co-founder of a medical research institute, is found with arrows jutting from his back, and the letters "Wy" written in blood on a nearby rock. According to medium Sarah Pensall, the killer is a grim reaper with a crossbow. He's accompanied by the spirit of a woman, and he will strike again. As associates of the institute are systematically killed off by the hooded specter, Murdoch finally gets a tip - a letter bearing only the word, "Wykeham." Whatever it means, Grout wanted them to know about it. Finally, with Pensall's help, Murdoch discovers that, in 1893, a young woman died in a fire at Wykeham - a lodge once leased to Grout's partner, Dr. Greyson. Things start to look worse for Greyson when a reaper's costume is found stashed away in his office. Despite how things look, though, Murdoch knows Greyson's not their man. But it's not til he spots a photo of the young woman with her fiancé that the mystery is finally solved.

Thursday, April 10th, 2008

s1e12: The Rebel and the Prince

Murdoch and Crabtree are assigned to protect Prince Alfred during his visit to Toronto. But, on the very night that British Aid David Jennings warns the authorities about a possible Irish threat against the Prince, an Irish girl wearing a Brotherhood ring turns up dead. A tattoo on her shoulder is found to be covering another - the symbol of the Brotherhood; and a cipher found in her stomach is believed to hold the key to a plot against the Prince. In a town where Irish ire continues to fester against the constabulary, not even his good friend Eddie Cullen will help Murdoch in the case. In a race against the clock, Murdoch must track down the girl's killer and decipher the secret message before the insidious Brotherhood can carry out its deadly plan.

Thursday, April 17th, 2008

s1e13: The Annoying Red Planet

By all appearances, Martians are responsible for the hanging death of Rouge Valley landowner Henri Gaston, a Martian-obsessed loner with a shop full of telescopes, charts and journals. Gaston's observations could have had something to do with his demise, but a letter on his desk from Rouge Valley Lands Ltd. suggests that the reason for his death is decidedly more terrestrial. According to head honcho, Terrence Meyers, RVL had been trying to buy up the valley in order to build an electrical generating station. Gaston was the only hold-out - a sure incentive to get rid of him. Still stymied by Gaston's murder, and ordered to cease his investigation of RVL, Murdoch finally witnesses what Gaston had been writing about - a light in the sky, and a shape emerging over the cornfield. As quickly as it appears, it's gone - but, with the help of Gaston's journals, Murdoch vows to track it down. Despite all the evidence to the contrary, Murdoch remains sure that the strange events are all related to the land sale. What he doesn't know is that this threat is much more menacing than any Martian invasion.
Season 2
Tuesday, February 10th, 2009

s2e1: Mild, Mild West

When the traveling Buffalo Bill Cody's Western Extravaganza settles in Toronto, murders happen. Inspector Murdoch must investigate the crimes while his boss becomes enamored with Annie Oakley.

Tuesday, February 10th, 2009

s2e2: Snakes and Ladders

An investigator arrives from Scotland Yard who is after the infamous Jack the Ripper. Meanwhile, Murdoch takes dancing lessons so that he can escort Dr. Ogden to a ball.

Tuesday, February 17th, 2009

s2e3: Dinosaur Fever

When the unveiling of a reconstructed dinosaur skeleton at a gala event reveals the dead body of a young man found in its jaws, Murdoch must enter the world of bone-hunters to find the culprit.

Tuesday, February 24th, 2009

s2e4: Houdini Whodunnit

The young Harry Houdini becomes Murdoch's prime suspect when he investigates a daring robbery-homicide. Meanwhile, Dr. Ogden's sister comes to visit and soon becomes attracted to Murdoch.

Tuesday, March 3rd, 2009

s2e5: The Green Muse

The romance between Inspector Murdoch and Dr. Ogden heats up as Murdoch finds himself investigating the death of a young woman working as a high-class prostitute.

Tuesday, March 10th, 2009

s2e6: Shades of Grey

As they investigate a young woman's death, Murdoch and Dr. Ogden find their relationship threatened when they turn out to be of opposite opinions in the matter of abortion.

Tuesday, March 17th, 2009

s2e7: Big Murderer on Campus

Detective Murdoch fears that his relationship with Dr. Ogden has been permanently damaged, as he heads into investigating a seemingly perfect crime, the murder of a university professor. Meanwhile, Constable Crabtree continues his search for his biological mother.

Tuesday, March 24th, 2009

s2e8: I, Murdoch

Murdoch finds himself drawn to the widowed mother of a boy who has gone missing, but the case starts to take a strange turn involving spies, midgets and a robotic super weapon.

Tuesday, March 31st, 2009

s2e9: Convalescence

Dr. Ogden and Enid compete to nurse the injured Murdoch back to health, as in his delirium he begins to suspect his landlady of planning a murder. Meanwhile, Constable Crabtree investigates a case involving a disagreeable parrot.

Tuesday, April 7th, 2009

s2e10: Murdoch.com

The discovery of a decomposed body leads Murdoch into the fascinating world of telegraphy - the 1895 equivalent of the internet. When Murdoch calls on Enid to assist in the investigation, she finds herself in peril. Meanwhile, Inspector Brackenreid's erratic behavior has Dr. Ogden questioning the Gold Cure the Inspector is taking to help him stop drinking.

Tuesday, April 14th, 2009

s2e11: Let Us Ask the Maiden

Murdoch's investigation into the death of a young Jewish man leads to Toronto's small Jewish getto - the Ward. There he finds a tale of forbidden romance and himself again being drawn to Dr. Ogden.

Tuesday, April 21st, 2009

s2e12: Werewolves

A savage murder, seemingly at the jaws of a wild beast, leads Murdoch into the mysterious worls of North American shamaism and lycanthropy. While searching for a reational explanation, Murdoch is forced to choose between Enid and Dr. Ogden.

Monday, April 27th, 2009

s2e13: Anything You Can Do...

While investigating a murder, Murdoch find himself teamed with a North West Mounted Policeman whose methods and mannerisms are strikingly similar to this own -- perhaps too similar? Murdoch hope to rekindle his relationship with Dr. Ogden -- but is it too late?
Season 3
Tuesday, February 16th, 2010

s3e1: The Murdoch Identity

Murdoch finds himself with amnesia and running for his life on the streets of Bristol, England, very far from home, if he knew where his home was. Taking refuge in a pub, he gains the assistance of a vivacious barmaid who helps him reconstruct his memories, escape his pursuers, and foil an assassination plot.

Tuesday, February 23rd, 2010

s3e2: The Great Wall

Murdoch is called to Station House Five when a decorated constable is murdered and the local detective is ill. Murdoch finds that everyone is ready to blame an elderly Chinaman named Fong Choy because of something to do with his granddaughter, but she is nowhere to be found and Fong Choy won't talk.

Tuesday, March 2nd, 2010

s3e3: Victor, Victorian

Inspector Brackenreid and Constable Crabtree are present when a man undergoing the candlelit initiation ceremony in a Masonic Temple is murdered. Murdoch's investigation uncovers another even-more-secret society.

Tuesday, March 9th, 2010

s3e4: Rich Boy, Poor Boy

Tragedy strikes close to home when Brackenreid's son Bobby suddenly disappears while playing with a friend on a sunny afternoon in bustling Allen Gardens.

Monday, March 15th, 2010

s3e5: Me, Myself and Murdoch

A family celebration of Alexander Reynolds' 60th birthday is dampened when he's found with a knife plunged into his chest. Murdoch is called in and soon discovers the victim was universally despised by his kin. Reynolds' family instantly falls under suspicion but the field of suspects narrows considerably when daughter Charlotte Reynolds appears in a blood soaked dress and confesses to killing her father.

Tuesday, March 23rd, 2010

s3e6: This One Goes to Eleven

James Pendrick, owner of the Pendrick Building, proudly shows off his extensive art collection to a group of admirers. The highlight of the tour is a magnificent Rembrandt that Pendrick purchased on a recent trip to France. The constabulary is hired to guard the painting's return to the Pendrick mansion and is daringly stolen from the elevator, leaving a dead security guard in the car.

Tuesday, March 30th, 2010

s3e7: Blood and Circuses

There's pandemonium at Police Station Four. Something has gone terribly wrong at Barnett's Travelling Royal Circus. Lulu, the white Siberian tiger went berserk and partially devoured its trainer before escaping into the streets. Lulu has since been shot and killed but rumors have started circulating that this wasn't simply a case of 'tiger gone bad'.

Tuesday, April 6th, 2010

s3e8: Future Imperfect

Murdoch is invited to attend a mysterious meeting in High Park. With Ogden to accompany him they find themselves mixing with some of city's greatest minds at a meeting of the Toronto Society for The Advancement of Eugenics, lead by James Pendrick. Murdoch discovers that Sally Pendrick invited him. The guest speaker is none other than the great science fiction writer HG Wells, and beside him stands Ruby Ogden, Julia's younger sister.

Wednesday, April 14th, 2010

s3e9: Love and Human Remains

Workers laboring to build a bridge across the Don River make a grisly discovery – entombed in the swamplands bordering the river are the well-preserved bodies of a man and a woman. Called to the scene, Murdoch and Ogden quickly determine that the couple was murdered. When a third body is then discovered, Murdoch has to re-evaluate the nature of the crime.

Tuesday, April 20th, 2010

s3e10: The Curse of Beaton Manor

It is a dark and stormy night. A lonely light burns in the tower of stately Beaton Hall. Suddenly, lightening flashes across the sky and a bloodcurdling scream is heard. Chauncey Beaton runs down the halls of the mansion from an unseen pursuer. He comes to a Juliet balcony and realizes he has nowhere else to go. Murdoch arrives at the scene, where Chauncey's body lies crumpled on the paving stones. He obviously fell from the balcony but did he jump or was he pushed?

Tuesday, April 27th, 2010

s3e11: Hangman

Cecil Fox, a hateful reprobate convicted of killing Justice Horace Mead, is led to the gallows at the Toronto Court House. Murdoch, there on witness duty, winces as Pleasant pulls the trap door handle and sends Fox to his maker. When she carries out the post mortem, Ogden notices a curious puncture wound in the throat. Puzzled, she leans in for a better look and Fox's eyes open! Before Ogden can react, Fox knocks her unconscious and runs out.

Tuesday, May 4th, 2010

s3e12: In the Altogether

Murdoch is drawn into the naughty world of Victorian erotica and blackmail when he investigates the murder of Abigail Tunstall, a young woman who had been posing for salacious photographs. Interviews with Abigail's friends and family and the discovery of one of her erotic photos help Murdoch zero in on the location where the pictures were taken – a studio owned by a photographer named Marcus Evans. When Murdoch searches through photo collections for clues to Abigail's murder he makes a startling discovery – one of McHugh's erotic models is none other than Sally Pendrick, the vivacious and beautiful wife of Murdoch's nemesis, the rich and powerful industrialist James Pendrick.

Tuesday, May 11th, 2010

s3e13: The Tesla Effect

Murdoch is called upon to investigate an exceedingly strange murder. The deceased was found inside a room locked from within with no other entrance. But there's more to the case than that – the victim appears to have exploded and burned, yet there is no trace of an explosion or fire. Before Murdoch can proceed with his investigation, the case takes a bizarre turn when old friend and world-renowned inventor Nikola Tesla appears, announcing cryptically that he is "too late."
Season 4
Tuesday, February 15th, 2011

s4e1: Tattered and Torn

When a strange case crosses his desk; body parts – a foot, a hand and a headless torso - have surfaced along the Don River. Ogden's replacement, Dr. Francis Philpott, insists the body parts are from one murder victim. But Murdoch has his doubts and contacts Ogden. Initially reluctant, Julia can't help but be intrigued by the case. Murdoch secretly ships her the evidence and Ogden's examination reveals they are dealing with three different victims but likely one killer.

Tuesday, February 22nd, 2011

s4e2: Kommando

Murdoch and the gang are called to the scene of a grisly murder in the Don Valley, after a young man is found savagely beaten to death. The victim is Tom Meeks, a cadet at Fort York, who was on a rigorous training course that teaches guerrilla tactics. When another body is found with a ripped face to try and avoid identification, Murdoch investigates the military unit further and finds out some very disturbing underhand medical practices that the soldiers are unaware of.

Tuesday, March 1st, 2011

s4e3: Buffalo Shuffle

Despite an unsolved break-in at the station house, Murdoch announces he's taking a vacation. His holiday turns out to be a trip in response to a telegram from Dr. Ogden requesting his help in Buffalo to solve what she thinks is a murder at The Children's Hospital. Murdoch agrees to go - thoughts of rekindling their relationship in the back of his mind. The case involves a 14 year-old terminally ill boy, Ben Wilkie, who has died under what Ogden feels are mysterious circumstances.

Tuesday, March 8th, 2011

s4e4: Downstairs Upstairs

When the master of a wealthy household, is found face down in his morning porridge, it would seem that Murdoch has entered into a conventional drawing room mystery. The characters are all there: The murdered Percival, his aggrieved wife and two very different sons. But whereas most drawing room mysteries revolve around the affairs of the upper class, Murdoch learns that the heart of this mystery lies in the servant's hall below the stairs, where there's a mix of unsettled emotions and grudges to bear.

Tuesday, March 15th, 2011

s4e5: Monsieur Murdoch

Julia is getting married to Rafe in a week - the letter she wrote to Murdoch confessing her love for him is lying beneath his desk blotter and he has no idea it exists. On top of his heartbreak, he has made no progress on a case involving a young French woman who had arrived in Toronto to visit her sister, and then vanished without a trace. The case is further complicated when Murdoch arrests a dashing young Frenchman breaking into a suspect's apartment, only to learn that he is a detective who has been hired by the disappeared woman's father.

Tuesday, March 22nd, 2011

s4e6: Dead End Street

Murdoch makes a surprising discovery at a dolls house fair; in one of the houses the artist has placed a hand firing a gun. This is no ordinary model - it's a crime scene. Murdoch finds the creator of the streetscape, an autistic 19-year-old, Lydia, who communicates best through model building. No one has reported a murder yet, but using the model's intricate clues left by Lydia, Murdoch discovers that someone indeed has been killed – but what happened and why? Someone is far from happy by his investigations and things begin to get even more sinister in the neighbourhood.

Tuesday, March 29th, 2011

s4e7: Confederate Treasure

The murdered body of an elderly drifter is found near the docks with a whiskey flask clenched in his hands. It looks at first like another drunk has met an unkind fate. But, when Ogden determines the victim had the liver of a teetotaler, Murdoch inspects the whiskey flask and finds a secret compartment containing what appears to be part of a coded message. The case takes an even stranger turn when a man identifying himself as the dead man's son comes to the morgue to claim his body. Investigations lead to political conspiracies being uncovered and a far bigger case is on their hands than first expected.

Tuesday, April 5th, 2011

s4e8: Dial M for Murdoch

A young switchboard operator, overhears a murder over the telephone lines and reports it to Station House #4. When Murdoch traces the address, no one is home and there's no body. But Murdoch is suspicious of the particularly clean room and instructs Crabtree to fetch his murder bag. This is a crime scene.

Tuesday, April 12th, 2011

s4e9: The Black Hand

When Murdoch is called to the scene of a murder Joe Prestia, a handsome thirty-something, he discovers that he once had a relationship with the victim's beautiful fiancée, Anna Fulford. Dr. Ogden discovers evidence suggesting Joe was the victim of a skilled assassin. Anna has no idea who would have wanted to kill Joe. Matters take a frightening turn when the assassin makes an attempt on Anna's life. Why would anyone want Anna dead too? Murdoch's investigation reveals that the murdered man had a much darker past than anyone knew.

Tuesday, April 19th, 2011

s4e10: Voices

As the sisters of the Immaculate Conception prepare to put the coffin of elderly Sister Ignatius into her final resting place in the convent's cemetery, a young novitiate peers into the dug grave and sees something poking out of the dirt – a human hand. Murdoch is called to the scene and his constables lift the bloodied body of the convent's gardener out of the grave. But a dead body is not the only surprise the convent holds.

Tuesday, April 26th, 2011

s4e11: Bloodlust

When a young teenage girl collapses and dies in her nightgown at the fountain at The Gordon Academy for Young Women, Ogden and Murdoch are called in to investigate. Why had she snuck out? She had lost a lot of blood, but only a trickle was there when they found her? And who is the mysterious lone figure that seems to haunt the school at night? The schoolgirl witnesses tell tales of trances and beautiful pale-skinned young men, and soon people begin to believe that vampirism is behind the murder...

Tuesday, May 3rd, 2011

s4e12: Kissing Bandit

The Toronto Bank is thrown into chaos when a masked man bursts through the door and fires two shots into the ceiling. The robber gets the tellers to fill his bag. When he finishes he kisses a teller on the lips and escapes into the street. The Kissing Bandit has struck a third bank and so Murdoch is put on the case. During each robbery the bandit kisses one teller before fleeing, and takes such little money that it hardly seems worth the risk, and then the stolen cash is distributed to local charities. Who is this modern day Robin Hood?

Tuesday, May 10th, 2011

s4e13: Murdoch in Wonderland

When a woman is found murdered at a costume party held in honour of the late Lewis Carroll, all clues point to a man dressed as the Mad Hatter. It seems obvious that this is the killer? This is not welcomed news as this part was played by Murdoch himself. Murdoch becomes the Alice In Wonderland prime murder suspect and it's up to his team to prove their favourite detective is not the killer – or can we be sure of that?
Season 5
Tuesday, February 28th, 2012

s5e1: Murdoch of the Klondike

Murdoch joins the Gold Rush in the Yukon and meets radical author Jack London.

Tuesday, March 6th, 2012

s5e2: Back and to the Left

Murdoch must tread carefully when he pursues a Catholic suspect of the murder of an Alderman.

Tuesday, March 13th, 2012

s5e3: Evil Eye of Egypt

When Detective Murdoch investigates a series of deaths linked to an exhibition of Egyptian antiquities, Constable Crabtree is convinced a Mummy's curse is to blame.

Tuesday, March 20th, 2012

s5e4: War on Terror

While investigating an explosion, Detective Murdoch infiltrates an anarchist group lead by American labour organizer, Emma Goldman.

Tuesday, March 27th, 2012

s5e5: Murdoch at the Opera

When Elvira Cummings (Alison Jantzie), a young opera singer, is poisoned during a rehearsal of La Bohème, Detective Murdoch suspects the intended victim was Madame Rosa Hamilton (Measha Brueggergosman), the diva who stormed off stage moments before her protégé collapsed.

Tuesday, April 3rd, 2012

s5e6: Who Killed the Electric Carriage?

Detective Murdoch suspects the ambitious inventor of an electric vehicle murdered an associate who stood in the way of his plans to compete with Henry Ford.

Tuesday, April 10th, 2012

s5e7: Stroll on the Wild Side (1)

When Detective Murdoch investigates the abduction of Lucille Messing (Tori Anderson) a shy, churchgoing librarian, he's stunned to discover his friend, Anna Fulford (Lisa Faulkner), working at the library under an alias. Murdoch has grave fears for her safety since the Black Hand, a criminal syndicate responsible for murdering her fiancé, still has a price on her head.

Tuesday, April 17th, 2012

s5e8: Stroll on the Wild Side (2)

After saving his friend Anna (Lisa Faulkner) from the Black Hand, Detective Murdoch (Yannick Bisson) bargains for her life. During his investigation into the murder of a shy librarian with a secret life, he encounters another young woman behaving seductively.

Tuesday, April 24th, 2012

s5e9: Invention Convention

Murdoch meets inventor Alexander Graham Bell when a ruthless inventor is killed by a rival.

Tuesday, May 1st, 2012

s5e10: Staircase to Heaven

A high stakes card game involving Dr. Grace ends in death.

Tuesday, May 8th, 2012

s5e11: Murdoch in Toyland

Murdoch is taunted by a murderer who leaves dolls with personal messages at crime scenes.

Tuesday, May 15th, 2012

s5e12: Murdoch Night in Canada

Detective Murdoch's investigation into the murder of a member of the Toronto Wellingtons hockey team takes him to Ottawa.

Tuesday, May 22nd, 2012

s5e13: Twentieth Century Murdoch

As New Year's Eve and the twentieth century approaches, Detective Murdoch is suspicious of Gideon Turner, who claims he has knowledge of soon-to-be-committed crimes but refuses to say how or why. When Turner bolts from police custody and thwarts a murder attempt, Murdoch, Inspector Brackenreid and Constable Crabtree demand to know where he got his information. He calmly explains he saw the events happen when he travelled to the future.
Season 6
Monday, January 7th, 2013

s6e1: Murdoch Air

Murdoch investigates the crash of a flying machine that killed a man, uncovering conspiracy and sabotage.

Monday, January 14th, 2013

s6e2: Winston's Lost Night

Detective Murdoch suspects a soldier after a veteran is slain by a sword.

Monday, January 21st, 2013

s6e3: Murdoch on the Corner

Murdoch films a street corner to catch a killer.

Monday, January 28th, 2013

s6e4: A Study in Sherlock

A man claiming to be Sherlock Holmes is the prime suspect in a murderous gang of armed robbers.

Monday, February 4th, 2013

s6e5: Murdoch Au Naturel

Murdoch enlists some revealing detective work while investigating a murder at a nudist community.

Monday, February 11th, 2013

s6e6: Murdoch and the Cloud of Doom

A toxic gas will be released into the city of Toronto, unless Murdoch can find a way to stop it.

Monday, February 25th, 2013

s6e7: The Ghost of Queen's Park

While investigating the death of a politician, rumored to have been killed by a vengeful ghost, Crabtree's theories of the paranormal conflict with Murdoch's scientific beliefs.

Monday, March 4th, 2013

s6e8: Murdoch in Ladies Wear

Murdoch investigates the murder of an Eaton's department store manager who was disliked by the shop girls.

Monday, March 11th, 2013

s6e9: Victoria Cross

A murder investigation is hindered by an uncooperative witness.

Monday, March 18th, 2013

s6e10: Twisted Sisters

Murdoch investigates multiple drownings of a single career woman.

Monday, March 25th, 2013

s6e11: Lovers in a Murderous Time

A delusional woman is the prime suspect in the stabbing of her fiance.

Monday, April 8th, 2013

s6e12: Crime & Punishment

Detective Murdoch and his methods are compromised when one of his colleagues is implicated in a suspicious murder.

Monday, April 15th, 2013

s6e13: The Murdoch Trap

With his colleague sentenced to hang for murder, Detective Murdoch races to exonerate them and steps into a trap set by the real killer.
Season 7
Monday, September 30th, 2013

s7e1: Murdoch Ahoy

Detective Murdoch and Inspector Brackenreid are aboard the SS Keewatin after the owner, Clarence MacFarlane, receives what he believes is a threat. The Keewatin is about to depart from Toronto on its maiden voyage destined for Rochester, N.Y. and Murdoch thinks they should stay on board, especially after he sees that Julia is one of the invited guests. Their presence proves useful after MacFarlane's daughter Amy, who is engaged to her father's chief financial officer Owen Mathers, falls overboard and is nowhere to be found. As Murdoch investigates he finds there is a real threat against the Keewatin and the true facts behind Amy's disappearance.

Monday, October 7th, 2013

s7e2: Tour de Murdoch

Detective Murdoch investigates the sudden death of bicycle racer Joe Fenton. Murdoch was himself a participant in the race trying out his newfangled gear shifting device but Fenton was the favorite having won several recent races. Fenton's manager, Chippy Blackburn, was seen giving him a potion and they suspect he may be may be fixing races. Dr. Grace however is having considerable difficulty finding a cause of death and with Dr. Ogden's assistance performs her first brain bisection.

Monday, October 14th, 2013

s7e3: The Filmed Adventures of Detective William Murdoch

Detective Murdoch and many others attend a special showing of a film that will also include sound. The man behind the scheme is James Pendrick and his main competitor, Thomas Edison, is also present for the showing. The film includes a scene where a shot is fired but when the lights come up, one of the patrons, Pendrick's principal investor, has been shot in the head.

Monday, October 21st, 2013

s7e4: Return of Sherlock Holmes

Murdoch finds his investigation into a nanny's disappearance assisted by the man who considers himself the real Sherlock Holmes.

Monday, October 28th, 2013

s7e5: Murdoch of the Living Dead

Detective Murdoch investigates the death of Emily Fuller whose body is found on the riverbank. They trace her to her home where her husband Jeremiah is completely impassive. The dead woman's daughter Betty says her father has been like this since he had been away recently for a few days. Dr. Grace determines that the Emily did not drown, as they had initially suspected, but was strangled by someone with a very large hand. Constable Crabtree thinks he knows what's happened after he finds that Jeremiah is officially dead - he's now a Haitian zombie, risen from the dead. After Dr. Grace finds that a second victim's brain has been operated on, Murdoch thinks he knows who they are dealing with.

Monday, November 4th, 2013

s7e6: Murdochophobia

Detective Murdoch investigates the death of Sarah Bosen who apparently threw herself from her hospital room window and breaking her neck in the fall. Sarah was being treated by Julia Ogden for arachnophobia and had been making some progress in overcoming her fears. Murdoch however finds a dead spider in her room. The three remaining members of the treatment group begin to have their doubts about their therapy. Julia's colleague, Dr. Charles Linden, thinks her therapy is a waste of time and as far as he is concerned, Sarah's death proves him correct. He launches a formal complaint to have her research terminated. When her other patients are forced to face their phobias, Murdoch concludes that someone is trying to kill her patients. Meanwhile, Crabtree tries to save his pet spider from Dr. Grace's experiments and Dr. Ogden helps Murdoch overcome his own irrational fear.

Monday, November 18th, 2013

s7e7: Loch Ness Murdoch

Detective Murdoch investigates the death of Katie Buchanan who is found dead at the beach, on a hot summer's day, by her friend Elaine Lawson. Both were entrants in a beauty pageant known as the Miss Purity competition, to select the new face of Alexander soap. Dr. Ogden, who is spending her day off at the beach finds what appears to be a large animal bite on the woman's torso. Katie's boyfriend, James Bennett, had recently left her for another competitor, Marie Nicholson and becomes the prime suspect. Inspector Brackenreid however is certain he saw a monster in Lake Ontario and Murdoch is skeptical until he too sees a creature in the water. Constable Crabtree is dismissive of any suggestion that there might be a monster in the water and pursues a more realistic line of inquiry.

Monday, November 25th, 2013

s7e8: Republic of Murdoch

Detective Murdoch investigates the death of Peter Farrelly who had a loud altercation with someone the night before his body was found. Dr. Grace determines he was beaten to death. She also found chloral hydrate in his system - a bottle of which they found in the victim's luggage. They believe both the victim and his killer are from Newfoundland and so Murdoch and Crabtree head off to St. John's in the hopes of finding the suspected killer Ezekiel Farrelly. Crabtree was actually raised in St. John's by several aunts who, it turns out, have an interesting occupation. The solution to murder lies with finding an old pirate treasure map.

Monday, December 2nd, 2013

s7e9: Midnight Train to Kingston

Detective Murdoch, Inspector Brackenreid, Dr. Ogden and several others are transporting serial killer James Gillies to the prison in Kingston, Ontario where he is scheduled to be executed the next day. It creates a bit of a stir among the passengers when they learn who is being transported. Among them are Aaron Rauls, a late arrival on the train and Nathaniel Henry. Both come under suspicion when the police find a dead man, Dennis Bolton who was released from the Don jail just a week ago. There's no direct connection between Bolton and Gillies but both were in the same jail at the same time. As tensions rise, it becomes evident that Gillies has arranged for several ex-convicts to be on the train - all part of his plan to escape.

Monday, January 6th, 2014

s7e10: Murdoch in Ragtime

Detective Murdoch investigates the murder of Nathan Peters, a jazz musician and renowned band-leader, who was found dead at the docks. His group, the Jubilee Singers, was performing nearby and his wife had already reported him missing. Dr. Emily Grace determines that he died in the early hours of the morning from a blow to the head causing a subdural hemorrhage. The evidence in the case begins to point to one of the Jubilee Singers as the perpetrator. Much to George Crabtree's chagrin, Emily seems to have taken an interest in the roguish Leslie Garland. Julia meanwhile feels that a huge weight has been taken off her shoulders now that James Gillian is dead.

Monday, January 13th, 2014

s7e11: Journey to the Centre of Toronto

Murdoch investigates a rash of tunneling robberies that Crabtree is convinced were perpetrated by a species of mole people.

Monday, January 20th, 2014

s7e12: Unfinished Business

After a dying man confesses a murder in what appears to be an open and shut case, Murdoch finds a body but suspects the real killer might still be alive.

Monday, January 27th, 2014

s7e13: The Murdoch Sting

Murdoch orchestrates an elaborate sting when a past suspect returns with a deadly con.

Monday, March 3rd, 2014

s7e14: Friday the 13th, 1901

Julia and Emily go to a bachelorette party; Murdoch and the boys get involved in a high stakes curling match.

Monday, March 10th, 2014

s7e15: The Spy Who Came Up to the Cold

The assassination of U.S. President McKinley in Buffalo prompts a roundup of Canada's anarchists, landing Murdoch in the middle of a web of international espionage and intrigue.

Monday, March 24th, 2014

s7e16: Kung Fu Crabtree

When a Chinese dignitary visiting Toronto is poisoned, Crabtree teams up with the prime suspect – who he believes to be innocent – in order to track down the real killer.

Monday, March 31st, 2014

s7e17: Blast of Silence

A local industrialist is tied to the top of a telephone pole with a noise-activated bomb strapped to his chest. While Murdoch and his colleagues deal with the dilemma, Mayor Clarkson orders nearby businesses to be shut down to minimise sound pollution. However, the politician finds himself the criminal's next target.

Monday, April 7th, 2014

s7e18: The Death of Dr. Ogden

When Julia Ogden's father passes away, she uncovers an unexpected truth behind his death - and his life. Meanwhile, Brackenreid must take over for Murdoch in the investigation of a murder amongst a group of geniuses.
Season 8
Monday, October 6th, 2014

s8e1: On the Waterfront (1)

Murdoch believes that the brutal murder of a waterfront merchant could be linked to the shocking assault on Inspector Brackenreid.

Monday, October 13th, 2014

s8e2: On the Waterfront (2)

Murdoch and the force have to confront more violence on the waterfront as they try and bring Brackenreid's attackers to justice. Dr. Ogden and Dr. Grace go head to head in court.

Monday, October 20th, 2014

s8e3: Glory Days

Murdoch and legendary lawman Bat Masterson unite to hunt for Butch Cassidy and the Sundance kid.

Monday, November 3rd, 2014

s8e4: Holy Matrimony, Murdoch!

Murdoch and Ogden intervene in the trial of a woman who has been accused of murdering her husband. The pairs nuptials approaches.

Monday, November 10th, 2014

s8e5: Murdoch Takes Manhattan

During their honeymoon in New York, Murdoch and Ogden uncover a deadly conspiracy threatening U.S. President Teddy Roosevelt, while Brackenreid and Dr. Grace investigate a murder by motorcar back in Toronto.

Monday, November 17th, 2014

s8e6: The Murdoch Appreciation Society

Murdoch discovers he's being followed by a group of detective admirers, while Ogden's work with the suffragette movement leads her to consider a run for political office.

Monday, November 24th, 2014

s8e7: What Lies Buried

The skeleton of a murdered police officer is found in a station house basement, prompting Murdoch to question his own colleagues.

Monday, December 1st, 2014

s8e8: High Voltage

A man's electrocution leads Murdoch back to talking to Thomas Edison.

Monday, December 8th, 2014

s8e9: The Keystone Constables

A vaudeville comedian ends up murdered, prompting Crabtree and Higgins to go undercover to investigate the other performers.

Monday, February 23rd, 2015

s8e15: Shipwreck

Murdoch is reunited with his childhood mentor while investigation a murder in a church.

Monday, March 16th, 2015

s8e16: CrabtreeMania

Crabtree investigates the death of a wrestler and uncovers deception and fraud.
Season 9
Monday, October 26th, 2015

s9e3: Double Life

Monday, October 12th, 2015

s9e2: Marked Twain

Murdoch and his colleagues must protect the safety of author Mark Twain after he stirs up controversy during a speaking engagement in Toronto.

Monday, February 22nd, 2016

s9e14: Wild Child

Monday, February 1st, 2016

s9e12: Unlucky in Love

The electrocution of an elderly groom leads Murdoch to suspect a black widow, while Crabtree meets Lucy Maud Montgomery at a writing class.
Season 10
Monday, November 7th, 2016

s10e5: Jagged Little Pill

Murdoch and Ogden investigate the poisoning of a businessman; Rebecca is suspicious of a student's suicide.

Monday, November 21st, 2016

s10e7: Painted Ladies

Murdoch suspects a connection between dead men found with lipstick smudges on their faces and Crabtree's burlesque dancer sweetheart.

Monday, November 28th, 2016

s10e8: Weekend at Murdoch's

Murdoch and Crabtree pretend that a witness is still alive in a ploy to catch a killer.

Monday, January 9th, 2017

s10e10: The Devil Inside

Murdoch and Ogden contend with a killer who claims he's possessed by the devil.
Season 0
Tuesday, March 7th, 2017

s0e40: Beyond Time: Episode 15

The professor worries Agent Baker has sabotaged the device. Meanwhile, Rebecca learns about "French Fries"

Friday, March 10th, 2017

s0e41: Beyond Time: Episode 16

Meyers figures out Agent Bakers plan while Jackson and Higgins race to find Rebecca.

Tuesday, March 14th, 2017

s0e42: Beyond Time: Episode 17

Jackson and Higgins discover they can save Laurier and Rebecca - but they may not be able to do both

Friday, March 17th, 2017

s0e43: Beyond Time: Episode 18

How can someone be trusted to save the life of someone they just killed?

Tuesday, March 21st, 2017

s0e44: Beyond Time: Episode 19

If only one person can go to save Laurier, who will it be? Meyers or the professor?

Friday, March 24th, 2017

s0e45: Beyond Time: Episode 20

With Rebecca James back, she learns that she will one day change the world.