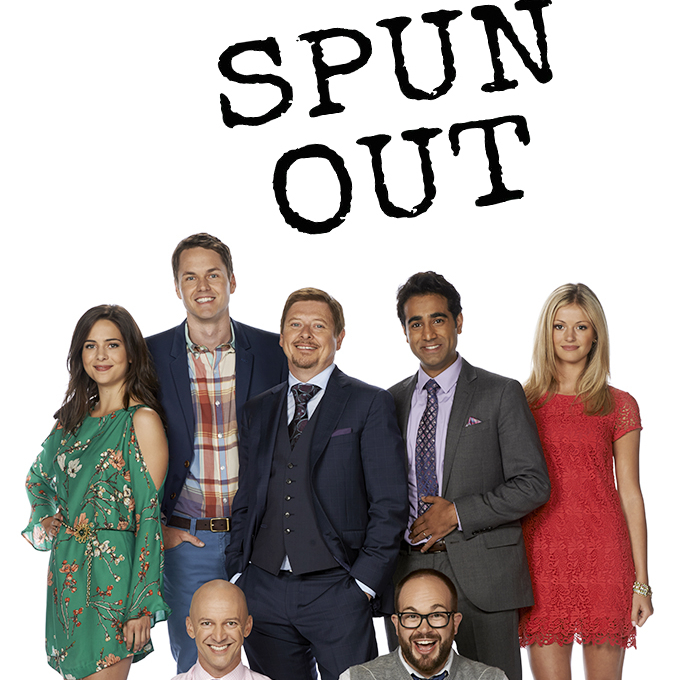 Season 1
Thursday, March 6th, 2014

s1e1: Egg Salad

After Beckett's book bombs, Nelson gets his best friend a job at Dave Lyons PR, but instead of wowing the boss, Beckett screws things up for a big client and jeopardizes the reputation of the firm. Thanks to Stephanie's insight and Dave's persistence, Beckett realizes he still has a natural affinity for PR and vows to stick it out with his newfound friends.

Friday, March 7th, 2014

s1e2: Parental Indiscretion

When it seems like Dave and his ex-wife Claudia may get back together, Stephanie will do anything to return her parents to their state of un-marital bliss. Nelson spills the secret about Bryce's palatial bathroom. Abby hopes to strike it rich when she buys a storage locker full of junk.

Friday, March 14th, 2014

s1e3: Unauthorized

Beckett is thrilled to work with his literary hero, who is set to launch his new book, until he inadvertently turns the reclusive cult writer into a hard-partying mess. Dave is worried that Gordon's "process" of working will get him fired, and tired of Nelson continually tagging ugly pictures of her on social networking sites, Stephanie goes on a mission to find a horrible picture of him.

Friday, March 21st, 2014

s1e4: Stalkblocker

Abby and Nelson are convinced that Beckett's super fan is actually a stalker. Dave helps Stephanie master the art of elevator small talk. Gordon knits Dave articles of clothing as presents after receiving compliments on them.

Friday, March 28th, 2014

s1e5: Gaycation

Nelson is thrilled when Abby offers to do all "gay guy stuff" with his husband. But when Abby starts getting way too chummy with his hubby, Nelson wonders if maybe he's just not gay enough for his man. Stephanie is convinced a lucky bra is the secret to her newfound success at work. Bryce goes to great lengths to convince Gordon to let him sit in his new, fancy office chair.

Friday, May 2nd, 2014

s1e10: Daved and Confused

When Dave throws out his back and with a big client coming in, Stephanie and Nelson individually take it upon themselves to spike his coffee with the pain medication he refused to take. Little did they know Dave was already self-medicating – not with painkillers, but with a little extra booze.

Friday, April 4th, 2014

s1e6: Mad About Beckett

While working together on a PR assignment, Beckett is determined to figure out why Stephanie is unable to say the word 'penis' in his presence. Nelson helps Dave deal with the death of his former college professor. Bryce's reign as Twitter king of the office is usurped when a single tweet by Esther makes her a Twitter sensation.

Friday, April 11th, 2014

s1e7: Middle Aged Men in the Hall

Stephanie surprises Dave with what she thinks is the perfect 50th birthday present: a reunion of his former Goth bandmates from high school. But even more disturbing than the sight of seeing middle-aged men with pale faces and black eyeliner, is the fact that they have come to fulfill their 30-year-old pact to kill themselves when the last one turns 50.

Friday, April 18th, 2014

s1e8: Thrill of the Chaste

When Stephanie deflowers a virginal pop singer – and a huge client of DLPR – making her the most hated woman in the world, Beckett and Nelson must find a way to help her out of her mess. Things are further complicated when the band member announces their engagement. When faced with the choice between saving his client and saving his daughter, Dave is shocked to discover that his instincts were to save his client and decides to become less of a ruthless shark, and more of a 'dear old dad.'

Friday, April 25th, 2014

s1e9: Toy Stories

Forced to work on a Saturday, Beckett and Nelson's friendship is tested when they argue about a project they did together in elementary school. Dave enlists Abby's help on a secret project that makes Stephanie jealous... until she discovers the project is a heartfelt and touching surprise just for her.

Friday, May 9th, 2014

s1e11: Break Up Like Beckett

When Dave discovers that his former wingman – both in PR and with the ladies – is gay, he embraces the 'gay lifestyle' a little too hard. Nelson and Abby help break his pattern of breaking up with women for the smallest of reasons, and Stephanie enlists Bryce's help to dump her boyfriend.

Friday, May 16th, 2014

s1e12: Carpoolers

Beckett is shocked to discover that Nelson slept with his college sweetheart. The discovery leads to a series of accusations and revelations that threaten to destroy the guys' friendship. Bryce is insulted to find out that he's the only one in the office who didn't get a business card, and Stephanie goes to great extremes to prove her politeness to a waitress.

Friday, May 23rd, 2014

s1e13: This Is Going to Take a While

In hopes of landing the Mayor as a client, Dave throws a charity casino night at the firm. But when the casino permit isn't properly filed, Dave is placed under house arrest, leaving Stephanie in charge of landing the mayor. Abby convinces Beckett to tell Stephanie how he feels, and Nelson tries to keep the fact that he and his husband have broken up a secret.
Season 2
Tuesday, August 18th, 2015

s2e6: Sexual Ceiling

Beckett starts a physical relationship with a filmmaker and finds stimulating conversation with Stephanie.

Tuesday, September 8th, 2015

s2e9: Dream On

Stephanie reveals to Abby that she had a romantic dream about Bryce.

Thursday, September 10th, 2015

s2e10: Can't Buy Me Love

After receiving gifts from Nelson, Beckett suspects he may be hiding something.