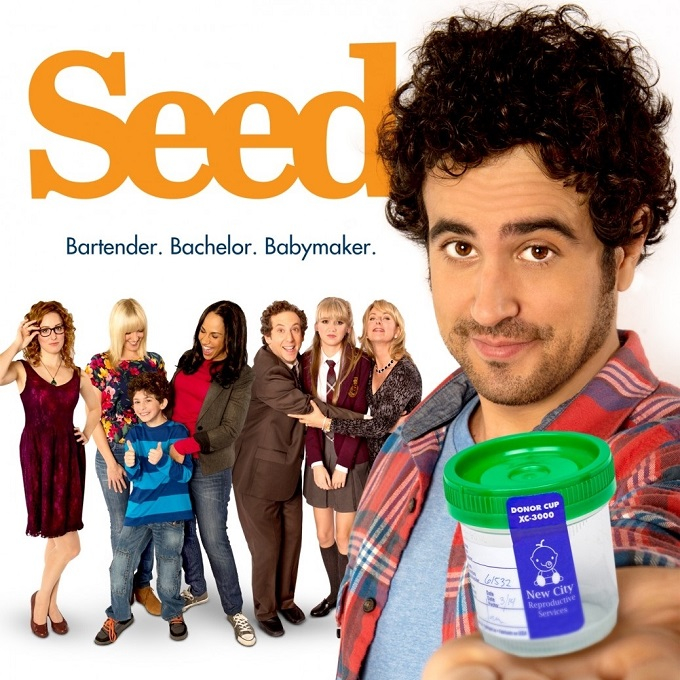 Season 1
Monday, February 4th, 2013

s1e1: I'll Conceived

Harry becomes an overnight father figure to nine-year-old Billy and teenage Anastasia, who both seem to be the product of Harry's past foray into sperm donation. Meanwhile Harry meets Rose, a beautiful, if neurotic, single woman who's out to have a baby on her own, and who believes Harry may have what she needs to get pregnant.

Monday, February 11th, 2013

s1e2: Zygote Problems

Monday, February 18th, 2013

s1e3: The Rhythmic Gymnastic Method

Harry signs Billy up for Rhythmic Gymnastics, so that Harry can hook up with the hot new gymnastics teacher. Meanwhile Jonathan offers Harry $5000 to disappear from his daughter's life. Rose strikes up a friendship with Irene, who Harry fears will tell Rose all of Harry's dirty secrets.

Monday, February 25th, 2013

s1e4: The Ultrasound and the Fury

Double-booked, Harry must decide between scoring with a hot fashion model or attending his baby's first ultrasound.

Monday, March 4th, 2013

s1e5: Birth of a Salesman

Harry helps Billy become his school's top charity salesman, while Rose tests her maternal instincts on an electronic baby.

Monday, March 11th, 2013

s1e6: Corner Orifice

Rose hides her pregnancy from her boss, while Harry discovers the truth about Jonathan and Janet's sex life.

Monday, March 18th, 2013

s1e7: Fetal Attraction

Harry figures out the secret behind Rose's new boyfriend, while Zoey and Michelle deal with consequences of Billy having lice.

Monday, March 25th, 2013

s1e8: Bromozomes

Monday, April 1st, 2013

s1e9: Rebel Without Lamaze

Harry helps Rose to make friends in her new birthing class, while Janet and Jonathan fight for the chance to be involved in Anastasia's prom.

Monday, April 8th, 2013

s1e10: Womb Mates

Harry coaxes out Rose's bachelor side when they are forced to share an apartment. Zoey's grandmother plays a visit, and Rachel goes behind Jonathan's back in an attempt to get a good deal on a car.

Monday, April 15th, 2013

s1e11: The Sperm Whale

Harry lies about having a relationship with Rose to score with a home-wrecker; Jonathan and Janet attempt to connect with Anastasia online.

Monday, April 22nd, 2013

s1e12: Always Use a Condo

Rose lies to make a preschool waitlist; while Zoey and Michelle attempt to give Billy 'The Talk'

Monday, April 29th, 2013

s1e13: At Your Cervix

Roses's pregnancy nears full term, prompting Zoey and Michelle to contemplate whether they will ever want another child of their own.
Season 2
Thursday, March 6th, 2014

s2e1: The Second Coming

Harry, Michelle and Zoey dole out conflicting love advice to Billy, while Harry tries to deal with his newly discovered crush on Rose. Meanwhile, Rose can't wait to start dating a cute father at her baby's play group, but she's not happy when she finds Harry spying on her date. Jonathan is thrilled to come to Harry's rescue, since Janet and Anastasia aren't interested in his advice.

Thursday, March 13th, 2014

s2e2: Consenting Adults

Harry's feelings for Rose mean he's not interested in dating other women, but Zoey, Michelle and Janet convince him to date the director of Billy's school play. Meanwhile, Jonathan tells Rose about Harry's feelings for her, but Rose doesn't believe it when she catches Harry in a compromising situation.

Thursday, March 20th, 2014

s2e3: To Breed or Not to Breed

With the sperm bank out of Harry's 'stuff,' Zoey and Michelle go straight to the source. But Harry refuses to put out, forcing Zoey and Michelle to confront the reality of another baby. Meanwhile, Rose wants her boyfriend Bruce to get along with Harry, and Janet and Jonathan try to rekindle their 'happy marriage' – with disastrous results.

Thursday, March 27th, 2014

s2e4: Safe Sects

Rose tricks Harry into babysitting so she can have her first sex date with new boyfriend Bruce, but is furious when Harry leaves baby Charlie with Janet, whose 'baby whispering' skills are put to the test. Meanwhile, Zoey worries that Billy is slow for not figuring out her homemade holiday, 'Gaia Day,' isn't real.

Thursday, April 3rd, 2014

s2e5: Getting Tail