update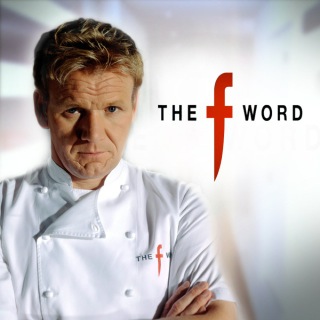 Season 0
Monday, December 24th, 2007

1: Best of Season 3

Tuesday, August 5th, 2008

2: Recap of first three seasons

Best moments from the first three seasons.
Season 1
Thursday, October 27th, 2005

1: Episode 1

It's National Vegan Week, so Gordon marks the occasion with a very special and very Ramsay dish. Gordon's children learn that a turkey is just for Christmas dinner and not a family pet, when they buy live turkeys to rear and slaughter for Christmas dinner. Star of stage and screen Martine McCutcheon learns how to sharpen a knife and Gordon learns to "keep it simple, stupid" when he challenges comedian Al Murray to make the best bread and butter pudding.

Thursday, November 3rd, 2005

2: Episode 2

Superstar mega-diva Joan Collins visits The F Word restaurant. It's the first time the two have met since Joan was famously thrown out of Gordon's first restaurant, Aubergine, seven years ago. Gordon's mum Helen challenges her son with her favorite recipe for apple pudding. And there's trouble among the turkeys in Gordon's garden. Gary's as sick as a parrot, so Gordon calls in expert advice.

Thursday, November 10th, 2005

3: Episode 3

Gordon faces his biggest challenge yet with his ongoing campaign to get women back into the kitchen. Gordon cooks venison with chocolate: "Bambi never tasted so good." He also journeys to the far north of Scotland to try the rare and unusual delicacy that is Gannet - an unforgettable experience.

Thursday, November 17th, 2005

4: Episode 4

Can food affect a man's fertility? Currently there's speculation about a general decline in the sperm count and whether it can be linked to diet. Gordon blames his own low sperm count on the fact that chefs are constantly exposed to high levels of heat during long hours in a kitchen environment. He enlists the help of a fertility expert and a clinical embryologist to see whether they support his theory and offer advice on how men can help prevent problems with their sperm. Plus top model Penny Lancaster comes for dinner and tells Gordon about her very fertile relationship with Rod Stewart.

Thursday, November 24th, 2005

5: Episode 5

Chat show maestro Jonathon Ross, is put to the test by Gordon this week when he's challenged to kill and cook lobster. 'If Paul McCartney is watching this, I apologize'. 'If you've got the bollocks to eat it, you should have the bollocks to kill it', responds Gordon. The show also features Gary Rhodes, an amazing report about the potential benefits of horse milk and an exclusive report on which is Britain's healthiest supermarket.

Thursday, December 1st, 2005

6: Episode 6

England Coach Sven Goran Erikson's partner, Nancy Dell-Olio, gives Gordon some tips on how to score when she visits The F Word. "The sexiest room in the house? It's the kitchen because the other places are too easy!'" Nancy cooks for and with Sven regularly, "I do the cooking, he helps me. We work together, we're a team.' Actor Richard Wilson - best known for his performance as Victor Meldrew - and Kim & Aggie from "How Clean Is Your House" take Gordon on with their trifle recipe; while resident food critic Giles Coren looks into the world of detox.

Thursday, December 8th, 2005

7: Episode 7

Big Brother host Davina McCall, comedian Jimmy Carr and Property Ladder's Sarah Beeny join celebrated chef Gordon Ramsay and restaurant critic Giles Coren for the cookery show covering all aspects of food.

Thursday, December 15th, 2005

8: Episode 8

Writer and broadcaster Janet Street-Porter and former athlete Colin Jackson guest on the show devoted to all things culinary. Dishes on the menu include ravioli of duck, chestnuts with a Jerusalem artichoke sauce and a main course of sea bass. Gordon also reveals the secret of perfect roast beef and Yorkshire pudding.

Wednesday, December 21st, 2005

9: Episode 9

The chef cooks a festive meal comprising truffle and herb buttered turkey with fried breadcrumbs for guests including Sharon Osbourne. The whole restaurant shares the Christmas feast rustled up from Gordon's hand-reared turkeys, aptly named Jamie, Nigella, Delia, Ainsley, Antony and Gary, while Hugh Fearnley-Whittingstall takes on the recipe challenge.
Season 2
Wednesday, June 21st, 2006

1: Episode 1

Gordon buys some pigs to rear in his garden, and is joined in the kitchen by Kathy Burke. Plus, a new regular feature sees amateur cooks getting the chance to cook in his restaurant for paying customers. Gordon also organises a book amnesty, giving viewers the chance to send in celebrity recipe books they've never used - so they can be safely destroyed.

Wednesday, June 28th, 2006

2: Episode 2

The fiery chef prepares sesame crusted tuna, pan-fried sea bass with sorrel sauce and apple doughnuts, and teaches Jeremy Clarkson how to cook lobster. Janet Street-Porter throws down the gauntlet in the recipe challenge and Cliff Richard is invited to deliver his verdict on several wines - including, unbeknownst to him, one of his own.

Wednesday, July 5th, 2006

3: Episode 3

An all-female amateur brigade prepares scrambled egg with wild mushrooms, black bream with peas bonne femme and pink champagne sabayon with citrus fruit. Darren Gough goes head to head with Gordon in the recipe challenge, and Janet Street-Porter finds a new low-fat superfood with four legs, while Jeremy Clarkson gets down to the task of cooking Sunday lunch for his wife and children.

Wednesday, July 12th, 2006

4: Episode 4

Four Bolton brothers help the chef prepare summer garden soup with walnut pesto, rabbit fricassee, and rhubarb souffle with white chocolate sauce. Janet Street-Porter continues her search for low-fat diet superfoods and Dermot O'Leary takes Gordon on in the recipe challenge with his Irish stew - and a little help from his mother.

Wednesday, July 19th, 2006

5: Episode 5

Four A&E doctors swap their white coats for aprons to rustle up salt and pepper squid with sweet chilli sauce, bacon-wrapped chicken legs with a pea and broad bean risotto and retro classic crepes suzette. Shameless star Dean Lennox Kelly is in for dinner, and Gordon enters Trinny and Susannah into the pigs' equivalent of Crufts. Meanwhile, an expat family in France get a helping hand cooking Sunday lunch.

Wednesday, July 26th, 2006

6: Episode 6

Four Oxford students put their culinary skills to the test with a menu of Japanese marinated cucumber, lemon sole en papillote with red chard and a plum tatin with clotted cream. Gordon discovers what conditions are like for commercially farmed pigs, while Michelle Collins takes up the recipe challenge and Jonathan Ross gets to grips with a live eel at the F Word restaurant.

Wednesday, August 2nd, 2006

7: Episode 7

Four amateur cooks from the West Midlands join Gordon in the kitchen to rustle up artichoke, asparagus and onion tart with fried quails' eggs, breast of duck with spring greens and gooseberry sauce, and a four-minute chocolate mousse. Janet Street-Porter gets a job in a fish-and-chip shop on the Shetland Islands, while Hugh Fearnley-Whittingstall helps prevent Trinny and Susannah getting sunburnt.

Wednesday, August 9th, 2006

8: Episode 8

Four farmers' daughters vie to be cream of the crop when they take over the kitchen to cook three simple recipes. On the menu are a starter of crab mayonnaise rolls with mango salsa, a beef fillet with mushroom gratin and a hot chocolate fondant. John Thomson tackles the recipe challenge, while Janet Street-Porter takes on the might of the supermarkets, and Gordon bids farewell to pigs Trinny and Susannah.

Wednesday, August 16th, 2006

9: Episode 9

The A&E doctors return to the show as the best brigade of the series. Slaughtered pigs Trinny and Susannah also make a reappearance - served up in a recipe of roast loin and belly of pork. Gordon travels to Scotland in search of his grandfather's butcher shop, while Little Britain's David Walliams takes on Hugh Fearnley-Whittingstall and Janet Street-Porter in the recipe challenge.
Season 3
Tuesday, May 8th, 2007

1: Episode 1

Gordon takes on four Eton boys as his team this week. Dawn French guest stars in the restaurant and helps him launch Find Me a Fanny, his search for a new female television cook. Gordon selects some sheep to keep in the garden of his London apartment. On the menu: crab spring rolls with chilli dipping sauce, loin of venison with sweet and sour peppers, and profiteroles with hot chocolate sauce.

Tuesday, May 15th, 2007

2: Episode 2

Four firemen serve as this week's brigade, and Ronnie Corbett takes on Gordon in the recipe challenge. Janet Street Porter offers a "provocative" meat. Girls Allowed visit. On the menu: pan-roasted fois gras with rhubarb, butter-roasted ribeye of beef with grilled artichokes, and summer berry soup with floating islands.

Tuesday, May 22nd, 2007

3: Episode 3

Gordon takes on four Lancashire Lasses as his team this week. In the recipe challenge he takes on James May and challenges him to an eat off. Denise Van Outen eats at the restaurant this week. On the menu: duck egg salad with anchovy fingers; tandoori-spiced halibut with sauteed potatoes; and Scotch pancakes with caramelized bananas.

Tuesday, May 29th, 2007

4: Episode 4

Gordon takes a group called "The Eastenders" in the kitchen, cooks against Alex James in the recipe challenge and goes hunting for deer. Janet Street Porter looks for an alternative to fois gras, and Hugh Fearnley Whittingstall helps Gordon move his lambs. On the menu: seared tuna nicoise salad; pan-fried chicken with asparagus; and caramelized apples and pears.

Tuesday, June 5th, 2007

5: Episode 5

Four estate agents prepare a meal in Gordon's restaurant this week. Chris Moyles finds himself being challenged to make a curry better than his local takeaway can make. Gordon's lambs move to Victoria and David Beckham's place. On the menu: black pudding, potato rosti, and pan-fried eggs; veal scallop with tapenade; and tiramisu.

Tuesday, June 12th, 2007

6: Episode 6

Four Nottingham housewives form this week's brigade. Janet Street Porter attempts to convince Gordon to try a new superfood. The wine tasting skills of former cricketer Ian Botham are put to the test. Gordon goes to Scotland to make buffalo mozzarella. Dom Joly challenges Gordon in The F Word kitchen, and there's bad news about one of the lambs. On the menu: broad bean and scallop risotto; roast pork chops with apple and radicchio; and cherry samosas.

Tuesday, June 19th, 2007

7: Episode 7

The latest amateur brigade of cooks are a team of police officers from Lancaster. Jonathan Ross visits the restaurant. Gordon offers tripe to teenagers, teaches some athletes how to cook great fast food and then joins DJ Sara Cox in the recipe challenge. Gordon searches for scallops. On the menu: pan-roasted pigeon salad with toasted walnuts; roast skate with beet root and parmesan; and pain perdu with carmelized peaches.

Tuesday, June 26th, 2007

8: Episode 8

A team of ex-Army captains from Norfolk cook this week's meal. Gordon fills the restaurant with the fifty finalists from his search for the next Fanny Cradock. Stylist Gok Wan ("How to Look Good Naked"), takes on Gordon in the recipe challenge, as well as offering him some fashion tips. Gordon tastes champagne with Cat Deeley. On the menu: pea, asparagus, pancetta, and goat cheese frittata; honey roast duck with green beans; and baked Alaska.

Tuesday, July 3rd, 2007

9: Episode 9

The Lancashire Lasses are back to cook at Claridges; Ricky Gervais visits. On the menu: king crab tortellini, leg of lamb, shepherd's pie made from Gordon's sheep, and hot chocolate souffle with mint chocolate chip ice cream.
Season 4
Tuesday, May 13th, 2008

1: Wendi Peters' Brigade

First celebrity in the kitchen is Coronation Street star Wendi Peters, and she brings along her sister, husband and mother. Geri Helliwell takes up Gordon's recipe challenge. Janet Street-Porter is back, promoting British veal, and Gordon looks into a deep-sea delicacy: sea urchins.

Tuesday, May 20th, 2008

2: The Guru-Murthy Brigade

Krishnan Guru-Murthy from Channel 4 news takes his family into the F Word kitchen and Janet gets tender with her calves

Tuesday, May 27th, 2008

3: McFly

Gordon Ramsay returns for a new series of the fast-paced food magazine show featuring recipes, consumer stories and cooking challenges. Boy band McFly face the music in Gordon's kitchen. Janet Street-Porter champions a new low-fat superfood. Comedian Ben Miller goes up against Gordon in the recipe challenge with his version of a classic Victoria sponge cake.

Tuesday, June 3rd, 2008

4: The Appleton-Blatt Brigade

Nic and Mel from All Saints are this week's guest chefs in the F Word kitchen and David Blunkett challenges Gordon to a cook-off

Tuesday, June 10th, 2008

5: Paddy McGuinness

Comedian Paddy McGuinness and his lively bunch of mates join Gordon in the kitchen to try and impress the F Word diners. They're not your average kitchen team – more Motley Crew than Michelin chefs and it's clear from the start that they like a laugh. But if anyone can reign them in Gordon can.

Tuesday, June 17th, 2008

6: The Cherry-Oliver Brigade

Gordon teaches John Prescott how to cook mouthwatering fishcakes with an anchovy dressing. Tom Parker-Bowles visits Sardinia to track down one of the world's most interesting delicacies. Dannii Minogue shows how to make a vegetarian risotto.

Tuesday, June 24th, 2008

7: Angela Griffin Brigade

Gordon Ramsay presents a fast-paced food magazine show featuring recipes, consumer stories and cooking challenges. Gordon takes his son Jack fishing in the Scottish Highlands, and then turns a Robin Reliant into a salmon smoker. Janet Street-Porter decides whether to make her veal calves free range, while Meatloaf takes on Gordon with his tuna bake. Also, Gordon teaches a firefighter how to make a healthy beef burger, and cooks three recipes with the help of Angela Griffin and her family

Tuesday, July 1st, 2008

8: The Matt Dawson Brigade

Gordon Ramsay presents a fast-paced food magazine show featuring recipes, consumer stories and cooking challenges. Gordon goes shooting for pigeon and makes a delicious warm pigeon salad. Tom Parker Bowles attempts to cook a whole pig, nose to tail. Edith Bowman prepares haggis and rap star Dizzee Rascal drops into the restaurant for dinner.

Tuesday, July 8th, 2008

9: The Mica Paris Brigade

Gordon goes back to the floor at a Chinese restaurant as a junior chef, and also finds out why the animals at London Zoo are eating better than the humans. Jo Brand takes on Gordon in the recipe challenge with her vegetable curry, Harry Enfield drops in for dinner at the restaurant, and Mica Paris and her family cook a three-course meal.

Tuesday, July 15th, 2008

10: The Biggins Brigade

Janet Street-Porter faces one of her biggest challenges yet: sending her veal calves, David and Elton, to slaughter. Christopher Biggins and family form the celebrity brigade - and Rob Brydon drops in for dinner and an oyster shucking race with Gordon.

Wednesday, July 23rd, 2008

11: The Bunton Brigade

Chef Gordon Ramsay presents another edition of the fast-paced food magazine show featuring recipes, consumer stories and cooking challenges. Gordon meets Erin O'Connor to find out what models really eat. Janet Street-Porter spit roasts one of her veal calves and hosts a party attended by 100 Yorkshiremen and women. The recipe challenge sees Jon Snow cooking his salmon fillet dish, while Emma Bunton and her family help Gordon cook three tasty and simple recipes.

Tuesday, July 29th, 2008

12: The Final

In the restaurant Gordon takes on the challenge of cooking one of Janet's veal calves for 50 vegetarians who want to try meat again. Gordon also goes sky-fishing for puffin off the cliffs of Iceland and returns to Rangers Football Club to teach them how to cook a poached chicken.
Season 5
Tuesday, November 3rd, 2009

1: Italian Restaurants

In this episode, two Italian restaurants go head to head, cooking a menu of ravioli, venison, pork escalope and fig and frangipane tarts. Janet will be expanding on last year's experience raising veal calves to starting her own small holding. And Katie Price gets her hands dirty, cooking chicken kievs in the celebrity challenge.

Tuesday, November 10th, 2009

2: Indian Restaurants

Gordon's hunt for Britain's Best Local Restaurant takes on an Indian theme as his trio of expert tasters head off in search of the country's best curry house. With 3 million British customers popping out for a curry every year it's clear the nation has taken the dish to its heart. But will the F Word diners prefer traditional charm or a modern twist as Gordon puts two very different Indian restaurants, Curry Corner and Lasan, head to head? While the guests sample the curry cook off Lenny Henry gets emotional over his mum's Jamaican pepper pot soup and Janet gets down and dirty with some wiry-haired pigs. Finally Gordon completes the Indian theme as he heads off hunting halal-style in search of deer for his venison masala.

Tuesday, November 17th, 2009

3: French Restaurants

Gordon's quest for Britain's Best Local Restaurant continues and this time it is a heavyweight battle of French restaurants. The competing kitchens will both serve succulent foie gras to start, then pan-fried grey mullet and puy lentils go up against a rack of lamb with aubergine tempura. Both will finish with a classic French pudding, crepes suzette. To add to the French flavour, Gordon heads back to second home, Paris, in search of the perfect croissant. And farmer-in-waiting, Janet Street-Porter, expands her farm by helping birth some chicks.

Tuesday, November 24th, 2009

4: Chinese Restaurants

Chopsticks are drawn on the F Word as Gordon hunts for the best local Chinese restaurant. And it's a show first as the macho chef heads up an all woman kitchen. Jian Wang from Edinburgh-based Chop Chop is a doyen of the dumpling with over 60 different types on her restaurant menu. She'll be charming the F Word diners with spicy garlic squid and trademark pork and coriander dumplings. Up against Jian in the Chinese cook off are Manchester twins, Lisa and Helen Tse, from Sweet Mandarin. The duo are the third generation of female Chinese chefs and are hoping their salt and pepper squid and mum's recipe for clay pot chicken can bag them the F Word title. In a break from the all-woman cook off, Gordon dredges up Chinese delicacy, mitten crab, from the bed of the River Thames and Janet Street-Porter takes her medley of animals off to show.

Tuesday, December 1st, 2009

5: Thai Restaurants

Gordon's got the eye of the Thai-girls, as the ladies of Yum Yum restaurant in North London take on the feisty females from Simply Thai restaurant in Middlesex in a battle to be crowned the F Word's best Thai restaurant. Proving he knows how to use his noodle, Gordon offers his version of every traveller's favourite dish, pad Thai, to some Buddhist monks. And Rory Bremner steps up to the hot plate in the celebrity challenge with a decent impression of a trifle.

Tuesday, December 8th, 2009

6: Spanish Restaurants

According to the F Word nominations, British diners go loco for tapas and Gordon and his band of merry tasters toured the country in search of scrumptious Spanish grub. First to make it to the final two was Yorkshire eatery, El Gato Negro, controversially run by an all British team. "You wouldn't expect a Northerner to be cooking Spanish food but it works and I love it," says head chef, Simon. Taking on the Yorkshire chefs in the tapas cook off is authentic Spanish eatery Lola Rojo run by feisty couple, Antonio and Christina from Barcelona, whose food Gordon described as 'f**king amazing'. While the competing chefs battle for the coveted Spanish crown, Gordon grabs his rod in Galicia for some extreme fishing and Kelly Brooks stuffs a pepper in the F Word celebrity cook off.

Tuesday, December 15th, 2009

7: American Restaurants

Gordon's search for best British restaurant continues as two more unsung culinary heroes go head to head in the F Word restaurant. This time it's an inter-continental contest with restaurants from the Americas battling it out. Gordon, Janet Street-Porter and F Word Maitre d', Jean Baptiste, had their work cut out eating everything from salt fish to steak and burgers to burritos. But the two that stood out are Discovery Bay, a modern Caribbean restaurant from Huddersfield and Santa Maria del Sur, a traditional Argentinean steakhouse from South London. Also on this week's menu: Gordon heads to Canada to gander at snow geese - and then eat one. And Ian Wright shows how much of a jerk he is in a Caribbean chicken celebrity cook-off.

Tuesday, December 22nd, 2009

8: British Restaraunts - Christmas Special

Gordon's search to the Best Local Restaurant hits its home turf when two of the top British restaurants go head to head. It's a battle of the birds as posh fine dining establishment the Swan in Kent faces gourmet gastropub the Pheasant from Cambridgeshire. Also on the menu (since it's Christmas time in the F Word kitchen), Gordon's off to Lapland in search of some seasonal meat - and it ain't turkey. Peter Andre brings his beef to the celebrity cook-off - and it's nothing to do with Jordan. And there's yet more celebrity action as Freddie Flintoff and Dita von Teese sprinkle a little stardust in the restaurant.

Tuesday, December 29th, 2009

9: Rest of the World

Moroccan Vs. Greek 3 different recipe challenges. Gordon makes halumi cheese.

Tuesday, January 5th, 2010

10: Semifinal 1

Wednesday, January 6th, 2010

11: Semifinal 2

Thursday, January 7th, 2010

12: Final