update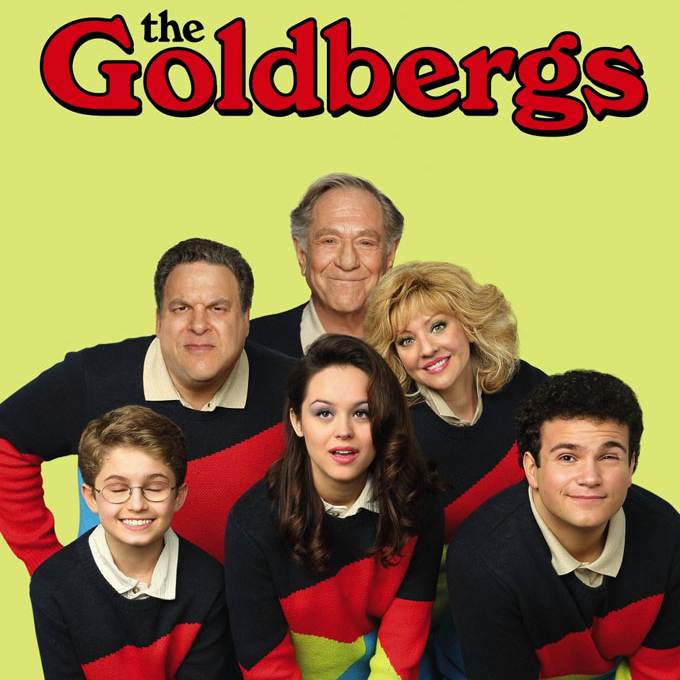 Season 0
not specified

3: Patton Oswalt: Adam Grows Up

not specified

4: Costumes of the '80-s: The Good, the Bad and the Ugly

Wednesday, April 27th, 2016

1: An 80s Rewind

Behind-the-scenes footage from the show and interviews with the cast.

Wednesday, January 24th, 2018

2: The Goldbergs: 1990-Something

This Goldbergs-inspired special event picks up where the Goldberg family leaves off at William Penn Academy in the 1990s as former teacher and now Head of School John Glascott leads a faculty of teachers with wildly different views on how to mentor students and recruits his tough-as-nails-sister Lucy to join his staff and enroll her teenage daughters Felicia and Gigi as new students. Lucy is desperate to ensure they avoid the social pitfalls of high school and finds herself torn between Glascott's nurturing and communicative approach to parenting and Coach Mellor's tough-guy belief that physical competition brings out the best in students. Even Beverly Goldberg comes to visit the school's staff despite all her kids having already graduated and can't help but meddle one last time.
Season 1
Tuesday, September 24th, 2013

1: Circle of Driving

Hoping to receive a car for his birthday, Barry is shocked by what his mother gives him; Adam asks Pop for advice.

Tuesday, October 1st, 2013

2: Daddy Daughter Day

Erica's moodiness puts the family roller-skating tradition at risk; Beverly takes Adam school clothes shopping.

Tuesday, October 8th, 2013

3: Mini Murray

Barry goes to work at the furniture store with Murray; Adam and Pops struggle to keep the fact that they watched an R-rated movie from Beverly.

Tuesday, October 15th, 2013

4: Why're You Hitting Yourself?

Barry and Adam bond over the discovery of a TV channel; Beverly involves herself in her father's dating life.

Tuesday, October 22nd, 2013

5: The Ring

Adam, Erica and Barry learn about Murray's romantic past while cleaning out the garage; Adam falls for his neighbor.

Tuesday, October 29th, 2013

6: Who Are You Going to Telephone?

Beverly is disappointed when the kids don't want to celebrate Halloween with her; Beverly tries to get Barry's crush to go out with him.

Tuesday, November 5th, 2013

7: Call Me When You Get There

Barry neglects to follow his mother's most important rule about using the car after getting his driver's license.

Tuesday, November 12th, 2013

8: The Kremps

Beverly invites the Kremps -- the all-American and seemingly perfect new neighbors -- over for a barbecue.

Tuesday, November 19th, 2013

9: Stop Arguing and Start Thanking

When Murray's brother, Marvin, visits, there is a surprise in store.

Tuesday, December 3rd, 2013

10: Shopping

When Erica starts working at a local department store, Beverly's bargain-hunting dreams come true; Adam and Barry go to the racetrack with Pops.

Tuesday, December 10th, 2013

11: Kara-Te

Barry signs up for a holiday talent show at the school, but karate isn't approved as a talent; Pops coerces Erica into performing in the show.

Tuesday, January 7th, 2014

12: You're Under Foot

When Pops goes to the shop with Murray for a little change of pace, he criticizes how Murray does business; Erica and Barry give Adam advice when Dana Caldwell comes over to study.

Tuesday, January 14th, 2014

13: The Other Smother

Beverly runs into her enemy, Betsy Rubenstone; Murray and Adam try to rent a video but are forced to pay a late fee.

Tuesday, January 21st, 2014

14: You Opened the Door

Beverly insists on chaperoning when Dana and Adam go to their first school dance together; Murray decides to talk about the birds and the bees with Barry.

Tuesday, February 4th, 2014

15: Muscles Mirsky

Erica breaks a trust agreement with Beverly when she sneaks out to a college party and ends up needing her mother to rescue her; Barry tells Adam that men and women can't be friends.

Tuesday, March 4th, 2014

16: Goldbergs Never Say Die!

Inspired by "The Goonies," Adam recruits Barry, Emma and some friends to search for some missing family jewelry.

Tuesday, March 11th, 2014

17: Lame Gretzky

Adam tries to impress Murray with his ice hockey skills, while Murray tries to pretend he likes Adam's movies; Beverly hounds Erica about her S.A.T.s.

Tuesday, March 18th, 2014

18: For Your Own Good

Murray retaliates when Beverly swaps out his favorite easy chair with something new; Barry tries to rescue Adam when he is bullied on the school bus.

Tuesday, April 1st, 2014

19: The President's Fitness Test

Beverly gets Adam out of the Presidential Physical fitness test; Erica's pen pal visits and Barry tries to impress her.

Tuesday, April 8th, 2014

20: You're Not Invited

Adam is excited for his birthday party, but Barry thinks he should change the theme; Murray and Pops are captivated by the opening of Al Capone's safe.

Tuesday, April 29th, 2014

21: The Age of Darkness

When Erica cannot be consoled after her boyfriend dumps her, Murray steps in to help; Barry becomes obsessed with a new arcade game.

Tuesday, May 6th, 2014

22: A Wrestler Named Goldberg

When Beverly learns that Barry lied about joining the wrestling team, she takes matters into her own hands; Erica flakes on a promise to take Adam to the premiere of "Return of the Jedi.

Tuesday, May 13th, 2014

23: Livin' on a Prayer

When Murray's high school free throw record is broken, he attends a banquet as the guest of honor; Barry decides to throw a party.
Season 2
Wednesday, September 24th, 2014

1: Love Is a Mix Tape

Beverly intercepts the mix tape Adam made for Dana, thinking he made it for her; Barry shows off his new fake I.D., which is quickly confiscated.

Wednesday, October 1st, 2014

2: Mama Drama

Adam does not get the part he wanted in the school musical, leading Beverly to cast him in a rival show; Murray insists on leaving sporting events early to avoid traffic.

Wednesday, October 8th, 2014

3: The Facts of Bleeping Life

Prince Charles and Lady Di's impending nuptials inspire Beverly to plan a vow renewal; Barry hopes his band will win him Lainey's attention.

Wednesday, October 22nd, 2014

4: Shall We Play a Game?

Adam accidentally gets Barry kicked out of a group of cool kids at school; Beverly is upset when she finds out that Erica hangs out with a friend's mother.

Wednesday, October 29th, 2014

5: Family Takes Care of Beverly

When Pops accidentally starts a fire in his apartment during a Halloween party, he's evicted and Beverly invites him to move into the Goldbergs' home. Pops' wild lifestyle is soon too much for the family to handle and they decide to look into other options. Meanwhile, Barry stops Erica from eating Pop Rocks candy with soda, since according to urban legend, the combination would kill her. Since he "saves" her, Barry wants something in return from Erica.

Wednesday, November 12th, 2014

6: Big Baby Ball

When Mr. Meller singles out Adam during a game of Dodgeball, Beverly intervenes to protect Adam and gets Meller fired. But soon, Murray and Adam see him in a new light, so Beverly tries to get his job back…will she succeed? Meanwhile, Barry can't accept Erica is better than him in a new board game… Trivial Pursuit.

Wednesday, November 19th, 2014

7: A Goldberg Thanksgiving

As a bet, Beverly challenges Erica to participate in Jazzercise after she thinks her mom's obsession is lame. When she wins, Erica decides to opt out of celebrating Thanksgiving so Beverly must find a way to win her daughter back to celebrate the holiday with the family. Meanwhile, uncle Marvin shows up for his annual visit to the Goldberg home and unexpectedly bonds with Adam, which annoys Murray.

Wednesday, December 3rd, 2014

8: I Rode a Hoverboard

Adam breaks his arm and exaggerates at school that he fell off of a hover board just like in the "Back to the Future" movie. But the lie threatens his friendship with Emmy Mirsky. Meanwhile, the family falls in love with the new Chinese restaurant in town and Beverly fears she's being replaced in the kitchen.

Wednesday, December 10th, 2014

9: The Most Handsome Boy on the Planet

Barry is excited when a modelling representative approaches him, but Erica thinks it's a scam.

Wednesday, January 7th, 2015

10: DannyDonnieJoeJonJordan

Beverly is ordered to clean out the garage by Murray, who wants everything gone except for one trunk that he's particularly sentimental about. Meanwhile, Adam and Barry discover Erica's old collection of New Kids on the Block memorabilia.

Wednesday, January 14th, 2015

11: The Darryl Dawkins Dance

As the Sadie Hawkins dance approaches, Erica asks Beverly to help her find Barry a date to keep him away from Lainey. But Beverly comes up with a girl that shocks everyone. Meanwhile, Adam gets into a fight with his best friend...Pops.

Wednesday, February 11th, 2015

12: Cowboy Country

When Adam passes on a family ring to convey his feelings for Dana, Beverly can't seem to accept her little boy having such deep feelings at his age. Meanwhile, new couple Lainey and Barry convinces Murray to watch football with Lainey's dad. They soon realize the fathers root for opposing teams and Barry is left to decide between his love for the Eagles and his love for Lainey.

Wednesday, February 18th, 2015

13: Van People

When Murray takes Erica's car privileges away, Erica and Barry retaliate by buying their own shabby used black van. Murray gets even more upset so they move into the van full time and park it on the street by the house. Beverly hopes she can get the children back inside. Meanwhile at school, Adam gets voted in the yearbook as "nicest guy," but thinks he deserves something better… which results in a suspension

Wednesday, February 25th, 2015

14: Barry Goldberg's Day Off

Barry fakes being sick in order to have an epic adventure like the one in the film "Ferris Bueller's Day Off," except things don't go as planned and turn from bad to worse when Pops and Adam get involved.

Wednesday, March 4th, 2015

15: Happy Mom, Happy Life

Beverly compromises Dana and Adam's assignment to parent a doll. Erica tries to get back at Barry.

Wednesday, March 25th, 2015

16: The Lost Boy

Adam attends a Phillies game with his dad and ends up lost in the stadium after Murray allows him to leave his seat on his own. Elsewhere, Beverly's guilt trip backfires when Erica and Barry drive off without her during an argument on their way home from the mall.

Wednesday, April 1st, 2015

17: The Adam Bomb

Adam and Barry get in a prank war, while Erica tries to become a pop star.

Wednesday, April 8th, 2015

18: I Drank the Mold

Adam's birthday sleepover goes awry while Barry and Erica compose a song to get Murray to appreciate music.

Wednesday, April 15th, 2015

19: La Biblioteca Es Libros

Beverly has a plan to help Adam succeed in Spanish class, while Barry tries to impress Murray with a job.

Wednesday, April 15th, 2015

20: Just Say No

Erica tries to educate Beverly about voting. After losing a wrestling match, Barry wants to prove his athletic prowess. Adam makes a TV audition tape for Barry.

Wednesday, April 22nd, 2015

21: As You Wish

Murray is happy to hear that Adam wants to participate in a school sport -- until he finds out it's fencing; Beverly tries to play matchmaker for Barry's wrestling coach and Erica's voice teacher.

Wednesday, April 29th, 2015

22: Dance Party USA

When Adam thinks he can harness some of Pop's luck, he ends up losing his toys on a gamble; Erica's dream to dance on a TV show is derailed when Barry gives her pink eye.

Wednesday, May 6th, 2015

23: Bill/Murray

Erica makes a music video to get into college, while Murray and Bill's friendship grows.

Wednesday, May 13th, 2015

24: Goldbergs Feel Hard

Beverly and Murray react as Erica readies to head out of town for the summer, while Barry becomes the school mascot.
Season 3
Wednesday, September 23rd, 2015

1: A Kick-Ass Risky Business Party

Lainey, Erica and Barry plan a big "Risky Business" inspired party at her home, just like the movie, while Lainey's dad is out of town. Later, when the party gets out of control, Beverly jumps to the rescue and Lainey is happy to have a mother figure like Beverly in her life, but for how long? Meanwhile, Adam's relationship with Dana by talking to her for hours on the phone angers Murray. As a result, Adam tries a bunch of new ways to contact her since she's moved away.

Wednesday, September 30th, 2015

2: A Chorus Lie

As Adam enters puberty, Beverly does everything in her power to help him through this awkward phase, including his crackling singing voice. So when Adam gets a lead role in the school musical, Beverly convinces Ms. Cinoman to have Adam lip sync – just like the musical group Milli Vanilli – while performing in "A Chorus Line." Meanwhile, Murray inspires Erica to go to the Homecoming Dance with JTP member Geoff Schwartz.

Wednesday, October 7th, 2015

3: Jimmy 5 is Alive

Murray attempts to help Adam transition into adulthood by building a robot, but their creative differences drive them apart, the opposite of what Murray was trying to achieve. Meanwhile, Barry makes a huge mistake when he accidentally tapes over Beverly's beloved video of his 5th birthday party.

Wednesday, October 14th, 2015

4: I Caddyshacked the Pool

As Adam goes to great lengths to avoid swimming at school, jealousy prompts Barry to undermine Erica's effort to make the world a better place.

Wednesday, October 21st, 2015

5: Boy Barry

Upset by Barry's insecurity in their relationship, Lainey sets out to teach him a lesson with Erica's help. However, the situation turns into something totally different and Barry goes to school dressed like Boy George hoping it will change. Meanwhile, Beverly doesn't approve Murray's new mustache so she shaves it off but it backfires.

Wednesday, October 28th, 2015

6: Couples Costume

When Dana comes to visit Adam for Halloween, he wants to spend the night with her and not Beverly. Trying to cope with this turn of events, Beverly decides to teach Adam a lesson on how dangerous the holiday can be, but the tables turn on Beverly. Later, Barry and Erica convince Adam to take Dana to a haunted house. Adam refuses to go back inside when Dana loses her promise ring and an unlikely family member helps him.

Wednesday, November 11th, 2015

7: Lucky

Barry's dream of having a dog comes true, but he's disappointed when the pup takes an immediate liking to Murray; at the same time, Beverly is upset not to be included when Erica and Lainey plan a girls-only sleepover.

Wednesday, November 18th, 2015

8: In Conclusion, Thanksgiving

Beverly insists on hosting a big family gathering for Thanksgiving, but tension builds when brother-in-law Marvin tricks Pop-Pop into thinking the Turkey Day celebration is elsewhere. Meanwhile, Barry and Erica turn the traditional holiday toast into a game of one-upmanship.

Wednesday, December 2nd, 2015

9: Wingmom

Inspired by "Top Gun," Barry decides to join ROTC. Convinced it will help discipline him, Murray orders the Captain to prevent Barry from quitting when the going gets tough, prompting Beverly to join Barry, too! Meanwhile, Adam helps Pops get his swag back with a special librarian.

Wednesday, December 9th, 2015

10: A Christmas Story

Disappointed with her unenthusiastic family during the holidays, Beverly creates "Super Hanukkah" to get them into the spirit, but it's too similar to Christmas. Meanwhile, Adam is annoyed that Barry is more interested in hanging with Lainey than him, so he triple-dog dares his brother with results neither one see coming.

Wednesday, January 6th, 2016

11: The Tasty Boys

As Adam and Barry team up in a rap supergroup a la the Beastie Boys, Beverly presses Murray to let her remodel their kitchen.

Wednesday, January 13th, 2016

12: Baio and Switch

Beverly decides to volunteer for Hands Across America in an attempt to get closer with Barry and Erica. She gets them to spoil her with affection after she promises an appearance from Scott Baio, but the plan fails. Meanwhile, Adam gets himself into a sticky situation when he promises to take his best friend and his girlfriend, Dana, to the school dance.

Wednesday, January 20th, 2016

13: Double Dare

Adam and Emmy are excited when their favorite TV game show "Double Dare" holds auditions at their school. Their friendship is tested, however, when they secretly ask Pops and Handsome Ben to be their respective partners. Meanwhile, a superstitious Barry comes to believe that Beverly is the key to ending the Philadelphia Eagles' losing streak.

Wednesday, February 10th, 2016

14: Lainey Loves Lionel

Beverly forbids Adam to see the movie "Porky's," so Murray pushes him to break the rules. But the plan backfires when Beverly forbids Adam to use the phone for Valentine's Day. Meanwhile, Barry tries too hard to impress Lainey for the holiday using the music of Lionel Ritchie.

Wednesday, February 17th, 2016

15: Weird Al

Dana comes to town, but has a hard time mustering up any enthusiasm for a "Weird Al" Yankovic concert Adam wants her to attend, which makes him think their relationship is coming to an end. Meanwhile, Erica and Barry take their new found knowledge as peer counselors and apply it to Murray, who they diagnose as depressed.

Wednesday, February 24th, 2016

16: Edward 'Eddie the Eagle' Edwards

When Barry sees underdog Eddie the Eagle in the Olympics, he decides to popularize Ball Ball in order to gain respect at school. Meanwhile, Beverly catches wind that Murray's store sales are down and intervenes by selling the latest furniture craze….

Wednesday, March 2nd, 2016

17: The Dirty Dancing Dance

Beverly helps Erica plan a "Dirty Dancing" themed dance at school, only to turn on Erica when she realizes it may be inappropriate. Meanwhile, Murray tries to learn dancing with Adam with little luck.

Wednesday, March 16th, 2016

18: 12 Tapes for a Penny

Adam schemes to get as many cassette tapes as possible from a mail-order music club, but when Beverly gets wind of this scam she points the blame at Erica. Meanwhile, Barry is determined to get closer to Lainey's dad, Bill, even though it's an uphill battle.

Wednesday, March 23rd, 2016

19: Magic is Real

Inspired by David Copperfield's walk through The Great Wall of China, Adam becomes a magician in order to impress a girl at school. Meanwhile, Barry has no interest in taking the PSAT, but when he discovers his friends and girlfriend plan to do so, he's hit with a harsh reality.

Wednesday, April 6th, 2016

20: Dungeons and Dragons, Anyone?

It's the nerds vs. the jocks, with Adam as the latter's leader, playing Dungeons and Dragons. Meanwhile, Erica makes a decision about the college she wants to attend, but neither Beverly nor Murray are on board.

Wednesday, April 13th, 2016

21: Rush

Barry accuses Beverly of liking Adam best; and Murray immediately takes a disliking to Erica's new beau, while Erica develops a fondness for the band Rush.

Wednesday, May 4th, 2016

22: Smother's Day

Beverly is upset on Mother's Day when she receives an obviously last-minute gift of "mom coupons."

Wednesday, May 11th, 2016

23: Big Orange

Barry's favorite shirt is hated by Beverly and Lainey, so they hatch a plan together to destroy it. Once his shirt goes missing, Barry asks Adam and Erica to investigate. Meanwhile, Murray decides to tear down the family tree house, leaving Adam distraught.

Wednesday, May 18th, 2016

24: Have a Summer

Adam and his soon-to-be freshman pals live in fear of the hazing they expect to get from the senior class, but then Adam body slams his way to earning their respect in the Season 3 finale. In other happenings, Erica and her friends decide what to put in a time capsule.
Season 4
Wednesday, September 21st, 2016

1: Breakfast Club

The Goldbergs pay homage to the classic 1980s John Hughes' film "The Breakfast Club" when the kids start off a new school year by earning themselves Saturday detention courtesy of a new substitute teacher, who just happens to be their mom.

Wednesday, September 28th, 2016

2: I Heart Video Dating

Erica and Lainey attempt to find Bill an interesting woman using a new dating technology; the pair enlists Adam to create a demo reel while Beverly insists on finding someone the old fashioned way; Barry decides to be a gym teacher

Wednesday, October 5th, 2016

3: George! George Glass!

Erica and Adam both take the lead from TV's "The Brady Bunch" and "George Glass" their crushes. Adam risks bodily harm in an intense game of paintball, and Erica might be embarrassed when her friends see through her fake college-aged boyfriend. Meanwhile, Murray's stubbornness causes Beverly to miss seeing the Beach Boys at Live Aid,

Wednesday, October 12th, 2016

4: Crazy Calls

Murray and Pop-Pop wage in a war of words after the Goldbergs get their first-ever answering machine. Fed up with their fighting, Erica, Barry and Pops hope to broker a peace using a trip to a hockey game as leverage. Meanwhile, Beverly worries about Adam's social standing after he begins spending his lunch period with some lovable geeks in the computer room.

Wednesday, October 26th, 2016

5: Stefan King

Adam decides to start writing horror stories after being inspired by Stephen King; when Beverly finds out that the monster in Adam's story is based off of her, she makes him stay home on Halloween to rewrite the story to depict her in better light.

Wednesday, November 9th, 2016

6: Recipe for Death II: Kiss the Cook

Adam uses Murray's revelation of love for action movies to ask him for the money to film his own action film; the production is put in jeopardy when Barry goes missing while playing lead and an unlikely replacement actor is brought in.

Wednesday, November 16th, 2016

7: Ho-ly K.i.t.t.

A shared love of "Knight Rider" brings Murray and Uncle Marvin together, until Adam ruins it; Beverly invites Lainey and Bill to Thanksgiving dinner, so Barry won't split his time between the two houses.

Wednesday, November 30th, 2016

8: The Greatest Musical Ever Written

Barry starts to make fun of Adam for wanting to join theater until he finds out that Adam and Lainey have been cast in roles that require them to kiss; Barry decides to sabotage the production by joining the stage crew.

Wednesday, December 7th, 2016

9: Globetrotters

Adam becomes fascinated after attending a Globetrotters game and tries to make up his own tricks on the court; Adam cuts a video that looks like he won against Barry; Beverly throws a surprise party for Murray's 50th birthday against his wishes.

Wednesday, December 14th, 2016

10: Han Ukkah Solo

After finding out there is only going to be one Hanukkah song in the Holiday Pageant, Beverly convinces Erica to create the perfect song to bring some excitement to the holiday. Erica sees her shot to break into the music business while Barry does his best to prove he too can be a hit maker with music. Meanwhile, Adam's childlike wonder with movies and entertainment is called into question when things he loved as a child aren't as good as he remembers.

Wednesday, January 4th, 2017

11: O Captain! My Captain!

Barry is mortified by Beverly, who, inspired by Mr. Keating from "Dead Poets Society," attempts to inspire his classmates as the substitute chemistry teacher. Meanwhile, Adam asks Erica for advice on how to be a better friend to Emmy.

Wednesday, January 11th, 2017

12: Snow Day

Adam and Barry learn about Murray's fear of snow when a snow day cancels school; the boys try to exploit Murray's weakness for their own ends and take advantage of him; Beverly find's Erica's college application.

Wednesday, February 8th, 2017

13: Agassi

Adam feels like he's losing his best friend, Chad, so he attempts to join the tennis team. When Chad picks Dave Kim as his partner, Adam vows to take him down with Barry in a tennis match, changeling Andre Agassi. Meanwhile, with the help of Beverly, Erica deals with her post-break up depression just in time for Valentine's Day.

Wednesday, February 15th, 2017

14: The Spencer's Gift

When both Barry and Erica gets jobs working at Spencer's Gifts, Erica gets jealous at how good of an employee Barry is. Meanwhile, Muray is thrilled that two of his children have jobs, so he insists that Adam gets one, despite Beverly's adamancy that he should focus on filmmaking,

Wednesday, February 22nd, 2017

15: So Swayze It's Crazy

Adam gets jealous about seeing his friend on television and asks Beverly to help him become an actor; Beverly asks a child talent agent for help, but when she says he will be typecast as a nerd, Beverly tries to make Adam a teen heartthrob.

Wednesday, March 1st, 2017

16: The Kara-te Kid

Adam and the other Adam Goldberg are inspired to settle their long-running feud with a karate match inspired by "The Karate Kid"; Barry and Adam ask Uncle Marvin for help training, but just end up cleaning his apartment.

Wednesday, March 8th, 2017

17: Deadheads

Barry feels threatened when school deadhead Matt starts hanging out with the JTP and soon finds himself kicked out of the group when he becomes too controlling.

Wednesday, March 15th, 2017

18: Baré (FKA Doggie Howser)

While Erica receives her college acceptance letters, Barry decides to become a doctor and looks at schools with good medical programs; Lainey announces that she is going to a school without a medical program, making Barry rethink his idea.

Wednesday, March 29th, 2017

19: A Night To Remember

Barry puts together some romantic gestures for Lainey; Erica and Geoff attempt to go to prom together, but it doesn't go as planned; Adam is flattered when a nerdy but cute junior asks him out, but he gets scared when Beverly gets involved.

Wednesday, April 5th, 2017

20: The Dynamic Duo

Barry feels left out, so he tries to create a divide between the relationship of Adam and Pops, while they debate the merits of a movie; Erica intentionally messes up her college interview so she can go to her first choice.

Wednesday, April 26th, 2017

21: Fonzie Scheme

Murray is recognized as one of the top businessmen in Jenkintown, Pa.; Beverly is dismayed when she finds out that Murray doesn't have any discernible hobbies, which leads her to help him find some; Barry schemes to steal golf carts.

Wednesday, May 3rd, 2017

22: The Day After the Day After

After a TV movie airs, Barry takes it upon himself to try to convince Murray to build an underground bunker; Erica and Adam give excessive gifts for Mother's Day before they make important requests to Beverly, but their plan backfires.

Wednesday, May 10th, 2017

23: Jedi Master Adam Skywalker

Barry and Erica are curious to know if they will be voted for in the year book, and since Adam works on the staff, they pressure him for the rough layout; Murray is irritated when Marvin visits for money, but Beverly convinces Murray to help him out.

Wednesday, May 17th, 2017

24: Graduation Day

As graduation quickly approaches, Erica can't wait to leave home, until she realizes how much Beverly's love means to her; Barry's plans for him and Lainey fail; Dana makes an unexpected visit just as Adam and Jackie make their relationship official.
Season 5
not specified

23: We Bust Balls

not specified

24: Episode 24

Wednesday, September 27th, 2017

1: Weird Science

Beverly and Murray move Erica into her dorm, where her roommate is also named Erica; Adam tries to give Barry the perfect girlfriend.

Wednesday, October 4th, 2017

2: Hogan Is My Grandfather

Adam decides to make a movie about his grandfather for a class assignment but finds all of Pop's war stories mundane; Erica confronts Beverly about her mothering style; Beverly worries about teaching Erica and Barry basic life skills.

Wednesday, October 11th, 2017

3: Goldberg on the Goldbergs

When Coach Mellor tells Beverly about his strained relationship with his brother, she intervenes, prompting a face-off; Geoff and Erica struggle with their long-distance relationship

Wednesday, October 18th, 2017

4: Revenge O' The Nerds

With the children growing up, Beverly decides to reinvent herself; Erica struggles to balance her academic and social life in college, and seeks Adam's assistance.

Wednesday, October 25th, 2017

5: Jackie Likes Star Trek

Adam and Jackie disagree over their Halloween costumes; Murray teaches Adam how to keep Jackie happy.

Wednesday, November 1st, 2017

6: Girl Talk

Adam offers to make Murray a commercial starring Marvin, but Marvin's actions mess up the plan; Beverly helps Barry court a girl at school.

Wednesday, November 15th, 2017

7: A Wall Street Thanksgiving

During the holiday, Uncle Marvin reveals he has become a stockbroker and convinces Barry and the JTP to invest their money with him. Murray intervenes which has repercussions for Barry. Meanwhile, Erica tells Geoff she is in debt and gets swept up in the family investment. Later, Beverly invites 50 people over for a Thanksgiving potluck instead of stressing out cooking for the family, but the plan backfires and Beverly realizes some traditions shouldn't change.

Wednesday, November 29th, 2017

8: The Circle of Driving Again

Murray takes Adam out for a driving lesson and they learn something new about Pops in the process; Erica struggles with making friends.

Wednesday, December 6th, 2017

9: Parents Just Don't Understand

Adam and Barry don't get the reaction they expect from Murray when they write a song called "Dads Just Don't Care"; Beverly takes drastic measures to change Erica's mind about needing some space.

Wednesday, December 13th, 2017

10: We Didn't Start The Fire

Erica informs Beverly that she plans to spend the first night of Hanukkah with Geoff and his family, which leads Beverly to worry and begin a competition for the best Hanukkah party; Barry turns to Pops for advice on how to be cool.

Wednesday, January 3rd, 2018

11: The Goldberg Girls

Afraid of being alone in her old age, Beverly tries to bond with other moms; Erica gets annoyed at Geoff's romantic gestures.

Wednesday, January 10th, 2018

12: Dinner With The Goldbergs

Erica warns Geoff about going to dinner with her family, but he insists; by dinner's end, Geoff hits his breaking point.

Wednesday, January 17th, 2018

13: The Hooters

Adam's silly antics in class distract his woodshop teacher -- who nearly injures himself; Geoff and Beverly try to become more cultured in an attempt to keep Erica close.

Wednesday, February 28th, 2018

14: Hail Barry

Barry joins the football team but is quickly benched by Coach Mellor due to his lack of playing ability. He convinces himself the coach is testing him; but when Barry realizes the truth of his playing ability, Adam helps his brother understand there are other ways he can contribute to the team and comes up with their own version of the Super Bowl Shuffle. Meanwhile, Beverly designs jackets that she tries to get Murray and Erica to sell when a national TV channel won't.

Wednesday, March 7th, 2018

15: Adam Spielberg

Adam loves director Steven Spielberg so much and decides to film an original script he wrote about Indiana Jones and his passion for directing is called into question. Meanwhile, Murray and Barry make a bet about whether or not a cheesesteak sandwich in New Jersey is the best one ever.

Wednesday, March 21st, 2018

16: The Scrunchie Rule

When Beverly gets a glimpse into a soon-to-be empty nest, she replaces her kids with the Mellor brothers, nursing Coach Mellor back to health after falling off the rope climb. Meanwhile, Erica and her college roommate get on each other's nerves in their dorm room, especially when Valley Erica puts a scrunchie on the door and kicks Erica out.

Wednesday, March 28th, 2018

17: Colors

Barry enlists the JTP to help him break up Beverly's group of friends so Barry can have all the attention but soon realizes he made a major mistake when Beverly gets into a fight with her friends. Meanwhile, Adam's attempts to trick Murray into loving theater backfires.

Wednesday, April 4th, 2018

18: MTV Spring Break

Hoping to get the true spring break experience, Erica and Barry visit Pops in Florida, yet it's nothing how they expected. Meanwhile, Adam tells the truth to Beverly and Murray but then gets a surprising reaction.

Wednesday, April 11th, 2018

19: Flashy Little Flashdancer

After seeing "Flashdance," Beverly decides to take up dance with the Frentas and is rejected when the family doesn't support her after telling them she is going to be in a recital. Meanwhile, when Emmy starts dating a cool guy, Adam thinks their friendship is in jeopardy, so he sets out to be cooler which backfires.

Wednesday, May 2nd, 2018

20: The Opportunity Of A Lifetime

Barry gets the chance to throw the first pitch at a Philadelphia Phillies game and believes this is his chance to play professionally, but it's anything but. Meanwhile, Erica makes an important decision about her future in college.

Wednesday, May 9th, 2018

21: Spaceballs

Adam tries to start a Mel Brooks club after he sees the movie "Spaceballs," and Jackie mistakes his club advertisement for political satire and puts it in the school paper. Meanwhile, when Beverly and Pops come up for parents weekend at school, Erica plans on telling them an important decision she has made, but Murray surprises them and tags along.

Wednesday, May 16th, 2018

22: Let's Val Kilmer This Car

When Lainey moves back to town, Barry asks her to the prom; but when she says no, he plans a senior prank with Principal Ball's car to get out of going. Meanwhile, Erica tells Murray she has made a final decision about her future in college, and he is furious and insists she pay her own way for rent and food.