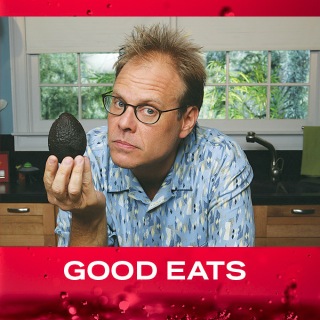 Season 0
Sunday, November 14th, 1999

s0e1: Romancing the Bird (A Good Eats Thanksgiving)

Join host Alton Brown, while he creates a great Thanksgiving feast. With the help of his somewhat misinformed relatives, Alton debunks some turkey cooking myths on his way to a better bird. Recipes featured in this episode: Sweet Corn Bread Pudding Tart Cranberry Dipping Sauce Good Eats Roast Turkey.

Sunday, July 21st, 2002

s0e2: Down & Out in Paradise

A freak fishing accident leaves AB all washed up on a deserted tropical island. Armed with little more than a pocket knife and a will to survive, AB gets by on coconuts, pineapples, mangos, papayas and one very feisty pig. Survival's never tasted better. Recipes featured in this episode: Island Ceviche with Pickled Onions, Coconut Shrimp with Peanut Sauce, Mango Chutney, Papaya Soup Seet and Sour Pork, Toasty Coconut Macaroons, Spicy Pineapple Slices, Chocolate Coconut Balls.

Sunday, May 2nd, 2004

s0e3: Eat This Rock!

Host Alton Brown takes an hour long and loving look at the only rock we eat: salt. Learn what it is, where it comes from, how it makes everything taste better, and how to apply it in some unusually delicious ways. Recipes featured in this episode: Beef Tenderloin in Salt Crust, Perfect Fingerling Potatoes, Salt Roasted Shrimp, Sauerkraut.

Saturday, October 10th, 2009

s0e4: Good Eats 10th Anniversary

To celebrate Good Eats going double digits, Alton Brown and company put on a live variety show full of lively conversation, strange cooking devices, a trivia game show, a parade of guests, a live band, and one very strange birthday cake.

Monday, November 30th, 2009

s0e5: Twas the Night Before Good Eats

Alton prepares long-lost yuletide classics after being visited by a series of culinary spirits.

Saturday, August 6th, 2011

s0e6: Right On Q

Join Alton Brown for an hour-long journey into the world of home-made, tasty, smoked, pork.

Sunday, November 20th, 2011

s0e7: Alton's Countdown to T-Day

Many years after changing Thanksgiving history forever, Alton Brown and the Good Eats crew take one final shot at the biggest food holiday of the year.

Friday, February 10th, 2012

s0e8: Turn On The Dark

Join host Alton Brown for an hour long special revealing the secret power of dark chocolate.

s0e9: Family Roast

This special episode, also known as "A Tale of Two Roasts", is an alternate version of "Celebrity Roast". In it, Alton visits his larcenous brother's filthy house to tackle this feast, using a different approach than the original show - which goes into more depth about the preparation of the meat. Recipes: Dry-Aged Standing Rib Roast with Sage Jus

s0e10: Ask Alton - All American Greats

Alton answers questions from viewers about topics from the following shows: A Grind Is A Terrible Thing To Waste, Ear Apparent, and American Pickle.

s0e11: Ask Alton - Holiday Treats

Alton answers questions from viewers about topics from the following shows: Romancing The Bird, Behind The Bird, and It's A Wonderful Cake.

s0e12: Ask Alton - Hooked and Cooked

Alton answers questions from viewers about the following shows: Where There's Smoke There's Fish, The Other Red Meat (Tuna), and Hook, Line And Dinner.

s0e13: Ask Alton - Juicy Meats

Alton answers questions from viewers about topics from the following shows: Pork Fiction, Steak Your Claim, and A Bird In The Pan.

Sunday, November 27th, 2011

s0e14: Behind The Eats

Alton takes viewers behind the scenes of Good Eats, showing all the elements that make the show a visual and educational success, to include locations, props, sets, actors, research, writers, chefs, camera tricks, camera equipment, sound, editing, music, production and more in this 47 minute episode

s0e15: Ask Alton - More Juicy Meats

Alton answers questions from viewers about the following shows: Celebrity Roast, A Chuck For Chuck, and Grill Seekers.

s0e16: Ask Alton - Poultry Pleasers

Alton answers questions from viewers about the following shows: What's Up Duck, Fry Hard II: The Chicken, and In The Bulb Of The Night.

s0e17: Ask Alton - Super Sweets

Alton answers questions from viewers about the following shows: Three Chips For Sister Marsha, The Art Of Darkness, and Churn Baby Churn.

Thursday, September 4th, 2003

s0e18: Alton Brown On Letterman

Alton Brown shows off his easy kitchen tricks, tips, inventions on The Late Show with David Letterman. Includes the Pepper Drill, faux grill crosshatch, the Cheese Wire, DIY yogurt, DIY trashcan smoker, and the Turntable Cake Froster.

s0e19: Alton's All-star Kitchen Makeover

Thanks to her winning video, in which she uses Good Eats-style filming techniques and humor, a lucky woman has her kitchen made over by Alton Brown himself.

s0e20: Season 01 Special Features

Information on: Cast Iron, Cry Me An Onion, Happiness Is A Sharp Knife, Mashed Potatoes of the Third Kind, Fable of the Four Chickens, Weight Matters, Gravy Trainer, Truss Fund.

s0e21: Season 02 Special Features

Tuesday, May 26th, 2009

s0e22: Grilling Week Alton Brown and Aaron McCargo

Alton goes door to door answering viewers grilling questions in Sarasota, Fla. with a secret mission to surprise one lucky fan who dreams of becoming a Food Network host. Alton coaches her toward her goal and teaches her the secret to the perfect burger. Giada De Laurentiis shares the secrets behind perfectly barbequed chicken, and Aaron McCargo shows how to get big grilling flavor on a small grilling budget.
Season 1
Wednesday, July 7th, 1999

s1e1: Steak Your Claim

Host Alton Brown journeys from field to market to hardware store in search of the perfect steak and the perfect pan to sear it in . Recipes featured on episode: Pan Seared Rib Eye.

Wednesday, July 14th, 1999

s1e2: This Spud's For You

Alton Brown ponders the potato and its main ingredient: Starch. Baking, mashing and gratins are re-examined. Recipes: Mashers Potato/Portobello Gratin The Baked Potato

Wednesday, July 21st, 1999

s1e3: The Egg-Files

Alton Brown cracks the mysterious egg case and pursues a higher understanding of the amazing ovoid's culinary powers. How to land a non-stick pan, scramble, over easy--and consider eggs for dessert Recipes: Lemon Curd Scrambled Eggs Unscrambled

Wednesday, July 28th, 1999

s1e4: Salad Daze

Exiled to bars, chopped and pre-packaged, drenched in noxious concoctions, the tossed salad deserves better. Alton Brown goes back to salad basics and pays homage to Caesar. Recipes: Hail Caesar Salad Veni Vedi Vinaigrette

Wednesday, August 4th, 1999

s1e5: A Bird in the Pan

Why did the chicken cross the road? Probably to escape Alton Brown, who seems intent on defining the perfect broiled chicken that's out of the oven and bathed in sauce in under half an hour. Recipes : Broiled, Butterflied Chicken

Wednesday, August 11th, 1999

s1e6: Churn Baby Churn

You scream, I scream, but Alton Brown would rather make his own ice cream...and sorbet and granita. Secrets the pros don't want you to know and how to find an ice cream machine that delivers the goods without breaking the bank. Recipes: Serious Vanilla Ice Cream Coffee Granita Key Lime Sorbet

Wednesday, August 18th, 1999

s1e7: The Dough Also Rises

Searching for the perfect southern-style biscuit, Alton Brown investigates flour and leaveners and turns to his Grandmother for a pointer or two...not to mention a few pointed comments. Recipes: Scones Shortcake Southern Biscuits

Wednesday, August 25th, 1999

s1e8: Gravy Confidential

Host Alton Brown conquers ""rouxs"" and leads the way to lump free gravy. Recipes: Gravy from Roast Drippings Sawmill Gravy White Roux

Wednesday, September 1st, 1999

s1e9: A Bowl of Onion

Host Alton Brown journeys to the center of the onion. After rediscovering a kitchen classic, and debunking the mythology of tear-free onion cutting, he emerges with a darned fine bowl of soup. Recipes: French Onion Soup

Wednesday, September 8th, 1999

s1e10: Hook, Line and Dinner

Alton Brown dives deep into the watery world of fish and finds that with just three cooking methods under your belt, you can cook just about all of the critters. Recipes: Grilled Salmon Steaks Pan Fried Fish Striped Bass in Salt Dome

Wednesday, September 15th, 1999

s1e11: Pantry Raid I: Use Your Noodle

Part one of an ongoing series looks at the king of pantry essentials: Dried pasta. Alton Brown explores pasta styles, the best cooking method (water is key), the tools you really need (big), and a different way of saucing. Recipes: Pasta

Wednesday, September 22nd, 1999

s1e12: Power to the Pilaf

Alton brown heads to LA for a sack of rice, evaluates rice cookers, unlocks saffron and rewrites the rules for the most versatile of all rice dishes: pilaf. Recipes: Rice Pilaf

Wednesday, September 29th, 1999

s1e13: The Art of Darkness

Alton Brown delves into the dark world of chocolate, picks a pod, roasts some beans, questions mysterious guests, visits his shrink, makes a mousse and hits upon the ultimate chocolate recipe. Recipes : Chocolate Mousse Chocolate Lava Muffins
Season 2
Wednesday, December 15th, 1999

s2e1: It's a Wonderful Cake

Alton Brown is out to prove that fruitcake shouldn't be the butt of holiday jokes any longer.

Wednesday, January 19th, 2000

s2e2: For Whom the Cheese Melts

See what fondue has to do with football, make the best grilled cheese sandwich you have ever had and see why cheese is milk's leap to immortality.

Wednesday, March 1st, 2000

s2e3: Apple Family Values

Watch Alton Brown show you how to shop, store, and prepare some apple classics.

Wednesday, March 8th, 2000

s2e4: Crustacean Nation

Shrimp cocktail is not just for wedding receptions anymore.

Wednesday, March 15th, 2000

s2e5: The Fungal Gourmet

Mushrooms are mysterious no longer, Alton makes them a kitchen staple.

Wednesday, March 22nd, 2000

s2e6: Crust Never Sleeps

Watch as Alton Brown creats the pie crust of his dreams.

Wednesday, April 12th, 2000

s2e7: True Brew

Watch as Alton leads us through the history and prep of our favorite bean.

Wednesday, April 26th, 2000

s2e8: A Grind is a Terrible Thing to Waste

Learn to be excited when meat loaf is for dinner...

Wednesday, May 10th, 2000

s2e9: Fry Hard

Alton wants to show that proper know-how allows everyone to make healthy, delicious and safe fried foods.

Wednesday, May 24th, 2000

s2e10: Urban Preservation I: Jam Session

Using good science and easy methods, Alton will show you how to jam.

Wednesday, June 7th, 2000

s2e11: Pantry Raid II: Seeing Red

Need a tomato sauce?

Wednesday, June 21st, 2000

s2e12: Citizen Cane

Desserts don't need to be difficult to create, and Alton is out to prove it.

Wednesday, July 5th, 2000

s2e13: Pork Fiction

Just how difficult is it to create finger-licking ribs?

Wednesday, July 19th, 2000

s2e14: Ear Apparent

Alton shops, shucks and shares the history and methods of the summer fave: corn.
Season 3
Wednesday, September 20th, 2000

s3e1: American Pickle

There is no good reason that people do not make their own pickles. They are easy and delicious. Let Alton show you simple joys of pickling.

Wednesday, October 11th, 2000

s3e2: Mussel Bound

Alton explains the simple pleasures of mussels.

Wednesday, October 18th, 2000

s3e3: The Egg Files II: Man With a Flan

AB, in his second egg show, is out to show eggs don't have to be scrambled or an omlet.

Wednesday, November 1st, 2000

s3e4: What's Up, Duck?

Watch as Alton proves to us Americans that Duck can be a regular dish.

Saturday, November 18th, 2000

s3e5: Behind the Bird

AB is out to show you can make a great meal with Thanksgiving leftovers.

Wednesday, December 13th, 2000

s3e6: Three Chips for Sister Marsha

Alton uses time travel to explain the mystery behind cookies with three kinds: the thin, the puffy and the chewy.

Wednesday, December 27th, 2000

s3e7: Flap Jack Do It Again

Great pancakes (flapjacks) don't have to come from a box...

Wednesday, January 3rd, 2001

s3e8: The Case for Butter

AB goes to court to defend butter against its bad wrap.

Wednesday, January 10th, 2001

s3e9: Flat Is Beautiful

AB claims we won't be satisfied with pizza until we take matters into our own hands.

Wednesday, January 17th, 2001

s3e10: Pantry Raid III: Cool Beans

AB takes us through what it takes to turn beans into a great meal.

Wednesday, January 31st, 2001

s3e11: Mission: Poachable

Alton must pit his poaching skills against those of the evil ""Frenchman"".

Wednesday, February 7th, 2001

s3e12: Tofuworld

Alton makes what once seemed foreign into an understandable all American classic.

Wednesday, February 21st, 2001

s3e13: Head Games

Alton Brown gets inside a cabbage's head and comes out with a better understanding of what makes this potentially troublesome vegetable tick.

Wednesday, March 7th, 2001

s3e14: Grill Seekers

Watch as AB shows the grill can be a great tool in making a great meal.
Season 4
Wednesday, April 11th, 2001

s4e1: Where There's Smoke, There's Fish

Get the lowdown on wood chips and creating a simple smoker for fish.

Wednesday, April 18th, 2001

s4e2: Pressure

The scientific theory behind capturing meaty goodness in liquid form and why the pressure cooker makes great broth.

Wednesday, April 25th, 2001

s4e3: Fry Hard II: The Chicken

AB pan-fries a chicken, also showing how to butcher it into perfect pieces. Buttermilk bathed, golden brown and deliciousmmm, mmm, fry some more, 'cause nobody doesn't love fried chicken.

Wednesday, May 16th, 2001

s4e4: Crustacean Nation II: Claws

Host Alton Brown demystifies the buying, handling and cooking of the briny bug that put the surf into the surf-n-turf.

Wednesday, May 30th, 2001

s4e5: Ham I Am

Country and city hams: cured, smoked, raw, brined or fresh, get your juices going for some good old American ham.

Wednesday, June 13th, 2001

s4e6: Let Them Eat Foam

Chocolate layer and sheet cakes are more American than apple pie, yet few of us ever bake them anymore. We're going to change all that. Shop for cake pans, learn everything you need to know to keep your foam from flopping and produce a heavenly cake.

Wednesday, June 27th, 2001

s4e7: A Chuck for Chuck

From ordinary chuck to sublime, melt in your mouth flavor: how to make the perfect pot roast without the pot.

Wednesday, July 11th, 2001

s4e8: Pantry Raid IV: Comb Alone

The most mentioned food in the Bible; The only food produced for us by animals. It's a sweetener, it's an antiseptic, it's amazing.

Wednesday, July 25th, 2001

s4e9: The Bulb of the Night

Meet the Count and discover the miraculous properties of Garlic.

Wednesday, August 8th, 2001

s4e10: Mayo Clinic

Join Alton Brown as he debunks the many mysteries of mayonnaise.

Wednesday, August 22nd, 2001

s4e11: Puff the Magic Pastry

Don't be afraid, the store stuff can deliver the puff.

Wednesday, September 5th, 2001

s4e12: True Brew II: Mr Tea

Tea is the second most popular beverage, so let's brew some.

Wednesday, October 3rd, 2001

s4e13: Chile's Angels

Alton investigates the fruity heat of chilies and that ubiquitous condiment: salsa.
Season 5
Wednesday, October 24th, 2001

s5e1: Deep Space Slime

Alton is working as a consultant on a low budget sci-fi movie. His job: make spooky, gooey gelatin molds. Since gelatin is one of the most powerful tools on the pantry planet, Alton's happy to comply, but he insists on making it taste real good. Recipes: Panna Cotta Brain with Cranberry Glaze Spooky Edible Eyes Sparkling Gingered Face Cinnamon Cherry Heart

Wednesday, November 7th, 2001

s5e2: Oat Cuisine

Following a heart attack and near death experience, Alton takes Gods advice and gets seriously into oatmeal. Examine crock pots, make honest granola, learn about fiber & nutrition and make the universal baked dessert topping. Recipes: Granola Overnight Oatmeal Steel Cut Oatmeal Haggis

Wednesday, November 28th, 2001

s5e3: Crepe Expectations

Crepes are a great wrap with a bad rap. Truth is, crepes are incredibly simple, versatile, and good eats. All you need is science, a good pan, and a limber wrist. Alton performs crepe technique for a live audience. Recipes : Crepes Crepe Quiche Lorraine Crepes Suzette Mushroom Crepe Cake

Wednesday, December 5th, 2001

s5e4: Celebrity Roast

As the holidays approach Alton Brown ponders the perfect roast beast, meets with a butcher, comes to terms with aging, learns about ovens & radiant heat, discovers new ways to have fun with flower pots, and produces the ultimate carnivores delight. Recipes: Dry-Aged Standing Rib Roast with Sage Jus

Wednesday, January 9th, 2002

s5e5: Scrap Iron Chef

Alton Brown finds himself participating in a rather odd TV game show. The arena: a junkyard. The opponent: Chef Midwest. The ingredient: pork belly. Recipes: Bacon Vinaigrette with Grilled Radicchio Scrap Iron Chef's Bacon Honey Mustard Cure Molasses Black Pepper Cure Red Pepper Brine Soy Honey Brine

Wednesday, January 16th, 2002

s5e6: Berry From Another Planet

The aliens among us are eggplants and they are delicious?really. Learn to shop for and store different varieties of eggplant, evaluate bread crumbs, and celebrate the vegetable peeler. Recipes: Baba Ghannouj Eggplant Pasta Eggplant Steaks

Wednesday, January 23rd, 2002

s5e7: The Trouble with Cheesecake

Alton helps discover the secrets of cream cheese and its alter-ego marscapone. Conquer crumb crusts, buy into some pans, and produce both savory and sweet cheesecakes without a crack in site. Recipes: Savory Cheesecake Sour Cream Cheesecake

Wednesday, January 30th, 2002

s5e8: Squid Pro Quo

Alton finds himself catering a tailgate party for a group of folks out to catch a glimpse of a mythical sea monster.To commemorate the event, Alton prepares a menu featuring his favorite tailgateable sea monster: squid. Recipes: Squid Vicious

Wednesday, February 13th, 2002

s5e9: Art of Darkness II: Cocoa

Alton gets the dirt on Dutch processing and the dead Dutch guy who invented it, choose a few powders then apply them to hot chocolate, brownies, sorbet and homemade chocolate syrup. Recipes: Cocoa Brownies Hot Cocoa Cocoa Syrup

Wednesday, March 6th, 2002

s5e10: Squash Court

Hard or "winter" squashes confuse and confound for no other reason than there are so darned many of them. Learn how to shop, store, and cook a plethora of gourdy recipes, find out what's really up with beta carotene and why you need to buy a stick blender. Recipes: Butternut Dumplings with Brown Butter and Sage Pumpkin Bread Squash Soup

Wednesday, April 3rd, 2002

s5e11: For Whom the Cheese Melts II

Learn what you can do to return Macaroni & Cheese to a table near you. Evaluate bakeware, noodle noodles, look into evaporated milk and of course?cheddar cheese. Recipes: Baked Macaroni and Cheese Stove Top Mac-n-Cheese Next Day Mac and Cheese "Toast"

Wednesday, April 10th, 2002

s5e12: Send in the Clams

No bivalve is more American than the clam nor is any other shell-dweller more versatile in the kitchen. Learn the ins and outs of clam identification, decide which ones to use where, buy a clam opening device and make a wicked chowder. Recipes: Radonsky for the New Millenium Clams on the Half Shell with Fresh Mayonnaise Clam Chowder

Saturday, April 20th, 2002

s5e13: This Spud's for You Too

Alton, ever the Spud Stud, cooks up homey Potato Soup, creamy Potato Salad and a spectacular Swiss Rosti. Recipes: Leftover Baked Potato Soup Cold-Fashioned Potato Salad Potato Roesti
Season 6
Wednesday, June 19th, 2002

s6e1: The Other Red Meat

A quick trip to the afterlife convinces host Alton Brown to get serious about eating more tuna. Find out how to grill on a chimney charcoal starter, how to avoid fake soy sauce, and why you can see a rainbow on Tuna Steaks. Recipes: Chimney Tuna Loin

Wednesday, July 3rd, 2002

s6e2: Strawberry Sky

Join Host Alton Brown to learn how to make the most of strawberry season. You can macerate them, glaze them, freeze them with dry ice, and even build a summer pudding in a tin can. AB even holds a quick lesson on the power of antioxidants. Recipes: Clotted Cream Macerated Strawberries Strawberry Pudding Frozen Strawberries Clotted Cream Macerated Strawberries Strawberry Pudding Frozen Strawberries

Wednesday, July 10th, 2002

s6e3: Artichokes: The Choke is On You

Host Alton Brown gets to the heart of artichokes. Pick up tips on storing, prepping, cooking and even eating this giant flower bud, as well as how to make your own herb oil to marinate them in. Recipes: Artichoke Pasta Salad Broiled Chokes Herb Oil

Wednesday, July 24th, 2002

s6e4: Good Milk Gone Bad

Yogurt's not just good for you, it's just plain good. Especially when you make your own. Host Alton Brown shows how easy this miraculous feat really is, then demonstrates plenty of ways to use the white stuff up. Recipes : Fresh Yogurt Lemon-Ginger Frozen Yogurt Tarragon Yogurt Sauce Thousand Island Dressing Herb Spread Yogurt Cheese

Wednesday, August 7th, 2002

s6e5: Egg Files V: Quantum Foam

The word "souffle" has instilled fear in cooks for ages. Host Alton Brown believes a strong dose of science is all that's needed to get control of your egg foam. Learn the ins and outs of the cheese souffle, and how to manage the heat in your oven. Recipes: Cheese Souffle

Wednesday, October 2nd, 2002

s6e6: Tomato Envy

Learn everything you need to know about making the best use of the biggest berry to ever be called a vegetable. Take a serious look at serrated knives, a strange and delicious sandwich and a tomato sauce that almost isn't. Recipes: Stuffed Tomatoes Tomato Sauce TBL Panzanella

Wednesday, October 9th, 2002

s6e7: Amber Waves

Join Host Alton Brown and learn everything you need to know about yeast, barley, hops and the hardware you need to bring them together to produce that most American of foods, Beer. Recipes: Good Brew

Wednesday, October 16th, 2002

s6e8: Dip Madness

Dips may have driven Alton Brown a little bonkers but that won't keep him from delivering the goods on guacamole, California dip and the unjustly dissed chicken liver mousse. Recipes: Chicken Liver Mousse Guacamole Hot Spinach and Artichoke Dip Onion Dip from Scratch

Wednesday, November 6th, 2002

s6e9: Chops Ahoy

Host Alton Brown yearns for the juicy chop of yesterdayand he intends to get it. Visit the neighborhood butcher, pick up stuffing tips (no, stuffing is not evil) and learn more than you ever wanted to know about propane. Recipes: Stuffed Grilled Pork Chops

Wednesday, November 13th, 2002

s6e10: Choux Shine

The easiest pastry dough to make also happens to be the most versatile and delicious. Trouble is, Americans won's make it because it's got a scary name:pate a choux. Join host Alton Brown as he takes the steamy dough from cream puff to eclair and beyond. Recipes: Funnel Cake Sweet or Savory Pate a Choux

Wednesday, January 8th, 2003

s6e11: Casserole Over

When a Sunday drive goes bad, host Alton Brown finds himself pushing the limits of his casserole knowledge to free his dog from angry church ladies. Recipes: Broccoli Casserole Curry Chicken Pot Pie Garlic Shrimp Casserole

Wednesday, January 15th, 2003

s6e12: Use Your Noodle II

Stuffed pastas like Ravioli are much loved but seldom made. Host Alton Brown intends to put that to an end by demystifying noodle and filling alike.The answer: Your ironing board. Recipes: Ravioli Tortellini

Wednesday, January 29th, 2003

s6e13: Salad Daze II: The Long Arm of the Slaw

Alton Brown's slaw-centric guest slot on a popular morning talk show turns into a strange and wonderful half hour of good eats. Recipes: Marinated Slaw Asian Slaw Beet Slaw Coleslaw

Wednesday, February 5th, 2003

s6e14: A Cake on Every Plate

Host Alton Brown finds a challenge in his mail box: decipher a deceased family baker's famous yellow cake. Recipes: Cocoa Whipped Cream Gold Cake

Wednesday, February 19th, 2003

s6e15: The Icing Man Cometh

Cake is dandy but let's face it, without frosting it's just sweet bread (not sweetbreads). Host Alton Brown builds a better butter cream then builds a layer cake from ground up...with tools from his local hardware. Recipes: Buttercream Ganache Writing Chocolate

Wednesday, March 5th, 2003

s6e16: Beet It

Long feared by baby boomers accustomed to being accosted by noxious red wedges, beets are good eats, or so says host Alton Brown who suggests one approach the ruby roots with an open mind and a good pair of gloves. Recipes: Beet Green Gratin Glazed Baby Beets Pickled Beets

Wednesday, March 19th, 2003

s6e17: Fit to Be Tied

Since childhood, host Alton Brown's had a soft spot in his appetite for roulades, savory rolls of meaty goodness that look hard... but aren't...as long as you've got science on your side. Recipes: Braciole Fish Roll with Compound Butter
Season 7
Sunday, May 25th, 2003

s7e1: Crustacean Nation III: Feeling Crabby

What do you do when your live crab runs away from home? If you're Alton Brown you turn to frozen legs and other packaged products. A cop out? Nope, good eats. Recipes: Steamed Alaskan King Crab Claws Ghee Crab Cakes or Fritters Marinated Crab Salad

Wednesday, June 11th, 2003

s7e2: Q

Host Alton Brown thinks he's cracked the code to true 'cue: brined pork, a flower pot, a trashcan, hardwood smoke and a lot of patience. Recipes : Pulled Pork

Wednesday, July 9th, 2003

s7e3: The Egg Files VI: French Flop

Alternative name: Zen and the Art of Omelet Maintenance Host Alton Brown gets Zen with the simply delicious yet simply misunderstood king of egg applications. Recipes: Omelet Omelet for a Crowd Frittata

Wednesday, July 23rd, 2003

s7e4: The Muffin Man

America's favorite breakfast bread moved out of the home kitchen long ago. With the help of some sound science and an incarcerated brother, host Alton Brown plans to change all that. Recipes: Blueberry Muffins English Muffins

Wednesday, August 6th, 2003

s7e5: True Brew IV: Take Stock

Some folks may think of home made stocks as culinary anachronisms, but host Alton Brown thinks they're the best edible investment in town. Follow him as he buys the perfect stock pot and brews up some chickeney goodness spiced up with a tasty jolt of science and major dose of practical advice. Recipes: Chicken Stock Chicken Noodle Soup

Wednesday, August 20th, 2003

s7e6: Sausage: A Beautiful Grind

Host Alton Brown thinks that sausage should be our national dish. Never made your own? Once you know how easy it is, you will. Take a look at grinders, the perfect hunk of pork and the longest piece of protein in the world. Recipes : Breakfast Sausage Italian Sausage

Wednesday, September 10th, 2003

s7e7: Raising the Steaks

Host Alton Brown returns to the scene of episode #1 to re-think the great American steak. Recipes : Sirloin Steak Skirt Steak

Saturday, September 13th, 2003

s7e8: The Pouch Principle

Living fast often means getting your food from a bag. Host Alton Brown doesn't see anything wrong with that as long as the bag comes out of your oven or microwave. Pouch cookery may have ancient origins but it may just be the key to your future food. Recipes : Ramen Shrimp Pouch Red Snapper en Papillote Salmon Fillet en Papillote with Julienne Vegetable Stone Fruit Pouches Vanilla Sugar

Wednesday, October 8th, 2003

s7e9: Ill Gotten Grains

Wheat berries, bulgur, and couscous aren't your usual wheaty fare but then you don't see a lot of food shows featuring amnesia or kidnapping either. Recipes: Bulgur Gazpacho Wheat Berry Tapanade Mushroom Wheat Berry Pilaf Steamed Couscous Basic Cooked Wheat Berries Cherry Couscous Pudding

Sunday, October 26th, 2003

s7e10: Tricks for Treats

Despite the fact that Americans spend billions a year on manufactured treats, truth is, great candy starts in the home. Join host Alton Brown as he explains the trick to treats like taffy, brittles, and jellies. Recipes: Chocolate Taffy Acid Jellies Peanut Brittle

Wednesday, November 12th, 2003

s7e11: Potato, My Sweet

Long typecast as a character actor on the culinary stage, this longsuffering root is finally ready for a star role, and it's not in Silence of the Yams. Recipes : Sweet Potato Waffles Sweet Potato Pie Chipotle Smashed Sweet Potatoes

Thursday, December 4th, 2003

s7e12: The Cookie Clause

Santa Claus is coming to town, and unless Alton Brown can bake up the perfect holiday cookie he's going to find himself on the wrong end of the big guy's list. Join AB for an evening of cookie baking basics, frosting food science, and maybe a little reindeer wrangling. Recipes: Sugar Cookies Royal Icing Chocolate Peppermint Pinwheel Cookies

Wednesday, January 7th, 2004

s7e13: Herbal Preservation

Where ""Spice Trade"" took on the seeds, bark, berries and fruits we grind onto our foods, this show focuses on the wide range of greenery that can add depth and dimension that make Good Eats better. Plus, learn how to set up your own container herb garden. Recipes: Tarragon Chive Vinegar Parsley Salad

Wednesday, January 14th, 2004

s7e14: Spice Capades

A primer for buying, storing, mixing and matching, cooking and eating spices. Find the best tools for grinding them, learn what they are, where they come from and how they shaped the modern world. Recipes : Broiled Salmon with AB's Spice Pomade Vegetable Curry Curry Powder Blend Dried Pear and Fig Compote

Wednesday, January 28th, 2004

s7e15: The Man Food Show

Just in time for the big game, a show all about food best consumed in a lazy-boy: real, honest to goodness corn dogs and basket burgers (those little single bite burgers that are so darned good). Recipes: Corn Dogs Mini Man Burgers

Wednesday, February 11th, 2004

s7e16: Fudge Factor

It turns out the secret to producing the archetypal American candy doesn't lie in the power of chocolate but in the power of crystals. Host Alton Brown helps you to grow your own. Recipes: Chocolate Fudge Peanut Butter Fudge

Wednesday, February 25th, 2004

s7e17: Sometimes You Feel Like A Nut

Whether they're the main ingredient or a supporting player, nuts have needs'special needs if we're going to get the most out of them. Learn better ways to store, cook and cook with a variety of nuts, which turn out to be as good for you as they taste. Recipes: Cashew Sauce Pistachio Mixed Herb Pesto Pistachio Fruit Balls Macadamia Nut Crusted Mahi Mahi Macadamia Nut Crust

Wednesday, March 3rd, 2004

s7e18: I Pie

Alton Brown goes undercover for an in depth look at lemon meringue pie. Recipes: Lemon Meringue Pie Pie Crust

Wednesday, April 14th, 2004

s7e19: Toast Modern

Some of the world's greatest dishes...Bruschetta, French Toast, Welsh Rabbit to better croutons to your basic breakfast shingle, toast is an example of good eats that could usually be a whole lot better. Recipes: French Toast Bruschetta Welsh Rarebit

Monday, May 3rd, 2004

s7e20: Top Banana

There's a lot more under that peel than most folks think. Learn more about the many varieties available in the US and how they like to be handled. Take a side trip through plantains, learn how to make an amazingly fast banana bread and classic Bananas Foster... with fire and everything. Recipes: Banana Ice Cream Banana's Foster Fried Plantains
Season 8
Wednesday, June 16th, 2004

s8e1: Hittin' the Sauce

With a few simple tools and some basic chemistry, host Alton Brown simplifies the most common sauce quandaries. Throw away your boxed preparations and find how simple it is to create an elegant hollandaise and peppercorn sauce for your favorite steak. Recipes: Strip Steak with Pepper Cream Sauce Hollandaise

Wednesday, June 23rd, 2004

s8e2: Shell Games

Oysters are a mystery to many and downright spooky to some. Join host Alton Brown as he unravels the secrets of this bivalve, cracks a safe or two and reinvents classic applications like oysters ""Rock-A-Fella."" Recipes: Baked Oysters Brownefeller Horseradish Cream Sauce Oyster Soup

Wednesday, July 7th, 2004

s8e3: Flat is Beautiful II

These days we're all looking for ways to make more out of less. Alton Brown's favorite strategy: flatten meats wafer thin and cover them with flavor. New looks at old classics like Chicken Kiev, Turkey Piccata and Carpaccio. Recipes: Beef Paillard Chicken Kiev Turkey Piccata

Wednesday, July 21st, 2004

s8e4: Circle of Life

Everybody loves donuts but nobody seems to make their own...until now. Join host Alton Brown as he delves into this country's favorite pastry. Not only will you learn how to make your own you'll find out how the donut really got its hole. Recipes: Yeast Doughnuts Doughnut Glaze Chocolate Doughnut Glaze

Wednesday, August 4th, 2004

s8e5: Wonton Ways

The humble wonton skin may look exotic but it's also the most versatile pasta you can invite into your kitchen. Join Alton Brown as he stuffs and folds and fries and steams and bakes up a mess of good eats out of this Chinese restaurant standard. Recipes : Perfect Potstickers Vegetarian Steamed Dumplings Pear Walnut Wontons

Wednesday, August 18th, 2004

s8e6: The Big Chili

Join Host and cowpoke Gerald P Hobbs (Alton Brown) and his sidekick Rusty as they rustle up a good, honest bowl of red. Along the way, they'll ponder the chili mythology, grind up their own chili powder (that's chili with an ""i"") and do some serious work under pressure. Recipes: AB's Chili Powder Pressure Cooker Chili

Sunday, October 3rd, 2004

s8e7: Sandwich-craft

To some it's a couple of pieces of bread with something shoved between. To others, a sandwich is a sublime balance of flavor and texture born as much of technique as ingredient. Alton Brown and his nephew Elton dose up a little Sandwich-craft. Recipes: Cuban Sandwich Pan Bagnat Roasted Vegetable Spread

Sunday, October 3rd, 2004

s8e8: Soups On

A good soup is like a cooking school in a bowl and class is in session for host Alton Brown's nephew Elton. Join the two as they work together to craft an old classic and (perhaps) a new one. Recipes: Garden Vegetable Soup Grape Gazpacho

Sunday, October 17th, 2004

s8e9: Say Cheese

Join host Alton Brown for a collection of short films about his favorite food: cheese. Learn about everything from pasteurization to pairing, Lactose to graters. Learn how to make cheese into soup, crackers, and a spread to end all spreads. Recipes: Cheese Soup Fromage Fort Parmesan Crisps

Wednesday, October 27th, 2004

s8e10: Art of Darkness III

What could possibly be more chocolaty than chocolate? Join host Alton Brown as for his third journey into the world of chocolate. Recipes: Chocolate Truffles Ganache Frosting Good Eats Fudgepops

Wednesday, November 3rd, 2004

s8e11: True Grits

Whether you're cooking up a mess of grits or a pot of polenta cornmeal may just be the most powerful player in the pantry. Join host Alton Brown as he battles with cultural claims, doses up some science and cranks out an upside-down cake with a twist. Recipes: Cheese Grits Savory Polenta Pineapple Upside-Down Cornmeal Cake

Sunday, November 14th, 2004

s8e12: Stuff It

AB's gone on record as saying the stuff is evil and yet, hundreds of protest letters have him rethinking his position. Can a stuffing be designed that's good for diner and bird alike? Recipes Stuffed Squash Turkey with Stuffing

Wednesday, December 1st, 2004

s8e13: Puddin' Head Blues

In an effort to pay off the IRS, host Alton Brown decides to enter a pudding recipe contest being held by the TV pudding queen: Auntie Pudding. Recipes: Indian Rice Pudding Tapioca Pudding Instant Chocolate Pudding Mix Chocolate Pudding

Wednesday, January 5th, 2005

s8e14: Melondrama

Join host Alton Brown as he attempts to demystify one of the most complex and promising fruits around. Recipes : Hot Melon Salad Melon Sorbet

Wednesday, January 19th, 2005

s8e15: Myth Smashers

Join host Alton Brown as he sears meat, washes mushrooms, oils the pasta water and tries to blow-up water.

Wednesday, February 2nd, 2005

s8e16: Cuckoo for Coq Au Vin

Can a fussy French fricassee fit a modern American lifestyle? Sure. All it takes is a chicken, a couple bottles of wine and a little know-how. The fussy French part is purely optional. Recipes: Coq au Vin

Wednesday, February 16th, 2005

s8e17: Carrots: A Taproot Orange

They?re long, they?re orange and they?re everywhere, but do we ever really think about carrots? Host Alton Brown does?a lot. Join him as he concocts everything from salads to cakes and explains the whole carrot/vision thing. Recipes: Carrot Slaw Glazed Carrots Carrot Cake

Wednesday, March 2nd, 2005

s8e18: Sprung a Leek

Host Alton Brown ponders the leek, the lesser-known member of the Allium family which it turns, can do anything its siblings can do, only better. Don't believe it? Try these onion rings. Recipes: Grilled Braised Leeks Leek Rings Leek Potato Soup

Wednesday, March 16th, 2005

s8e19: Dr. Strangeloaf

Tune in as Alton shows us how to create a great loaf of bread. Recipes: Very Basic Bread

Wednesday, April 6th, 2005

s8e20: My Big Fat Greek Sandwich

The gyro may just be the perfect sandwich. Too bad you can't make one at home.or can you? Join host Alton Brown as he tackles rotisseries, tzatziki sauce and a pile of broken plates. Recipes : Gyro Meat with Tzatziki Sauce

Wednesday, April 20th, 2005

s8e21: Field of Greens

Was your childhood eating plagued with plate-loads of slimy, foul-smelling leaves? Host Alton Brown shows how to turn fiend to friend when he takes on dark leafy greens. Tune in and you might learn a thing or two about nutrition too. Recipes: Mustard Green Gratin Pot O'Greens Lemon Sesame Glazed Greens

Wednesday, May 4th, 2005

s8e22: Do The Rice Thing

To most Americans rice means long grain, white grains. But we're missing out on the marvels of short, medium and brown grains. Join host Alton Brown as he stirs up a risotto, makes a rice salad and delves deep into a mixed bag of starch. Recipes: Baked Brown Rice Brown Rice Salad Wild Mushroom and Asparagus Risotto
Season 9
Wednesday, June 1st, 2005

s9e1: Give Peas a Chance

AB is called to a normal, suburban house one night to ""treat"" a boy who, having been told that he can't leave the table until he eats his peas, hasn't left the table for a very long time. Recipes featured in the episode: Green Peas with Cheese and Herbs, Split Pea Burgers, and Curried Split Pea Soup. This episode was the first of the season and ushered in a new set of cameras. Alton and the crew played with the camera with one episode last season, and we got to see the different cameras from shot to shot. It now looks as though they're only going to be using the new cameras, which result in a different picture.

Wednesday, June 15th, 2005

s9e2: Dis-Kabob-Ulated

Does the kabob still have a roll to play in the modern culinary carnival? Sure it does. You just need the right ingredients, the right skewers, the right heat and the right mindset. Recipes featured on this episode: Spicy Beef Kebabs and Vanilla Lime Pineapple Skewers.

Wednesday, June 29th, 2005

s9e3: Urban Preservation II: The Jerky

Alton Brown takes us on a tour of beef jerky from its ancient beginnings to shopping for it, making it, and cooking with it. Recipes featured in this episode: Beef Jerky. Jerky Tomato Sauce

Wednesday, July 13th, 2005

s9e4: Churn Baby Churn, 2

AB sets out to figure out how to make ice cream himself. After a visit from some federal ice cream agents and a little investigation of ingredients, AB cracks the code. Recipes Chocolate Ice Cream Vanilla Ice Cream Mint Chip Ice Cream

Wednesday, July 27th, 2005

s9e5: Power Trip

AB looks at the nutritional challenges then concocts a protein bar, an ""energy"" bar, and a very healthy puffed rice treat that is also ""crispy"". Recipes Brown Rice Crispy Bar Granola Bars Protein Bars

Wednesday, August 3rd, 2005

s9e6: Wake Up Little Sushi

AB investigates the ins and outs of ordering, eating, shopping for and even making basic sushi. Plenty of history thrown in for good measure. Remember, in Sushiworld nothing can go wrong! Recipes Sushi Rice California Roll

Wednesday, August 24th, 2005

s9e7: Cobbled Together

After years of applying, AB is finally getting a shot to join the prestigious Institute for the Preservation of Culinary Heritage and Authenticity. All he has to do to get in is prepare a dessert for a special dinner. Recipes Rhubarb Peach Cobbler Blackberry Grunt Individual Berry Crisps

Wednesday, September 21st, 2005

s9e8: Good Wine Gone Bad

Join host Alton Brown as he dives deep into the pantry to investigate the many facets of vinegar. Recipes: Grilled Romaine Sauerbraten

Wednesday, October 12th, 2005

s9e9: The Waffle Truth

Alton Brown dresses up as the ""Waffler"" and rids the neighborhood of pathetic commercial frozen waffles, and then shows how to make your very own. Recipes Basic Waffle Chocolate Waffle

Wednesday, October 19th, 2005

s9e10: Great Balls of Meat

Alton explains how to make meatballs, with two examples: baked meatballs, and Swedish meatballs. Recipes Baked Meatballs Swedish Meatballs

Wednesday, November 2nd, 2005

s9e11: Curious Yet Tasty Avocado Experiment

Alton studies the avocado and discovers some surprising avocado treats. Recipes featured: Avocado Compound Butter, Avocado Ice Cream, Avocado Buttercream Frosting

Wednesday, November 9th, 2005

s9e12: A Pie in Every Pocket

Join host Alton Brown as he looks into the past, future and present of the very handy ""pocket"" pie. Recipes featured in this episode: Pocket Pie

Thursday, December 1st, 2005

s9e13: School of Hard Nogs

Alton Brown reviews the history of egg nog, and comes up with several variations on the theme. He also investigates how bourbon is made. Recipes: Eggnog Eggnog Ice Cream

Wednesday, January 11th, 2006

s9e14: My Pod

Alton takes a look at the vanilla bean/pod. Recipes : Creme Brulee Fruit Salad with Vanilla Dressing Vanilla Poached Pears

Wednesday, January 18th, 2006

s9e15: Tender is the Loin 1

Alton looks at the one of the single best (and most expensive) cuts of meat, the tenderloin. Recipes featured in this episode: Steak au Poivre

Wednesday, January 25th, 2006

s9e16: Raising The Bar

Alton looks at the basics of what makes up a bar and prepares a few drinks. Recipes featured in this episode: Daiquiri, AB's Martini, and Mint Julep.

Wednesday, February 1st, 2006

s9e17: Tender Is the Loin 2

Alton takes another look at the one of the single best (and most expensive) cuts of meat, the tenderloin. Recipes featured in this episode: Center Cut Tenderloin Roast, Chain of Bull Cheese Steaks. Beef Carpaccio, and Stuffed Tenderloin.

Wednesday, February 22nd, 2006

s9e18: Flat is Beautiful III - Flounder

Join Alton as he creates dishes suited specifically for the flounder Recipes featured in this episode: Baked Stuffed Flounder, Oil Poached Flounder Flounder Fish Salad.

Wednesday, March 15th, 2006

s9e19: Your Pad or Mine (Thai)

AB sets out to try to make some great Thai stir fry with common ingredients. Recipes featured in this episode: Pad Thai

Wednesday, April 5th, 2006

s9e20: Shell Game IV (Scallops)

Alton sets his sights on Maine in hopes of finding a monster scallop. Recipes: Seared Scallops Scallops on the Half Shell Scallop Mousse

Wednesday, April 19th, 2006

s9e21: Olive Me

Although small, olives pack a whallop in the taste department. Alton tries to prove martinis aren't the place olives can be used. Recipes: Citrus Marinated Olives Tapenade Olive Loaf
Season 10
Wednesday, May 3rd, 2006

s10e1: Tort(illa) Reform

With so few Americans making their own tortillas, AB hopes to provide some simple tips and recipes to make a great tortilla, replacing the mediocre store-bought ones we have in our pantry. Recipes featured in this episode: Corn Tortillas, Lime Tortilla Chips.

Wednesday, May 17th, 2006

s10e2: Just Barley

AB takes the handful of simple grains of barley and tries to turn them into a meal we could all love. Recipes featured in this episode: Baked Barley, Barley Bread, Barley and Lamb Stew, Barley Salad, Barley Water.

Wednesday, June 7th, 2006

s10e3: House of the Rising Bun

Alton's trying to sell a house, but the realtor insists the delectable smell of baked goods can help make the sale, so it's off to the oven for Alton. Recipes featured in this episode: - Cinnamon Buns - Citrus Ginger Ring - Monkey Bread

Wednesday, June 21st, 2006

s10e4: Cubing a Round

Alton examines the history of the cube steak and tries to bring country cooking home again. Recipes featured in this episode: Country Style Steak, Swiss Steak, Chicken Fried Steak.

Wednesday, July 12th, 2006

s10e5: Water Works I

Alton explains the sources of drinking water, its properties and dangers, and the popularity of bottled water.

Wednesday, July 19th, 2006

s10e6: Water Works II

Alton continues his exploration of water, explaining how home water filters remove contaminants, how water softeners work, and describes the attributes of water's other forms -- steam and ice.

Wednesday, September 20th, 2006

s10e7: Peachy Keen

Good Southern boy Alton takes on the South's favorite fruit, featuring its history, varieties and how to preserve the famously perishable flesh. Recipes in this episode: - Grilled Peach Melba - Individual Peach Upside-Down Cake

Wednesday, September 27th, 2006

s10e8: Okraphobia

Sid the Edibles Agent returns, asking Alton to help redeem his latest problem client, the infamously slimy seedpod known as okra. Recipes featured in this episode: - Okra and Tomatoes - Pickled Okra - Wet Fried Okra - Dry Fried Okra

Wednesday, October 4th, 2006

s10e9: Squid Pro Quo II

Alton takes to the sea on a research ship to learn more about squid and demonstrate recipes for squid appetizers. Recipes in this episode: - Dry Fried Calamari - Wet Fried Calamari - Seaside Squid Salad - Squid Stuffed Squid

Wednesday, October 11th, 2006

s10e10: Pop Art

A trip to a local cinema reminds Alton that popcorn was once light, fluffy and flavorful. Learn the how and why of exploding kernels and see Alton's improvised, inexpensive popcorn popper.

Wednesday, November 8th, 2006

s10e11: Major Pepper

Alton turns the spotlight on the king of spices, pepper, which has seen its once lofty stature reduced to being a companion for table salt. Included: A historical lesson tracing the spice empires of the 17th century and how to select pepper grinders. Recipes in this episode: - Pepper Deviled Eggs - Black Pepper Mango Sorbet - Slow Cooker Pepper Pork Chops - Pepper Vodka

Sunday, November 12th, 2006

s10e12: Fry Turkey Fry

Deep-frying a turkey is a cooking method growing in popularity by leaps and bounds. But it can also be one of the most dangerous, with potential for serious oil burns or even fire. Alton spotlights the essential steps for ultimate safety, including how to select the best frying kit and making the Alton Brown Turkey Derrick®, his recommended way to get the bird in and out of the pot without putting yourself at risk. Featured recipes in this episode:- Deep-fried Turkey

Wednesday, January 17th, 2007

s10e13: Pantry Raid VI: Lentils

Alton considers the lentil, a delicious source of protein, fiber and minerals that works in soups, in salads, and even in baked goods like cookies - yes, cookies! The sixth in an occasional series about the contents of the well-stocked pantry. Recipes Lentil Cookies Lentil Salad Lentil Soup

Friday, February 2nd, 2007

s10e14: Tortillas Again

Alton is under siege. His kitchen is being picketed by Cooks Against Wasted Left-Overs. Alone and abandoned by his film crew, Alton is visited by the Mother of Culinary Invention, who gives the desperate cook inspiration. Recipes in this episode: - Enchilada Lasagna - Masa Tots - Ultimate Nachos

Wednesday, February 14th, 2007

s10e15: Bowl O' Bayou

AB breaks down the whole concept of Gumbo, clarifies the differences between Cajun and Creole and explains the importance of the roux this classic dish. After numerous roux failures AB comes up with a foolproof method for making a brick (dark) roux and the perfect gumbo. Recipes: Shrimp Gumbo

Wednesday, February 21st, 2007

s10e16: Fowl Territory

Cornish hens are small and delicious, but have the same dangers of their larger brethren. Alton gives a crash course on how to avoid illness with the tiny birds, featuring his Four Cs of food safety: Contain, Clean, Cook and Chill.- Recipies - Grilled Curry Cornish Hens - Cornish Game Hen with Bacon and Onions

Wednesday, March 7th, 2007

s10e17: Fruit 10 from Outer Space (Pomegranates)

The pomegranate looks like something from outer space, but Alton tells us that it's one of the healthiest fruits available. But only if you know how to get to the capsules of juicy goodness without making a mess. Recipes in this episode: - Pomegranate Syrup or Molasses - Pomegranate Gelatin - Grilled Leg of Lamb with Pomegranate Molasses Glaze - Tequila Sunrise

Wednesday, March 14th, 2007

s10e18: Pickled Pink/Corn the Beef

Inspired by a trip to New York City, the capital of corned beef, Alton decides to make his own, since good corned beef is hard to find outside of the Big Apple and certainly south of the Mason-Dixon. Along the way, the history of the succulent meat and the myth of the St. Patrick's Day traditional meal. Recipes - Corned beef brisket - Corned beef and cabbage - Corned beef hash

Wednesday, April 4th, 2007

s10e19: Espress Yourself

Put down the Venti mocha soy latte and step away from the Starbucks slowly. Alton gets back to basics with the tiny cup of brew that started it all. From the perfect bean to buying a grinder and an espresso machine, learn where you should spend your money. Recipes featured in this episode: - Espresso - Macchiato - Cappuccino - Latte

Wednesday, April 18th, 2007

s10e20: American Classics I: Spinach Salad

Alton begins a new series focusing on the basic but often neglected simple fare of America. First up is the spinach salad. Popeye's favorite vegetable needs only a few additions to become a top-notch salad. Also, salad spinners to make your head spin. Recipes in this episode: - Wilted spinach salad with bacon dressing - Cold spinach salad with bacon and egg dressing
Season 11
Wednesday, June 6th, 2007

s11e1: Milk Made

Only one naturally occurring edible substance exists only as food ? milk. Even honey, technically a manufactured product, does not qualify. Alton spends some time discussing the production and history of milk as well as some things to watch out for (featuring a surprise guest). Recipes: Tres Leche Cake Dolce de Leche Quick Cottage Cheese

Wednesday, June 20th, 2007

s11e2: Pretzel Logic

The pretzel, once a delicious treat, has sadly been twisted into the edible equivalent of cardboard. Alton Brown recreates the traditional soft pretzel in all its crisp, chewy, golden brown glory. Recipes: Homemade Soft Pretzels Homemade Hard Pretzels Best Mustard Ever

Monday, July 9th, 2007

s11e3: Coconut Cake Revival

Is it possible to make great cake with coconut from a can? Should you even try? Host Alton Brown wants to know and he's willing to crack open as many nuts as it takes to make a slice of paradise on a plate. Recipes: Coconut Cake with 7-Minute Frosting Coconut Milk and Cream Coconut Extract

Monday, July 16th, 2007

s11e4: Sub Standards

Whether filling in for your French teacher or your favorite spice, substitutes can be every bit as successful as the original. Join host Alton Brown and a handful of substitute chefs as they take on a few good recipes with one ingredient tied behind their backs. Recipes: The Chewy Gluten Free Southern Biscuits Faux Peanut Sauce

Monday, July 23rd, 2007

s11e5: Fishn' Whole

Scales, tails and eyes oh my! Who's afraid of whole fish? Not Alton Brown. Confront your fishy phobias head on with the fearless host as he roasts, planks and fries up a few good (whole) fish. Recipes: Pan-Fried Smelts Plank Grilled Whole Trout Whole Striped Bass

Wednesday, August 8th, 2007

s11e6: Whithering Bites

Dried fruit may not be glamorous, but what it lacks in fashion it more than makes up for in flavor and versatility. Recipes: Dried Fruit Individual Fruit Compote Pies Sweet Dried Fruit Compote Trail Mix

Monday, August 13th, 2007

s11e7: Stew Romance

If great stew, like great music, is a commingling of ingredients to create culinary harmony, why do so many stews taste less like beautiful music and more like a murky dirge? Recipes: Good Eats Beef Stew

Monday, October 8th, 2007

s11e8: Dill-icious

Join host Alton Brown as he helps a humble cucumber fulfill its culinary destiny of becoming a pickle. Recipes: Deep-Fried Pickles Dill Pickles

Monday, October 15th, 2007

s11e9: Peanut Gallery

A little ghostly inspiration is all Alton Brown needs to turn a handful of peanuts into some seriously good eats. Recipes: Boiled Peanuts Boiled Peanut Soup Roasted Peanuts Homemade Peanut Butter Peanut Butter Pie

Wednesday, November 7th, 2007

s11e10: Bean Stalker

Join Food Network's intrepid host, Alton Brown, as he reinvents the classic green bean casserole just in time to save the holidays. Recipes: Best Ever Green Bean Casserole

Wednesday, November 14th, 2007

s11e11: Kinda Blue (Blueberry)

Join host Alton Brown as he reveals the secret to turning this summer's superstar, the blueberry, into a year-round treat. Recipes Blueberry Buckle Frozen Blueberry Pie Blueberry Soda

Monday, December 3rd, 2007

s11e12: Puff the Magic Mallow

From their swampy origins to modern machine molds, host Alton Brown shares the sweet, sticky science behind homemade marshmallow. Recipes: Homemade Marshmallows Ambrosia

Monday, January 7th, 2008

s11e13: American Slicer

Alton dedicates a show to the tools of the trade, cutlery. In it he discusses the three types of cutting techniques and the blade that best suits each. He also show the similarity between salsa and gazpacho. Recipes: Gazpacho

Wednesday, January 30th, 2008

s11e14: The Wing and I

The Wing's the thing as Alton Brown prepares America's most ubiquitous of bar foods: Buffalo chicken wings. Recipes: Orange Glazed Chicken Wings Buffalo Wings

Monday, February 4th, 2008

s11e15: Apple of My Pie

An American classic is revisited when host Alton Brown makes everybody's favorite, apple pie. Recipes: Super Apple Pie

Monday, February 18th, 2008

s11e16: If It Ain't Broccoli, Don't Fix It

It may be the bane of children and presidents but broccoli is a nutritional superfood. Join host Alton Brown as he transforms broccoli from limp and bitter to crisp and delicious. Recipes: Fresh Broccoli Salad Pan Steamed Broccoli Oven Roasted Broccoli

Monday, March 17th, 2008

s11e17: The Alton Crown Affair

Host Alton Brown proves that Crown Roast of Lamb can be a dish to shock and awe without needlessly intimidating any cook who attempts to prepare it. Recipes: Crown Roast of Lamb

Monday, March 31st, 2008

s11e18: Cran Opening

Host Alton Brown takes us from the bog to the bar as he explores the many uses of that all-American super fruit, the cranberry. Note: The episode was taped during the Cranberry season (September - October) of 2007. By the time it was edited in 2008, Food Network decided to hold it until the Thanksgiving season in the US even though it was the last episode of Season 11 and Season 12 was already beginning to air. It did, however air in Canada on 5-26-2008.

Monday, April 14th, 2008

s11e19: Honey, I Shrunk the Cake

Join host Alton Brown as he breaks the trend toward an overly sweet and fussy pastry and gets us back to the original chiffon cupcake that will make you feel like a kid again. Recipes: Chiffon Cupcakes Chocolate Chiffon Cupcake
Season 12
Monday, June 9th, 2008

s12e1: Popover Sometime

Armed with one simple yet versatile recipe, host Alton Brown creates a variety of dishes from a breakfast treat to that dinner classic, Yorkshire pudding. Recipes: Dutch Baby, Yorkshire Pudding with Roast, Basic Popover

Monday, June 23rd, 2008

s12e2: Celeryman

Celeryman Celery is not just for peanut butter anymore as host Alton Brown explores the only common plant that can be used as a vegetable, a starch, an herb and a spice.

Monday, July 7th, 2008

s12e3: Tuna, Surprise!

An animated icon visits host Alton Brown and challenges him to raise the bar on canned tuna beyond the usual casserole or tuna salad sandwich.

Tuesday, July 29th, 2008

s12e4: There Will Be Oil

Alton puts cooking oils to use in the kitchen as well as the car.

Monday, August 11th, 2008

s12e5: Frozen Cache

Alton shows how the freezer can be used for proper food preservation.

Monday, October 27th, 2008

s12e6: Oh My, Meat Pie

Join host Alton Brown as he tells the tale of an ancestor's journey to the New World by way of a curious meat pie shop. He explores the origins and preparation of Shepherd's Pie and Mincemeat Pie.

Monday, November 3rd, 2008

s12e7: Et Tu, Mame

Alton uses the soy bean in a various recipes.

Monday, November 10th, 2008

s12e8: Flat is Beautiful IV: Going Crackers

In this fourth Flat is Beautiful episode, Alton shows his audience how to create a variety of crackers at home, including graham crackers.

Monday, November 17th, 2008

s12e9: American Classics III: Creole in a Bowl

Alton explores the cultural and historical influences on the New Orleans classic, beans and rice.

Monday, December 1st, 2008

s12e10: Switched on Baklava

Phyllo dough can be finicky but host Alton Brown tames this difficult pastry to create that wonderfully layered dessert known as baklava.

Monday, January 19th, 2009

s12e11: Ginger: Rise of the Rhizome

Alton explores various sweet uses of the spice, ginger.

Monday, January 26th, 2009

s12e12: A Cabbage Sprouts in Brussels

Alton deals with the dreaded Brussells Sprout.

Monday, February 2nd, 2009

s12e13: Orange Aid

Alton uses oranges to create a classic drink, a topping, and a creamy cold dessert.

Monday, February 16th, 2009

s12e14: Pantry Raid X: Dark Side of the Cane

Alton cooks with molasses.

Monday, March 2nd, 2009

s12e15: Gills Gone Wild

Alton shows how properly and simply prepared wild salmon is worth the extra cost.
Season 13
Monday, April 27th, 2009

s13e1: Crustacean Nation IV: Crawfish

Host Alton Brown explores a bayou staple, the delicious and sustainable alternative to lobster, the crawfish.

Monday, May 4th, 2009

s13e2: Tamale Never Dies

Quite possibly the original convenience food, tamales are ancient and delicious. Join host Alton Brown on an historical and tasty exploration of these tempting treats.

Monday, May 18th, 2009

s13e3: American Classics IV: Spaghetti With Meat Sauce

Although usually considered an Italian dish, spaghetti with meat sauce proves to be an American classic as host Alton Brown explores its origins.

Tuesday, May 26th, 2009

s13e4: Tender Is the Pork

Looking for an alternative to chicken? Host Alton Brown turns to the pork tenderloin as a delicious yet low fat substitute for the ubiquitous bird.

Monday, June 8th, 2009

s13e5: Undercover Veggies I

In an effort to tempt his niece into eating her vegetables, host Alton Brown manages to sneak them into several tasty treats.

Monday, June 22nd, 2009

s13e6: Feeling Punchy

Despite its long and noble history, punch rarely receives the respect it deserves so host Alton Brown begins a quest to return the drink to its rightful culinary position.

Monday, October 12th, 2009

s13e7: Another Man Food Show: Breakfast

Host Alton Brown helps an average Joe overcome his kitchen phobias and whip up the classic breakfast of bacon, eggs and coffee.

Monday, October 19th, 2009

s13e8: Fermentation Nation

Most people think of beer and wine only as drinks, but host Alton Brown thinks outside the bottle as he uses them as key ingredients in several tasty dishes.

Monday, October 26th, 2009

s13e9: American Classics V: A Pound of Cake

The pound cake may have been born in Britain but host Alton Brown considers it to be an American classic. Join him as he explores the history and preparation of this delicious treat.

Monday, November 2nd, 2009

s13e10: The Once and Future Fish

Concerned about the impact of over-fishing, host Alton Brown explores tasty and extremely sustainable farm-raised trout.

Monday, November 9th, 2009

s13e11: Pantry Raid XII: Turning Japanese

The ingredients for that beguiling Japanese concoction, miso soup, may seem a bit unusual until host Alton Brown demystifies them and explores the wonders of the Japanese pantry.

Monday, November 23rd, 2009

s13e12: The Proof Is in the Pudding

Host Alton Brown breaks into the liquor cabinet, not to concoct a drink but to examine the uses of alcohol in food preparation.

Monday, January 4th, 2010

s13e13: Live and Let Diet

Alton discusses the eating plan that helped him lose 50 pounds.

Monday, January 25th, 2010

s13e14: Raising the Bar Again

Join Alton Brown as he deconstructs the Margarita and Bloody Mary and reconstructs them with a classic formula Good Eats style.

Monday, March 8th, 2010

s13e15: The Ballad of Salty and Sweet

Host Alton Brown examines ways to super-charge desserts with salt. Bacon praline anyone?

Monday, March 22nd, 2010

s13e16: American Classics VII: Don't Be Chicken of Dumplings

Host Alton Brown takes on the classic American soup that divides the country, and his family.

Monday, March 29th, 2010

s13e17: The Curious Case of Curry

Alton Brown attempts to set the record straight on the English dish that made India famous.

Thursday, April 8th, 2010

s13e18: The Catfish Will Rise Again

After confessing a long-lived love for catfish, host Alton Brown sets out to modernize its image.

Thursday, April 29th, 2010

s13e19: It's a Pan, It's a Dish, It's Paella

Host Alton Brown demystifies the Spanish pan and the rice dish it's famous for.
Season 14
Thursday, May 27th, 2010

s14e1: Porterhouse Rules

Learn everything you need to know about this legendary cut-o-cow to produce steak house standard results for a hundred bucks under steak house prices.

Thursday, June 3rd, 2010

s14e2: Grillus Domesticus

If you own a grill, sooner or later you're going to put some chicken on it...it's inevitable. And odds are good you won't be happy with the results, unless of course you watch this show.

Thursday, June 10th, 2010

s14e3: Age of Asparagus

Everything you never knew you wanted to know about procuring, preserving, and presenting the first vegetable of the season: asparagus. Buying, storing, and cooking are investigated as well as the science behind that...um...funny smell.

Thursday, June 17th, 2010

s14e4: Little Big Lunch: Eggs Benedict

When it comes to brunch, Eggs Benedict is king. Problem is, it usually isn't good eats. Host Alton Brown tears down the dish and rebuilds from the ground up.

Thursday, June 24th, 2010

s14e5: Flat is Beautiful V

Thin and crispy artisanal wood fired pizzas are nearly impossible to manage at home but with some sound science and a good grill, you can come close to perfection.

Thursday, July 1st, 2010

s14e6: Yes We Have No Banana Pudding

Whether you like them cool and cream topped or warm with a crown of meringue, odds are if you're a banana pudding fan it's been a long time since you smiled. That's all about to change.

Thursday, July 8th, 2010

s14e7: American Classics VIII: Tacos

They may have been born in Mexico but today the taco is a concept as "American" as apple pie. Host Alton Brown seeks to refurbish 2 particularly tarnished variations on the theme.

Thursday, October 7th, 2010

s14e8: Fry Hard III: Fry, Tempura, Fry!

Host Alton Brown takes on the most mythic, magical, but often times monstrous form of frying known to modern man.

Thursday, October 14th, 2010

s14e9: Oat Cuisine II

Host Alton Brown helps you get more oats in your diet with some very surprising culinary incarnations.

Thursday, October 28th, 2010

s14e10: All Hallows Eats

Host Alton Brown decides to put the "trick" into his treats with three sinister twists on classic Halloween candies.

Thursday, November 4th, 2010

s14e11: Squash Court II

Host Alton Brown deals deliciously with a surprising glut of summer squash.

Thursday, November 18th, 2010

s14e12: American Classic IX: Pumpkin Pie

Host Alton Brown delves into the Fall Classic taking it back to Plymouth and forward to the future.

Thursday, December 30th, 2010

s14e13: Egg Files VII: Meringue

Alton takes an in-depth look at three classic meringue-based desserts, including Baked Alaska, a time-honored favorite in households across the United States.

Monday, March 7th, 2011

s14e14: Pantry Raid XIII: Destination Chickpea

International travel is a risky, uncomfortable, and expensive business these days but if you have dry chickpeas in your pantry, exotic destinations are easily reached from the comfort of your kitchen. Join host Alton Brown as he journeys to the near east with hummus and falafel. Recipes in This Episode ----------------------------- Falafel Hummus For Real Pressure Cooker Chickpeas Roasted Chickpeas Slow Cooker Chickpeas

Monday, March 14th, 2011

s14e15: Devil Of A Cake

Do you have to tangle with dark forces in order to create a quality Devil's Food Cake or its crimson kin, Red Velvet? Yes you do. And it's called cocoa powder. Join host Alton Brown as he reinvents the classics.

Monday, March 21st, 2011

s14e16: A Bird In The Pie Is Worth Two In The Bush

Chicken Pot Pie is a medieval classic that's fallen into disrepair recently, due in large part to our willingness to let factories do the baking for us. Join host Alton Brown as he looks at three different ways to fix this sad state.

Monday, March 28th, 2011

s14e17: Use Your Noodle IV: Lasagna

If lasagna (the noodle) is the most comforting ingredient of all time (and it is) then lasagna (the casserole) must be the most comforting dish of all time. Problem is, most American lasagnas deliver more consternation than comfort. Join host Alton Brown as he puts lasagna back in its place.

Monday, April 4th, 2011

s14e18: Waiter There's A Fish In My Soup

Bouillabaisse may be a scary name, but the soup it represents doesn't have to be. In fact, if you're willing to buy some decent fish and master a few basics, it can most definitely qualify as Good Eats.

Monday, April 11th, 2011

s14e19: The Proof is in the Bread Pudding

Host Alton Brown uses a scientific secret formula in an attempt to devise the definitive bread pudding.

Monday, April 18th, 2011

s14e20: Roll Call

Host Alton Brown harnesses the power of yeast to put classic rolls back onto the American dinner table.

Monday, April 25th, 2011

s14e21: The Caul of the Flower

Host Alton Brown makes amends for having insulted the odd ball of the cabbage family: cauliflower.

Monday, May 2nd, 2011

s14e22: Use Your Noodle 5

Host Alton Brown investigates the culinary possibilities of Asian Noodles. Dishes include "ants climbing trees".
Season 0
Thursday, July 30th, 2009

s0e23: Snack O Lantern

Alton loves pumpkins, even the seeds! This video short shows Alton Brown digging deep and preparing pumpkin seeds for a healthy, tasty snack.

Monday, August 10th, 2009

s0e24: Alton Brown on Late Night with Jimmy Fallon

s0e25: Ask Alton - Breakfast Eats

Alton answers questions from viewers about topics from the following shows: True Brew, The Egg Files, and Flap Jack Do It Again.

s0e26: Ask Alton - Super Sweets 2

Alton answers questions from viewers about topics from the following shows: Art of Darkness 2, Let Them Eat Foam, and Trouble With Cheesecake.

s0e27: Bloopers

Good Eats is not an easy show to make, and this short collection of behind-the-scenes bloopers, flubs and accidents proves it!

s0e28: Countdown to T-Day
Season 9
Saturday, July 29th, 2006

s9e22: Behind The Eats

If you're a Good Eats fan, you've seen Alton do it all. Although hard to believe, he does have some help when it comes to creating each episode. Join us "Behind the Eats" as the Good Eats crew reveal their thrilling, compelling and sometimes hard to believe behind the scenes secrets.
Season 11
Monday, May 5th, 2008

s11e20: Going Dutch

The power might be out but that doesn't stop host Alton Brown from breaking out the cast iron and using his hearth and his grill to whip up some very good eats. Recipes : Knead Not Sourdough Dutch Oven Cherry Clafouti Dutch Oven Hoecakes
Season 0
not specified

s0e74: Snack-O-Lantern

not specified

s0e71: Whip It Up White

not specified

s0e72: Alton Brown's Macaroon Delight

not specified

s0e73: Potato Chips

not specified

s0e70: Nice Rice In A Rush

not specified

s0e60: A Positively Perfect Poach

not specified

s0e61: A Sip for All Seasons

not specified

s0e62: Brine Me a Dinner

not specified

s0e63: Bringing Home the Fish

not specified

s0e64: Hard-Cooked Heaven

not specified

s0e68: Looking For Mr. Goodfish

not specified

s0e66: How Brown Was My Onion

not specified

s0e67: In A Pickle

not specified

s0e69: Making A Perfect Cup of Coffee