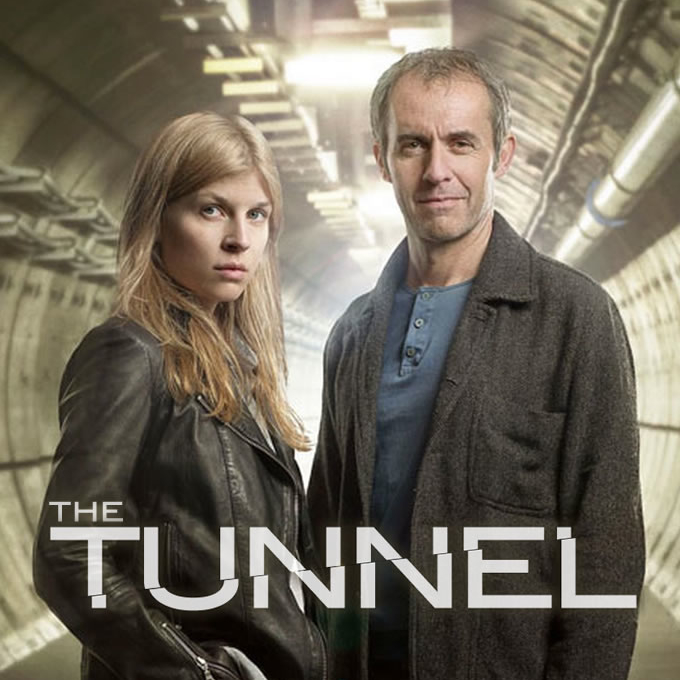 Season 0
Wednesday, October 9th, 2013

s0e1: Inside the Tunnel

Go behind the scenes on the original Sky drama production.

Wednesday, October 9th, 2013

s0e2: Karl And Elise

When a body is found on the border between the UK and France, DCI Karl Roebuck and Capitaine Elise Wassermann are forced to work together to find the killer. Here the cast discuss the relationship at the heart of The Tunnel.

Wednesday, October 9th, 2013

s0e3: Across The Divide

A body is found across the exact point where France meets the UK. Whose job is it to investigate? And what issues about modern Europe will they uncover along the way?
Season 1
Wednesday, October 16th, 2013

s1e1: Episode 1

When a prominent French politician is found dead on the border between the UK and France, detectives Karl Roebuck and Elise Wassermann are sent to investigate on behalf of their respective countries. However, the case takes a surreal turn when a shocking discovery is made at the crime scene, forcing the French and British police into an uneasy partnership.

Wednesday, October 23rd, 2013

s1e2: Episode 2

As the killers second 'truth' comes to light, Karl and Elise cross paths with Stephen Beaumont again.

Wednesday, October 30th, 2013

s1e3: Episode 3

The team are faced with a race against time as the killer strikes again and this time it's a elderly victim.

Wednesday, November 6th, 2013

s1e4: Episode 4

Runaway teen Sophie puts her trust in Benji. Whilst the race is on to find a elderly pensioner before he freezes to death at the hands of the killer.

Wednesday, November 13th, 2013

s1e5: Episode 5

The Truth Terrorist's third truth begins as Benji carries out his Samurai mission. The police hope to use teenage runaway Sophie to help trap the killer.

Wednesday, November 20th, 2013

s1e6: Episode 6

Karl and Elise's suspicions are rested on Stephen Beaumont as the killers fourth truth begins, but are they chasing the right man?

Wednesday, November 27th, 2013

s1e7: Episode 7

The killer finally might of been caught as the fifth and final truth incites mob violence in England and France.

Wednesday, December 4th, 2013

s1e8: Episode 8

When Karl searches Danny's flat things start falling into place. Whilst the French police capture the prime suspect before losing him. Elise goes missing.

Wednesday, December 11th, 2013

s1e9: Episode 9

As the police get within a hair's breadth of catching the killer, things take a nasty turn for Karl.

Wednesday, December 18th, 2013

s1e10: Episode 10

The tense crime drama comes to an unmissable climax as Karl falls apart when the Truth Terrorist's change of direction becomes too much to bear.
Season 2
Tuesday, April 5th, 2016

s2e1: Episode 1

Commander Elise Wassermann and DCI Karl Roebuck reunite to investigate the case of a French couple who are abducted from the Eurotunnel. But the case is complicated when a plane crashes into the Channel killing all on board.

Tuesday, April 12th, 2016

s2e2: Episode 2

Tuesday, April 19th, 2016

s2e3: Episode 3

Tuesday, April 26th, 2016

s2e4: Episode 4

Tuesday, May 3rd, 2016

s2e5: Episode 5

Tuesday, May 10th, 2016

s2e6: Episode 6

Tuesday, May 17th, 2016

s2e7: Episode 7

Tuesday, May 24th, 2016

s2e8: Episode 8

Tuesday, May 31st, 2016

s2e9: Episode 9

Tuesday, June 7th, 2016

s2e10: Episode 10