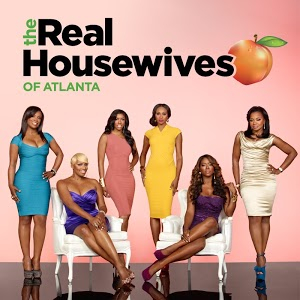 Season 6
Sunday, November 3rd, 2013

s6e1: Bye Bye With the Wind

Porsha deals with her divorce. Phaedra and Apollo argue during a disagreement. Kenya receives a surprising invitation.

Sunday, November 10th, 2013

s6e2: Girl Code Breakers

Cynthia informs everyone about her medical condition she's been keeping secret. NeNe texts Apollo after Kenya stays quiet. Kandi works towards having her mother accept Todd. Porsha moves in with her mother after Kordell files for divorce. Kenya gets legal advice after she receives a notice of eviction.
Season 0
Thursday, July 23rd, 2009

s0e1: Lost Footage

Never before seen footage of the housewives in action, including questions that didn't make the Reunion show.

Monday, October 31st, 2011

s0e2: Before They Were Stars

Sunday, February 26th, 2012

s0e3: Kim & Kroy

Sunday, October 28th, 2012

s0e4: Hairstylists Tell All
Season 1
Tuesday, October 7th, 2008

s1e1: Welcome One, Welcome ATL

In the premiere episode of Real Housewives of Atlanta, NBA wife DeShawn and her family see their custom built mansion for the first time and she begins the search for the perfect staff to run it. Real estate powerhouse Lisa is learning to balance business and motherhood with her NFL hubby's support. Meanwhile, after a three-year divorce battle with former NFL player Bob Whitfield, socialite Shereé plans a birthday blowout at her estate to celebrate her new life, and cracks the whip on her staff to make sure no detail is missed - from the Louis Vuitton cake to the exclusive guest list. All the Housewives are invited, including NeNe, who has ongoing tension with Shereé. In between shopping sprees funded by her mystery multi-millionaire boyfriend, "Big Papa," blonde bombshell Kim meets NeNe for lunch and they plan to arrive at Shereé's party fashionably late, but a scene erupts when one of them isn't on the list.

Tuesday, October 14th, 2008

s1e2: It's My Party

The day after Shereé's big birthday blowout, NeNe, still angry about the party, has lunch with her friend and hairdresser, Dwight, who convinces her to take the high road and not waste any time or energy. Meanwhile, Kim is throwing her 11-year-old daughter Brielle an $18,000 birthday party. Kim's girlfriends join in the festivities and NeNe and Shereé put their differences aside for the day. Lisa isn't able to make the party as she gets laid up with the flu, but husband Ed helps nurse her back to health.

Tuesday, October 21st, 2008

s1e3: Who's Your Poppa?

The ladies take a trip to the countryside to meet with Kim's psychic advisor. After an eerie prediction of personal strife ahead, NeNe gets a letter from a family member revealing that the man who she thought was her father might not be. She must decide whether or not to pursue the paternity issue and risk opening Pandora's box. Meanwhile, Kim has always wanted to be a country singer and decides now is the perfect time to pursue her dream. DeShawn must pull off planning a black tie gala for the DeShawn Snow Foundation in just two weeks. NeNe decides to help her and together they try to raise a million dollars for charity during the gala.

Tuesday, October 28th, 2008

s1e4: Bring on the Bling

DeShawn is determined to make a big splash on the Atlanta social scene with her "Night of a Thousand Stars" gala event, and invites hundreds of people into her private estate for the lavish event. Kim and Shereé bond during a private spa day and enjoy an intimate dinner with their kids, which puts NeNe's friendship with Kim in jeopardy. Lisa's "Wu Girl" jewelry line is taking off and her trunk show is a hit. She inks a distribution deal with jewelry mogul, Steven Zale, and models her jewelry in a glamorous photo shoot for her new brand.

Tuesday, November 4th, 2008

s1e5: Out of Tune

Shereé and Lisa let loose at a pole dancing class. Lisa, DeShawn, NeNe and their husbands spend a luxurious evening together at a vineyard to celebrate DeShawn's 34th birthday. The dinner takes a turn for the worse after NeNe starts to gossip about Shereé and makes up a nasty song about Kim's music career. Kim and Shereé have a Botox date during which Kim finds out about the song NeNe sang about her, the two bond over mistrust for NeNe. When Kim ignores NeNe during an afternoon of lingerie shopping, the tensions mount and things get ugly. Kim's plans for stardom are at stake as Grammy Award-winning producer Dallas Austin sends her to celebrity music coach, Miss Jan. Meanwhile, inspired by DeShawn, NeNe starts her own foundation for battered women, Twisted Hearts. She throws a "Big Hats" fundraising brunch and opens up about her past turmoil to a moved audience. After futile efforts to get NeNe and Kim to talk, DeShawn joins NeNe for a girls' night where they focus on surrounding themselves with positive people and true friends.

Tuesday, November 11th, 2008

s1e6: Dream a Little Nightmare

Shereé and Kim make the best out of a boating trip on the "Redneck Riviera," Atlanta's Lake Lanier. Shereé assembles an army of publicists, designers, event planners to get her fashion line, She by Shereé, off the ground. She moves quickly to turn her vision into a reality and attempts to plan a high-end fashion viewing of her samples in a matter of weeks. With the support of her husband, Gregg, NeNe pursues DNA testing to answer the question about the paternity of her father. Lisa's husband Ed is gearing up to get back in the game after a year of rehabilitating an injury, though Lisa wishes he would not go back to the NFL. DeShawn invites all of the ladies to her home for a sunset barbeque to mend broken fences. NeNe agrees to be civil, but is upset when some of the women don't show. Sheree refuses to let her investors and the press see her sweat when the She by Sheree show starts to unravel at the seams.

Tuesday, November 18th, 2008

s1e7: Best of Enemies

After DeShawn's failed attempt at reconciliation, Lisa's on a mission to get the ladies into the same room. She meets Kim and Shereé for lunch. Humbled by her less than stellar fashion viewing, which went on despite not having any actual samples to put on the models, Sheree turns to successful Atlanta designer Michael Knight of Project Runway fame, to advise her on where she went wrong and what to do to get it back on track. Lisa is trying to put on a brave face for Ed, now that he's signed with the Oakland Raiders, but is worried that her "best friend" will be a continent away and back in the brutal world of NFL football. Meanwhile, DeShawn's husband Eric is at home with an injury, and after 13 years in the NBA, he's considering retirement, which could mean an end to DeShawn's extravagant lifestyle. The five ladies and their families get together for dinner, but can they put aside the injuries and start to heal old friendships?

Tuesday, November 25th, 2008

s1e8: Reunion

Bravo fans get an extra dose of drama when their favorite southern gals reunite for the The Real Housewives of Atlanta reunion special. Hosted by Bravo programming executive Andy Cohen, see what happens after the cameras stopped rolling. Do NeNe and Kim patch up their friendship? Will Sheree and NeNe ever be friends?
Season 2
Thursday, July 30th, 2009

s2e1: New Attitude, Same ATL

The Atlanta ladies are back in the drama-filled second season premiere. Shereé decides to throw herself an ?Independence Party? to celebrate her recent divorce, while Lisa and her husband discuss the idea of having another baby. The ladies attend actress and comedienne Niecy Nash's birthday party, where Shereé and NeNe reflect on their tumultuous past. Kim decides she wants to design a line of wigs, and gets the ball rolling by going to cosmetology school. New housewife Kandi contemplates her new life with fiance AJ, while Sheree's party plans start to go awry.

Thursday, August 6th, 2009

s2e2: Kim-Tervention

NeNe calls Kim to meet up for that long overdue ?glass of wine,? in an attempt to make amends. Shereé dishes about the recent blow-up she had with a party planner. Meanwhile, Lisa and Ed have their first fertility visit. NeNe approaches Shereé about squashing their problems with Kim, and they set up a meeting to talk it out. Also, Kandi goes to the studio to work on her solo album.

Thursday, August 13th, 2009

s2e3: Unbeweavable

Shereé, NeNe and Kim's reconciliation doesn't go as planned. Lisa and Ed meet with a design team to discuss her new clothing line ?Closet Freak,? and Kim throws a wig party to celebrate her new endeavor. Kandi meets for lunch with TLC member T-Boz to discuss her musical career, and Shereé throws a gathering to celebrate her new home. Also, Dwight throws a circus-themed birthday bash.

Thursday, August 20th, 2009

s2e4: Mummies, Mommies and Baby Mommas

NeNe and Dwight chat during a visit to the salon, while Lisa discusses a trip to L.A. to visit her mom. Kandi meets with her photographer and business team to discuss her image. Fitness guru Shereé attends a bodybuilding event, while Kandi and AJ get their engagement photos taken. Also, when Kim learns that her nanny left her girls home alone without supervision, drama ensues. Then, the ladies attend a King Tut cocktail party with their kids.

Thursday, August 27th, 2009

s2e5: Home Is Where The Heartbreak Is

Lisa and NeNe go shopping to prepare for their trip to L.A., and NeNe meets with photographer Derek Blanks to discuss her ?Alter Ego? photo shoot. Shereé meets with an event promoter to discuss Mercedes Benz sponsoring her ?She By Sheree? fashion show. Meanwhile, Lisa brings NeNe for a visit with her family and a celebration of her grandmother's 92nd birthday. Back on the East Coast, Kim visits Kandi in the recording studio. As they bond, Kim asks Kandi to produce "Tardy for the Party" for Kim and NeNe to record.

Thursday, September 3rd, 2009

s2e6: My Ego Is Bigger Than Your Ego

Kim lays down the house rules with her new nanny and then finally buries the hatchet with Lisa. Kandi meets with her wedding planner, but her plans for an engagement party are dashed when she finds out that her nephews and AJ's son are in a life threatening car crash. Kandi spills her guts to Sheree and their friendship grows as they realize they have a lot in common. Nene gets all of the ladies in line for their Alter Ego photos and then directs them all in a riveting photo shoot. At the photo shoot, Kim and Sheree talk civilly for the first time and decide to do something nice for Kandi in light of her family tragedy.

Thursday, September 10th, 2009

s2e7: Throwing Shade

It's showtime for Lisa! With the debut of her clothing line Closet Freak, she is all business, trying to get everything done in time. Meanwhile, Sheree finds out that her She By Sheree fashion line debut will have to wait , yet again. NeNe gets tough on her college dropout son Brice, and Kandi calls in a favor to flip "Tardy for the Party" into a song for Kim and NeNe to record. Kim gets serious about launching her wig line, and does a little research by throwing a wig party.

Thursday, September 17th, 2009

s2e8: Scrambled Egos

Kandi pushes an emotional Kim to face her fears and step back into the Atlanta music scene. Will Kim attempt to record again? Newly single Sheree shapes up with her expensive fitness trainer, who attempts to find her love. Meanwhile, all of the ladies get glammed up for a black tie event to reveal their edgy Alter Ego photos, but the night takes a dramatic turn when Kim has a serious accident and steals the spotlight from everyone.

Thursday, September 24th, 2009

s2e9: Precious Pocketbook

Kim tells her girlfriend Cori that Big Papa is back in the picture after he whisked her away to the Bahamas. Lisa and Kandi appear in the charity performance of "Pocketbook Monologues," where Kandi's emotional performance wins over the crowd ? and Dwight. Meanwhile, NeNe meets with the co-writer of her forthcoming memoir, and Shereé finally throws her long awaited Independence Party, where NeNe confronts Kim and Kandi about recording ?Tardy for the Party? without her.

Thursday, October 1st, 2009

s2e10: Better Tardy Than Never

Fresh off her fight with Kandi and Kim, NeNe distances herself even further from the ladies. Kim and Kandi team up to finish the recording of "Tardy for the Party" in time for their joint birthday party where Big Papa has a BIG surprise for Kim. Shereé leaves Dwight in charge of her fashion show as she and Tania head to New York to check out her "She by Shereé" samples. Ed tells Lisa that he's interested in working in broadcast if he doesn't go back to the NFL. Kandi performs solo for the first time in a long time.

Thursday, October 8th, 2009

s2e11: High Heels and Record Deals

NeNe organizes an over-the-top high heel marathon for her Twisted Hearts Foundation. Lisa and Ed make a tough decision about his NFL career, and Lisa takes a pregnancy test. Despite her engagement with Big Papa, Kim moves forward with starting her wig business. Kandi confronts Kim about not attending her show, and then flies to LA for an important meeting at Capitol Records about a possible record deal. Shereé shoots a promo video for her upcoming fashion show, but Dwight is so not into it. NeNe meets with her uncle and must decide if she's finally ready to meet the man who claims to be her biological father face-to-face.

Thursday, October 15th, 2009

s2e12: Baby Momma and Daddy Drama

Kim and Shereé return to the "scene of the crime" at FAB to make amends and to plan a surprise engagement party for Kandi and AJ. Meanwhile, Kandi, AJ and Kandi's mom visit a marriage counselor to help ease the tension. Shereé's finished samples for her She by Sheree line finally arrive, and she unveils them to Dwight for the first time. NeNe and her Uncle Mel travel back to her roots in Athens to give her book writer a glimpse into her life growing up. While in Athens, NeNe finds herself face-to-face with the man who claims to be her biological father.

Thursday, October 22nd, 2009

s2e13: Catwalks and Cat Fights

After almost 2 years ?She by Shereé? is about to debut, but big changes are on the horizon and serious trouble is brewing between the ladies. As Lisa prepares for a new future without Ed's NFL paycheck, Kandi finally sees a breakthrough between AJ and her mother, and Shereé tries to keep it together before her clothes go down the catwalk. Meanwhile, it's NeNe who is ready for a meltdown. After her return from meeting the man who claims to be her father, she butts heads with Gregg, battles with Kandi at Shereé's show, and has a blowout fight with Kim. Will a glass of wine be able to undo the damage this time?

Thursday, October 29th, 2009

s2e14: Reunion (Part 1)

The first part will delve deep into the ladies' lives and see how they really feel about all the catfights, wig-pulling and all-around drama that happened this season in Hotlanta.

Thursday, November 5th, 2009

s2e15: Reunion (Part 2)

In part 2 of the reunion special the ladies discuss future of NeNe and Kim's friendship, if Sheree and Kim can bury the hatchet and if Lisa and Ed will have any more kids.
Season 3
Monday, October 4th, 2010

s3e1: New Attitude

Gossip spreads fast when Kim reveals her lesbian affair in the tabloids, and NeNe rekindles her roller coaster relationship with Kim just in time to get the inside scoop. NeNe's got drama of her own -- her marriage is on the rocks and her old friend Dwight has been spreading rumors behind her back. Shereé pursues her long-time dream of becoming an actress and Kandi starts getting back into the dating scene. NeNe, Kim and Sheree hit up a couture shoe event and run into new housewife Phaedra Parks ? the pregnant, classy, but sassy attorney-to-the-stars, who arrives with her old pal Dwight.

Monday, October 11th, 2010

s3e2: Model Behavior

NeNe attends Atlanta's Dogwood Festival with her friend Cynthia and gives her side of the showdown with Dwight. Cynthia, a model who has recently relocated to Atlanta, lends a sympathetic ear. But NeNe's troubles don't end there. Her home life is crumbling, having recently thrown Brice out of the house. Sheree agrees to go on a blind date with a doctor, and surprises herself when she enjoys the dance club he takes her that's located in the wrong part of town. Kim is invited to perform at the White Party, a huge gay circuit party in Palm Springs. Meanwhile, Kandi records a hot track with multi-platinum artist, Ne-Yo and then decides to test out some new material at Atlanta hot spot, Uptown Supper Club, which is owned by Cynthia and her boyfriend, Peter.

Monday, October 18th, 2010

s3e3: White Hot

Kandi travels to Palm Springs to offer advice and support to Kim, who's been invited to perform at one of the biggest gay circuit parties ?- the White Party. With only one song on her playlist is Kim ready for her first concert appearance? NeNe has an honest talk with Brentt about Brice's brush with the law. After Sheree takes the high road with Dwight and his claims to have paid for the She By Sheree fashion show last year she reunites with her oldest daughter, Tierra who has moved back to Atlanta after being away at college. New housewife Cynthia struggles with her feelings about marriage, while Phaedra and Apollo don't see eye to eye when it comes to parenting.

Monday, October 25th, 2010

s3e4: Petty Boughetto

Despite the toll her marital problems and troubles with Bryson are taking on NeNe, she is determined to get her "happy" back, even if that's through plastic surgery. Phaedra and Cynthia finally find time to get to know each other better as they attend Atlanta's premiere horse racing event, the Steeple Chase. Inspired by a late night host, Kim is ready to be a two-hit wonder and asks Kandi to write her next song. Dwight helps Phaedra plan her over-the-top Kentucky Derby-themed baby shower. Kandi, Cynthia and Kim quickly realize this shower is unlike any other shower they've ever attended.

Monday, November 1st, 2010

s3e5: Hot Mama's Day

Kim states her views on cheating as a guest on Kandi's web chat show "Kandi Koated Nights." NeNe reveals more than just her new nose to Cynthia, and Sheree has a finger lickin' good time on a date with the "Love Doctor." Meanwhile, Phaedra gets personal with a jar of pickles for her pregnancy photo shoot. When the ladies get together at Cynthia's to celebrate Mother's Day, the topic of sex becomes the main course, but by dessert, NeNe's marital issues take the cake.

Sunday, November 7th, 2010

s3e6: Trashed Collection

With Bryson's 90-day deadline to get a job or get out approaching, NeNe hopes introducing her late bloomer to Cynthia's boyfriend and club owner Peter will inspire her son to find a career path. While visiting his daughter, Noelle, Cynthia's ex-fiancé, actor Leon Robinson, discuss Cynthia reservations about marriage. Even while planning a high-end yard sale, Kim begins work on her new track with help from Kandi, but things get heated between the two when creative differences arise. Already puzzled with Phaedra's ever-changing due date, the ladies are shocked to hear she?ll be inducing her baby "early." NeNe's marriage troubles come to a boiling point when she reveals a dark relationship secret to Cynthia.

Sunday, November 14th, 2010

s3e7: She Can Dance?

Sheree is determined to prove she can dance, and signs up to participate in Dancing Stars of Atlanta, a local charity event. Meanwhile, Cynthia is caught off guard when Peter surprises her with a sneaky proposal, and Phaedra packs her finest lingerie in preparation for the birth of her baby. Kandi is fed up with Kim's disrespectful attitude towards the new song she wrote for her, while Kim's preoccupied with her latest crush -- NFL player Kroy Biermann.

Sunday, November 21st, 2010

s3e8: Is There A Doctor In The House?

In preparation for the birth of their child, Phaedra and Apollo arrive in Augusta where her doctor will induce the baby. Back in Atlanta, the other girls convene at Kandi's birthday party where Kim and Cynthia grill Dwight on Phaedra's mysterious due date. Meanwhile, Nene meets with a local TV station in hopes of snagging a job as an entertainment reporter. Kandi later visits the soon-to-be-in-labor Phaedra and finally solves the mystery of Phaedra's due date. Sheree invites the ladies over for a party, but drama ensues when NeNe realizes that she knows something scandalous about Sheree's date, Dr. Muhammad.

Sunday, November 28th, 2010

s3e9: NeNe Get Your Gun

Phaedra adjusts to motherhood as she brings her new baby home from the hospital and proving it doesn't get easier, Kim wrestles with her daughter's questions about sex. Sheree decides she has had enough and confronts "the doctor" about his evasiveness. Kandi rewrites "The Ring Didn't Mean a Thing" to make it more Kim friendly and plays the new track at Kim's parents' dinner party. Cynthia plans her dream wedding with a celebrated stylist friend and high-end wedding planner, while NeNe's marriage nears the breaking point as her relationship problems are exposed in a very public way, leading to a dramatic confrontation with Gregg.

Sunday, December 5th, 2010

s3e10: Auto-Tuned-Up

It's time for Kim to face her fears and work with the vocal coach who once told her that she didn't know what she was doing. Meanwhile, Sheree is ready to take her newfound passion for acting to the next level by auditioning for a talent agency and considering a role in a local play. While Phaedra and Apollo bask in the joys of new parenthood, Cynthia is caught in an uncomfortable position when Peter confronts NeNe about taking all of Cynthia's attention away from him. It all comes to a head at the "Fast Life Drag Race" when Kim thinks that the other ladies are getting too close for comfort with her girlfriend Tracy and NeNe does not appreciate the cold shoulder she gets from Peter.

Sunday, December 12th, 2010

s3e11: Contract Player

It's time for Kim to start rehearsing for her upcoming tour with Kandi, but she's more interested in get-skinny-quick treatments than learning the choreography for her show. Sheree receives some good news about her talent agency audition and enlists Kandi's help to prepare for her role in a local play. Tension lingers from NeNe and Peter's blow-up phone fight. The ladies think that Cynthia's priorities are a bit off, but Cynthia has a plan to smooth things over with NeNe. Meanwhile, Dwight tells Phaedra what everyone has been saying about her mysterious pregnancy. Phaedra is not happy and intends to confront the ladies about the gossip.

Sunday, December 19th, 2010

s3e12: Not So Fine Print

With her tour quickly approaching, Kandi has only a week to finish her new album and make sure that Kim is stage ready as her opening act. Cynthia tries to reconcile with NeNe and make up for the awkwardness of her "friendship contract," but NeNe's got bigger problems when she's put on the spot to deliver a big celebrity interview for her local entertainment segment. Mother definitely knows best when Sheree and daughter Tierra go furniture shopping, and Phaedra, fresh out of the maternity ward, is in full protective mommy-mode and confronts Kim about all the bad-mouthing she has been doing about her due date.

Sunday, January 9th, 2011

s3e13: Tour-ture

Phaedra is worried about having Kim at their ultra southern baby debut - Ayden's Sip n' See party, but when Kim shows up with her nursing license, Phaedra is ready to hear her out. Meanwhile, NeNe has no worries about nailing her interview with Jermaine Dupri, until she is thrown a curve ball. When Cynthia's fiancé, Peter, reveals that his restaurant is on the brink of financial collapse, Cynthia's dream wedding is in jeopardy and not even a counseling session can solve their problems. After a tearful goodbye with her girls, Kim is confident she's going to kill it on Kandi's promo tour. However, when the tour kicks off in Charlotte and Kim proceeds to complain about everything from the schedule to the size of her bunk, Kandi realizes she had no idea what she was in for.

Sunday, January 16th, 2011

s3e14: Flamingo Road Block

NeNe's "keeping it real" as she presents her first on-air interview with star producer Jermaine Dupri for her local news segment; but Kim takes NeNe's on-air mention of 'Tardy for the Party' as a deliberate jab. With their wedding only two weeks away, Peter reveals to Cynthia that their financial situation is dire, putting both their wedding plans and their relationship on the rocks. Phaedra struggles with being both a lawyer and a new mom, while Sheree sends her kids off for a visit with their dad. Kandi has all but had enough of Kim and Sweetie's antics on their bus tour, and when NeNe joins them in Orlando for the last leg of the trip, a massive fight erupts among the ladies.

Sunday, January 23rd, 2011

s3e15: Floridon't

Kandi's tour bus makes it to Miami, where Phaedra, Sheree and Cynthia are awaiting its arrival. Their plans for a fun, relaxing weekend to celebrate Cynthia's bachelorette are quickly dashed when the bus doors open to reveal Kim and NeNe in the middle of a blowout fight. Kim and Kandi celebrate the final show of their promo tour and NeNe invites her best friend Diana down to stay at the house with the ladies. A brief respite from the battle comes as Cynthia walks in a Miami Swim Week swimsuit fashion show, but Cynthia's own thrill of being back on the runway is short-lived. When pressed by the other women to talk about her upcoming wedding, Cynthia breaks down in tears over the stress of her nearing nuptials.

Sunday, January 30th, 2011

s3e16: The Bride and the Doom

Back from the Miami trip, Cynthia's rocky road to the altar is nearing the end, but as she struggles with last minute wedding jitters, her mom and her sister urge her to reconsider getting married altogether. Phaedra has a surprisingly emotion reaction to heading back to work after her maternity leave. Sheree's acting chops are challenged at her very first movie audition, and Kandi finally confronts Kim about their financial arrangement regarding their new song, "The Ring Didn't Mean a Thing."

Sunday, February 13th, 2011

s3e17: Reunion (Part 1)

Hosted by Bravo's Andy Cohen, the ladies of Hotlanta, Cynthia Bailey, Kandi Burruss, NeNe Leakes, Phaedra Parks, Sheree Whitfield, Kim Zolciak get together to set the record straight on some of the most talked-about antics of the season and answer some of America's most burning questions.

Sunday, February 20th, 2011

s3e18: Reunion (Part 2)

Hosted by Bravo's Andy Cohen, part II of the reunion has the ladies of Hotlanta, Cynthia Bailey, Kandi Burruss, NeNe Leakes, Phaedra Parks, Sheree Whitfield, Kim Zolciak get together to set the record straight on some of the most talked-about antics of the season and answer some of America's most burning questions.
Season 4
Sunday, November 6th, 2011

s4e1: Nothing Ventured, Nothing Gained

The ladies of Atlanta are back and handling their business. Kandi branches out from her music career to start an adult toy line, while Phaedra begins her own strange undertakings. Cynthia gets the buzz going for her modeling school with a little help from celebrity runway coach Miss J. A very pregnant Kim prepares to move in to a luxury home with boyfriend, baby-daddy, and young NFL star Kroy Biermann. NeNe's stock has risen since hanging with Donald Trump on Celebrity Apprentice, but Sheree confronts her on a business deal gone bad.

Sunday, November 13th, 2011

s4e2: Surprisingly Rich

Fresh off her verbal smack down with Sheree, NeNe decides to take a break from Atlanta by rounding up Cynthia and Kandi for a girl's getaway weekend of fun, sun and Lesbian Pride in Miami. Phaedra's fascination with the dead goes a step further as she explores opening her own family funeral business, but Apollo's creeped out by Phaedra's new passion. Sheree and Kim have some of their own girl time to discuss Kim and Kroy's future plans. Meanwhile, Kroy and Sweetie conspire to throw an intimate surprise bash for a very pregnant Kim's 33rd birthday, complete with expensive jewels.

Sunday, November 20th, 2011

s4e3: Shower the Baby, Muzzle the Boy

A case of mistaken identity plagues Phaedra and Apollo; Sheree surveys the construction of a new house; NeNe's youngest son must adapt to living in two homes; and Kim oversees a lavish baby shower.

Sunday, November 27th, 2011

s4e4: Jewels Be Dangled

Phaedra does the proper Southern thing and apologizes to Kim for her husband's behavior at Kim's baby shower. Shereé takes Phaedra along to see her Chateau Shereé construction site, only to find no progress has been made. Kandi plans her 35th birthday bash despite a case of the biological clock blues. The party heats up when Phaedra presents a ?Ridickulous? surprise that neither Kandi ? nor her mom ? will ever forget. Meanwhile, Cynthia's attempt at making peace between her husband and sister backfires, leaving her torn between her new family and her old one. Kim tries to figure out how she will handle the birth of her new son.

Sunday, December 4th, 2011

s4e5: Whine Bar

Peter's Bar One sneak preview party is just days away when his investor bounces a $40,000 check. Cynthia may have to bail her husband out, even though she promised not to invest in the bar. Shereé has her own financial concerns and confronts her ex-husband about four years of missed child support payments. Meanwhile, Kim has a heart-to-heart with her daughter Brielle over fears that the new baby will break up the family. Kandi has her own mother-daughter chat, apologizing to Mama Joyce for the incident at her birthday party. Cynthia hosts a fashion show, where Phaedra introduces the girls to ?It? couple Marlo Hampton and Charles Grant.

Sunday, December 11th, 2011

s4e6: Three Wigs and a Baby

Kim doesn't make it to her due date and gives birth to her first baby boy. Meanwhile, Cynthia and NeNe take a business trip to New York City, where Cynthia gets advice on her new modeling school from old flame, Russell Simmons, and reveals to her best friend Kithe that she's not altogether happy with her life in Atlanta. NeNe meets with her business partner, Famous Famiglia Pizza's co-owner, John Kolaj, who seems interested in having much more than a business relationship with her. Shereé's mother makes a revelation which gives Shereé the resolve to take Bob to court for child support. Kandi gets Mama Joyce dolled up for an online dating profile photo shoot. Phaedra demonstrates her talents as a lawyer by getting her client out of hot water for drug charges.

Tuesday, December 13th, 2011

s4e7: Law By Sheree

When Shereé is served with legal papers, she turns to Phaedra for representation. The two Housewives confidently face Sheree's ex in court, but to their dismay, he has a trick up his sleeve. Kim and Kroy bring baby KJ home and chaos erupts in the house when everyone, including the dog, realizes how big of an adjustment this will be. On an all-new episode of "Kandi Koated Nights," Kandi chats with guests Marlo Hampton and baller boyfriend Charles Grant. One of Kandi's co-hosts asks Charles what it was like to date NeNe and it doesn't take long for the gossip to spread.

Sunday, December 18th, 2011

s4e8: New Tricks

With her townhouse bursting at the seams, Kim and her newly expanded family move into a mansion of their dreams. Shereé and Phaedra's relationship gets rocky as they deal with the aftermath of their court battle against Sheree's ex-husband. Meanwhile, Kandi decides to steer her music career in a surprising new direction. Cynthia throws a grand-opening bash at her modeling school, the Bailey Agency, where Kim and NeNe rub elbows for the first time since Cynthia's wedding.

Sunday, January 8th, 2012

s4e9: Unlikely Duos

Phaedra's ready to make her family funeral business a reality, but it's going to take some convincing of Apollo that working with the dead isn't as creepy as it sounds. Driven to write a hit song in every music genre, Kandi goes country and travels to Nashville to work with country music star Jo Dee Messina. Kim struggles with her oldest daughter Brielle, who begins acting up as she adjusts to life after Kim's new baby. Seeking to put rumors to rest about her alleged tryst with a fellow Atlanta socialite's boyfriend, NeNe meets with Marlo Hampton, and learns a lot more about her than she had expected.

Sunday, January 15th, 2012

s4e10: We Come In Peace (and Packing Heat)

Cynthia and Peter join Phaedra and Apollo on a surprising double date, where they officially bury the hatchet from Kim's baby shower. Phaedra is planning a trip to South Africa and convinces Cynthia it might be the perfect setting for all the women to get in touch with their heritage and to bring some perspective to all the recent drama. Kroy brings an apprehensive Kim to the gun range to buy her first firearm, and later they visit Kim's long-time psychic, Rose, who foresees a startling prediction for their future. Meanwhile, NeNe's adoring and wealthy business partner flies to Atlanta to collaborate with her on their lounge project and shower her with a bit of retail love. Phaedra surprises Sheree with fact that NeNe and Cynthia have been invited to South Africa and her agenda to make peace in the Motherland. Later, Kandi throws an intimate dinner for all of the ladies, where Momma Joyce is determined to salvage NeNe and Kim's friendship.

Sunday, January 22nd, 2012

s4e11: Shaping Up and Shipping Out

Kim tries another get-skinny-quick trick as Kandi suffers through a boot camp workout to shed pounds before her trip to Africa. Phaedra fills Apollo in on socialite Marlo's criminal history and decides to keep her distance from now on. Meanwhile, NeNe hatches a secret plan to bring Marlo along on the ladies? 10-day journey to South Africa. While the other women prepare for their vacation, Kim is forced to prepare for life without Kroy when the NFL lockout comes to a sudden end.

Sunday, January 29th, 2012

s4e12: South Africa: Just Like Home

The ladies arrive in Cape Town, South Africa for a 10-day adventure where it's officially the ?Smalls? (Phaedra, Shereé and Kandi) versus the ?Talls? (NeNe, Cynthia and Marlo). However, Africa works its magic on them - even NeNe and Shereé put aside their differences for the first time in months. On a yacht ride in the harbor, they open up to each other about their differences and attempt to start anew. But the love-fest is only a few hours old when NeNe's new bestie, Marlo, confronts Shereé about not inviting her to a dinner party. A huge fight erupts, with NeNe playing the unlikely role of peacemaker. Back in Atlanta, with Kroy away at football camp, Kim's feeling the pressure of being a single mother of three.

Sunday, February 12th, 2012

s4e13: Make it Rain Down In Africa

The ladies' South African vacation continues with the "Talls" and "Smalls" moving beyond Sheree and Marlo's intense showdown. After blowing off some steam at a Cape Town nightclub, the women travel to the luxurious Shamwari game reserve. On safari, NeNe finds herself caught between the competing attention of Marlo and Cynthia, while Sheree, Phaedra, and Kandi learn about the pharmaceutical benefits of elephant dung. Later, the entire group has an opportunity to visit a South African orphanage, where they are touched by the children and leave with the sense that this trip has been a life-changing experience.

Sunday, February 19th, 2012

s4e14: No Bones About It

Fresh off of their emotional trip to the orphanage, the ladies find themselves in a place of peace and harmony with one another. They get a taste of authentic African culture, visiting a local museum and a not-so-traditional herbalist. Later, they bond over sex talk at NeNe and Marlo's cozy pajama party. But the good vibes are short-lived. Cynthia and Kandi make comments about Kim that bother Sheree so much that she decides to report back to Kim about this "betrayal."

Sunday, March 4th, 2012

s4e15: From Motherland to Haterville

The ladies head home to find more drama; NeNe's son is arrested; Kim confronts Kandi about what was said about her in Africa.

Sunday, March 11th, 2012

s4e16: Peaches and Screams

Sunday, March 18th, 2012

s4e17: The Error Apparents

Sunday, March 25th, 2012

s4e18: Fresh Princes

Sunday, April 1st, 2012

s4e19: All Pomp but No Circumstance

With her apprenticeship at Willie Watkins' funeral home almost complete, Phaedra helps a "real" family through the grieving process. NeNe travels to LA to meet with the creators of the hit TV show Glee and entertains the idea of moving to the west coast permanently. Kandi continues to juggle her businesses by working on designs for a new Bedroom Kandi sex toy line, while Kroy visits Kim's father to have a very important man-to-man talk. Later, all the women come out to support Phaedra at a big event at City Hall where she makes an unexpected announcement.

Sunday, April 8th, 2012

s4e20: Happiness and Joy

Cynthia hosts a model call at the Bailey Agency hoping to find Atlanta's next "it" girl. NeNe makes a major decision about her marriage, and later meets with her "business partner" John, who surprises her with another gift. Kim is also in the giving spirit and surprises her new fiance with an extravagant birthday present. Meanwhile, Kandi launches her sex-toy line in a big way, but realizes it'll take more than masseurs and vibrators to bring "happiness and joy" to the ladies.

Sunday, April 15th, 2012

s4e21: Reunion (1)

Thursday, April 19th, 2012

s4e22: Reunion (2)

Sunday, April 22nd, 2012

s4e23: Reunion (3)
Season 5
Sunday, November 4th, 2012

s5e1: Got Sexy Back

NeNe looks at a possible reconciliation with Gregg, and Kandi and her new man are moving in together.

Sunday, November 11th, 2012

s5e2: Excess Breeds Success

NeNe promotes her new TV sitcom. Meanwhile, Kim celebrates a birthday, yet the daunting thought of being homeless looms over her. Also: Kandi and Phaedra bond with new housewife Kenya Moore, who struggles with various issues; Cynthia throws a party but tangles with Kenya.

Sunday, November 18th, 2012

s5e3: Call Me Miss U S A

Sunday, November 25th, 2012

s5e4: Unmoved

Sunday, December 2nd, 2012

s5e5: No Excuse for Excuses

Sunday, December 9th, 2012

s5e6: Hold On To Your Weaves

Sunday, December 16th, 2012

s5e7: I Do... But, I Won't

Sunday, December 23rd, 2012

s5e8: Fools of Engagement

As the Anguilla trip comes to an end, there is still plenty of unfinished business to be addressed. Kenya hopes to leave the island with at least an engagement ring, while NeNe focuses on squashing her bumpy past with Kandi. Cynthia works to clear the air with Kenya, but Porsha keeps her guard up in case Miss USA decides to come for her again. Tensions rise at the final vacation dinner when one couple gets thrown into the hot seat.

Sunday, December 30th, 2012

s5e9: Dress Down and Strip Bare

With the ladies back from romantic Anguilla, relationships are tested and this time it's not only Kenya and Walter in the romantic hot seat. Divorce rumors swirl around Phaedra and Apollo, while Kandi and Todd's relationship moves forward when they receive a visit from their pastor. Kenya continues to investigate whether her man is serious about love and NeNe gets the money shot in the cover shoot of a lifetime.

Sunday, January 6th, 2013

s5e10: Off the Hook

As NeNe prepares to leave for LA to begin shooting The New Normal, she has many challenges thrown her way. Kandi and her boo continue to settle into their new life together, causing her to confide in Porsha about the thought of marriage. A pre-nup conversation is far off for Kenya -- things haven't been right for a while with her and Walter. After heart-to-hearts with Aunt Lori and Kandi, she takes Walter on a fishing date to give it one last shot at reeling in her man.

Sunday, January 13th, 2013

s5e11: This Donkey Kicks

Sunday, January 20th, 2013

s5e12: Battle of the Booty

Sunday, January 27th, 2013

s5e13: Make an Ass Out of a Donkey

Kenya and Phaedra focus on their competing workout videos as their feud builds, with Porsha ultimately getting caught in the crossfire. Elsewhere, Cynthia tries to expand her agency, and NeNe learns hard lessons about success.

Sunday, February 10th, 2013

s5e14: Prayed Up

Porsha throws a birthday bash for Kordell. Elsewhere, tempers flare when Cynthia confronts Porsha over the lack of support for her pageant; Kandi's manager worries about her loss of focus; and Kenya has a health scare

Sunday, February 17th, 2013

s5e15: Praise the Pageant

Cynthia stages her pageant and cautiously allows Kenya to be a judge. Elsewhere, Phaedra enlists chef Roblé Ali to serve up a lusty dinner; Kandi tunes up to record a duet with gospel's Marvin Sapp; Porsha tries to juggle various elements of her life.

Sunday, March 3rd, 2013

s5e16: Peaches Don't Grow in Hollywood

The women visit Los Angeles, as NeNe anticipates showing off her glitzy Hollywood life. Yet tempers explode, and Kenya sounds off against her rivals, Phaedra and Porsha.

Sunday, March 10th, 2013

s5e17: Strip is a Trip

After leaving Hollywood, the Atlanta ladies head down to Sin City for the ultimate girls' weekend in Las Vegas. When Porsha refuses to go to the strip club because of Kordell's alleged objections, the ladies decide to school her on how to gain some independence in her marriage. Kenya can't play nice with Phaedra forever and finally confronts her on the last night of their trip.

Sunday, March 17th, 2013

s5e18: He's Stalking, I'm Walking

After being teased by the women in Vegas about whether or not she's pregnant, Porsha waits to take the test until she's home in Atlanta with Kordell. NeNe travels to NYC for a whirlwind press tour to promote her sitcom, while Kandi's stretched to the breaking point with renovations of both her business and her home. Kenya thought she had extracted Walter from her life, but the men keep inviting him around; the talk soon turns ugly and rumors begin to fly.

Sunday, March 24th, 2013

s5e19: Donktabulous!

Kandi's housewarming party is supposed to be a joyous occasion, but Kenya brings drama after finding out that her ex Walter is there; Cynthia has to intervene because Kenya may have taken things too far. Meanwhile, NeNe and Gregg settle deeper into their rekindled relationship. Kandi holds her first Bedroom Kandi sales gathering, and the women are shocked to see how big her empire has grown. Porsha seeks the advice of a therapist concerning her relationship with Kordell, and Phaedra and Kenya are set to battle it out: Booty vs. Booty with their upcoming workout videos.

Sunday, March 31st, 2013

s5e20: Divas into Icons

Now that Kenya has moved beyond Walter and the Battle of the Booties with Phaedra, she decides to throw a big party; everyone must come in assigned costumes to her Hollywood Icons gala. The ladies are all dressed to impress, but one rogue Housewife turns an evening of elegance into a full-fledged showdown and this time Kenya might have gone too far.

Sunday, April 7th, 2013

s5e21: Reunion Part 1

Sunday, April 14th, 2013

s5e22: Reunion Part 2

Sunday, April 21st, 2013

s5e23: Reunion (3)

During Part 3 of the reunion, the husbands and significant others join to give their take on the season. Kandi talks about her new life with Todd and their recent engagement, and the men chime in on Kenya and Walter's breakup drama. Tune in for other must-see moments, including which Housewife is accused of allegedly "sexting" one of the husbands!

Sunday, April 28th, 2013

s5e24: Secrets Revealed

Following the three-part reunion, Bravo gives viewers an inside peek at never-before-seen footage.
Season 6
Sunday, November 17th, 2013

s6e3: All In a Day's Twerk

Kandi listens to everyone's opinions about her relationship with Todd. NeNe is struggling to adjust after she finds out that her show, The New Normal, is canceled. Cynthia prepares for her upcoming surgery. Porsha begins to move the rest of her items into her mother's house. Kenya also begins packing to move out of her rental house.

Sunday, November 24th, 2013

s6e4: Too Late to Apollo-Gize

Cynthia recovers from her surgery but receives some shocking news. Porsha feels that it's time to open up about her marriage. Kandi becomes the mediator and investigates the sexting situation between Apollo and Kenya. NeNe helps Kenya look for a new place to live.

Sunday, December 1st, 2013

s6e5: Save the Drama For Mama

In order to prepare for her mortuary exam, Phaedra flies to Alabama to practice what she's learned. Apollo receives advice from Peter on how to handle his marital issues. Noelle has started to date, and Cynthia is forced to face the reality of her daughter growing up.

Sunday, December 8th, 2013

s6e6: The Old Lady and the Shoe

Phaedra, still upset with Apollo, returns home to Atlanta. Cynthia and Leon ? Noelle's dad ? sit down with Noelle to tell her about "the birds and the bees". Kenya comes to the conclusion that it's time to get her priorities straight. Due to the stress of her divorce and the never-ending rumors, Porsha is admitted to the hospital. Kandi and Todd start the lengthy process of planning their wedding.

Sunday, December 15th, 2013

s6e7: Savann-No

The ladies pack for a trip to Savannah. Kandi has an emotional breakdown. Phaedra receives a surprising visit from Mama Joyce. Kenya's antics ruin the mood of the vacation.

Sunday, December 22nd, 2013

s6e8: Ghosts of Girlfriends Past

NeNe plans a visit to a local haunted mansion to spook the ladies. Phaedra isn't getting along with NeNe's friend, Mynique. Kandi begins to annoy NeNe.

Sunday, December 29th, 2013

s6e9: Midnight in the Garden of Tea and Shade

Cynthia and NeNe disagree over certain parenting skills. Cynthia reveals that she is worried about Noelle. Porsha and Kenya bond over both wanting children. Porsha receives some wisdom from NeNe. Kenya attempts to make peace with Phaedra

Sunday, January 5th, 2014

s6e10: A Trip Down Memory Lane

Porsha feels that it's time to move out of her mother's residence. Cynthia's sister comes over and plans to stay longer than expected. Kandi tries again to fix Mama Joyce's problems with Todd. Phaedra and NeNe receive an invitation to dinner by Mynique's husband.

Sunday, January 12th, 2014

s6e11: Crunk in the Trunk

Phaedra meets up with Kandi to discuss her trip with NeNe to Athens. Kenya is shocked when her father chooses to visit. Cynthia and Peter take some time to strengthen their relationship. Porsha and Kordell come head-to-head when they have a meeting regarding their divorce.

Sunday, January 19th, 2014

s6e12: Sour Grapes, Sour Peaches

NeNe feels the need to strengthen her friendship with Porsha. Cynthia and Peter discover some surprising information about Todd. Kenya says something that leaves everyone speechless.

Sunday, January 26th, 2014

s6e13: Pillow Talk or Pillow Fight

After Kenya reveals her plan to have a baby, she meets with a fertility doctor to explore her options. Kandi starts casting for her play and is able to acquire a big performer. NeNe hosts a couples pajama party.

Sunday, February 9th, 2014

s6e14: Peaches Divided

NeNe's party ends up turning sour once Apollo starts taking shots at Kenya's friend, Brandon. Kandi calls out Natalie and her husband about her "hustler" allegations against Todd. Things get even worse once Cynthia and Peter are dragged into the discussion causing Kandi to revolt against everyone. The next day, everyone tries to recount what happened the previous night and each person has a different recollection of what went down. Kandi wants to bring all the ladies together at a spa to make amends.

Sunday, March 9th, 2014

s6e17: He Said, She Said

After Kenya informs the group about the trip to Mexico with their spouses, NeNe and Phaedra aren't too excited with the idea. Kenya is informed of what really went down at the Bailey Bowl. Cynthia becomes caught in the middle of all the drama.

Sunday, March 16th, 2014

s6e18: Flirting With Disaster

The group drives deep into the Mexican jungle for an erotic swimming session. Kenya informs Miss Lawrence about her thoughts on Porsha and Kordell. Later, Kenya selects a few of the women to visit a shaman with her. Porsha and Phaedra escape from the craziness by relaxing at the pool.
Season 7
Sunday, February 8th, 2015

s7e13: The Countdown Begins

Sunday, February 15th, 2015

s7e14: Hello Mr. Chocolate

Sunday, March 1st, 2015

s7e15: Chocolate Does a Body Good

With Apollo now in prison, Phaedra returns home and begins adjusting to life without her husband. Cynthia drops a bomb to Claudia and Kenya, leaving them both in shock and one in tears. Todd is caught off guard when Kandi mentions going to marriage counseling. When all of the ladies gather for dinner to reconnect, tempers flare as Cynthia and Kenya confront Phaedra about illicit texts on her phone and an alleged affair with the mysterious "Mr. Chocolate."

Sunday, March 8th, 2015

s7e16: Southern Discomfort

Kandi and Todd confront their issues in marriage counseling; the women continue to reel from the story about text messages exchanged between Phaedra and Mr. Chocolate; NeNe proposes a way to heal broken relationships.

Sunday, May 3rd, 2015

s7e24: Reunion (2)

Sunday, May 10th, 2015

s7e25: Reunion (3)
Season 0
not specified

s0e6: 100th Episode Special
Season 8
Sunday, February 21st, 2016

s8e15: Read School Is in Session

Sunday, March 6th, 2016

s8e16: TBA

Sunday, March 13th, 2016

s8e17: TBA

Sunday, March 20th, 2016

s8e18: Reunion Part One

Sunday, March 27th, 2016

s8e19: Reunion Part Two
Season 9
Sunday, March 19th, 2017

s9e17: Aloha & Goodbye

A roast of Peter is planned after Phaedra's effort to reunite the group fails. Also: Sheree must decide on a life with or without Bob; Cynthia comes to terms with the end of her marriage; Kenya and Phaedra's newfound friendship is tested when Kenya hosts a party.

Sunday, March 26th, 2017

s9e18: Baby Nups and Breakups

Sunday, April 9th, 2017

s9e20: Chateau She Did That

Sheree unveils Château Sheree at a housewarming bash in the Season 9 finale. Also: Kenya faces her past; Phaedra helps Kandi's former disgruntled employee; and Porsha discovers a new sense of clarity in her relationship with Todd.

Sunday, April 16th, 2017

s9e21: Reunion, Part 1
Season 2
Thursday, November 12th, 2009

s2e16: The Lost Footage

Andy Cohen reveals the lost footage from the second season.