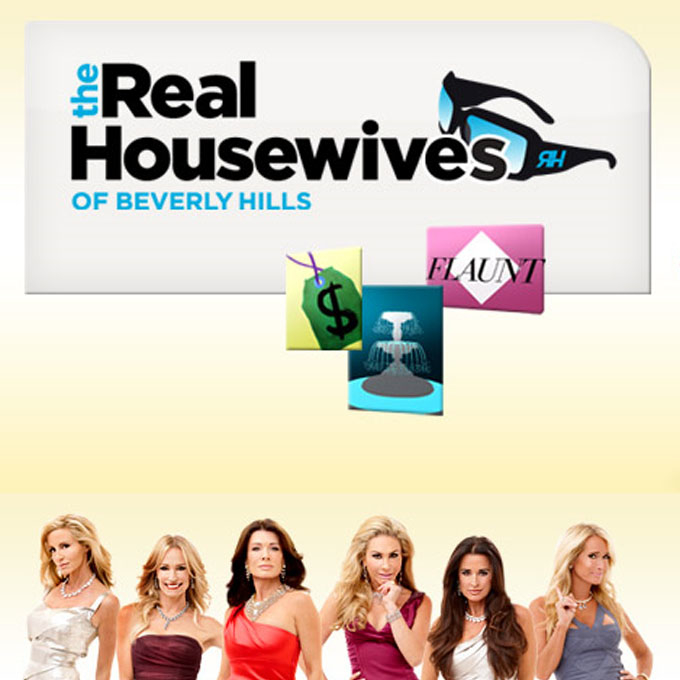 Season 4
Monday, November 4th, 2013

s4e1: A Catered Affair to Remember

Kyle throws a cocktail party at her home and hires Lisa's staff at SUR to cater it; Lisa struggles to keep the peace.

Monday, November 11th, 2013

s4e2: Faint Chance

Support for Lisa on ''Dancing With the Stars''; Yolanda faces surgery; Kyle offends new friends; Brandi's mother visits; Kim and Kyle question Lisa's faint.

Monday, November 18th, 2013

s4e3: Life's a Witch

Carlton hosts the ladies for lunch in her Gothic mansion; Lisa is teased by her friends; Kyle upsets Carlton by asking too many questions.
Season 1
Thursday, October 14th, 2010

s1e1: Life, Liberty and the Pursuit of Wealthiness

Welcome to Beverly Hills, where pint-size puppies are served breakfast in bed and a three million dollar home is scoffed at. In the premiere episode, Adrienne, whose family owns the Palm Casino Resort and the Sacramento Kings, decides to take the rest of the ladies on a private jet to get VIP treatment and sit courtside at a Kings game. The ladies include Lisa, a witty British restaurateur; former child actresses (and sisters) Kim and Kyle Richards, who are also Paris Hilton's aunts; Kelsey Grammer's soon to be ex-wife Camille, and Taylor, a beauty from Oklahoma with big Beverly Hills dreams. These ladies live big and when they fight, they fight big. They may be living in the lap of luxury, but with all that wealth comes even more drama.

Thursday, October 21st, 2010

s1e2: Chocolate Louboutins

It's Easter weekend in Beverly Hills but that doesn't mean that there is any less drama. Adrienne is on her way to Vegas for a shoot with a hot male model but she reluctantly decides to takes her husband Paul. Meanwhile, Kyle and Kim start squabbling at their family's vacation home in Palm Desert when Kyle accuses Kim of having no life outside her children, an accusation that just might be true. The conflict escalates back home in Beverly Hills as the sisters celebrate Kim's daughter's birthday at a posh spa.

Thursday, October 28th, 2010

s1e3: Plenty of Baggage

The glam of Beverly Hills meets the glitz of Las Vegas as Adrienne invites the ladies and their husbands to a Jay-Z concert at her Vegas casino resort, the Palms. Camille's husband, Kelsey Grammer, is in New York rehearsing a Broadway play, so Camille relishes this weekend trip with the girls until she and Kyle start butting heads. Unfortunately for those two, what happens in Vegas does not stay there ? and the fight continues back home.

Thursday, November 4th, 2010

s1e4: It's My Party and I'll Spend If I Want to

After spending $50,000 on an over-the-top tea party, to celebrate her daughter Kennedy's fourth birthday, Taylor is upstaged by her husband who brings in an even bigger birthday present. Meanwhile, Camille discusses her marriage while relaxing in her Hawaii home and Lisa receives a heartwarming birthday surprise.

Thursday, November 11th, 2010

s1e5: I Would Never Say That

Camille invites the women to New York for the premiere of Kelsey Grammer's Broadway musical, but things are off to a very rough start. Adrienne receives some bad news from home and Kyle is still worried about the fallout from her and Camille's Vegas show down. But in true Beverly Hills style, the women seem to pull themselves together and put the past behind them ? that is until they all sit down together for dinner and the claws come out once again.

Thursday, November 18th, 2010

s1e6: The Art Of War

Still in New York, the women are all reeling over the past evenings meltdown and Kim continues to add fuel to the fire by refusing to stand up for her sister. It's the day of Kelsey's premiere and everyone's nerves are fraught, but it's a glamorous evening and it seems like the women do their best to sweep their problems under the rug ? at least while they are in New York.

Thursday, December 2nd, 2010

s1e7: My Mansion Is Bigger Than Your Mansion

There is way too much tension among these Beverly Hills beauties, so Lisa decides to lighten the mood and set Kim up on a date with a millionaire friend of hers ? so where does a standard date in Beverly Hills begin? How about a $55 million dollar home, one of the most expensive homes in the country. Meanwhile, Camille decides to unwind by going shopping. After receiving news that her husband Kelsey was nominated for a Tony Award, she quickly goes on a shopping spree, trying on gorgeous ? and outrageously priced dresses.

Friday, December 10th, 2010

s1e8: Charity Cases

Kyle and Mauricio's seemingly perfect marriage is put to the test as they debate whether or not to take the kids on a romantic trip to Napa Valley for a charity bike ride. Taylor's also giving back, and reveals some deeply personal insights into her past at a charity poker tournament. A surprising new twist in Camille's marriage to Kelsey is also revealed.

Thursday, December 16th, 2010

s1e9: The Dinner Party From Hell

Camille throws a glamorous dinner party at her Malibu home and, in addition to the housewives, she invites a few special guests. The guests, however, bring up a sore subject and sparks fly between all the women in an explosive showdown, as Camille and Kyle's issues are once again exposed.

Thursday, December 23rd, 2010

s1e10: Payback's a Bitch?Just Ask Your Husband

Lisa holds a charity event at her restaurant Villa Blanca and the ladies attend to show their support. Camille, however, is still dealing with the fallout between her and Kyle. Taylor also holds a big event ? a Roaring Twenties party. It's the first time Camille and Kyle are face to face since the last blow up so everyone is anxious to see if they can put the past behind them.

Thursday, January 6th, 2011

s1e11: How To Behave

In an attempt to patch things up between herself and Kyle, Camille invites her to a potentially awkward afternoon of tennis and swimming. Lisa's houseguest Cedric reveals a tragic past no one ever knew about, and Kyle throws an off-the-charts "white party" for Mauricio's 40th birthday. It's fun and games until Taylor's problems with her husband Russell take center stage.

Thursday, January 13th, 2011

s1e12: Turn, Turn, Turn

With Kelsey in New York for so long, Camille is starting to realize there are cracks in their marriage, while Taylor looks for ways to resolve some of her own marital strife. It's another emotional event for the Richards' family as Kyle's oldest daughter Farrah graduates from college (the first in the family to do so). But Kyle is upset that her nieces Paris and Nicky choose a trip to Europe over the family milestone.

Thursday, January 20th, 2011

s1e13: Unforgivable

Taylor's birthday is coming up and everyone is excited to celebrate at a huge party on a fabulous Beverly Hills hotel rooftop. Unfortunately for the ladies, no one can escape the drama. Kim and Kyle finally go to blows after years of pent up family frustration. A lot of things are said and their sisterly bond may be broken forever. Meanwhile, another bond is breaking as Camille gets word from her husband that he wants to end their marriage.

Thursday, January 27th, 2011

s1e14: Reunion, part 1

Host Andy Cohen referees Part 1 of a two-part reunion installment, as reconvened 90210 ladies Taylor, Camille, Adrienne, Kim, Kyle and Lisa cast light on the frantic antics of Season 1.

Tuesday, February 1st, 2011

s1e15: Reunion, part 2

Andy Cohen presides over the conclusion of a two-part reunion, which features the Beverly Hills wives recalling the diva dramas of Season 1.

Tuesday, February 8th, 2011

s1e16: The Lost Footage

Additional Footage of the Housewives of Beverly Hills

Tuesday, February 15th, 2011

s1e17: Dinner Party From Hell Producers Cut
Season 2
Monday, September 5th, 2011

s2e1: Back to Beverly Hills

The Beverly Hills bombshells are back for a second season of over the top glitz and glamor. In the first episode, the ladies attend a sumptuous dinner party at Adrienne's home to celebrate Camille's guest-starring role on a major sitcom. However, tensions arise and true feelings begin to show, revealing what could be a very big divide in the ladies friendships.

Monday, September 12th, 2011

s2e2: Blame it on the Altitude

After a very tough year and a very public divorce, Camille must say goodbye to her gorgeous Colorado home, so she invites the ladies to hit the slopes in style. Dressed like snow bunnies from head to toe, the ladies let loose skiing and then head back to the house to relax in the hot tub. But after a day of laughter and fun, Taylor opens up to her friends about some very serious problems in her marriage.

Monday, September 19th, 2011

s2e3: Rocky Mountain Highs and Lows

Adrienne's family is forced to make some decisions; Adrienne questions Kim's sobriety.

Monday, September 26th, 2011

s2e4: Gossip Girls

Adrienne, Paul and Kim attend the last game of the season; Kyle throws a charity cocktail party.

Monday, October 3rd, 2011

s2e5: $25,000 Sunglasses?!

Adrienne throws a lavish barbecue, Beverly Hills style. She invites her friend Brandi, and while Brandi and Camille seem to bond instantly over their very public and very ugly high-profile divorces, the other ladies are shocked by this newcomer's numerous social faux pas. They begin to wonder what she's doing on their turf and if she will fit into their social circle.

Monday, October 10th, 2011

s2e6: Let the Games Begin

Taylor's friend Dana hosts a game night, but the attempt at light-hearted fun spirals seriously out of control when Kim suspiciously spends most of the night in the bathroom and Brandi makes some outrageous accusations as to why.

Monday, October 17th, 2011

s2e7: Game Night Gone Wild!

The game night drama continues, and tensions are still running high when the ladies attend Camille's charity lunch.

Monday, October 24th, 2011

s2e8: The Opposite of Relaxation

When Adrienne throws a spa day, things are anything but relaxing for Kim, Kyle, and Brandi.

Monday, October 31st, 2011

s2e9: Otherwise Engaged

The engagement party for Lisa's daughter is the social event of the season, featuring camels, snakes and circus performers. However, Kim's not in attendance and busy hiding a secret from Kyle.

Monday, November 7th, 2011

s2e10: Your Face or Mine?

The cause of Kim's erratic behavior is revealed at Paul's night of beauty treatments. Meanwhile, spirits at Kyle's séance reveal insights into the past and future and she finally learns what Kim has been hiding from her.

Monday, November 14th, 2011

s2e11: Tempest in a Tea Party

Lisa's elegant tea party is the unexpected setting for a heated confrontation when Taylor reveals her true feelings toward Lisa and the women finally discuss with Taylor the real issues behind her troubled marriage.

Monday, November 21st, 2011

s2e12: The Great Divide

Friendships are re-evaluated in the aftermath of Lisa's tea party

Monday, November 28th, 2011

s2e13: Adrienne's Fashion Show

Still angry from accusations repeated at the tea party, Taylor fears running into Camille at Adrienne's glamorous backyard fashion show.

Monday, December 5th, 2011

s2e14: Malibu Beach Party From Hell

Brandi tries to throw a nice party for the women at a Malibu beach house, but the tension between Taylor and Camille reaches a boiling point.

Monday, December 12th, 2011

s2e15: A Book, a Bachelorette, and a Breakdown

Lisa and Taylor descend on Las Vegas for Pandora's bachelorette party (complete with Chippendales!), while Adrienne takes the other ladies to her casino for their own wild time.

Monday, December 19th, 2011

s2e16: Uninvited

When Taylor's husband threatens a lawsuit against Camille, the women worry they could be next. Through tears, concern and anger, they debate turning Taylor away from Kyle's annual white party.

Monday, January 2nd, 2012

s2e17: Leis and Lies in Lanai

The gang heads to Hawaii for Mauricio's birthday -- but will Kim actually make it to the island?

Monday, January 9th, 2012

s2e18: A Day Late, an Apology Short

When Kim finally arrives, things get heated in Hawaii.

Monday, January 16th, 2012

s2e19: Night of a Thousand Surprises

New drama and old faces pop up at the launch party for Lisa's new lounge at Sur, and a disheveled Kim tells Kyle the truth about her new boyfriend Ken.

Monday, January 23rd, 2012

s2e20: The Real Wedding of Beverly Hills

Taylor reveals the unvarnished truth about her marriage and Lisa's daughter Pandora is married in a glamorous ?million dollar? ceremony at Vanderpump Manor.

Monday, January 30th, 2012

s2e21: Season 2: Reunion Part 1

Host Andy Cohen reflects on some of the season's most talked-about moments with the 90210 Housewives and the ladies discuss the dramatic confrontation between Camille and Taylor at the Tea party; Adrienne's outrage over Lisa's ?Maloof-hoof? comment; Kim's revelations to Kyle at the Sur party and Brandi's outrageous accusations at Game Night.

Monday, February 6th, 2012

s2e22: Season 2: Reunion Part 2

Housewife friend, Brandi Glanville, joins the cast to defend her controversial comments from the season; Taylor delves deeper into the secrets from her troubled relationship and Camille dishes about the new man in her life.

Monday, February 13th, 2012

s2e23: Season 2: Reunion Part 3

Kim Richards exclusively reveals to Andy Cohen, ?I am an alcoholic? and discusses life after rehab. Later in the show, housewife friend Dana Wilkey also appears to recount with her recollection of Game Night followed by the husbands who field viewer questions.

Thursday, February 16th, 2012

s2e24: Season 2: The Lost Footage

A special featuring the jaw dropping fight between Brandi Glanville and Kyle Richards where tensions boiled over at The Malibu Beach Party from Hell. That and other clips originally left on the cutting room floor are sure to surprise, astonish and amuse.
Season 3
Monday, November 5th, 2012

s3e1: Down and Left Out in Beverly Hills

The brassy, bold beauties of Beverly Hills are back for a third season of wealth, luxury... and lots of problems. In the first episode, Lisa and Adrienne's friendship has soured, with both expecting apologies for accusations and barbs made previously. When Lisa doesn't invite Adrienne to the exclusive anniversary party for her restaurant, Adrienne is more than miffed. And theirs is not the only friendship that will be tested in this season of wild outbursts, vehement backbiting, and unrivaled glamour.

Monday, November 12th, 2012

s3e2: The Higher the Heel the Closer to God

Kyle's adorable daughter Portia turns four and has a carnival-themed party featuring flying elephant rides, llamas and unicorns. Kyle's husband Mauricio arrives late, however, because he and Adrienne's husband Paul have agreed to help Taylor with a charity event - by walking a mile in women's high heels! It's all fun and games until they return, and Adrienne realizes Lisa has avoided her by leaving the party early.

Monday, November 19th, 2012

s3e3: Dont Sing for Your Supper

New housewife Yolanda invites the ladies to a dinner party at the spectacular Malibu home she shares with her husband, 16-time Grammy-Award winning music producer David Foster. Taylor is annoyed when David won't allow the women to participate in an after-dinner sing-along, and the tension between Lisa and Adrienne intensifies until they agree to meet after the party and discuss their issues.

Monday, November 26th, 2012

s3e4: Uh-Oh, Somebody's Crying!

Lisa and Adrienne's tension comes to a head; Kim suggests a group trip; Kim and Brandi begin to forge a bond.

Monday, December 3rd, 2012

s3e5: Girls Gone Ojaild

The ladies are having some fun; golf cart race; a mud filled spa; drunken gymnastics; arm wrestling contest.

Monday, December 10th, 2012

s3e6: She's Gone Too Far

Kyle surprises her daughter; Lisa has a food-tasting at one of her restaurants; a battle erupts when Brandi reveals personal information about Adrienne.

Monday, December 17th, 2012

s3e7: Oy Faye

Kim plans a trip to Vegas, but doesn't invite Kyle; Brandi's revelation continues to impact the ladies; at a dinner party, Kyle's friend Faye drives Brandi to tears.

Monday, January 7th, 2013

s3e8: Vanderpump Rules

Taylor invites a psychic into her home; a lawsuit doesn't go in Taylor's favor; Brandi confronts the woman who her ex-husband had an affair with; Scheana picks up shifts at Lisa's restaurant.

Monday, January 14th, 2013

s3e9: Moroccan Madness

Kim's life coach signals for Kim to take the first step and reach out to Kyle in order to improve their bond. Adrienne and Paul decide whether or not to sue Brandi for the hurtful things she's said. Another dinner party goes bad, and ends up in a rumble.

Monday, January 21st, 2013

s3e10: Home Is Where the Art Is

Adrienne, Paul, Kyle and Mauricio discuss Brandi's actions; Yolanda decorates a mansion for her ex-husband; a psychic finds ghosts in Kim's home; Brandi invites the ladies to Las Vegas.

Monday, January 28th, 2013

s3e11: Stars and Stripes

Kyle's daughter graduates from sixth grade; Brandi and the ladies go to Vegas; at dinner, the women learn new things about each other.

Monday, February 4th, 2013

s3e12: Kim Nose Best

In Las Vegas, Brandi gets the women to try pole dancing; the ladies have concerns about Kim getting a nose job; a feud erupts during the final dinner in Vegas.

Monday, February 11th, 2013

s3e13: Game of Scones

Kyle and Lisa discuss their relationship; Lisa throws a tea party, bringing Adrienne and Brandi together for the first time since their fight.

Monday, February 18th, 2013

s3e14: White Party Pooper

Kim celebrates her post-surgery nose by throwing a backyard party, yet dramas unfold when Taylor says she'll be a no-show. Then, Kyle hosts a party, where a confrontation ensues about a purported lawsuit against Brandi.

Monday, February 25th, 2013

s3e15: The Real Housewives of Paris Part Un

The ladies fly to Paris without Taylor, but Kim raises suspicions when she arrives late and exhibits increasingly bizarre behavior. Elsewhere, Lisa and her husband take a side trip.

Monday, March 4th, 2013

s3e16: The Real Housewives of Paris, Part Deux

The women delight in their Paris trip, but dramas erupt when Kim arrives late to a cooking class. Later, Kyle confronts Lisa on top of the Eiffel Tower.

Monday, March 11th, 2013

s3e17: No Business Like Clothes Business

The ladies' trip to Paris wraps up with a boat ride down the Seine River, and an unlikely bond forming between Kim and Brandi. Back in Beverly Hills, Lisa begins planning her housewarming party/vow renewal with flamboyant party planner Kevin Lee, and Kyle scurries to prepare for her boutique opening. In a changing room during the big event, Kyle and Kim discuss Kim's erratic behavior in Paris, and Kyle wonders if she'll ever be able to trust Kim's sobriety.

Monday, March 18th, 2013

s3e18: A Vodka Shot Through the Heart

Adrienne celebrates her new vodka line with a showy bash, yet her relationship with Paul begins to splinter. Elsewhere, it's a crescendo of dramas at Lisa's big party when Brandi confronts Marisa and runs afoul of Faye.

Monday, March 25th, 2013

s3e19: Finale

While Lisa prepares to renew her vows after thirty years of marriage, her housewarming party plummets downhill. Faye picks a fight with Lisa, and when all the ladies get involved, Lisa realizes Kyle will never have her back. Kyle is not safe from Kim's ire either, but luckily Lisa and Ken's vow renewal ceremony interrupts the drama for one lovely moment. And when a tearful Adrienne shows up, on the very day her separation has been announced, some of the women stand behind her, while some are not as sympathetic.

Monday, March 25th, 2013

s3e20: Reunion Part One

In the Reunion Part One, the women gather with Andy Cohen to discuss the year, settle old scores, and clear the air. . .but Adrienne Maloof's decision not to attend sparks the initial controversy -- and leads to a shocking announcement. Other surprises are revealed in this hour: Yolanda felt unwelcome when she joined the group, Taylor admits to drinking too much, and Lisa and Kyle's touchy relationship becomes even more dramatic when Yolanda, Kim, and Brandi step in with their take on the battle.

Monday, April 1st, 2013

s3e21: Reunion Part II

The ladies discuss the drama and relationships of the season.

Monday, April 8th, 2013

s3e22: Secrets Revealed

The Bravo vaults are opened and the audience is treated to never-before-seen footage of the Housewives both at the Reunion and out-and-about in Beverly Hills. Kyle takes a nervous Lisa for her first mammogram; Yolanda and Brandi's friendship is explored in further depth, and Taylor has a meltdown directed at her onetime friend Adrienne. And in unseen footage from the reunion, the ladies discuss the actions of Faye.
Season 4
Monday, November 25th, 2013

s4e4: Irked at Cirque

Kim invites the ladies to a circus school in Hollywood; Brandi and Kyle battle it out; Joyce makes an accusation that baffles the ladies.

Monday, December 2nd, 2013

s4e5: Star of the Family

Yolanda's mother and brother visit from Holland; Carlton takes her ailing cat to get acupuncture; Kim, Kyle and Kathy attend the high school graduation of Kim's daughter; Brandi reveals a secret about Carlton.

Monday, December 9th, 2013

s4e6: Palm Springs Breakers

The ladies travel to Palm Springs for a girls' bonding trip; Kyle is surprised when Carlton confronts her about a list of issues; Brandi reveals that she and Carlton made out; Carlton finally reveals she is a practicing Wiccan.

Monday, December 16th, 2013

s4e7: Escape to Bitch Mountain

Brandi wants Kyle and Yolanda to resolve their Paris issues; Kim feels belittled by Lisa trying to quiet her; Kim and Carlton bond as they commune with a group of squirrels; Brandi learns her beloved dog has gone missing.
Season 0
not specified

s0e1: Real Housewives with Arsenio Hall
Season 4
Monday, December 23rd, 2013

s4e8: She Hears You She Hears You Not

Kim sends her problem dog to boarding school; Yolanda causes the group to split into two; Brandi insults Joyce.

Monday, December 30th, 2013

s4e9: Guess Whos Coming to Dinner

Yolanda and David celebrate their anniversary; Kim rides in a racecar; Carlton shops with her mother-in-law; Brandi and Joyce avoid each other, until they're forced to come face-to-face.

Monday, January 6th, 2014

s4e10: Catfight on the Catwalk

Monday, January 13th, 2014

s4e11: Luaus and Lies

Kim throws a luau for her daughter; Kim accuses Lisa of missing her daughter's party; Joyce and Brandi try to settle their problems civilly.

Monday, January 20th, 2014

s4e12: Tough Break

Brandi takes Yolanda to her hometown; Brandi and her estranged father reach an understanding; Joyce organizes a self-defense class.

Monday, January 27th, 2014

s4e13: The Curse of Carlton

Monday, February 3rd, 2014

s4e14: The Birthday Witch

Kyle and Lisa plan to host a combined birthday celebration for their husbands. Lisa wants Brandi to speak with Scheana from SUR. Kyle and Carlton have an altercation. Joyce questions Carlton about a spell.

Monday, February 10th, 2014

s4e15: Trail of Doubts

Kim sits down with Lisa and Ken to talk about their issues. Brandi discloses some information to Kyle and Kim. Carlton hosts a party for her husband's clients.

Monday, February 17th, 2014

s4e16: Turning Down the Crown

Joyce and Kyle plan on not inviting Carlton on their upcoming girls trip. Brandi avoids Lisa at Gigi's party. Carlton refuses Kyle's peace offering. Kyle ends up revealing private information to the group.

Tuesday, February 25th, 2014

s4e17: Lines in the Sand

All of the housewives, excluding Carlton, fly to Puerto Rico. Joyce takes some time to visit her family. Brandi and Yolanda end up confronting Lisa. Kyle questions her friendship with Lisa. An altercation occurs during dinner.

Monday, March 3rd, 2014

s4e18: The Kids Are All Right

The ladies continue their trip activities by golfing, shopping, and possibly getting arrested. Brandi has a surprise for her parents. Kim and Yolanda say goodbye to their daughters as they depart for college. Lisa sits down with Carlton to explain why she departed Puerto Rico early.

Monday, March 10th, 2014

s4e19: Are You My Friend?

The ladies are invited to an event at The Beverly Hills Hotel, where they're together for the first time since Puerto Rico. Kim takes the opportunity to apologize to Ken. Yolanda, Brandi, and Kyle try to fix things with Lisa.

Monday, March 17th, 2014

s4e20: Reunion - Part 1

Monday, March 24th, 2014

s4e21: Reunion - Part 2
Season 5
Tuesday, April 21st, 2015

s5e23: Secrets Revealed
Season 6
Tuesday, December 1st, 2015

s6e1:

Tuesday, February 23rd, 2016

s6e13: Spinning a Web

The ladies take a spin class to raise funds for charity, but flying allegations mark the follow-up lunch. Here, Yolanda targets Kyle for spreading gossip and then confronts Lisa Vanderpump. Meanwhile, Kathryn tries to gain Erika's trust.

Tuesday, December 29th, 2015

s6e5: Will Power

The women are intrigued with Yolanda's friend Erika, whose short skirt and flashy Cartier ring leave a memorable impression. Lisa Vanderpump pays an emergency visit to her veterinarian's office. Eileen inadvertently references Lisa Rinna's comment about Yolanda's illness in front of the other women -- including Yolanda. Later, on the eve of getting her breast implants removed, Yolanda makes a startling announcement to her children.

Monday, January 4th, 2016

s6e6: Hamptons, 90210

The women travel to The Hamptons to celebrate Lisa Vanderpump on the cover of Bella Magazine, but Lisa's feathers are ruffled when she feels slighted by her friends. Yolanda's ongoing battle against Lyme disease finds her in Cleveland--and under the knife. Kyle is devastated by news about Kim.

Tuesday, January 12th, 2016

s6e7: Pretty Mess

Adventures in the Hamptons continue. Eileen continues to reel about being interrogated by Lisa Vanderpump, Erika Jayne's videos are viewed, and Bethenny Frankel invites everyone to dinner. Yolanda, meanwhile, misses the fun as she recovers from surgery.

Tuesday, January 19th, 2016

s6e8: Going Deep

Kyle hosts a book signing at her new Hamptons pop-up shop for pal Bethenny Frankel. Also, Eileen shares a secret from her past; Erika picks up a recovering Yolanda in her private plane; Kyle consults Faye Resnick for help in dealing with sister Kim.

Tuesday, January 26th, 2016

s6e9: Busted BBQ

Lisa Vanderpump takes a tour of the space Ken wants for a new restaurant. Meanwhile, Eileen flies to Italy to spread her sister's ashes; and Kyle hosts a barbecue, where dramas sizzle over Yolanda's claims, plus a 20-year grudge rears its ugly head.

Tuesday, February 2nd, 2016

s6e10: Backwards in Heels

A joint anniversary bash with a burlesque theme is planned by Kyle and Lisa Vanderpump, but dramas spike when it's discovered Faye Resnick is on Kyle's guest list. Also, Lisa Rinna continues to feel guilty about a past discussion.

Tuesday, March 22nd, 2016

s6e17: Lymes in the Sand

At a glittering gala in New York, Yolanda receives a Lyme disease awareness award, which erases any doubts Kyle had about Yolanda's illness. Days later, the women travel to Dubai and attempt to live in a culture where they must dress modestly and not curse. After marveling at the city and their unbelievably over-the-top hotel rooms, the ladies gather for an evening full of doubts from Lisa Rinna, who did not attend the Lyme gala.

Tuesday, March 29th, 2016

s6e18: Dubai Daze

After a full day of travel, the ladies finally step outside and see what Dubai has to offer. They drive through the sand dunes, shop at the local souk market and experience a traditional Arabian Nights dinner with meat from animals they didn't consider edible. Even though Yolanda stayed in Beverly Hills, there are still lingering feelings from the Munchausen fallout, leaving some ladies to feel deserted.
Season 7
Tuesday, December 6th, 2016

s7e1: Stronger Than Ever

Tuesday, December 13th, 2016

s7e2: Episode 2