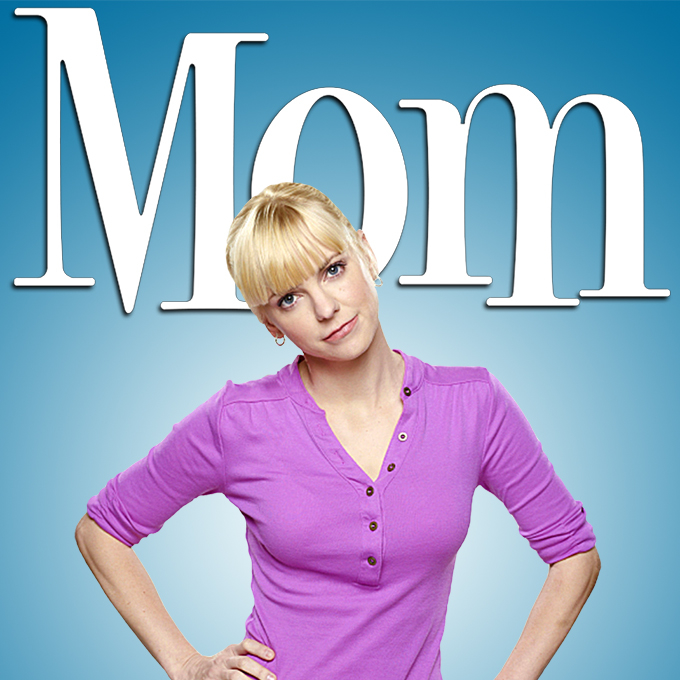 Season 1
Monday, September 23rd, 2013

s1e1: Pilot

Christy is a mother struggling with raising her kids and staying sober at the same time. It doesn't help when her mother reappears in her life and she discovers a life changing fact about her teenage daughter.

Monday, September 30th, 2013

s1e2: A Pee Stick and an Asian Raccoon

Christy and Bonnie set aside their differences to deal with a family crisis together.

Monday, October 7th, 2013

s1e3: A Small Nervous Meltdown and a Misplaced Fork

Christy goes on her first date since she stopped drinking. Meanwhile, Bonnie teaches her grandson Roscoe to gamble.

Monday, October 14th, 2013

s1e4: Loathing and Tube Socks

Christy's patience is tested by everyone she knows. Meanwhile, Bonnie runs into an old rival.

Monday, October 21st, 2013

s1e5: Six Thousand Bootleg T-Shirts and a Prada Handbag

Christy makes a new friend who has big problems. Meanwhile, Bonnie attempts to put someone else's needs ahead of her own.

Monday, October 28th, 2013

s1e6: Abstinence and Pudding

Christy is determined to take things slow in her relationship with Adam. Meanwhile, Bonnie and her rival from AA, Marjorie, disagree on what "taking it slow" means.

Monday, November 4th, 2013

s1e7: Estrogen and a Hearty Breakfast

Christy squares off against Luke's conservative parents, who are upset about Violet's pregnancy. Meanwhile, Bonnie is determined not to let menopause get the best of her.

Monday, November 11th, 2013

s1e8: Big Sur and Strawberry Lube

Christy is nervous about going on a romantic weekend getaway with Adam. Meanwhile, Gabriel's wife suspects he is cheating and seeks comfort from Christy.

Monday, January 13th, 2014

s1e13: Hot Soup and Shingles

When Christy gets injured, she refuses to admit she needs Bonnie's help. Meanwhile, Luke turns to Baxter for advice about being a father.

Monday, January 27th, 2014

s1e15: Fireballs and Bullet Holes

Christy tries to start a relationship with her father, Alvin, while Bonnie struggles to accept that Christy wants him in her life.

Monday, February 3rd, 2014

s1e16: Nietzsche and a Beer Run

Christy is tempted by her old vices when she dates an attractive, hard-partying man. Meanwhile, Bonnie decides her advice is worth money and becomes a life coach.

Monday, January 20th, 2014

s1e14: Leather Cribs and Medieval Rack

Christy and Bonnie come clean about secrets they've been keeping from each other. Meanwhile, Violet and Luke discover they have different ideas about parenting.

Monday, December 16th, 2013

s1e12: Corned Beef and Handcuffs

Christy gets stuck in the middle when Bonnie and Chef Rudy start dating.

Monday, December 2nd, 2013

s1e11: Cotton Candy and Blended Fish

Christy and Bonnie go above and beyond to help a sick friend. Meanwhile, Violet is frustrated by the realities of pregnancy.

Monday, February 24th, 2014

s1e17: Jail, Jail and Japanese Porn

When Christy puts her new relationship ahead of friends and family, Bonnie has to pick up the slack.

Monday, March 17th, 2014

s1e19: Toilet Wine and the Earl of Sandwich

Christy and Bonnie help Regina tie up loose ends on the way to drop her off at prison. Meanwhile, Alvin spends the day getting to know his grandkids.

Monday, March 24th, 2014

s1e20: Clumsy Monkeys and a Tilted Uterus

Christy and Bonnie try to make sure everything goes smoothly when Violet finds the perfect couple to adopt her baby.

Monday, March 31st, 2014

s1e21: Broken Dreams and Blocked Arteries

Christy is caught in the middle when tensions rise between Bonnie and Alvin. Meanwhile, a very pregnant Violet is apprehensive about going to her senior prom.
Season 2
Thursday, October 30th, 2014

s2e1: Hepatitis and Lemon Zest

Bonnie is furious when Christy's poor financial decisions threaten the family's living situation. Meanwhile, Christy agrees to help out Jill, a woman who is newly sober.
Season 1
Monday, April 14th, 2014

s1e22: Smokey Taylor and a Deathbed Confession

Christy and Bonnie help Violet through labor. Meanwhile, Christy is convinced that Bonnie still has feelings for Alvin.

Monday, November 18th, 2013

s1e9: Zombies and Cobb Salad

When Bonnie loses her job and struggles to keep her life together, Christy tries to get her back on track.

Monday, November 25th, 2013

s1e10: Belgian Waffles and Bathroom Privileges

Christy has trouble accepting how much easier life is with Bonnie in the house. Meanwhile, Baxter sets up camp in the driveway.
Season 2
Thursday, November 6th, 2014

s2e2: Figgy Pudding and the Rapture

The family becomes essentially homeless, yet Christy convinces herself that everything is fine as Bonnie tries to get her to face reality. Jaime Pressly and Kevin Pollak guest star.
Season 1
Monday, March 3rd, 2014

s1e18: Sonograms and Tube Tops

Christy plans a baby shower for Violet, who is nervous about becoming a mom. Meanwhile, Bonnie scores a new life-coaching client.
Season 2
Thursday, February 5th, 2015

s2e13: Cheeseburger Salad and Jazz

Christy is concerned with the way Bonnie is processing Alvin's death and tries to get her professional help.

Thursday, February 12th, 2015

s2e14: Benito Poppins and a Warm Pumpkin

When Christy gets promoted to manager of the restaurant, she discovers that being the boss comes with its own set of problems. Also, Bonnie has a nemesis in the building who wants her fired.

Thursday, November 13th, 2014

s2e3: Chicken Nuggets and a Triple Homicide

In order to get the family back together, Christy and Bonnie rent a house with a colorful past. Meanwhile, Bonnie tries to broker a peace between Christy and Alvin.

Thursday, November 20th, 2014

s2e4: Forged Resumes and the Recommended Dosage

Christy tries to determine the reason behind Violet's strange behavior; Bonnie goes on a search for a job.

Thursday, November 27th, 2014

s2e5: Kimchi and a Monkey Playing Harmonica

Christy is not sure how she feels about Candace and Baxter's relationship.

Thursday, December 4th, 2014

s2e6: Crazy Eyes and a Wet Brad Pitt

Christy and Bonnie are in the lap of luxury when Christy's wealthy sponsee, Jill, asks them to keep her company on her first night out of rehab.

Thursday, December 11th, 2014

s2e7: Soapy Eyes and a Clean Slate

Christy is on a journey to right the wrongs of her past, but she has a blind spot when it comes to Baxter. Following Christy's example, Bonnie decides to come clean with Alvin about the terrible things she did to him over the years.

Thursday, December 18th, 2014

s2e8: Free Therapy and a Dead Lady's Yard Sale

Family secrets come out when Christy and Bonnie are asked to join Violet's therapy session.

Thursday, January 8th, 2015

s2e9: Godzilla and a Sprig of Mint

Christy's evening alone takes an unexpected turn when she meets her attractive, single neighbor, Andy. Bonnie and Alvin's romantic plans are derailed by Alvin's ex-wife, Lorraine.

Thursday, January 15th, 2015

s2e10: Nudes and a Six-Day Cleanse

After realizing she's been a waitress longer than she planned, Christy takes steps towards a new career. Also, Bonnie and Alvin try to recapture their youth.

Thursday, January 22nd, 2015

s2e11: Three Smiles and an Unpainted Ceiling

An unexpected death rocks the Plunkett household.

Thursday, January 29th, 2015

s2e12: Kitty Litter and a Class A Felony

Christy does damage control when Bonnie acts out after the death of a loved one.

Thursday, March 12th, 2015

s2e17: A Commemorative Coin and a Misshapen Head

Christy and Bonnie worry when they find out that Violet's new boyfriend is old enough to be her father.

Thursday, April 16th, 2015

s2e20: Sick Popes and a Red Ferrari

After Bonnie's relapse, the women from her meeting rally around to help her through withdrawal from painkillers, but Christy wants no part of it.

Thursday, April 23rd, 2015

s2e21: Patient Zero and the Chocolate Fountain

Christy and Bonnie's contentious relationship makes them unwelcome guests wherever they go

Thursday, April 30th, 2015

s2e22: Fun Girl Stuff and Eternal Salvation

Christy blames Bonnie when Roscoe announces he wants to go live with his father, on the second season finale.

Thursday, March 5th, 2015

s2e16: Dirty Money and a Woman Named Mike

Christy and Bonnie are shocked when they discover how prison has changed their friend Regina.

Thursday, April 2nd, 2015

s2e18: Dropped Soap and a Big Guy on a Throne

Christy and Bonnie face temptation when Bonnie is prescribed pain medication for a back injury.

Thursday, April 9th, 2015

s2e19: Mashed Potatoes and a Little Nitrous

Bonnie goes to extremes to keep a major secret from Christy.

Thursday, February 26th, 2015

s2e15: Turkey Meatballs and a Getaway Car

Christy discovers she enjoys sex most when there's a risk of getting caught. Meanwhile, Bonnie takes her new role as secretary of the women's meeting a little too seriously
Season 3
Thursday, November 19th, 2015

s3e3: Mozzarella Sticks and a Gay Piano Bar

After helping a recovering drug addict, Bonnie and Christy get addicted themselves to the rush of assisting others. As a result, they take on a new "project" named Michelle (Judy Greer).

Thursday, November 5th, 2015

s3e1: Terrorists and Gingerbread

Bonnie's mother, Shirley (Academy Award winner Ellen Burstyn) --- who abandoned Bonnie when she was young --- suddenly wants to be a part of Christy and Bonnie's lives!

Thursday, November 12th, 2015

s3e2:

Thursday, November 26th, 2015

s3e4:

Thursday, January 7th, 2016

s3e7: Muscatel and a Tiny Tush

Christy hosts a dinner attended by Violet's future mother-in-law, who is hard to please. Steve wants to take his relationship with Bonnie to the next level.

Thursday, December 17th, 2015

s3e6: Horny-Goggles and a Catered Intervention

Regina doesn't think she's an alcoholic and Wendy encourages the ladies to attand a sober holiday dance.

Thursday, February 4th, 2016

s3e10: Quaaludes and Crackerjack

In order to avoid her ex-boyfriend, Bonnie drags Christy to a new AA meeting, only to run into her ex-girlfriend, Jeanine, from 30 years ago.

Thursday, February 11th, 2016

s3e11: Cinderella and a Drunk MacGyver

Christy tries to help Julian (Joe Manganiello), a handsome, newly sober AA member, but her attraction to him complicates things. Meanwhile, Bonnie jumps at the chance to attend a lavish charity gala with Jill.

Thursday, February 18th, 2016

s3e12: Diabetic Lesbians and a Blushing Bride

When Marjorie announces she getting married, Christy and Bonnie are determined to make it a perfect day.

Thursday, February 25th, 2016

s3e13: Sticky Hands and a Walk on the Wild Side

Christy, Jill and Wendy find themselves in a sticky situation when they agree to help Bonnie smuggle an illegal substance across the Canadian border.

Thursday, March 3rd, 2016

s3e14: Death, Death, Death and a Bucket of Chicken

Christy tries to be supportive when a health scare throws Bonnie into a tailspin.

Thursday, March 10th, 2016

s3e15: Nazi Zombies and a Two-Hundred-Pound Baby

Bonnie tries to get Christy to admit she still has feelings for her ex-husband, Baxter.
Season 4
Thursday, November 17th, 2016

s4e4: Curious George and the Big Red Nightmare

Christy and Bonnie worry that Roscoe has a drug problem when Baxter and Candace catch him smoking pot.

Thursday, December 1st, 2016

s4e6: Xanax and a Baby Duck

Thursday, October 27th, 2016

s4e1: High-Tops and Brown Jacket

In the fourth season opener, Bonnie and Adam's relationship is tested when he moves in with her and Christy for a few weeks. Also, Christy learns the hard way that it may be a mistake to try and meet men with Jill.

Thursday, March 9th, 2017

s4e16: Martini's and a Sponge Bath

When Christy and Adam get into a car accident, Bonnie is hurt to discover she is neither of their emergency contacts.

Thursday, January 5th, 2017

s4e9: Bad Hand and British Royalty

Christy and Bonnie have their hands full when Adam's hard-partying friends come for a visit.

Thursday, April 27th, 2017

s4e20: The Dali Lama and a Hedge Made of Gold

Thursday, May 4th, 2017

s4e21: A Few Thongs and a Hawaiian Funeral

Christy and Jill take Emily to see her biological mother, Natasha, in rehab where they make a surprising discovery, and Bonnie watches Adam's dog while he's out of town.

Thursday, May 11th, 2017

s4e22: Lockjaw and a Liquid Diet

Christy tries to help when Bonnie gets into trouble with the IRS but, realizing she's in over her head, she encourages Bonnie to seek help from her newfound brother, Ray.

Thursday, February 16th, 2017

s4e14: Roast Chicken and a Funny Story

When a heartbroken Bonnie drives everyone crazy, Christy begs Adam to take her back.