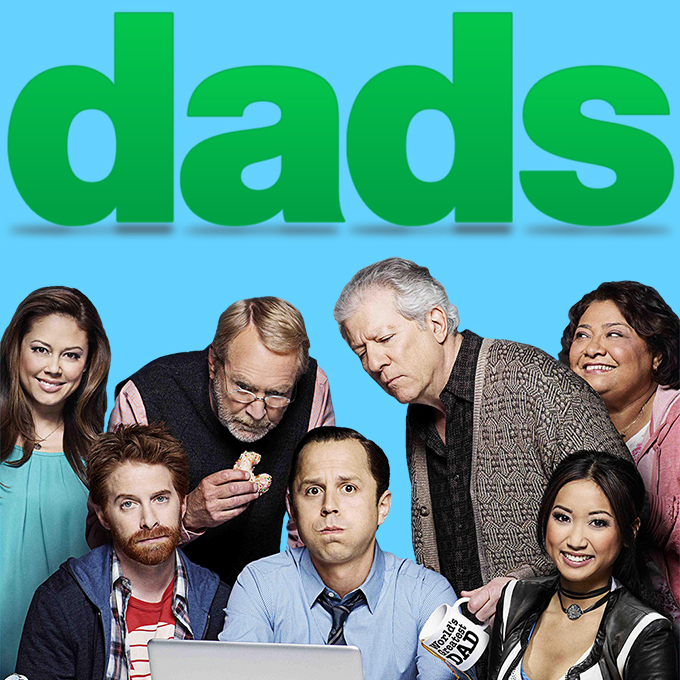 Season 0
Sunday, August 11th, 2013

s0e1: Six Minute Preview
Season 1
Tuesday, September 17th, 2013

s1e1: Pilot

Friends and business partners Eli and Warner are faced with challenges when their fathers move in with them.

Tuesday, September 24th, 2013

s1e2: Heckuva Job, Brownie

When Warner and Veronica talk Eli into using "medically enhanced" baked goods to help come up with ideas, they discover the treats have the added benefit of mellowing out their fathers.

Tuesday, October 1st, 2013

s1e3: Clean on Me

Warner borrows Edna from Eli, making Eli realize he needs to start treating her better; Veronica hires Crawford.

Tuesday, October 8th, 2013

s1e4: Funny Girl

Eli dates Veronica's friend Anne (Allison Munn), a somewhat annoying yet attractive comic; a recording session gets out of hand when Crawford helps Warner with some voice-over work.

Tuesday, October 15th, 2013

s1e5: Oldfinger

Warner and Eli take their dads to get physicals; when Warner's doctor dies, he starts to consider his mortality.

Tuesday, October 22nd, 2013

s1e6: My Dad's Hotter Than Your Dad

Warner's plan to hire an older office assistant so Eli won't be attracted to her backfires when Crawford and David start competing for her attention.

Tuesday, November 5th, 2013

s1e7: Foul Play

When David brings bedbugs home, he and Eli must sleep at Ghost Child Games; Camila gets the lead in a play; Crawford is unusually helpful.

Tuesday, November 12th, 2013

s1e8: Doubles Trouble

When Warner lets Camila be his partner for the Virtual Tennis Tournament, Eli starts to question their friendship.

Tuesday, November 19th, 2013

s1e9: Comic Book Issues

The gang realizes the comic books Crawford gave to Warner are from Eli's recently stolen collection.

Tuesday, November 26th, 2013

s1e10: Dad Abuse

Eli and Warner face an elder abuse investigation and their dads are placed in a care home.

Tuesday, December 3rd, 2013

s1e11: The Glitch That Stole Christmas

When Eli and Warner fire a designer, he takes revenge by inserting an inappropriate word into a Christmas game; Edna pushes David to get a job as a mall Santa.

Tuesday, January 14th, 2014

s1e13: Eli Nightingale

When Warner sends a sick Veronica home, Eli takes care of her in hope that she will want to sleep with him.

Tuesday, January 7th, 2014

s1e12: Mister Edna

When David gets Edna detained as an illegal immigrant, Eli forces him to marry her so that she can stay in the country.

Tuesday, January 21st, 2014

s1e14: Bully Gene

Eli gets bullied by the son of the woman he is dating; Gene steals a game prototype; Warner picks fights with Camila so he can sleep on the couch.

Tuesday, January 28th, 2014

s1e15: Baby Face

When Camila goes to visit her sister, Warner puts Crawford and David up in a hotel so he can have the house to himself; Crawford and David are mistaken for a honeymooning couple.

Tuesday, February 4th, 2014

s1e16: Warner's Got it Made

Warner and Eli invite a mob boss to the office to consult when they develop a new mafia game for Ghost Child Games.

Tuesday, February 11th, 2014

s1e17: Enemies of Bill

When Crawford gets too drunk and accidentally ruins the Whittemores' couch, Camila insists that they all quit drinking so much.

Tuesday, February 11th, 2014

s1e18: Have a Heart… Attack!

Eli ignores David's constant complaining, and one of them ends up in the hospital for it.